Ancelotti pinpoints goalscoring wide-man as key summer target
Friday, 21 May, 2021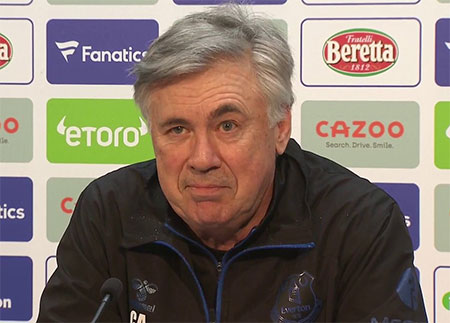 Carlo Ancelotti says that he and Marcel Brands have a plan for the close season transfer market and he revealed one particular kind of player that Everton will be after.
The Italian was asked for his thoughts on the season and the club's next steps during his final pre-match press conference of the 2020-21 campaign and he outlined where the squad needs to improve for next season.
"I'm really pleased that we were more competitive compared to last season. More competitive against the strong teams, we won the derby, we won a lot of games away. This was the best part of this season."
"The plan is quite clear. We have time to talk in the next few weeks on how to improve the squad, also the profile of player we need is clear.
"We have to put more quality in the squad and to play more attractive football."
"The profile is to find a winger that scores goals, that is able to defend, to sacrifice, put crosses. These kinds of player are not easy to find but there are a lot of profiles. There are a lot of good players around the world."
---
Reader Comments (63)
Note: the following content is not moderated or vetted by the site owners at the time of submission. Comments are the responsibility of the poster. Disclaimer
Bobby Mallon
1
Posted 21/05/2021 at 18:52:47
Ronaldinho, Rooney, messy and a few others
Dale Self
2
Posted 21/05/2021 at 18:56:33
Get Maximin and if transfers go well get Pereira from WBA as well.
Will Mabon
3
Posted 21/05/2021 at 19:27:05
Interesting mention of attractive football.
Tony Everan
4
Posted 21/05/2021 at 19:34:52
Checklist
1 Ten goals minimum per season
2 A natural aggressive athlete to get back and defend and help the midfield
3 A provider of accurate and dangerous crosses and assists.
4 100% commitment to the team effort.
God speed to Carlo and Brands for bringing this player in, we'll be a different proposition and be much better to watch if they get it right. We need more goals next season and this has to be the transfer priority.
Pat Kelly
5
Posted 21/05/2021 at 19:52:05
We're targeting a winger, a goal scorer and a defender. Or rather one player who can do all three. Must be a Swiss army player.
Fran Mitchell
6
Posted 21/05/2021 at 19:55:51
This has been a clear weakness. He tried and tried with Iwobi but eventually gave up.
Our lack of threat from the right side made us incredibly predictable, and quickly opposing side were wise to Digne and Richarlison linking on the left. And could double up on them. This then reduced Digne to early crosses rather than driving towards the box.
Players would get the ball, but have nowhere to spread it as we were too narrow.
A right back and Right Winger are essential. And with James being so fragile,we also need an alternative creative outlet to play centrally.
Kieran Kinsella
7
Posted 21/05/2021 at 19:57:09
We need a wide boy not so much on the pitch as in the back office to wheel and deal some of the deadwood out of here
Mike Gaynes
8
Posted 21/05/2021 at 20:14:30
Tony #4, last year I was jumping up and down for a player exactly that description -- Jarrod Bowen. It still bugs the shit out of me that Moyes got him and we didn't even try for the guy.
Dan Nulty
9
Posted 21/05/2021 at 20:19:37
We need a better return than 1 in 5 though Mike. Bowen works hard, I'm not sure he is as pacey and as dangerous as we need though.
Shaun Laycock
10
Posted 21/05/2021 at 20:28:50
Second half Richy was very good coming in from the right and wandering over to the left. Perhaps a free role behind DCL?
Dan Nulty
11
Posted 21/05/2021 at 20:30:54
I think he is playing up top at his own request Shaun, personally think he looks far more dangerous off the wing.
I think we'd be far more potent with Richy on left, dangerous winger on the right and James in a free role at 10. DCL up top. 2 dangerous players plus the full backs for James to pick out. Makes my mouth water. I hope we get someone decent.
Robert Tressell
12
Posted 21/05/2021 at 20:42:08
The players are always out there. Plenty of candidates for this position but some of them may need some polish.
Jason Li
13
Posted 21/05/2021 at 20:46:22
Tony @ 4, The new Iniesta it is then!
Maybe Carlo has something in the pipeline - hard to tell with such a great poker face. I wouldn't sit at the table with Carlo at Texas Hold Em Up unless that eyebrow twitched when someone said raise.
Joe McMahon
14
Posted 21/05/2021 at 21:05:54
Personally, I still think we need another striker, DCL has attributes, particularly in the air but he can't strike a ball with venom or outside 18 yards. He also may learn from another striker.
Tony Abrahams
15
Posted 21/05/2021 at 21:28:00
"To sacrifice" which is one of the most important attributes needed if you want to be a success.
Dale Self
16
Posted 21/05/2021 at 22:11:36
A decent tone for the presser. Sounds like he will give James the chance to come back healthy for another chance to contribute. Stating flatly that we are not a quality team but we are strong mentally tells me he has set the team straight and they know where they stand. He did display a grin when going through the qualities desired in a winger. I wonder if that was a tell of any sort. UTFT!!!!!
Soren Moyer
17
Posted 21/05/2021 at 22:46:26
Neto (Wolves), Trossard (BHA), Raphinha (WBA, right winger though but left footed).
Any of those can do the job but according to the media we are chasing Khvicha Kvaratskhelia!!! from Rubin Kazan worth £26 million!
John Kavanagh
18
Posted 21/05/2021 at 23:32:03
I'd go for Matheus Pereira - because he has been tried and tested in the Premier League, scoring 11 goals with 6 assists in 33 appearances this season. This in a struggling side. His ability to go past players and whip in fast accurate crosses is what we need most. It would greatly enhance both DCL's and Richarlison's effectiveness, which is why a right winger is Carlo's top target.
He's a big fan favourite with WBA fans (always a good sign), but would want to play at the top level. Leeds and Villa are said to be after him, but I think we have the ability to win any tug of war and still spend less than what we wasted on Iwobi.
Dan @ 11 - I think Richarlison's desire to play in the middle has more to do with the availability of places in the Brazil team, which is very important to him. Another Brazilian playing up front will help Richarlison.
Ian Riley
19
Posted 21/05/2021 at 23:49:44
Anyone that can run will do me! Playing walking football all season has put us in 8th position. Imagine players running down both wings and strikers in the box!! Imagine that! Not just the opposition but Everton!! Brings tears of joy!
Its the hope that's killing us all on here!!
Dale Self
20
Posted 21/05/2021 at 23:52:15
Yes John, stay on that Pereira promotional campaign. Dude can ball.
Mike Gaynes
21
Posted 21/05/2021 at 23:56:07
Dan #9, it's more like one in three if you count his assists, and I read somewhere that he was the most accurate crosser of the ball in the Prem this season, plus it was his first full season in the league. And Bowen is actually one of the fastest players they've got. I'd have been happy to have him. I still would. He's way better than any winger we've had in years.
John #18, you get an upvote from me too on Pereira.
Laurie Hartley
22
Posted 21/05/2021 at 00:03:40
Adama Traore is the player we need. He has pace and strength to burn.
Some may feel he doesn't score enough goals which if you go by the stats appears to be the case - but I think he would score a lot more playing in a three with Richarlison and DCL.
He can certainly finish - two goals v City
David Pearl
23
Posted 21/05/2021 at 00:10:22
Plenty of options as listed above. Then there is Leon Bailey.
Richarlison is a weird one. He can play left ahead of Digne. But isn't. In fact he can also play central. Then again, he looks more comfortable on his own and not with DCL. I think we need 2 wingers, not 1.
As for James... how do you fit a player into your 11 that doesn't work for the team. Would any other top 4 team sacrifice the system they play to accomodate this one player? Don't get me wrong, when he is fit he is a fine player that does things others can't.
Of course a right back... perhaps a centre back to add to Godfrey and Mina. Surely Carlo has enough midfielders to choose from.
Selling is the key. Iwobi, Kean and Jonjo for sure. Possibly Holgate and Keane.
Yet another huge summer.
Andrew James
24
Posted 22/05/2021 at 00:20:02
I like the left sided player at Burnley.
However, the really good 5live show about Aguero last night said a lot about when you want a side to step up. We need to capture young players that impress the current crop so they realise we're serious and step their game up. We've got into the habit of buying much older winners like James and Rooney which is a glass ceiling on how far we will really go.
Mike Gaynes
25
Posted 22/05/2021 at 01:51:42
Laurie #22, those two Traore goals against City were great, but they happened in 2019.
He's only scored twice since the end of 2019.
2 goals in his last 58 appearances.
Yes, he's one of the fastest, most powerful players in the world, and his touch can be very good. But he just doesn't produce much. You saw him the other day against us, repeatedly dribbling into boxes, rarely making a quality pass.
Given his massive likely price tag, I'd say no thanks.
Martin Faulkner
26
Posted 22/05/2021 at 03:56:52
Can we have Aarons and Buendia with Kenny and Iwobi going the other way, please, Marcel?
Paul Ferry
27
Posted 22/05/2021 at 04:18:31
I would prefer someone with Premier League experience or with a reputation in the Championship.
Winger: Matheus Pereira, Pedro Neto (Wolves in a bit of disarray?), Callum Hudson-Odoi, Allan Saint-Maximin, Raphael Dias Belloli, Dwight McNeil, Leandro Trossard, Ebere Eze, Jack Harrison, Emiliano Buendia (can play on the wing), Ismalia Sarr.
Right back: Tariq Lampety, Matty Cash, Brandon Williams (left and right)
Max Aarons, Aandy Yiadom at Reading also looks the part.
Up front: Tammy Abraham, Patrick Bamford, Osdone Edouard, Ivan Toney.
Quick shout, although we don't need him, for Mohammad Sailsu at Saints.
The best strategy might be to go after every player Leicester are seriously linked with and gazump / Ancelotti them. Another is to buy at Lille. Boubakary Soumare meets both criteria.
On a different note, ESPN have named Carlo gaffer of the year. Put that in yer pipe and smoke it Mr. Hinds! Those cross-ocean cousins sure know their footy!

Kieran Kinsella
28
Posted 22/05/2021 at 04:20:15
Martin,
Forget Aarons, is Josimar still alive? I remember that mofo making a monkey out of Pat Jennings from right-back.
Steve Brown
29
Posted 22/05/2021 at 06:44:20
Aarons or Emerson, Soumare, Pereira and (yes) Ings in the summer, then happy days next season.
Challenge for Brands is to move players on – Besic, Bernard, Gomes, Delph, Kenny, Bolasie, Tosun and the U-23 loanees who won't make the grade. Maybe retain Sigurdsson for the final season of his contract now that he has rediscovered some standards,
Brian Murray
30
Posted 22/05/2021 at 06:58:15
There have been calls for Ings on here. No doubt we could get him. No pace but he can finish. He could be our Solskjaer coming off the bench, although I doubt he would be happy with that at this stage of his career.
The West Brom lad – a definite yes yes. Double figures in a team managed by that idiot will do for me.
I've nothing new to add except if we balls this up again we are going to hell in a handcart and I'll be first at the bar having a not so cool pint with Lucifer (no doubt he will be wearing his yellow budgie kopite bird).
Coyb – have a go tomorrow for once. Failing that, over to you, Mr Brands.
Mark Stanley
31
Posted 22/05/2021 at 07:52:02
There is no doubt we need to offload the likes of Iwobi, Bernard and Kean, amongst others, to fund replacements in the midfield and at right-back plus right-wing, but I'd start at the centre-back position as it just isn't right.
Now Nuno has left Wolves, I wonder if Coady can be tempted away. He is a good tackler, very good at distribution, and a great leader on the pitch.
Ditch Holgate, move Godfrey to the right, and either keep Mina as a squad player or let him go as we still have Branthwaite learning his trade out on loan.
Robert Tressell
32
Posted 22/05/2021 at 07:58:37
There is absolutely no chance of players like Ings, Ward-Prowse, Phillips, Raphinha, Grealish and Rice joining Everton. The only mid-table top performer we can get is Zaha because he is desperate to leave and, having rejected us once, he's now left with very few options. I guess McNeil also.
Relegated players like Perreira, Berge and Anguissa are more our market – or benchwarmers / perennial loan players at the richest clubs.
Steve Brown
33
Posted 22/05/2021 at 08:10:21
Robert, the only players on your list who wouldn't join Everton are Grealish and Rice. The others would provided we were willing to pay the transfer fee. Small time mentality has dogged Everton for years, but hiring Ancelotti changed that.
Danny O'Neill
34
Posted 22/05/2021 at 08:16:26
Repetition time (again). Can I have Sabitzer?
Thing is, I don't necessarily think he's a right midfielder, but he's an attacking one that could play well in a 4-2-3-1 or 4-3-3.
Interesting language from the manager the past week or so. He's given a lot of these players a chance and backed them but is now saying, not good enough, we need to improve again.
Eddie Ng
35
Posted 22/05/2021 at 08:16:46
Basically, Carlo means that he wants a Tim Cahill + Mikel Arteta.
Robert Tressell
36
Posted 22/05/2021 at 08:24:34
Steve, the issue is both whether the player would be interested and also whether Leeds & Saints would sell. Why would Phillips make the move? Why would Leeds sell?
This category of player is also the worst value in world football. It's not a small club mentality to think this way because the only players Champions League clubs would even want are Rice and Grealish.
Tony Everan
37
Posted 22/05/2021 at 10:01:05
Pereira, the Brazilian at West Brom, is a good call from a growing number of posters. With our South American players, he would likely be interested in joining the club.
I'm sure that Brands will be considering him. He looks a naturally gifted footballer, very good control, assists and knows where the goal is. Proven too in the Premier League.
I think he would be an exciting signing and bring us more of those all-important goals we need to progress, along with making us better to watch!
Seems to me he fits the bill with what Carlo is looking for.
Vijay Nair
38
Posted 22/05/2021 at 14:53:08
+1 for Matheus Pereira. The lad is exactly what we need.
Nicolas Piñon
39
Posted 22/05/2021 at 16:46:00
We need a quality central midfield, I believe, as well and a central defender or right-back – at least if we want to compete at the top.
It's not just one player...
Jamie Crowley
40
Posted 22/05/2021 at 18:05:41
Nicols Pinon,
I couldn't agree more. In fact, I'm dismayed by the priority stated.
We don't need a wide player. We need a central midfielder who is creative, in my opinion.
I couldn't disagree more that a winger is needed more than a central midfielder.
This bit of news doesn't make me happy or fill me with hope in the least.
We simply do not control games. We defend – like constantly – and look to hit on the break when feeling adventurous. A midfield, tricky, possession-based, technical wizard in the middle of the pitch is what we need desperately.
This is frustrating for me. Does anyone else share this opinion other than Nicolas and I?
Mike Gaynes
41
Posted 22/05/2021 at 18:11:34
Jamie #40, we need both.
My point is that, without pace in the side -- we're still the slowest team in the Premier League, IMO -- the addition of a creative playmaker won't mean much.
We have got to have a couple of dangerous, pacy attackers on the flanks for him to pass to. And I think we'll get those first, simply because there are more of them around and available. It's much easier to find a Bowen than a Maddison.
Jamie Crowley
42
Posted 22/05/2021 at 18:15:32
Agreed to a point, Mike.
Richarlison is pacy – he's a fast player, in my opinion. That's half the pacy wingers you need.
We might need both – you're correct. But it's the middle of the pitch we simply don't create enough in, and we can't control a game without commanding the middle of the pitch.
I like Gomes, but he's just too damn slow. Allan and Davies are holding midfielders, in my opinion. I really like Doucouré, he's all over the pitch and is a great box-to box guy for me. But Gomes or anyone else in the squad isn't the compliment Doucouré needs. And that's our glaring weakness.
Central midfielder, please God, first and foremost.
Agree?
David Pearl
43
Posted 22/05/2021 at 18:16:30
Jamie, perhaps you mean we need a new manager? Maybe if we didn't play 3 midfielders with 2 of them covering full-backs, we would have better balance when we ventured forward.
Jamie Crowley
44
Posted 22/05/2021 at 18:17:26
By the way, Mike, I think if we miraculously pull off getting both a central midfielder and a talented attacking winger, we'll be challenging at the very top of the table.
We're actually not that far off. We've been very solid, in the main, defensively.
Jamie Crowley
45
Posted 22/05/2021 at 18:20:44
David,
I couldn't disagree more.
I've said this multiple times. Our current strength is our back line. Defending, we're fine. Going forward, we're just not there. The numbers bear this out.
What else is Carlo supposed to do? If he goes all guns blazing with this current squad, we'd be left exposed and we'd be way, way down the table. Our manager is doing what he must with the players at his disposal.
If we actually fired Carlo, we'd be a bloody, incoherent mess. And our club would be in disarray with like how many managers in the last 5-6 years? We need consistency at the top. Firing or replacing the manager would be a disaster.
David Pearl
46
Posted 22/05/2021 at 18:36:32
Jamie, we have no choice but to stick by him for now, l will agree there.
What did you think of our defensive shape at home against Villa? Every ball they played to the channels they were in. And he kept it like that.
Mark Frere
47
Posted 22/05/2021 at 18:38:43
Jamie Crowley,
I disagree, a creative midfielder in the mould of Isco would be a big bonus... but definitely not as a priority over a couple of quick wide men that can beat defenders and put quality into the box.
We need a new (forward-thinking) right-back that can form a partnership with a quick winger in front of him. Digne and Richarlison have been pretty poor on the left side this season.
A creative deep-lying midfielder would be wasted in this current team as there's so little movement (runners) out wide.
My preference would be in order:
1 - Right-wing
2 - Right-back
3 - A number 10 (can't rely on James Rodriguez's fitness)
4 - Striker (Moise Kean won't be coming back). We rely too heavily on Calvert-Lewin.
Mike Gaynes
48
Posted 22/05/2021 at 18:51:43
Jamie #42,
Richarlison may play a lot on the flank, but he's not really a winger. He doesn't create or cross well -- can't pass worth a lick. And he's actually not one of the faster outside attackers in the league... He doesn't have the pace to make defenders panic or backpedal, as Sterling and Mane and Traore do. We need two wide players with that kind of speed.
I actually think we're still quite a ways off. Yes, Carlo has the defense sorted -- 43 against is excellent -- and our keeper has straightened himself out nicely. But Mark #47 is closer to realistic about our needs. I'd say three midfielders (a Maddison and two Bowens), at least one more striker and a right-back.
Then we'll be contenders.
Jamie Crowley
49
Posted 22/05/2021 at 18:57:39
Mark, David, and Mike,
Thank you for the reply. I see your point.
Mike,
If you bring in two wingers, do you then play Richarlison just off the striker? Central at the No 10-ish role?
Mike Gaynes
50
Posted 22/05/2021 at 19:09:24
Beats me, Jamie. I'll leave that to Carlo. My role here is to wish for more really good players for him to choose from.
Mark Frere
51
Posted 22/05/2021 at 20:06:13
Jamie:
I didn't list a left winger as a priority... although it would be an excellent option to have when Richarlison's form has been as poor as it has been this season.
It's easy to forget how important he was in the previous two seasons. He scored 13 goals in each of the last 2 seasons. He was constantly a nuisance to defenders and always got us free kicks in good areas. One of his biggest strengths is of course, his tireless work rate down the left.
I don't think you can play Richarllison in a creative role centrally behind Calvert-Lewin as linking play is not his strengths. Either centre-forward or out wide as far as I'm concerned. Football is a squad game though, and two quick wingers would be great to rotate with Richarlison.
I seriously doubt Carlo will have all the required funds he needs to strengthen us in all areas we need. It's about prioritising in the most urgent areas IMO. We also have so much deadwood in our squad that will prove tricky to shift.
Julian Exshaw
52
Posted 22/05/2021 at 20:29:24
I'm glad Carlo has identified the need for a winger. We've been crying out for one for ages.
Baines and Pienaar always did well on the left even though Pienaar himself was no winger. Since then, we have always lacked in that position but wingers themselves appear to have gone out of fashion. Real Madrid had a great one back in the day, Rafael Gordillo, 'the galloping Gordillo' I think he was called.
I hope he also has a right-back on his shopping list as well as a midfielder who has pace, can shoot, tackle and pass! Easy.
Over to you, Carlo and Marcel.
Jack Convery
53
Posted 22/05/2021 at 22:29:11
Roll om August when all will be clear – hopefully.

Laurie Hartley
54
Posted 22/05/2021 at 22:34:32
The reason we need a right-winger and a right-back is because we are lopsided. We have no threat from the right-wing.
This is making it easier to defend against us – and easier to attack us.
Richarlison, Calvert-Lewin, & Someone (my pick is still Traore) and plonk a fit James just behind them and watch the fireworks.
Martin Berry
55
Posted 23/05/2021 at 00:47:36
Neto has been mentioned a few times but I believe he is left-footed, folks. I think he could be a star in the making.

Steve Brown
56
Posted 23/05/2021 at 03:35:17
Jamie @ 44,
You are absolutely right. We need a pacey, energetic midfielder as a priority. Lesser teams have simply been able to over-run our midfield this season due to the lack of pace.
Paul Burns
57
Posted 24/05/2021 at 09:18:00
Goal scoring wide man? Liverpool's goalkeeper has scored more than most of our midfield.
They should be ashamed of themselves.
Matthew Williams
58
Posted 25/05/2021 at 00:42:38
It angers me reading many posts of fellow Blues that basically read "it's not Carlo's team","when he gets to pick the players he wants we'll be fine"...BOLLOCKS.
The clues were there folks... he had class players in the C.L final 2005...FUCKED UP.
The passion he showed ??? when Bernard smacked in the winner verse Spuds in the Cup...a 5-4 scoreline! and this useless prick just blows on his cup of char?.
He had never heard of Ben Godfrey,Christ even I saw plenty of Norwich as they seemed to on every fucking time the Pick channel screened a live match during the first Covid lockdown.
Please Mosh don't even think about giving this fucking Italian fraud another penny for transfers,just pay him and his talentless,useless crew off and start again,but this time make sure you have some sort of real plan in place and hire a nasty,ruthless bastard as Gaffer for our beloved club.
Also,having read hundreds of posts during the past week or so,no one it seems has mentioned one very important,even vital ingredient we badly lack...SCOUSERS!.
Kieran Kinsella
59
Posted 25/05/2021 at 00:53:37
Matthew
We could meet your criteria by hiring one of Stevie G's nasty, bastard, scouser crime lord mates. Happy?
Matthew Williams
60
Posted 25/05/2021 at 14:01:44
Kieran #59 lol. Heaven forbid... but we need some Scouse blood in this side to shake it up really badly as soon as possible.
Danny O'Neill
61
Posted 25/05/2021 at 14:09:39
I'm as proud of my city and its passion as anyone.
But if the benchmark is Man City and Liverpool right now, how many scousers do Liverpool have? And Man City, how many Mancunians in their best starting 11?
How many did we have in ours in our last period of success?
You go with the best players if you want to be successful.
I totally get the passion thing. We all want to see it. But passion gets you so far. And great players have passion – no matter where they come from.
Goal scoring wide player. Interesting as they are not your traditional winger. Kanchelskis springs to mind.
Repetition alert: Sabizter please.
Matthew Williams
62
Posted 25/05/2021 at 16:55:19
As we all know,Seamus came from Sligo Rovers for sixty grand...my question is COULD we do it again,but this time across the whole team?.
Just a thought like & it would save Moshiri a shitload of money for the foreseeable.
Justin Doone
63
Posted 26/05/2021 at 10:04:53
We have several good players in their early twenties that appear to have the desire to keep improving and work hard for the team.
But we have too many average players that's are not improving, not pushing team mates to improve and don't appear to put the effort in.
To improve we need experienced, first team ready players, not backup or utility player's that can do a job.
There may be some disagreement on certain players but in general we have a lot of midfielders that are not good enough. Sell, sell, sell.
I agree, a top class, athletic, commanding, hard working midfield general who can pass and create is needed. A combined Doucoure and Allen would be great, we have one athletic and one that can pass, we need an improvement to both and let them be the back up.
But I agree the most important player (or 2) to bring in is a forward / winger that adds goals, creativity, pace, work rate, someone who can run with the ball.
Jotta would have been ideal or Eze, but I'd rather Netto's 90mins over Zaha or Troare 30mins each game.
Other than hitting it high for Dom, we don't have an outlet when under pressure. James looks for movement, a runner, but everyone else just looks at everyone else to move.
Everton are a reactive team, hence the counter attacking setup. We want a creative, proactive team. It takes time to find player's good enough to play that way. That's why Shef Utd, Fulham, Brighton finish lower down. They try to play good football with players that are not good enough.
We tried and failed with Silva and Martinez. We got serious about a top class manager, coaches and slowly adding quality players to improve the first team.
I'll leave you with this. If Josh King was not good enough to start a single game, then Carlos expectations of this new player are encouragingly very high and I look forward to seeing who that might be.
---
Add Your Comments
In order to post a comment, you need to be logged in as a registered user of the site.
Or Sign up as a ToffeeWeb Member — it's free, takes just a few minutes and will allow you to post your comments on articles and Talking Points submissions across the site.