Real Madrid lining up Ancelotti to replace Zidane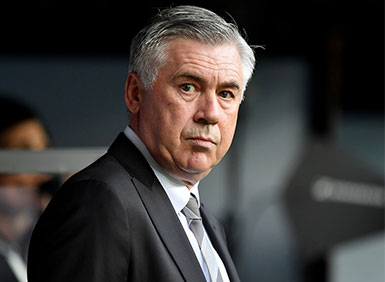 Is Carlo Ancelotti's flirtation with Everton and the joys of Formby beach already over?
Updated Multiple reports in both Spain and England are reporting that Real Madrid are in talks with Carlo Ancelotti about returning the club that sacked him six years ago, with Everton already looking at potential replacements.
What started as a couple of the Sunday tabloids suggesting in mid-May that Ancelotti could be targeted by Real to replace Zinedine Zidane should he leave the Spanish giants this summer escalated last night with the first murmurs from Spain that there might be something concrete to the talk now that the Frenchman has announced his departure from the Bernabeu.
Reports in Spain were claiming last night that Real have opened talks with Ancelotti about returning to the club, among them El Chiringuito, the online TV show that Florentino Perez first used as his platform to justify the failed Super League. Throughout the morning, mainstream UK media outlets have become convinced Ancelotti is on his way out of Everton.
According to the El Larguero Twitter account affiliated with La SER, contact between Ancelotti's representatives was made four days ago and that there is optimism that an agreement can be reached.
The quote included in a tweet yesterday evening said: "Ancelotti's party believes that it is an option that it cannot refuse."
It also suggests that Everton are already drawing up a shortlist of candidates to replace the Italian should he decide to leave the Blues less than 2 years into his 4½-year deal. The names floated include include Eddie Howe and David Moyes, although there are also suggestions the Blues are after a "big" name successor.
---
---
Reader Comments (59)
Note: the following content is not moderated or vetted by the site owners at the time of submission. Comments are the responsibility of the poster. Disclaimer
Geoff Williams
1
Posted 16/05/2021 at 11:57:56
If this is true, I'd be surprised if he didn't go as, other than 8 years at Milan, his tenure as manager at his previous clubs is around 2 years and he'll have completed 20 months at Everton by the summer.
Ian Burns
2
Posted 16/05/2021 at 11:58:12
If Ancelotti moves to Real Madrid - a) it leaves us in a mess on many fronts but most importantly the quality of recruitment - and b) who on earth would replace him given the enhanced credit his name brings to the club?
Thomas Richards
3
Posted 16/05/2021 at 12:05:21
They won't want him.
He's an old dinosaur. No idea on modern-day football. Clueless.
That's his CV as written by some ToffeeWebbers.
Dave McDowell
4
Posted 16/05/2021 at 12:09:47
Kismet, Sam will be available…
Brian Murray
5
Posted 16/05/2021 at 12:10:37
With his casual attitude to defeats against no marks home and away and his issues with training as in at least getting this group to give their all for 90-plus minutes, I think it's a long shot he is going to be here at the opening of the new stadium at Bramley-Moore Dock anyway.
I'm afraid Big Dunc is going to have to step up if he's ready or not. Doubt we have the next Jose lined up anyway. No catastrophe if these rumours are true.
Brian Harrison
6
Posted 16/05/2021 at 12:12:35
Some papers are saying that Zidane has already told his players he will be leaving at the end of the season. The general consensus is that either Carlo or Allegri will take over. Looks like Koeman will also be replaced in the summer so both Spanish giants may be under new management by the end of the season.
Other than being an ex-player, I can't think of what persuaded Barca to sign Koeman; his track record as a club manager was bang average. I think the new Barca chairman, Laporte, has no love for Koeman so, when he was elected as chairman, I guess Koeman knew the writing was on the wall.
Should Carlo leave, I think that will again mean yet another new manager who will want to clear the decks and start again. Mind, I am sure, to some ToffeeWeb contributors, this news will be music to their ears.
Tony Everan
7
Posted 16/05/2021 at 12:12:39
It's one of the biggest jobs in football so any manager would raise his eyebrow if Real Madrid made it clear they were wanted, Carlo's eyebrow included.
I think he won't entertain it though as he sees Everton as a big personal challenge he wants to face head on.
He has stabilised the club after a few years of trauma. The initial players he has brought in have made us harder to beat. We've never been threatened this season in any shape or form with the relegation places.
The next phase of his and Brands recruitment will see us having more attacking threat, increase the intensity and tempo of our play.
I think Carlo can still see the path forward for Everton and is motivated to move the club up to Top 6 standard next season, playing better football.
Thomas Richards
8
Posted 16/05/2021 at 12:24:52
Get shut.
And when the next manager doesnt get us Top 4 in his first season, get rid of him too. And on and on and on.
Barry Rathbone
9
Posted 16/05/2021 at 12:38:37
Be amazed if he didn't go should Madrid send the email. Could be a tough choice though.
Real Madrid, with the pick of the world's talent, aiming for the Champions League final every year and virtual guarantee of domestic silverware in the balmy sunshine of cosmopolitan Madrid. Or us in the north of grey old blighty with over-the-hill cast-offs attempting a shot at the top 6.
What a dilemma! 😆😆
Robert Tressell
10
Posted 16/05/2021 at 12:47:03
Given how useless he is, presumably there are lots of obvious names who can do substantially better with this group of players.
Dyche & Potter?
Unsworth & Ferguson?
Farke?
Gerrard?
Be careful what you wish for. We're only just recovering now from appointing Silva who was way out of his depth. A bit of experience is no bad thing right now.
Barry Robson
11
Posted 16/05/2021 at 12:52:02
Posts 3 and 8 well said Thomas Richards!!!!!
Hugh Jenkins
12
Posted 16/05/2021 at 13:04:31
We are overlooking two things - which Carlo won't.
1) RM are broke and won't be able to recruite the world stars on mega wages, that they are used to recruiting.
2) They still haven't climbed down from their ESL position, so might well end up being banned from Europe and heavily sanctioned – if not demoted – by the Spanish football League.
Therefore, not currently the ideal destination for any manager!
Rob Halligan
13
Posted 16/05/2021 at 13:05:21
Thomas, he seems good enough for Real Madrid but not good enough for us!! MMMM!!
Also, if we get another manager in, don't forget he also has to win a cup in his first season or else he gets the boot as well.
Robert #10. Have you not heard of some fella called Steve Cooper from Swansea? Shame on you!! 😁😁
Steve Brown
14
Posted 16/05/2021 at 13:10:32
Rob, ah that legendary managerial figure Steve Cooper. His name is mentioned in whispered terms by some footballing connoisseurs of the Championship and League One where we have been successfully hiring our managers for years.
Tuchel, Guardioala, Klopp, Ancelotti are not for the likes of us. Let's get back to bloody basics.
Phil Wood
15
Posted 16/05/2021 at 13:13:01
It would save us a lot of money if we continue to play as poorly as we have this season.
Barry Rathbone
16
Posted 16/05/2021 at 13:24:33
Seems a weird conclusion emerging that Madrid offering him the gig and him accepting equates to the club sacking him. Soooooo paranoid.
Danny O'Neill
17
Posted 16/05/2021 at 13:27:35
If there are any legs in this one, it may please some.
Personally, and taking the personal out of it, the last thing we need is another change of manager.
If (big 'if') this happens, I see a scenario where we go with the populist view and appoint Ferguson. Even if he lasts beyond Christmas, we are appointing another new manager next summer.
Rob Halligan
18
Posted 16/05/2021 at 13:34:08
Steve, #14. I'd never heard of Steve Cooper from Swansea until some TW contributor started positively raving about him. Seems to think he's the next Pep. Won't embarrass the person by naming him, but there are a few home improvement stores around Liverpool named after him!!
Danny, it won't happen, though no doubt there will be one of two creaming themselves at the thought of it.
Michael Kenrick
19
Posted 16/05/2021 at 14:05:19
Just seems such a typical lazy Sunday jurno connection to make.
Alan J Thompson
20
Posted 16/05/2021 at 14:10:46
So Real Madrid may want Mr Ancelotti, why the panic?
After all, West Ham are stuttering over offering Mr Moyes a new contract; Koeman may only have a tee-off time at season's end; not heard of Silva being gainfully employed... and, if all else fails, then Big Sam and Zinadine Zidane are probably available.
How are Belgium going as there could be an Academy position available or possibly even a 1st XI assistant coach who understands Ballboys... No, that needs rephrasing.
But whoever, Mr Kenwright has nearly the same number of phone numbers as Mr Moshiri has blank P45s.
Brian Williams
21
Posted 16/05/2021 at 14:44:28
Rob#18.
Mr B&Q ????
Steve Brown
22
Posted 16/05/2021 at 14:50:41
Rob @ 18, is he a fan of that top Irish pop duo Jedward?
Rob Halligan
23
Posted 16/05/2021 at 14:53:40
Steve, you're on the right lines! 👍👍
John Raftery
24
Posted 16/05/2021 at 14:57:42
This story has no legs. Carlo has made it pretty clear in his interviews that he is with us for the long haul. He has said he has managed the 'corporate clubs' but enjoys being with a 'family club' so that's that. Real Madrid are in a mess. They may well want him but he already has the tee shirt and won't return go back for another one.
Jon Harding
25
Posted 16/05/2021 at 15:04:45
If we do lose Carlo to Madrid we should definitely make a cheeky bid to tempt Zizou the other way.
I just hope with Big Dunc as his assistant they don't end up butting heads.
Will Mabon
26
Posted 16/05/2021 at 15:11:42
"Big, Super" 12 back to strutting their entitled stuff already?
Hopefully falls into the rumour or press crap category, like about 90% does.
Mark Murphy
27
Posted 16/05/2021 at 15:14:52
I really hope its bollox as I want Carlo to be given time to build his own team but if there's anything in it I like the style that Bielsas got Leeds playing. They are lightening fast on the attack. I reckon they could be dark horses for top 6 next season.
But then, if Carlo is backed in the market so can we. UTFT

Jeff Armstrong
28
Posted 16/05/2021 at 15:31:47
Rob, as part of the guessing game,
Did said DIY store start out as a fishing tackle shop in Utting Avenue Anfield?
Does the person have the same initials as a former England centre half with a dubious term of phrase to other players?

Rob Halligan
29
Posted 16/05/2021 at 15:39:40
Jeff, right on both accounts! There was also one on Tunnel road, Wavertree and also one on long lane, Aintree, if memory serves me right.
Thomas Richards
30
Posted 16/05/2021 at 15:48:49
Overbury St off Wavertree Road Rob.
A mad house of a boozer next to it
colloquially known as the Top Bents. A lunatic asylum but great fun
Paul Birmingham
31
Posted 16/05/2021 at 16:13:24
For me this is the usual bullshit media speculation.
Yes very likely Zidane, will leave Real Madrid, but based on events of the last month, I don't see Ancellotti leaving Everton, just yet.
But money talks, and time will show.
Tony Twist
32
Posted 16/05/2021 at 19:12:23
Couldn't care less to be honest, considering his previous exploits, his overall performance has been underwhelming. The loss of Brands would have more impact. I am more concerned with who we would get to replace him.
Jim Bennings
33
Posted 16/05/2021 at 21:20:09
Could be best for Carlo if I'm honest, this club and the state it's in is no good at all for Carlo Ancelotti at his age and for what he's achieved, this club will ruin that reputation.
Carlo this club isn't for you and probably never was really.
Dave Abrahams
34
Posted 16/05/2021 at 22:15:16
No, keep hold of Carlo, we need him, ' til Real Madrid pay us the massive compensation for such a worldwide known manager, mind you Real are brassic.
Mal van Schaick
35
Posted 17/05/2021 at 08:31:01
At this point in time, it may be best for a fresh start for a lot of Everton players an staff, including Ancelotti.
May be it's time for Big Dunc to take the reigns and inject some passion into a predominantly new squad of players.
Back to basics. Keep Doucoure, DCL, Keane, Allan and Mina. The rest can go for me.
Alan Johnson
36
Posted 17/05/2021 at 08:34:34
I welcomed Carlos being named our manager. After watching the lack of motivation/ passion from the team this season, I now hope he leaves. A manager should at the very least be able to motivate his team. Then the tactics... must have the slowest build up in the prem.

Paul Davies
37
Posted 17/05/2021 at 13:05:33
Agree with #33.
Time you moved on and please take the usual unmotivated wasters with you.
We desperately need a manager with passion and an understanding of the modern high intensity game and who is not afraid to give younger players a chance.

Tony Abrahams
38
Posted 17/05/2021 at 13:11:35
All sounds great on paper, Paul, but football isn't like this anymore, especially when trying to get rid of the unmotivated wasters.
Paul Davies
39
Posted 17/05/2021 at 13:30:29
Tony, you are no doubt right but watching that lot yesterday tends to drive any rational thoughts out of one's head.
Robert Tressell
40
Posted 17/05/2021 at 13:40:57
The various scenarios 18 months ago:
1. Crisis club Everton re-appoint Moyes for a second spell. Fans deeply unhappy. We sign Soucek and Coufal to much anti-climax and then, the shame of it, Jesse Lingard. General play really awful – wins secured against bottom half sides but humiliation at the hands of the Rich 6 and upwardly mobile West Ham who showed real ambition by appointing Carlo Ancelotti. We are jealous and ashamed of our small club mentality. Finish 8th.
2. Crisis club Everton look to Sean Dyche to steady the ship. He installs a rigid 4-4-2, buys McNeil and James (Daniel not Rodriguez) to play wide. Richarlison and Mina leave because ginger goatees are a sign of the devil in latin America. We finish 8th, bemoaning our total lack of ambition and pour scorn on the outmoded system of 4-4-2. Meanwhile Ancelotti gets ambitious West Ham purring with quality experienced south american talent.
3. Crisis club Everton appoint Bruno Genesio, winning things in China after successful spells at Lyon. He and Brands work the Euro scouting network and pick up half-a-dozen bright prospects. We play nice football but finish 8th. Fans bemoan our lack of ready made players - pointing to the class acts of Allan and Rodriguez who were bought by Ancelloti's West Ham.
For scenario 3 replace Genesio with about half a dozen upwardly mobile European managers.
The point is, I think, that we are a total mess of a club. We're miles behind where we feel we ought to be and the squad is a shambles. Ancelotti is doing a fair bit worse than he should be but we are not getting relegated so he stays. We need a couple of seasons more to really sort this out and get the squad in better shape. It might not be much better next season, unfortunately, but it won't be worse.
Geoff Williams
41
Posted 17/05/2021 at 16:57:55
Appointing a manager is always a bit hit or miss if those who own and run a club haven't a strategic plan with short and long term objectives.
When Silva was appointed, we were given the impression that the club would only buy young promising players and develop players from the Academy. 'The Project' was to establish the club on a firm financial footing to enable it to finance the new stadium without it impacting on the playing side but unfortunately Silva proved to be a disaster.
This seems to have come as a shock to the club's hierarchy but it wasn't to the majority of fans. Allardyce was obviously a short-term appointment, although he seemed to think otherwise.
The appointment of Ancelotti seemed to be something of a coupe. Here was a big name, respected for his long career as a player and successful manager and of course he said, and continues to say, the right things about buying into the club's vision for the future. Is this realistic though?
The man is in his 60s and been away from the English game for a number of years. Other than 8 years at Milan his average stay at his other clubs is two seasons. I have no doubt that his intention was to make an immediate and big impression at Everton to enable him to further his career in Europe.
His signings, Allan and James, and the players the club is currently linked with are 30 ish and based in countries he knows a little more about. (Doucourè and Godfrey were not his signings as he has admitted knowing nothing about them.)
Anceĺotti is interested in short term success and not deveoping young players with potential. Unfortunately, the owner of Everton appears to know little about football and isn't being well advised.
Managers are quick to take the plaudits when a team is successful but slow to accept their role in a team's poor performances and Ancelloti is no different. I believe his team selections and tactics are hanging the players out to dry.
Bill Gienapp
42
Posted 17/05/2021 at 19:13:28
Eh, I'm not really sure what the appeal to Carlo would be –the club is in disarray, it's a "Been there, done that" job for him, and he knows he'll be kicked to the curb the first time things go slightly sideways.
Unless he came to the conclusion that the Everton project was hopeless (eg, being told summer recruitment will be minimal – which doesn't seem to be the case), I don't see it happening.
Of course, what do I know?
Matt Woods
43
Posted 20/05/2021 at 11:38:35
We can't change the gaffer..
We have been one of the hardest jobs in football forever. Ancelloti does not need the money. We play in the same City as the Club with an almost supernatural ability to defy laws of averages... who the fuck has their keeper score a worldie of a header in the 96th min on top of every other bit of insane unbelievable mind-bending moments that just feel like once-in-a-lifetime luck!
How the fuck does this shit happen?? Seriously...
Can we blame Ancelloti for decades of drifting???
I have been lucky to work in a few great countries and have met lots of footy fans from all over the world. As a Blue, I honestly don't open with all the history of misery... I can't... I just love Everton so much no matter the agony they put you through.
But when you explain this shit to other fans, they often agree with you; most have seen ups and downs, but when you make clear how the dice has rolled for the Red Shite so often, they just can't believe it and are then drawn towards Everton..
I honestly don't know what we can do. But I think we need much more streetwise people involved in the Club at the highest level. Moshiri has put his money in but he needs real people around him who are not sentimental or fucking daft.
Soren Moyer
44
Posted 24/05/2021 at 23:57:24
No way they want Ancelotti. Real Madrid have lined up Hans Dieter Flick unless he choses the "DFB" job instead.
Kieran Kinsella
45
Posted 25/05/2021 at 01:31:24
Soren
Why would he go to Real from Bayern? Bigger expectations, much worse players, no money. He is replacing Low, much easier gig
Don Alexander
46
Posted 25/05/2021 at 03:54:02
Matt Woods; the Abrahams, and vast numbers of us have named the nemesis who's spoilt out club, immeasurably, for decades.
Apart from a few whimsical, naive Kenwright acolytes on here, my/our opinion is, I believe, sustainable.
Kenwright and every one of his pandering appointees need to be shown the door.
Then we need to appoint people of genuine excellence.
That said, is there anyone in the boardroom qualified to appoint football-savvy personnel?
Er, no, Mr Moshiri - provably, unless you gamble on Brands as chairman. And, due respect to Brands, he'd be a gamble.
So get smart, at last, and add someone knowledgeable to our board to replace the obvious charlatan Kenwright. He's cost you close to a £billion after all.
If you for once get it right you can then depend on the rest of your nodding-dog boardroom to rightly publicly acclaim you to the ends of the Earth.
Do you, like us fans, want genuine acclaim from the football firmament for our cherished club - our club being the club with the most points accumulated in the top division since football was invented, and one of only three clubs still present in the Premier League from its get-go in 1888, the other two, Wolves and Villa, having a way worse top division record than we do (despite Villa having won the European Cup with a team created by the bizarrely sacked Ron Saunders, a proper Scouser)?
Unfortunately Farhad, assuming you're blissfully unaware, as you've glaringly show yourself to be when it comes to football rather than manipulating £billions, Mr Saunders is now dead.
He'd have been a kick up the arse for those at USMFF though.
Soren Moyer
47
Posted 25/05/2021 at 14:45:56
Kieran. He has not been appointed as national team coach yet and Real Madrid is trying to offload a few of their deadwoods as well and will get a huge loan so money won't be an issue.
Paul A Smith
48
Posted 26/05/2021 at 12:46:42
This must have been Carlo's plan all along. Get Holgate signed up for 5 years and both leave for Madrid a year later.
Barry Hesketh
49
Posted 01/06/2021 at 14:29:26
If it does turn out to be Moyes, please, let nobody ever tell me that Bill Kenwright is not a continuing influence on Everton FC. or that his position as Chairman is in name only. I wonder if the next announcement will see Everton ditch BMD and reconsider a move to Kirkby - surely not?
Barry Robson
50
Posted 01/06/2021 at 14:30:11
Great question Steve Brown.
My answer would be give Ian E, the job and be done with it.
Lewis Barclay
51
Posted 01/06/2021 at 14:31:48
Whether I think Carlo or not as Everton manager, I think him leaving now would really send out all the wrong messages to the wider footballing world but would sadly be a big dose of realism.
Everton need good tactical experience and clout in the transfer market to attract players who would otherwise opt for Champions League clubs. Ancelottif at least fits the bill in the last one!
I feel like the wheels are falling off "Project Everton" a but here.
Tony Everan
52
Posted 01/06/2021 at 14:31:49
Paddy power opened a book now for the next Everton manager, like piranha fish, he's not even left yet!
Eddie Howe 2/1 Big Duncan 7/2
Nuno Espirito 4/1
Lampard 15/2
Benitez 15/2 Rooney 9/1 Moyes 14/1

Rudy Chinchilla
53
Posted 01/06/2021 at 14:32:41
Fabrizio Romano is now reporting it, which just about means it's true. Now the question is who do we appoint?
Robert Tressell
54
Posted 01/06/2021 at 14:34:20
I'm happy to nail my colours to the mast. If we could get him, I'd want Ten Haag from Ajax. Built and rebuilt a few very good sides from cheap imports and youth products. Exciting football to boot. He's done as much with Ajax as will be possible and he needs a new challenge. Our youth system is showing some signs of bearing fruit and he should work well with Brands, both being Dutch and displaying common footballing principles. Failing that Dyche is probably best qualified but he has a silly voice and a ginger goatee.
Danny O'Neill
55
Posted 01/06/2021 at 14:40:05
That's a good call Robert.
I've thought we need to look to the Netherlands, Germany and Denmark on the playing side more often.
Likewise coaching. They produce the finest coaches in Europe. The last 3 European Champion's League winning managers are German and a German scored the winning goal in last weekend's final.
Ajax's academy is world renowned both in terms of players they produce and the style they play. Sadly, like Schalke, they unfortunately don't hold onto them, so tend to be a production belt for wider football.
But good call if we need to replace the manager.
Dyche; I'm polar opposite with you on that one. Funny thing this football debate stuff!!
Soren Moyer
56
Posted 01/06/2021 at 14:44:07
These are the odds for candidates being considered for the Real Madrid job and Carlo's name is not among them!
Antonio Conte - 4/7
Raúl González - 7/2
Massimiliano Allegri - 9/2
Gian Piero Gasperini - 8/1
Guti - 10/1
Joachim Low - 22/1
Barry Hesketh
57
Posted 01/06/2021 at 14:45:27
The Athletic is reporting that there will be an Everton FC board meeting at 3 pm.

Brian Harrison
58
Posted 01/06/2021 at 14:48:34
Seems little doubt that Carlo is on his way back to Real Madrid, but where does this leave Everton. So we will be looking for a 6th manager in 7 years, so whoever is picked will again start to want his own players and that will take time and Whoever it is I think Evertonians are getting sick to the back teeth of how this club operates, so he will have to hit the ground running as I think our fans are all out of patience. I guess this will make the James situation interesting as he only came here because of Carlo and same can be said of Allan and Olsen.
As I said in an earlier post when I hoped this rumour wasnt true, the same useless won nothing managers will be being lined up starting with Howe surely most must have seen through this overhyped won nothing manager. He wasnt even good enough for Bournemouth. Sean Dyce yes hard working but with a limited style very similar to Allardyce, you never know this basket case of a board might go back in for Allardyce as he did finish 8th. I am sure Sir John Moores must be turning in his grave seeing what he built being destroyed more and more as the years go bye.
Richard Lyons
59
Posted 01/06/2021 at 14:53:31
Robert #54 the comment about Dyche made me laugh.
What self-respecting, ambitious club would ever entertain recruiting anyone with such features?
I don't think Dyche or Howe are winners. We need a proven winner.
---
Add Your Comments
In order to post a comment, you need to be logged in as a registered user of the site.
Or Sign up as a ToffeeWeb Member — it's free, takes just a few minutes and will allow you to post your comments on articles and Talking Points submissions across the site.
---
© ToffeeWeb