Column
"The Forgotten Champions – 1986-87: Everton's Last Title" by Paul McParlan
Everton, Howards Way, the wonderfully-executed and evocative documentary film about the Toffees' mid-1980s resurgence, is far from unique in paying less attention to the Blues' most recent League win. Paul McParlan seeks to redress the balance by documenting, analysing and celebrating the 1986-87 campaign.
Rob Sawyer

19/09/2021
20

comments | Jump to last
Reviewed by Rob Sawyer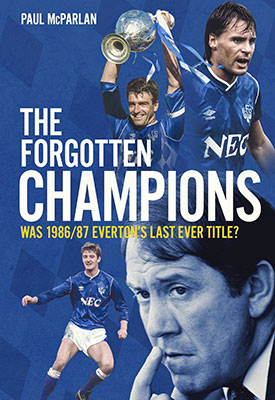 Everton, Howards Way, is a wonderfully executed and evocative documentary film about the Toffees' mid-1980s resurgence. The Rob Sloman-led project has reminded the football fraternity of the colossal achievement of Howard Kendall and his charges in usurping the side from across Stanley Park. It focuses on the trophy-laden 1983-84 and 1984-85 seasons (and the, sometimes rocky, path leading to them), making only a brief mention of the subsequent title triumph. And yet, there is a good argument that the second title win in three years was Kendall's managerial masterwork.
Howards Way is far from unique in paying less attention to the Blues' most recent (but hopefully not final) League win. In his debut book, The Forgotten Champions - 1986-87: Everton's Last Title, lifelong Blue and football historian Paul McParlan, seeks to redress the balance by documenting, analysing and celebrating the 1986/87 campaign.
But why is the club's ninth Football League title almost an afterthought in some quarters? As the book touches on, the reputation of football in England was at an all-time low, in the wake of the Heysel and Valley Parade tragedies whilst hooliganism continued to blight on the sport. For Everton, maybe this League Championship win came too soon after the previous one (which had been so long-awaited), so found itself unfairly overshadowed. And then, for the Toffees, there was one recurring theme: injuries. Graeme Sharp is quoted stating that while an Everton supporter worth his/her salt, can name the 1984-85 Everton team (just replacing Adrian Heath with Andy Gray in mid-season), people struggle to name the first choice eleven when the title was reclaimed two years later. Why? Because there wasn't a settled team. In all, 20 players made ten or more League appearances and Howard Kendall and his backroom team played 'make do and mend' to keep a title bid on track (by comparison, in 1984-85, 15 players made 10 or more appearances).
Paul's 330-page tale begins with the club licking its wounds after coming away empty-handed in the spring of 1986, when a League and Cup double had been very much on the cards. Worse still, it was Liverpool FC that claimed the prizes. The Blues had lost the services of prolific goal scorer Gary Lineker to Barcelona, and, as the author reminds us, could, so easily, have been without a manager, too. Howard Kendall believed that he was Camp Nou-bound, but the Catalans' retention of Terry Venables saw the Blues' boss remain on Merseyside. I am struck, reading this book, at how seemingly underwhelming the close-season reinforcements the manager made were. Imagine what the reaction would be now, in this age of social media, to the Blues signing a young Wigan midfielder (Kevin Langley), a little-known Stoke City attacking midfielder (Neil Adams) and a 32-year-old left-back (Paul Power) to bolster the squad and challenge for the title. Oh, and the small matter of not replacing your departed top goal-scorer. Only the acquisition of Dave Watson, on the eve of the new season, was a big-money move – and that was far from universally popular with the faithful, as it placed a question mark over the future of Derek Mountfield. The former Liverpool man would get off to a rocky start but proved his worth as the campaign progressed. Further reinforcements would not arrive until the manager brought in Ian Snodin and Wayne Clarke, when the season was well advanced, to get Everton over the line.
Article continues below video content
The author then takes us through the season, game by game. He draws on newspaper reports, personal recollections of attending matches and interviews conducted with Paul Power, Kevin Ratcliffe and Alan Harper to bring the season to life for the reader. After a Charity Sheild draw, the League campaign got underway with just five 'first choice' players: Neville Southall, Gary Stevens, Pat Van Den Hauwe, Peter Reid and Paul Bracewell were all long-term absentees. Remarkably, considering the decimated nature of the squad, Kevin Richardson was granted a move away in search of first-team football. After a season at Watford, he'd win silverware with Arsenal and Aston Villa.
Aside from the stories of each match, the author gives some wider context to the season. This includes the growth of Sunday kick-offs (and the pub licensing laws of that era) and the impact of a few matches being screened live on TV (still a novelty back then) - prompting fears, perhaps justified, of the negative impact on attendances. On the subject of crowds, Paul highlights how low these could be – the average Goodison gate being in the mid-20,000s with only the Merseyside derby plus the New Year's Day, Easter Monday League fixtures and 'coronation' match (against Luton Town) drawing in excess of 40,000.
The high points are all well-covered: Adrian Heath's volley against Norwich from Kevin Sheedy's delightful chip, Alan Harper's blockbuster at 'the Bridge', Wayne Clarke's 40-yard lob over Lukic at Highbury and, of course, Kevin Sheedy's 'V for victory' (or otherwise) salute to the Kop, at the home of his former employers, after his blockbuster free-kick. The Irish international had revelled in a more central position that season and was in the form of his life before a knee problem hampered him. His final significant gift to Evertonians that season was a glorious winner at Villa Park as the Toffees homed in on glory.
Some supporters offer the view that the 1984-85 season saw better football played than 2 years later. Admittedly, there was not the thrill of beating Liverpool at Anfield or thumping Manchester United 5-0 at home (3-1 had to do), but the case is well-made by Paul that the run of seven straight victories over the festive period and into January produced some of the finest footballing fare produced by the Toffees in that (or any) decade.
Remarkably, there were six match-ups with Liverpool that season – including the two-legged final of the previous season's (short-lived and little lamented) ScreenSport Super Cup. Everton failed to win any of them but had the last laugh by topping the table at the death - with Pat van den Hauwe wrapping it up with a goal at Carrow Road.
This reader, and I daresay many others, having read this book, will be filled with a mixture of nostalgia with admiration for what was achieved by the management team and players in the most trying of circumstances. This was a supreme joint effort, highlighted by Paul's well-chosen quote from The Guardian's David Lacey:
'Kendall and his chief coach, Colin Harvey, have again shown the act of good management is just that – making do and mending when the team are hit by injuries…and, above all, maintaining a high level of performance. This time it has been Everton's turn to show that in winning the League title, there is no substitute for consistency and collective purpose. Again, they are worthy champions.'
Thus, it's hard to focus too much on individuals. Clearly Howard Kendall, Colin Harvey and Mick Heaton all emerge with great credit for their man-management, resourcefulness and coaching ability (it's a nice touch that Paul has a short section devoted to, the now sadly departed, Heaton). The herculean efforts of the over-worked physio John Clinkard also get well-deserved recognition. Paul considers who the stars of the season were on the pitch. Kevin Ratcliffe and Trevor Steven were vital for their consistency and constant availability. Adrian Heath had great moments before his goals dried up late in the day – and, as previously mentioned, when fit, Kevin Sheedy was at his sublime best. A strong case is made by the author for Paul Power and Alan Harper, the two 'utility men' men who enjoyed perhaps the finest season of their careers. It is highlighted that this title win was a triumph for the defensive unit (once Watson had bedded in) – a mere 31 League goals conceded compensated for a drop of 12 in goals scored from the 1984-85 total of 88.
The book ends with an assessment of the season, in the context of the club's history, and why, it has not necessarily been given the credit due. There is also a glance beyond the season, with the departure in the summer of Kendall to Spain (Bilbao, not Barcelona, as it transpires) and consideration of the long-term impacts this had on the club. There is a clear suggestion that had the club been quicker in making salary offer commensurate with that being earned by Kenny Dalglish, Kendall might have been persuaded to rebuff the Basques and extend his Toffees tenure.
A match-by-match account of a season risks being monotonous. However, aided by great source material, a breezy writing style and intelligent analysis of the bigger picture, Paul has produced an eminently readable tome which I heartily recommend to fellow Toffees. He should be applauded for giving Everton's 1986-87 season the prominence and praise it so richly deserves.
The Forgotten Champions - 1986-87: Everton's Last Title is published by Pitch Publishing. Release date 27 September 2021 (available to pre-order). ISBN:9781785318665. RRP £16.99 for hardback. A Kindle version is also available.

Follow @robsawyer70
Share article:
Reader Comments (20)
Note: the following content is not moderated or vetted by the site owners at the time of submission. Comments are the responsibility of the poster. Disclaimer
Danny O'Neill
1
Posted 20/09/2021 at 09:02:12
Thank you for the pointer to the book Rob. You really took me on a nostalgic trip down memory lane with your review.
The title is very apt and as was said at the time of the release of the excellent Howard's Way, the only disappointed was how they glossed over the 86-87 title triumph. It does sometimes feel like it has been somewhat airbrushed.
I remember that summer very well. the crushing blow of missing out on the title late on magnified by the events of 10th May. Linekar departing after one season and 40 goals. What remained being decimated by injuries and the signings being a bit uninspiring. I was trying to find a word to sum up how I felt. Anxious!!
I know the younger generations of fans must be shaking their heads at my then first world problems, but in context, we were challenging at the very top of English football and expected to keep winning things.
Then there was the whole Mountfield v Watson saga. I was going to say it divided the fan base, but if I recall, we were initially united in our insistence on Derek playing and were very suspicious of Watson! How dare we replace anyone from our glorious 84-85 team. They were invincible and going to live for ever right?
That Christmas period was indeed glorious. The Newcastle away performance was one of the best seen in my lifetime and probably the pick of the bunch.
I attended every single home game and a few away ones when I could. I'll pick out a few, but not the obvious ones. The Norwich home game and the Heath goal. I've called this before, but it was Sheedy's patience and brilliance with the lobbed pass that I remember. I don't even think I saw Heath hit it as I was still declaring my love for Kevin Sheedy!!
Another one, for very different reasons, was Charlton at home as we headed into the run in with the league tight. Very cagey affair, we didn't play well and I think had to come from behind quite late on. But, ultimately showed resilience & professionalism to get the job done at the business end of the season.
And of course Norwich away. Packed in the corner with nets either side of us to stop the coins and other thrown objects. Pat Van den Hauwe scoring in the distance and then not really seeing much else in terms of football, just singing "Hand it over Liverpool" quite a lot. Then the long but jubilant trip back to Speke on the coach, my dad letting myself and my mate enjoy a few under-age drinks to join the party.
Happy, happy days! Thanks again Rob. Great start to the week ahead of QPR tomorrow.
Peter Mills
2
Posted 20/09/2021 at 09:47:19
I've always thought that this Championship victory was one of the great managerial feats.
Heath, Sheedy and Steven played some sublime football, Ratcliffe was a rock, Watson became one, but the parts played by Kevin Langley, Paul Wilkinson, Neil Adams, Bobby Mimms and Wayne Clarke, who all played over 10 League games each, should never be under-estimated.
Barry Hesketh
3
Posted 20/09/2021 at 10:02:53
Indeed Peter @2, it was some fine management that brought the title back to Goodison in 1987. Whilst I witnessed both title-winning seasons the last one doesn't or didn't stick in my memory banks as much as the 1985 season did, was it because of the hangover from failing in 1986 which also sticks in my memory banks more than 1987 too. Was it because of the way we were usurped in 1986 by our neigbhours which meant we didn't pin our hopes on the squad of 87 being able to wrestle the championship back again?
As far as I remember it the possibility of Everton landing the title didn't really come into view until that trip to Highbury when Clarke lobbed Lukic and the neigbours surprisingly lost at home to Wimbledon. The victory at Highbury was a part of an unbelievable end to the season where Everton registered ten victories and a draw with the only defeat coming ironically at Anfield.
It seems that 1987 although remembered by many didn't register as highly as the previous title wins not merely by the neutrals and the media but by us too.
Danny O'Neill
4
Posted 20/09/2021 at 10:14:55
I think you're right, Barry. I can only go off gut instinct from the time.
Maybe it was the monumental momentum we built in 1984-85 on the back of the strong finish, 2 Wembley trips and a trophy in 1983-84. Despite the rubbish start in the first 2 games, we just felt we were going to win every time we played.
1986-87 didn't quite feel like that for me. Like you say, maybe the hangover and all the other factors mentioned above had knocked our confidence. Fortunately, not Howard's or the players he did have available!
I went to that derby at Anfield. Pretty sure that was the one I had my hard-earned sausage roll ripped off me and thrown on the Anfield Road terracing by a rather drunk Evertonian who then lectured me that it was bad enough having to pay to get in here, let alone putting more money into their bank account!!!
Ken Kneale
5
Posted 20/09/2021 at 16:16:07
Danny - possibly a self inflicted wound with the loss of the sausage roll - it is hard to disagree with the sentiment expressed by the miscreant!!
On a more serious note, yes indeed this is a significant managerial feat and I think both Howard and Colin alluded to that from time to time.
It was also a great effort of resilience, commitment and significant skill by the players involved, some of who were seasoned first team regulars but many of which as Peter notes, were capable of stepping up the the required standard when called upon.
It does highlight how the perfect storm of the Europe ban, the loss of influence of John Moores for health reasons at board level and the paucity of direction at the club 88-93 led to the bleak period that characterises the premier league period for Everton which in my view has been anything other than premier
Danny O'Neill
6
Posted 20/09/2021 at 16:34:24
Oh, he educated me Ken and I've never paid for anything at Anfield other than a ticket since!
You make good points with your perfect storm analogy. A lot of us, myself included, point to the European ban, and we should rightfully feel bitter about that as it impacted us more than most I would say.
But there were other factors brewing behind the scenes that you call out and just general descending into resting on our laurels and a lack of investment.
Other big clubs who didn't have the same starting point as us at the time (Arsenal, Manchester United) managed to cope with and come through the European ban in a much stronger position because they thought strategically and looked at a 5 to 10 year plan. We were thinking next week at best. I'm hopeful that with Bramley Moore Dock on the horizon, we are finally thinking strategically and have a plan, regardless of what happens next week. That's just a match.
There is a lost generation of supporters and I always have to dust my youngest brother down, but hopefully, there is a new one that is going to witness what we did. Magical moments.
Paul Birmingham
7
Posted 20/09/2021 at 20:40:38
Those were the days, halcyon days in a great era for Everton.
Frightening where time goes but the memories never fade of them days.
Let's hope that Everton as a club on and off the park, can turn the corner and get on a the road to consistency, and success.
BMD can it be a driving force to success remains to be seen. The Old Lady has magical memories, special games, days and nights and teams and people, many whom are here still and some who've passed on to the Top Balcony in the sky.
But no team has a divine right to success, and Everton will have to keep working hard and striving to compete in the era of the mega books investors.
Let's see if tomorrow night at Loftus Road, if a victory can set up for another big game v Norwich.
Ken Kneale
8
Posted 20/09/2021 at 21:09:29
Danny - lost supporters indeed - either altogether or like my son, following the faith but all they have ever seen is relegation battles, mediocrity dressed as success, or downright mismanagement - often all three. I have had many pangs of guilt for his blue upbringing - thankfully he would not have it any other way and I think his passion exceeds mine.
I cling to the belief that you are correct about the new ground - if not the downward slide will see us absolutely aligned to the list of fallen big clubs with little way back- our current situation has that nagging feeling of 'last chance saloon' - not a comfortable feeling.
Mick Hoban
9
Posted 21/09/2021 at 14:53:52
That Luton game, May 1987, I was 23 and had just been made redundant. I celebrated as much as I had for the last 3 years. The following week, I finished work, left home and moved to the Blackpool area, couch surfing with friends I'd met on a boys holiday in the Canaries the year before.
I came to matches only sporadically for the next 7 years, finally getting a season ticket after the Wimbledon miracle of 1994. We immediately won the FA Cup and I hoped my return to watching full time had ended the curse of my leaving the area (I blamed myself for our change of fortunes !)
Well, all these years later, nothings changed with me or EFC. They still haven't won anything, I'm still living on the Fylde coast and approaching retirement. My son is now 23 and after finishing his Uni stint in Liverpool, now lives in the city and I weep that he's not experienced what I did in my early twenties. He still has his season ticket but I relinquished mine around the time of koeman/him/silva.
So 1987 has a great meaning for me but its true, that was us just on the brink of the way down and it doesn't compare in the memory to the 84 and 85 rise to the very top.
Great article - thanks.
Rick Tarleton
10
Posted 23/09/2021 at 15:35:28
It's always been a mystery to me how Everton came so badly out of the European ban compared to the other members of the Big Five as they were then.
The Granchester family seemed to want as little to do as possible and we became a club whose owners had limited ambition: Johnson and Kenwright for various reasons were unable to compete with the new breed of foreign owners. The managerial appointments, starting with Walker, were appalling and the decline into mediocrity started.
That second title win was illogical and a great piece of management by Kendall. I don't see the title coming back soon.
Chris Corn
11
Posted 23/09/2021 at 16:09:40
I look forward to reading that. I was 13/14 during that season and it was a time when I was allowed a bit more freedom to go the match unaccompanied by adults. Coupled with the fact my parents were going through a messy divorce, the football was a welcome escape.
My main memories are my cousin and I being sold the worst ever forged tickets to the Anfield derby by a Hackney driver on Netherfield Road a few days before the game. They were like card, with spelling errors and all. I still cringe when I think about it.
Villa away was amazing. We owned three sides of the ground. I think Villa were doomed to relegation and we just took it over. I always remember the clincher v Luton at home. It was an ugly game with some naughty tackles but class prevailed.
Langley started ok but just lost the plot and ended up playing against us for Man City on loan in the home game towards the back end of the season. Very bizarre.
With regards to the decline. The pay issue was a massive thing. Everton were notoriously poor payers. The Kendall salary thing is no surprise.
My brother was a contemporary of Gary Stevens in the junior teams and via a mutual friend they were reintroduced around this time. My brother socialized with the squad in the "Conti" days when players from both clubs socialized together regularly.
He told me Trevor Steven was offered a £25 per week rise when his contract was due up in 89. Gary Steven's had his wages trebled by Rangers the year before. Mountfield never earned more than £400 a week as he just wanted to play for his boyhood heroes and the club were happy to take advantage.
As a result of that and poor recruitment which led to cliques forming, that was when the real rot set in.
As per an earlier poster, a lack of foresight and commercial acumen – other than us being one of the so-called "Big 5" of the time – led to us falling off the proverbial cliff which we have never been able to clamber back up in the Premier League era due to one ownership disaster after another. More so ironic as Phil Carter was a driving force in the creation of the Premier League.
Great times, in what seemed a far simpler era. I think it was about £6 to get in the Top Balcony. About half that to get on the terraces. A far cry from today's fare.
Dave Williams
12
Posted 23/09/2021 at 16:46:32
Langley looked a class player initially. His delayed cross to the near post against Man Utd for Inchy to score with a diving header was a great piece of play but, as Chris says above, he faded badly when the crowd gave him stick and never fulfilled his potential.
The decline started when Liverpool signed Barnes, Houghton, Beardsley in the close season and won the title. We tried the same trick with Cottee, Nevin, McCall and Macdonald. We paid £2.2M for Cottee when his true value had been quoted as £750k before the wrangling started. We paid £900k for Nevin which was a huge fee back then and double his value (fee was set at tribunal) and McDonald was a waste of money, way too slow and passive for a full-back.
Further money was wasted (parallels with today anyone?) on Beagrie at £750k, Newell £1.1M, Snodin was wrecked by a bad injury and our money supply started to dry up. Howard Kendall Mk 2 then blew another million on Johnston and sold Keown and McCall to raise funds which were wasted.
The slide was halted briefly by Joe Royle who was then effectively sacked by the ridiculous Peter Johnson.
A book should be written on how this was allowed to happen as we have still never recovered – we should have built a dynasty but our foundations were as sandy as Ainsdale beach. A tragic tale in its context.
Robert Tressell
13
Posted 23/09/2021 at 17:38:25
I can only remember as far back as the Cottee era Everton when we were already fading badly. I've only ever witnessed us finish in the Top 4 once and I'm 42.
Just seems to be a very swift dismantlement and decline of an excellent side and we've never recovered.

Dave Williams
14
Posted 23/09/2021 at 17:51:55
Robert,
Strangely, the 1969-70 title-winning team also broke up very quickly when it was still a young team which should have dominated for years. That team lost Catterick to ill health and the 1986-87 team lost Kendall to Bilbao.
The midfield generals in each team – Ball and Reid – had troublesome injuries which prevented them from dominating games like they had. Neither midfield was ever the same without their general and money was frittered away by managers who were not up to that particular job.
Chris Corn
15
Posted 23/09/2021 at 18:08:42
Dave Williams, you're dead right, mate. I remember Sheedy had an injury in 1987-88 and we could have got anyone to come in at that time in that position as we were reigning champions. We bought Ian Wilson.
I remember thinking in hindsight a few years later, that was a significant event in our downward turn.
As an 11- to 14-year-old during the 3 year purple patch, I thought it would never end. I had the pleasure of going toe to toe verbally at school with my RS mates.
I have now reconciled myself to the strong probability that I will never see Everton achieve real success again in my lifetime.
Good thread though. Nice to read like-minded people who are not point-scoring and insulting each other over current club affairs.
Chris Corn
16
Posted 23/09/2021 at 18:17:19
Robert, ironically my best times following Everton were in the Joe Royle era. I was in my early twenties and going the match with my mates then into town and ending up in Cream or some similar establishment.
Elland Road v Spurs was my best match-going experience as we had been written off for the Dream Final. We were superb that day with a right mix of steel and quality to see them off despite their undoubted quality.
The Cup Final was great but the semi shades it for me.
Kanchelskis had a period where he was unplayable and we even had the upper hand in derbies.
As Dave says, Royle had that bad run when injuries struck when we were tipped as title outsiders at Christmas. Then a farcical parting off the ways led to more strife and more debacles over the next few years.
Frank Sheppard
17
Posted 24/09/2021 at 07:57:20
That squad certainly did us proud. I agree that better football was played than in previous seasons.
The big difference after selling Lineker was that we had to play better football, as we had been relying on his pace and finishing. He scored all those goals, and we were trophyless.
Sell him, and we win the League again, with an injury-hampered squad.
Danny O'Neill
18
Posted 24/09/2021 at 09:35:33
What I also remember about that Villa match, Chris, was the wave of blue heading down the M6. Amazing sight. I even saw a black taxi full of Evertonians. Okay, this might not have been the height of the 80s economic depression, but we still weren't out of the water!
No need to mention Ian Wilson. It still makes me sad.
Funny how, when you're young, you take little notice of what's going on and follow blindly; more blindly than I do now. The talk of subsequent seasons made me do a bit of reading and it's quite stark.
87-88: In - Alec Chamberlain. Out - 12 x players.
88-89: In - McCall, Nevin, Cottee, McDonald, Kearton. But again, 11 players going the other way, including the likes of Mountfield, Stevens, Heath & Reid.
Okay, those 80s champions may have been past their best and I remember the excitement of that transfer window, particularly the kudos of Cottee (considered hot property at the time) choosing Everton over Arsenal. We still had it; we thought.
But in hindsight, McCall was no Reid. Nevin was no Trevor Steven. Cottee no Sharpe and McDonald no Stevens.
So, as well as the in-to-out ratio being totally disproportionate, we were not replacing with the same quality. Most likely due to the wages policy alluded to above and a need to cut costs?
And finally, the Royle debacle. Now, don't get me wrong, I wasn't always a fan of the "Dogs of War" style. But we did play some exciting stuff with the likes of Kanchelski and Limpar in the team and looked to be building again.
Wasn't the departure all around his ask to sign Tore Andre Flo plus another from Brann for just under £1M but Johnson said no?
Tore Andre Flo who subsequently signed for Chelsea, won trophies and played in the Champions League? I know he wasn't the greatest they've had in the modern era, but they obviously saw something that Royle did as they built their upward trajectory.
I've often described Man City's and Chelsea's approach as a stepping-stone one. Buy better then gradually improve it. Both players and manager. Yes, they've thrown money at it, but they had to start somewhere with so-called "lesser" players or big names to get them on the map, like the 33-year-old Ruud Gullit for his last gig.
I thought we were trying similar with Ancelotti and James. But we fell off the first pebble!!
Too many players out; not enough good ones in. Sounds eerily familiar.
Phil (Kelsall) Roberts
19
Posted 25/09/2021 at 20:57:08
The team was a lot more settled than you would believe.
The 11 players with most "minutes on the pitch" were:
Southall, Stevens, Watson, Ratcliffe, Power, Steven, Harper, Snodin, Sheedy, Heath and Sharp.
It was probably the lengthy spells at the start of the season. Southall missed the first 11, Gary Stevens the first 17, Peter Reid and Van den Hauwe 26, and Paul Bracewell the entire season. I remember watching the home match with Man Utd which was live on the box (35 years Tuesday just gone!). Mimms, Paul Wilkinson, Kevin Langley and (almost) 33-year-old Paul Power and we beat the champions elect. Yes, it was only 7 games in but as usual all pundits had them to win the title by Christmas.
What we all forget about that team and the 84-85 team was how young they were. The average age put out in 84-85 was 24 years 4 months. That was the average. Not one player was over 30, and that included Andy Gray (born late '55) and Peter Reid (mid '56).
Even the 86-87 team averaged at 26 so we had replaced with younger as those from the 84-85 team would be 2 years older by then. It was throwing in the kids – Southall 26, Gary Stevens 21½, Keven Ratcliffe 24, Deggsy 22, Tricky Trev 21, Inchy and Sharpy both 23, Brace 22, Sheeds 25.
Am I bitter about Heysel – too right I am. We were robbed of our history. That team could have dominated until the Premier League started.
Brian Wilkinson
20
Posted 13/10/2021 at 23:30:06
That 1987 team saved a lot of Evertonians with winning the league title.
After the Devon Loch of the league and cup final the season before, had we not lifted the title in 87, then we would have suffered even more at how we threw away the double.
Even now, it hurts the 86 loss, but winning the title the following season softened the blow. We would have suffered big time, throwing the title away and never winning it again.
So those guys of 87 saved me and a lot more Evertonians, more than they will ever know. Without them, we would still be talking about the season before.
---
Add Your Comments
In order to post a comment, you need to be logged in as a registered user of the site.
Or Sign up as a ToffeeWeb Member — it's free, takes just a few minutes and will allow you to post your comments on articles and Talking Points submissions across the site.
---
---
© ToffeeWeb