Everton History
Toffee Soccer and Everton's North American Trips of 1961
Rob Sawyer

12/08/2021
20

comments | Jump to last
By all accounts, Everton's return to the USA, to participate in the Florida Cup was well received by our North American followers, in spite of enforced changes due to the last-minute withdrawal of two clubs. It was heartening to see so many supporters get to the matches and enjoy the associated events.
The visit to the Sunshine State coincided with the launch of a new book titled Toffee Soccer: Everton and North America. As the name suggests – it is an examination, and celebration, of the enduring bonds between the Blues and the USA and Canada. The hefty tome features every player and coach to have been associated with both Everton and soccer Stateside. These range from household names like Tim Howard, Landon Donovan and Wayne Rooney to hitherto obscure figures dating back a century or more. Their profiles are all accompanied by brilliant caricatures crafted for the book by Peter King. My co-authors, Dr David France – who conceived the project, and drove it forward with characteristic verve – and Everton's Darren Griffiths, discussed the genesis of the book at an Everton event at the Orlando Live venue. At this coming-together of hundreds of the Blue persuasion, David and Tim Howard were deserving first recipients of EFC North America awards. The EFC North America Trailblazer Award was recognition of David's decades-long crusade to foster closer ties between his beloved club and his adopted home continent. Tim, meanwhile, was voted by supporters as the first EFC North American All Star.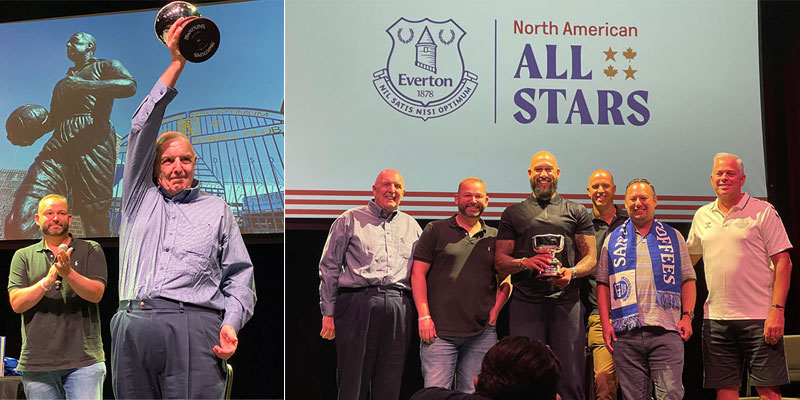 Dr David France (left) and Tim Howard (right) receive their awards at the recent fan event in Orlando, Florida
As well as containing extensive player and coach profiles, Toffee Soccer documents the 10 previous occasions on which the club has ventured to the USA and Canada. Sixty years ago, the Toffees crossed the North Atlantic for a second time visit – five years after a series of exhibition matches staged in Canada and the USA. You can read about the 1961 expedition in some detail in the new book, but here is a canter through it to whet the appetite.
The International Soccer League was a tournament staged in Montreal and New York. Its aim was to boost the profile of the sport in the continent, with a view to making it commercially viable. A mix of 16 European, South American, and North American teams competed in two league sections, with the table toppers meeting in a final to be staged in New York. Newly-appointed Everton manager Harry Catterick was less than enamoured with the thought of spending weeks away from Merseyside, rather than preparing for a tilt at the Football League title – as he sought to meet the expectations of Chairman, John Moores. However, the club was committed to participating, and the Moores was keen to see the Toffees make a statement on a bigger stage.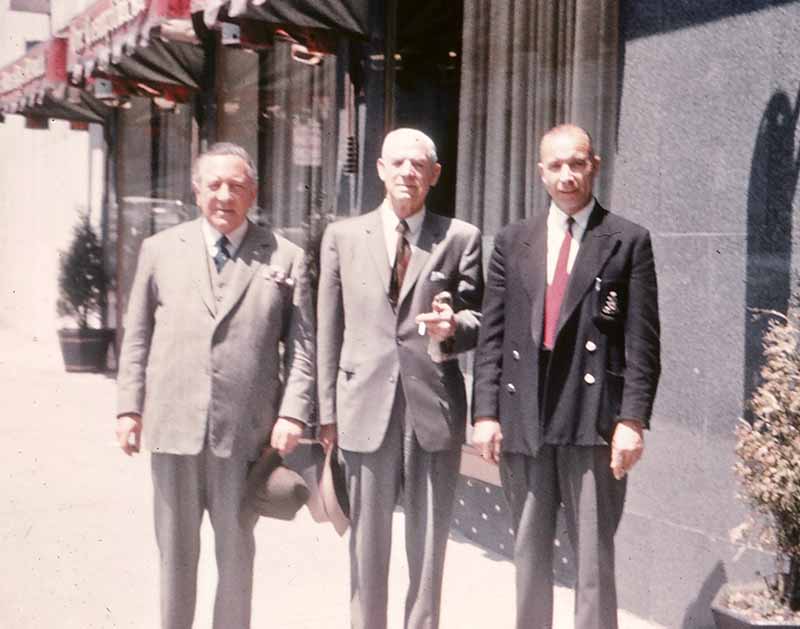 Everton director Edward Holland Hughes with tournament officials
A modest touring party of 17 players (including a several carrying injuries which would restrict their availability), Harry Catterick, trainer Gordon Watson and several directors flew into Montreal on 15 May (Alex Young would join up with them after international and military duty). It took a frantic series of calls to obtain 11th-hour assurances from FIFA that the tournament's lack of official status would not result in sanctions against the Toffeemen. With John Moores finally getting that clarification, the Toffees kicked off their tournament against Montreal Concordia on 24 May. The match, in front of a loud partisan crowd, was feisty, to put it mildly. Billy Bingham was dismissed for retaliation and a Concordia player stretchered off with a badly injured ankle. Alex Young scored the solitary goal to secure victory for the visitors.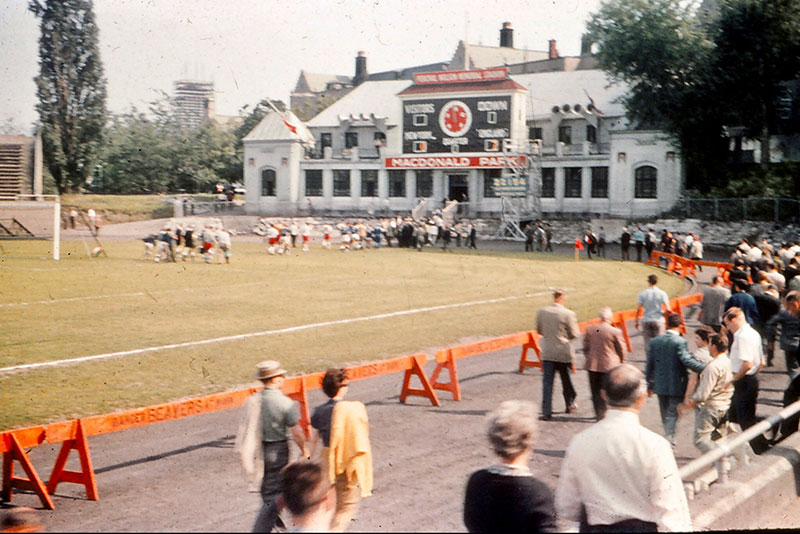 The Percival Molson Memorial Stadium, MacDonald Park – where Everton played their fixtures in Montreal
The very next day, captain Bobby Collins scored a brace to see the Blues past Kilmarnock, 2-1. Then it was an 11-hour rail journey to New York for the next set of fixtures. The hotel booked by the event organisers didn't pass muster, so Harry Catterick, urged on by Bobby Collins, saw to it that alternative accommodation was hastily arranged (at the club's expense). This episode was symptomatic of the, at times, amateurish organisation of the event. The Blues had to train in Central Park – initially commuting by subway before deciding to switch to taxis. With there being a gap in the match schedule, the Everton party had plenty of time to explore the Big Apple. There were trips to the Empire State Building and Greenwich Village, sunbathing at Coney Island, a horse race meeting at Belmont Park, boxing at Madison Square Garden, and a visit to a TV studio to see the Garry Moore show, of which Allan King was the guest star. There was also a day spent at a country hotel in New Jersey with its own outdoor pool.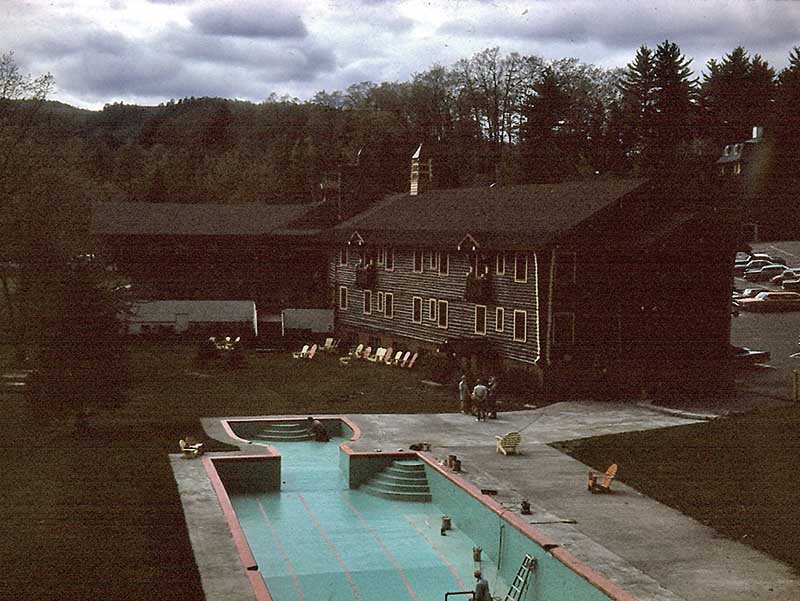 A hotel with pool in New Jersey where the squad spent a day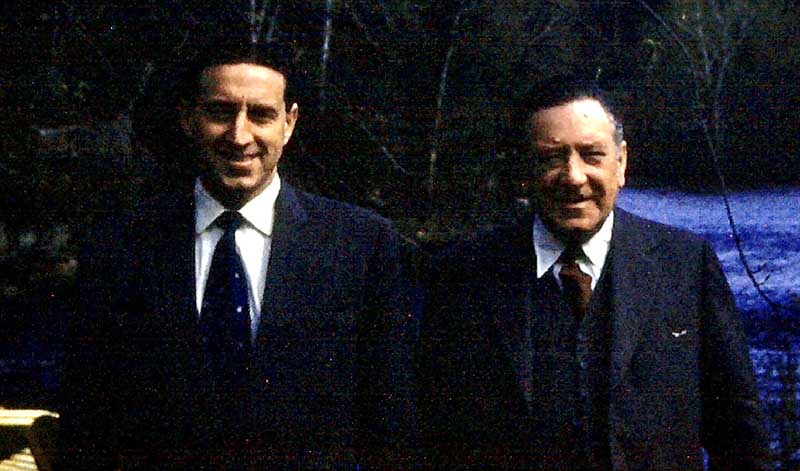 Harry Catterick and an Everton director at the hotel in New Jersey
On 4 June the Everton players took on Karlsruhe of Germany. By then the threadbare squad was further depleted by the sending home of Roy Vernon for the minor indiscretion of breaking curfew by 20 minutes. Catterick, aware of his predecessor Johnny Carey's relaxed approach to player behaviour off the pitch, was making a clear statement - with Vernon as the fall guy. The message was clear: Toe the line - or else.
The New York matches were staged at the Polo Grounds, home to the New York Giants baseball team. In blistering heat Young (with a brace), Collins, Jimmy Fell and Frank Wignall (deputising for Vernon) scored the goals in a 5-2 win over the German opponents. Three days later the venue played host to Dinamo Bucharest versus the Toffees. It was another comfortable win for the Merseysiders, 4-0 this time, but the match was brutal at times and Bobby Collins and a Romanian wing-half got their marching orders.
The unbeaten record came to an end with a 2-0 defeat to Bangu. The Brazilians were not a completely unknown quantity to Everton – having played at Goodison Park a few weeks previously. The Blues' cause was not helped by the searing heat and Billy Bingham's second dismissal of the tournament – the Irishman seeing red, again, for retaliation in the face of severe provocation.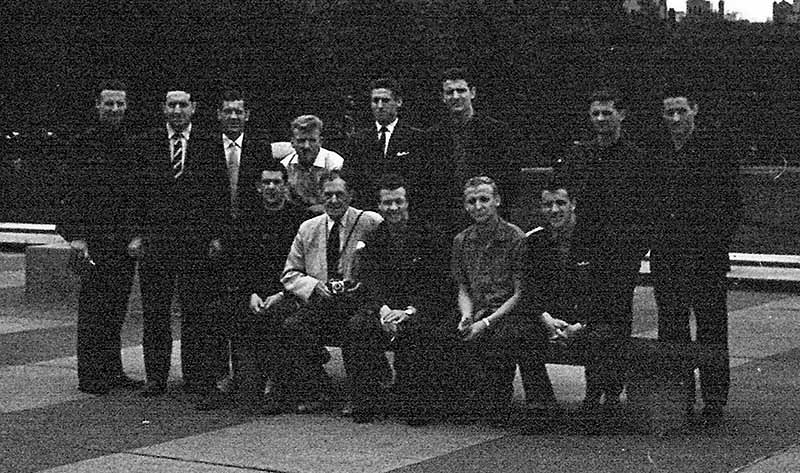 Some of the Everton squad and officials pose for a photo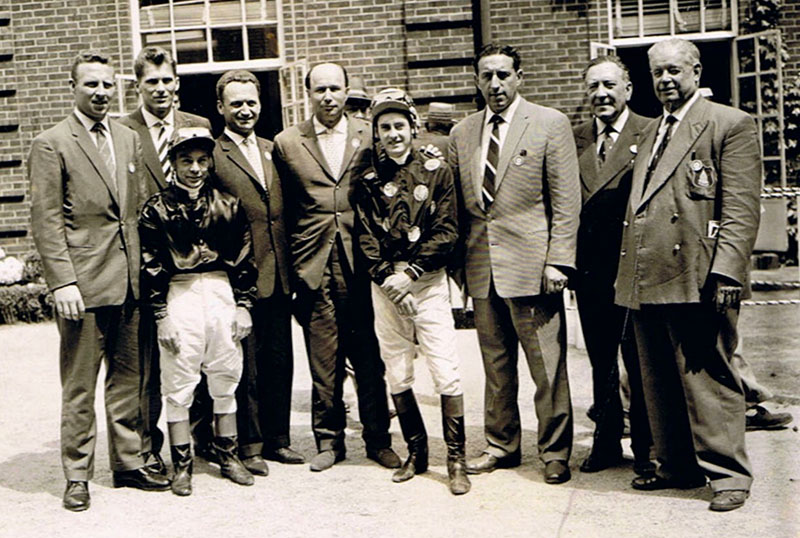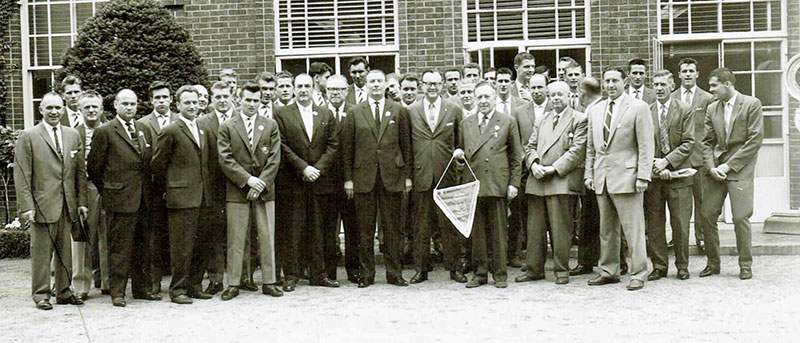 A trip to the races at Belmont Park
Three days after the Bangu battering, Beşiktaş, the Turkish champions of 1960, offered less resistance as Wignall, Young and Collins got the goals in a 4-0 victory. The league section of the tournament concluded two days later in Montreal with a 7-0 demolition of Americans of New York – effectively a representative side. The goals were shared around with Micky Lill, who was battling to recover from debilitating knee problems, netting twice. Having topped their division, the Toffees flew home, knowing that they would be returning six weeks later to take part in the final at the Polo Grounds (section two of the tournament got underway during Everton's absence).
The partly flying out for the tournament climax was largely unchanged. A reserve keeper, Willie Mailey, did travel on this occasion (previously, Tommy E. Jones and Brian Harris had been on standby to don the gloves if Albert Dunlop got a serious knock). Roy Vernon was back in the fold, but Derek Temple did not travel, due to injury. Tom Eggleston, Harry Catterick's right-hand man at his previous club, Sheffield Wednesday, had recently joined Everton, but stayed behind to coach the players remaining in England.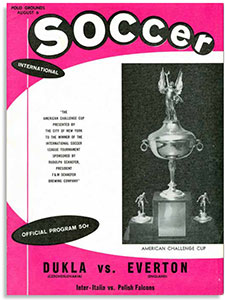 The opponents in the final were Dukla Prague. Linked to the Czech army, the club had won its section of the ISL in unbeaten fashion and was expected by bookies to come out on top against Everton. Dukla were aided by going straight from the league section to the final, without the need to travel home in between. The Liverpool Echo reported that an exclusive recording of the match was to be screened two-legged final would be shown on a BBC Sportsview Special programme on August 9.
Just shy of 13,000 spectators came to the Polo Grounds for the first leg of the final, on 2 August. Those that made the effort saw the Czech side sweep past the British opponents. The Blues could have taken an early lead, but Bobby Collins missed from the spot. Thereafter, with Alex Young incapacitated by a heavy blow to his thigh, the Blues were no match for the Eastern Bloc side and found themselves 5-0 down at half- time. Roy Vernon and Alex Young restored an element of respectability with second half strikes, but two more Czech goals condemned the Toffees to a 7-2 defeat. Billy Bingham said afterwards, 'We were caught off balance. Next time we meet them well be a bit more wary. I think we'll stand a better chance.' Meanwhile, Harry Catterick commented: 'I don't want to detract from the Czechoslovak's magnificent performance, but I must say I've seen our boys play a better game.'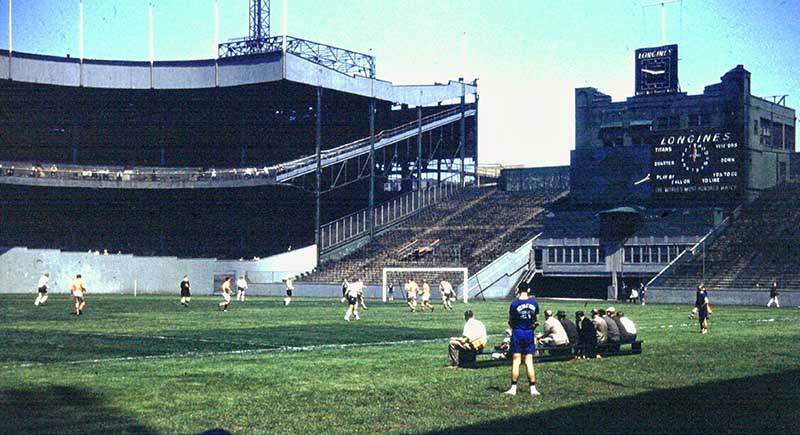 The Polo Grounds, home to the New York Giants – and home to Everton when playing matches in the city
Everton line up before a match at the Polo Grounds
After four days of wound-licking and recuperation, Everton's players sought to restore some pride in the second leg. They went at Dukla from the off but, just four minutes in, Frank Wignall jarred an ankle. Although he battled on, he was taken to hospital for scans at the break and missed the second half. With no substitutes permitted, Everton found the going tougher as the game progressed and were hit with the sucker-pinch of two goals in an 11-minute spell. The aggregate score was 9-2 to Dukla. 'Once we lost Wignall it was all over. We tried very hard but the strain of playing with only ten men was too much' was the view of Bobby Collins.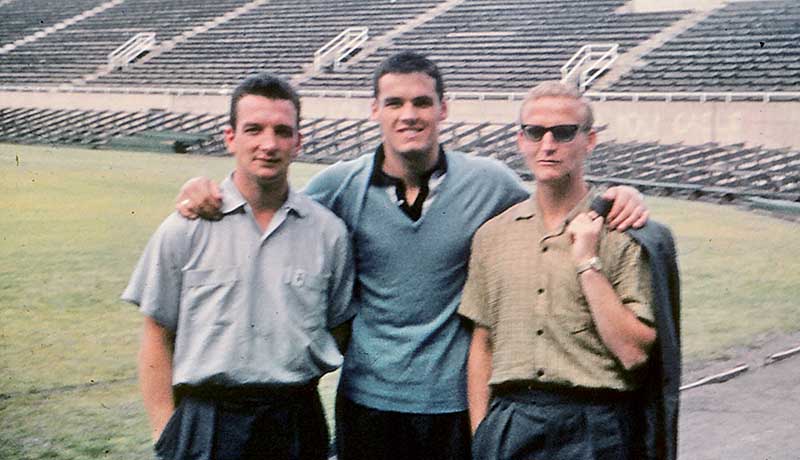 Left to right: Alex Parker, Frank Wignall and Alex Young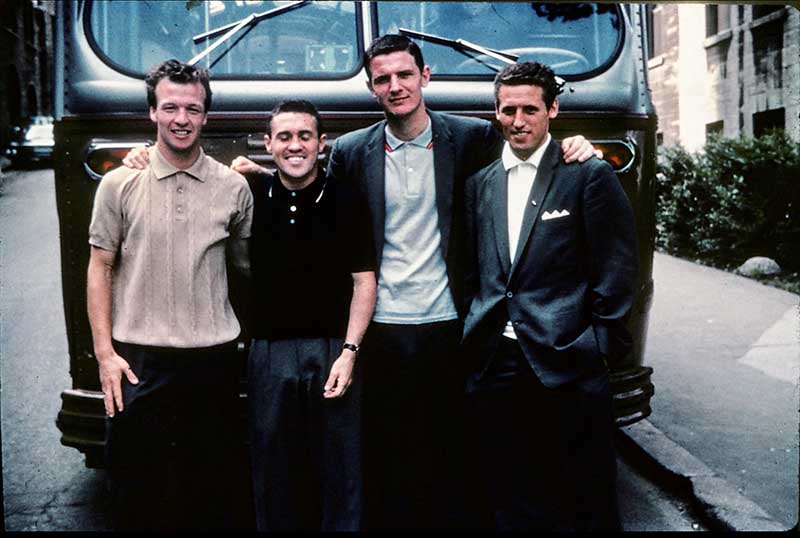 Left to right: Billy Bingham, Bobby Collins, Brian Labone and Brian Harris pose in front of a bus
Returning immediately to the UK, arriving at Manchester Airport on the bank holiday Monday, the fatigued Toffees had less than a fortnight to prepare for the start of the Football League programme. The erratic organisation of the competition, amount of travelling, disruption to pre-season preparation and physical toll on players made a return for the Blues to the ISL in 1962 out of the question. It's arguable that the Toffees slow start to the season, with five defeats in the opening seven matches which ultimately cost them the 1961/62 League title, could be attributed to the North American odyssey (Alf Ramsey's Ipswich came top, five points clear of Everton).
It would be 24 years before Everton ventured across the Atlantic again – playing two matches in Toronto in 1985. Although the club kept away from North America in the 1960s and 1970s – a sizeable number of players and coaches linked to it would ply their trade there in that period - many in the NASL and indoor competitions. These included Alan Ball, Colin Todd, Gary Jones and Cliff Marshall. All are featured in Toffee Soccer. Under David Moyes, visits to the USA became a regular and productive experience. The final tour - prior to this summer – was in 2013, shortly after the appointment of Roberto Martinez. These tours are covered in the book.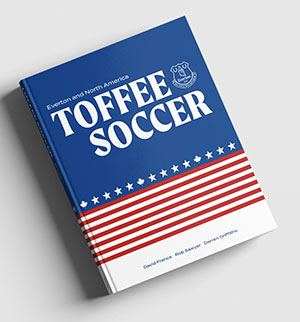 Toffee Soccer: Everton and North America can be purchased for £20 through the publisher, deCoubertin, here.
Further reading:
Toffee Soccer: Everton in North America by David France, Rob Sawyer and Darren Griffiths (deCoubertin Books)
Blue Dragon: The Roy Vernon Story by Rob Sawyer and David France (deCoubertin Books)
Additional sources
Newspaper reports transcribed onto bluecorrespondent.co.uk by Billy and Jay Smith
evertonfc.com
Colour slides from the 1961 tour used with kind permission of the Catterick family

Follow @robsawyer70
Share article:
Reader Comments (20)
Note: the following content is not moderated or vetted by the site owners at the time of submission. Comments are the responsibility of the poster. Disclaimer
Chris Williams
1
Posted 12/08/2021 at 10:46:06
Thanks Rob,

Another great article. I can still recall this trip vividly and reading about it avidly in the Echo every night, after school, waiting for my Dad to bring it home.

I'd forgotten about all the sendings off, but recall Vernon being sent home.

One minor quibble. Isn't that Frank Wignall standing between Alex Parker and Alex Young, rather than George Thomson, the handsomest man in the squad?
John McFarlane Snr
2
Posted 12/08/2021 at 14:06:31
Hi Rob, another great contribution, I must confess that I don't recall the progression to the Dukla Prague fixtures, but what I do recall is the fact that some weird explanations to the Roy Vernon episode circulated the city of Liverpool. Even by Harry Catterick's standard the punishment seems a bit draconian, and would maybe lead some to suspect a more serious misdemeanour. Thanks again for your article, it makes an old man happy to revive pleasant/unpleasant memories.
John Raftery
3
Posted 13/08/2021 at 14:33:36
Chris (1) That is definitely Frank Wignall. Another terrific article from Rob. Even at the time, it seemed strange that we committed so much of the summer to a tour in the USA. It could never happen now.
John Raftery
4
Posted 13/08/2021 at 17:01:21
Mike Gaynes
5
Posted 15/08/2021 at 07:13:07
I can't wait to read the whole book, Rob!
Chris Hockenhull
6
Posted 15/08/2021 at 10:39:41
Superb article, Rob. Loved the photos. A trip to Greenwich Village in the summer of 1961. Wonder if they ventured into any of the cafes and – without knowing at all at that point – witnessing a young Bob Dylan there who had shortly before arrived? Oh and was that broadcast of the game ever seen???
Rob Sawyer
7
Posted 15/08/2021 at 21:57:28
Chris W - thanks for flagging-up my caption error. This has now been corrected to show it as Frank Wignall with Alex x2.

Chris H - Wouldn't that have been a thing, if they had unwittingly watched a young Bob Dylan? As for the UK screening of the match - I have never heard it talked about so a lost gem, probably, unless someone like the 'Heavy Roller' on YouTube digs it out of the ether

Thanks to you all for the kind comments about the article
Chris Williams
8
Posted 16/08/2021 at 08:27:27
Chris,

That's a great thought. Just going there at that time must have been magic. Billy Bingham, between sendings off, enjoying The Clancy Brothers maybe?

Incidentally Chris, I just read a Dylan book by Spencer Leigh, and you got a couple of very nice acknowledgements in it.

Good book too. Very quirky and personal.
Alan McGuffog
9
Posted 16/08/2021 at 09:21:17
Chris...
If what I have read on a different thread is correct, wouldn't Bingham have eschewed the music of the Clancy Brothers in favour of something more flute and drum based? 😀
Chris Williams
10
Posted 16/08/2021 at 09:33:12
Possibly Alan,
And Z-Cars wasn't our theme yet, but it was probably on the TV by then. He might have enjoyed The Parting Glass though...
Alan McGuffog
11
Posted 16/08/2021 at 09:44:03
Chris... apologies if I've raised this before. I know you know your music. But mentioning Dylan and the wonderful "Parting Glass"... isn't his song Restless Farewell very similar?


Chris Williams
12
Posted 16/08/2021 at 10:15:24
Alan,

Yes it is, musically at least. It's actually surprising how many of his songs are influenced by other, often much older songs. Masters of War and Nottamun Town being one of the most obvious ones. Some of the songs might surprise you.

I say influenced and in Dylan's case, I think that's an appropriate word to use. It was an accepted thing in Folk and Blues that this was normal.

Unlike Jimmy Page for example, who was cynical and shameless, in songs like When The Levee Breaks, And with Black Mountainside and Bron y Aur Stomp, both traditional lifted from Bert Janch's repertoire, but claimed as a Page composition Contrast that with Bert's shrug and 'How do you own a song?' Attitude.
Chris Hockenhull
13
Posted 16/08/2021 at 10:18:43
Hi Alan. (11).
Indeed you're correct. On arrival in the Village, Dylan immersed himself into the scene around him. Tommy Makem and The Clancy Brothers (in particular Liam) were a massive influence on him and no doubt he would have learned of the wonderful "Parting Glass" from them.
Likewise, his visit to England at the end of 1962 gave him the opportunity to learn a lot from the British folk scene and its traditions and he gleaned a lot from what he was exposed to – in particular from Martin Carthy. Best wishes. Chris
Chris Hockenhull
15
Posted 16/08/2021 at 10:24:23
And of course Dylan & The Band go on to record "Johnny Todd" (Z Cars) and "The Auld Triangle" in the basement during the summer of 1967 in Woodstock.
Chris Hockenhull
16
Posted 16/08/2021 at 10:28:26
Chris (12).
The story of Paul Simon and "Scarborough Fair" after Martin Carthy taught it him and then copywrited it shows another side of all those antics and attitudes.
Alan McGuffog
17
Posted 16/08/2021 at 10:36:58
Cheers guys. Love the Bert Jansch quote btw
Alan McGuffog
18
Posted 16/08/2021 at 10:39:05
And of course let's not forget Bob Marley used the Banana Splits theme on Buffalo Soldiers 😄
Chris Williams
19
Posted 16/08/2021 at 11:02:55
Yes Chris,

The US copyright laws have opened up a horrible can of worms haven't they, over the years? And some people exploited them horribly too. There's a decent argument that there's no such thing as an original song.

An interesting bunch of people, Paul Simon.

Alan, I love The Banana Splits, and I hope they got their share of royalties!
Alan McGuffog
20
Posted 17/08/2021 at 08:19:05
And the Scarborough Fair lilt. Didnt Bob use that in his duet with Johnny Cash on " Girl from the North Country " ?
Chris Williams
21
Posted 17/08/2021 at 08:42:59
Alan,

Yes there are clear similarities between the songs, but that isn't unusual in old traditional folk songs, or with old blues songs for that matter. They passed through many hands and versions, with different regional variations.

Everybody changed them a bit, and nobody laid claim to ownership.. that's why Bert Jansch, Martin Carthy And co had the view they had about not being able to own songs. Martin Carthy and many other folk singers saw part of their job being the preservation of old songs, so they didn't disappear. But he added his bit to it, like Scarborough Fair.

Dylan learned songs from Martin, Bert learned songs from Ann Briggs. Dylan learned songs from Woody Guthrie who took tunes from everybody but changed them with great lyrics. As did Bob Dylan.

I've just finished re-reading a book by Greil Marcus about Like A Rolling Stone. He describes the provenance of the melody of that song. But because of the amazing lyrics and the arrangement, nobody could deny it was Dylan's song.

Interesting stuff Alan, and fascinating if you're a bit of a geek like me.
---
Add Your Comments
In order to post a comment, you need to be logged in as a registered user of the site.
Or Sign up as a ToffeeWeb Member — it's free, takes just a few minutes and will allow you to post your comments on articles and Talking Points submissions across the site.
---
© ToffeeWeb