Report
Everton surrender a winning lead twice at Elland Road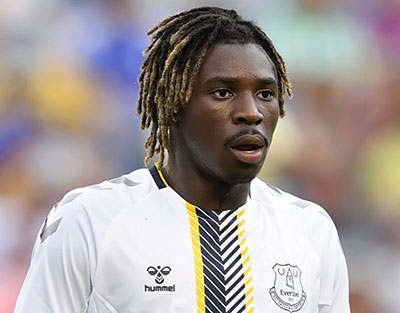 Moise Kean is back in the first-team squad but gets barely 5 minutes off the bench at Elland Road
Leeds Utd 2 - 2 Everton
Everton played a difficult game very well to get ahead twice through a Calvert-Lewin penalty and an excellent finish by Gray only to end up drawing at Elland Road.
Everton are again without James Rodriguez, who was still 'isolating' as a precaution in line with Covid-19 protocols, but Moise Kean was available, despite continuing speculation over the Italian striker's future. Jean-Philippe Gbamin trained with the squad this week and was also named amongst the substitutes as Yerry Mina and Alex Iwobi replaced Mason Holgate and Andros Townsend in the starting line-up.
No live coverage of the game on TV in the UK but the match was screened live in various markets around the world, including on Peacock in the USA (7 am PDT / 10 am EDT).
Elland Road was in celebration mode, awash with yellow flags as the ground welcomed back a full house of fans in the Premier League for the first time in 17 long years.
Everton kicked off, Doucouré with an early shot, weak and wide. And the first exchanges were lively, the ball zipping around on the wet turf, possession hard to maintain. Bamford delivered an early soft-slap to Mina's jaw over some silly side issue, miking the mood of the crowd.
Richarlison was very easily knocked off the ball as the Blues seemed a little rattled by the atmosphere. Richarlison looked to advance with the ball and was again easily robbed by Dallas, ending with almost a shot by Bamford, Keane blocking it.
Third time and Richarlison was deemed to have been fouled but Everton completely wasted the free-kick, delivered long to nobody. Leeds attacked and Raphinha fired in a shot to Pickford. Richarlison then tried a shot for himself but it was blocked.
Richarlsion then dribbled along the Leeds 18-yard line with Gray in support but was crowded out. Leeds attacked and Ayling saw his fierce shot deflected behind for the first corner that Phillips tried to put into the top corner but that too deflected wide for another corner, cleared.
A fantastic pick-up and run saw Gray steaming down the right into the Leeds area and firing his cross 3 feet in front of Calvert-Lewin, who had powered forward strongly but just could not connect. Digne tugged on Raphinha's shirt to give away a cheap free-kick. Allan tried to battle down the left but had no-one to pass to.
Article continues below video content
Gray switched to the left and put in another testing cross, with Cooper pulling Calvert-Lewin over, resulting in a VAR check for what should be an obvious penalty. Darren England consulted the monitor... and eventually decided that a penalty was the right decision. Dominic Calvert-Lewin finally got the ball and looked suitably determined, firing with the shortest of run-ups past Meslier and into the corner, a very well-taken penalty.
Leeds were livid but only had themselves to blame for an obvious foul, and desperately wanted to respond but Raphinha could only fire wide. The game now looked a little different as Everton sought to frustrate their hosts at every turn. A ridiculous comedy exhibition fight developed between Bamford and Mina, both players getting the yellow card.
Raphinha had another chance and drove this one even further wide of Pickford's goal. Another horrible misjudgement by Keane allowed Bamford to evade Mina and play in Klich who had no trouble in beating Pickford, who dived early to the wrong side, rather than advancing and making himself big. Doucouré forced a save at the other end but Everton were stretched as the corner was cleared. Iwobi got a half-chance that he wellied well wide.
With 6 minutes of added time before the break, the lively tempo of the game was maintained, Everton having all-too meekly surrendered their hard-won initiative. They tried to build an attack but found it just too busy around the Leeds area to make any meaningful progress as the whistle finally blew for half-time.
The home side got things restarted and won an early corner that Everton cleared. Richarlison again had his pocket picked far too easily by Phillips. But then, Iwobi and Doucouré manufactured nothing more than a half-chance for Demarai Gray who slotted a superb finish from a difficult angle. Great goal.
Gray was at it again, switching sides, and feeding Calvert-Lewin who shot a little too close to Meslier, without enough power in the shot to beat him. At the other end, Keane made a huge block to deny Raphinha.
Cooper rather roughly dragged down Calvert-Lewin — very close to another yellow card. Digne delivered the free-kick but too low and behind the Everton line of attack. Richarlison was dispossessed again so easily... But Iwobi slipped a wonderful pass to Calvert-Lewin who seemed not to expect it and could only poke it at the keeper, earning a corner that Digne delivered well into a crowd of Everton players, Richarlison looking the most bemused as it flew high over the Leeds goal.
The key to this game was continuing to break up Leeds's play and frustrate them at every turn. Everton were now controlling the play but another dangerous mistake could never be ruled out. And it was well beyond the time when Richarlison should have been hauled off and replaced by Moise Kean. But Benitez showed little sign of making any changes.
Of course, Richarlison then ran at his marker and won a corner, Digne putting in another low one that did not beat the first defender. Digne, annoyed with a throw-in decision, threw the ball away petulantly and saw an immediate yellow. Keane cleared the throw-in but then Gray had to put it behind for a corner.
Leeds produced more pressure and won another corner that Richarlison headed away. Roberts then fired a wicked cross-shot that Pickford needed to bat behind for another corner. But Leeds kept recycling the ball and Raphinha finally lined one up just right and lashed it through the crowd, curving wickedly into the far corner of Pickford's goal.
Benitez's response was finally to switch Iwobi for Townsend. Richarlison looked tired as he dug out a shot that was always going wide. Dallas went down easily and Coleman was deemed to have kicked the ball away, also for another yellow card.
Leeds now had the bit between their teeth, and Everton were rocking a little, unable to break out as the home side looked for the winner, and Benitez had made no further changes as the game entered the crucial final 10 minutes. Doucouré held on to Rahinha and he too saw yellow. Benitez finally acted to pull off Gray and bring on Delph (seriously?).
Mina had to get across and block a critical shot from Bamford as the pressure on the Everton goal continued. Richarlison again cleared the corner with Raphinha still keen on scoring the winner... At the other end, a good-looking attack ended abruptly with a terrible shot by Coleman.
Calvert-Lewin ran at the Leeds defence but chose to shoot a little too early, Meslier down well to smother it. Moise Kean was indeed the final change made by Benitez, ridiculously in the last minute. Doucouré came close to glory with a shot that spun off Cooper and just outside the post. From the corner, Keane's header was on target but not powerful enough.
A couple of late items were checked for VAR (Keane handball, Delph challenge, Mina with a brilliant defensive header to deny Bamford) and the final whistle blew on a creditable if a little frustrating draw that could and perhaps should have been an Everton win.
Scorers: Klich (41'), Rpahinia (72'); Calvert-Lewin (pen:30'), Gray (50')
Leeds Utd: Meslier, Ayling, Struijk, Cooper [Y:28'], Firpo (60' Shackleton), Phillips, Raphinha, Dallas, Klich (60' Roberts), Harrison, Bamford [Y:37'].
Subs not Used: Forshaw, Klaesson, Helder Costa, Rodrigo, Summerville, Cresswell, Drameh.
Everton: Pickford, Coleman [Y:77'], Keane, Mina [Y:37'], Digne [Y:68'], Doucouré [Y:82'], Allan, Iwobi (75' Townsend), Gray (83' Delph), Richarlison, Calvert-Lewin (89' Kean).
Subs not Used: Begovic, Kenny, Holgate, Gbamin, Davies, Branthwaite.
Referee: Darren England
VAR: Kevin Friend
Attendance: 36,293
Share article:
---
Reader Comments (341)
Note: the following content is not moderated or vetted by the site owners at the time of submission. Comments are the responsibility of the poster. Disclaimer
Michael Kenrick
1
Posted 21/08/2021 at 14:08:19
Great to see Everton player Moise Kean on the bench... now, will he get to play?
Ernie Baywood
2
Posted 21/08/2021 at 14:13:14
I know he did well last week... but Iwobi starting?
Michael Burke
3
Posted 21/08/2021 at 14:22:37
That's generally how it works Ernie, play well get a chance.

Ernie Baywood
4
Posted 21/08/2021 at 14:27:18
You don't weaken the side because a guy finally avoided looking poor for a 20 minute spell.
I'd have thought we'd be looking to put Leeds' shaky defence under pressure with crosses. Iwobi can't cross the ball.
Alan Johnson
5
Posted 21/08/2021 at 14:32:02
Great to see Gbamin on the bench. Fingers crossed for him.
Steve Shave
6
Posted 21/08/2021 at 14:36:15
1-2 Everton. I'd love to see Gbamin get some minutes and get through them unscathed. Can't wait for the game. Hope Iwobi is fired up and he finally shows us something. We must match their intensity.
Simon Dalzell
7
Posted 21/08/2021 at 14:41:17
Those are the two changes I would have made. Must be a very long time since I've agreed with the manager. COYB.
Ciarán McGlone
8
Posted 21/08/2021 at 14:43:02
Quietly confident about this. Was reasonably impressed with the impact Benitez had on the game last week..
Not as upset as some at Iwobi starting.. there is a player in there as he demonstrated towards the end of last season.
Leeds will be high paced and we need to af least match that.
Let's go.
Mike Keating
9
Posted 21/08/2021 at 14:44:58
On last week's performance Townsend a better crosser of the ball but Iwobi can be a handful when his heads screwed on straight. Agree with Alan - be great to see Gbamin get a good few minutes. The lad deserves it.
Kevin Dyer
10
Posted 21/08/2021 at 14:44:59
4-2-3-1 for me, Richy left, Gray right and Iwobi central. Or Richy central and Iwobi left.
Jay Harris
11
Posted 21/08/2021 at 14:45:20
But worried about Leeds pace against Keane and Mina. Wonder what's up with Ben Godfrey?
Iwobi and Coleman has not been a good psrtnership either.
Let's hope the Benitez influence has rectified that.
Conor Skelly
12
Posted 21/08/2021 at 14:49:00
Leeds are a counter-attacking side. I suspect the game plan will be to work the ball through-the lines to create chances rather than crossing into the box, hence Iwobi inclusion
Kieran Kinsella
13
Posted 21/08/2021 at 14:49:45
Ernie
Both Coleman and Doucoure claimed this week that Iwobi is our most skillful player. Seriously. Don't shoot the messenger I'm just sharing.
Kevin Dyer
15
Posted 21/08/2021 at 14:55:30
Jay #11 Isolating I believe
Kevin Dyer
16
Posted 21/08/2021 at 15:20:21
Electric pace from Gray down the wing there.
Kevin Dyer
17
Posted 21/08/2021 at 15:28:54
Penalty all day long

Phil Wood
18
Posted 21/08/2021 at 15:30:24
Get in!
Simon Dalzell
19
Posted 21/08/2021 at 15:33:20
Definite pen. A' hole Cooper keeps arguing.
Kieran Kinsella
20
Posted 21/08/2021 at 15:39:18
Saturday afternoon wrestling from Mina and Bamford. Made Big Daddy and Giant Haystacks look like great actors. Embarrassing
Kieran Kinsella
21
Posted 21/08/2021 at 15:42:59
Keane won't want to watch that back
Simon Dalzell
22
Posted 21/08/2021 at 15:44:15
Keane all at sea again. Very soft.
Tom Richards
23
Posted 21/08/2021 at 15:53:43
If there is a poorer centre half the Keane in the prem I have yet to see him.
Ernie Baywood
24
Posted 21/08/2021 at 15:55:13
Come on Kieran. He's got tricks. So does Mr Woo.
We've seen plenty haven't we? I don't doubt he can contribute, or that he'll have a good game now and then, but he's shown his level more than enough for us to understand that last week won't become the norm.
Ciarán McGlone
25
Posted 21/08/2021 at 15:56:09
Well.. as expected frenetic pace to the game. Leeds the better side but we're not doin too badly given the circumstances.
Our centre halves the least impressive part of that performance... Mina with his pathetic antics and Keane with an unsurprising gaff..
Allan looks out of his depth as well in a game of this nature.
We need more.
Peter Warren
26
Posted 21/08/2021 at 15:56:15
Gray looking like one of our best buys for years. V talented and exciting. Mistake at the back infuriating.
Michael Lynch
27
Posted 21/08/2021 at 15:56:34
Gray looks great, what a bargain he might turn out to be if he keeps this up. And letting Richie go to the Olympics means he's in mid-season form while everyone else is just getting up to pace.
We should be a goal up here if not for Keane, so we just need to attack them a bit more down the wings and we can take the three points. Mind you, I'd probably settle for a draw.
Ernie Baywood
28
Posted 21/08/2021 at 15:57:04
Keane flat footed, out of position, and ball watching. Nice trifecta in a position where that's literally everything he had to avoid in that moment.
Alan J Thompson
29
Posted 21/08/2021 at 16:02:39
Leeds seem much more active and press from the moment they lose possession and they seem to find more space and have more pace while it is difficult to see where our midfield is. Allan is trying hard, Doucouré shows in patches and while it is no slight against the player, just where and what is expected from Iwobi who seems to have been given no specific position.
To me this is where James would be invaluable, someone to put his foot on it to allow others more time.
Their goal, bloody Keane again! But it must be said the defence look ponderous against Leeds fast pressing and without a midfield to play the ball out to.
I can't see what can be done or who can be brought on to make a difference.
Kevin Dyer
30
Posted 21/08/2021 at 16:03:03
Bad mistake from Keane again, left us wide open there. That's 3 goal-costing mistakes his last 3 competitive starts. I don't care if he plays 89+ composed minutes, errors such as these kill the team and can't be tolerated. Strikers can miss easy chances, but Goalkeepers and defenders cannot make blunders that cost goals.
Not sure the 4-4-2 is working. They've had 74% possession and though they've not really created many chances, Raphinha will score if we keep giving him attempts 20 yards out and central. Personally I think this match is there for the taking, but we need to change things up.
Iwobi on the right has been a phantom, not noticed him except for his nice avoidance of pressure at the end of the half. Leeds were terrible at defending corners last season, so surprised we haven't tried to get the ball wide as much as possible, down to the byline. Obviously, with Alex and Seamus on the right we are getting nothing from there.
If we are sticking with this formation 2nd half then at least get Townsend on for Iwobi and rain some crosses in.
Best player for us has been Gray, looks the most likely to make something happen, fast, great ball control and turns on a dime. Doucoure and Allan have been solid, grew into the game both of them, but they are going to get tired out if we continue to have so little of the ball. Very rare to see Digne in their half.
Dan Johnson
31
Posted 21/08/2021 at 16:04:59
I think we are competing well, but not happy with our centre backs, another poor mistake by Keane,
Kevin Dyer
32
Posted 21/08/2021 at 16:07:12
Alan #29 tbh Iwobi is a player that needs plently of the ball to show his abilty and we have had very little, so he's been the invisible man. If we carry on like this he should be subbed off as he'd not contributing.
We have Townsend who can offer something completely different and of course Moise Kean.
Simon Dalzell
33
Posted 21/08/2021 at 16:13:17
Get in. Just missed goal .Half time washing up. Gray has looked lively.
Simon Dalzell
34
Posted 21/08/2021 at 16:13:18
I wanted Iwobi to start today. Why' I don't know. He's done nothing again.
Kieran Kinsella
35
Posted 21/08/2021 at 16:13:25
Sweet finish. Glad he got a goal as he's had a great game
Kevin Dyer
36
Posted 21/08/2021 at 16:17:33
Gray is a livewire, brilliant strike. Seem to be making a habit of coming out of the blocks 2nd half!
Kieran Kinsella
37
Posted 21/08/2021 at 16:21:21
Digne offering the ref a smoke
Simon Dalzell
38
Posted 21/08/2021 at 16:22:53
Update, great ball by Iwobi. Should be 3.
Simon Dalzell
39
Posted 21/08/2021 at 17:00:11
Not a bad point. Crunch moment at 2.1.when DCL should have made it 3. Poor defending for both their goals.
Paul Jones
40
Posted 21/08/2021 at 17:00:14
Demarai looked about 18 when he was celebrating our second. From now on, I will only refer to him as Dorian Gray.
Michael Williams
41
Posted 21/08/2021 at 17:01:43
I hope this makes sense but DCL needs to get better scoring goals with his feet.
Ciarán McGlone
42
Posted 21/08/2021 at 17:01:58
A good result given that we were outplayed for most of the match.
We came out all guns blazing second half.. got our goal then sat back.
Inevitable equaliser.
Michael Keane really needs to be benched.. another defensive zombie routine for the second.
Cant complain about the result...the performances need to improve. Some obvious weak links.
Gray turning out to be a great signing and Richarlison superb.
Michael Lynch
43
Posted 21/08/2021 at 17:03:46
Entertaining game. We're making chances, and look a better team than last season. Can't blame DCL for the first missed chance, he did everything right, but his second he might have been expected to score. If he wants to be our Harry Kane, he takes at least one of those, but his penalty was pure class.
Gray's going to be a fan favourite I reckon, as long as he keeps his work rate up. Was a bit worried to hear that he was involved in three goals last season, but all of them were in his first three games!
Paul Birmingham
44
Posted 21/08/2021 at 17:06:06
I'm pleased with general performance today and a couple of unforced errors have cost Everton.
There was some good chances made today to have won this game, but taking the positives in the massive improvement in the players tempo and attitude, compared to the death by boredom endured most of last season, under the previous managers numbing gutless football.
Very pleased tonight and plenty of positives to take into the Huddersfield and Brighton games.
Gray had no right to score from that angle and hopefully his finishing will rub off on the rest of the team, and good to see Duke shooting from outside the box.
A cracking atmosphere at Elland Road today, and fair play to Rafa for getting a good tune out the squad today.
Plenty ofpositives and now for Huddersfield.
Alan J Thompson
45
Posted 21/08/2021 at 17:08:43
If we've hired this Manager for his organisational skills then I'm sorry but it's another failure. Leeds looked by far the better side but having said that, how many sitters can Calvert-Lewin miss, he should have put the game out of reach by around the hour mark. Richarlison had one of his poorer games and seemed more interested in how many times he could fall over for no good reason. And their equaliser, the defence all left it to each other.
My MotM for us was Allan although Doucoure had a better second half but why can't we find a Brazilian as good as theirs?
It has to get better, particularly the midfield which seems so disorganised.
Denis Richardson
46
Posted 21/08/2021 at 17:08:57
4 pts and home win from first two. Would have taken that at the start of the season.
Hopefully Richarlison gets a rest midweek.
Things looking up, just need a RB before the window closes..
Kevin Molloy
47
Posted 21/08/2021 at 17:09:02
Ciaran
the performances need to improve, really? I'm well happy with the way we have started the season
Ernie Baywood
48
Posted 21/08/2021 at 17:11:48
Possession football is very overrated as a spectator or supporter.
Last week the second half was as good to watch as any style that could be served up.
This game was always going to be tougher. Leeds' energy and movement is unlike anyone else in the league. But for a game where we didn't have much of the ball I thought we still looked threatening and lively.
Happy to get away with a draw, but with the caveat that we had the chances to win the game.
Demarai looks a steal. Hopefully he can keep the enthusiasm going
Kieran Kinsella
49
Posted 21/08/2021 at 17:12:02
Rare sighting of the lesser spotted Kean.
Steve Shave
50
Posted 21/08/2021 at 17:15:50
I am surprised by some negative comments on here (goodness knows why?!). Rafa has hardly had much time to get them organised, we are in very early days, Bielsa has been drilling them for 3 years! Allan good today, Gray again also. Not unhappy with the point or the performance.
Ernie Baywood
51
Posted 21/08/2021 at 17:17:21
Unfair to judge Kean for such a short period on the pitch, but I will anyway. Didn't challenge for a single ball that went forward, movement remains oddly poor for a top league striker. Can't see what he is. Winger? Not enough technical ability. Striker? Can't do the basics. No idea.
I'll acknowledge that I've had him pegged as a poor player for a while so he'd have to do something special to turn me around.
Simon Dalzell
52
Posted 21/08/2021 at 17:18:52
DCL finishing with his feet is poor. Really needs to improve to be considered top class. He should have won it for us.
Ray Smith
53
Posted 21/08/2021 at 17:21:04
I think Keane will be rested if Godfrey is fit to face Brighton.
Got my ticket.
COYB
Charles Brewer
54
Posted 21/08/2021 at 17:22:04
Funny. For the past few seasons, a draw where we gave up the lead twice would have had torrents of abuse, but I think everyone was pretty happy on the Live Forum - which is a tough audience!
Keane was again the weak link in defence, but we know he can be better and maybe a few weeks off when Godfrey retuns will do for him what the break did for Pickford.
Richarlison is playing like a man possessed, where does the energy and attitude come from? Allan, Doucoure, Digne and Coleman were all decent, but the MoTM must surely have been Gray.
Apart from looking as though he's about 12, his face tells almost the opposite story to Richarlison, Gray looks as though he loves every minute!
So far, Benitez looks as though he might be the real thing. He's got the team playing 90 minutes (rather than 70) with enthusiasm, aggression and speed (although he did try to get back to 'normal' with Delph. What a waste of space that man is).
Phil Wood
55
Posted 21/08/2021 at 17:22:08
Excellent point gained in a big atmosphere.
As for the big negative input by a few " please take your biggoted specs off and give credit where it's due.
Well played lads. COYB!
Jerome Shields
56
Posted 21/08/2021 at 17:22:42
Though a good performance. Defensive weakness caught us out. Calvert Calvert Lewin finishing, cost two goals, but his positioning has improved alot.
Jim Lloyd
57
Posted 21/08/2021 at 17:23:57
How on earth our performances can be construed as failures, I can't imagine. We're seeing Iwobi improve, even Delph.I think there are weaknesses, but only time, more organsing especially in defence and some improved transferring inwards, will improve us more, Perhaps some of the under 23's coming in as well, and we may well see then start of this in the cup match.
Attitude though, is vital and we look more like we're taking the game to the opponents. I think this will continue to improve.
Well done to the lads and to Rafa.

Tony Abrahams
58
Posted 21/08/2021 at 17:25:11
Everton "contributed" to a good game of football today, and if they were just a little bit more clinical they would have won.
It's obvious Benitez doesn't fancy Davies, if he's bringing Delph on before him, but we do have some good players, and if we could just do a bit of clever business at the end of this transfer window, we could even end up with a half decent team.
Peter Dodds
59
Posted 21/08/2021 at 17:30:46
I didn't see the game but the Radio 5 Live commentator thought it was a modern classic, perhaps partly because of the return of the Leeds fans to the Premier League after 17 years, but it also sounded end-to-end with plenty of chances for both sides.
Pat Nevin said he saw Gray when younger and thought this lad might have as much skill as Mahrez!
Mick O'Malley
60
Posted 21/08/2021 at 17:34:10
Charles @ 54 Keane has rested the whole summer and is still stinking the gaff out, good result today but a bit of disappointment after leading twice, at least we seem to have a few goals in us and seem to have a bit more fighting spirit COYBS!
Kieran Kinsella
61
Posted 21/08/2021 at 17:34:23
Tony Abrahams
I suspect pace may be the issue with Davies as Rafa has been talking a lot about being faster. I saw a training video of shuttle runs last week and was focused on Davies as he was in the center. He looked like he was flying until I noticed six other players fly past him with less apparent effort
Phillip Warrington
62
Posted 21/08/2021 at 17:35:58
A good game by Everton but Keane doesn't instill you with great confidence and has cost Everton a goal in each of his last two games, seems to have lost his way after being dropped by England.
Calvert-Lewin didn't have a great game, but overall more than competitive. Leeds will beat a lot of good teams this season. So well done, Rafa and the team, you have done us proud.
Kieran Kinsella
63
Posted 21/08/2021 at 17:37:23
Simon & Jerome
Calvert-Lewin needs to be sharper but, in fairness, the keeper did really well on his two chances.
Chris Williams
64
Posted 21/08/2021 at 17:38:22
Sounded a cracking match on Everton Radio. 2 teams at it for 95+ minutes. We could have won it by the sound of it, and we played the full duration and Doucouré was driving us forward at the end with great energy.
Possession is an overrated way to measure performance.
Calvert-Lewin didn't sound fully match sharp yet and Allan sounded pretty good too with his covering. Gray sounded very impressive and has already got his own song. Richarlison must have an extra lung.
Nice penalty too.
Lovely shot of Rafa and Bielsa wandering off together at the end, arm in arm in deep conversation.
Neil Tyrrell
65
Posted 21/08/2021 at 17:39:47
Good away point at a tough ground, could have been 3 if Calvert-Lewin had buried one of his chances. Great pen though. Allan and Gray were standout performances for me.
Really happy to be entertained after what last season turned into, long may it continue! COYB
Pat Kelly
66
Posted 21/08/2021 at 17:41:15
Enjoyable game to watch and hats off to Rafa. No Gomes, Davies and Sigurdsson has helped up the tempo. Don't see a place for them anymore. 10 days to sort out a few signings because we're going to need them.
Frank Crewe
67
Posted 21/08/2021 at 17:45:21
Calvert-Lewin should have had a hat-trick. His finishing with his feet needs sharpening up. Vardy, Salah, Kane etc would have had both of those chances he fluffed.
Gray looks like the bargain of the season at £1.5 million. If we can tighten up at the back and take more of our chances, I think it could be a good season for us.
Liam Mogan
68
Posted 21/08/2021 at 17:47:53
If you didn't enjoy that game then you don't really enjoy football. It was an excellent match. Yes they had more of the ball, but created little but the goals. Both could have been prevented but then again can't most goals?
Our intent when we have it is what is most impressive. We have got forwards quickly in both games and created chances. Yes, we had more than enough to win it, but I'm not overly disappointed. After the coma-inducing last 18 months of football-lite, the last 180 mins have been a godsend. UTFT
Kieran Kinsella
69
Posted 21/08/2021 at 17:52:30
17 shots away from home. Remember the golden era of Fat Sam when we'd go weeks without a shot
Joe McMahon
70
Posted 21/08/2021 at 17:52:34
Liam, I'm with you there. Just frustrating Calvert-Lewin's chances not taken and Keane. But the anti-Rafa lot must have to admit, he is getting us playing better football than we have seen in a long time with an unbalanced squad.
Gray makes a lot of difference. What a cracking buy.
Andy Walker
71
Posted 21/08/2021 at 17:55:56
We were excellent. Well done Rafa! More than happy to watch that type of performance, week-in & week-out.
Barry Rathbone
72
Posted 21/08/2021 at 17:56:52
Any hope of progressing beyond usual mid table nothingness needs a better finisher than Calvert-Lewin and Michael Keane sending to the glue factory. Keane simply can not play football at a rudimentary level; the recurring traumas of failing to move his feet to where his brain wants them to go is horrendous.
A decent right back allied to the form of the new fellas and revitalised sick notes will give us a relatively comfy "best of rest" season at this rate and although not good enough to avoid tonkings at Man Utd, Man City, Liverpool and Chelsea, it will be progress of sorts.
Quite promising if those stand out issues can be dealt with.
Liam Mogan
73
Posted 21/08/2021 at 17:57:12
Agree with you on Keane, Joe. He's never been the answer to me. Error prone, turns like a ocean liner and no pace. Keeps getting picked regularly though, now by 2 Champions League winning managers in a row. So what do I know?
Tony Abrahams
74
Posted 21/08/2021 at 17:58:33
Maybe Kieran. I've heard that the manager wants to swap Davies for Longstaff, but Tom wants to stay and fight for his place.
There are quite a few rumours flying around at the minute, with the one about Godfrey not being happy, apparently not true, hopefully.
Even though I thought we played well today, I still think we make the pitch big for our opponents sometimes, and will become a much better team if we can stop doing this.
Dave Lynch
75
Posted 21/08/2021 at 18:00:04
The one thing you can't level at Rafa is his intent to go and win a game.
We didn't stop trying to attack them for the full 90, he has us playing at a higher tempo than the last... God knows how many managers.
Long may it continue.
Dan Johnson
76
Posted 21/08/2021 at 18:00:47
All in all a decent battling performance, we should have won it, but at least we didn't lose it. If we could bring in a midfield player to link us a bit better then it will improve us. Jessie Lingard ??
Paul Tran
77
Posted 21/08/2021 at 18:02:12
Lots to like, lots to ponder. Good energy and spirit, which should be a bare minimum, but good to see nonetheless. Allan was better today, Doucoure was impressive, went missing for 15 mins in the second half but finished the game well.
Iwobi looked decent, lovely ball to Calvert-Lewin for the one he missed. The two centre backs didn't convince me. Some good blocks, but I'd love to see some calm assurance back there. Good to see some pace going forward, which creates space for our forward players.
I predict some deadline day shenanigans as James & Kean (and possibly others) depart and some come in.
Nice to enjoy watching us and feel like I'm being entertained.
Ajay Gopal
78
Posted 21/08/2021 at 18:03:23
I would have taken a draw before the game, so I am pleased with both the performance and the result. Richarlison is playing well but if he doesn't get a break soon, I am afraid he will burn out.
Moise Kean should have been busting a gut when he came on, but he was ambling around. I wish Rafa would give someone like Dobbin or Gordon before Kean.
Doucouré and Allan looked solid in the midfield. Coleman tries hard but we definitely need to strengthen that position.
David Pearl
79
Posted 21/08/2021 at 18:17:09
Lingard would be a great signing if west ham don't take him and l'd prefer him to Kean by a long way.
Digne didn't help Keane out for Leeds first but he was very flat footed.
Delph played well when he came on no matter what we say. He is fit and looking good.
Rafa... well, l thought he could of made changes sooner and had us sitting too deep. Looking forward to mid week match and to see what players want to make a case for the weekend.
We have made an okay start to the season but now we need 3 points against Brighton and to build the momentum.
Jim Lloyd
80
Posted 21/08/2021 at 18:21:01
Ajay, I think Rafa will give Dobbin, Gordon and perhaps hopefully, Ellis Simms once he's recovered, chances this season. As it seems we're not able to spend, then it'll need some good transfer business, loans sales etc to get in some players to strengthen the squad.
We might have the cup matches to bring them along for this season and that might mean we don't get far. It's a chance though, to see Dobbin and Simms, both goals aplenty, as they've progressed.
Maybe Kean won't be sold, not because we don't want to sell him; but because no team will buy him. If PSG rated him, the I think they would have bought him, not push for a loan.
I don't know that we'll get much for Rodriguez because of his history in previous clubs, and in ours.
You never know though, we've got just over a week to see what the club can do. Not a bad start at all, though.
Andy Crooks
81
Posted 21/08/2021 at 18:23:09
After two games, I have never said this before, we will be alright. My season is made up already. Rafa will not relegate us. Martinez would have, but we are safe. A point at Leeds will do.
Watching MotD two weeks in a row? Happy days. Thank fuck the coward has gone.
Graham Mockford
82
Posted 21/08/2021 at 18:23:14
I think Keane will struggle post Ancelotti. He's not going to get the protection he got in the last two seasons as Doucoure has definitely been given instructions to be more progressive and we'll definitely get more out of him in that role.
His obvious weakness is playing on the turn. Let's hope Godfrey is available for selection next game.
Overall a decent performance, on another day we'd have been 3-1 up and gone on to victory.
Martin Mason
83
Posted 21/08/2021 at 18:26:54
Very good performance from Everton, especially when you consider that the home advantage, missing for a season or more, is back with a vengeance at a venue and against a team that is normally automatic defeat for us.
I don't care if we don't buy in the transfer window, we may well have a squad now which is difficult to improve on with the money we have at our disposal. Better we don't buy than buy badly.
Hugh Jenkins
84
Posted 21/08/2021 at 18:27:02
For those worrying about our centre-backs, Zouma is still for sale and he and Godfrey at the back would give us plenty of pace and power.
Colin Glassar
85
Posted 21/08/2021 at 18:33:44
Just got home so I'm catching up by reading the comments. Get Koulibaly and we'll win the league! How did me old mate Iwobi do?
As an aside, I just came across an old tweet stating "Everton in lead to sign VVD – 2016". If only.
Andy Crooks
86
Posted 21/08/2021 at 18:36:09
Graham, you are spot on that Keane will struggle post-Ancelotti. If I supported a non-league team at Man City in the FA Cup, I would have Keane in the team and bet on him to get us a draw. That is the way Ancelotti set us up against Newcastle and, err fucking anyone at home.
So Keane looked improved. I like him and he will always keep us safe. Will that do? Mmm, yeah, that is where we are.
Graham Mockford
87
Posted 21/08/2021 at 18:36:34
Tony 74,
Don't worry mate, he's isolating following Covid.
He's currently on Twitter taking the piss out of Demarai Gray for his terrible knee slide celebration.
John Keating
88
Posted 21/08/2021 at 18:38:33
Enjoyed the game with both teams trying to get the win, quite open. However, for me, definitely 2 points dropped.
Pickford really wasn't bothered and with 2 schoolboy errors gifting them their goals and us missing decent chances, especially Calvert-Lewin, we will regret we haven't kept up with the neighbours.
Eddie Dunn
89
Posted 21/08/2021 at 18:44:41
Like others, I am relieved that Rafa has tried to win games. The football is more adventurous. Individual mistakes happen but Keane is making a habit of it and Delph had to calm him down near the end when he received a pass that he must have thought was a grenade!
Digne's petulance got him a silly yellow and the guy was roasted by Raphinha once the winger knew our man was treading on eggshells. Surprised that Richarlison didn't get hooked, as he seemed tired and weak. A good point though, at a venue where many will come unstuck.
Robert Jones
90
Posted 21/08/2021 at 18:45:14
The anti-Rafa brigade are genuinely tiresome at this point.
We played well, and were let down, as last week, by individual error. To malign, as Alan (45) did, a failure in organisation, is pathetic.
The manager can't legislate for Keane's fuck-up, any more than he can last week's. We can only hope that Rafa will be having words.
The early signs are promising, and far from the doom and gloom prophesied by many posters.
We don't have to happy about the managerial appointment. But that's over now. We have no choice but to show support to the club, to the manager. The whining serves no purpose.
Mal van Schaick
91
Posted 21/08/2021 at 18:46:10
Open game and pleased with our midfield effort. Calvert-Lewin could have won it for us with two missed chances.
Please sell or Delph asap. He nearly cost us the game with that reckless challenge late on. Agree, get Lingard in.
Duncan McDine
92
Posted 21/08/2021 at 18:46:12
The quality from Iwobi to setup a great chance for Calvert-Lewin – one helluva ball. Something that only James can do apparently! Shame we didn't score one of those, but a decent point.
Bogdan Kotarlic
93
Posted 21/08/2021 at 18:49:47
For me this is a good draw against a fine team. We maybe should have won it since we were twice ahead but a point is OK.

Four points from two matches is a good start, the opposition hasn`t been very strong but given the circumstances I think that a win and a draw from the first two games is exactly what we had hoped for.

Brighton away is next, I hope we win that and if it really happens then I would be very satisfied with the start of the season.
Robert Tressell
94
Posted 21/08/2021 at 18:56:12
Draw away to a team that finished above us last season. Probably should have won. Some good individual performances, albeit some players' limitations exposed again. Not just a KITAP1 away performance either which shows a bit of bottle.
Since I'm small minded and petty, I won't be calling Benitez "Rafa" any time soon but he's heading in the right direction.
George Cumiskey
95
Posted 21/08/2021 at 18:56:27
Andy Crooks, can you speak English?
Soren Moyer
96
Posted 21/08/2021 at 18:58:41
Paul, 40. I get the picture 😉.
Hugh Jenkins
97
Posted 21/08/2021 at 19:03:22
Rober (90). Agreed, it is very early for folk to be bemoaning our organisation. Our new manager has only been here a few weeks. Once her gets a chance to drill his squad into his way of thinking and playing I expect we will see a marked improvement.
I think almost everyone has already agreed that we are playing with far more energy and drive – and that is after just a few weeks, having suffered from lethargy and lack of application for five or six seasons – or more.
Credit where it's due – Rafa has us looking better already. Long may it continue.
Soren Moyer
98
Posted 21/08/2021 at 19:10:32
Charles, 54. Keane has had 5-6 weeks summer break. Can't see how THAT hasn't been enough!!!.
John McFarlane Snr
99
Posted 21/08/2021 at 19:13:14
Hi Robert [90],
l listened to the commentary on Radio Merseyside, and it sound as though it was a tight game with both sides enjoying spells of supremacy.
I don't think that singling players out for criticism is fair. unless it it is for an obvious lack of effort. I have always believed that any goal can be attributed to a mistake somewhere along the line.
In regards to the anti-Rafa brigade, I have little doubt that some of them would have been decrying the signing of Demarai Gray, yet it could turn out to be another 'Seamus Coleman moment'. What pleases me most is the fact that of the posts I have read so far, there's no mention of the word 'dross'.
Derek Taylor
100
Posted 21/08/2021 at 19:13:37
A Top 6 team would have taken us apart. Weaknesses in all departments but we should pick up enough points against the strugglers to claim a top-half place.
Please see that as a success with all the dough going to the Bramley-Moore Dock build!
John Keating
101
Posted 21/08/2021 at 19:15:43
Another observation was I thought the ref did well today. Let play go on after a few decent challenges that would have stopped the game last season and result in bookings.
Richarlison and Mina really do need to stop the theatrics.
Robert Jones
102
Posted 21/08/2021 at 19:21:07
John (99), I agree, on the whole.
I wasn't so much trying to single out Keane (who is a solid enough defender) as point out that the errors he's made in his two games have cost us. Errors which can hardly be laid at the feet of the manager.
I hope that under Benitez, he will improve, though as others have pointed out, I think he will suffer in what appears to be a more expansive approach than favoured by Ancelotti.
Nicholas Howard
103
Posted 21/08/2021 at 19:23:20
Derek T
Well...there is no takers for our deadwood there is not much money available for new recruits. results of shitty transfer windows for past 4-5 years...with 5 different managers...
Not going to scream for defeats or lost points here and there after all, another season of balancing act whether we like it or not we are in that 'hope for the best' mode again..
Brent Stephens
104
Posted 21/08/2021 at 19:29:20
Jeez it hammered it down in Leeds. Torrential. A point away was okay. Just a pity after leading twice.
Some of the bookings harsh I thought - Coleman and Doucoure. I thought Gray had taken the ball a bit too wide, and hit what seemed a weakish shot. But well placed.
Quite a few empty seats - traffic problems? or deterred by weather forecast?
Derek Taylor
105
Posted 21/08/2021 at 19:35:40
My point, Nicholas, is that if we accept that the managers – however many of them we shall have to suffer in the next 4 years – can keep us in mid-table until we reach the 'promised land', the Russian money can be invested in better quality players. But, until then…
Derek Knox
106
Posted 21/08/2021 at 19:35:59
Having watched most of the game, I thought we should have taken all three points but, at this early start to the season, we are not looking too bad, and will gladly accept what we have now.
Not sure what has happened with Keane, another of his mistakes led to their equalising goal, hopefully another centre-back and the usual suspects will come in before the end of the window.
Bill Watson
107
Posted 21/08/2021 at 19:41:38
I'm not a great fan of think of Keane but today's criticism is a bit harsh. It was right in front of me and the ball ricocheted of Digne's boot and wrong-footed him. It really wasn't his fault.
I thought Richarlison was a bit headless chicken and Calvert-Lewin really must work on those one-on-ones against the 'keeper. If he'd have put just one of those away, we'd have been home and dry.
Bill Gall
108
Posted 21/08/2021 at 19:41:53
This was at a ground where it is usually difficult to get a result. Today's game was against a side playing in front of their home fans for the first time in over a year, smarting from a heavy defeat last week, and a manager who has been with them since 2018 so you had to expect a hard game.
It appears that, in the short time Benitez has been with Everton, he is starting to get them more organized and, apart from an amateur mistake and some missed chances that make you realize why some clubs are willing to pay such large fees for the likes of Kane or Lukaku, we could have had the 3 points.
It is early days yet and I would like to see what changes are made, if any, at the close of the transfer window. We still look like an 8th to 10th place team with the mistakes and missed chances but signs of improvement are there, and here is hoping we can get in players who can make the difference.
Another note: regardless of what he says, Richarlison needs a rest.
Alan J Thompson
109
Posted 21/08/2021 at 19:52:14
Robert (#90);
If you think my comment on how the team was organised referred to one individual mistake, then you are a fool. If anything is pathetic it is that you think 'organisation' refers to one individual action in an entire game.
Tell me what you thought the instructions to Iwobi on where he should be playing were as to me he seemed lost and the midfield disjointed. And when you've finished that, explain to me what you think the substitutions were meant to achieve.
John Skelly
110
Posted 21/08/2021 at 19:52:51
We have played two crap teams so far and have only come away with 4 points we must up our game to challenge for anything
Nick Page
111
Posted 21/08/2021 at 19:57:45
I'll be the first to admit I thought we'd start terribly but listening to that on the old wireless it sounded decent. Rafa's getting them organised. Even Iwobi sounded like a footballer again - good on him. Let's hope it continues. COYB
Bill Gall
112
Posted 21/08/2021 at 20:01:46
John McFarlane Snr 99.
John isn't DAZN available in the UK? I don't know the cost over there, but they show every Premier League game. I haven't missed an Everton game in a couple of years but, unlike yourself, I am not able to go to home games, so find it worth the cost.
David Pearl
113
Posted 21/08/2021 at 20:05:18
Alan, my view is that Delph was brought on to gain more control of midfield and l think he did that. Kean l'm thinking to waste a bit of time and l'm not sure he seemed that interested in coming on anyway, especially so late on.
It's not a bad start really is it? I think the team needs to grow in confidence and l am happy to hear Benitez say that its a bonus for us to pick up points while the team grow.
On another subject, James has been linked with Newcastle.
We have players to come back that can improve us already. I would like another forward, to get shut of Kean, and of course a right back. Time is running out.
We could have a good season but we have to get Richarlison some rest and l'm not so sure Dom is even fit.
Andy Crooks
114
Posted 21/08/2021 at 20:06:06
George @ 95. Not quite sure what you mean. But I'm Irish so maybe my English needs improving. Any tips you can give me will be most welcome.
Allen Rodgers
115
Posted 21/08/2021 at 20:11:56
Are we game of the day on Sky at 8:30? Can't find out anywhere...

Iakovos Iasonidis
116
Posted 21/08/2021 at 20:13:15
I like what Benitez is trying to do, if only we could spend some money and bring in more pace and quality.
Brent Stephens
117
Posted 21/08/2021 at 20:14:23
Allen, looks like Man City at 8:30.
Allen Rodgers
118
Posted 21/08/2021 at 20:16:15
Thanks Brent, a 5-0 walkover takes preference over a thrilling 2-2 draw
Phil Smith
119
Posted 21/08/2021 at 20:17:33
Why he took Dom off I don't know. Richarlison stank the place out today. He should have been off instead. Holgate for Keane against Brighton. Mina was solid.
Brent Stephens
120
Posted 21/08/2021 at 20:18:42
Allen, City played Norwich so clearly a top game!
Stuart Sharp
121
Posted 21/08/2021 at 20:32:59
Dom came off because he is not 100%. Benitez explained this. I agree, Kalvin Phillips and others did a great job of dealing with Richarlison today, but I disagree that he stank the place out. His all-round contribution is excellent.
Fran Mitchell
122
Posted 21/08/2021 at 20:39:00
One thing that stood out to me in the game was the number of chances we created.
Leeds dominated possession, and their rampant and energetic style is always difficult - and they being spurred on by their home crowd none-the-less. But usually, such games would probably result in 16 shots to Leeds and 3/4 for us. So it s encouraging that the games actually ended in 17 attempts for Leeds and 16 for Everton.
We had a good spell at the start of the second half and could/should have put the game to bed, but such ruthlessness is still lacking.
But we are playing a specific, direct, counter-attacking style. Correa from Lazio has been linked, and he has played in a successful Lazio team that has adopted a similar approach.
Richarlison is getting some stick, which I think is unfair. I thought he ran his socks off and was a constant nuisance to their defence, and at the end very nearly set up Kean for a winner. He will need to be managed however, the guy needs a break - which may explain our targeting of Correa.
Our biggest weakness was a lack of organisation at the back, Coleman while performing well lacks pace, and while Doucoure and Allen have their positives, a lack of composure and ball retention sometimes is our doing.
Jerome Shields
123
Posted 21/08/2021 at 20:44:17
It was a really good performance, but two games into the season and two weak players have been exposed in Keane and Holgate, both in central defence. This will not go unnoticed by other opposition teams in future matches, and they will be planning tactics to fully exploit this. Mina performed reasonably, still I think he is not good at defending on the turn.
Danny Broderick
124
Posted 21/08/2021 at 20:47:05
A good performance all in all. Yes, Keane made a mistake for the second game running, but I actually thought him and Mina did okay, just like him and Holgate did last week.
Once again, Pickford hasn't had too much to do despite their 17 attempts. Most of their shots were from distance, and high, wide and handsome. But he has to cut out these mistakes. He may well be on the bench next week. I like that he fronted it up to the Everton fans at the end. He faced the crowd and gave a long clap to the supporters. He seemed to be getting plenty of support back.
That was a tough game today. The Leeds crowd was well up for it, their first home game in 18 months. If Calvert-Lewin had had his shooting boots on, we'd have won that today.
4 points out of 6 is a good, solid start. I'd probably have taken that this morning, although there is slight disappointment after leading twice and missing good chances.
On to Brighton next week...
Stuart Sharp
125
Posted 21/08/2021 at 20:47:21
Lots to be positive about if you ask me. We are going out to win games, with more speed and direct attacking than we've seen in ages. The defence does look a bit shaky, but Godfrey is still to come back.
I thought Allan was better today, and Gray looks a bargain so far. Great penalty from Dom, and I agree he might have done better with his next big chance, but for the last one I thought the goalie just closed him down well. We can't afford an elite striker, so I'm very happy we've got Dom.
Some of the long-range shots were a bit frustrating when there were better options available, but we at least kept attacking. So far so good, given the financial circumstances and existing squad.
Bill Gienapp
126
Posted 21/08/2021 at 20:47:58
Very satisfied with that point, even though we let the lead slip twice. That was, for all intents and purposes, Leeds's post-promotion home opener, and the crowd was ready to go bananas. Under the circumstances, it's impressive we managed to keep our composure when they leveled at 2-2.
Contrary to some comments, I don't think we were outplayed at all. Only 30% possession, but 17 shots on the road, and twice as many on target. I'll take that.
Gray is off to a flying start, and already a testament to the benefits of smart bargain hunting. Wouldn't mind a few more signings like that.
Promising stuff from Benitez so far, though it's worth mentioning that Koeman, Silva, Ancelotti, heck even Allardyce all got off to impressive starts. This was actually *very* reminiscent of the 2-2 draw with Wolves that was Silva's first match in charge. Sustaining our form – particularly once injuries and other issues inevitably start to crop up in the coming months – will be the true test.
James Stewart
127
Posted 21/08/2021 at 20:51:20
Keane so poor again. Godfrey can't come back soon enough.
Brent Stephens
128
Posted 21/08/2021 at 20:51:32
Bill #126 "That was, for all intents and purposes, Leeds's post-promotion home opener."
Ah, what a great observation! A nugget.
John Raftery
129
Posted 21/08/2021 at 20:55:03
I thought Allan was our man of the match with a terrier-like display. His tackling and frequent bursts through the midfield clutter were very much in the mould of Peter Reid.
Mentions in despatches also to Seamus and Mina who were tidy and alert at the back although Yerry could and should have avoided being drawn into the first half contretemps with Bamford. Up front Gray was the star act while Iwobi will have been pleased with his afternoon.
As the players left the pitch I spotted Benitez in deep conversation with DCL. Was he making a point about the missed chances or some other aspect? Most certainly more clinical finishing would have seen us leave Elland Road with all three points, notwithstanding the defensive frailty again evident in Michael Keane's play outside his own penalty area.
Four points from the opening two games represents a solid start, on which the manager and players can now build. The team has a good shape, is well organised and at times carries enough attacking threat to worry most opponents. Finally it must be said this was a terrific game of football thoroughly enjoyed by both sets of supporters and generally played in a very good spirit.

Dave Williams
130
Posted 21/08/2021 at 20:56:10
Allen, the whole game is on Sky channel 402 later this evening.
John McFarlane Snr
131
Posted 21/08/2021 at 20:58:56
Hi Robert [102],
I think it's bit of a 'mixed wires' case, I wasn't referring to your post when I wrote, "I don't think that singling players out for criticism is fair." It was a general observation and perhaps I should have been more specific, please accept my apology.
Bill Gienapp
132
Posted 21/08/2021 at 21:21:30
Brent (128) - Indeed, that crowd must have been foaming at the mouth (and not just because they're from Leeds - wah wah).
Mike Corcoran
133
Posted 21/08/2021 at 21:38:42
If you're struggling to get decent streams and have an Amazon Firestick then I recommend you go to YouTube and follow the instructions to download DiggMatrix Kodi. All the games are under The Crew in the sports section. Bit of arsing round but worth it.
Nicholas Ryan
134
Posted 21/08/2021 at 22:03:06
Win your home games, draw your away games; it really is as simple as that!
Geoff Lambert
135
Posted 21/08/2021 at 22:16:08
Allan was excellent today, a good point away to Leeds and more to come.
I just wish Calvert-Lewin could put the chances away a bit better.
Ed Prytherch
136
Posted 21/08/2021 at 22:27:00
Leon Osman was a commentator on Peacock over here in the USA.
Michael Keane was clearly at fault for the first Leeds goal and Ozzie pointed out that the second was due to our two defenders at the edge of the 6-yard box not attacking the cross and letting it bounce out to Raphinha. The defenders were Michael Keane and Seamus Coleman.
On a more positive note, it was an entertaining game and our boys had to work hard for the point. The team energy and spirit was very good, a complete contrast to the end of last season.
Tom Bowers
137
Posted 21/08/2021 at 22:43:47
We do have some problems at the back and as I mentioned last week I was hoping Keane wasn't getting the John Stones syndrome but seems that way.
Perhaps the return of Godfrey may improve things.
Having said that, the team is playing better going forward and with Gray doing some good work we look a lot more dangerous.
I would like to see a new right-back in the squad as I don't think Seamus is the player he was.
Another point is Richarlison playing deep causes problems as he isn't as strong on the ball and tends to lose possession too easily in the middle of the park which in turn can put the defence on the back foot.
Mike Jones
138
Posted 21/08/2021 at 22:59:29
Match of the Day. Danny Murphy is a gobshite and boils my piss.
Paul Birmingham
139
Posted 21/08/2021 at 23:26:41
Mike, he's an ex RS troglodyte, and there is the sermon.
He's the equivalent of the biggest jellyfish on Crosby beach in football terms, and has etched a living out the game with a couple of spawny goals.
The RS lead the media board in, not quote, shite and garbage players, from rank defenders, midfielders, and forwards. It's a Jimmy Tarbuck role up. I'll say no more.
Everton should have won today, but the quality and final touch in pass and execution wasn't there but, for me, it's been a Lazarus, almost Renaissance, start to this season, after the dire straits and almost life of purgatory under the previous manager.
Evertonians can breathe and smile with genuine hope this season.
Kevin Prytherch
140
Posted 21/08/2021 at 00:08:26
For all those suggesting we need a top class striker who finishes chances….
There were only 6 players in the Premier League last season who scored 10 or more goals, and had a better shot conversion rate than Calvert-Lewin. Of those 6, 5 of them were 28 or over. Kane and Vardy aren't any of them.
Keep on feeding Calvert-Lewin and he'll score 20+ goals.
Jerome Shields
141
Posted 22/08/2021 at 00:13:05
Bill #107,
Interesting you saw at the game the ball deflect off Digne, wrong footing Keane. The angle of the camera did not clearly show that. Thank you. Keane may hold up better than predicted, which is good news.
Christine Foster
142
Posted 21/08/2021 at 00:16:10
Another middle-of-the-night game in what looked and sounded like a hyped-up crowd. An entertaining game with ebb and flows, the tactics were clear from the beginning with Everon playing a counter-attacking game, surrendering the middle of the park in favour of a deep defence that broke when they won possession.
In truth, the game plan worked; Leeds, for all their fitness, which was brilliant, couldn't manufacture much, but a defensive error and a great strike gave them a point when in truth we squandered several gilt edged chances – to Calvert-Lewin in particular. It was our speed of break and the absence of crab football that pleased me most though, we went for it and, on another day, could have won it by 4 clear goals.
The squad looks thin up top at the moment but an additional forward, defender and creative No 10 if James is sold, are still needed.
A good game to watch and, although we could and should have won it, the improvement in attitude and directness are pleasing. We are way off top drawer but it bodes well.
Barry Hesketh
143
Posted 22/08/2021 at 00:53:23
I've just finished watching the game on Sky, as if it was live. Somehow, it was on the cards we wouldn't hold on to all 3 points and watching the last few minutes of action, I was certain that the referee would give a penalty to Leeds when Delph made his tackle. The referee seemed intent on issuing yellow cards at every given opportunity, particularly if you had a blue shirt on.
Not sure it was a fair result, as Everton created a shedload of chances that they should have put away, and Leeds didn't exactly have Pickford diving left, right and centre – even when they turned the heat up late on.
There was a good collective feel about the team, and obviously, there are some issues to be ironed out but, given what we watched at the back end of last season, it was refreshing to see Everton continue to try to win the game even when Leeds had some urgency and the crowd behind them.
Danny Murphy and MotD obviously don't agree as they are concentrating on how good Leeds are.

Vijay Nair
144
Posted 22/08/2021 at 00:57:38
Good game of football which could easily have gone either way. I would have probably taken Richarlison off instead of Gray and played Kean up front with Calvert-Lewin. Kean needs more than 5 mins at the end. Townsend certainly made more impact than Iwobi.
None of our current centre-backs, Godfrey aside, inspire any confidence in me. Mina is a bloody court jester whose behavior is frankly embarrassing at times. I hope the rumours of Umtiti are true. Both Keane and Holgate have mistakes in them. I would play Branthwaite and Godfrey against Huddersfield.
Onwards and upwards!
Don Alexander
145
Posted 22/08/2021 at 01:10:38
Early days in the Benitez management but at least we still managed, after a welcome performance last week, to maintain a professional attitude despite conceding two avoidable goals. Hell, we even seemed fit throughout.
There's comment above though that'll be music to the ears of our inept and now financially complacent boardroom, where it's said that (the decades old mantra) "three points at home and one away" is the key to success. As if!
Unfortunately that's now way off the truth, because you'll only win 76 points in that way.
It's taken a minimum of twenty more points to even feature at the top of the League, for years now, the top of the League being where anyone adhering to our club motto as I (maybe bizarrely after the past 30 years of dross) still do.
Barry Hesketh
146
Posted 22/08/2021 at 01:24:37
Don @145,
Anybody expecting Everton to be truly challenging for the title should be examined by a medical professional. We are and have been an also-ran club for too many years, which is why we should all enjoy the good performances and victories as they come along; if a side can be built in the long-term which becomes more competitive year by year, that'll do for me.
I'm not expecting to see the Premier League flag waving on the roof at Goodison in the time we have left at the 'Old Lady' but, if we could sneak a cup in that time, I'd be delighted.
As for today's game, did the team settle for a draw? I don't think they did, in fact, they possibly could be accused of leaving themselves wide open to the sucker-punch third goal, when they continued to try and force a winner.
Derek Thomas
147
Posted 22/08/2021 at 01:54:45
Most of us would have taken 2-2 before the game. Mina will be targeted now... if he isn't already.
Richarlson needs to be told that we've bent over backwards for him re Internationals but, as we pay his wages, he can sit this coming break out.
Hopefully Benitez is playing Iwobi and Townsend off against each other and whoever gets the bit between their teeth the most and does the biz on the field will get more game time... I think Townsend will shade it.
You could see both Leeds goals coming a mile off as we seemed to go into our shell after scoring – this needs attention.
We look better going forward than defending, which is not the worst thing to watch – as long as we don't have to do too much defending.
The bench warmers should see some action versus Huddersfield; how many and who is the hard question.
Early days, but Benitez is doing okay for a RedShite.
Sam Hoare
148
Posted 22/08/2021 at 02:23:36
Some promising signs. 4 points from 2 games is decent. We seem to be creating chances and we seem to be playing in entertaining games which at the end of the day is kind of what it's all about to some degree.
Some encouraging individual performances from the likes of Gray, Doucouré and Iwobi. With players like Godfrey, Gbamin, Kean and even Rodriguez to come. And barely a dime spent in the transfer market.
The players look sharp and fit and happy.
Early days of course but I'm getting good vibes. If Keane cuts out the mistakes (or gets dropped for Godfrey) and we bring in another player to score/crest chances then maybe this season might be surprisingly good fun.
Ernie Baywood
149
Posted 22/08/2021 at 03:28:55
I feel like Dom's getting an unnecessarily hard time for his finishing.
He's not a great finisher, but he is much improved in that area. In his younger years he tried cute finishes and often scuffed or mishit them. Nowadays he seems to be a "get solid contact and make the keeper work" type of finisher. Nothing too much wrong with that. But not exactly elite.
Where he is strong in front of goal is with his movement. He was really clever for the penalty and for the one-on-one chance. When you watch him closely, you see the little feints... he's always moving and you can see why defenders would hate him.
If he was a young English striker with his effort, aerial ability, movement, pace... and he was a reliable finisher... well I think we'd be a lot wealthier and he'd be in a different shirt.
He can still improve though.
Mike Gaynes
150
Posted 22/08/2021 at 03:46:24
Ernie #149, agreed.
Dom is good. He will be very good, because of his work rate and his ever-improving anticipation. He will never be great, because he doesn't have the shooting skills of a great finisher. If he did, we couldn't keep him, and he'd be in Manchester by now.
The player is who he is.
Dan Murphy
151
Posted 22/08/2021 at 04:18:08
Bill #107 is right.
That ball bounced off Digne's challenge with the bloke he was marking to the precise spot that wrongfooted Keane and was exactly where Bamford wanted it. Bit of bad luck but it didn't look good.
One of my mottoes is "There's no such thing as a bad away draw", so skies aren't grey today for me. Some of you on here should try it.
Laurie Hartley
152
Posted 22/08/2021 at 04:22:18
Most teams would have melted against Leeds today – we didn't and never looked as if we would. That is the sort of performance I want to from our team – full of fight and determination.
I thought Yerry Mina had a terrific game – he is a far better centre-half than Keane. Godfrey will walk into the team when he becomes available and we will be that much harder to beat because of it.
My Man of the Match was Allan – he is my kind of footballer.
A couple of signings and we will be in contention for Europe.
Alan J Thompson
153
Posted 22/08/2021 at 04:59:57
David (#113); No, it's not a bad start 4 points out of 6 but as last season showed, let's not get carried away.
My disappointment included two of who have been among the finest overlapping full-backs not seeming to interact with the wide players in front of them. Richarlison was swamped whenever the ball went near him and several times looked for a pass to his midfield but, as there was nobody there, he turned and usually ran into several Leeds players and lost it.
Iwobi seemed to have been told to stick to his wing even when Gray was making ground down the opposite wing. Several times Allan came away with the ball, looked up, and saw nobody on for the pass so continued forward. At least in the second half, Doucouré gave him more of an outlet. And for Leeds's second goal, several defenders all stood there looking at each other waiting for somebody to do something, which happened a couple of times during the game.
Leeds looked better organised in that, when they broke, they all seemed to know where to go and at speed but were a bit let down by their centre-forward who seemed more inclined to compete with Mina in an almost pantomime act and while they started pressing with pace and high up the pitch that dropped further back as the game went on and showed up a fairly weak defence.
Anyway, perhaps Kean will show more in the midweek game's injury time, his substitution really was a waste of time.
Benn Chambers
154
Posted 22/08/2021 at 05:18:12
I hope that's the end of all the people making excuses for Michael Keane last week.
I said it then and I'll say it again: the lad is utter garbage. He has no idea how to play the position. His obvious lack of pace is a major concern but he doesn't have the intelligence to use his brain to negate that problem.
We've had many slow centre-backs over the years, like Watson, Weir, Unsworth, Gough… All of them used their heads and anticipated in-game situations so to rarely leave themselves exposed to the space in behind them.
The lad is a headless chicken. He just dives in and constantly leaves us exposed. He's a dope. While he plays, we'll go nowhere and it's a shame, because his teammates are much improved and having a proper go at teams.
You're 1-0 down as soon as his name is on the team sheet. Transfer him for gods' sake and show him and us, that accepting mediocrity is not happening. The sooner Godfrey is back, the better... but we need a centre-back because both Keane and Holgate are Championship players at the very best.
Well done to the manager and the rest of the players. The green shoots are definitely visible and I expect us to become better as we play under Benitez more. If Dom becomes a bit more clinical, then we can really try and do something this season because we are creating good chances hand over fist. He badly needs his finishing with his feet to get better. There are certainly no issues with his heading ability.
COYB.
Greg Anderson
155
Posted 22/08/2021 at 06:42:06
Great to see so many positive comments. Just to add a little perspective on the almost absurdly difficult circumstances with which the new manager is successfully coping.
1. Our previous mostly beloved manager walked out on us suddenly at the beginning of June, throwing the whole club into instant disarray.
2. Our star player from last year is now unsettled, uninterested, and will probably never play for us again.
3. Our most expensive transfer, one of our most important senior players, is now suspended indefinitely and will probably never play for us again.
4. Our talismanic attacking player of the last 3 years insisted on playing football throughout the summer and has returned with no break at all.
5. Our top scorer from last year is not fully fit and carrying a minor (we hope) injury.
6. FFP has so far allowed us to spend just £1.5M in the transfer market.
7. No-one has yet bought either of the two players who we seem keenest to sell to raise funds.
Given this litany of adversities, if Christophe Galtier, Lucien Favre, Ralph Rangnick, or probably any manager other than Rafa Benitez had managed to get us playing as well as we have in the first two games, I suggest, there would probably be a giddy euphoria throughout Evertonia. While I was no fan of his before, I think it is only fair to admit that Rafa is doing a pretty sensational job in the circumstances.
Kim Vivian
156
Posted 22/08/2021 at 06:59:33
I think post 154 is one of the most lopsided narrowminded posts I have read for some time.
Steve Shave
157
Posted 22/08/2021 at 07:06:24
Agree Kim 156 however the one after it (155) say's it all for me, an excellent post.
Danny O'Neill
158
Posted 22/08/2021 at 07:10:02
I wasn't able to watch yesterday and have only seen the highlights of the key moments this morning. Sounded like it was an entertaining game of football.
I said before that Keane worries me. Let's not dwell on mistakes and crucify the lad; they happen. They just happen too frequently with him and he's not my first choice. I'll leave it there and not get personal, it's a football opinion.
Ideally, I'd want another centre back to play alongside Godfrey and I've been shouting for it since January. I know who I'd love that to be but it's not happening for a couple of reasons. So if we have what we have, when fit, Godfrey & Mina.
Nicely taken penalty by Dominic and nicely eventually taken goal by Gray. A bit like Doucoure last week, it looked for a moment as though the chance had gone? If I'm being hyper-critical, not great defending at the far side from the cross that led to their 2nd goal, but then it kind of bounced & ricocheted kindly and Jordan had no chance with that finish. Not only was it a great connection, it was coming through a very crowded penalty box.
The dogs gave me a nod for 1 - 1 yesterday morning, so they weren't far off. I'd have taken the score draw before, so I'll take it now. I gave them a cow's ear each last night!
Looking forward to Match of the Day this morning. Bigging up Leeds? They're talking about last season right? 2 games played, 7 goals conceded?
Danny O'Neill
159
Posted 22/08/2021 at 07:15:09
I like that Greg. A lot of perspective in there.
I'll agree with you on the first team aspects, but just on Rangnick, he's known as the builder. He would have built (over years) from the academy up.
I'm being bias as he was my choice along with a younger head coach.
But Benitiez is here. And yes, so far, so good considering the circumstances he is operating within.
Greg Anderson
160
Posted 22/08/2021 at 07:33:38
Hi Danny,
Yes, I would have originally preferred Rangnick for the reason you give, and would have been perfectly happy with Galtier, Gallardo, Potter, or, for that matter, Nuno.
Rafa is of course an experienced and accomplished manager, but appointing him seemed less attractive primarily because of the tumult it would inevitably raise among many of our fans, further destabilizing an already unstable situation. It is to his immense credit that he has already managed to calm most of that storm with his quietly confident, uncomplaining manner and his very positive hands-on approach as a coach.
Darren Hind
161
Posted 22/08/2021 at 08:04:14
I think those who have scapegoated Holgate will soon get sick of the alternative. He was (imo) mindlessly blamed last week for not being able to stop a player who had an attacking partner next t him and the whole width of the pitch to knock it past him. He was also blamed for two goals against Tottenham when he was taken out by two late deflections (both off keane) which no player in the world could have seen coming.
We can see what keane is like when asked to leave the comfort of out penalty area and Mina ??? A complete walking disaster his antics yesterday would have embarrassed a school girl. If he'd have taken half a step to his left instead of focusing on trying to wrestle another player. That second goal doesnt happen.
If Rafa wants to play five yards higher. He is going to have to do it without the lighthouses. Keane is two slow and Yerry needs five yards to get into full stride
Oh and by the way Jimmy Greaves - "The more you score, the more you miss".
There isn't a forward playing anywhere in the world who has not been smothered by an outcomming keeper like DCL was yesterday. Yes he lacked the deft of touch to lift it over the keeper, but I'd rather have a forward getting in the box and missing half of his chances than one who acts as a performing seal trying to follow his own knock ons after having a ball launched up for him to fight for in the air.
We finally have a center forward who could consistently score 20 goals a season and all we can do is pull him to shreads.
Grays change of of pace is one of the most exciting sights in football at the moment. Early days, but if he can continue in this way he will prove to be a very astute buy.
Not a bad performance. Again we looked to win the game (How good does it feel to say that ?) but we continue to be our own worst enemy with these gifts
Michael Kenrick
162
Posted 22/08/2021 at 08:04:44
Danny, a quiet word...
Think of 'bias' like 'prejudice'. You wouldn't say "I'm being prejudice" would you? It's "I'm being prejudiced."
Instead of "I'm being bias" please try "I'm being biased". I'm not sure you really are, mind, but it's one of those things... you know.
Kim Vivian
163
Posted 22/08/2021 at 08:06:49
If Rafa had been, say, Spurs manager, and done precisely with them what he did for the Shite, and had not made "that" comment, we would be made up to have him here. As Greg says, he's done a sterling job so far – getting us playing forwards more and with considerably more passion.
I said on the Live Forum yesterday, I don't want to see yellow cards quite so liberally dished out, but it's nice to see some fight back in the squad. Personally, I'm delighted to see the back of 'he who shall not be named' and with Gbamin and Godfrey temporarily out of contention, and maybe one or two decent incomings before the end of the month, I feel a whole lot more optimistic at this point.
Early days of course – this is Everton and still plenty of time for it all to go tits up.
Tony Everan
164
Posted 22/08/2021 at 08:46:57
Greg 155, We'll said, also add Ben Godfrey has been unavailable too and would be a first choice starter. A big thing for me is that he is getting involved hands on in the daily routine of coaching and talking to the players individually . He seems to have a good professional backroom team in place that has slotted in and started well.
Words from the like of Demarai Gray saying that his instruction and advice is clear, easy to understand and to follow. I think this is beginning to show in more cohesive performances on the pitch. It's early days but we are looking like a team again and that we are nurturing a system that can be repeated with success.
One or two excellent signings the next 9 days will give us more reason that this more than decent start can be maintained, and even improved upon, throughout the season.
Peter Mills
165
Posted 22/08/2021 at 08:53:03
In the Spurs v Man City match last week, Tanganga of Spurs made 4 fouls before the referee spoke to him. He then made 2 more. On the seventh, the ref spoke with the captain, evidently to ask his team mate to stop offending. No yellow card.
The issuing of yellows yesterday was in stark contrast.
I only caught the second half but was impressed with our effort, and speed on the break.
Duncan McDine
166
Posted 22/08/2021 at 08:54:27
Michael 162, you're being a bit pedanticd
Danny O'Neill
167
Posted 22/08/2021 at 09:11:05
Thanks for the early Sunday morning English lesson, Michael. 7 out of 10 and must try harder!! I need to check my homework before submission, especially with predictive spelling!!
I just read a BBC article by Phil Dawkes. Not the match report, but is he a Leeds fan by any chance? I get it, they are a passionate bunch and have been starved of top flight football for many years, but it was rather gushing, bordering on queasy. It's not like they've not had full houses on their upward progression of late. And like they're the only club that hasn't had supporters for the last 18 months?
Sorry, maybe I'm just overly being precious and critical of the author!
Ajay Gopal
168
Posted 22/08/2021 at 09:14:01
As a person who has written off Iwobi many times, I have been pleased with his contributions so far in both the games. Yesterday, there was one incident when Mina or Coleman played a 'hospital pass' to him right at the edge of our penalty area, and he was immediately surrounded by 3 Leeds players, which could have easily resulted in a goal opportunity. But, he played himself out of it very skilfully and averted the danger.
If I could do 3 straight swap player exchanges to strengthen our squad, knowing the FFP restrictions, these would be it:
Moise Kean (out) - Koulibaly (in) - Napoli
Keane/Holgate (out) - Dwight McNeil (in) - Burnley
James Rodriguez (out) - Kieran Trippier (in) - Atletico Madrid
In all probability, these may not happen, but if we can get 3 players of similar calibre, then we could have a very competitive squad. Well capable of battling with the likes of Spurs, Arsenal, West Ham and Villa for the 5th to 8th slots.
Roger Helm
169
Posted 22/08/2021 at 09:21:42
Talking of pedantry, thank you Greg 155 for saying James is uninterested, not disinterested, which word many people use and has a completely different meaning.
Colin Glassar
170
Posted 22/08/2021 at 09:29:11
Roger, the un versus dis prefix would make for a fascinating debate. I'm unbothered either way.
Winston Williamson
171
Posted 22/08/2021 at 09:30:56
I thought Calvert-Lewin's 'misses' were actually good saves by their keeper. Had Pickford made those saves we'd be saying he had a blinder.
I like Gray. He's quick and direct and seems to have quickly built up a good understanding with Calvert-Lewin.
Leeds's Number 10 had a quality game, as well as Phillips. I'd have Phillips in our team all day long. Real quality player.
Really good game. Hope this form continues..
Danny O'Neill
172
Posted 22/08/2021 at 09:31:22
Still only highlights, but Match of the Day gave me a bit more to go off.
Good early promise from Gray. As has already been mentioned. rapid, but a decent looking player with it.
We should have won that. In fact, Calvert-Lewin could have won it on his own. Unlucky in the first half in just missing contact with that Gray cross. Second half, could maybe have swept it across goal a bit more, but he done what strikers do and got it on target. Almost squirmed under the keeper. 3rd one, he needed to get more lift on it.
Still take that point though. Looked like a great match.
More fawning over Leeds and their supporters from the BBC. I'm off to argue with my Leeds mates.
Vijay Nair
173
Posted 22/08/2021 at 09:42:42
Darren (161), couldn't agree more about Mina...
Michael Kenrick
174
Posted 22/08/2021 at 10:15:01
Danny,
Thanks for being so gracious. I'd seen it a couple of times... one of those things that just grates!
Reminded me of listening to many many Americans who can't simply say 'across' – for some bizarre reason, they make it into 'acrossed' or (perhaps worse!) 'acrost'.
Of course in this age of diverse virtue, I will be shamed into having to accept this as a valid 'dialectal variant' of our transatlantic cousins.
Billy Roberts
175
Posted 22/08/2021 at 10:16:20
Danny@167
Totally agree, there is obvious bias being shown in both the BBC match report and article. ( you made a right cows/pigs ear of that English grammar test!!)
Then we have to watch that biased twat Danny Murphy commenting on the game.
Agree mostly btw on DCL chances,
I think the second one you mention though was a split second chance that was still on target.
A tough fixture out of the way, once the transfer window ends we will have a better idea of were we stand I think.
Sam Hoare
176
Posted 22/08/2021 at 10:16:28
The centre back decision is an interesting one. There's not a lot between Mina, Keane, Holgate and Godfrey. They all have their strengths and weaknesses.
For me, based on the last season or so, the strongest pairing will be Mina and Godfrey but any one of the four could step up to make themselves undroppable.
Danny O'Neill
177
Posted 22/08/2021 at 10:22:46
No worries Michael. I know what you mean, having worked for US parent companies, and Texas ones at that, since my move to the civilian sector. I remember causing confusion as the word "fortnight" is apparently not commonly used in the context of meaning 2 weeks!
I didn't mean to sound harsh on Dominic for that second chance Billy, and you're right, he had to take it quickly. The last one is the only one I thought he could and should have done better with.
I'm going to be harsher on the defending for their second goal now I've watched it back. We had 3 defenders on that far side. Now either they've all left it for each other, or one of them has made a shout. Either way, it could have been dealt with. Great strike by the Leeds player though.
Paul Tran
178
Posted 22/08/2021 at 10:26:22
I've seen some cracking strikers in the blue shirt. They've all had one thing in common; I saw them miss chances. Royle, Latchford, Sharp & Lineker would all be roasted on social media.
DCL is fine by me, and young enough to get better.
Keane is a good defender when he's pinned back in his own box. Mina is capable of great tackles and blocks, but gets sidetracked far too early, far too often. Holgate is a good footballer on his good days, but lacks concentration. Godfrey, I fear, is being prematurely elevated as a centre back because of the others' shortcomings.
My wish for this transfer window is for us to find a centre back with presence, authority and assurance. One forwards don't like playing against, one we can trust, one we can rely on.
One that would make the biggest difference to this team.
Terry Farrell
179
Posted 22/08/2021 at 10:38:52
Benn you can criticise a player without getting nasty and personal! Get a grip. Kean has made 2 costly errors in 2 games agreed but you don't play for England if you are championship standard!
Chris Corn
180
Posted 22/08/2021 at 10:45:44
Paul Tran 178, I agree. My Jamaican grandad used to call The Latch "a fat lazy carthorse. "I can only imagine what social media would have been like after Lineker's misses at Oxford in '86 which probably cost us the league despite the other 40 goals he scored.
I'm trying to keep a sense of perspective this season. I've been critical of the likes of DCL and Richarlison but like it or not they are our current marquee players.
We've slaughtered the likes of Lukaku and Stones in the past and then stared on wistfully as they went on to bigger and better things. Only really realizing how good they were for us until it was far too late.
If DCL keeps getting in the right positions and becomes the primary penalty taker I'm confident he will get a good return. We will probably have to put up with a few sitters missed.
Neil Copeland
181
Posted 22/08/2021 at 10:49:38
Terry #179, good to see you last week before the game, hope you all enjoyed it.
I thought Keane was one of our better players last season but that was in a team playing deep which suits him. Only time will tell if he can adapt his playing style to suit Rafas tactics.
Joe McMahon
182
Posted 22/08/2021 at 10:52:24
Darren, I agree with you 100% on Mina (absolutely).
But you've just said "We finally have a centre forward who could consistently score 20 goals a season and all we can do is pull him to shreads". But please remember we had one until just over 4 years ago. As Alan Shaerer stated last week, since his first PL goal, Lukaku is the 4th highest PL goal scorer and that includes being in Italy the last 2 seasons. Yes I always was a big fan of Rom but he was also pulled to shreads by many (and still is), but Rom is Evertons highest PL era goal scorer in just 4 seasons beating Duncs record over 11, which is why Tuchel wanted him.
Alan J Thompson
184
Posted 22/08/2021 at 11:32:09
While I would prefer correct spelling at all times I can let it go providing I understand the point. Sometime ago somebody criticised me for using "learnt" but I was fairly sure he knew what I meaned.
Darren Hind
185
Posted 22/08/2021 at 11:56:18
Joe
You have battered away at DCL since he was a boy. You were probably one of the first on here to dismiss him as Lower league standard. You were relentless. if the club listened to you they would have released a 75m asset 3-4 years ago,
I quite literally laughed out loud when you put Lukaku on Andy Crooks's best ever signing. Your oft repeated claim that he regularly scored 20 goals a season is bollocks. he did it once and outside that season he averaged 14 EPL goals a season.
Lukaku was quite possibly the most disliked player to wear the blue shirt. Not simply because he was a lazy fat bastard, but because he was a lazy fat bastard who disrespected our club from day one. He was/is a Monster of a man with incredible strength, One who is capable of playing skittles with center backs.
I don't care how many e scored. If he applied himself properly he would have scored a lot more.
You carry on worshiping a former player who couldnt get away quick enough, that's your prerogative, but he'll get zero credit from me.
Lets see who get the most goals; Your world class striker who is going to be playing for the European Champions getting countless chances, or the guy you dismissed as lower league level, playing for what many believe to be a bunch of disjointed misfits.
I do find it quite nauseating that some people still pine for the days when this disrespectful fucker played up front for us.
John McFarlane Snr
186
Posted 22/08/2021 at 12:10:58
Hi Alan [184] I agree with your view regarding the correct spelling of words, in as much as, if the meaning is recognisable then it's forgivable. I was guilty of misspelling the name of Demarai Gray, I took the lazy way out and referred to the match report on this thread and spelt it Demari, and then noticed that on Lyndon Lloyd's report it was Demarai, but then mistakes happen don't they?, nobody's perfect.
Terry Farrell
187
Posted 22/08/2021 at 12:12:44
Hi Neil great to see you too. Agree your comments re Keane and think Godfrey is a must in there.
Nicholas Ryan
188
Posted 22/08/2021 at 12:14:52
DCL made a hash of a shot on goal... BUT, did anyone notice the perfectly-weighted through ball from Iwobi, that put him there;... surely, there couldn't be a proper player emerging from the shell of awfulness... could there?!
Kim Vivian
189
Posted 22/08/2021 at 12:17:35
Dove or dived?
Dave Abrahams
190
Posted 22/08/2021 at 12:29:16
Kim (189)Kim, ones a noun (bird) the others a verb. As Terry White might tell you, erm I think.
Benn Chambers
191
Posted 22/08/2021 at 12:49:16
Terry #179
He doesn't play for England. By that same logic then, Delph isn't a bad player? He's played for England.
The only time Keane has got in England sides is when he's had pace next to him to bail him out. He's awful. Would he get in top 6 squad, let alone team? The answer is a resounding no but for some reason he's good enough for us??
The hypocrisy of some on here is hilarious. Pickford 's head was wanted on a spike at times, season before last. Tell me how it's different ? Apart from the fact Pickford is actually a decent player the vast majority of the time. Michael Keane is not. It's only a Matter of time before his next error costs all 3 points. He needs to be dropped and preferably sold. With each mistake, he is a depreciating asset. Sell now for what you can get and reinvest any fee in his replacement.
And no body is getting personal at all. The lads 28 years old and dives in like a school
Kid and has no in game management skills at all to compensate for his obvious weakness, which is his lack of pace. I've seen milk turn quicker. If you do the things he's doing and can't take being called a dope then you're in the wrong job. You're playing premier league footy with men who don't care for your feelings. They wanna expose you and rough you up and it's far too easy to do it to him.
Out of the 4 years we've had him, he's been suffering from a crisis of confidence for 3.5 of them. I can't abide his errors anymore. He's not good enough and plenty on here feel the same. I'd say the vast majority know he's no where near the required standard. Granted, some may hold their tongue better but I pay £600 a year to watch it and if it's a load of shite, I'm entitled to say so and Michael Keane's performances, are more of then than not, a load of shite. Everyone has an opinion, everyone is entitled to theirs. I just base mine on what I see with my eyes.
Danny O'Neill
192
Posted 22/08/2021 at 12:49:20
Or thunk Dave?
Kim Vivian
193
Posted 22/08/2021 at 12:53:13
I agree Dave. Some of our colonial friends might dispute though.
However - One's, Other's. I'm an apostrophobic :-)
Ray Roche
194
Posted 22/08/2021 at 12:59:09
Benn@154
You state that Unsworth was a "slow centre back ". Ok, maybe his pace lessened as he larded up but during his first stint at Goodison he was anything but slow. As coach/caretaker manager, Jimmy Gabriel stated that he was the 'fastest white man I've seen'. So, no sloth in those days then.
And please, don't try and read any derogatory slant into Gabriel's comments.
Dave Abrahams
195
Posted 22/08/2021 at 13:01:56
Kim (193) yes sorry about that, you're an apostrophobic I'm allergic to them.
Tom Harvey
196
Posted 22/08/2021 at 13:16:58
Mike Gaynes @150
Spot on, in those one to one, whites of the eyes situations with goalies if he hasn't got now, he'll never have it.
Big pity as you've mentioned, he would have been worth £150m, his work rate, support play and poaching with the ability to drop his shoulder and go around a keeper or chip a keeper at close quarters.
Two excellent chances for him went by yesterday, we should have beat Leeds 4-2.
Tony Abrahams
197
Posted 22/08/2021 at 13:27:19
I agree with Benn; I have never felt that Michael Keane is good enough to help take Everton forward.
Every single player we slag has obviously got loads of ability, otherwise they wouldn't be playing in the hardest league in the world, but unless we play with eleven men behind the ball, Everton have never been a compact team with Keane in the middle of our defence and this is why the pitch is often too big imo, and even the less talented teams can find way too much space to play in the middle of the park.
Anyone can play football if you give them enough space, but not everyone can play when you put them under pressure, which doesn't happen often enough with Everton because Michael Keane hasn't got the confidence to go and play on the front foot.
Sukhdev Sohal
198
Posted 22/08/2021 at 13:28:02
I've been impressed with us under Rafa so far. Everyone except Keane has played well. Iwobi is an actual option now. I'm sure Rafa has taught him what to do as he's a much better than coach Carlo.
Gray looks to be a bargain. We've needed a winger for ages that goes past defenders with pace and gets balls into the box.
Keane needs to be dropped now, he's been at fault for 2 of our 3 goals conceded. Doucouré and Allan were immense. We seem to do better against the teams we should beat under Rafa.
Sam Barrett
199
Posted 22/08/2021 at 13:31:20
Some very harsh opinions on here regarding DCL.
I will only start worrying when he isn't getting 3 or 4 good chances per game.

Benn Chambers
200
Posted 22/08/2021 at 13:32:44
Ray #194.
Yes, post "lard". He still had enough up stairs to not leave himself exposed by pace all the time. Same as Watson, Weir and Gough.
Also puzzled as to why you would feel the need to remind someone not to read Jimmy Gabriel's remarks as derogatory?? Bizarre.
I'm certain they were not intended to be so. Merely stating a fact. More often than not, black players are genetically supremely blessed in terms of pace. Always have been and always will be. With early Unsworth and maybe Jags being an exception.
Andy Crooks
201
Posted 22/08/2021 at 13:33:52
Benn, so Pickford is a decent player" the vast majority of the time", err.. so, sometimes he makes mistakes? You think Keane needs to be sold. So, we need to find a club with a director of football who is less astute than you and will pay good money for a player that, you, have spotted is slow.
Of course you are entitled to your £ 600 a year opinion. Not your own facts, though. Keane is not shite, better judges than you and me disagree with you.
Benn Chambers
202
Posted 22/08/2021 at 13:34:52
Danny O'Neill
203
Posted 22/08/2021 at 13:38:14
Say it how you see it Benn!
A few of us have never been convinced by Keane. I haven't been since we bought him. I given him praise when he's played well in a set up that suits him, but that's not how I want to see him and us play and he's not good enough for that alternative style.
It's why I've bored everyone for several months and more now that I'd lack an experienced, established centre back alongside Godfrey.
Nothing personal here, and I know you can never tell, but you can see why United released him to Burnely and they must have thought their chips had come in when we waved £30M at them.
Stan Schofield
204
Posted 22/08/2021 at 13:43:18
Two good performances, against Southampton and Leeds. However, we started very well last season, a record start, playing attractive attacking football, scoring plenty of goals, on the front foot. People on here were saying how Ancelotti seemed to have made players more confident and improved, including Keane (who then got his England place back) and Iwobi. But then injuries undermined all this, because we lacked quality in depth. Rodriguez was the golden boy, and now Gray is the golden boy. Ring any bells?
We still lack quality in depth, despite Townsend and Gray being signed. So beware guys, yes, it's a good start, but let's not get too excited. Let's see what happens when injuries kick in, which they tend to do.
It probably doesn't matter who the manager is, the above issue will tend to bite us in the arse sooner or later, until it's solved, which is unlikely to be any time soon.
Benn Chambers
205
Posted 22/08/2021 at 13:51:34
Andy #201
Pickford had a few instances season before last. Quickly sorted it and was arguably our player of the year last season and Has always been head and shoulders above anyone for England. Keane has been making these errors since the season he signed and is still doing it often. That's why he's no where near Englands squad and should be no where near ours.
Granted, everyone makes the odd mistake. Keane's aren't rare. They're often! Same goes for Holgate. Together, they're a disaster.
If you wanna carry passengers and give people the benefit of the doubt, that's sound, that's your right. Just as it's mine to choose not to.
Make no mistake. If someone made a reasonable offer for Keane, he'd be sold. Gone. The fact no one has speaks volumes.
For the record, I think there is also better keepers than Pickford as well. Aston Villa's being one who we could've perhaps got. Let's be clear though, Pickford is light years ahead of Keane is natural ability as a footballer.
So for what it's worth, my £600 opinion won't alter until Michael Keane starts putting in consistent solid performances week after week, season after season. I know he won't. I doubt he'll be here long enough to do it, or at least that's what I hope.
Regarding your opinion on "Better judges". As I say, I call it now I see it. Keane is shite because he makes mistakes and plays shite. Delph Is shite yet Marcel Brands thought to pay £8m for him and lash him on £120k a week. He paid £35m for iwobi. £22m for Gomes. Koeman and Walsh spent a kings ransom in Bolasie, Klassen, Tosun, Sandro, Gylfi etc …. They're far more qualified than you and I and on the face of it are much "Better Judges". Some times even the experts get it wrong. I wish their opinion only cost us £600 though, and not the £200m and god knows what in wages.
😉
Benn Chambers
206
Posted 22/08/2021 at 13:58:36
Danny 203.
Exactly mate. We paid an absolute premium and we'll never see a fraction of that back. I knew it was a mistake the minute he went touch-tight to Lukaku at Goodison for Burnley and he got rolled like he was one of those fake plastic players you spike in the ground to make a free-kick wall. That shows how his brain works. Lukaku is rapid and strong and he goes up his arse and gets turned piss easy and Rom scores. Easy as you like.
I'll always call it how I see it and I respect the fact that others may see it differently. That's fine. It's all about opinions but the facts don't lie. He plays, we concede plenty and it causes panic with Pickford as well who doesn't trust him. He often rushes out in anticipation of Keane leaving too much space in behind and not being able to get back.
We all know he's not good enough for Everton. Every single one of us. We'd all swap him if we could. Just some will tolerate mediocrity a lot more than others.
I'd stick my mortgage on it that over 95% of fans would take our money back if offered. We can dream.
Graham Mockford
207
Posted 22/08/2021 at 14:50:53
Everton all time league scorers by goals per game more than three seasons
Dean 0.88
Lawton 0.75
Pickering 0.58
Vernon 0.57
Lukaku 0.48. *fat lazy bastard
Latchford 0.45
Royle 0.44
DCL is some way down at 0.28 but that ratio is rapidly improving and if he can keep scoring 1 in 2 he will do for me

Brent Stephens
208
Posted 22/08/2021 at 15:02:51
Graham, we all hope dcl achieves the scoring record of a "fat lazy bastard"! But it doesn't matter if he doesn't, as long as he "respects the club"!
John McFarlane Snr
209
Posted 22/08/2021 at 15:06:31
Hi Benn [various posts] I accept that everyone is entitled to air his/her comments, but I would like to know what your footballing pedigree is, if you consider that Michael Keane is crap. I'm sure there's a more civilised way of expressing your dislike of him.
Brent Stephens
210
Posted 22/08/2021 at 15:09:34
On a separate note, I don't know what's going on with ticketing. Southampton just reported as saying they'll refund all ticket-holders for today, given long queues up to and after KO.
My ticket v Man Utd friendly only arrived the day before the game. My ticket v Leeds ditto. The tickets for Brighton haven't gone on sale yet - not even an announcement.
I emailed efc Friday about something. The standard reply acknowledging receipt of message said there would be a reply "within 28 days"! Can't they get the staff?
Pity those efc fans who walked from the motorway slip road to the ground y'day because of traffic problems. I got there in plenty of time so just missed all the motorway delays, but others were still coming in 20 minutes after ko, drenched..
Rob Halligan
211
Posted 22/08/2021 at 15:17:54
Brent, the tickets for Brighton will be sent via email only. Mate of mine found this out when he phoned up to enquire as to why he couldn't book coach tickets for Huddersfield. I believe you can print the ticket off or download it on your phone. Either way, everything seems to be going tits up regards match tickets. Still nothing on the club website about Brighton tickets as I type.
Brent Stephens
212
Posted 22/08/2021 at 15:26:35
Rob, did you get to Leeds on time? miss the reported traffic chaos?
Rob Halligan
213
Posted 22/08/2021 at 15:28:50
Brent, I've submitted an article about our day, but yes, we got there about 14.10, having been stuck on that roundabout off the motorway for about forty five minutes.
Brent Stephens
214
Posted 22/08/2021 at 15:29:57
Rob "Still nothing on the club website about Brighton tickets as I type."
And yet, ticket arrangements for the Burnley game (13th Sept!) have just been posted on Everton's website. Bizarre.
Rob Halligan
215
Posted 22/08/2021 at 15:31:15
Brighton ticket info now available. Go on sale Tuesday.
Brent Stephens
216
Posted 22/08/2021 at 15:32:37
Cheers, Rob.
Benn Chambers
217
Posted 22/08/2021 at 15:40:42
John #209
Have no idea what that has to do with anything? So you have to be a professional footballer to have an opinion on one? It's clear Michael Keane is better than your average Sunday league player but Sunday league players don't play for Everton. It's obvious you must have a certain level of ability to turn pro. You must be above average. I don't want average. I'm sick of average. I'm 38 years old and that's all's I've known of Everton. The fact you've turned pro, That doesn't mean you're automatically top notch and good enough to be playing in the top half of the premier league. Had that been the case, he'd still be at UTD. He went to Burnley ffs. That seems silly to suggest than unless you have played premier league footy yourself, it's impossible for you to have an opinion ? So what are any of us doing on here? What's the point in ToffeeWeb if that's the case ???
I don't dislike Michael Keane. Quite the contrary. I think he's a gent. Seems a good pro in that he's not in the papers for the wrong reasons. I just don't rate him as a premier league centre back, good enough to play for Everton or take us where we profess to want to go. That's it. Simple as that. Neither do a huge amount of other people on here. He's too nice, he's too slow and he's and he's too Dozy.
If you rate him, that's fine. That's up to you. If so, by your own logic, that's must mean you've managed in the game yourself? To a high standard?
Ian Bennett
218
Posted 22/08/2021 at 15:49:30
Michael Keane just isn't a defender for a team with top 6 aspirations. He's a relegation fodder blocker.
Benn Chambers
219
Posted 22/08/2021 at 15:53:13
Ian #218
Spot on.
Burnley was his level. He's identical to the CB's Burnley has now. He's simply not good enough to be one of Everton's 4 centre backs. No where near. Same goes for Holgate.
It's not about wether you like or dislike him. It's not a popularity contest. It's about wether or not he's good enough to play for us. He isn't.
End.
Derek Knox
220
Posted 22/08/2021 at 15:59:44
Rob and Brent, Watch out for the Seagulls ! :-)
John McFarlane Snr
221
Posted 22/08/2021 at 16:02:36
Hi Benn, [217] I haven't intended to suggest that you need to have been a professional footballer, it's the fact that you have been so scathing in your criticism of Michael Keane, that I resorted to a touch of sarcasm, for which I now apologise. I understand your frustration at the lack of success for you to enjoy, but I feel your method of expressing your views could be a little tempered. Once again I offer an apology, and trust that you accept it.
Brent Stephens
222
Posted 22/08/2021 at 16:02:54
Derek, spot on. Or hopefully not!
Graham Mockford
223
Posted 22/08/2021 at 16:04:04
Benn/Ian
He's been first choice for four seasons so to claim he's not good enough for us is a little over the top. He was also playing well enough to be awarded a new five year contract just a year ago.
He's had a difficult couple of games, I think he's going to have to adapt to the new set up and play to his strengths but he's far from a hopeless case other than for those on here who don't seem to able to exist without having a current boo boy to vent about
Benn Chambers
224
Posted 22/08/2021 at 16:08:22
John 222
No apology necessary, mate. It's all about opinions.
I've tried tempered. I tried it after his first 10 mistakes. I tried to give Holgate the benefit of the doubt as well. Nothing changes though. So I can no longer bite my tongue every time he messes up. I suppose I could bite my tongue, I just choose not to now.
Obviously, I know Rafa is reading all my posts and hangs off my every word so I trust he'll be dropped for Brighton at the weekend ;0)
Barry Hesketh
225
Posted 22/08/2021 at 16:11:10
I have to agree with Darren @185
I and the club miss the goals that Lukaku provided whilst he was at Goodison, but I certainly don't miss his constant media presence talking about leaving Everton when it suited him, which seemed to come around every international break.
As for Dominic, according to Benitez, he's not nearly 100% fit, but still wants to start games whenever possible, and he could have walked off with the match-ball yesterday, if he had converted the chances that were presented to him.
The fact he was in those positions to my mind is what good strikers do and given the manager looks as if he is trying to make him the fulcrum of the team is good for him and good for Everton. He's a level-headed bloke who isn't the most skilful compared to others, but he's served his time chasing lost causes on the wings or being left isolated up front, now he has a chance to shine.
Imagine Romelu with DCL's attitude, that would be some player, although to be fair to Romelu, he has matured considerably since he left Goodison.
Graham Mockford
226
Posted 22/08/2021 at 16:16:48
Darren
Nothing carefully selected it's every single Everton strikers league goal ratio who played three seasons or more. Lineker gets in second place if you include all players regardless of how long they played
Sharp was undoubtedly a greater Everton striker because of his all round game although didn't score at as prolific a rate along with nearly every one in the last 50 years.
DCL needs 27 to overtake Lukaku but the chance of him doing that by March next year are pretty slim I suggest.
And I'd also love a sporting bet Lukaku scores more than DCL this year. I mean you've got a two goal start. A bottle of good Scotch I think would be a decent bet.
Benn Chambers
227
Posted 22/08/2021 at 16:20:24
Graham 224
You're right. He's been predominantly first choice for the majority of his time here. That all so coincides with the fact that we've been predominantly shite for the last 4 years.
We've gone through managers like I go through Krispy Kreme's. Managers aren't sacking themselves. They pick players like Keane and get let down and get sacked. By the time they realise their trust is misplaced, it's too late. The little red laser dot is already locked on.
I'm in no way suggesting that's all Keanes fault. It's not. At all. He just doesn't seem to learn from his constant errors or get better. He's getting worse. He's getting slower (if possible) and one mistake and he's a total basket case for a few weeks after. As I said, he suffers too much with his own confidence. If he can't back himself on the pitch, he can't expect me to back him. He's not good enough. Never has been or will be, for Everton. Just like is partner, Holgate.
A huge part of the reason for his new contract was because the club was protecting a saleable asset from entering his final year. Luke Garbett has signed numerous extensions and I've played more games for us than him. He was due a testimonial and never set foot on the pitch.
There is much more too it than simple assuming a contract extension is solely down to performance. Chelsea extend most of their dead wood and then send them out on loan.
The real indicator of how highly regarded he is, will be when a team shows an interest. I guarantee you he will be sold to the first taker. The fact there is none and never has been, speaks volumes.
Regarding us needing a "Boo Boy", you could pick any of them mate. Apart from Godfrey DCL Digne Doucoure Allan and Richarlison, any one of the rest can't claim to have deserved their place or wage, consistently. We've been total garbage since Martinez second season. Awful.
Graham Mockford
228
Posted 22/08/2021 at 16:22:44
Graham Mockford
229
Posted 22/08/2021 at 16:22:47
So Benn we gave him a new contract to ensure his saleability but no one wants to buy him. Top logic right there
Benn Chambers
230
Posted 22/08/2021 at 16:29:11
Graham.
He cost £30m and is still a reasonable age. So you just allow him to walk on a free ? Course you don't. You hope, in blind hope, that someone may want to buy him and you get some sort of fee to reinvest.
I can't think of a single team, in 4 years, that's been linked with making move???
A new contract ensures he can't walk for free. His performances dictate his saleability. Come on, it's not hard.
His performances are shite, that's why he still plays for us and not a better side than us. The only thing I think will shift him, is lack of games. He plays most of them, until that changes, I'm sure he's happy as Larry. Where is he going after Everton? Only way is down. A Burnley, palace, Southampton. That's his level.
John McFarlane Snr
231
Posted 22/08/2021 at 16:29:38
HI again Benn [225] It seems obvious to me that the generation gap that exists between us, will make it impossible for us to change our attitudes, so as this likely to be our final communication, I wish you and Everton FC the best of luck in the future
John Skelly
232
Posted 22/08/2021 at 16:30:11
Off topic here, so growing up in Liverpool in the 60s 70s and 80s the term blue was used to thank someone if didn't know there name or cheers blue
Does anyone one know the origin of this saying.
Benn Chambers
233
Posted 22/08/2021 at 16:34:09
John 232.
I only wish I'd seen what you'd seen, mate. Had that been the case, I may be able to tolerate the Micheal Keane's and Mason Holgate's a lot more. The fact I've seen us win 1 FA Cup in my time going the match ( and even that season we only just stayed up) means my patience are wearing thin. If we want to do better, we have to recruit better and Michael Keane isn't going to allow me to see the High's you've enjoyed.
If only.
Benn Chambers
234
Posted 22/08/2021 at 16:35:37
And best of luck to you too, John. 👍🏻
Graham Mockford
235
Posted 22/08/2021 at 16:36:19
Benn
Utter tripe. His contract is until 2025 by which time he will be 33 at which point he will have little or no resale value. He was given a contract last year because the club envisaged him being part of the team over that time period.
Now you can have whatever opinion you like on him, they are like arseholes they say. But what is risible is to suggest we gave him a five year contract in the hope someone would come and buy him. Especially if as you opine he's so poor no one would want to buy him.
Graham Mockford
236
Posted 22/08/2021 at 16:41:46
Fair enough Darren
I'll have a bet with myself. If DCL scores more I'll donate to your charity
Derek Taylor
237
Posted 22/08/2021 at 16:41:49
I'm proud to say I saw everyone on Graham's list bar Bill Dean. And Lawton was with Chelsea and Arsenal when I was old enough to attend matches. (He also played for Notts County and Brentford but not against Everton, I think.) Does John Mac or anyone else know any body old enough 'to claim a full house ?'
Danny O'Neill
238
Posted 22/08/2021 at 16:43:14
Dominic still has time to improve. I don't think he'll become the all round striker I saw in Sharpe, but he'll score plenty of goals.
I said on other threads, Kane reminds me of Sharpe. More complete and not just an in the box striker.
But Dominic is fine. Play to his strengths, get him in those positions, feed him from the flanks and the goals will come.
Sam Fitzsimmons
239
Posted 22/08/2021 at 16:45:48
Did anyone see the Southampton v Utd game. Maguire got his pocket picked exactly the same way as Keane did last week. Armstrong was put clean through and fluffed his chance in contrast to his well taken goal against us. At this level it really is a case of fine margins. It does seem though that as far as Everton goes, when it comes to individual errors we get punished more than most.
Brent Stephens
240
Posted 22/08/2021 at 16:47:16
And as we speak, Chelsea go one up. Not a bad goal!
Kim Vivian
241
Posted 22/08/2021 at 16:47:35
Blimey - hasn't taken Rom long to get started.
Benn Chambers
242
Posted 22/08/2021 at 16:48:24
Graham,
How the fuck do we know what the club are thinking ? A new contract for a player who's gonna be entering the latter stages of it, is protecting an asset. He's played plenty of games and I'm sure he assumed that would remain the case. I'm sure the club, in their infinite wisdom, also gave him the contract because they assumed he was going to continue to play, and he has done. I'll say this though, as soon as Godfrey is fit and we're able to sign players, he will have splinters in his arse. Rafa ain't gonna suffer what his predecessors have been so happy to accept.
A new contract automatically makes him good at his job? That makes him a top centre back because he was given a new contract ? As I've said many times, what he does on the pitch will dictate how he's viewed. I'm starting to wonder wether me and the majority, have cataracts and the likes of yourself are seeing the reincarnation of Franco Baresi???
We clearly see a different player. I see the stuck in the mud lamppost who dives in, leaves acres in behind and costs us goals, on the regular. You see Marcel Desially. Sound.
I either need your glasses or your tipple because one of them is working wonders.
Anyway, as fun as this has been, I'm gonna watch Lukaku and remember him skinning Big Mick while he was at Burnley.
Chelsea have a few top centre backs, Graham. Give them a watch and compare them to our Mick.

Phil Wood
243
Posted 22/08/2021 at 16:50:26
John(110) Stated we must up our game as we've only played 2 poor sides and collected only 4 points.
Doesn't look too bad now as Utd couldn't beat Southampton.
Cheer up John I think you will find not too many teams capable of taking points off Utd.

Darren Hind
244
Posted 22/08/2021 at 16:53:23
"As WE speak" ?...Oh dear.
Last time I heard Brent Stephens talk about Calvert-Lewin, he was taking great delight in telling everyone "He couldn't hit a cows arse with a banjo."
I prefer to support our youngsters rather than hammer them and fawn over players who don't play for us...because they don't want to.
Game on!
Mike Gaynes
245
Posted 22/08/2021 at 16:55:49
Greg #155, great points, well said.
Darren #237, didn't realize you had that family history. Condolences.
It's now Dom 2, Rom 1. It'll be a bit of entertainment to follow our bet this season.
I would just point out that Rom will get more chances, but not just because he's in a more creative attacking team. He's also capable of creating scoring chances for himself, without requiring service. Dom is not.
And Rom will score occasional rockets from distance, an ability Dom does not have.
Brent Stephens
246
Posted 22/08/2021 at 16:56:58
"Last time I heard Brent Stephens talk about DCL he was taking great delight in telling everyone "He couldnt hit a cows arse with a banjo""
And he couldn't. The word "couldn't" can take different tenses. e.g. "he couldn't find his specs" - doesn't mean to say he never will.
He couldn't then, he can now.

Graham Mockford
247
Posted 22/08/2021 at 16:58:12
Benn
Enough of the straw man stuff. I've never claimed he was Baresi or Desaiily.
I'm also not convinced he's going to be first choice, I'd go Mina Godfrey but I also don't think he's as poor as you suggest.
But mostly I was pointing out he was given a new contract because the club wanted him around for five more years rather than your ludicrous Schrodingers contract argument where we were protecting a saleable asset who's not saleable.

Alan J Thompson
248
Posted 22/08/2021 at 16:59:18
John(#233); In Australia the term/nickname "Blue" is used to refer to people with red hair and in a similar vein it can mean a fight or arguement.
Benn Chambers
249
Posted 22/08/2021 at 17:00:48
Graham.
So, after all that, you just think he's as shite as I do. 😂 HAHA!! brilliant!!!

Graham Mockford
250
Posted 22/08/2021 at 17:01:59
No Benn I don't
Joe McMahon
251
Posted 22/08/2021 at 17:03:18
Darren@ just for the record I don't worship any footballer (and never have) even when I was 14 Debbie Harry and Siouxsie were on my bedroom wall ( not footballers), I just appreciate good ones. No I'm not a huge DCL fan as his inability to put his laces through a shot I find frustrating. However he is getting better at getting into positions and very good in the air. Yes of course I so hope Dominic will turn into the all round striker we need.
I appreciate Rom as he's a top striker in Europe, that's all but he did play for Everton, and let's face it when haven't had many goalscorers since Lineker.
Shane Corcoran
252
Posted 22/08/2021 at 17:08:46
Joe, I would say DCL has a good leap but his finishing from headers still needs a lot of work. Seems to mistime headers in my opinion.
Mike Gaynes
253
Posted 22/08/2021 at 17:12:27
No, Benn, Keane isn't "shite"... he's not a Top 6 player, but neither is anyone else we have (except Picks and maybe Godfrey). He's brave, strong in the air and our best passer out of the back, and in fact he anticipates VERY well, which is how he compensates for his lack of quickness.
His managers have picked him for every game he's been healthy (and for many when he wasn't), and his club gave him a new contract. Maybe they've all recognized that he brings some badly needed courage and character into a side that has frequently lacked both in recent years.
Paul Tran
254
Posted 22/08/2021 at 17:15:08
Darren, you know my (and my pocket's!) view on Lukaku. How would you set it up as a handicap between him & DCL, given that Chelsea are clearly stronger than us?
Danny O'Neill
255
Posted 22/08/2021 at 17:16:06
Darren,
Sympathy & empathy. I lost my mother aged 59 to cancer when I was 35 and attended her funeral 2 weeks before having to leave the family as I deployed to Afghanistan. My dad went 18 months later from the same horrible disease.
And more recently, my wife has had to be treated for breast cancer but fortunately caught early and all as well as it can be. Been a tough few months since December.
Any bet you want to have with me Darren for any charity of your choosing, just let me know. A subject dear to my heart.
Barry Hesketh
256
Posted 22/08/2021 at 17:16:47
Danny @187
I agreed with what you posted, until I read that yesterday's game was the first opportunity at Elland Road, that Leeds had to celebrate their arrival in the top flight, save a crowd of 8,000 at the end of last season, sort of makes sense that the media made a big deal of it, plus it emphasises what a difficult game it was to negotiate for Everton.

Dave Abrahams
257
Posted 22/08/2021 at 17:20:11
Derek (239), Tommy Lawton might have played in the 5-1 hammering Notts County gave us in a second division game, Jackson scored four of those goals, I think Jackie Sewell played for County, he became English footballs highest transfer later on.
I'm sure Lawton played in a friendly game for Notts County as well which Everton won 2-1, this was also when we were in the second division.
Mike Gaynes
258
Posted 22/08/2021 at 17:23:35
Danny #257, condolences, and best wishes to your wife for her continuing recovery.
No question, the bastard can be even harder on the loved ones than the patient.
Benn Chambers
259
Posted 22/08/2021 at 17:23:42
Mike.
He is. As far as I am concerned, he is. I've always thought it and I always will. I've gave him credit if he's played well and I'll always do that but he's a liability as far as I have seen and make the same mistakes over and over again. Someone telling me he's not crap and giving their reasons for why the think so, is fine. I'll happily listen to anyone's opinion and debate with people. That's what ToffeeWeb is for after all. While Michael Keane keeps doing a Michael Keane, my opinion of him won't change.
I don't think any of this will mean anything as soon as Godfrey is fit and he's benched. Not to mention if we're able to sign some players. We're shopping for a centre back. Why? We have 4. Because 2 aren't good enough.
Again, it's opinions. Yours is that he's ok. Mine is that he's shite.
Only one that matters is Rafa's isn't it. 2 games, 2 errors, 2 goals conceded. I very much doubt Rafa will persist with those stats for very long. Or at least we hope he won't, because if he does, he'll be out on his arse as well like thebothers before him. I hope not because I rate Rafa as a manager, ignoring his red connections.
Dave Abrahams
260
Posted 22/08/2021 at 17:28:44
Mike (255), Keane is strong and brave in the air, best passer out from the back, anticipates very well which is how he compensates for his lack of quickness, I'd love to see that player, it's certainly not the Michael Keane I've watched since he came to Everton, far from it, but we all have our different opinions, he makes me a nervous wreck waiting for his next mistake.
Tom Richards
261
Posted 22/08/2021 at 17:29:13
I would have the largest bet I have had for a long, long time that Rom scores more than DCL this season.
Any takers?
Jim Lloyd
262
Posted 22/08/2021 at 17:43:42
Some say we need quality in depth; and I wouldn't argue. But we're not likely to get much of it coming in this season. By all accounts,we'll have to make do with what we have unless we can sell.
Would I like a better centre half than Keane, yes I would but until we get one.
Keane has faults that can lead directly to a goal but he's a feller who pulls his weight for the full 90mins. I criticise Keane when he does a blooper (which seems to happen because he doesn't know what to do with the ball when under a bit of pressure.) He's slow in turning as well but there's been games when he has been a stalwart for us.
As for Dom, he does seem to miss some easy chances; but he's capable of terrific leaps and is a good header of the ball. So if we play to his strengths, he'll score some goals alright, but prolific lets see how he progresses under Rafa.
Someone said we started well last season and fell away, so what's so different. well I think the difference this season is we've got Rafa Benitez. How many seasons before have we been the sacrificial lamb, when a team is promoted and their first game is us, or we crumble like we did during last season in too many games.
I think we did well yesterday and were disappointed to only getting a draw. To me that's a good sign. With Gbamin and Godfrey due back and the two new lads doing well, then were not too bad off. I don't expect us to be in a postition to push for Europe, but if I see us playing like we have in the last two matches, then who knows?
Hopefully, Godfrey will become an improvement, he's a much faster player, so let's wait and see, but maybe rafa will try him out at right back.
Ian Bennett
263
Posted 22/08/2021 at 17:48:17
If Rafa lasts more than 2 seasons Michael Keane will not still be at Everton.
He consistently makes mistakes in areas of the pitch that get punished, and no manager is going to put up with that. He's mentally fragile, takes an eternity to turn, and most strikers must rub their hands with glea when they're up against him. He's a soft touch.
The fact he's been our better defender in recent years is against a pretty low bar. 2 key mistakes in 2 games already, he'll be benched as soon as Godfrey is fit.
Danny Broderick
264
Posted 22/08/2021 at 17:51:23
Benn,
You are talking absolute nonsense mate.
" He just doesn't seem to learn from his constant errors or get better. He's getting worse. He's getting slower"
What a load of rubbish. Yes he has made mistakes in the last 2 games. Those mistakes aside, his performances have been decent. He hasn't let his head drop, like many in his position would do. He dusted himself down both times and I will repeat what I said after both games this season - Pickford barely had a save to make after either game. The opposition strikers were well marshalled in both games. Southampton had 6 efforts in total, I think 2 were on target. And while Leeds had 17, most of them were outside the box, high, wide and handsome.
Does he need to cut out the mistakes from the last 2 games? Absolutely. Will he be dropped for the game against Brighton? Possibly.
I have heard Everton fans slag off every player we have ever had. Keane has made a few mistakes, but it wasn't so long ago that we had a cracking centre half partnership in Zouma and Keane. Keane and Mina are fighting it out to partner Godfrey at centre half. When Keane cuts out these mistakes, he is a very competent defender who is on the periphery of the England squad. He is not getting worse, or slower, or making constant errors, but he has made 2 costly mistakes in the last 2 games.
Jim Lloyd
265
Posted 22/08/2021 at 17:57:38
Danny, well said.
Benn Chambers
266
Posted 22/08/2021 at 17:58:00
Danny.
He's played for us for 4 years and he's had one good season in 4, next to zouma. Zouma's pace papered over a lot of the high line that left us exposed. Zouma could get back.
If a mistake a game is fine with you then sound. It's not fine with me though and I won't pretend there's a player there, just to appease the likes of yourself. You make some valid points but it still doesn't change the facts that the 2 most recent mistakes are a fart in a hurricane. As Dave said, my heart is in my mouth as soon as someone runs at him or there is space in behind him, which there often is.
I don't rate him. I never have and I never will and that because he often proves me right.
Paul Tran
267
Posted 22/08/2021 at 17:58:01
Very fair, Darren.
Debbie Harry? Now I can't stop thinking about that time Blondie were on Granada Reports.
I might be a while.
Benn Chambers
268
Posted 22/08/2021 at 17:59:22
Danny O'Neill
269
Posted 22/08/2021 at 18:01:37
He's our oldest centre back though Danny B. And at 28 I don't think he's getting better. He won't get faster and if he hasn't learned (Michael learned or learnt?!!!), to compensate for the ball over his head now, he never will.
He's a decent centre back. To be a better one, he just lacks concentration, awareness & anticipation.
Ideally, and I don't think this will happen, I'd like to see someone better than what we have currently to play alongside Godfrey.
Steve Brown
270
Posted 22/08/2021 at 18:03:30
Think recency is placing a part in the debate on Keane, given the two goals conceded in two games.
His postional play has improved, solid in the air, his long passing is excellent out of defence but his short passing his weak. He always strikes me as a confidence player as well.
Perhaps Benn or Ian could specify which mistakes by Keane led directly to goals last season? I was racking my brains but couldn't think of any.
Mike Gaynes
271
Posted 22/08/2021 at 18:05:04
Ian #266, if he
"consistently makes mistakes
" that
"no manager is going to put up with"
... how do you explain that
all seven managers
he has played under at Everton (Koeman, Rhino, Fat Sam, Marco, Duncan, Carlo and Rafa) has put him in the lineup every time he was physically capable of lacing up his boots?
Are they all stupid?
For what it's worth, I think he's taking too much blame for yesterday. The fact that he didn't physically have the quickness to react to the unexpected ball doesn't necessarily mean he blundered.
Will Godfrey replace him? No question. But I still think the criticism is a bit over the top.
Danny Broderick
272
Posted 22/08/2021 at 18:11:38
Benn,
He doesn't make a mistake a game though. Not unless you erase the previous 3 seasons he has played for us and are only starting the count 2 games ago!
He had a good season with Zouma, and he had a good season last season also when we had one of the better defences in the league. His first season wasn't great in fairness. He did have an injured foot apparently, but no excuses, he was poor. In my book, he's had 2 good seasons out of 3.
In no way am I saying he is the perfect centre back - I can't think of a defender ever who has been the perfect centre back. But put pace alongside him, and he is a very decent centre half, one of the best 7/8 English defenders currently. Yes he needs to cut out the mistakes he has made of late, and he will. But to dismiss him as constantly making mistakes, getting slower, getting worse is basically nonsense.
Brian Wilkinson
273
Posted 22/08/2021 at 18:13:26
Siouxie and Debby Harry? Nah give me Kim Wilde and Martha Ladley any Day of the week Paul, Kate Bush for the weekends. Every leap year can throw in Sabrina in the swimming pool complete with bikini and drink.

Danny O'Neill
274
Posted 22/08/2021 at 18:15:39
Thank you Mike Gaynes. It's life and we live and deal with what it throws at us.
Lighter note Darren, let's have a bet.
And let me know your chosen charity. I've been fortunate in life considering my relative humble background, so always willing to give. Especially for a cause that strikes a personal cord.
Paul Tran
275
Posted 22/08/2021 at 18:16:11
Ah, Brian, it was the pleasant shock value of seeing that on an early-evening regional news programme that did it for me. And every other lad in school as I remember!
Benn Chambers
276
Posted 22/08/2021 at 18:18:57
Steve 274
Perhaps I could. It would be my pleasure mate.
Palace at Goodison, out of position and day dithering wether to come or go for Michy Batshuayi's late equaliser, costing us two points.
The Keane and Holgate partnership for both Kane's goals for Spurs at Goodison, his weak as piss header allowing kane to slam it home.
Not to mention his shitshow for England against the Mighty Kosovo. Awful dopey pass across his own box and it's robbed and slotted.
As I said, this recent two are a fart in a hurricane.
https://youtu.be/Tc_rM8mRI_M
https://youtu.be/aw2F91Wdg_U

I'm not imagining he's shite mate. He is shite. When he fucks up, it's costs us points.
Benn Chambers
278
Posted 22/08/2021 at 18:25:34
Danny.
See my previous post with links provided. That was last season. He's already on 2 out of 2 this season. I'd suggest that's a decline and a rapid one. He's isn't gonna get better at 28, mate.
Look at the England Kosovo one as well. That's why he's been legged for England. He's a disaster.
I can't spend my Sunday evening arguing why Michael Keane is crap. He's crap because he does brain farts on the reggers.
We all know it. It's just that some wanna constantly give him the benefit of the doubt because he's a confidence player. He has no confidence in himself and that's why I have none in him.
Shite. (So is Holgate).
Danny Broderick
283
Posted 22/08/2021 at 18:38:57
Danny O,
We may well replace Keane with a better centre back at some point - but this would probably cost £50 million. I wouldn't disagree that Koulibaly or someone like that would be a massive upgrade. But until then, Keane is our player and we have to get behind him.
I think he will cut out the costly mistakes and he will form a decent partnership with Godfrey for us this season. I think it will be either him or Mina that will partner Godfrey. For me, Mina is more erratic than Keane. He's also a decent centre back. But I find him a bit like Funes Mori, a bit more unorthodox. Of the 2 of them (Keane or Mina), I would choose Keane.
I guess we will see!
Ian Bennett
284
Posted 22/08/2021 at 18:40:09
Mike he got played under those managers because there was no one in the squad to do better. That's hardly endorsement over the last 5 years, as we've been shit.
Next week I am running Michael Keane Brainfart bingo. £90 pot, you just need to pick the minute when he costs a goal. I'll take pounds or dollars Mike, what minute you going for?

Eddie Dunn
285
Posted 22/08/2021 at 18:43:50
John Skelly @233, I recall my old man using the term "blue" in exactly that way... I have also heard people in the midlands use it. Don't know where it originated.
On the subject of Keane. I noticed that running back late on during a Leeds break, that Michael looked remarkably quick once he had got going. It is his speed out of the blocks that is a problem -he looks like a 400 metre runner, rather than a 100 metre sprinter.
He isn't "Shite" but he does need to forget passing it along the back line. With our lads it just invites mistakes and makes everyone jittery, fans and players.
Mike Gaynes
287
Posted 22/08/2021 at 18:47:11
Danny B, I won't go as far as choosing Keane over Mina.
Check out Mina's final heroic seconds yesterday to save the point. I don't think Keane makes those two plays.
I'm a bit biased as a Mina fan from way back (scoring against England at the WC), but I consider him the better player of the two.
John McFarlane Snr
288
Posted 22/08/2021 at 18:52:28
Hi Derek [239] as Dave [259] said, Tommy Lawton played against Everton at Goodison in a 5-1 win for Notts County, when we were in the Second Division. Jimmy Jackson who I believe later emigrated to Canada scored 4 goals, and I'm quite sure that he also played for Brentford against Everton, but I'm not sure enough to bet on it. it.
Danny Broderick
289
Posted 22/08/2021 at 18:54:37
Mike,
Mina is definitely more capable of the eye catching stuff. But for me, he's more desperate, he does mad lunges, last ditch tackles, and always gets involved in argey-bargey with the other team. My fear is he is a red card waiting to happen.
Graham Mockford
290
Posted 22/08/2021 at 19:01:04
Benn
Fair enough you've done me. Like a kipper you'd probably say.
Must pick better battles, use more punctuation.
Note to self pass on the ones who say mate and have too many consonants in their name.
Benn Chambers
291
Posted 22/08/2021 at 19:03:05
Graham.
Couldn't have put it better myself.
Mike Gaynes
292
Posted 22/08/2021 at 19:03:59
Ian #290, you're down to contradicting yourself.

"...there was no one in the squad to do better."
My point exactly.
Almost every game, even when injured, Keane has been chosen by every manager he has played for. No matter who else was available. Whether our defense was quality or shite, whether the manager was smart or stupid, full-time or interim... Keane has been chosen.
You have your view of him, but it's clearly and obviously not true that "no manager would put up with his mistakes" because the guys whose job it is to pick the starting 11 continue to put his name on the team sheet. Every time.

Joe McMahon
293
Posted 22/08/2021 at 19:09:38
C'mon everyone, lets lighten up, the team is playing with a higher tempo and Leeds away infront of their first home crowd since return to PL was never going to be easy.
Brian, did you ever see Siouxsie in the Batman Returns promo video? But yes even when I was just 10 years old Kate Bush was knockout! My older brother had the Lionheart poster on his bedroom wall. Man that hair was just like Wow!
Robert Tressell
294
Posted 22/08/2021 at 19:13:02
Danny @ 289. We do need to upgrade centre back but it needn't cost the earth. Bayer Leverkusen have bought two very talented CBs this summer to supplement Tah and Tapsoba. Don't need to pay big fees if you're prepared to let someone bed in for a season or two (like Leicester did with Soyuncu). I'm still optimistic that Branthwaite is the best CB on our books.
Brent Stephens
295
Posted 22/08/2021 at 19:15:19
Fancy spending nigh on £100m for somebody to warm the bench! Crazy!
Danny O'Neill
296
Posted 22/08/2021 at 19:15:22
I think you're right Danny B in terms of what we have.
The problem being both Mina & Keane have mistakes in them waiting to happen. As does any footballer in fairness. Different types of mistakes, but mistakes nonetheless.
Interesting cultural comparison with Funes Mori. Although he came through the US system, Latin American. They like to try and play and I would argue most are reluctant defenders deep down!!
I get your point on Mina, but then on the flip side Michael Keane is too nice for a centre back in my opinion. He watches the game rather than control it. All opinions but to repeat myself (since January), new centre back to complement Godfrey. Failing that, Mina. At least he won't get bullied.
Close call in the last minute yesterday, but knew he had to stop it and then followed up with a block. But Keane would have got bullied.
Danny O'Neill
298
Posted 22/08/2021 at 19:18:59
Joe, we're Evertonians.
As my brother said after a serious debate and argument during post match beverages when we went to see Schalke 2 years ago, typical Evetonians. We argue about the one thing we all agree on!!
Benn Chambers
299
Posted 22/08/2021 at 19:20:40
Danny.
Haha. Never a truer word spoken.
Your brother is absolutely right.
Danny O'Neill
300
Posted 22/08/2021 at 19:21:12
Thats a market we need to look at Robert and I'm surprised we don't. Especially as Brands must have close links to Dutch, Belgian and German football. Lots of hidden gems there.
Mike Gaynes
301
Posted 22/08/2021 at 19:21:28
Robert #303, I've mentioned before that I really hope and believe we already have our future Champions League centre-back pairing in Godfrey and Branthwaite. The latter just impressed the hell out of me in our brief glimpses of him last year.
That's why I'm so strongly opposed to spending big money on a central defender right now when we have more urgent needs -- and the team overall is nowhere near good enough.
Neil Copeland
302
Posted 22/08/2021 at 19:22:27
Perhaps we need a TW poll on Michael Keane;
Yes, he's shite mate
No, he's not shite mate
Benn Chambers
303
Posted 22/08/2021 at 19:24:11
Graham Mockford
304
Posted 22/08/2021 at 19:24:57
Neil
An understated piece of sarcasm but very good nonetheless full stop
Neil Copeland
305
Posted 22/08/2021 at 19:27:08
Benn and Graham, ha ha very good
Brian Harrison
306
Posted 22/08/2021 at 19:33:28
As Mike Gaynes pointed out, most of the previous managers played Keane more than the other options. Yes, he made a mistake that led to Southampton's goal and was a little slow to react yesterday which led to a goal. But I don't think there is much between Keane, Mina and Holgate as they are all prone to mistakes.
Also, let's not forget that Godfrey made a schoolboy error against Sheffield Utd last season that gifted them a goal.
Had Calvert-Lewin put one of his two very good chances away, then the Keane mistake may not have got so much attention on T/W.
I am not a fan of Mr Benitez but credit to him he has us playing on the front foot and look like a side capable of scoring against anybody. But let's not forget that's how we started last season, not losing any game for the first 7 games and scoring goals for fun.
It's a long season and there are tougher games than Southampton or Leeds, but 4 points is a decent return and something to build on. Even Iwobi looked very bright but he has done this before then faded.
Just 9 days left till the window closes; as I said a few days ago, I wouldn't be surprised if both James and Kean go on loan. Really we need the money from permanent transfers so we can re-invest before the window closes.
Ian Bennett
307
Posted 22/08/2021 at 19:36:54
Well Mike if you're happy with him, you keep clapping. When he's in the side I just wait for him to piss his pants.
Hopefully Rafa can work out who he can trust.
Jamie Crowley
308
Posted 22/08/2021 at 19:44:58
I traveled to Savannah, GA, yesterday and was forced to watch in the car on the phone. While driving, you certainly miss a lot (duh) and don't try that at home kids.
The bits and bobs I saw (probably too much honestly) I thought we looked very good. I never, ever thought I'd say this, but I'm actually enjoying Rafa's brand of football. When we're on the ball, we look to get forward very quickly. It's not even remotely boring and is in fact fun to watch.
I very pleasantly surprised, long may it continue.
Our play reminds me of the 2016 Leicester side. We defend simply, and we break forward with intent and speed.
I'm honestly loving this thus far.
Joe McMahon
309
Posted 22/08/2021 at 19:48:26
Neil, can we have a 3rd option:
If you want to play like Sheff Utd or Burnley, he's not shite mate.
Danny O'Neill
310
Posted 22/08/2021 at 19:49:16
Last time I drove to Savannah, Jamie, we got hit by a tropical storm and had to pull over. You'll be familiar. The type of rain when the windscreen wipers just aren't up to the job! Love Savannah.
Neil Copeland
311
Posted 22/08/2021 at 19:59:05
Joe, good point mate!
Benn Chambers
312
Posted 22/08/2021 at 20:05:23
Joe:
If so, then there must be a 4th option.
By playing like Burnley or Sheff Utd, by default, that makes him shite, mate.
Neil Copeland
313
Posted 22/08/2021 at 20:08:16
Benn, you must have read my mind but you have put it better than I could. Well in, mate!
Kevin Prytherch
314
Posted 22/08/2021 at 20:24:16
Michael Keane is the best central defender we have when defending deep.
Michael Keane is the worst central defender we have when defending high.
Play him to his strengths and he's a valuable defender.
Play him every week and he will be a liability.
Bill Gienapp
315
Posted 22/08/2021 at 20:34:02
Stan (204),
I agree, and would take it one step further by pointing out that Benitez's start is a virtual carbon copy of Marco Silva's start in 2018. Right down to the first two results being a home win over Southampton and an entertaining, 2-2 road draw against a recently promoted side (in Silva's case, Wolves) in which we had the lead twice but couldn't quite see it out. As is the case now, people were very bullish on the attractive, attacking football Silva was producing, even though the defense appeared vulnerable.
Will the parallels continue? Silva followed with another entertaining but most definitely disappointing draw against Bournemouth, in which we lost a 2-0 lead in the second half, then had to settle for a galling 1-1 home draw against Huddersfield Town. Next week is a tricky road fixture against Brighton, followed by Burnley at home. Hmmm...
Anyway, I'm quite happy with the start under Benitez, and I'd actually give him more credit, as he was dealt a much tougher hand than Silva, who got to bring in the likes of Richarlison, Digne, Zouma, etc... I just think it's a telling reminder that these are indeed early days.
Oliver Molloy
316
Posted 22/08/2021 at 22:23:27
I hope Benitez and the players are disappointed with the draw, because the simple fact is we should have had the 3 points.
Leeds huffed and puffed but never created the golden chances that Calvert-Lewin missed, he will be disappointed – the match ball should have been under his arm. If Calvert-Lewin wants to be top notch, he has to be scoring with the type of chance he was presented with by Iwobi.
Mina is a bit of a clown at times, but he definitely got to Bamford yesterday who spent the afternoon trying to get our man sent off instead of concentrating on his game.
I feel the referee never gave us much and clearly bottled it with the Cooper challenge on Calvert-Lewin in the second half – that was a solid second yellow and off he should have went.
So, before the game, I would have taken a point... but, having watched the game twice, I'm a little gutted.
Laurie Hartley
317
Posted 22/08/2021 at 23:36:54
By my reckoning, Calvert-Lewin could have had at least 5 or even 6 goals by now. That bugged me until I thought that, if he score 1 a game (as he has up till now), he will have 38 goals by the end of the season.
Highly unlikely to happen, I know, but then I thought once he figures out that there are going to be 3 or 4 crosses whizzing across the 6-yard box every game, he will start getting on the end of more of them. I reckon he could get 25 this season.
He is a big strong lad with pace and I get the feeling that he is very ambitious. That's fine with me as long as he doesn't develop the Lukaku syndrome because, if there is one thing that will get me wound up, it is a player that makes it obvious that he doesn't want to play for us.
Andrew Keatley
318
Posted 22/08/2021 at 00:16:03
Strikers sometimes miss chances, but Calvert-Lewin made Meslier make two important saves. When he gets back to full fitness, I think we will see him thrive this season.
I agree with Darren about Mina's antics and histrionics being difficult to watch but, in the final moments of the game, he won a header with Bamford that was very important, and then somehow in the final scramble he managed to somehow stick a foot out to block a shot from the floored Bamford that looked to be heading into the bottom corner. For all of his unorthodox methods, I do think Mina has a lot to offer.
Robert (303)
But Bayer Leverkusen spent a fair amount on both those central defenders (£21 million and £6 million) and Soyuncu cost £19 million too. We only spent a few million more on Ben Godfrey. But Stones, Holgate and Branthwaite were all signed for about £5 million in total… so maybe it's Everton who clubs like Bayer Leverkusen and Leicester should be looking to copy... 😉

Mark Taylor
319
Posted 23/08/2021 at 01:25:53
While I was against Rafa getting the job, I'd also accept he is a decent manager and the evidence is apparent so far, early days though it is. Just watched a full re-run of the game and we are light years ahead of the turgid fare we've suffered recently, apart from those first games of last season.
You can see how he has got to this point. We have statuesque centre-backs who can't play from the back so he has told them not to. Pace has been added and a clear policy of Calvert-Lewin getting himself into the box and on the end of crosses. The possession stats were revealing, we had very little possession because we now do move the ball fast through midfield, even if that does mean more turnovers, none of this 'going into reverse' all the time.
Yet far from being battered, we looked way more dangerous than before and probably deserved a win. I think he is playing to our strengths having recognised our weaknesses. We don't have the players to slowly play through teams. We need to strike while the defence isn't set.
Doucouré is looking like a real player again, as is Allan, though his utter lack of pace is a problem. I've no idea why Gray only cost £1.7M. I thought he looked the part at Leicester but clearly something went badly wrong after that. Hopefully he finds his home with us, he sure looks worth a lot more than 1/18th of an Iwobi, although Rafa is even getting half a tune out of him. What next? Kean banging in goals for fun?
Not much to add on the centre backs. On one level, as a backs-to-the-wall defender, Keane is very effective but he is very immobile bordering on uncoordinated further up the pitch and it was also alarming to see Bamford, not exactly fast, comfortably outpace Mina. Can only hope Godfrey can slot in alongside Mina to address this.
On Calvert-Lewin, a mea culpa, I called him a Championship level player a few years ago, pacy but not much else, but he has exceeded my expectations. That penalty was class, excellent technique. And yes he missed a couple of very good chances but his positioning was that of a quality striker and both were on target and saved well. He also looks a more complete footballer than I thought he would ever be.
Steve Brown
321
Posted 23/08/2021 at 04:17:11
If Dominic continues to develop as he has done over the last four years, he is going to be a top player. I think he will, as he works hard to improve his game and he is a confident lad.
Ernie Baywood
322
Posted 23/08/2021 at 04:35:25
Catching up on this thread. Beaut and Melt were definite low points.
The high is the references to Debbie Harry. I was only just born when she was at her peak, so mine is a strange infatuation.
Don't care about Dom v Rom. But I'm a big fan of how Dom is progressing. His finishing is improving year on year, which is pretty exciting to me (more excitement than even Debbie provides).
Keane isn't doing himself any favours, but I can't bring myself to think Yerry is more dependable. Keane and Godfrey for me, and make sure neither of them are in a position to do anything too stupid.
The defence of Rafa seems to be the race to be the biggest man. There are many more posts defending against posts criticising him, than there are posts actually criticising him. I think most people aren't happy with an ex red. I also think most know he's a decent manager. Who are we defending him against?
I'm sure there's plenty more I've missed. Oh yeah, Iwobi. Another bigger man race to acclaim his turnaround in form. I'll disappoint and say all he's done is not manage to be terrible for 20 minutes last week and then be pretty anonymous this week. He lopes around like he doesn't care... in fact for the penalty claim he was the player nearest to it and just jogged away while others sprinted to the referee. Amazing what a turning of the tide last week can do for perceptions of his performance this week.
Alan J Thompson
323
Posted 23/08/2021 at 06:09:28
When all are available, and quite possibly later this or next season, Branthwaite, it will be interesting to see who gets the nod for the central defender positions but I'd be a little wary of seeing Godfrey as a shoo-in as, like Holgate, he seems to have positional problems which a lot are prepared to overlook because of his pace and willingness to take the ball forward but which could be improved with a good coach and given his age.
Meanwhile, it will be interesting to see who gets played against Huddersfield as Benitez may want to give Calvert-Lewin (carrying a small injury), Richarlison (has to have a break sometime) and maybe Gray and a couple of others a rest.
Ernie (#337); I'm sorry but can you clarify which you would most want to score with, Calvert-Lewin or Debbie Harry, as surely one could only be the warm-up and the other from a shot in the box.

Ernie Baywood
324
Posted 23/08/2021 at 09:32:33
Alan, probably Debbie.
But it's a toss up.
Martin Nicholls
325
Posted 23/08/2021 at 10:11:54
It seems that most on here would prefer Godfrey to Keane. If he was as committed as Keane, then he could and quite possibly would have played on Saturday – that in turn might well have resulted in a win rather than a draw.
Sadly, Godfrey is not as committed as he could be. Some refer to "when he is fit" – the simple fact is that he is fit but was unavailable because he is not committed enough to have been double-jabbed. In a roundabout way, it could therefore be argued that the loss of two points was as much his fault as Michael Keane's!
David Pearl
326
Posted 23/08/2021 at 10:46:12
Nice try Martin.
Christy Ring
327
Posted 23/08/2021 at 14:37:27
Chelsea are now willing to let Zouma go for £25m, he has power and pace, definitely an upgrade on Holgate, Keane and Mina. Why not offload a couple of those especially with Godfrey hopefully back, and Braithwaite as back up.
Danny O'Neill
328
Posted 23/08/2021 at 14:41:24
If I can't have Koulibaly and Godfrey, I'll take Zouma & Godfrey!
Paul Hewitt
329
Posted 23/08/2021 at 14:43:33
Christy@327. We better get a move on then. Chelsea have agreed to sell him to West ham.
Chris Jones (Burton on Trent)
330
Posted 23/08/2021 at 14:48:40
The season Zouma was on loan to us I thought he was our best player. We should search down the back of the sofas to find that money.

Christy Ring
331
Posted 23/08/2021 at 15:00:46
Paul#329 Listening to the latest on Sky he's in two minds and West Ham are stalling over his salary, reckon he'd choose us, if we made a bid.
Jay Harris
332
Posted 23/08/2021 at 15:04:36
Godfrey and Brandthwaite for me longer term as both are relatively inexperienced against premiership strikers but both are good passers of the ball and read the game well unlike the one whose concentration consistently fails him at vital moments.
Brent Stephens
333
Posted 23/08/2021 at 15:04:43
Yet another cock-up on the ticketing front. Huddersfield tickets not now being posted out! Collect at GP or at Huddersfield box office. There'll be chaos there I guess!
Martin Nicholls
334
Posted 23/08/2021 at 15:35:43
Danny O'Neill - don't think there's a Brighton tkts thread yet so might as well post on here! As a London-based Blue, I wondered if you might be interested in tkts for BHA should any become available? If so, email me on efc_farndon@hotmail.com
Andrew Ellams
335
Posted 23/08/2021 at 15:46:30
We're not going to pay Zouma what he wants in the current climate. We have had used 3 CBs already this season, had Branthwaite on the bench (I have a feeling he'll play tomorrow) and Godfrey to come back.. On top of that we are criminally short in the right back and striker department.
I'll be shocked if we bring in a central defender this week.
Jay Harris
336
Posted 23/08/2021 at 16:05:54
Im with you Andrew. We don't have any money so what we are able to spend needs to go on a RB, striker and central MF in that order.
Bill Gall
337
Posted 23/08/2021 at 16:22:07
Talking about games at the weekend I don't know if any one else seen it but watching a review of the weekends games Between Villa and Newcastle the Newcastle player deliberately dived to get a penalty but did not get booked like Richarlison did, and this could have been worse as he was booked later in the game that would have meant a red.
James Flynn
338
Posted 23/08/2021 at 16:29:17
Zouma is the exact same accident waiting to happen he's always been. Even Lampard started to play him less. Tuchel sat him. And now looking to get rid.
And when attackers went past him, which were more than a few, he did not run them down and get the ball back. Not sure why anyone's thinks that. Distin he's not.
Brent Stephens
339
Posted 23/08/2021 at 16:30:43
Bill, I thought Deli Alli's penalty was iffy as well! Not as if he's not known for it.
Jay Harris
340
Posted 23/08/2021 at 16:57:35
Brent,
Delle Alli deliberately put a leg in and was going over before any contact was made. VAR should have seen him booked for simulation. At the other end Wolves were denied a more likely penalty claim so it seems VAr has not resolved anything because referees still make the decisions.
Robert Tressell
341
Posted 23/08/2021 at 17:01:28
Indeed Andrew #318. And Koussounou, Lincapie and Soyuncu together cost less than the £50m quote I was initially replying to as to how much it might cost to improve our CB position. One of the reasons I like the strategy we occasionally argue pointlessly about is that it's been a rare glimmer of success (albeit not flawless) in our own recruitment strategy, bringing in the likes of Holgate, Stones etc whom you mention. So I do wonder why we do not copy ourselves more in this respect (and yes some of the more progressive recruiters around Europe). A nice change therefore to (sort of?) agree. We'll be following each other on Instagram before you know it 👍
Roger Helm
342
Posted 23/08/2021 at 17:06:06
For me it is a good start to the season, Elland Road has always been a difficult fixture for us. I was never against Rafa coming here, that bit of banter never bothered me. It seems to me he has got the measure of our players. Keep it simple, lots of crosses, lots of shots, keep Calvert-Lewin in the box.
Dominic keeps improving year on year and I reckon he will thrive under Rafa. He seems well grounded and not the type to down tools like some other strikers.
One thing I don't understand - City, United and Chelsea buy £100m players ( including one who is not even a starter for England) but we have nothing to spend, yet our billionaires are as rich as their billionaires, aren't they?
Brent Stephens
343
Posted 23/08/2021 at 17:10:07
Jay #340, I thought the same about the Wolves decision. Strange decisions.
Kevin Prytherch
344
Posted 23/08/2021 at 17:22:22
For the Dele Ali one, I don't think they can argue it wasn't a penalty. Yes he's in the air and anticipating the contact, but the keeper goes straight through him without getting near the ball. If the keeper doesn't touch him and he goes down and appeals, then its simulation. But I think that one was a penalty
Brent Stephens
345
Posted 23/08/2021 at 17:25:48
Kevin, I think that's a fair point. What got me about Dele Alli was that I thought he both threw his body sideways into the path of the defender alongside him and left his leg trailing.
Jay Harris
346
Posted 23/08/2021 at 17:33:06
Kevin,
before any contact is made Delle Alli put his leg out in an unnatural position and was going down before any contact is made. 100% simulation in my book.
The Wolves one was debatable but a much better case for a shout IMO.
Bill Gall
347
Posted 23/08/2021 at 17:40:12
The decision on DCL was the correct call and a penalty was given, was it because it was in the penalty area that the Leeds player only got a yellow, as he denied a clear goal scoring opportunity that outside the area is a red card I still believe he should have been given a second yellow later on as at that time the referee was giving yellow cards out like free samples.
David Pearl
349
Posted 23/08/2021 at 22:44:52
We can't possibly go for Zouma when we already have 4 senior centre backs.
Mike Gaynes
350
Posted 23/08/2021 at 23:09:25
Zouma wants 125K/salary. Ridiculous. No.
Danny O'Neill
351
Posted 24/08/2021 at 07:36:02
Thank you, Martin. I've just come back to this thread and will email you in the hope you've still got them!!
Ernie Baywood
352
Posted 24/08/2021 at 08:44:32
Bill #347 the rule (I think) is that an attempt to play the ball in the box that leads to a penalty will now be a yellow to avoid a 'double punishment'.
The Leeds player's foul was deliberate and stopped a goalscoring opportunity. I thought that should be a red card.
But, to be honest, I can't make sense of the rules nowadays. On the opening weekend a Leeds player went through on goal, cut across the Man Utd defender, was clipped and went down. Penalty didn't get given because the contact wasn't deemed significant. Except it absolutely brought the guy down!
---
Add Your Comments
In order to post a comment, you need to be logged in as a registered user of the site.
Or Sign up as a ToffeeWeb Member — it's free, takes just a few minutes and will allow you to post your comments on articles and Talking Points submissions across the site.
---
© ToffeeWeb