Report
Blues almost come back from a dreadful first half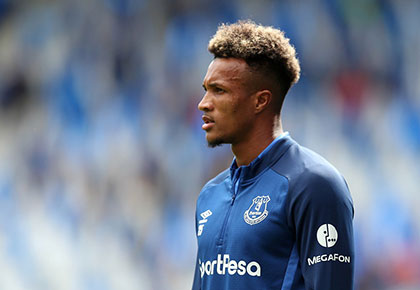 Jean-Philippe Gbamin made his first start of the season and only his third for Everton, but was hauled off at half-time
Wolves 2 - 1 Everton
Everton gave up another set-piece goal and a dreadful back-pass gift before they started playing properly and came very close to equalizing. But it is another loss that the Everton faithful will find hard to take. .
Salomon Rondon is finally held back from the starting lineup... but Iwobi starts along with Jean-Philippe Gbamin in a somewhat surprising lineup, with Digne absent and Tosun on the bench along with youngster Anthony Gordon and Reece Welch and, of course, two goalkeepers.
No place for Lewis Dobbin, who appeared to be in the process of grooming to play a bigger part, Tom Cannon, who keeps on scoring for the U23s, and Tyler Onyango, the young midfielder who came off at half-time against Chelsea U23s on Saturday; but none of them are involved tonight.
Rafa Benitez confirmed that Lucas Digne was feeling "discomfort" during training, with a late decision made not to risk the France international.
After a nice rendition of The Last Post, Everton kicked off in a noisy Molyneu but gave up possession in the enow expected fashion. Godfrey playing on the left had an early chance to cross but it was misplaced.
Wolves probed around and eventually won a corner, Neves lashed Coleman's clearance back forcing a great save from Pickford, then a second save before it was hoofed away.
Townsend broke down the right but went down too easily for referee Atkinson. A forced giveaway and suddenly Wolves could pounce, Trincão firing a tremendous shot that Pickford stretched to tip over the bar.
Another surging run from Jimenez and Hwang Hee-Chan slotted it in off the post but VAR called it back for offside. Everton were sliced through very easily again and this time a deflection took the sting out of the shot from Trincão.
Holgate rather lazily held back Trincão, giving up a very dangerous free-kick that was fired over. But Everton were rocking on their heels at every onslaught and had no answer going forward until Jimenez and Allan collided, but Holgate's lame free-kick was easily repelled and another Wolves attack developed.
Article continues below video content
Finally, after 25 minutes, Everton had a little time on the ball and Iwobi advanced into the Wolves area but the cross to Gray was difficult. And back the other way, Coleman had to make a last-ditch tackle to deny Jiminez, and was livid with his colleagues, but from the corner it was zonal simplicity for Max Kilman, scoring his first goal for Wolves despite the solid pack of blue shirts surrounding him.
Everton were looking as naive and impotent as they had in those last fateful 15 minutes against Watford and the way Jimimez was allowed to waltz past Holgate to pick up a dreadful backpass from Godfrey and chip it past Pickford. Shocking from the Blues.
From nothing, a ball finally came forward to Demarai Gray but he lashed it horribly wide toward the corner flag. Richarlison eventually got a touch only to be flagged offside.
Benitez made a change in formation that at least stemmed the flow and Richarlison was rewarded for a push. The free-kick came through to Holgate but his lazy attempt flew over the goal, and Iwobi's header on was deemed offside. Gray was battling hard but not getting the run of the ball as a horrible half of football came to an end for Everton.
Gbamin, who had been next to useless, was replaced by Delph for the second half. And there was much more life going forward, a tremendous cross from Townsend almost causing an own-goal by Coady but they could not profit from the corner. Gray ran in with the ball but it just wasn't running for him tonight.
At least Everton were now spending time in the Wolves half but Delph was so off the pace. A good forward move seemed to set up Gray his touch was just too much and the chance was gone, with nothing from the corner, placed too close to Sa.
And immediately a corner was conceded at the other end, Keane heading clear. But Townsend stumbled on the ball as he tried to break down the line. Richarlison was goalhanging and came so close to stealing one back as Sa passed the ball straight to him! But the Brazilian was taken by surprise and he could not fashion a shot, with Coady coming to Sa's aid to finally clear the ball off the goaline.
Iwobi did his classic chicken-shit non-tackle, leaving Delph exposed and having to foul, giving up a dangerous free-kick but Everton cleared it.
A couple of slightly better balls in to the Wolves area looked almost like a sustained attack... but it didn't last long enough, as the game was more even until Wolves pace almost caught Everton napping and Jiminez put his head onto the outside of the post.
Everton were trying to get the ball to Richarlison but it wasn't really working. Still, at least Everton were mounting something approaching attacking football. But Wolves were defending pretty solidly until Alex Iwobi suddenly fired a shot in through the crowd after Godfrey's shot was cleared straight back to him.
In response, Wolves almost walked the ball through the Everton defence but somehow Trincao shot wide. Holgate then fouled him running into the area but it was inches outside and Wolves messed up the free-kick.
Jiminez and Hee-Chan terrorized the Everton back four and had them chasing shadows. Gordon replaced Iwobi for the last 15 minutes as the troublesome Trincao was replaced by Podence.
Gordon was a breath of fresh air, running forward with the ball determined to make something happen. Kenny then looked set to come on.
A better move set Coleman up for a powerful shot that was deflected behind and the corner was powered goalwards by Gordon but Sa pulled off a superb save to deny the equalizer.
Rondon replaced the struggling Gray for 5 minutes of added time and Everton continued to push for the point. Some silliness saw Coleman and Ait-Nouri booked and more time-wasting substitutions from Wolves as they withstood Everton's strong but ultimately unsuccessful finish.
Kick-off: 8pm, Monday 1 November 2021 on Sky Sports
Wolves: Sa, Semedo, Saiss, Coady, Kilman, Ait-Nouri [Y:90+2'], Neves, Moutinho, Trincao (79' Podence), Hee-Chan (90+4' Silva) , Jimenez (90' Dendoncker).
Subs: Ruddy, Hoever, Boly,Traore, Cundle, Storer.
Everton: Pickford, Coleman [Y:90+2'], Holgate, Keane, Godfrey, Allan, Gbamin (46' Delph), Townsend, Gray (90' Rondon), Iwobi (78' Gordon), Richarlison.
Subs: Begovic, Lonergan, Kenny, Davies, Tosun, Welch.
Referee: Martin Atkinson
VAR: Chris Kavanagh

Share article:
---
Reader Comments (275)
Note: the following content is not moderated or vetted by the site owners at the time of submission. Comments are the responsibility of the poster. Disclaimer
Jeff Armstrong
1
Posted 01/11/2021 at 19:04:38
Digne out
Terry Farrell
2
Posted 01/11/2021 at 19:06:55
Come on Gbamin good luck lad your time has come!
Kieran Kinsella
3
Posted 01/11/2021 at 19:11:13
Michael
So you start with the good news: No Rondon. Then hit us with the bad: Iwobi plays.
Michael Kenrick
4
Posted 01/11/2021 at 19:12:40
I know, Kieran, I felt the same way: good news... bad news.
You just knew Rafa wasn't going to yield completely to fan pressure!
Sean O'Hanlon
5
Posted 01/11/2021 at 19:14:02
Unbelievable! He's playing that clown Iwobi again with Gordon on the bench. Not going to watch it. Can't endure the same old garbage. Looks like Eastenders for me, and I've never seen it before – surely that's got to be better!
After the inevitable defeat, I hope Everton follow Spurs' example, and sack the FSW, for impersonating a manager - and get rid of the board while they're at it!
Bill Gienapp
6
Posted 01/11/2021 at 19:14:37
Normally I'd ask why Iwobi is starting, but both of his league goals have come against Wolves (one of which I got to witness in person at Goodison!), so...
Stephen Vincent
7
Posted 01/11/2021 at 19:15:54
2 GKs on the bench again but at least it's a full bench.
Sam Fitzsimmons
8
Posted 01/11/2021 at 19:15:58
Given injuries and form that's a team that really picks itself with the exception of Iwobi ahead of Gordon.
Simon Dalzell
9
Posted 01/11/2021 at 19:16:06
Thankfully no Rondon. It looks like Iwobi and Gbamin will be the key. We need something worthwhile out of these two.
Tony Heron
10
Posted 01/11/2021 at 19:16:35
Godfrey still getting over covid up against Traore?🙈
Tony Everan
11
Posted 01/11/2021 at 19:17:23
Yes me too. Iwobi must be world class in training, can he show it on match day?
What's the set up then 4231, Iwobi in the no 10 slot?
Neil , Haley's Comet ! Tickled me that one.
Neil Thomas
12
Posted 01/11/2021 at 19:17:43
Looking forward to watching Gbamin play tonight, it's like waiting for Haleys comet, only longer
Kieran Kinsella
13
Posted 01/11/2021 at 19:18:03
Bench with some AWOL blasts from the past:
Tosun, Delph, Danny Williamson, Bilic, ADVM, and some kids
Robert Tressell
14
Posted 01/11/2021 at 19:21:03
Wow, really unexpected line up. Certainly enough fire power on the pitch to create and score. Same might be said for Wolves too. Another hard game as they almost all are.
Might come down to whether our midfield trio can assert itself against Moutinho, Neves and the two who float between wings and No 10 positions.
Ray Roche
15
Posted 01/11/2021 at 19:21:30
Calvert Lewin's on MNF wearing a suit made out of my Nan's old bedspread.
Tony Everan
16
Posted 01/11/2021 at 19:25:40
It would be a massive boost for the club if Gbamin could come good and stay fit. Even more so with Doucoure out. All eyes will be on him to see what he can bring to the table. Come on you blue boys !
Brian Hennessy
17
Posted 01/11/2021 at 19:27:22
Gutted that Rondon doesn't start.
Tony Everan
18
Posted 01/11/2021 at 19:32:15
Brian, Gbamin has to get through the warm up yet, he may well get drafted in.
Nick Page
19
Posted 01/11/2021 at 19:33:01
Iwobi. Game over. We must have the worst bench in the Premier League. £500m…..absolutely crazy. Even a shocking amount of poor luck can't paper over that.
Michael Kenrick
20
Posted 01/11/2021 at 19:34:00
Dom talking his stuff very well on MNF.

Although I'm not sure he always wants to be behind the defender... explains why he's quite often not in the right position to score!
Geoff Williams
21
Posted 01/11/2021 at 19:38:34
I guarantee Rondon will come on just after the 60 minute mark.
Brian Wilkinson
22
Posted 01/11/2021 at 19:38:44
With Digne out, I would have had Iwobi down for left-back, at Finch Farm.
At least Rondon has been given a rest, poor bugger must be knackered standing on the spot, for the last few games.
People are mentioning 2 goalies on the bench, throw in the mix Gbamin starting, Rondon goosed on the bench, Delph and Tosun also on the bench, it makes you wonder, just how many subs we could have named, had we not thrown 3 players, who have not started games all season and beyond.
Had Gordon started before Iwobi, I would have been happy with the line up.
Surely to god Iwobi is due a half decent game.
3-2 for Everton.
Andrew Keatley
23
Posted 01/11/2021 at 19:40:22
Very athletic team selection. Hopefully Gbamin gets through the game unscathed and shows us at least a glimpse of what we hoped we signed when he arrived.
Tony Twist
24
Posted 01/11/2021 at 19:46:54
The team seems ready made for Rafa's "I told you so" speech. Rondon on the bench and Gbamin playing from the off. I just hope he really has a good game. Not sure about the defence setup but Digne needed a rest.
Best of luck, Blues, be professional, a clean sheet and Tosun gets the winner. Coybs.
Brian Hennessy
25
Posted 01/11/2021 at 19:49:00
Just think about it lads, we are three substitutions away from seeing an Everton XI tonight that includes Holgate, Keane, Gbamin, Iwobi, Delph, Davies and Rondon, I can't wait.
Robert Tressell
26
Posted 01/11/2021 at 19:50:01
The two goalies issue comes up now and again. I think all Premier League teams field 2 sub goalies though – it's not just a weird thing we do. Someone else might be able to confirm. Wolves have 2 goalies on the bench tonight for example.
I think it's more notable that Reece Welch makes the bench. Adds to the number of youngsters who've made the first team squad this season.
Christy Ring
27
Posted 01/11/2021 at 20:10:46
I hope Gbamin can take his chance which would be a huge plus.
I can't see Iwobi being a No 10?
Ciarán McGlone
28
Posted 01/11/2021 at 20:11:55
Anyone else very uncomfortable with a current player sitting in a TV studio discussing tactics about an Everton game?
Alex Gray
29
Posted 01/11/2021 at 20:18:46
My god that was lucky. That defending was dire. Where's our midfield?!?!
Keith Meakin
30
Posted 01/11/2021 at 20:27:04
Gbamin running around like Rondon's lost brother
Kieran Kinsella
31
Posted 01/11/2021 at 20:27:05
As Danny would say, we unequalized then they ununequalized.
Alex Gray
32
Posted 01/11/2021 at 20:32:35
This is utterly embarrassing. This could've been 4-0 and not even half an hour gone. Gbamin looks like he can't run sadly. Another set piece conceded. Wolves just passing through us.
This says everything we need to know about the character of this team. I didn't expect quality but I did expect a reaction with some fight.
Simon Dalzell
33
Posted 01/11/2021 at 20:34:04
Not the best pass, but the useless Holgate was asleep.
Alex Gray
34
Posted 01/11/2021 at 20:34:40
Turning it off. Life's too short to waste watching this lot.
Ciarán McGlone
35
Posted 01/11/2021 at 20:36:57
It's a phrase thrown about a lot.. but this is the most pathetic half of football I've witnessed.
Our tactic appears to be concede possession as quickly as possible and get into our deep defensive shape. I'm truly flabbergasted.
Classis Benitez.
Barry Hesketh
36
Posted 01/11/2021 at 20:37:12
Benitez is making his statement come true, by turning Everton into a small club.
It's like watching a lower league side at a top side, defending deep, no build-up play, players all over the place, some just happy to be part of the occasion. I don't mind getting beat by any team if they have to work hard to do so, but for Everton to effectively lie down from Minute 1 is disgraceful.
ps: Seamus is finished as a Premier League player and only Everton could fail to recognise that fact.
Barry Hesketh
37
Posted 01/11/2021 at 20:46:20
Ciarán @28
Which player is it? I only tune in right on kick-off.
Kieran Kinsella
38
Posted 01/11/2021 at 20:49:28
Barry DCL
Barry Hesketh
39
Posted 01/11/2021 at 20:50:52
Cheers Kieran, No I don't think that it's recommended that a current first-team player, albeit out with an injury should be commenting on his mates in a TV studio.
Michael Lynch
40
Posted 01/11/2021 at 20:51:51
I could cry watching this shit. Ok, no shame in being shit, but not trying and being so slapdash is unforgivable. We look like we're running in treacle.
Embarrassing.
Simon Dalzell
41
Posted 01/11/2021 at 20:52:43
Brian (22) You're still in with a shout with your 2-3 Scoreline.
Brian Wilkinson
42
Posted 01/11/2021 at 20:54:58
Credit to Iwobi for his marking the ref for the first goal.
Sam Fitzsimmons
43
Posted 01/11/2021 at 20:55:03
Good to see a reaction after the nightmare of the Watford game by following up with a horror show against Wolves.
Jay Wood
[BRZ]
44
Posted 01/11/2021 at 20:55:03
Phew! Glad to know Rafa had them working all week on improving the defensive side of our game and ensuring we remain compact.
Kieran Kinsella
45
Posted 01/11/2021 at 20:55:41
Just think that midfield trio alone cost us a cool £100 million. We absolutely got one over on their old clubs. Brands is a transfer svengali.
Benn Chambers
46
Posted 01/11/2021 at 21:00:37
Ben Godfrey is a fucking disgrace. There is a reason Norwich conceded so many goals and he was firmly part of it. He's fucking garbage. If he's not racing in to a 50/50, the lad has no redeeming feature as a centre back at all. Holgate is no better and neither is Keane. Coleman is finished at the top level. Make no mistake, this is a championship back 4 and that's where they'll be playing next season if they stay in the team.
Iwobi is a fuckin oxygen thief. How that shitbag looks himself in the mirror is beyond me. Spineless little bastard. Jogs around to seem busy but does nothing. It's playing with 10 men.
Gbamin is utter dogshit as well. Another Brands master class along with Iwobi and Godfrey. How is he still in a job? Seriously.
Zonal marking. Picking Iwobi and the football is turgid and that's on Rafa. Nuno has been sacked for less. He was the wrong appointment to start with and spurs have rectified it, just like Rafa was. This club is run by amateurs from top to bottom is every single position within the club. It's terrifying.
Spurs will Murder us next week and if Mina Doucoure and DCL aren't back after the next break, this team is absolutely shit enough to go down. Without question.
I don't recognise this club anymore. It's an utter shambles of a team and an organisation.
I can't be arsed anymore. It really needs setting alight and starting again.
Disgusting.
An entire back four is needed for starters and that's just the tip of the iceberg.
The entire club can get to fuck.
Ernie Baywood
48
Posted 01/11/2021 at 21:00:40
Honestly, I'd bring on Rondon and go long towards him and challenge Gray and Richarlison to get close to him. Rondon can't do much, but he's a centre forward and we don't have one on the pitch.
In fact I don't see another way. Unless we match their wing backs with Delph, which I don't like but it could work.
Sick of seeing us try to pass the ball. We're nowhere near that level. We've got three centre backs in the back 4 and two defensive midfielders, just get rid of it (forward). Allan will always look terrible in a team that tries to play build up football.
The above is all tactical, but nothing excuses us winning precisely zero 50/50s or second balls. It's been a disgrace.
Alex Gray
50
Posted 01/11/2021 at 21:00:49
Honestly don't think any amount of coaching changes this. Bad players might become slightly less bad players but some of these lads have been under six managers and still make the exact same mistakes.
But don't worry, lads... Allan and Coleman have given their speeches about "how we have to do better" so we've got that to look forward to.
Ernie Baywood
51
Posted 01/11/2021 at 21:06:10
Gbamin for Delph? So no tactical change and just the most like for like substitute humanly imaginable. Unless Gbamin picked up an injury.
We had 10 poor performers in that half. You don't fix it with a like for like sub.

Joe McMahon
52
Posted 01/11/2021 at 21:07:47
From Chris Sutton - 'Everton have been pathetic' - They don't look interested. If you're an Everton fan you'd be furious. Hope Moshiri, Kenwright, DBB, Unsworth and Duncan are proud and the spinless shambolic cosy culture that exists (the Everton Way). The Peoples Club
Maybe it's not all the managers at Everton after all.
Phil Rodgers
53
Posted 01/11/2021 at 21:07:49
I'm pro Rafa but, if this is the response to losing to Watford, then they're not doing what they're told or the plan was wank in the first place.
Either way, we've had over a week to prepare and this is the performance we get. I've seen some shit football in my time and this is as bad as I've seen. No pride in their work whatsoever.
These players have form for letting the club down with spineless, gutless, shithouse performances. The whole club needs gutting.
It short, fuck off Everton.
Kieran Kinsella
55
Posted 01/11/2021 at 21:09:38
Agent Rafa now realizing 40 odd other RS infiltrators beat him to the punch. Is there anyone at the club whose chest isn't secretly adorned with the liver bird? It's the only explanation.
Roger Helm
56
Posted 01/11/2021 at 21:14:07
Basically we need a whole new squad. Pickford, Calvert-Lewin, Richarlison, Doucouré and Gray are okay but the others are just not good enough for the Premier League. Years of bad recruiting have led to this.
There is no point sacking Rafa, who else would take the job?
Colin Malone
57
Posted 01/11/2021 at 21:23:39
Why is Iwobi still on the pitch?

Justin Doone
58
Posted 01/11/2021 at 21:31:19
Without blaming individuals I know, you know, the whole footballing world knows 2 things.
Zonal marking is too easily exposed by a decent cross and late run.
Everton's defenders can't play out from the back.
We threaten when we get the ball forward quickly. We don't when we try and slowly build up attacks.
The slow starts and sloppy passing needs to stop. Back to basics Rafa, keep it simple and quick.
Tommy Carter
59
Posted 01/11/2021 at 21:32:26
@ Barry 36
@ Benn 46
Seamus is past his best. We all know this. But quite simply, there is nobody to replace him.
Godfrey is not a bad player. Far from it. Something ain't right with him at all. I don't know what it is but it's not my job to know, find out or even fix what it is. But this guy can perform. When he's at his best there are still some rough edges but he's got the makings of a top defender. However, under this regime it seems not. I don't see how you can attribute Norwich's abysmal record this season with Ben Godfrey.
As for Gbamin... Haha! I have said a number of times, this guy is absolutely and 100% finished as a professional footballer. I don't want him to be. But he is. It's simple.
Phil Smith
60
Posted 01/11/2021 at 21:33:53
That's why, Col!
Phil Smith
61
Posted 01/11/2021 at 21:37:21
Gordon to change it here! Come 'ed!
Tommy Carter
62
Posted 01/11/2021 at 21:41:25
@61
You reckon Phil yeah?
How about bringing back Sheedy from Norwich. Or throwing Kenny on at right back to get stuck in. Branchy up top?
Phil Smith
63
Posted 01/11/2021 at 21:48:27
Delph playing the best football I've seen under us. At least were giving it a go this half. First half was shocking.
He's doing pretty good so far, la.
Joe Digney
64
Posted 01/11/2021 at 21:54:13
You get what you deserve unfortunately. Can't start games like that in this league and expect to get anything.
Same old shite: it takes us to go a goal or two down before we get a reaction or show some fight. Better second half but a lackluster and ponderous first 45 killed us.
Never thought I'd say be saying this but Delph was good when he came on, someone that can actually pass a ball 5 yards with a little composure.
Roll on Conte's Tottenham.
Danny Baily
65
Posted 01/11/2021 at 21:56:44
Much improved second half. Turned a shambles into a respectable showing.
Alex Gray
66
Posted 01/11/2021 at 21:56:55
Decided to turn back on second half. Delph did well and changed the game. Gordon did well again but the damage was done.
Ernie Baywood
67
Posted 01/11/2021 at 21:58:16
Found some fight and we were competitive. In no way does that excuse a total lack of fight for 60 minutes.
Overall. Pathetic.
If Gordon doesn't start the next game then I don't know what Benitez is watching. I don't think he lost a challenge. Our clear man of the match in about 10 minutes played.
Colin Glassar
68
Posted 01/11/2021 at 21:59:17
A bit more huff and puff in the 2nd half but poor players, poor tactics, poor manager etc… all add up to make a perfect shit show.
I wonder if Moshiri, Kenswright and Brands sleep well at night?
Jay Wood
[BRZ]
69
Posted 01/11/2021 at 21:59:17
A smidgen of pride restored in that 2nd half. Could have got a draw.
Anthony Gordon very impressive in the 12 minutes he had to shine.
Sean O'Hanlon
70
Posted 01/11/2021 at 21:59:26
Thank God I never watched that – feel better for it – will do it more often.
Everton, please follow Spurs' example and sack Benitez, and get rid of the board while you're at it.
Tony Twist
71
Posted 01/11/2021 at 21:59:45
Second rate. Way to bounce back after two defeats.
Bottom half – here we come.
Bill Fairfield
72
Posted 01/11/2021 at 22:02:58
Rafa trying to make a silk purse out of a sow's ear at the moment. Just an awful squad of players.
Kevin Prytherch
73
Posted 01/11/2021 at 22:03:23
Rafa got it wrong again. You need certain wide players to play a 4-2-3-1, Iwobi is not one of them. As a result the midfield was overrun in the first 30 minutes. Gbamin didn't help, but playing a first Premier league game in 2 years, he should have had a bit more protection.
Last year, Davies played the Allan role better than Allan played the Allan role. Tonight, Delph played the Allan role better than Allan plays the Allan role.
Barring the goal, Iwobi did nothing. Gordon created more in 5 minutes than Iwobi did in 70.
Keane gets run past too much, Holgate was the better centre back tonight.
In over 3 years of planning Brands has left us with 1 left back. Godfrey didn't offer much tonight.
A mention for Townsend who played 60 minutes in an unnatural central midfield role and did OK.
Gray looked like he had no confidence, frequently stopping rather than going at players.
Zonal marking undone again, when will managers adapt and stop being so stubborn? Especially since we had the 3rd best defence against set pieces last season. Why change what isn't broken?
Far better second half, Delph made the difference, as did 3 in midfield. It won't be long before the atmosphere becomes very toxic if we carry on like this.
Tony Everan
74
Posted 01/11/2021 at 22:03:36
Terrible first half, amateur mistakes, poor passing, Wolves looked like they had an extra man. Really poor stuff, difficult and sad to watch.
Played better with Delph on, better control and composure. Then Gordon added some great direct and confident play and was unlucky not to get or manufacture the equaliser.
These two have to start next week.
Michael Lynch
75
Posted 01/11/2021 at 22:04:45
Was that Gbamin's Glenn Keeley moment? Utterly out of his depth, not even a hint of being a Premier League footballer.
What a dreadful waste of money. Very unfortunate.
Phillip Warrington
76
Posted 01/11/2021 at 22:05:47
Why, why isn't Gordon playing from the start? Nearly scored and attacked the back four without losing the ball and has speed.
Opposition players know the first thing the Everton back line is going to do is try and take the easy option in passing the ball backwards, that's why there's always that gulf between the back line and midfield and, when you have central defenders who panic, it's mayhem.
This will be another season of "What the fuck is happening to this club???"
David Connor
77
Posted 01/11/2021 at 22:05:48
Fucking woeful squad. No pride. No passion. No idea. The rot starts at the top.
How many times have supporters said it? It never fucking changes. two defenders needed along with three midfielders. Preferably one or two that score more than 1 goal a season.
Is it too much to ask? Apparently yes, it is. Gobshites.
Lee Courtliff
78
Posted 01/11/2021 at 22:07:03
The first 30 minutes had nothing to do with injuries or money wasted, it was simply a piss poor team selection.
There was no reason at all not to play a 4-3-3 with Davies and Allan with Gbamin and Delph splitting 90 minutes between them, seeing as they are nowhere near fit enough.
Why did the manager wait until we were 2-0 down before changing the system? Why was Gordon left on the bench until the 77th minute when Gray was contributing nothing at all? Iwobi, too, even though he scored.
This is on Benitez as much as the spineless players. And I really hope Seamus retires soon... he's destroying his own legacy.
Gerard Carey
79
Posted 01/11/2021 at 22:07:30
Definitely Benitez at fault. That was the wrong starting eleven.
Gavin Johnson
80
Posted 01/11/2021 at 22:08:36
Absolutely embarrassing 1st half performance.
Better in the 2nd half and the real highlight for me was Fabian Delph... Who'd have thought it?!
Bill Fairfield
81
Posted 01/11/2021 at 22:08:47
Any manager in the world would look bad managing this lot.
David Connor
82
Posted 01/11/2021 at 22:11:11
People keep saying we should be beating these average teams. Why?
We are also an average team at best. Tonight, we weren't that good.
Andrew Hight
83
Posted 01/11/2021 at 22:12:51
Delph played well. Gordon, Richarlison also. Pickford no fault, Townsend solid, Gray had one of those nights. The rest are just utterly dreadful.
Keane is the worst centre-back we have had for many years, Holgate not too far behind him. Gbamin is not a Premier League footballer etc etc.
Relegation is finally going to get us this season.
Phil Wood
84
Posted 01/11/2021 at 22:14:17
Delph and Gordon best players. Back line a disaster – Again! Why was Seamus wasting time arguing over nothing – poor Captains call.
Players need to get a grip. Just show up for the Spurs game. A bonus for the player who assassinates Son (without getting sent off).
COYB
Fran Mitchell
85
Posted 01/11/2021 at 22:14:47
Poor. Very poor.
This is a poor Wolves team, that for 30 minutes we made look like Brazil 1970 out of sheer incompetence.
The second half was a terrible advert for Premier League football, absolutely shocking.
The second half was played to such a low standard that even Iwobi scored.
Terrible, just terrible and it's scary to think where we go on from here.
3 defeats on the trot – a winter of discontent seems inevitable
Kieran Kinsella
86
Posted 01/11/2021 at 22:15:41
In Glasgow Kenwright has committed to ending shit emissions from Goodison by 2070
Jim Bennings
87
Posted 01/11/2021 at 22:17:50
Another shit defeat against a team that were there for the taking if we had bothered to turn up for the first half.
Too many Everton players look like they made football careers as a tenth choice career path.
We have some shockingly bad players both in terms of footballing ability and intelligence.
Godfrey needs taking out now until after Christmas, give Branthwaite game time and give Brands head a wobble as to why he okayed our other left back Niels Nkounkou to depart.
Holgate should never wear the shirt again, but sadly will.
Coleman should take a look at Leighton Baines and start to ask himself the question about when may it be a good time to retire and make Everton's decision for them, because we will just keep dragging him out until he has absolutely nothing left to give.
Allan is nothing without Doucoure.
Gbamin is never gonna be up to the rigours of the Premier League.
Well Sunday is a must win game now anyway, no win since Norwich and if we don't beat Spurs then that's TWO international breaks without a victory and the first game after the break is away at Manchester City.
I fully expect us to be ensconced in the bottom five by Christmas but as long as we can keep looking at pictures of the building site of the new stadium that's all ok isn't it?
It's all running along smoothly according to DBB, Marcel and Moshi.

Colin Battison
88
Posted 01/11/2021 at 22:19:40
Sorry, don't be thinking Everton were better in the 2nd half. Wolves shit themselves trying to hold on to what they got. Yes, Everton were more brighter but why does it take us to go 2-0 down to start pressing their back line, to start putting in a few tackles, to start playing forward passes from midfield???
As I said on the forum, I'm done with Everton, 45/50 years and this is beyond a joke now. I have said many times on threads, £500 million spent in last 5/6 years and we have probably one of the worst teams in the Premier League. We are an absolute laughing stock of a supposed team.
I have never ever in my life bet against Everton in any game but I'm a gambling man and my money next week will be on a Spurs victory (with new manager) and Kane to score anytime...
I'm fucked with this club – enough is enough, and I bet there's loads out there feeling the same.

Derek Thomas
89
Posted 01/11/2021 at 22:20:47
Wolves didn't need to get out of 3rd gear in the first half - and couldnt get out of 3rd gear in the second half.
Benitez 'fixed' it - but did he cause It?
Has Gbamin been in his ear...I know I would have been...look at this (Watford) shite boss, gizza a job, I can do that job.
Well he had his chance and you have to think, given even Delph looked a vast improvement, maybe blown it.
If we take the 2nd half (...and we will never mention the 1st again - ever) performance, or some version of it...If Spurs don't have a massive new manager bounce, we can see them off.
IF.
Pete Jeffries
90
Posted 01/11/2021 at 22:23:16
Looks like more trouble ahead.
Sometimes even good players are bad, like Gray and Allan tonight.
Gotta be Coleman's last game.
More bad starting 11 selections by the manager, eg, Gbamin. Why not Gordon?
To give him credit, even Delph stood out as our best player second half. What does that say for the rest?
Pat Kelly
91
Posted 01/11/2021 at 22:24:40
Rafa will sack himself if he continues to make the wrong selections. Persisted with Rondon too long. Then chose Gbamin tonight. And Iwobi, despite his goal he's out of his depth with a football. Never felt relegation more likely than this season.
Ciarán McGlone
92
Posted 01/11/2021 at 22:25:17
Of course he caused it.. that's classic Benitez sit back and defend mentality.
Colin Battison
93
Posted 01/11/2021 at 22:27:06
Following on from my comments. I turned off at 20 odd minutes and the reason why is - and by the way I've never switched an Everton game off in 45 years - if those shitbags known as footballers had anything in them they would of showed what it meant to hit back today.

4 goals against cannon fodder in 13 minutes and we come out against Wolves like that. Fuck off Everton... most of you are robbing a living
Barry Hesketh
94
Posted 01/11/2021 at 22:28:01
We have too many 'boys' in our team and very few men, certainly no leaders. I don't know what upset me more the atrocious first-half showing or the grit and determination shown when we'd already let the game get away from us.
We can beat Spurs or Arsenal or any other team at Goodison if the players give everything for all of the game, but if they continually give away possession in dangerous areas of the pitch they'll get what they've got in the last few games - nothing.
The first half has to go down to the manager, for his selection, his formation, and not reacting to it not working early enough. He also waited too long, in the second half to make the changes that resulted in Everton actually creating stuff in and around the Wolves box.
Townsend and Gray were not as dynamic as they were earlier in the season, but that will happen when players make an impact early doors, other teams give them less space to operate in. At least Gordon and Delph made a positive impact tonight and that gives the manager some options if he cares to take them.
Gary Smith
95
Posted 01/11/2021 at 22:30:10
Pickford (8) - saved us from a 5-1
Coleman (3) - three years past Sell by date
Keane (5) - pick his side and leave him there
Holgate (4) - should have gone.
Godfrey (3) - utility sub future
Gbamin (3) - lost too much football.
Allan (5) - missing his partner.
Iwobi (5) - the shittest skilful player we've had since AVdM.
Gray (4) - honeymoon over.
Townsend (5) - tried
Richarlison (6) - unsettles defenders.
Rafa the gaffer (0) - as negative and disjointed as anything served up by Sam, Fat Ron or Carlo in his last months.
Pete Clarke
96
Posted 01/11/2021 at 22:33:36
That was the easiest of a run of very tough games coming up which we will be lucky to get any points from.
This shit show is not on the players or manager but solely on the owner who has plenty of money but knows fuck-all about football. Absolutely clueless.
Hats off to Rafa if he somehow makes something positive of this season and himself survives the chop.

John Keating
97
Posted 01/11/2021 at 22:33:38
No excuses from anyone
Benitez said before the game he looks at players in training so what the fuck did Gbamin do last week to get on the bench never mind starting? Hopeless.
Tactically first half we were a shambles and Benitez has to stop this zonal marking shit. The players haven't got a clue how to execute it.
God knows what's happened to Godfrey but the lad needs taking out the firing line for a while.
Gray was not at the races.
Apart from Pickford, the only one's who showed anything, and it wasn't much, was Townsend and I'm surprised to say it, Delph. Don't be surprised if Delph's out now until season's end.
Only another 26 points...
Bill Gienapp
98
Posted 01/11/2021 at 22:34:30
If we played Wolves 38 times a season, Iwobi would be a great signing!
Jim Bennings
99
Posted 01/11/2021 at 22:34:40
It's sad and a sorry state of affairs when you think we had a 9 day rest after that Watford debacle and we put in a first half as abject as we did tonight.
Not one of those players wanted to be on that pitch in the first half tonight and that's massively concerning.
I take nothing at all from a marginally better second half, it was hardly kitchen sink was it? Wolves pretty much kept us comfortably at arm's length.
I'm struggling really to get my head around watching how shit Everton have been on the pitch and off the pitch this last four or five years, baffles the mind how so much money has been spent so poorly.
Ted Donnelly
100
Posted 01/11/2021 at 22:35:39
Calvert-Lewin can't be watching that shite thinking anything but that.
How long before he gets off? Not that I'm arsed because every last Everton player at the moment, bar none, deserve to wear the shirt.
And that fat Spanish scruffy kopite should never have been employed!
Christy Ring
101
Posted 01/11/2021 at 22:37:00
Rafa got it wrong with his tactics tonight, playing Gbamin – first Premier League start in 2 years and Allan in a 2-man midfield left us totally exposed, especially with Iwobi a passenger.
Delph played well but just waiting to see if he has any niggles before Sunday? Don't understand why Gordon isn't starting. The 2nd half was a big improvement, which wouldn't be hard because the first 45 minutes was a disgrace.

Kristian Boyce
102
Posted 01/11/2021 at 22:40:10
Just saw Conor Coady's interview, that included this snippet: "Everton like to counter-attack so we knew if we kept the ball we would nullify them a bit."
These are Benitez's tactics that have become so easy to play against. Watford figured it out too and I imagine every other team knows how to play against us. It was the same with Carlo with pretty much exact tactics that became utterly dire as the season progressed.
It's the same with zonal marking, how many managers have tried to implement it with this team, and none of them can get it.
Paul Birmingham
103
Posted 01/11/2021 at 22:41:13
It's the pits! Shambolic and unprofessional first half, but a bit of a go in the second half.
God help this squad if Pickford, Richarlison, Gray, Townsend, Gordon, get crocked. Mina is a permanent crock, 3 games and out. But this shows the hand-to-mouth existence of the football institution, formerly the School of Science, Everton.
Climate change is the rage and rightfully so, but by God, this season will be very tough.
I'm not gonna take a Sabatical from Everton, as I can't, but people ask, how and why? Till I die, and in the afterlife.
Like so many, a lifetime's work and watching Everton, risking job, life and limb, and as my Ma, always has said, "They don't pay your wages". For what?
Madness, as has been said on a TW so many times by Einstein, the definition! Of doing the same thing over and over again, and expecting a different result.
Seriously, the power brokers at Everton must realise that they've built a club that can't effectively compete in football, not just now but for many years. The lads in the youth system must wonder what beholds.
The past was bottled and labelled with Love, years ago, at the right time. It's in the past. Now there's a very distant past and a massive void – of failure.
Spurs will be up for it, no doubt, on Sunday. Can Everton put in a shift for 97 minutes, without any Christmas presents?
That first half was the pits.
Kieran Kinsella
104
Posted 01/11/2021 at 22:41:18
Darren was right. Carlo the busted flush held us back with his negative cowardly approach. Now we get to see just how good these brilliant players are.
Jay Harris
105
Posted 01/11/2021 at 22:44:53
Let's be fair, a lot of fans were calling for Gbamin to start but leaving Gordon out was a travesty... although Iwobi did score a goal.
The problem was highlighted by 3 ale house centre-backs not being given enough protection cos they played so deep. It explains why successive managers are linked with looking for centre-backs.
Maybe it's time to give Branthwaite a chance. At least he will be better on set pieces. Him and Mina for the next game may give Keane and Co a good shake and Godfrey the recovery time he obviously needs.
Although none of us are happy, it is vital we give Benitez a chance.
Ian Riley
106
Posted 01/11/2021 at 22:47:35
Better days are ahead!! I can see them!!
It's the hope that's killing us!! It really is!!
Night all!
Danny O'Neill
107
Posted 01/11/2021 at 22:49:05
Great to meet up with Brent before the match.
Dreadful first half and we got what we deserved. I don't think I want to watch the re-run of that second goal. Awful.
Better second half but we never looked like truly coming back. In amongst the home fans I got told to sit down when we scored. Fuck off and whatever I told them. They didn't challenge me too much!
Fantastic turnout from the travelling blues as always. I was directly opposite.
Train delayed. On the platform at Wolverhampton. I'll get home at some point tomorrow morning!
Jerome Shields
108
Posted 01/11/2021 at 22:55:15
Nothing changed from the previous two games. Too deep of a defensive line, principally lead by Keane. Not supporting the midfield gave Wolves oceans of space to attack. Allan even pointed this out to Keane during the game who argued with him.
How much Wolves gave ground in the second half could be the reason for a better second half performance. On set-pieces, no Everton player was attacking the ball.
I still think there is a lag on performance and a lack of focus on what has been coached.
Roger Helm
109
Posted 01/11/2021 at 22:55:30
On Friday my wife asked who Everton are playing this weekend, I said no-one, thank God, now I can enjoy the weekend, at least till Monday.
Willbo
110
Posted 01/11/2021 at 22:56:50
Danny O'Neill. God Bless.

Mike Keating
111
Posted 01/11/2021 at 22:59:13
According to the Sky commentator, it took 27 minutes before an Everton player managed to get into their half with the ball.
Anthony Flack
112
Posted 01/11/2021 at 22:59:53
I recognise my perspective may be very unpopular in certain quarters, but I have had enough of Coleman.
He is a shadow of himself and not really behaving in a way that will drive the team forward - frustrated, tempestuous, mouthy with the player and crowd (against Watford). If you are brilliant, you can get away with in, but he is not. and it drags the team down.
I know we have other issues – Allan was terrible; Iwobi, say no more; Rondon out; Godfrey has cost us at least 5 goals this season. I could go on...
Paul Birmingham
113
Posted 01/11/2021 at 23:01:06
Kieran, definitely.
The board were too gullible, then and in terms of board, do the board have any standards and measures of their plan for success in the youth teams and at first team level?
It's like, G H S Market, great value and deals and yet Everton are still trophyless for 26 years, and no League title for what will be 35 years, and very likely more. Bought so many duff players these last 5 years.
It's reaching a level. How the club plans to get the first team right after so much dereliction of duty will be a miracle. The FFP shackles will take this demise possibly into the next decade bar some miracle.
So till Spurs, and let's look on a the bright side of life, it can only get better.
Possibly the inch-perfect weighted pass of this season by Everton an player was made tonight by Godfrey. But he stuck at it, but his self belief and confidence, look shattered. I hope the lad can get back to himself, like last season, but this is where the club's coaches must help him.
But tbh the back four is to me a block of cheese. Mina can't be relied on, and the rest ain't playing well in any set-up this season when Mina is available.
But hell, that's only my view. Rafa, please play to the unit's strengths, and not play to a system they don't know and don't own in their own box and on the park.
Everton don't have much of a transition plan, the players at the back aren't comfy in playing out from the back, and overall the team is too slow in tempo for 70% of most games.
Hope eternal.
James Head
114
Posted 01/11/2021 at 23:01:19
If they start like that on Sunday against Spurs, the vitriol will pour from the stands... Surely he has to bin the zonal marking, they haven't got the brain cells to execute it.
How the hell are we going to offload the absolute dross that is most of the squad? We could not give most of them away, they struggle to do the very basics.
I can't see where the next point is coming from. God help them on Sunday because the first sign of that kind of clueless shithouse football and the cushions are going to rain down, metaphorically speaking like.

Paul Birmingham
115
Posted 01/11/2021 at 23:03:02
Well in Danny, safe journey home.
Anthony Flack
116
Posted 01/11/2021 at 23:03:03
Just wait - Rondon back on Sunday...
Too depressing to think about, and Iwobi might even start as he scored...
11 v 9 from the kick-off.
Kim Vivian
117
Posted 01/11/2021 at 23:04:58
Rafa's not getting the push while we are struggling with this injury ravaged squad. Let him get Digne (playing properly), Calvert-Lewin, Doucouré, and Mina back, and Godfrey fully fit again, and then get a verdict after a few games.
I must admit I do not feel quite as shit now as I did at half-time, and I never thought I'd see the day when Delph cheered me up. He's a gobby stroppy git but he could, 'could', turn out to be the leader we need. I've said that before, even though I basically can't stick the guy but he earned a couple of Brownie points with me today.
Terry Farrell
118
Posted 01/11/2021 at 23:05:31
Ted, if you can't cut a manager who has an oil tanker to turn around a bit of slack and have to resort to the stereo bollocks... do me a favour!
Awful performance first half and once again a goal from a corner, for fuck's sake.
Gordon was great when he came on and showed some real nous. I think he will get a run now.
Gbamin – if he's not come off injured? – wasn't great but did some good things.
So disjointed after the Old Trafford performance – it's hard to put a finger on exactly why but I think the answer is our best players are missing and we can't cope.
Brian Wilkinson
119
Posted 01/11/2021 at 23:05:39
Very poor backpass from Godfrey, made even worse by Holgate ball-watching and not reacting enough.
Anyway I stand by what I said weeks ago about Godfrey and Colin Todd, we crucified a brilliant centre-half in Todd, by playing him at right-back; we are now doing the same with Godfrey: right-back one week, left-back the following.
Instead of playing one of your best centre-halves out of position, keep him at centre-back.
Last season, Godfrey played the majority of games in the centre. Can anyone tell me how many games he has played as centre-half this season?
Tell me what other club would let Moise Kean go out on loan, when you are lightweight on strikers, and then see Small leave the club, to then allow our only other left-back, Nkounkou, go out on loan as well???
Now we are playing players at right- and left-back, out of their natural positions. Round pegs in square holes again.
Also, have we not learned from zonal marking with Silva that it was horrendous? Now, we are back to zonal marking again, and the same result, shifting in shitloads of goals.
The only positive I can come up with tonight was the impact when Delph came on, and the brief appearance of Gordon.
Jerome Shields
120
Posted 01/11/2021 at 23:07:31
The back four are not up to Premier League standards. Gbamin got a run out, but he has a long way to go to hit any standard.
Barry Hesketh
121
Posted 01/11/2021 at 23:12:19
Anthony @ 112,
It might be unpopular, but it's true, the Wolves manager spotted that Seamus could be a weak link in the back four and I'm afraid he was right.
It would be a shame for the popular Irishman to ruin his reputation by playing on for too long. Unfortunately, there doesn't seem to be anybody else to replace him, at least until January.
Only Everton could turn WWW (West Ham, Watford, Wolves) into LLL...
Don Alexander
122
Posted 01/11/2021 at 23:12:29
I wrote years ago that our squad at the time all but deliberately avoided getting top four in Martinez's first season because they were all too comfortable in comfy Finch Farm to wanna risk qualifying for a competition from which funds would be available for better players (they lost three of the last four games from memory, donating 4th to Arsenal).
That deliberate complacency has since become more and more like everyday complacency allied with lack of effort. The first half exemplified the malaise; the second half was average.
Throughout it all, the same ex-player coaches have been at Finch Farm, appointed by Kenwright, the epitome of everyday complacency.
I suggest Benitez by now must be fully onboard with recognising that there's something very, very wrong with a training ground where simple passing, control, positioning and shooting is never improved under any manager with these self same coaches for years and years.
And that's before we get to the owner and/or other boardroom nonentities.
Ed Prytherch
123
Posted 01/11/2021 at 23:15:43
The game reminded me of the way we practiced on the way to school, dribbling around lamp posts with a tennis ball.
Today, Micheal Keane was the lamp post.
Barry Hesketh
124
Posted 01/11/2021 at 23:18:07
Brian @119,
You would think that Duncan Ferguson might have a word in Rafa's ear about zonal marking and how our players don't appear to understand the concept – never mind do it well.
Having said that, whichever system is employed at corners, if your defenders allow the attacking team to get the jump on them, it's more likely to result in goals being conceded.
At the other end, how many goals have Everton scored directly from corners in the last few years? Not too many I would think.

Paul Hewitt
125
Posted 01/11/2021 at 23:18:19
Anyone saying we are getting relegated, is talking pathetic.
Tony Twist
126
Posted 01/11/2021 at 23:18:56
Can't see where the next win will come from and part of the reason for that is the manager. It's bad decision after bad decision, gbamin should have played for 15 minutes against Watford not thrown in at the deep end with this match. Gordon should have been on from the start, zonal marking and get them on the break alone won't cut it. The chances of there being 3 worse teams than us in the league is starting to worry me.
Barry Hesketh
127
Posted 01/11/2021 at 23:24:00
Paul @125,
You can say it's pathetic, but even the most blue-tinted fan has to have some small concerns that this team in its present guise is more than capable of getting dragged into the mire as the season wears on.
Look up the results for the whole of 2021 and particularly at home, it doesn't make pleasant reading. We really need a couple of wins from the next few fixtures to stop the rot; the longer we go winless, the greater the pressure will get.
Given that we've failed miserably in our last three matches, it doesn't bode well for the next three.
Brian Wilkinson
128
Posted 01/11/2021 at 23:25:01
At half-time, Carragher was highlighting the corner, where he froze the screen, then highlighted where our blockers were stood.
If you get chance, have another look and watch Iwobi, just on the corner of the penalty area, all on his own, until he takes a couple of strides and man marks the ref to perfection.
I swear, I am not making it up; it actually happened.
Bill Gall
129
Posted 01/11/2021 at 23:25:34
Lets cut out the nasty comments on Godfrey. This was a player who many supporters said he was the best buy Everton ever made, Everton's next captain, future England captain.
Boy was playing out of position and just maybe this Covid 19 was holding him back more than we thought.The major problem was in not having a decent back up at left back.
It has been asked often why isn't Gbamin playing and I believe we found out why. Delph did make a difference and I thought both him and Allan tried to drive the team forward in the second half.
It is not the time to throw the towel in and like it or not we have no one to replace DCL, Doucoure,or Digne, we have a weak squad and you can change as many managers you want and it will still be a weak squad..
We need to get over our injuries and get back on the positive side of the FFP rules to give this manager a chance with the financial support the other managers were given.
No one including myself is happy about the performance today, but with all the play Wolves had in the first half, they only got 2 goals and 1 was from a bad back pass.
Most supporters were picking Everton to be in 10th at the end of the season, I was optimistic and thought it may be higher. But changing managers again will certainly put us in a relegation fight.
They say blue bloods are the elite, and I am glad my blue blood started in 1954 and will always be there.
Brent Stephens
130
Posted 01/11/2021 at 23:29:48
Danny #107.
Yes great to meet you, mate. Pity about the game. Almost back at Wigan and then a wee drive.
A better second half but it's all relative.
Lester Yip
131
Posted 01/11/2021 at 23:34:45
The last 2 games just show how indispensable Doucouré is. Without him doing the leg work, everything fell apart. Holes everywhere. At times, it looks like we have no defence at all.
Wolves can pass so easily into the box. Hwang Hee-Chan can easily breeze past Keane like cone practise... I can't imagine us playing against Man City and any team with some good pace.
And also, we ship goals every game in defending set-pieces. Sort this mess out, Rafa!
If we need to play one more midfielder, so be it. Give us a boring 0-0 draw. Get that clean sheet first. Start from the back!
Colin Glassar
132
Posted 01/11/2021 at 23:45:51
I've now definitely given up on all our defenders, every single one of them. They are too slow, clumsy, small, clueless, lack basic skills, can't jump, can't head the ball etc…. And most important of all, can't defend!! If it wasn't for Pickford this could've been 5-1.
Add to that, we don't have a midfield... and then we are well and truly fucked.
Justin Doone
133
Posted 01/11/2021 at 23:54:08
I have been given permission to share this exclusive news. Alexander Chuka Iwobi has no toes!
It must be true because I've never seen any other player always on his heels.
Dale Self
134
Posted 01/11/2021 at 23:58:50
This isn't hell forever. We'll get some players back within a few weeks and from there we will salvage what we can from what's left of the season. Last year the same spasms of ineptitude blew up when the injuries hit.
A little more disconcerting with Godfrey joining the unreliable but that is the nature of the contagion of no confidence. Not going down.
Andrew Keatley
135
Posted 01/11/2021 at 00:00:25
First half was beyond abject. Second half at least showed that (most of) the players have some urgency and guts – but why are we so rarely able to play with that aggression and force from the start, and almost never for 90 minutes? Errors and lack of quality are far more forgivable than a lack of effort and stomach for the fight.
Which brings me on to Alex Iwobi. The man goes through the motions defensively in such a gutless way that I do not understand how he doesn't get an earful every game from his team-mates and the management team. There is no intensity in his defensive work, and it's unforgivable.
Gordon has improved considerably in this regard since Rafa arrived, while Richarlison, Townsend and Gray are generally honest players who always work hard to retrieve possession and close down the opposition. I can only assume that Iwobi lacks the desire, character and bravery for the penny to ever drop.
It was interesting to see Gbamin start a Premier League game. Sadly he look completely out of his depth, and watching Jimenez, Trincao and Hwang constantly drop into the pocket behind him, and him consistently fail to cut off any passing lanes into them, was frightening to watch. No awareness, no ability to impact the game, and never seemed to break out into anything more than a light jog.
The difference between Gbamin in the first 45 and Delph in the second 45 was night and day. Good luck to Gbamin – he's had so much bad luck thus far – but I cannot imagine we'll see him start a Premier League game again this season, and possibly ever again.
Colin Glassar
136
Posted 01/11/2021 at 00:01:21
Iwobi's boots are actually filled with straw, Justin. That's why he jumps out of every single challenge. Today's goal was shinned in if you watch it closely.
Ernie Baywood
137
Posted 01/11/2021 at 00:13:19
I can't read anymore about how good Delph was. Just as I couldn't stand it earlier in the season when Iwobi was being suggested on here as the answer.
You know what you get from these players. Iwobi has deficiencies that make him barely a footballer. Just forget him. Delph slots himself between the centre-backs and turns one pass between defenders into two. Then he breaks a toenail and has a month off.
These players seem to improve in standing the less they play. I'd play literally any junior with some character ahead of them.
You've got to look a lot further than "Delph should play" or "Iwobi shouldn't play".
We had no right-back, no striker, a style that doesn't suit any of our defenders or midfielders (even when all are fit). And it nullifies our wingers.
Add to that, we had the most insipid effort for an hour. We didn't win a first or second ball, we barely made it to a contested ball. We lacked any kind of bravery in the way we moved the ball. It was slow and sideways. The irony of such limited footballers trying to play 'safe' and just putting themselves in more peril due to their limitations.
No-one escapes criticism today. It was absolutely rotten. From the tactics to the effort.
For a few weeks, we had an identity and it's gone in a flash. Everton work hard, Everton play direct, Everton fight for each other, Everton play the game at pace. It wasn't necessarily the sort of football that wins leagues, but it was effective and decent to watch. And it was the best use of this crop (not a typo).
I don't know the answer, but it's not trotting out the same old rotation of names in the same tired style. Someone has to get these players playing to a clear style of football and fighting for the team, or send them to the reserves in exchange for someone who will give it a go.
John Boon
138
Posted 01/11/2021 at 00:17:31
I think it is far more simple than most of the frustrated Evertonians so rightly feel. We just do not have good enough players to compete beyond mediocre to really poor. Benitez may not get all the tactics right, but he is not to blame for the poor players that he has inherited. Totally dreadful signings for the past 5 years has left us bereft of skill and teamplay.
However, today in the first half, we showed a total lack of effort and desire and that is inexcusable. We were slow to the ball, weak in tackles and generally just seemed to be floating around the field as though they were on holiday.
I read an article today about how many young people in their twenties and thirties have been very significantly affected by Covid. I feel this must be the case with Godfrey because he is just not the player that he was last season. I think he must have the potential to get back to form because we certainly need him at his best.
I hope Benitez is able to get through to the team that there needs to be significant individual improvement, intensity and effort. I try to refrain from personal insults as seen by Ben (46). I do understand just how he might feel but such garbage directed at individual players only satisfies his over-the-top anger. We are all equally disappointed.
Justin Doone
139
Posted 02/11/2021 at 00:22:31
I agree with others, Coleman had a poor game. One of his worst in a few seasons. He seemed angry and annoyed at his teammates but he had a shocker today.
I think Allan played well but was covering Gbamin.
Gbamin played like a 16-year-old, unsure what to do and where to be. Like a 16-year-old, I can see potential but it's a No from me. Sell before he gets injured.
Delph the same. Sell. He did the basics well today, helped because Wolves sat deep whilst 2-0 up in control trying to pick us off. For those thinking he could be our best option, don't hold your breath. Injury-prone, slow and simply not good enough.
Tom Davies would have been blamed for all our problems if he had played today but I'd back him to have got stuck in.
P Ron Wells
140
Posted 02/11/2021 at 00:30:17
You can rail against individual players and I agree you can't get much worse than some of them. I've seen better on the park. A majority of our team would not get a contract in the Premier League, save perhaps for Pickford and Richarlison.

You can rail at Rafa, and his tactics don't stand scrutiny, but when most of them can't make a decent forward pass or are asleep on the job, like Holgate tonite (who imagines he is the reincarnation of Beckenbauer), what can Rafa do? He can't drop nine of them.

However, the real problem is the squad itself as a group... and the inept board that assembled this heap of dross over the last 5 years and who oversee this ship that's leaking on all sides. There is no accountability for the havoc they have wrought to the reputation of the club, its financial standing, and the morale of we the supporters.

This will continue until relegation and beyond because, at some point, if not already, our luck will run out and there will not be three teams worse than Everton. Unless there is new vigorous management. That means Barrett-Baxendale and Kenwright have to go and of course Brands too. They are overseeing the decline of a once-great club, now become the easy touch in all competitions. If they could see it as we do, they would resign rather than rearranging the deckchairs on the Titanic.

Derek Thomas
141
Posted 02/11/2021 at 00:34:16
Ernie @ 137; I know what you mean... Delph was what passed for our MotM.
It shows you how poor both sides were in the 2nd half - we were just, by a short head less poorer. All he did (maybe it was all he needed to do or can do, for that matter) was get the ball, run with it a bit, and mostly find a blue shirt with it... It was hardly Maradona leaving Reidy trailing in his wake.
Barry Hesketh
142
Posted 02/11/2021 at 00:40:53
John @138
I don't believe that it's a lack of talent per se, more a lack of fortitude and belief that undermines this set of players. Also I don't think the manager has helped the team in certain situations, whether that's the style of play or the tactics, it's clearly not working.
Earlier in the season, there seemed to be a togetherness within the group, but tonight especially, there was quite a lot of bickering and some players blaming each other for being in the wrong positions or failing to do their jobs. I'm not against players giving each other a rollicking when necessary but there are times when they should just roll up their sleeves and work harder.
When you are on a run like Everton is in now, passengers cannot be in the team, and Iwobi in particular is a passenger most of the time that he's on the pitch. Others too seemed to go through the motions in the first half.
If the game plan included Digne right up until the teamsheets were handed in, that doesn't help if all of the training was for a different back four than the one that started. That doesn't excuse that first-half performance where nobody put a foot in and Wolves players ghosted past too many statuesque Everton players too often.
If this set of players don't realise what is acceptable to the 3,000 travelling fans by now, they never will. If they repeat the same frailties on Sunday, 35,000 Evertonians will not be shy in reminding them.

John Kavanagh
143
Posted 01/11/2021 at 00:44:54
I've supported Everton for over 50 years but today I took the decision not to watch if Rondon and/or Iwobi started. I clearly saved myself a lot of unwanted stress by not rubbernecking another Everton car crash performance.
Just watched the 'highlights' of our display. Iwobi performed exactly as I expected. His goal only makes the situation worse – it means the manager will persist with him. (he would anyway, but now he has a ready-made excuse). Rondon brought on, but for what?
Seamus has been seen as our weak link since the start of last season, but opponents are now also gifted with our zonal marking system. Based on tonight's first goal, if we had 30 players on the pitch for a corner, we'd still concede.
You can visibly see the confidence ebbing away from Townsend and Gray as the Everton malaise sets in.
Same again on Sunday, no doubt. If so, I won't bother watching then either. Even after 50+ years, you can only take so much.
Kieran Kinsella
144
Posted 02/11/2021 at 01:04:56
Rafa on Gbamin being subbed "Delph can pass the ball, receive the ball and tackle." Fucking hell. Where does that leave Gbamin?
I realize Tom is slow and weak but at least he has those basic attributes. Maybe he thought Gbamin would be the inverse Iwobi: shit in training but good in games?
Mark Wilson
145
Posted 02/11/2021 at 01:06:58
At half-time, I found myself dragged into an exchange with one of the core Rafa haters who very clearly was made up with the disgusting performance because it would hopefully produce a toxic hate fest at the Spurs game directed towards Benitez. He wanted us to go on and lose and later would have been seriously disappointed it wasn't by a large margin.
After decades of this, and despite some truly awful managers and players, the thought that I could ever want the team to lose leaves me cold. I can't, it's just pathetic and I said so.
The reaction is somehow in keeping with the issue at the club. Yet another blue who thinks that travelling to away games makes him a super fan and above the rest of us. But I spent 25 years doing the same thing and can't recall a single moment I wanted us to lose, anything, anywhere to anyone.
This third defeat in a row is so hard to take though and no mistake. But, for me, the villains never set foot on the pitch. A couple of years ago on here I and a few others dared to criticise Mr Moshiri. I now find that our thoughts at the time were spot on.
The owner is largely responsible for managerial appointments and a raft of player purchases that have brought the club to its knees. The FFP disaster is just that, a total disaster that he was warned was about to happen by supporters and pundits alike.
We are now seeing the results of the mess with a squad so poor beyond the first 13 that any injury has the potential to lead to lost games and when we hit a bad run of injuries as now that impact is magnified.
But where in all this are the Board? We have a very clever and likeable CEO who you almost never hear talk about the footballing side of the club, just EITC and BMD. The Director of Football gets ignored by most of the last few managers and was it seems refused any involvement in actually picking a new manager.
The medical staff at the club have repeatedly seen repeat injuries blight our chances at senior level. In other words, the infrastructure from the owner down is just terrible and getting clearly worse.
How we ever break out of this, I don't know... but it's not by wanting us to lose and seeing support drop as a result. Maybe those injured players really will come storming back and drive us up the table.
They better had because the last two dire results in particular have a nasty whiff of another relegation fight. OTT? we always say "perhaps" at this point but hell these recent humiliations suggest that by Christmas it may not feel OTT.
Desperate for injured players back. Desperate for a better run. We're all just bloody desperate, full stop!
Staysafe all.
Rob Halligan
146
Posted 02/11/2021 at 01:16:24
Not long back from the match, and the only good thing I will say about the whole day is that we managed to avoid the torrential downpours that have been happening during the time I've been out since 1pm.
The only players to come away with any credit from that was Pickford, who made two incredible saves in the first half to somehow give us a fighting chance in the second half, and surprisingly Delph.
Iwobi, who was piss poor throughout, was getting dog's abuse from blues fans, when he was playing down our left in the first half, before he switched over to the right. Surprised he then stayed on the right in the second half, and apart from his goal, which looked like he scuffed it anyway, did diddily squat all match.
Poor old Gbamin looked totally lost in the game, and was no surprise when he was subbed at half time. Surely Anthony Gordon would have been better playing instead of Iwobi, and, although some may disagree, Tom Davies instead of Gbamin?
Okay, the second half was a "lot better" than the first, couldn't be any worse, but for me, it was a poor starting eleven by the manager. I never wanted Benitez in the first place, I don't want him now, and if Newcastle come calling then let him go.
It's amazing how last season, it was all the fault of Ancelotti, yet this season, with almost all the same squad, it's the fault of the players. Injuries or no injuries, in my opinion if Gordon and Davies had started, we could have got a result from tonight's match.
Just watching the game on Sky Sports, and I take it back about Iwobi's goal. Certainty wasn't scuffed, but it did appear the ball came off his shin. Was a tidy finish anyway.
Barry Hesketh
147
Posted 02/11/2021 at 01:28:33
Mark @145,
Any Evertonian who wants Everton to lose for any reason to my mind can't call themselves an Evertonian.
I'm certain that there are a number of Blues who would like to see Benitez removed and wouldn't care how soon that happens. There is a larger proportion that wants Everton to do well and if that means that Benitez is the boss. Whilst this happens, then they will accept the Spaniard without declaring their undying love for the man. There are some Evertonians that believe that this manager is the right man for the club at this time.
Injuries to key players always affect a side, but the only way to overcome those losses is to work harder for each other and help each other with and without the ball. At the end of the day, every player on Everton's books is a professional footballer; some are good and some not quite so good, but they are all paid handsomely and the least they can do is to put a shift in.
Whichever camp we belong to, tonight's game, and the previous two to an extent, have shown up the limitations of the players and the manager. He deserves a certain amount of criticism for team choices and tactical aspects but he can't be blamed for individual errors by individual players. He also has to take some responsibility as to why in the first half his players didn't proactively seek out the ball and weren't hungry to run off the ball for their teammates.
Even in the second half, Townsend on a couple of occasions was in possession of the ball, but when he sought to pass the ball, nobody was close enough to him to receive a pass.
The next win can't come soon enough. As for the hierarchy, they too have a lot of questions to answer, and this time it won't be enough to just replace the manager and simply press reset.
Minik Hansen
148
Posted 02/11/2021 at 01:34:48
1st half not good – a disaster actually, but could've been worse. 2nd half thankfully better.
How unlucky Godfrey was in an unnatural position. Hopefully Rafa and the team learn from this.
Like it or not, I was positively surprised by Delph. Without Doucouré, I think he should start.
I feel with you my fellow fans. Onwards and upwards, COYB.
Kieran Kinsella
149
Posted 02/11/2021 at 01:35:54
Barry,
Totally agree. I'm not a psychologist but suspect this "I hope we lose" is borne from some kind of childish "If I can't have it my way, I want to ruin it for everyone." But psychology aside, we don't want "fans" like that. The RS will have room for them.
Michael Stancis
150
Posted 02/11/2021 at 02:14:12
The club is an embarrassment from the top to bottom. Any fan who disagrees – you're part of the problem. A massive problem. Shithouses.
Nil satis nisi optimum. Load of bollocks to this board, managers (including Unsworth at Under-23 level) and especially the players.
Those mentioned plus any individual supporters who will argue with this are a poison chalice to the club.
Eddie Ng
151
Posted 02/11/2021 at 02:16:15
With Nuno out after 17 games (only 6 weeks after getting Manager of the Month), how many more such games can Rafa survive?
Kieran Kinsella
152
Posted 02/11/2021 at 02:28:09
Michael @150,
Things I never thought I'd read in tonight's twilight zone forum:
"Why are we subbing our best player (Iwobi)?"
"Delph is our best player"
"Let's support Rafa."
People moaned about last season but just 12 months ago could you have imagined any blue saying any of those things? How far have we sunk? Out! All of them, Kenwright, Brands, all squads of every age group, every coach, the toffee lady, the tannoy bloke, Rafa, Moshiri, club ambassadors, DBB... Maybe Dan Meis can stay but that's about it.
Jack Convery
153
Posted 02/11/2021 at 02:57:31
Let's be blunt: Moshiri, Brands and Kenwright need to go now. Enough is enough. We are a laughing stock.
We can keep changing managers, we can keep buying players, but nothing is going to change – ever – with these people running things.
So on Sunday, if it goes tits up, don't shout for Rafa Benitez to go... instead, do the right thing: Shout "SACK THE BOARD. SACK BRANDS. WE WANT MOSHIRI OUT!!!"
Get behind the team – they are going to need it.
Jerome Shields
154
Posted 02/11/2021 at 04:03:25
With no right-back or left-back back-up, Brands had a non-event Summer Transfer Window.
There is no way this team, glaring in the backline, has put the work and effort into preparation. What's more, they have been let to get away with it. After the International break, the writing was on the wall.
Tonight's performance, following the same first-half performance of play, was effective disengagement that has been the same in all three games, with an attempted surge in the second half, when the other team is standing back.
Throughout the game, set-piece plays are well below the standards required. There is no way that this team is following the manager's instructions. Even Allan is having to argue with Keane to bring forward the defensive line during the game.
I get the distinct feeling that Rafa has been left out to dry by the internal management of the club and some of the players.
Darren Hind
155
Posted 02/11/2021 at 04:06:04
Funny reading some trying to use last night's shit show to try to justify Carlo's Zombie football.
Listening to many blues on the phone-ins last night, it would appear any goodwill Rafa may have thought he'd earned has gone right out of the window... And having seen the anger directed towards Nuno by the Spurs fans at the weekend, I reckon Goodison will be no place for a footy manager this weekend.
I guess this is why they get paid the big bucks.
We did look in deep shit last night. Deffo John Ebbrell's fault.
Derek Knox
156
Posted 02/11/2021 at 04:24:06
Jack, I echo your comments there but whoa with Moshiri, he has proved he knows very little about Football, but is being led a merry dance by the others, the principal architect being that Machiavellian Kenwright.
Although I have often scratched my head and questioned, how an allegedly top accountant can be so blasé in squandering a fortune, yet seemingly not batting an eyelid, while allowing a total prick to play with his very expensive train set. It just doesn't make sense, especially with Jabba the Hutt (Usmanov) hovering in the background. Let's face it, these guys didn't become billionaires through mindless or reckless Investments.
So what is the difference now? It would appear to the unenlightened, that it is some sort of Money Laundering Scheme. You simply just can't waste that amount of money without serious questions and action being taken to halt the avalanche of money disappearing altogether.
Okay you maybe expect a couple of mistakes in buying players, that happens at most clubs (horses for courses but not a complete stampede of them), and the question that has been raised so many times: For all the money spent, what have we got?
I don't think either the blame lies with Rafa, although his recent team selections and game-plan do raise serious doubts, but I think the first half against Wolves was a rude awakening for him. Second half being a vast improvement and, if the first half had matched that, I'm sure we would be talking about a draw or possibly a win.
It will be interesting to see what the reaction is by both Rafa and the players on Sunday, against Spurs who are not exactly pulling up trees themselves, and are in somewhat of a transitional period, sacking Managers every few months. The result of having a trigger happy knobhead as a Chairman again! How do these people get to be in the positions they are in?
Steve Brown
157
Posted 02/11/2021 at 05:04:32
Didn't see the game, so won't comment on it. It seemed a result that most on here saw coming in advance.
Some more general observations:
1) We cannot play 2 in midfield without Doucouré, as no combination of the other available players works.
2) Regardless of what he is showing in training, Iwobi should not start ahead of Gordon.
3) We need a ball-playing centre-half, full-back cover for Coleman and Digne, and another forward... all with no money so better get creative as we did with Gray and Townsend.
4) Benitez has been handed a hospital pass with this job. I didn't want him but firing him would make no sense right now.
As regards the 'who to blame' argument. 2020-21, it's the manager's fault, not the players. 2021-22, it's the players' fault, not the manager. Both these contentions are self-evidently nonsense as it is a combination of manager turnover, imbalanced squad due to different managers recruiting to suit their playing style then getting sacked, an uninfluential Director of Football, poor managerial decision-making, together with appalling attitude, standards and commitment from senior pros.
The answer will take a lot longer to figure out!
David Currie
158
Posted 02/11/2021 at 06:26:00
Rob @146,
I did not want this manager either and wanted us to go for Graham Potter, as I think he is a forward-thinking manager who has done well and has an exciting future as a manager. This manager has been poor with his selections, playing Rondon for 6/7 games until finally dropping him tonight.
Starting Gbamin was a really poor decision and dropping Gordon after the Man Utd and the Watford games was also poor after he had done enough to keep his place.
Daniel A Johnson
159
Posted 02/11/2021 at 07:03:52
All teams' foundations are built from the back but the drop in form of our defence is alarming.
Michael Keane: has been awful all season mistakes costing goals lack of concentration, constant ball watching and general tardiness has been shocking.
Yerry Mina: it's saying something when you can argue that, when fit, Yerry has been our best defender.
Lucas Digne: can anyone remember his last decent performance. Been awful for a long time both in his defending and crossing. He's been out of sorts for a long time.
Seamus Coleman: still our main mouthpiece as captain but year-on-year the on pitch returns are sadly diminishing. Lack of competition keeps him in the team.
Mason Holgate: you look at him and he seems to have everything in his locker, yet he displays nothing at times; slow and weak and struts around chewing his gum not giving two fucks.
Ben Godfrey: his confidence is on the floor. But right now he's not even doing the basics, not attacking the ball, easily pushed off the ball, bottling 50:50s, caught out of position. A massive fall from grace, hope he's not turned into Jonny Heitinga.
With no pot to piss in, this lot need coaching badly. With zonal marking appearing again it's like Marco Silva all over again.
Is it coaching, confidence or general ability as all our main defenders are abject shite at the moment?
Has to be said but I wish we never let Zouma go.
Jeff Armstrong
160
Posted 02/11/2021 at 07:07:34
Anyone who thinks Allan had a decent game was not watching the same game that I saw. Misplaced passes all night, mistimed tackles all night, no pace. The only thing in his defence was he was doing 2 jobs first half; second half, he was helped by Delph, but his game deteriorated rapidly.
Karl Meighan
161
Posted 02/11/2021 at 07:13:06
Most of these defensive problems are the same ones we had 3 years ago and mainly the same players. Giving cheap set-pieces away, losing runners, and being unable to get off the ground to head it. I get sick of saying it but it continues to cost us goals in the toughest league in Europe.
How many managers do we have to try? The old saying "football is a simple game" is correct yet we make it look the opposite. Spineless and effortless – how long must we suffer?
Daniel A Johnson
162
Posted 02/11/2021 at 07:20:32
Last night proved that Allan doesn't have the legs for the Premier League.
He was 10 sec behind the play all night and it was made even more obvious as he didn't have Doucouré doing the hard work for him.
Allan has been awful all season.
Neil Cremin
163
Posted 01/11/2021 at 07:23:00
I only watched first half because I was fearful of conceding another 5.
Observations:
Our earlier season form was based on the quick counter-attack. We depend on players running with ball; Wolves countered by long accurate passing and good first touch.
Godfrey's error was not due to him playing out of position but a terrible first touch which he then tried to pass back to Pickford to get out of jail.
On using zonal marking, the keeper also has a role although Jordan did make great saves I do not think he commands his box at set-pieces.
On passion, I only saw two players getting agitated about our formation, Coleman and Allen. Rafa also has responsibility here. He is our best bet in the long run but team organisation is his job.
Finally and most worrying was Richie's performance. Typically he works his socks off putting pressure on defenders and keeper. I didn't see the same commitment last night.
Chris Leyland
164
Posted 02/11/2021 at 07:37:23
The only positive from last night – the season is one game closer to being over.
Thank god we've got Brands as our DoF spotting all this talent from around the world and bringing in it to supplement the non-stop conveyor belt of talent that Unsworth has been producing after 7 years running the academy.
Anyway, enough of worrying about on-field matters, what news on the colour of tiles for the bogs at the new stadium? What new award has DBB won for work in the community?
David Thomas
165
Posted 02/11/2021 at 08:06:50
Pickford not at fault for the goals.
Coleman tries hard but his legs have gone.
Godfrey completely out of sorts. Needs a break.
Keane and Holgate both woeful and nowhere near good enough.
Allan can be effective sometimes but, more often than not, his lack of mobility is exposed
Gbamin, after the injuries, is never going to be capable of playing at this level.
Iwobi what can you say just completely useless and in my opinion one of our worst buys ever.
Townsend good honest pro whose been more effective than I thought he would be. However, he's not the quality that's going to really move the club forward.
Richarlison probably will leave in the summer. Goes down too easily and shows his frustration but gets absolutely no service.
Gray had a great start to the season but has gone off the boil a bit recently. Need him to get back to form ASAP as we need his ball carrying skills desperately.
Mick Conalty
166
Posted 02/11/2021 at 08:19:26
Chris #164
You are spot on, mate. Add to that Moshiri and teary-eyed Bill watching from the Directors Box, remind me of Bill and Ben the Flower Pot Men.😀😃

Derek Moore
167
Posted 02/11/2021 at 08:22:54
Firstly, full disclosure. Just about the same moment I heard Benitez was hired was the moment I cancelled my streaming subscription.
I still read the match reports here; watch highlights on YouTube – yet I still often feel that the club is stealing much more time from me than they actually warrant or deserve.
The idea that grown men, ten and more years my senior, are sneaking into the home end to watch this sort of shite somewhat boggles my mind. It truly does. I understand that we're all unique individuals and every single person's circumstances are totally different to anybody else. I get it.
That said, and for my part, I just can't even imagine a scenario where I had the spare time and/or money to waste following this rubbish in the flesh. Kudos to you Danny (and others); I think I'd get more pleasure setting a thousand quid in fivers on fire and posting a video of it on social media. I really do. ​
​I'm at the stage where I figure giving the current Everton regime any of my hard-earned money – and thus tacit approval – is roughly akin to giving a jakey a bottle of whiskey, or a junkie a bag of heroin. Want and need are often two very different things. Everton want your money; they need a kick up the arse from here to Huyton.
Watching Godfrey play that backpass on YouTube doesn't have me writhing with remorse either – as you might imagine. I tip my hat to many of you guys, I just don't know how you do it.
If Everton was a horse, you'd shoot it. We seem to be very lucky this year in that there are three teams that are much worse than us. But for that, we might be in some real shit. And if one of those clubs turns things around it could get sketchy very quickly.
Wake me up when that happens, or when we again get some competent people running our club. Until then expect more – many many more – days like this.
Marc Hints
168
Posted 02/11/2021 at 09:05:51
Well, at least we have the following out of contract next June:
Jonjoe Kenny
Cenk Tosun
Gylfi Siggursson
Seamus Coleman
Fabian Delph
But with Kenwright in charge, I am sure he will give new contracts to Jonjoe and also Tom Davies as they are one of us!
As I have said in a previous post, Phil Foden, Declan Rice, Mason Mount all improved as players and are now England Internationals. Tom Davies has not improved at all and I don't think he will.
The board need to make these tough decisions and get rid of players who are not good enough but I fear, with Kenwright still Chairman, this will never change. I could probably put my mortgage on Kenwright giving Tom Davies a new contract.
We need to stop being sentimental and giving ex-players coaching roles, it will be Seamus Coleman next! Because they played for Everton for a few years does not mean they are great coaches.
And how did David Unsworth get a contract-for-life job?
Andrew Ellams
169
Posted 02/11/2021 at 09:08:33
It's tough to criticise Allan. For the first half last night he was forced to oppose an entire midfield on his own. Why on earth did Rafa think Gbamin could play in a 4-4-2 formation?
Stu Darlington
170
Posted 02/11/2021 at 09:20:33
I never thought I could be more depressed after that first half, but then I started to read the posts on ToffeeWeb, 90% of them totally negative. If I was allowed acess to sharp instruments, I think I would have been opening a vein or two!!
Dire though the first half was,we could have won this in the second half if Richarlison had capitalised on the keeper's mistake and Gordon's header had found the net. With a squad lacking in almost every position, depleted by injuries and arguably wrong selection decisions, it could have been a lot worse.
Delph and Gordon made a difference when they came on — Delph?? What am I saying?
So come on,guys, heads up, we go again at weekend... let's ditch the negativity and get behind whatever team we can put out and the manager. Whatever you think of him, it's stability we need at the moment – not more change.
Anyway 2 positive points to finish on: Iwobi scores an away goal! And we dodged a bullet with Nuno!
John Keating
171
Posted 02/11/2021 at 09:22:30
Andrew @169, I fully agree.
What Benitez saw during the week in order to pick Gbamin is baffling to me.
Allan was certainly left out to hang and dry in that first half. Surely Benitez could see what we were all seeing from the first minute and not bring in the wide men to help Allan out.
Nick Page
172
Posted 02/11/2021 at 09:28:28
Dear Farhad,
Instead of sacking the manager every season, how about doing the obvious and sacking the Board because they clearly are not performing!
Who is responsible for our appalling transfer record where players are being let go for free after running down their exorbitant contracts?
Why are so many players at Everton constantly underperforming?
Is the entire coaching staff good enough because I don't think employing Everton Old Boys is the answer?
Why is Duncan Ferguson assistant to every manager?
What has David Unsworth actually produced and what is his remit at the academy?
This is a professional football club – not a museum... nor is it a charity. Paying fans want to see good aggressive football from players that care and can justify their wage. The club is sinking fast and time for action is now.
Thanks in advance.
Concerned,
Nick

Bobby Mallon
173
Posted 02/11/2021 at 09:45:37
Stu Darlington. You are missing the point. We would have won if he, Rafa, hadn't've picked Gbamin or Iwobi from the off. I don't care if he scored – he is shite... and poor Gbamin will never be up to speed. He should have spent every second playing every Under-23 game before he got a game in the first team.
What must go through our young players' minds (Dobbin, Onyango etc) when they see Tosun and Gbamin and Rondon and a second fucking goalkeeper getting on the bench before them? I'm sick of the same old managers letting us down.
Danny O'Neill
174
Posted 02/11/2021 at 09:51:21
I think that's the problem with the criticism of Allan. He's having to marshall that midfield on his own effectively. We miss Doucouré so much.
I thought Gbamin done okay, but he clearly needs to get match fit. This is a bold shout, but get him fit and he's a potential Declan Rice style midfield enforcer. But fitness and injury? That's the problem with him and he's a similar age to Rice.
I feel unclean saying it, but chatting with a few London bound Evertonians late last night, Delph actually gave us some leadership on the pitch in the second half.
I got an extra half hour's sleep than expected, getting home at 2:30 am, but the dogs still had me out at the crack of dawn.
Everton. You can't help but love them. Like my dogs, they're for life!
Marc Hints
175
Posted 02/11/2021 at 09:51:39
Anthony Jones
176
Posted 02/11/2021 at 09:53:10
2 goalkeeper subs is an insult to the young lads.
Rondon is awful. Gbamin is worse. Godfrey isn't good enough on the ball to play full-back in the modern game.
If you are an U23, you are looking for a new club. This was started by eyebrow man and continues under FSW.

Danny O'Neill
177
Posted 02/11/2021 at 09:54:16
Daniel A Johnson. Allan awful all season?
He didn't look awful when he played those 2 defence-splitting passes that opened up Brighton and led to our 2 goals.
Andrew Ellams
178
Posted 02/11/2021 at 09:57:30
And what clown at the club sanctioned Calvert-Lewin being put in a position where he had to discuss that performance from his own team mates live on TV?
Colin Glassar
179
Posted 02/11/2021 at 10:07:18
Nick #172, and…. Dear Farhad, after you've sacked Kenwright, Brands, Dame Edna, Unsworth, Ferguson, most of the first team squad etc….. Please do us all a favour and sack yourself!
Farhad has been a complete disaster at Everton. He's actually managed to take us backwards even after spending almost £500M on utter shite.
Marc Hints
180
Posted 02/11/2021 at 10:13:52
Colin #179,
I would rather have Alisher in charge than Farhad.
Tony Abrahams
181
Posted 02/11/2021 at 10:14:32
Everton looked like they could develop into a good team when I watched them have way too much for Brighton but we just don't have anywhere near enough good players in the squad, and football is now a squad game.
Ron @140, has me nodding my head in agreement, except I'd replace overseeing, with it has already been overseen, and whilst this continued deafening silence is what us supporters are being treated to.
I personally think it's time for us to put some pressure on Moshiri, because it's only our majority shareholder who has the power to implement real change.
Andrew Ellams
182
Posted 02/11/2021 at 10:16:56
The issue football fans like us have is that last season proved clubs can survive without us.
Rob Halligan
183
Posted 02/11/2021 at 10:19:58
Danny, no disrespect mate, but Gbamin looked totally lost last night. He gave the ball away, turned back into trouble, and in my opinion, looked and played like he didn't want to be there.
Hindsight is a great word, and I can't believe I'm saying this, but would Delph have been a better option to start from the off? I slated Benitez for bringing Delph on at half-time (got slated from one of me mates for having the audacity to criticise Benitez and shouting "you don't know what you're doing!"), and fully expecting him to be carried off with one injury or another, but as I said, hindsight is a great word.
So maybe Benitez did know what he is doing... in which case, Why didn't he start Delph instead of Gbamin? Why didn't he start Anthony Gordon instead of Iwobi?
Listen, I know at the moment we are crippled with injuries. Had we had Mina, Digne, Doucouré, Gomes and Calvert-Lewin available last night, I've no doubt we would have ripped Wolves apart. To an extent, Benitez does have his hands tied behind his back, but I still think his starting eleven was totally wrong.
Okay, he made the change to withdraw a very in-effective Gbamin at half-time, but to wait until about 10 minutes from the end to replace Iwobi with Gordon was just too late. As for Rondon, did he actually touch the ball?
In 4 weeks time we've got Liverpool. God forbid if the next three matches go tits up, then the banners will be out in force in the away section with "Agent R-r-r-r", no sorry I can't say his first name. So Benitez has got to get his team selections spot on for the next three games; otherwise, that game against Liverpool is going to be un-merciful.
Dave Abrahams
184
Posted 02/11/2021 at 10:24:21
Danny (174),
Why feel unclean about speaking the truth? Delph has mostly been a very poor signing. I expected better from him but he has been mostly been injured and never been fit for any consistent period.
Last night, he not only offered leadership but much-needed composure in keeping hold of the ball, looking for men in space before parting with the ball; other Everton players were looking for him and giving him the ball to make the play.
Only 45 minutes but, if he can stay fit, he will be a big plus in these injury hit times. Who else held the ball last night for a few seconds? The ball was like a bleedin' hand grenade to the lot of them – except young Anthony Gordon when he came on.
Danny O'Neill
185
Posted 02/11/2021 at 10:26:23
It's been our problem for seasons now, Tony. We have a good team, but a thin squad. And as you say, it's a squad game now more than ever.
Once we scratch the surface, we have little. Nothing, Nichts. Ninte.
Long night last night, but I'll be there Sunday. No matter what, I can't stop loving them. I wish they had just some of my desire.
Laurie Hartley
186
Posted 02/11/2021 at 10:29:51
Nick Page
187
Posted 02/11/2021 at 10:37:45
Colin,
I think with a more sensible optimum structure in place at Board level we wouldn't have wasted so much money… 2018 being the prime example when we seemed to have three people pulling in different directions on transfers with no clear strategy.
Remember Moshiri was brought in by Kenwright… he was sold the idea… and he was the "investor" Kenwright wanted so he could spend (or direct spending) of the effective capital injection.
I think Moshiri has largely been had and has been fire-fighting ever since due to poor advice (also remember he's not on the board, so is reliant upon them). I'll reserve my judgement on him until I've seen clear change at the board and operational level.
Robert Williams
188
Posted 02/11/2021 at 10:38:07
Look at the positive side – we are still in the 'top-half' of the table.
Thanks to out magnificent goal difference.

Danny O'Neill
189
Posted 02/11/2021 at 10:42:51
He did add composure to the midfield, Dave. And yes, players were looking to him.
Rob, I think with more match fitness and sharpness, Gbamin might offer us something. I get what you're saying, I just think last night, he was showing the signs of not playing regularly for 2 years.
You around Sunday, Rob? We can celebrate a win over Tottenham!
Dave Lynch
190
Posted 02/11/2021 at 10:44:38
This season was always going to be difficult. Years of clueless managers and piss-poor signings have us where we are.
Benitez plays to a system, he doesn't have the players (yet) to affect the way he likes teams to play.
Coupled with injuries, we are in a bad place but it will get better; players bickering with each other last night told me that they were not following orders and drifting out of position.
Only my opinion but I haven't given up hope yet. This season will be a write-off if you expected Top 6. Me... I expected transition and a tough one.
Rob Halligan
191
Posted 02/11/2021 at 10:44:57
I am, Danny. I will be in The Brick before the match, and might have one or two in there afterwards, but won't be able to hang around too long.
Nick Page
192
Posted 02/11/2021 at 10:48:22
Tony @181,
We need answers on strategy and direction, internally from those that run the club. Kenwright's MO in these situations was to go into full North Korea mode and shut down all fan disquiet… and disappear for a while until it had blown itself out, usually under the auspices of some "illness".
I think we deserve to know this at a minimum:
● What has the DoF role achieved?
● Why are we now under FFP sanctions?
● Has any other club in the Premier League suffered this ignominy?
● Or is it yet another "Everton first"?
● Why is the youth set-up not functioning – the RoI on Finch Farm is Zero?
● Why is Barrett-Baxendale the CEO and how is she qualified for this role?
● Etc, etc, etc.
According to Kenwright, he must be asking Everton what they would do in this situation.
Danny O'Neill
193
Posted 02/11/2021 at 10:50:34
Will try to catch you there, Rob.
Still wounded and very tired!
Bill Watson
194
Posted 02/11/2021 at 10:54:59
The team selection was dreadful and the buck stops with Benitez. Just what Iwobi does at Finch Farm to justify continually being selected baffles me. He is worse than useless.
Thankfully no Rondon but Gbamin looked exactly what he is; a player who's been out for 2 years. Wolves should have been out of sight by half-time and we were lucky to keep it to 2-0 at half-time. It should have been 4 or 5.
Surprisingly, Delph made the difference after half time, knitting the midfield together and enabling us to actually get into their half. That's the best I've seen him play so let's hope he can build on that and stay fit.
Gordon was like a breath of fresh air when he came on, making his presence felt and taking the game to Wolves – but why didn't he start and why did Benitez, once again, leave it so late before taking Iwobi off?
Frank Crewe
195
Posted 02/11/2021 at 10:55:15
We basically played the first half with 9 men. Iwobi and Gbamin were completely useless.
At least Gbamin has an excuse after being out for so long with serious injuries. Unfortunately the same cannot be said for Iwobi. He may have scored but that was all he did. He was off the pace, he neither attacked nor defended, totally impotent.
He can't play for Everton again. He has had chance after chance yet he continues to be useless.
It was only when Delph and later Gordon came on we looked like we had 11 men on the park. I would expect to see both of them start against Spurs.
To cap it all, we had Calvert-Lewin on Sky in that hideous Zoot Suit. Maybe he got his dates wrong and thought it was Halloween?
Dave Lynch
196
Posted 02/11/2021 at 10:57:14
Nick.
Kenwright is a Dinosaur in a modern world.
In his own deluded utopia, he is still in the Boys Pen watching Harvey, Kendall and Ball in our midfield.
I fear he will be with us for a few years yet.
Rob Halligan
197
Posted 02/11/2021 at 10:57:25
Same here, Danny. It was near enough 3am before I finally went to bed. I cheered myself up by watching that brilliant innings by Jos Buttler, smashing the first century in the T20 World Cup against Sri Lanka. What an awesome player he is.
Rob Halligan
198
Posted 02/11/2021 at 11:04:02
Nick # 192.
No doubt Kenwright would say "Well we need to change the Chairman and also get a new CEO".
Then in the same breath, "No, wait, I'm the Chairman so you can't get rid of me, and we can't get a new CEO because the one we've got is my Little Miss Dynamite, who is doing a stirling job with EitC".
Get rid of both of them, NOW!!
Danny O'Neill
199
Posted 02/11/2021 at 11:07:49
Definite leadership change needed Rob. The owner needs to take control and own it.
I got in at 2:30 am, but sat up with the dogs. They were sympathetic and looked at me with a concerning glance.
Still had me up at 6 am though. Not so sympathetic.
Everton's focus should be on the football pitch. We are a football club. Our efforts in the community are a by product of what we have achieved on the football pitch. Not our sole focus.
Len Hawkins
200
Posted 02/11/2021 at 11:32:41
The last two games have shown Iwobi for what he is – a gutless wonder.
Any 50/50 balls and he holds back; if he thinks the oppo player is going to get there first – he holds back!!! Even if he doesn't get there, he should at least put the player under pressure – not stand back and allow him room to manoeuvre.
Time is up, I'm afraid. No-one at the club can hide any longer, the rot needs clearing out ASAP – starting at the top.
Anthony Dove
201
Posted 02/11/2021 at 11:44:57
Just a few random thoughts.
Iwobi touched the ball twice in the first 25 minutes. Because he is so bad this may have been a deliberate tactic.
Holgate tried to concede his usual penalty but his timing was six inches out. He doesn't learn.
Gordon really has to start games. The penny seems to have dropped and he now looks like he could be a really good player.
I thought Sunday was going to be a battle of the disgruntled fans but, with Conte's arrival, it'll just be us.
Stephen Vincent
202
Posted 02/11/2021 at 11:55:29
Rob #183,
I agree with almost all of that. Perhaps we should remember that that was only the third game that Gbamin has started, if he was a new signing we would give more time than that. Unfortunately the run of games over the next few weeks does not lend itself to a gradual introduction and I very much suspect that he is going to get found out. I feel sorry for him.
I haven't read the whole thread so this may have been covered before, but I thought that Holgate was truly dreadful last night. His lack of effort for the Jimenez goal was shocking. I really hate criticising players but he really does deserve any pelters coming his way. What is the matter with Branthwaite?
The zonal marking thing just isn't working, maybe they just aren't intelligent enough but to concede the same number of goals from set pieces in 10 games as we conceded in the whole of last season is ridiculous and is entirely down to coaching.
Craft beer and pie night in the Olive in the Village on Thursday night if you're up for it.
Lester Yip
203
Posted 02/11/2021 at 12:05:22
I don't blame Rafa playing Gbamin. He needs to be given a chance to try out. But now we know he's not ready, whether it's sharpness or mentally. Bring back Tom.
When I look at other teams, there are players who can strike the ball well consistently even in a mid-tier team. Tielemans, El Ghazi, Ward-Prowse... the only one I can think of for us is Townsend. We really need a right-back who can cross the ball well.
Mark Murphy
204
Posted 02/11/2021 at 12:08:39
Danny,
I know dogs and they were looking at you in hope of food. They aren't arsed about Everton.
I wish I wasn't...
Tony Abrahams
205
Posted 02/11/2021 at 12:24:46
That last sentence says everything, Danny.
I've wished for an Everton team for years that could find even 25% of the desire shown by the travelling blue army. I think this desire will spill-over soon enough, with fans possibly turning on each other. It wouldn't surprise me to see a few thousand begin to vote with their feet, even though they have already paid for their season tickets.
I honestly got home last night, and didn't even try to put the game on because it would have meant too much messing (dragging my telly back into the living room would have taken 10 minutes) but also because I'd listened to 10 minutes of the commentary on Radio Merseyside, and I didn't feel like getting wound up watching a top-level professional football team not really playing for each other.
Matthew Williams
206
Posted 02/11/2021 at 12:36:45
Looking at the November fixtures, it wouldn't surprise me in the slightest if we're looking for another new Gaffer on 2 December!
A totally unbalanced team lacking footy smarts or even a positive belief to our play, as many have said on the Live Forum... We simply let average teams look like world beaters against us. We are so slow starting games that I now think it is ingrained at the club.
We allow teams to waltz through us and sadly a tonne of back-passes are still evident game after fucking game, which just results in Pickford putting it into touch or giving it straight back to the opposition... why do we still do this?
Time to get our lads totally fit and focused for the month ahead, play some young lads (Gordon has to start), recall loan players (if possible)... jeez, I'd even play Tosun up-front... but try something new, different, fresh, positive...
Surprise us, Rafa... Now! – Or face the wrath of the faithful!
Brian Harrison
207
Posted 02/11/2021 at 12:51:10
Just looked at our next 7 games which are,
Spurs (h)
Man City (a)
Brentford (a)
Liverpool (h)
Arsenal (h)
Palace (a)
Chelsea (a)
Being very optimistic, I think we can get maybe 5 points, the question then will be where will that leave us in the Premier League? And if it resulted in being in the Bottom 5, would Moshiri sack Benite?.
Clive Rogers
208
Posted 02/11/2021 at 12:51:56
I would be interested to know what the current relationship is between Moshiri and Kenwright. The latter was stripped of all responsibilities some time ago, I can't imagine it has got any better.
Michael Lynch
209
Posted 02/11/2021 at 12:53:24
Matthew & Brian, I agree that we're going to struggle to pick up more than one or two points from our fixtures up to Christmas, but the last thing we should do is sack Rafa. And bring in who - Big Sam? We've got enough problems without changing managers.
Kevin Molloy
210
Posted 02/11/2021 at 12:54:22
Brian,
If he does sack him, we are getting relegated.
And we won't be coming back up anytime soon.
Danny O'Neill
211
Posted 02/11/2021 at 12:59:27
I'm going for an optimistic 12 points there, Brian.
Okay, maybe 10.
Tony Abrahams
212
Posted 02/11/2021 at 13:04:33
Is this true, Clive @208?
Brian Harrison
213
Posted 02/11/2021 at 13:04:52
Kevin @210, Michael @209
I was merely asking the question. I think changing managers as often as we have under Moshiri has been a disaster. Seeing as we know Moshiri is quick to sack managers.
I just ask the question if the scenario I paint comes through and, if it did, Goodison would let Moshiri know they weren't happy. Do you think he and Usmanov would gamble their whole BMD strategy by sticking with Benitez should this happen?
Kevin Molloy
214
Posted 02/11/2021 at 13:11:48
Well, if Goodison did do that, Brian, then Goodison would deserve everything that is coming down the line.
The guy's been in the job 2 minutes, dealt the hardest hand I can remember, and our reaction is to what? Boo the poor bugger who's trying to right the ship. I think a spot of encouragement would be the better path.
We're stuck with this dreadful squad, but shouting at them will be entirely self-defeating. It's one big difference, though I hate to say it, between us and them. You could name maybe five times in the last 30 years when Liverpool have turned against their own team; we seem to do it nearly every other week, and it's utterly disastrous.
Barry Hesketh
215
Posted 02/11/2021 at 13:15:14
Moshiri won't sack Benitez, the manager may well walk if he feels that the players aren't responding or won't respond positively to his methods. Sacking Benitez at this juncture or even if we don't get many points between now and January, won't result in the boot for Benitez, however much some may think that he deserves to be removed.
There'll be little money available in January, according to some reports, so if the gaffer was sacked, which right-minded professional manager would come to Everton?
As for Kenwright, if he has less responsibility within the board, as Clive suggests, is it not time to appoint a new chairman? At least then we would all know for sure that his fingerprints won't be found on any of the crazy goings-on at Goodison.
The club needs a reset and the only way that will happen is if Moshiri finds a buyer daft enough to purchase Everton FC.
The fans I fear may begin to vote with their feet, as pointed out above. Screaming and shouting at the players is unhelpful and will prove counter-productive, but fed-up supporters may decide to view the games on TV between now and the New Year, rather than make the effort to visit Goodison.
Geoff Williams
216
Posted 02/11/2021 at 13:22:30
Set in his ways, stubborn and lacking vision, Benitez was never the right man for the job but we have to accept he is the manager and he won't be replaced.
I cannot see us winning any of the next seven matches, so becoming part of relegation dogfight is a possibility. Benitez will panic and play Calvert-Lewin and Doucourè before they are ready and will risk aggravating their injuries.
To date, he has made good players look ordinary, ordinary players look awful and he believes that Rondon and Iwobi are footballers.
Keith Gleave
217
Posted 02/11/2021 at 13:22:58
The first half was desperate. Zonal marking failed with Silva and it's not going to work here. There were 3 defenders around the first goalscorer, none got near. Holgate was at fault for the second, he was asleep. If not for Pickford, we would have been 4 down.
There was no press, it was purely defensive from the half-way line and they easily passed through our ponderous defence. We were as static as the monuments in a graveyard.
We could not pass the ball forward and, when we managed it, the ball never stuck and came right back. Iwobi was particularly awful.
They came out with a little fight in their bellies after half-time but the game only changed when, I hate to say it, Delph came on. Everything started to go through him and he started to push things forward.
Having said that, there was no polish up front to finish anything. We then had the dubious pleasure in seeing Rondon come on, with his portrait of walking through concrete.
I am in a state of despair for the upcoming games. I presume though that Tosun being on the bench last night means he is near fitness. Even at half-fit he will be better than Rondon and might pick up a goal or two with service from Gray and Townsend. Here's hoping!
Rob Dolby
218
Posted 02/11/2021 at 13:36:19
Moshiri and Kenwright don't pick the players and formation.
The same players defended set pieces really well last season. This season, we are back to Roberto standards without Jagielka or Distin. Surely Ferguson should point this out to Benitez.
I feel that Benitez is trying to run before he can walk with the lack of quality in the current squad. He has to be more pragmatic. It took us to go 2 goals down before trying to shore up the midfield last night. The game was more or less lost before he tried something different.
I can see maybe 1 point from the next 7 games. We don't look like scoring and always look like conceding. Not a good combination.
If Benitez lasts until January, he'd better have a long list of players to replace the current lot or he won't make it past Winter.
Michael Lynch
219
Posted 02/11/2021 at 13:39:14
WIth regards to the zonal marking – as Rafa has himself pointed out – one of the problems with losing so many key players is that we seem to have lost the tallest ones! Calvert-Lewin, Mina and Doucouré are all hard to replace, not least when we are defending corners.
Looking at the upcoming fixtures, I honestly can't see an obvious one that will give us a single point. Man City might be our best hope as they seem to struggle to finish off shit opponents on occasion. Palace under Vieira will see us as a relatively easy 3 points. Brentford perhaps?
We just have to hope there are three worse teams than us until we can get players fit and pick up a few new faces in January.
Jay Wood
[BRZ]
220
Posted 02/11/2021 at 13:39:34
For me, one of the most trite of TW laments is 'whoever [thought 'x' played well] wasn't watching the same game as me.'
I think it's fair to presume if you comment on an Everton game that you've taken the trouble to watch it. (Although there are some commenters who don't even do that, openly admitting they didn't watch the game but still commentating on the performance.)
Each of us watches the game with our own eyes. The evident diversity of opinion every game reveals there is never ever any universal agreement.
Through my own eyes, having heard the manager saying in his pre-match presser that the team had worked all week on defensive solidity and being more compact, none of that was evident in the first half.
Between the perimeter of our penalty area and the half-way line, there were acres of space for Wolves to play in. They did so unchallenged.
I don't know how late the call was made on not playing Digne and so enforcing a re-shuffle, but the entire back four – not just one player – stiffly sat too deep. Neither full-back was venturing forward. Neither Iwobi nor Townsend were dropping back to bolster the numbers in midfield as we had done so effectively earlier in the season. Gray and Richarlison were isolated. Gbamin was... nowhere. Allan, as he appeared to play all game, was tasked to play further forward.
After Wolves scored the ruled-out goal, Keane and Allan had words. Both had a case. The defence needed to play 10-15 yards higher to squeeze the space more. Gbamin and Allan needed to be occupying better the space in front of the defence. None of that happened in the first half.
I wondered why Gbamin was selected ahead of other options. The only 'quality' he brought to the team which alternatives don't have was his height. Was he primarily selected to reinforce the defence on corners and the like?
If so, he wasn't effective at that either. I had a queasy feeling on the corner they scored from when I saw 3 Everton players – including Gbamin – up against 4 Wolves players around the penalty spot where teams are clearly targetting us now.
It was a carbon copy of goals we conceded against both West Ham and Watford. High ball to the centre of our box that a tall strong player can attack and head home. We are simply not blocking off those runs.
That is now a systemic failing which needs correcting. On this, we have missed Richarlison, Mina, Dourcouré and Calvert-Lewin, who are good at clearing out such challenges.
Those bemoaning zonal marking forget that, after the shambles of the same under Silva, the Ancelottis quickly had it working a treat for us. Played properly, zonal marking works.
Essentially, the same personel that have shown they can play it well are still at the club. The only factor that has changed is the manager. It is reasonable to assume that Rafa is simply not coaching the team as efficiently as Carlo did on this aspect of our play.
However, there is a coach who was present, observing and learning from Carlo (his own words) who is still at the club: Duncan Ferguson. Has there been any input from him to the effect that "This is what we did last season that worked so well"?
Thankfully for both Gbamin and us, he was withdrawn at half-time. The defensive line moved higher. Delph brought better positional sense, possession and passing to the midfield. Allan's contribution also improved as a result. Both full-backs played far more in the Wolves half than they had in the opening 45 minutes. We were getting in and around their box a lot more.
Our goal was just reward for our 2nd half play, no matter who scored it. Like others, I believe it was the only positive contribution Iwobi made all night. It's not the basis to justify giving him a starting berth, IMO.
I thought Anthony Gordon was excellent when he came on. Immediately into the game. In glimpses I am seeing something has 'clicked' with Anthony. He is giving me hope that he can indeed be a Premier League player.
In the brief time he was on, he was sharper and more incisive than not only the man he replaced, but also the likes of Townsend and Gray.
The header he nearly scored from, but for a good reflex save by their keeper, was very clever. From his starting position, he first looks and steps backwards which gained him space on his marker who followed the false backward movement when Anthonly then quickly moved forward and leapt to head the ball. Smart football.
On the question of Ben Godfrey, for me there are two issues. Firstly, as someone who endured long Covid myself and just how impactful it is on both your physical and cognitive levels, I see evidence of the same in Ben.
He has openly admitted it himself. His turbo-speed isn't there. Again last night – as in other games this season – he had a dreadful brain-fart moment.
It's all well and good saying take him out of the firing line and give him time to recover. Can we really afford that luxury given our injury list and paucity of alternatives? The latter is another debate altogether related to recruitment and retainment.
Secondly on Ben, sorry, but through my eyes I wait to be convinced by him playing at centre-back. He is a smidgen short for a centre-back and he doesn't have a good leap or great heading ability, nor the positional awareness to compensate for that. Yes, he is good at running at speed in straight lines, but he really isn't that great on the ball.
Holgate has no such Covid excuse. Since getting injured v Spurs in the run-in to the original Covid impacted season which caused him to miss the remaining games, to getting injured pre-season last season, Mason has got nowhere near to the levels and consistency he started playing under Carlo, who was the first manager to make him an automatic pick.
This season, he has had one outstanding game, away to Brighton, in which he appeared to be 'back'. He was attacking both the ground ball and high ball with intent and won all his battles that day.
Last night was further evidence of how far he has fallen.
In conclusion, I am sure Rafa did not instruct the team to play as they did in the first half. However, he did select Iwobi and Gbamin whose non-performances directly impacted on the lack of cohesion and compactness that only improved after the interval.
Our injuries expose the paucity and lack of depth in our squad. That doesn't excuse either the manager or the players for how poorly we played in that first half.
Ken Kneale
221
Posted 02/11/2021 at 13:40:10
Clive @208 – where is that information? If true, it is an early Christmas present but, like a mirage in the desert, I suspect this is another illusion.
Kieran Kinsella
222
Posted 02/11/2021 at 13:43:34
Clive @208,
Bill Kenwright has been pushing that line for a while. Back when Walsh & Koeman were here in the Directors Box, he told a group including a relative of mine that he has no power any more and it's all Moshiri's people and was uncomplimentary about them.
But at the same time, multiple times since then, he has popped up himself boasting about how he negotiated certain deals, interviewed candidates etc.
So I think he plays whatever narrative suits him. If something seems good, he's involved; if it goes bad, he washes his hands of responsibility.
Dan Johnson
223
Posted 02/11/2021 at 13:44:13
What a sorry performance; the defence was awful. As much as I like the guy, Seamus Coleman is way past his best; Keane and Holgate were awful. And, as if we didn't know this already, Godfrey has gone to pieces. In front of them, a non-existent midfield, but our three front men tried hard.
We have a decent first eleven and a couple of back-up players but, unless Rafa can bring in some decent players in January, I can see this bunch in a relegation fight.
We improved a bit in the second half. I thought Delph did well, at least he looked to want the ball, and Gordon showed more in his first few minutes than most of them did all night.
It doesn't matter who the manager is, this bunch will let us down. Not looking forward to the weekend against a fired-up Spurs.
Clive Rogers
224
Posted 02/11/2021 at 13:46:09
Kenwright was in charge of transfer negotiations at one time, but that was taken away from him a while ago and he was quoted last season as saying he was out of it.
Kieran Kinsella
225
Posted 02/11/2021 at 13:52:21
Clive
The Athletic had a recent article about how Bill Kenwright not only negotiated the Godfrey deal with his friend Delia Smith, but also that Kenwright spotted him as opposed to the scouts, Brands, or whoever.
Dave Lynch
226
Posted 02/11/2021 at 13:58:17
Most here think certain players are shite and I can't disagree. Kenny, Iwobi, Delph, Davies... Well, Benitez inherited them and I'd defy any top class manager to get tune out of them.
Coupled with an awful injury list, it's all he has to play with until he gets a decent transfer window to play with. Rondon was a free, in case someone mentions him, and but for Calvert-Lewin's injury, would not get a start.
Pete Clarke
227
Posted 02/11/2021 at 14:00:13
I was totally against Benitez's appointment and still don't like the fact that he is with us – mainly due to his recent lack of anything remotely like success.
There is though, a part of me that really wants him to stir some proper shit at boardroom level so they have to take action and move on the rotten core that exists at Finch Farm. Somebody has to do this because we are like a ship lost at sea with lots of passengers and no crew. Either that or somebody puts a banner out in front of Moshiri with a question or two on it.
What we can't do is start booing the manager and players because they are fragile enough and likely to down tools.
I got more enjoyment watching some average players in the 70s than these modern-day so-called elite players who are paid absurd money for doing a simple job. It's actually embarrassing how poor our football is. No leaders, no intelligence, no organization, no identity and no skill.
It's disgusting that the club's owner has not taken action to rectify this and I would rather he sold us now than carry on running the club like this.
Here's hoping Benitez can force them into taking action!

Ken Kneale
228
Posted 02/11/2021 at 14:03:02
Clive - I fear you are mistaking what Kenwright spouts out periodically for his own purposes (directly or via one of his Goodison Park or Finch Farm 'plants') and the actual truth – the two are mutually incompatible
Tony Abrahams
229
Posted 02/11/2021 at 14:06:18
Kenwright sounds like he's just jinxed another then, Kieran, with very contradictory reports from the ones that came out of the club last season, regarding Ben Godfrey.
Brian Harrison
230
Posted 02/11/2021 at 14:32:00
I watched the game on Sky last night, and I just hate watching games on the TV, seeing as they have 15 minutes between each half to discuss all the relevant points, but no.
They show every half chance 2 or 3 times even though the game is going on, or they focussed on Gareth Southgate sitting in the stand.
Then they cut back to the game and you think the ball went out on the right for a throw in to us yet when they get back to showing the action the other team are 10 yards inside our half.
I just get so frustrated, and screaming at the telly "Just show us the game!" doesn't seem to work.
Jay Harris
231
Posted 02/11/2021 at 14:42:26
The one chuckle I've managed in the last few weeks is that "Kenwright has been stripped of his powers".
For the record, the corridors of Goodison Park and Finch Farm are filled with Kenwright acolytes and anyone who knows the "Machiavellian" nature of the man knows that the only time he won't be able to influence things at the club is when he is far removed.
Tom Bowers
232
Posted 02/11/2021 at 14:52:42
Too little, too late. By being slow out of the blocks, as they are in so many games, they gave a poor Wolves side the impetus to believe they could win and they did.
Nuno has been kicked out of Spurs and I am afraid it won't be too long before the swinging doors of Goodison see Rafa on his way.
If Everton have cut his purse strings, then what chance does he have with this squad?
Without the injured players, it's obvious the bubble has burst and the confidence is suffering also.
Right now, I don't know who is up next but I really don't care after the last 3 games. It could be Marine and I would still be worried.
Bill Watson
233
Posted 02/11/2021 at 14:54:17
Like U23 academy players, who look out of their depth when promoted to the first team, Gbamin last night demonstrated just why the current system isn't fit for purpose.
Back in the day, he'd have been brought back up to speed in the old Central League, playing against a mixture of returning players like himself, old pros on the way down, but experienced (and hard) and up-and-coming young players who either cut it or were sold on to the lower leagues.
Tony Abrahams
234
Posted 02/11/2021 at 14:54:26
Pete @227,
I've started watching the really young kids playing football again, and some of them have outstanding talent. Some of them do things so naturally, with many showing a real desire to get on the ball, and go past other players, with many also possessing real honesty.
Then I watch international footballers playing for Everton, who I honestly feel are not even playing as a team.
Nick Page
235
Posted 02/11/2021 at 15:12:33
Under Kim Jong Bill, EFC must surely have the lowest win percentage in their history. And zero trophies over the longest period. Can anyone clarify this?
Pete Clarke
237
Posted 02/11/2021 at 15:26:30
Too true, Tony.
Kids have a fearless way to play and enjoy the game but, somewhere along the line, they land in a place where some coaches fill them with fear and too much info to absorb and their game goes to pot.
I know every year there is a team that surprises everyone but I am really enjoying watching Brighton play. Everyone one of the players can play good football with lots of intelligence. None of them are superstars but it shows the results of good coaching. They may not go on to great success but it's at least enjoyable to watch.
Apart from the Man Utd game, we have been average to poor with expensive internationals filling our team. Is it the players, the coach, or is there a serious lack of discipline and organization running right through the club??
Conor McCourt
238
Posted 02/11/2021 at 15:30:03
Kevin @73,
"Last season, Davies played the Allan role better than Allan played it. Tonight, Delph played the Allan role better than Allan plays it."
The only disagreement I have with you is calling it the Allan position because it is not (though I know you are only doing so for clarity). Like his predecessor, Schneiderlin, he is a box-to-box player reincarnated because he no longer has the legs to get around the pitch.
As dreadful and cowardly as Schneiderlin was he at least had the discipline and defensive awareness, if not the defensive ability (aggression, tackling, commitment etc) to play the role, plus we got one good season out of the Frenchman... which will be one more than the Brazilian.
I put up a piece last season showing Allan's performance when playing the defensive midfield role. We conceded 1.63 goals per game in the 19 or so games he played for 60 minutes or more. In the games where he played more advanced, or didn't play, there was a staggering difference as it was 1.29 per game. This despite the fact we were using allegedly inferior players who were part of the apparent worst midfield in our history from the season previous as his understudies.
All last season, I watched as opposing player after player performed as their Man of the Match for destroying us in that space in front of the back four. Early on, with Diangana and Ward-Prowse, through to the understandable Bruno Fernandez... but it got worse with the likes of Barkley and unbelievably ended with the defining point imo of his Everton career was when he turned David McGoodrick into Zinedene Zidane and seemed to be tackling people in our dugout, such was his supercharged Tasmanian Devil routine paraded in all its finest glory.
This season, despite Benitez consistently screaming at him to maintain position and attempting to put a lid on his 'Tasmanian Devil' instincts, the team has continued to leak goals at 1.6 goals per game. Moreover, last night showed how the difference in protection when Delph patrolled that area was immense, coinciding with our two centre-halves looking like totally different animals from half to half, and emerging with a second-half clean sheet to boot. It's no surprise that all our centre-halves look like cack with Allan as their protector; I think he would make Baresi and Maldini look vulnerable.
After Allan's atrocious performance against Watford I wasn't shocked to see Davies emerge as the fall guy. However, the second half last night clearly seen Benitez lose patience and finally address the issue and his bravery in discontinuing to employ Allan as the shield may be a defining factor in attempting to keep his job.
Kevin, what is most disconcerting about the player is that he's been here for a season and a quarter and yet the only time he had a performance to rival that of Delph's second half display was his second half against Spurs on his debut. Indeed, the irony for me that Gbamin, who was understandably poor having not played for two years and is getting slated on here, still looked more mobile, less sluggish, had better awareness and played marginally better than his partner in that first 45.
To those harping for Ancelotti, the fact that we appointed another dinosaur who has done a poor job at his last six clubs, as I went into detail prior to his appointment, doesn't excuse last season's debacle. What I do agree with is that Carlo's team early last season were much better than the shit Benitez is serving up against similar opponents.
This is apparently the honeymoon phase so I dread to think what we will be like later on and the only decent performance I have seen so far was the Brighton game which is ominous considering he won't be allowed to walk on water or see fans whoopy doooing over the dogshit we were lucky enough to endure last campaign.

Danny O'Neill
239
Posted 02/11/2021 at 15:42:59
I'm no Benitez, Conor, but I'd pick a midfield 3 with what we have.
Allan, Gbamin, Davies and / or Gomes.
Without Doucouré, we can't have the two sitting in a 4-3-2-1 in my opinion.

Stuart Sharp
240
Posted 02/11/2021 at 15:55:14
Conor,
Interesting discussion about Allan, that. I agree to a point... I thought he did ok in the 2nd half once Delph was on. (Can't quite believe how much of a difference Delph made, mostly in terms of composure and pass selection.)
But I can't agree about Gbamin. He looked lost and, out of possession, he was a nightmare – no way did he eclipse Allan. He looked like what he is – a guy who has no Premier League experience. How patient we should be with him, I don't know.
Having said all that, it was hard to read the game properly because the scumbag home fans above us kept throwing things at us. First beer, then spit... and finally coins. My 12-year-old lad got hit by a bottle, thankfully plastic, and narrowly avoided a 50p piece. The police were scarily ineffective, though they assured me that CCTV would be checked.
Paul Burns
241
Posted 02/11/2021 at 15:57:05
Everton Football Club ceased to exist the second Kenwright walked in the door. It's too late now, everything's gone, over 100 years of tradition thrown away and the fans just accepted it.
Shame, it breaks my heart to think of family no longer with us who wouldn't believe the utter depths our beloved club are plumbing. They just wouldn't believe how Everton's support could let the standards slip to this without any real dissent.
Dale Self
242
Posted 02/11/2021 at 16:07:17
Ahem, not harping... but, if Carlo had Gray and Townsend, the set up and performance would likely have been competent from the start.
Jay Wood
[BRZ]
243
Posted 02/11/2021 at 16:08:47
Conor @ 238. This by you on Allan:
'We got one good season out of [Scheiderlin] which will be one more than the Brazilian'
and
'What is most disconcerting about the player is that he's been here for a season and a quarter and yet the only time he had a performance to rival that of Delph's second-half display was his second half against Spurs on his debut.'
(Plus other barbs).
Comedy hour started early today I see.
Bobby Mallon
244
Posted 02/11/2021 at 16:38:20
Danny @239,
What is it with this Gbamin talk?
He will never be a top pro anymore – not with the injuries he has had and the operations. He should be paid off instantly. How many competitive minutes has that lad played in the last 3 seasons? About 60 I would say.
What do our young central midfielders have to do to get a game before him and Tosun and Rondon and a third goalkeeper, for fuck's sake.
Mick O'Malley
245
Posted 02/11/2021 at 16:38:28
Connor, I agree with you about Allan, very disappointing considering the way he was built up when we signed him – The Brazilian Peter Reid! Another non-scoring bang-average slow-as-fuck midfielder.
Matthew Williams
246
Posted 02/11/2021 at 16:43:41
Recruitment needs to be much shrewder in future,instead of splashing the cash on a "alleged" quality signing,we should instead look for TWO very promising, hungry lads from the Championship instead.
Worth a go like,at this moment we need to think and do things COMPLETELY differently!.
Ray Roche
247
Posted 02/11/2021 at 16:49:32
@245
I think he was billed as the Brazilian Beryl Reid, surely?
Bill Gall
248
Posted 02/11/2021 at 17:02:09
Why do we have to stir the board? The only person that matters on the board is Brands, he is the Director of Football, he is the one that works with the manager and the manager of Finch Farm.
Yes, we are going downhill but this all started when we suddenly lost Coleman, Calvert-Lewin, and Richarlison through injury. We were starting to steady ourselves and then we loose Doucouré through a long injury. We also had Gomes and Delph on the injury list and one who shall not be named unavailable.
Through poor recruitment and injuries with some of the younger players, and lack of decent talent coming through the youth system, we have ended up with what you could call the perfect storm. Last night, another injury happened with Digne failing a last-minute fitness test.
I will repeat myself, I did not want Benitez as manager, not because of his association with the Reds, but because of his reputation of negative football.
There were glimpses in earlier games that he may change if he has the right personnel but, of all the managers we have had since Moyes left, he has definitely been given the short end of a stick.
I don't now how many postings on here have previously wondered why Gbamin was not given a chance and no-one was complaining before the game. Last night, maybe he should have been just on the bench but I suppose players who look good in training have to be given that chance.
No-one is happy with that display last night and it was unbelievable that the display in the second half was like night and day from the first half. I think those players in the first half should have a long look at themselves as changing one player should have not made that much of a difference.
Changing the manager will not make any difference – we have tried that 6 times!
Julian Exshaw
249
Posted 02/11/2021 at 17:06:01
So what did Delph actually do? He dropped back, took the ball off the defenders, he passed it forwards, he got 'stuck in'. Normal duties of a midfielder, you might say... but, my word, he looked like a latter-day Maradona compared to the others when he came on!

John Raftery
250
Posted 02/11/2021 at 17:33:55
There is much to concern us at present. The shape of the team and the first half performance were as bad as anything we have seen in recent times. Using 4-4-2 requires a high back line and a central midfield duo to squeeze the space between defence and attack. We had neither last night.
Watching from the side of the pitch, halfway inside our half in the first half, it was unsurprising but disappointing to see Michael Keane frequently positioned 5 yards behind the rest of the line. That suggests once again he lacks belief in his own ability to deal with early through-passes or he is unsure about the abilities of those around him. Possibly it is a bit of both.
He was not our worst defender last night. Far from it but Michael will never be comfortable pushing up unless or until he has a Kevin Ratcliffe type of speed merchant alongside him. We have nobody remotely like that in the current squad.
The central midfield issue was obvious from the opening few minutes. Gbamin might as well not have been on the pitch. Allan was left trying to do the work of two jobs and failed. From what I could see, Townsend and Iwobi were instructed to move 15 to 20 yards inside from the touch line to help out. That didn't work defensively, leaving gaps on the flanks. We were very fortunate to reach the interval only two goals down.
Delph was our best player but no sane person would put money on him staying fit for more than a couple of games, especially if he is required to play 90 minutes. Doucouré cannot return soon enough. The same applies to Calvert-Lewin. Richarlison is not a centre-forward. He was wasted last night chasing too many lost causes and trying to press without support. He needs to play off somebody with a physical presence.
Gray had an indifferent game, unable to shake off his markers and looking out of sorts when he did have possession. We were warned by some pundits not rush into premature assessments of his worth until he had played 12 or 13 games, the point at which he started to fade at Leicester. I hope he is not about to follow the same pattern here.
Darren Hind
251
Posted 02/11/2021 at 17:35:45
You have an astute football brain, Conor.
Always refreshing to see somebody call it as he sees it instead of sailing with the prevailing wind by hammering away at the same few players every time
Allan must have been gutted when Tom Davies didn't line up next to him. But the guy who has barely played for 2 years proved to be an able stand-in as the fall-guy.
Good to see an ever increasing number now holding him accountable. Perhaps they will get a better reaction than those who want to let him dine out on one really good game.
Bobby Mallon
252
Posted 02/11/2021 at 17:46:24
Barry @215,
I don't think the board care about fans.
They have just had nearly 2 seasons without fans.
Jay Harris
253
Posted 02/11/2021 at 17:49:50
Although Delph played well, the reason we looked better second half is that the defense were instructed to push up and get tighter with the midfield and Wolves being two up took their foot off the accelerator.
We are missing 3 crucial players through the middle of the pitch so we can't expect miracles... although a bit more effort and cohesion last night would have got us at least a point – nevermind the fact that it took a ridiculous mistake from Godfrey & Holgate to give them the 3 points.
Barry Hesketh
254
Posted 02/11/2021 at 17:52:46
Bobby @252
Certainly, fans are far less important in the grand scheme of things than they used to be, but many empty seats (when people are allowed in) would and should make a statement that makes the board stand up and take notice.
They still need fans to attend and they are not shy about the need to increase the prices for them in the coming seasons.
Geoff Lambert
255
Posted 02/11/2021 at 18:07:47
We are now only 4 points above Leeds in 17th place. Dark days ahead for us with the run of fixtures coming up.
It's going to be the same as for the next few weeks, as far as team selection goes with the injury crisis.
Will the cash saved by offloading James give us something to spend in the January transfer window?
Barry Hesketh
257
Posted 02/11/2021 at 18:17:33
Nick @235
I can't research the whole of Everton's history to provide the information that you requested; however, I have done a rudimentary table which compares Kenwright's time as Great Leader to our new owner Mr. Moshiri's.
Owner PL W D L GF GA Pts W% D% L%
Kenwright 618 239 180 199 831 746 897 39 29 32
Moshiri 210 81 52 77 275 284 295 39 25 37
Tot 828 320 232 276 1106 1030 1192 39 28 33
If the table displays properly, you will see that our loss rate has increased by 5% under Moshiri, but the win rate has remained steadfastly the same.

Kevin Prytherch
258
Posted 02/11/2021 at 18:31:25
Conor @238,
I never knew that stats backed that up so much. Allan is blatantly not, through either subjective viewing or stats, a defensive shield.
We do seem to end up with midfielders who can't cope as part of a midfield 2, Allan being one of them. The first few games he was compensated by Doucouré in the middle with him, who does the work of 2 players, and Richarlison on the left, who covers so much defensively, it's unreal.
We seem to have had it for years, neither Schneiderlin, Gomes, Gueye, Davies, Allan nor Delph seem to have the qualities to operate as a 2-man midfield. Although their limitations can be compensated though by a midfield 3, as shown against Wolves.
Unfortunately, successive managers fail to see what we mere mortals can see on a weekly basis, either through incompetence or sheer stubbornness.
David Thomas
259
Posted 02/11/2021 at 18:36:01
Allan was poor but the fact that people think Tom Davies should have played shows just how far this once great club has fallen.
Christy Ring
260
Posted 02/11/2021 at 18:41:25
We're missing the spine of the team, 3 big men up the middle in Mina, Doucouré and Calvert-Lewin, who are a huge loss in both penalty areas. You could kick a ball from defence and Calvert-Lewin and Richarlison would run the channels and cause problems; now, the ball comes back straight away, and defending so deep.
Delph did well in the second half because Gbamin and Allan were so poor in the first half, and let's be honest: Wolves sat back as well, being 2-0 up.
If you think he's our saviour, I wouldn't hold my breath, and it shows how poor we are.
Barry Hesketh
261
Posted 02/11/2021 at 18:47:59
Christy @260,
Some might argue that the team hasn't had a spine for many years...
Seriously, if you were to choose 3 players not to be injured for any length of time, Doucouré, Mina and Calvert-Lewin would be most people's picks. I read a stat today that claimed that Everton's results suffered greatly when Mina wasn't in the team.
Everton's win percentage drops to 24% from 57% in the last two Premier League campaigns when the Colombia international doesn't take to the pitch.
The Blues also have managed 1.9 points per game with their centre-back, compared to just 0.9 per match when he is absent.
And they concede more goals when Mina is absent too, averaging 1.7 every game compared to 1.1 when he is in the side. Source:Liverpool Echo.

Derek Taylor
262
Posted 02/11/2021 at 19:00:22
My gut feeling tells me Moshiri will pay Rafa to walk. And it will happen before Xmas if we get anywhere near the relegation zone. I suspect the real paymaster, Usmanov, will insist his long-time aide pays 'the damage' from his own pocket for a change.
The 'daft brigade' will ask who could possibly be the next clown to take up the challenge – as if the owners are incapable of finding yet another no-hoper from the thousands just waiting to apply.
Good thing is that I have a feeling the Honorable Chairman may 'feel the drought' at the same time!
Robert Tressell
263
Posted 02/11/2021 at 19:18:13
Kevin @258. I've been frustrated at the persistence with 2 in midfield.
We're constantly outnumbered and on the back foot.
A third midfielder, even an uninspiring one, provides more protection to the defence – and more freedom to an attacking trio.
Mike Doyle
264
Posted 02/11/2021 at 19:52:29
David # 259,
I'd go further. That I found myself thinking "I hope Delph is available for the Spurs game" tells me how low my expectations have fallen.
Mike Doyle
265
Posted 02/11/2021 at 19:58:48
Hugh # 264,
Not sure exactly what this chap's remit was – most mentions of him seem to involve the Everton Women's team.
I was wondering whether the plan might be to replace him a more experienced 'heavy hitter'?
Either way, I look forward to an announcement from Little Miss Dynamite.
David Pearl
266
Posted 02/11/2021 at 20:20:07
You can say that Delph is this and that but he is currently our best midfield player and l hope, for a change, he can stay fit.
Next up Spurs and lots of questions. How long a losing run can Benitez go on before he loses his job? Will it be fair... probably not. At the end of the day, we are playing on the back foot and those tactics aren't good enough.
I thought Townsend did well in midfield so l would keep him there with Allan and Delph. Plus play Gordon, Gray and Richarlison ahead. The defence depends on who is fit. Gbamin should be tried off the bench, as should Tosun.
I'm guessing Benitez has between now and the beginning of the transfer window to suss who is worth keeping, and then as ever it's over to Brands to find loans to lower our wage bill (yet again). With those meagre savings, we can perhaps pick up a few players on loan.
Has anyone mentioned we need full-backs, a playmaker, and another winger (just to start). That's after £500M spent, of course. We are like a broken record. I just don't know how long he can continue this losing run for. If the crowd turns really ugly, we all know what Moshiri will do. Really though we have to grin and bear it and give him the next transfer window. At this point, l can't see us making the top half of the table unless Calvert-Lewin, Doucouré and Mina come back fit and firing. It's just unbelievable how a team can spend so much money to go backwards.
Roger Helm
267
Posted 02/11/2021 at 20:20:33
If Rafa goes, who on earth is going to replace him? We really would be a laughing stock of a club if we dump a manager yet again after only a few months.
Brent Stephens
268
Posted 02/11/2021 at 20:29:52
Inevitable Hartlepool goal. Defence all over the place.
Geoff Lambert
269
Posted 02/11/2021 at 20:34:21
#268, "We really would be a laughing stock of a club."
You mean we are not one at the moment, Roger?
Michael Kenrick
270
Posted 02/11/2021 at 21:28:37
Derek @262,
"feel the drought"?
or
"feel the draught"???
I'm always thirsty but I think you meant the latter?
Ian Horan
271
Posted 02/11/2021 at 21:42:54
DP @267,
I agree with a lot of what you say but it's not £500M spent, it's actually a net spend of circa £260M since Moshiri arrived. To draw a parallel Chelsea, they spent £480M in Abramovich's first 5 years, Man City spent £523M in the Mansour's first 5 years.
During this first 5 years for each club, Chelsea and Man City added to their team year on year. Everton have sold during the 5 years. Lukaku, Deulofeu, Stones, Barkley...
I would also say, given the times of each team initial 5 years, Chelsea early to mid-2000s and Man City's 2010s to mid-2010s, the money went far further and wages far lower than what Everton have had to cough up...
The figures above are from a very informative piece on another Toffees Fan Form. Just think we need to stop being hung up on the £500M Everton have spent to stand still... We need to identify exactly what are problem is and then actually deal with it. No more good money after bad...
Barry Jones
272
Posted 02/11/2021 at 21:52:04
It seems like we never have any midfield players available. Doucouré is a huge miss, but the much maligned Gomes would be a big asset in the team at the moment.
I was watching the Norwich game and Matthias Normann looks like one hell of a player. How come Norwich can find players like this for cheap and we pay fortunes for dross?
David Pearl
273
Posted 02/11/2021 at 22:17:48
Ian, l agree about being hung up a bit on the amount (it's a large amount) but it's been a while now since we made anything significant on player sales. It's been spend, spend, spend. lwobi will end up going for free too... just like Walcott, Besic, Bolasie. I'd be very surprised otherwise. Sigurdsson will also leave for nothing and l'm sure more.
I'm just watching Calvert-Lewin on a Braun shaver advert. Weird. It will be Tom Davies selling dresses next.
The first thing we have to do is obvious: to overhaul our squad and try to make better signings to replace them instead of worse. All clubs live and die on recruitment. Benitez has to be the man to change it but him bringing in Lonergan and Rondon is a kick in the goolies. We are in a scary place.
Phil Lewis
274
Posted 03/11/2021 at 01:43:13
The sooner everyone realises that our beloved club is suffering with a cancer from within, the better. Nothing but radical surgery will prevent its terminal decline.
These 'jobs for the boys' under-achievers, Unsworth, Ebbrell and their sorry ilk continue to feast on the tragic carcass of our once-great club and show little or nothing in return. Charlatans and parasites, one and all.
Marcel Brands has been rewarded with a place on the board, rendering him virtually unsackable, for his recruitment policy of signing bums and leaving us with a multi-million-pound deficit. Little Miss Dynamite will almost certainly be complicit in these deplorable affairs. Unsworth's position will no doubt be safe while she's around... but that's another story.
I would not trust Kenwright with a corny Coronation Street script, let alone the running of a Premier League football club. The man is an untrustworthy pathetic joke.
As for Moshiri, the kindest thing I can say is that he is a naive pawn in a game played by a shady oligarch. And so to our manager... forget for one moment his history and ask this one question: Who, in their right mind, would want the job of managing Everton given their current sorry state of affairs?
I have a certain amount of sympathy with Benitez. He has inherited a squad which is without depth, to say the least. Many of the players are seemingly injury-prone. Confidence is low. Money is not available for new signings and – most unforgivable of all, judging by last night's first-half showing – the players are devoid of team spirit. The essential ingredient required for even the most talented teams – which clearly we are not.
May I suggest we book that bugler who played at the start of last night's match, for our final game of the season? Because, unless radical change is forthcoming, my real fear is that we will be needing his services to play 'The Last Post' once more.
Laurie Hartley
275
Posted 03/11/2021 at 10:53:14
Phil # 275 - I haven't posted on this thread because I had nothing meaningful to say but your first two paragraphs just about sum up how I feel about "our beloved club".
As for your question "Who in their right mind would want to manage Everton?" At the moment – only a madman or a money hungry scheister. We are a basket case.
That leaves us with Rafa Benitez. As I see it, out of the lot of them, he is the one we have to back.
Denis Hignett
276
Posted 03/11/2021 at 11:19:51
For all Evertonians needing a cheer up:
Tonight on Sky 121 or Virgin 278 at 10:40 GMT...
Everton: Howards Way – 2 hours of better days!

Mark Ryan
277
Posted 03/11/2021 at 15:16:07
What are the chances that Newcastle might come looking for Brands?
I hope so...
Hugh Jenkins
278
Posted 03/11/2021 at 17:49:58
Mark (277). As the old saying goes - be careful what you wish for LOL.

Ray Smith
279
Posted 04/11/2021 at 18:00:34
Get Usmanov on the board. He will sort this mess out. We are in a whirlpool of misguidance (if there is such a word).
Don't expect anything on Sunday! A draw at best. I'll stand corrected, but not the right time to face Spurs!!!
John Boon
280
Posted 06/11/2021 at 11:54:12
Unfortunately Ray 279 not the time to face ANYONE!!
---
Add Your Comments
In order to post a comment, you need to be logged in as a registered user of the site.
Or Sign up as a ToffeeWeb Member — it's free, takes just a few minutes and will allow you to post your comments on articles and Talking Points submissions across the site.
---
© ToffeeWeb