Report
Gordon's deflected goal gives Blues a very precious win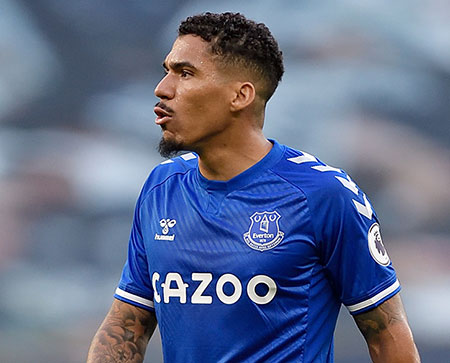 Allan returns from his harsh three-match ban and he is joined in the starting XI by Fabian Delph
It was a massive massive day at Goodison Park and a Gordon's deflected shot was the only goal in Everton's lethargic struggle to stay in the Premier League with an erratic Manchester United side defeated in a vibrant bear-pit atmosphere at The Old Lady.
But of most concern for some going into this game were suggestions emanating from an unnamed senior journalist, and put about by senior Everton fans, that members of the Everton squad don't think manager Frank Lampard is up to the job.
If true, such a shocking lack of faith and belief in the manager should come as no surprise from this group of players who have performed dismally through these recent weeks, displaying so little effort and desire that has resolutely denied him little by way of a "new manager" bounce. But it fatally undermines all the good faith, outstanding support, and perennial belief in "hope eternal" that the fans are digging deep to produce in a valiant effort to get them over the line.
Such heart-breaking revelations notwithstanding, Everton welcome back both Michael Keane and Allan from suspension but Donny van de Beek is missing as he can't play against his parent club.
Dominic Calvert-Lewin, on whom such great hopes were placed when he returned to the side after 4 months out injured… his current form is simply incomprehensible — to the point where his disinterested attitude has to be seriously questioned. Has his head been turned? A reasonable supposition based on his increasingly dire performances. In which case, he should not be playing… but he is, with Rondon, who seems to now have a far better sense of where the goal is, remaining on the bench, where there are no young players from the U23s.
Calvert-Lewin set things off and Everton pushed into the visitors' half but Gordon misplaced what could have been a key pass out to the right.
Everton had most of the early possession but sloppy passes did nothing to help them approach the Man Utd area. Allan had to defend well to prevent Telles from crossing.
Keane went in very late on Telles, who left his foot in to catch the Everton player's calf and make it look a lot worse than it was. But it was a dangerous free-kick, Fernades pushed it to the far post and Rashord's shot needed saving. From the corner, it came around to Ronaldo with a fierce first-time strike but he was ruled offside.
Keane gave the ball away in midfield and it saw Pickford produce a fine save low down to stop Rashford's header. Everton continued to give the ball up cheaply, Keane having to whip the ball off Ronaldo's toes as he was making to shoot. Everton were being increasingly pushed back mainly through their own inability to provide any continuity to their forward play.
Article continues below video content
Everton broke from a smart Pickford roll-out and Iwobi's fast running but Richarlison made a complete dog's dinner of his pass. Delph saw a chance for Mykolenko to overlap but Wan-Bissaka had the measure of him. Wan-Bissaka came through Richarlison from behind, normally a yellow card, but not from Jon Moss.
Another comedy of errors from Keane and Delph slipping saw Fernandes gallop forward but the cross was poor. United continued to press with minimal effect. Iwobi pushed forward again but Calvert-Lewin overlapping crossed straight to a defender.
Delph tried to pick out Richarlison but overhit his adventurous forward ball. In truth, both teams were playing poorly, non more so than Calvert Lewin. But Everton pushed forward but Allan lost possession... then Gordon won it back well of Matic but overhit his pass out to Richarlison who, nevertheless recovered and crossed in Iwobi forcing a mistake that saw the ball screw out to Anthony Gordon who took a shot at goal and scored with a massive deflection off Maguire. Beautiful!
A free-kick for handball saw Gordon curl in a shot that Keane stooped to head over the bar. Telles got past Gordon too easily and his low cross was very well cleared by Godfrey.
Another free-ick, awarded for a high foot on Iwobi, saw Gordon swing in another from further out, but Man Utd defended it and the following phase. Pickford had to come out and punch the ball off Matic's head before
Richarlison made space for himself and the pace was taken out of his shot a little by a deflection, allowing De Gea to palm it behind for an Everton corner, but Everton could not fashion a clear-cut chance. Pogba replaced Fred.
Everton had to defend solidly under repeated advances by the Red Devils. Mykolenko was having a good game getting into key locations and making crucial interventions. He was forced to head a dangerous cross behind for a Man Utd corner that they wasted. Mykolenko then did well to win a corner at the other end but it led to nothing as Everton went in with the lead.
After the restart, Richarlison was fouled and Mykolenko did well to beat a defender and cross in low for Calvert-Lewin to watch from his useless position behind the defender. The Reds attacked and won a corner that was defended well enough.
A very clever ball from Fernandes almost fell for Rashford who was allowed in on goal but bounced through harmlessly. Pogba scythed down Gordon for a yellow card.
Everton won a corner for Gordon to deliver. It was decent enough but Maguire headed it away powerfully. Mykolenko did brilliantly to force Wan-Bissaka to give away another corner that was put in a bit behind Godfrey as he headed it over.
Richarlison did superbly to deny Wan-Bissaka and force the counter-attack upfield. Mykolenko was clipped as he crossed in for Gordon. Richarlison pursued the follow up and won another corner, Calvert-Lewin beaten to the ball.
Delp was playing very well in midfield, but Richarlisn spoilt the move with a pass too short for Mykolenko. But Everton were doing well to limit Man Utd's movement, Godfrey clearing well in defence.
Delph was very effective in cutting out a pass with a low tackle in the Everton box, at the expense of a corner that Everton defended while under some pressure. Keane had to head away a dangerous cross as Man Utd ramped up the pressure through the hour-mark.
Elanga came on with Mata but his first cross was into the side-netting. Lampard showed no sign of making any changes. Man Utd tried to pass their way through the Everton defence that was holding firm so far. Calvert-Lewin was fouled by Pogba.
Calvert-Lewin finally did something good, helping to steal the ball but Gordon's cross should have been turned in and wasn't and Everton were under pressure again, Godfrey clearing for another Man Utd corner. Gordon cleared for a second corner that came closest to being converted, Mata firing over. Calvert-Lewin was replaced by Gray.
Man Utd kept pushing up but were meant by plenty of blue shirts. Delph found Gordon with a great ball wide right but Gordon could not beat his marker. Gordon slipped over going in on Sancho and saw yellow.
Gordon, competing for a ball with Telles in the Man Utd area, felt an arm on his back and collapsed in a heap, impressing the Gwladys Street but not Jon Moss. Man Utd continued to build attack after attack but Everton were holding on, Richarlison buying a free-kick. But the pressure resumed, Pickford getting down to stop a decent shot from Pogba.
The Man Utd pressure into the last 10 minutes was relentless, with Delph starting to pull up. Another attack saw Wan-Bissaka blocked by Gray and Mykolenko. Doucouréreplaced Delph, and was given a decent ovation for a good performance.
Iwobi was another who had put in a lot more effort and shown a lot more desire than we are accustomed to. He and Gray tried to run through four Man Utd defenders but they were thwarted. Picked was booked for time-wasting.
With the minutes ticking down in the Goodison sunshine, the crowd was cheering everything that went Everton's way as 5 minutes of added time went up.
Coleman went on a mazey run but could not play in Iwobi. At the other end, Ronaldo gt a very dangerous shot that Pickford just about saved, the Reds claiming handball off Keane.
Everton tried to keep the ball upfield in the tense dying minutes but Pickford came out to punch clear. Man Utd try again and again but Jon Moss finally blues the whistle on a very precious Everton win.
Kick-off: 12:30 pm BST, Saturday 9 April 2022 on BT Sport 1
Everton: Pickford [Y:85'] , Coleman, Keane, Mykolenko, Godfrey, Allan, Delph (84' Doucouré), Iwobi, Gordon [Y:76'], Richarlison, Calvert-Lewin (71' Gray).
Subs: Begovic, Kenny, Holgate, Gomes, Branthwaite, Rondon, Dele Alli.
Man Utd: De Gea, Wan-Bissaka, Lindelof, Maguire, Telles, Matic (64' Mata), Fred (36' Pogba [Y:51']), Fernandes, Sancho, Rashford (64' Elanga), Ronaldo. [Y:86']
Subs: Heaton, Henderson, Jones, Dalot, Mejbri, Lingard.
Referee: Jonathon Moss
VAR: Andy Madley
Share article:
---
Reader Comments (352)
Note: the following content is not moderated or vetted by the site owners at the time of submission. Comments are the responsibility of the poster. Disclaimer
Danny Baily
1
Posted 09/04/2022 at 11:31:59
Delph, eh?
Simon Dalzell
2
Posted 09/04/2022 at 11:35:43
Thank goodness, no Holgate. We can do this. COYB.
Brian Wilkinson
3
Posted 09/04/2022 at 11:39:20
Michael Keane will make Harry Maguire look like Frank Beckenbauer.
Now I am nervous... Keane back in defence.
Danny O'Neill
4
Posted 09/04/2022 at 11:43:36
I'm nervous whoever is in our defence Brian. I appreciate now is not the time for told you so's, but those who told me 2 years ago that a centre back wasn't a priority?
Anyway, let's do this. We're still ahead of Burnley, have 2 games in hand on Leeds with a superior goal difference (even though ours is shocking) and I wouldn't rule Brentford out of the equation just yet.
This weekend will tell.
Joseph Terrence
5
Posted 09/04/2022 at 11:44:41
The gulf in quality between these two XIs is shocking. We will lose by 3+ goals.
Danny O'Neill
6
Posted 09/04/2022 at 11:45:40
That's the spirit Joseph!!
Tony Everan
7
Posted 09/04/2022 at 11:46:37
Brian, I'm nervous about the goalie, the defence, the midfield and the attack. But what's new ? If these lads can concentrate and not make any stupid mistakes in critical areas we can get a win here. We've been playing a little bit better overall lately and Man Utd are a West Ham level side this season. So don't be overawed, fight for it Everton.
COYBLUES !
Danny O'Neill
8
Posted 09/04/2022 at 11:47:09
As long as he makes him look like Frank rather than Franz "der Kaiser", I'll be happy Brian!!!!
Alan J Thompson
9
Posted 09/04/2022 at 11:49:13
Did Branthwaite do that badly that he didn't deserve to keep his place? And with a midfield full of invention?
I'm not for changing manager at this moment but just what is the idea, or is it just a few games too late?
Christopher Timmins
10
Posted 09/04/2022 at 11:59:56
A big call not to start Branthwaite and to start both Delph and Keane, I just hope it works out for us. We need a result.
Danny O'Neill
11
Posted 09/04/2022 at 12:00:58
Looks like 4-2-3-1, but I wonder if he's got Iwobi in a midfield 3 as it seemed to be at West Ham?
Dave Abrahams
12
Posted 09/04/2022 at 12:04:19
Alan (9), I second that.
Branthwaite the youngest but most composed the other night. I'm a fan of Dominic but he's just not doing it at the moment. Rondon would be better playing at the moment.
Lampard won't drop Pickford, too frightened of Pickford's ego being tarnished and his England place at stake. If the players can't realise how important these games are for us fans, then we are finished as a top club for a very long time but is it too late now to hope they will start having a go.
I can't make it today due to unforeseen circumstances but will be willing them on throughout the game.
Phil Lewis
13
Posted 09/04/2022 at 12:04:36
Personally, I would have gone with a good old fashioned 1986-style 4-4-2:
Begovic in goal.
Back four: Coleman, Keane, Branthwaite, Godfrey.
Midfield: Richarlison, Allan, Delph, Gray.
Strikers: Rondon, Tosun.
The definition of insanity is repeating an action and expecting it to be different. That's why I would drop Pickford and Calvert-Lewin.
Simon Dalzell
14
Posted 09/04/2022 at 12:05:15
Alan (9),
I agree, I would have kept Branthwaite in. It's a strange one. He's looked solid. I cant weigh Lampard up.
John Dingle
15
Posted 09/04/2022 at 12:06:53
Branthwaite for Keane any day of the week.
Is Frank up to this? He's very good with the media but…..
Tony Everan
16
Posted 09/04/2022 at 12:10:00
Me too on Branthwaite. He's looked the best replacement for Mina. It doesn't matter if he's 19 or 29, its what he shows on the pitch. He adds a bit of quality, composure and useful height too. He is very unfortunate to be left out.
Ciarán McGlone
17
Posted 09/04/2022 at 12:11:30
Keane and Godfrey at centre half. Glad to say I am deciding to go and spend my Saturday in a more productive way.. I might break a bone mountain biking but it'll be more enjoyable.
Will Mabon
18
Posted 09/04/2022 at 12:18:31
Ciarán, just remember, the worse accidents always happen to the riders that wear helmets.
Simon Dalzell
19
Posted 09/04/2022 at 12:19:03
As bad as things have been, I'm not deserting my team. No mountain biking til later.
Andrew Keatley
20
Posted 09/04/2022 at 12:20:49
It's a sad indictment of where we are defensively that I am happy to have Keane back. His passing out of defence is far superior to anything else we have, and he is also the best we have in the air - even if he has other obvious deficiencies to his game.
Players like Matic, Sancho and Rashford are real mood players - sometimes they just do not seem to fancy it. Let's hope we are catching them on a off day. Crowd needs another MOTM display.
Robert Tressell
21
Posted 09/04/2022 at 12:21:41
Joseph # 5, this is not a classic Man Utd side. Maguire & Lindelof are a poor CB pairing. Matic and Fred are poor CM partnership. Sancho and Rashford blow hot and cold. Ronaldo is a shadow of his former self.
Personally I'd have retained Branthwaite - especially as he's a threat at set pieces - but whatever the case we can win this.
Oliver Molloy
22
Posted 09/04/2022 at 12:21:46
Good luck to all our fans at the ground, praying for a big performance that we all are desperate for !
Danny O'Neill
23
Posted 09/04/2022 at 12:24:24
We will never desert them Simon. I'll be at Leicester home and to as many games as I can get to for the rest of this season. I'll be there next season whatever.
I agree with what people are saying that Branthwaite deserves a start, but I need to understand why they think he is a replacement for Mina.
I see a better Michael Keane. A traditional centre back who is still very young and can develop into a really good player. With both of them in the team I would see us sitting deep. Or is that me just being harsh on him?
Anyway, fasten your seat belts and strap in for an emotional Everton rollercoaster.
Jay Harris
24
Posted 09/04/2022 at 12:30:14
I wouldn't have Michael Keane anywhere near the first team and a poor Doucoure is still better than Delph or Iwobi but let's hope we get it together and get some points on the board.
Si Cooper
25
Posted 09/04/2022 at 12:30:42
Danny (4), high profile though the defensive gaffes are, I'd still reckon we've lost more games through losing the battle in midfield. For today's game we've got two guys of limited mobility and a tendency to have to take out players cynically or just give up the chase. Even if we credit them with having top level experience and footballing nous, one of them has very rarely delivered anything of note in an Everton shirt.
Our other central midfielder is Iwobi, who despite a recent upturn still has a massive amount to deliver if he is ever going to be considered a reasonable buy, and who has also contributed to the disastrous mistake collection.
I'm really worried Delph has done his con job of looking the part at Finch Farm and then wilting in actual action. I really hope this trio can come together to form a decent midfield but I'm terrified they will be easily brushed aside or simply bypassed and this will be a rout.
Phil Smith
26
Posted 09/04/2022 at 12:37:02
Lots of optimism on here, I like it. 🤦🏻‍♂️
Picked the side many were calling for. Probably safer to play 2 defensive midfielders at the moment. Godfrey looks shaky without Keane. Keep the faith, lads.
Ciarán McGlone
27
Posted 09/04/2022 at 12:55:34
Interesting Jay.. you're spot on about Keane. Absolute clueless player, takes 5 seconds for him to realise he has the ball.
As for Delph.. I'd take him over Doucoure every day of the week.
Bright start here.. I'll maybe take my headphones with me.. lol
Ernie Baywood
28
Posted 09/04/2022 at 13:23:00
Can't fault the effort, the intensity. Really can't.
Of course Delph is better than Doucouré. I don't rate Delph highly, but he knows how to play football. Doucouré is beyond useless.
These are absolutely here for the taking. Put them under pressure. Keep putting them under pressure. Then put them under more pressure.
I can't understand why we aren't using Calvert-Lewin more. Put the ball up when there's nothing else on. Make Maguire and Lindelof sweat.
I honestly never thought I'd say this... Alex Iwobi is a grafter. He understood the situation before anyone else. If nothing else, he's having a go.
John Dingle
29
Posted 09/04/2022 at 13:23:25
Branthwaite for Keane any day of the week. Is Frank up to this. He's very good with the media but…..
Alan J Thompson
30
Posted 09/04/2022 at 13:32:44
I thought that they looked slightly better organized than we did but both sides seem to lack that player with a bit of imagination but they seemed to acknowledge it with Pogba coming on. We really do need somebody like James Rodriguez to unlock defences and set off Richarlison and without being overly critical what did Calvert-Lewin do in that first half? And our midfield does seem to drop back too quickly when we lose the ball, not altogether a bad thing but we do tend to give up any chance of a second ball too quickly.
As for Pickford's kicking, well, he showed his quality with it today and nearly put Richi through. I am though concerned about some things that were frowned on when I played but seem to be let go these days. Things like putting your head down into danger used to be seen as dangerous play but now always goes against the player raising his foot, is the obstruction rule still part of the game and has tackling from behind again also been sanctioned?
So far so good and let's keep up with having a shot when the opportunity arises.

Pete Clarke
31
Posted 09/04/2022 at 13:34:53
Well, regardless of the player changes, we still gave the ball away a fair bit and luckily haven't been punished.
Pickford has made a couple of top saves but that crass that came in was his all day long and he pulled out halfway. The save just after made up for it but he gives me the sweats.
Lot of luck with the goal so just need to keep battling against this average Man Utd side. Oh, can somebody tell Calvert-Lewin that he's still jumping 5 minutes too soon.
COYB
Simon Dalzell
32
Posted 09/04/2022 at 14:26:31
Joyous. I suggested Lampard was clueless yesterday. Knee-jerk. Let's see. Most things right today. Longest game ever. COYB
Steve Brown
33
Posted 09/04/2022 at 14:26:52
Get in there, you beauty!
Fran Mitchell
34
Posted 09/04/2022 at 14:27:13
Fucking Yes. Passion, determination and organisation.
Fabian Delph... what a performance. Mykolenko and Godfrey, take a bow. Pickford, is right lad. Iwobi, keep playing like that and we'll love you.
Don't let it be a one-off. Repeat.

Fucking yes!
Steve Brown
35
Posted 09/04/2022 at 14:29:22
Delph was CLASS!
Ernie Baywood
36
Posted 09/04/2022 at 14:31:14
Just goes to show.
Give your all and we'll respond.
Iwobi was my Man of the Match. Pickford close. But to be honest, that was an incredible effort all round.
My Everton.
Ernie Baywood
37
Posted 09/04/2022 at 14:32:02
Wherever you are in the world right now... where would you rather be than Goodison Park?
Chris Williams
38
Posted 09/04/2022 at 14:32:47
We were able to play 3 in central midfield today, and it gives the solidity we need.
Ben King
39
Posted 09/04/2022 at 14:33:05
Thank you, footballing Gods. We needed that!
Alan J Thompson
40
Posted 09/04/2022 at 14:34:03
Not a lot of difference this half from the first but we did look a lot better organized and it comes as a surprise to me to say that maybe Allan and Delph are a midfield axis albeit not a great deal of invention and we sat back to a great extent but nobody who should not have been there got mixed up with the back four.
Also, I think we, again, saw why Pickford is our No 1 and Frank got the subs just right. Not the greatest performance that could be hoped for but the most welcome of points.
We live to fight another 8 games!
Denis Richardson
41
Posted 09/04/2022 at 14:34:14
Well well, there is a team there somewhere.
Regardless of the Burnley result tomorrow my god did we need that. What a result!
Got 11 days to rest and focus on Leicester. In the meantime, thank fook for that!

Anthony Murphy
42
Posted 09/04/2022 at 14:36:22
What a difference a Delph makes!
Tony Everan
43
Posted 09/04/2022 at 14:38:57
Well earned, well-deserved win, very well done to the lads for turning it around after Wednesday.
Biggest improvement, Delph and Allan in midfield gives better balance with more quality, composure and tenacity. Iwobi compliments it in his midfield role and is improving game after game, For me, this was his best game for us because of his graft.
The midfield functioning better gave the defence some respite. They all did well, especially enjoying watching Mykolenko improve week after week, what a buzz to see him getting stuck in and enjoying himself.
Pickford showed why he is undisputed England No 1. He has his failings but not many keepers should have made all three massive saves today. Match winners!
Also Gordon and Richarlison, heart on the sleeve stuff, giving their all for the cause. Calvert-Lewin can get sharper in the next 10 days, we need him fully fit and doing his job.
It's a big step in the right direction, more hard work to be done, but now we can see there is real fight. Onwards and upwards. Come on, you Blues!
Kieran Kinsella
44
Posted 09/04/2022 at 14:38:57
Delph did well but don't get any ideas about a new contract.
Mike Gaynes
45
Posted 09/04/2022 at 14:39:32
Ernie #37, nowhere. Ever.
Fran Mitchell
46
Posted 09/04/2022 at 14:39:53
Delph is exactly what we need and miss. Him and Allan with Iwobi is actually a very decent midfield. He'll never be fit, we can never rely on him. But he's exactly what we need. He was a calm head, he was constantly talking, communicating, pointing, directing.
Fantastic captain's performance (despite not being captain).
The need for leaders. It is stark.
Grant Rorrison
47
Posted 09/04/2022 at 14:41:21
Finally. 3 points and a clean sheet.
Hopefully win some more now, starting with Leicester.
Oliver Molloy
48
Posted 09/04/2022 at 14:43:10
Over the fucking Moon – come on, Norwich!!
Bob Parrington
49
Posted 09/04/2022 at 14:43:35
How did I just know that we would win this one? Amazing! Iwobi shone like a true Evertonian. Keane was well beyond what we are used to with him.
Well done, team Everton!
Phil Smith
50
Posted 09/04/2022 at 14:43:44
Told youzz, nuttin' to worry about.
Will Mabon
51
Posted 09/04/2022 at 14:46:58
Could we change deflected to "Powered" - just for today...
Bob Parrington
52
Posted 09/04/2022 at 14:47:29
Chris @ 38. Yes I totally agree!
Mike Doyle
53
Posted 09/04/2022 at 14:49:07
Agree with Martin Keown that Delph was MotM. Always been a good player – shame about his fitness record. Iwobi and Mykolenko not far behind.
For the first time in ages it looked like we had a proper midfield 3 – and what a difference it made.
Martin Reppion
54
Posted 09/04/2022 at 14:50:21
Tony #43, bang on.
I'm sick of the idiots both on here and in the media that either slag Pickford off or damn him with faint praise. Apart from a few weeks in the start season, he has consistently been world class.
His saves have kept us out of the Bottom 3 this season. Yet people still try to have him shipped out. Today, his reactions and his command of the box meant we denied some very good strikers the goal their supporters see as their right.
Apart from Jordan, Godfrey and Keane were outstanding. Seamus was, well, Seamus. Delph and Gordon must be hurting after all that effort.
And one final word for Alex Iwobi. He has come in for a lot of often justified stick since we signed him. But today he put in a fantastic shift.
Having to calm down now. My blood pressure is through the roof. But well worth it.
Ian Edwards
55
Posted 09/04/2022 at 14:53:45
How important was Delph? Don't make him train. Just wrap him in cotton wool and promise him a statue if he stays fit.
Will Mabon
56
Posted 09/04/2022 at 14:57:34
Ian, Delph said in interview after the match, he won't be able to train for a week.
David Nicholls
57
Posted 09/04/2022 at 15:03:49
Get In! Maybe the world really is flat!
Paul Smith
58
Posted 09/04/2022 at 15:05:39
Martin too right. People wanting Begovic to replace him. If Begovic starts today we lose that. We have poor players but Pickford isn't one of them.
Cormac Boyd
59
Posted 09/04/2022 at 15:05:54
Well thank god the Armature managers In the first comments don't run our club. Just enjoy the moment.
We don't get much of them lately.
Terry Farrell
60
Posted 09/04/2022 at 15:06:09
So made up and just seen my mate and his son with Gordon's shirt. Delph is a clever player with nerves of steel and dictated the play. His body and age let's him down but he has the minerals. Pickford sensational. Seamus sensational that's why it infuriates me to hear negative comments against players who care about our club. Dom disappointing today and needs to Starr getting stuck in!
Steavey Buckley
61
Posted 09/04/2022 at 15:08:18
Everton got a bit of luck today, thank heavens with the ball going in after hitting Maguire from a shot by Gordon
The Everton crowd should have been given the MOM as they were outstanding, cheering the team on, from start to finish.
But what a much better player Iwobi is when he plays in the centre of midfield. Clearly he is wasted as a winger or even as a wing back. Without the energy and drive of Iwobi, Everton could have been over 'run' in midfield.
Considering the amount of the ball united 'saw' throughout the game they were poor up front.
But it is good to see Pickford coming out of his goal to get something on the crosses he usually leaves to the defenders to clear.
Brian Wilkinson
62
Posted 09/04/2022 at 15:09:26
Great performance, Pickford outstanding today, Delph a huge big plus, Mykolenko looking better every game, hard to single anyone out today.
A huge win and well deserved, hopefully results go our way this weekend, with a late bonus Sunday of City winning, to top our weekend off.
Jeff Armstrong
63
Posted 09/04/2022 at 15:10:48
Godfrey, Iwobi and Delph where all excellent today, Hope Delph helps keep us up, then fucks off in the summer, he owes us big time.
Andrew Keatley
64
Posted 09/04/2022 at 15:11:27
Consistency has always been our biggest problem. We have lacked consistency in terms of performance levels, intensity, energy, and conviction - which leads to poor results and more inconsistency in terms of personnel, formation and tactics. But when the players turn up they can all do a job - and that's what makes the last six years so frustrating. None of our players has been exempt from major criticism, but today the effort levels were there, and the organisation and commitment was also decent. And Man Utd were poor. Massive three points.
I thought Iwobi, Richarlison and Gordon were everywhere. They gave us the legs that allowed Allan and Delph to sit deep and give us a solid foundation. Keane and Godfrey were strong and decisive (even though Godfrey being drawn into no man's land for that late Ronaldo chance nearly cost us), and Mykolenko showed more encouraging signs (despite being one of the least convincing headers of a football that's ever played for us!). DCL - I'm sorry to say - continues to be dross. His duel stats - in the air and on the ground - must have been ridiculously poor. I don't know how much longer we can risk playing with someone so out of form and fitness.
The best performance of the day for me was from Lampard. We were so shockingly poor defensively against Burnley, and the way we generally managed to avoid isolating players 1v1 against players like Rashford, Sancho and Ronaldo is a huge improvement. Well done.
Steve Shave
65
Posted 09/04/2022 at 15:15:30
Get in there lads, COYB!!! I am over the moon. Really pleased for Iwobi and Mykolenko (the lads growing into the PL nicely and I believe Patterson will turn out to be the RB we've been crying out for. What on earth has happened to Dom?
Si Cooper
66
Posted 09/04/2022 at 15:17:38
Great result, great effort, but I'm not sure we get away with the lack of mobility in defensive midfield against most teams. United look very uninspired, with Fernandes very subdued.
I thought Delph did okay, but not a MotM performance for me. Seemed to pass a lot on sideways and backwards which is what other midfielders get slated for on here. Composed or simply taking the easy option. He did step past a few challenges but for me the big difference today is the defenders, for the most part, made all the right choices and put the effort in. Does Delph get the lion's share of credit for that?
Some harsh criticism of Doucoure as well I think. He is a little flaky but he needs that defensive rock beside him so he can fly around the park. It's good that Alex Iwobi has been able to step up and play that role of carrying the ball out of a scrum in the middle and support the attackers. How often has Doucoure had the luxury of two genuine holding midfielders next to him.
Love to have the refs / VAR officials miked. Did Moss think there was no contact on Gordon and he just slipped? What did Madeley say about contact? Soft, but a foul anywhere else on the pitch.
Neil Tyrrell
67
Posted 09/04/2022 at 15:17:44
What a great way to start the weekend, well done lads! Leeds and Watford can't both lose unfortunately so a draw suits us best I guess?
Danny O'Neill
68
Posted 09/04/2022 at 15:23:08
It's interesting how we all see it. A lethargic struggle? I thought that was a great demonstration of character considering how it could have gone after recent results. A better performance? Maybe not. We performed well against West Ham but didn't get the result. Today we performed differently and got a result. But on both occasions, the boys gave it everything. We just need better players (sorry to repeat from last season).
Initially I was concerned. Keane made a few dodgy decisions as did the defence, forcing a couple of good saves from Pickford, who I thought was a contender for Man of the Match.
But as we settled, we had bite and composure in the middle of the pitch, something we've lacked. To those who promote "play the kids", I thought we demonstrated today what a wise and experienced head or two can provide. Delph and Allan combined gave the younger players leadership and confidence.
On the back of that, you saw improved performances from the likes of Godfrey. He hardly put a foot wrong. Amazing what a bit of guidance can do for a young player.
Some could quote me for saying that I would be pleased if Delph never played for Everton again. I have said that. But today, he was a contender for man of the match.
As was Anthony Gordon.
But may I give that accolade to Mykolenko? As he settles, he continues to impress me. And to think the "pitch forkers" were out after one or two matches claiming he was useless. Like Ben Godfrey, he is in his early 20s. Plenty of potential in both.
Great result but we're not there yet.
Christopher Timmins
69
Posted 09/04/2022 at 15:23:13
Fantastic spirit, grit and discipline. We still need 3/4 wins but it's in our hands. Coleman, Allan, Delph and Charlie showed real character and leadership.
No more talk of managerial change, the manager got a reaction after Wednesday. Well done Frank!
James Hughes
70
Posted 09/04/2022 at 15:23:43
Watford are losing, I will take that right now.
Dave Williams
71
Posted 09/04/2022 at 15:23:56
Gordon fantastic, Mykolenko now starting to show what he can do and really looked to be enjoying himself. Delph had a superb game and Iwobi was the best midfielder on the pitch with great effort and commitment.
Excellent saves from Pickford, excellent game from Richlison, the whole team did really well to put us back in the mix.
Lovely to see the relief on Frank's face.
Dave Williams
72
Posted 09/04/2022 at 15:25:14
Ps Godfrey man of the match for me!
Niall McIlhone
73
Posted 09/04/2022 at 15:25:48
Without wanting to get ahead of myself, I do think Leicester are beatable, and that result has taken a degree of pressure off the next game. Had we drew and Burnley and today vs United, I think many will have judged those results as tolerable, but we have ended up in much the same place with a loss and a win with the pressure now back on Burnley to win at Watford. What a roller coaster we are on?
A lot of positive shouts on here for Iwobi, Allan, Delph and Pickford and deservedly so. I only saw the second half in the pub( surrounded by frustrated Mancs) and with no commentary, but from what I saw, Richalison player a big part, keeping possession and winning fouls, a selfless performance. Should the Brazilian depart at the season end, I for one will miss him, I still don't think we are getting the best of him as he is often ploughing a lone furrow, especially since DCL's form and effort fell off a cliff. Anyway, onwards and upwards, well done you Toffees.
Paul Kossoff
74
Posted 09/04/2022 at 15:26:33
Cormak, 59, the Armature managers are all wind up merchants anyway!
Mark Taylor
75
Posted 09/04/2022 at 15:28:08
Maybe the strain is getting to me but I get really weird dreams these days.
In the latest, Delph played almost a full game and Iwobi appeared in the guise of a genuinely good player.
Must get some pills...
Alan J Thompson
76
Posted 09/04/2022 at 15:40:38
Paul(#74); Rewinds of the Dock Road.
Brian Wilkinson
77
Posted 09/04/2022 at 15:47:50
Every decent game Iwobi has played is when we have played him more central where he creates chances for our attackers, wasted out wide.
Richard Nelson
78
Posted 09/04/2022 at 15:49:44
..Leicester have 3 games to play (inc tomorrow) before us thats 11days to get DCL in the mood..!
Paul Kossoff
79
Posted 09/04/2022 at 15:52:03
Alan 75, I remember when I left school the careers officer suggested I tried being an armature winder, I said quick as a flash, I would rather be a professional, I waited for the laughs but all I got was a don't be funny son.
Dale Self
80
Posted 09/04/2022 at 15:55:20
Terry it was a lovely look. Myko, Iwobi and Allan made the contributions needed most. Delph was calm on the ball which made all the difference. Frank to his credit did not try to force a second goal. I can see the kind of game Frank is trying to create but we are a couple of appropriate players short for it to work all the time. He picked his spots properly today full credit. The Keane distribution was rhe only real flaw all else was good in trusting the players. They're beginning to expect runs and pass into space. Not smoothly enough for fullbacks to get fully involved but decent development. Just get a draw on the road if the linkup goes impotent. This was very good for this lineup's confidence. UTFT! Not going down.
Justin Doone
81
Posted 09/04/2022 at 15:56:52
An excellent win but I'm not sure we deserve Players going down to ground too easily and staying unhurt on the floor could have cost us, but it didn't.
Keanes stupid decisions to come out of position dribbling the ball in the first half on a few occasions, only to give up possession too easily, should have been punished but unlike against West ham we weren't.
The lack of pressing around the area giving Utd players to much time and space to deliver crosses and passes into the box would normally have resulted in at least one goal against mostly teams i.e. Spurs, Newcastle, Burnley recently, but somehow even the slack marking of Ronaldo near the end didn't result in us conceding a goal.
So we rode our luck at times but most teams do. I'm just glad Gordon decided to shoot. We have become a very shot shy team.
In general our passing and build up play has been poor all season. Today was on par and I'm grateful the defender's stayed back and the goalkeeper went long in the 2nd half.
A very welcome 3 points, at this stage and I reckon another 9 points could be enough. But are we capable of achieving it?
Niall McIlhone
82
Posted 09/04/2022 at 15:57:18
Correction to my earlier post, I meant the pressure on Burnley to win at Norwich. Agree with Brian (77) that Iwobi is more effective in that central position, and today he combined some good overall play with a high work rate. Having Allan and Delph in behind seemed to give him a bit of freedom. Mykolenko's confident performance was also a big plus today, offering much needed balance. He worked well with Richy also.
Robert Tressell
83
Posted 09/04/2022 at 15:58:05
Most mature set up from Frank so far and it paid off. We played well without the ball and took our chance.
Man Utd are a shadow of the Ferguson sides bit still have excellent players. We made them look very poor with our hard work and discipline. You could tell their big players didn't enjoy that game one bit.
Some really good performances be heavily criticised players such as Pickford, Keane, Mykolenko, Delph and Iwobi. Coleman and Godfrey too.
Indeed the only one really not up to it is DCL. The fashion is badly judged but presumably he's still struggling for fitness.
Still, the big plus for me is Lampard's tactics which were spot on today.
Dave Lynch
84
Posted 09/04/2022 at 16:02:15
I've posted before about DCL, he's not interested in playing football at the minute.

Kieran Kinsella
85
Posted 09/04/2022 at 16:10:02
Most important thing whether you're chasing the title or battling relegation is to have the ability to ground out a few non-pretty 1-0 wins. That's two on the bounce now at home. The three points are worth their weight in gold, and the clean sheets boost the confidence of the defense. People who compare Lampard to Mike Walker should note he never managed to grind out these kind of results. Yes it goes against the grain for Lampard but he's no an idiot and took the best approach with the personnel in the circumstances. Also while many pundits and fans are bemoaning Man Utd's performance, guess what? Outside of City and Liverpool every other team in this league has mediocre performances on a fairly regular basis. So it doesn't diminish the win any more than it diminishes our opponent's 18 wins against us the season.
Will Mabon
86
Posted 09/04/2022 at 16:10:46
Dave, it actually might be, not capable. Guy looks ill. Apparently he has been so, I just heard.
Pete Clarke
87
Posted 09/04/2022 at 16:11:41
Every player bar DCL earned their coin today and we had a bit of luck too but I'm just massively relieved. We still have hope now that I honestly thought was gone after Burnley. Massive 3 points for us.
Anthony Gordon showed true grit all game except for that pathetic effort to get a penalty. I hate that behavior and he also could have kept the ball alive by staying on his feet. Hopefully Frank has a quiet word on that one.
Defense all battled well and Pickford saved us on a few occasions. He finally started to come off his line which was letting him down earlier.
Decent balance in midfield with a calm Delph allowing Allan and Iwobi to do what they had to. Some tired bodies tonight amongst the blue boys and they all deserve some praise and a few beers.
Always enjoy watching a star studded Man Utd team struggle so a great day all around.

Will Mabon
88
Posted 09/04/2022 at 16:14:49
Pete, praise OK, the beers can wait til August.
Dale Self
89
Posted 09/04/2022 at 16:18:28
Kieran that was just a bit of tbe ol gander for the geese shitting on Carlo man, let it go. Ok not the best reference but who cares we got 3 pts and yes Frank earned some respect today frm me.
Clive Rogers
90
Posted 09/04/2022 at 16:20:39
DCL will be sold and replaced in the summer. Don't think Lampard rates him and he has seen enough.
Kieran Kinsella
91
Posted 09/04/2022 at 16:21:25
Dale
haha I thought of you but it wasn't actually directed at you. More so comments I've been reading on Twitter
Robert Tressell
92
Posted 09/04/2022 at 16:24:09
Dave, Will - none of us really know what is up with DCL. The fashion stuff is not my cup of tea but in fairness he has always been a very hard worker. The fact he's off the pace suggests he's not fit / ill to me.
It took Godfrey a long time after covid. Maybe it's something like that.
Dave Lynch
93
Posted 09/04/2022 at 16:24:34
Not buying that Will.
Manager wouldn't play him surely if he was that out of touch with his fitness.
Craig Walker
94
Posted 09/04/2022 at 16:25:11
Great performance and result Blues. Rode our luck at times but surely we're due some luck? Delph, Richarlison, Godfrey, Mykolenko, Iwobi, Allan, Pickford all did well today.
The home form under Frank is much improved. Only the Wolves result was disappointing.
We need that atmosphere and effort in all of the remaining home matches. We're nowhere near out of the woods yet but at least we're still fighting and have a chance.
Can actually watch Match of the Day tonight. For once.
Tony Hill
95
Posted 09/04/2022 at 16:28:55
A fabulous day which we can all enjoy. They tried very hard and that'll do for now.
Will Mabon
96
Posted 09/04/2022 at 16:29:02
You'd think not, Dave but we are not exactly blessed up front. I have never seen DCL look like he is running in sand but he did today. Not just unfit; slow. The illness thing is something I only heard right before posting so I can't vouch for the accuracy.
With luck these next two weeks will help. Just keep him away from London and GQ.
Derek Knox
97
Posted 09/04/2022 at 16:32:30
Just got back from the match, what a great feeling to have witnessed, not only a decent team performance, but a much awaited home win. Special mention has to go Allan, Delph, Gordon, Richie and Mykolenko, but all the others played well too for a change. As soon as I found out Moss was referee I thought that's it, we have no chance, he was still shit, but couldn't argue with the shift the lads put in.
Right who's next ?
Barry Jones
98
Posted 09/04/2022 at 16:32:35
I have been critical of Mykolenko previously, but he is better and better every game. I am impressed. The much criticized Iwobi also had a great game.
DCL is really poor. His lack of effort is the most disturbing thing. He is meandering around and not seriously challenging for anything. Why not start Deli as a false 9. Cant be worse than DCL.
Dale Self
99
Posted 09/04/2022 at 16:40:25
Kieran, thanks for that. I was talking some serious 'mike walker' shit though. Happy to take the brown plate special in the face for it, Frank may have figured it out today. Side note, I hate being on rhe other side of an issue with you but that is football and life sometimes. Thanks again for the pass.
Rob Dolby
100
Posted 09/04/2022 at 16:43:16
I was close to posting a very gloomy post this morning. What a difference a bit of organisation makes and a touch of luck.
Restricting Ronaldo to 1 half chance and our defenders mistakes not getting punished for a change makes a big difference.
The shape was right today, play with this mentality for the rest of the year and we will be ok.
Iwobi my motm, I have been one of his worst critics but credit where it is due. He looks the fittest player on the pitch.
Coyb
Coyb.
Pete Clarke
101
Posted 09/04/2022 at 16:44:03
Just watching a real frantic but error ridden game between Leeds and Watford. Leeds have just gone 2 nil up thanks to an error by Watford that Michael Keane would be proud of.
Leeds are making themselves safe and Watford need a miracle to save themselves now. They have some really exiting players but never find the right pass. Hopefully that continues and we can take 3 points from them too.

John Atkins
102
Posted 09/04/2022 at 16:47:54
Looks more and more likely it's between us and Burnley now, they've an easier run in on paper but that means fuck all …. It's in our own hands and we have the home games and Watford away to make sure we survive COYB
Mark Ryan
103
Posted 09/04/2022 at 16:54:46
Ha ha, do all you Fat Sam lovers still want him back ? wot a joke that shout was. I hope you can start believing with the rest of us. Good shout whoever said play Dele Alli as a false 9. Bench DCL, he's clearly out of form just now. Please believe, we are Everton, we are staying up, I said WE ARE STAYING UP !!! Well done boys, well done Frank Lampard UTFT
Pekka Harvilahti
104
Posted 09/04/2022 at 16:59:42
Great team performance. The only one not really doing his part was DCL. Even if he did not get much service he was anonymous, a serial ball loser who never gave Maguire or Lindelöf any trouble at all. Rondon could have done a better job. If anyone is foolish enough to pay 30 mil for dcl in the summer we should take it.
Still, a great result and team work. My motm was Mykolenko though so many did very well including the crowd.

Simon Dalzell
105
Posted 09/04/2022 at 17:16:51
It was a much better starting line up. Holgate and Kenny out. Delph has always had a touch of class and calmness. How bad is DCL. Shocking.
Kieran Kinsella
106
Posted 09/04/2022 at 17:22:01
Dale
No worries, we fought in the trenches defending Carlo for long enough to forge that camrardery.
Colin Malone
107
Posted 09/04/2022 at 17:24:29
Players like Allan are priceless. A leader and a organiser. Without Allan, our shape completely goes.
My MOM was every single one of them. GET IN.
Jerome Shields
108
Posted 09/04/2022 at 17:29:07
Jerome Shields
109
Posted 09/04/2022 at 17:29:09
Paul Merson was the only pundit to predict a Everton win.Top half of the table side allow Everton more space in midfield and today Everton where lucky to have Delph to take advantage.Basically Frank played the same open attacking football and Calvert Lewin was far off what was required.
Things look alot better now with more side that will give Everton space in midfield.
United are Everton only a year or two of the slippery slope.
Ed Prytherch
110
Posted 09/04/2022 at 17:32:22
Maybe selling Digne to buy Mykolenko and Patterson will turn out to be a good move if we stay up. I was certainly one of the doubters.
Jerome Shields
111
Posted 09/04/2022 at 17:34:27
Richarlison and Allan is a triers.God loves a tries.
Peter Dodds
112
Posted 09/04/2022 at 17:44:47
And to think that if we'd beaten Burnley we'd be 10 points off the drop zone right now.
Kunal Desai
113
Posted 09/04/2022 at 18:04:18
A heroic performance. Mykolenko and Delph were superb. Hopefully Delph can stay fit for a few more games before going back to the treatment room.
Nothing less than 3 points would have done today. The Leceister game in 10 days is equally huge, a chance for us to put back to back wins and I think after the Chelsea game if we are on 31/32 points that takes huge pressure of the players knowing full well another 3 or 4 points required from the remaining 5 fixtures will see us though.
I don't think we see players making mistakes and being apprehensive in there play if we can be in that position going into those remaining final fixtures.
Ian Edwards
114
Posted 09/04/2022 at 18:09:49
Still absolutely buzzing with that win. Leicester have three games before we play them. COME ONNNNNNNNN
Peter Carpenter
115
Posted 09/04/2022 at 18:11:16
Lots of good performances. Must stick with that formation now, just rotate the personnel when needed. Hope Delph was just knackered not injured, he brought so much calm. Iwobi MOM for me, he has the bollocks. What's up with DCL? I don't believe it's attitude or fashion activities or thoughts of other clubs. Something is not right.
Jay Harris
116
Posted 09/04/2022 at 18:11:24
We're not out of the woods yet but at least we can see the light.
Football is much more enjoyable under Frank and his pressers are refreshingly honest and sincere.
A proper mf with Allan back makes a big difference to our effectiveness but I still worry about our ability to score goals from open play. Where are you Dominic?
Chris Corn
117
Posted 09/04/2022 at 18:14:58
No Everton team should fear Leicester at home. Especially one that has had a mixed season as they have. We have taken four points off them in the last two home games. We have beaten Chelsea twice on the spin. I felt today was a game we could get something as we have beaten Utd at home often over recent years.
All our home games are very winnable. The away form needs sorting, if only for draws.
Gary Jones
118
Posted 09/04/2022 at 18:24:02
Been very much of the "he's been injured for 4 months, give him a break" camp.
Sorry folks, know I was wrong after that. He's fuckimy trotting…..wtf Dom???
Rest of them, especially Iwobi, Richie, Myko and Jordan…..well done boys!
Rob Hooton
119
Posted 09/04/2022 at 18:28:41
Great gritty performance with lots of 'bodies on the line' action, my nerves were shredded!
Big shouts to Delph and Myko who had excellent games, Richy ran his socks off as usual but just lacks that killer instinct - I imagine we will lose him soon and he will thrive with better quality around him. Iwobi also played really well and deserves to continue in the middle, even got some robust challenges in and he may yet prove worth the money we paid.
I was knocking Dom during the match with many others but he is clearly still not fit yet after some horrible injuries, I still think he will come good again though but will need to improve if he wants to move on to bigger things. Pickford also made a couple of really good saves.
Feeling a lot more positive today! Keep on playing with the same aggression and commitment and we will be ok this season.

Peter Neilson
120
Posted 09/04/2022 at 18:29:16
At last a performance from Delph showing what we signed him for. Shame he's rarely been fit. Mykolenko coming good and Iwobi putting the effort in. DCL not in the game and never really appearing to try. Hope whatever is wrong gets sorted asap. Same again against Leicester will do.
United seem a group of individuals rather than a team. Icing on the cake would have been a red for petulant and anonymous Ronaldo. Great player but hard to like.
Christy Ring
121
Posted 09/04/2022 at 18:29:18
Massive relief, now we have 11 days rest, a huge win after Wednesday night. Delph calmed everything down, hope it's a turning point.
Mal van Schaick
122
Posted 09/04/2022 at 18:30:27
Gritty performance. Great result. Just what we needed. I'm not a Delph fan, but he protected the back four today. We were better without Holgate.
Could of done with Watford and Leeds drawing, but let's hope we string some results together now.
Rob Hooton
123
Posted 09/04/2022 at 18:43:26
I really need to echo some of the comments on here with regards to a few players:
Seamus - had an excellent game and it was delightful to see him carrying the ball up the field near the end of the match showing that the legs are still there, I think he may have also fittingly made the final clearance of the match?
Allan and Delph together were a great pivot and provided leadership, Delphi's cool head was incredibly welcome often during the match abs he was the main 'organiser'.
Keane had a good match, despite his naysayers.
Pickford over Begovic every time, Begovic looked weak and pretty pathetic at QPR IMO.
I thought Lampard got most things right today.
Jeff Armstrong
124
Posted 09/04/2022 at 18:49:29
Hopefully Holgate will not get near the first 11 again this season, central midfielders coming back Allan,Delph etc, and Keane, Godfrey, Branthwaite and Mina picked before him in central defence, I'm sorry but Holgate epitomises how bad we are, cannot pass a ball to a teammate, slow reactions, gives away foul after foul, terrible terrible player. And for me , always has been.
Danny O'Neill
125
Posted 09/04/2022 at 18:57:04
Leicester next Derek Knox. See you there!!!
Julian Exshaw
126
Posted 09/04/2022 at 18:58:58
I've been having some health issues recently but that was better than any antibiotic.It was superb. The effort, the will to win, the magnificent fans and the glorious day made it the best day of the season. We don't have these moments often, we are not spoilt as football fans but when it's good, boy is it good. One moment at the end had me in tears I'm not ashamed to admit. When Frank went up to hug Mykolenko (who was excellent today) and to see the smile on that lad's face after what he must be enduring these days was a joy to behold.
John Atkins
127
Posted 09/04/2022 at 19:03:37
5 Premier League games today ….. 1 home win and 4 away wins ….. had someone said this was going to happen prior ….. who'd have thought it was us to have the home win !!! Get the fuck in you blue boys
Mike Gaynes
128
Posted 09/04/2022 at 19:10:36
I have never seen an Everton player cover more ground, more joyfully, than Iwobi did today. Watch what happens at 33:35 of the first half. United plays the ball back, then squares it across the back right to left. Iwobi chases all the way across to apply pressure and forces two backpasses. United passes the ball through the middle and out to Sancho on the advanced right wing, just outside the area, who looks up to see in front of him... Iwobi. Hair blowing in the breeze, he has just made another 60-yard diagonal sprint to get in defensive position (making the bemused Calvert-Lewin look like a light pole on the way). Amazing.
DK #97, love ya, mate, glad you had such a joyous day out.
Danny #68, amen re Mykolenko. Earlier this week some dim bulb here shared his conclusion (after 400 minutes on the pitch) that the kid was a failure and would never contribute. I responded with some mild sarcasm. Next time I won't be so mild. The kid can PLAY. He's better than his predecessor already, and has many years ahead.
Jerome Shields
129
Posted 09/04/2022 at 19:16:00
Today, Delph earned every penny of his massive wages.
Jay Harris
130
Posted 09/04/2022 at 19:20:20
Off topic but our loss to Spurs seems to be matched by Newcastle and Villa 0-4?at the moment. If only we had a front two like Son and Kane.
Jay Harris
131
Posted 09/04/2022 at 19:24:49
Mike G,
I made the same observation at the time. That was phenomenal running for the team and, if he starts to match that application with his passing, he may turn out to be the player we hoped for...
Graham Mockford
132
Posted 09/04/2022 at 19:27:26
Hopefully Frank knows the players with the character to get us through this. There's a few I think have not cut the mustard. Kenny, Holgate, Doucoure spring to mind. Calvert-Lewin has really struggled but I'm not sure we have another option.
Been really surprised with Iwobi in the last few games. He's been excellent other than his mistake against West Ham. He's been brave in possession and worked his socks off. Maybe there is a player there after all.
Finally if you are still doubting Pickford when he's our only genuinely top-class player, you really haven't been paying attention for 18 months.
John Catto
133
Posted 09/04/2022 at 19:44:11
I agree Lampard got most things right today. I really wished he brought Delph on against Burnley to calm the game down. The result could've been so different. It did make me laugh when Delph said he won't be able to train for a week after that!
I think Ashley Cole deserves some praise because Mykolenko has become far better since he has been working with him.
Mike Gaynes
134
Posted 09/04/2022 at 20:00:37
John #133, that's a great observation, and I had not thought of it. Cole has no doubt helped Mykolenko with his positioning and his confidence. Did you see the kid track Rashford on that second-half run? Perfect angle.
He's also the fastest left back I've seen at Everton, and in a team generally lacking pace, that helps a lot.
Mike Keating
135
Posted 09/04/2022 at 20:07:31
As the United team traipsed off down the Red Zone between the Bullens and the Park End an Everton fan was recording their miserable gobs on his phone.
That gobshite Ronaldo couldn't contain himself, snatched the phone and threw it to the deck – what a prick!
Neil Tyrrell
136
Posted 09/04/2022 at 20:11:01
When Calvert-Lewin got injured, someone (don't remember who) on TW posted that it was the type of injury where he might never be the same again. Bit early to say that yet, but it is a worry how useless he looks at the minute.
He's had enough time to get back to full fitness by now and hasn't improved at all. Hard to justify his continued selection when he offers nothing currently.
The only cloud today though, well done to everyone else!
Peter Carpenter
137
Posted 09/04/2022 at 20:19:58
Mykolenko is an interesting guy. He gave an interview to Everton TV after signing. Not your usual footballer interview, quite modest and self-effacing. He has shown some incredible strength of character since then.
I can't imagine what's going on in his head or how he's doing it but there's some steel there. Now performances are improving too. Good luck to him, I really hope he succeeds.
Neil Copeland
138
Posted 09/04/2022 at 20:22:20
I think Calvert-Lewin needs a larger bra, it was clearly causing him problems today.
A great comeback after the midweek disaster. The players showed a lot of character and we may have found our best midfield combination. Good to have some options in the middle of the park for the next one with Doucoure and presumably Van de Beek available.
I thought Godfrey played really well today and showed a lot of guts after his late howler against Burnley. Apart from the opening nervy 15-20 minutes at the back, we were good value for the win.
There is some talent after all in this squad, just need to build confidence.
To those calling for Begovic; take your head out of your backside, give it a wobble and open your eyes. Pickford was brilliant today and showed exactly why is both Everton and England's number one.
Great shout regarding Dele as a false number 9, I said a similar thing to the bloke sitting next to me today.
Finally, Sean Dyche may have just done us a favour with his comments about winning, well done Frank for taking it on and proving him wrong.
Oh, and the support, absolutely fucking fantastic!
Jamie Crowley
139
Posted 09/04/2022 at 20:23:43
I'll read all the comments in a bit, but had to just vent.
If the report Michael sites is true and not pond-scum journalism, and the players are really not sold on Frank Lampard and questioning his ability to guide them forward, they can all seriously just fuck off.
How many managers does it take to understand the players need to man up and get this done?
If true, do yourself, a bright young and energetic manager full of potential, and the fanbase a huge favor and honestly shut the fuck up!
What idiot would say such a thing in the middle of a relegation battle anyhow?? God above the balls to even think of going public with something like that!!!
Dave Abrahams
140
Posted 09/04/2022 at 20:24:35
What a relief to get those 3 points today. I missed the game but sweated cobs through those few minutes of the game and just sat back when the final whistle went and whispered silent thanks to the team who played like a team today.
Re Dominic, I'm a fan of his but, whether he is ill or off-form, he is a handicap at the moment, doing precisely nothing to help the team. He should be the first line of defence but ambles rather than runs about and offers less when we are on the attack, he should be omitted until he proves his fitness; I, can't believe he has just given up.
The other players made up for Dominic today with very good performances from Pickford, especially with him coming out and attacking the ball, Delph bringing calmness and experienced defending to the team along with Allan. The Ukrainian showing continued improvement, Keane more aggressive after a nervous start, Godfrey making up for his Burnley mistake by playing aggressively and bravely throughout the game.
And finally Iwobi, who has gone from being someone you didn't want near the team to a player most want to continue in his new all-running, with purpose, role as the man to find and give the ball to. I think he has had a heart transplant, that's how bad he was before this recent transformation, and long may it continue, a nice start to the weekend.
Jamie Crowley
141
Posted 09/04/2022 at 20:24:41
On a brighter note, today was absolutely brilliant.
What a needed three points. The players (sans a few I won't mention to stay positive) gave their all and they deserved that result.
Loved the game today. Well done Everton.
Neil Copeland
142
Posted 09/04/2022 at 20:26:04
Jamie #139, I think the response of the players today (other than Calvert-Lewin maybe) proves that report to be bollocks, mate.
Jamie Crowley
143
Posted 09/04/2022 at 20:26:23
Julian @ 126,
Be well friend! To your health, be well, dude.
Jamie Crowley
144
Posted 09/04/2022 at 20:30:24
Neil -
I agree and tend to think so. Bollocks of the highest order.
But my word did that absolutely trigger me! The nerve if that's true!
Jeez I saw red when I read that.
Neil Copeland
145
Posted 09/04/2022 at 20:32:47
Jamie, winds me up too, not sure what to believe at the moment if I am honest.
Brian Wilkinson
146
Posted 09/04/2022 at 20:36:26
Fair point, Neil, earned his wages today did Pickford. I thought Begovic was a better option for the Burnley game to deal with set-pieces and corners; in hindsight, it was always going to be shots from Man Utd which suits Pickford better.
I got a bit excited and for whatever reason lumped for Begovic myself; I will hold my hands up.
I still think we should start with Rondon though, use Calvert-Lewin from the bench, and please keep Iwobi playing more central behind the strikers instead of out wide on the right.
Neil Copeland
147
Posted 09/04/2022 at 20:43:51
Brian, I hope you are well and enjoyed the game.
Whether it is Dele as a false number 9 or Rondon as a direct replacement, I think Frank needs to try something different. Richarlison and Iwobi ran their socks off while Calvert-Lewin sauntered about. Real shame because he is much better than that.
Peter Mills
148
Posted 09/04/2022 at 20:46:07
With 9 games to go, there was no way I was prepared to accept we were relegation bound.
With 8 games to go, there is no way I am prepared to accept we are safe.
We have to keep our heads. Stay focused.
But what a performance today. I've no idea what is going on with Dominic Calvert-Lewin, he is just not at the races. But every other player was heroic, battling for the cause. And credit to Jordan Pickford - I would have seriously considered replacing him with Begovic. Wrong again.
It was a very long 95 minutes, but on days like today being a part of Goodison, with my son and grandson in the stadium, is just wonderful.
Mike Price
149
Posted 09/04/2022 at 21:03:21
Would be better to bench Calvert-Lewin, he's off the pace, hopefully going at the end of the season, and playing him does us no favours, it just lowers his value.
Ed Prytherch
150
Posted 09/04/2022 at 21:05:02
Hopefully no more injuries in training, then Yerry in for Keane, Iwobi false 9 instead of Calvert-Lewin, and Donny in the midfield 3.
Should be more than enough for Leicester.
John Raftery
151
Posted 09/04/2022 at 21:06:02
Repeating what I have said previously, there has been no lack of effort in recent weeks. The team lacks ability. Today with a decent shape in midfield, and defenders staying in their positions they eked out a clean sheet and a win with less than a third of the possession against an apparently uninterested Manchester United team.
Hopefully Frank will have learned from today that too much possession is at times an embarrassment for our players. Setting up to keep the opponents out makes us more likely to grab a win.
Richarlison, Iwobi and Gordon all put a tremendous shift in as they always have done. Delph and Allan kept the door locked in midfield but the player I was most pleased with was Mykolenko who was one of our best on Wednesday and very much looked the part today. If he can be more consistent with the quality of his crossing, he might prove to be better than his predecessor.
As regards Calvert-Lewin, he seems to have lost a yard of pace as well as the timing of his leaps since his return. In mitigation, he has missed a lot of football this season and three games since Sunday will have tested his match fitness.
Si Cooper
152
Posted 09/04/2022 at 21:21:27
Mike (135),
Yes, that's what being a football fan is all about, isn't it! Gloating at the anguish of players who are probably not going to get qualification for the Champions League when your own team are still on the precipice of a truly disastrous relegation.
If I saw an Evertonian whose perspective was so warped, I'd probably give him both barrels as well. It is possible to enjoy a performance and result without relishing the opposition's disappointment enough to want a permanent reminder. Something that used to be called sportsmanship, that is very sadly seemingly nearly extinct.
Maybe I'm old school but I'd go along with the convention that we can be 'merciless' to their fans all the time and the players during the game, but as soon as they leave the pitch they should be left alone.
Kieran Kinsella
153
Posted 09/04/2022 at 21:25:39
Iwobi's problem in part is where he's been played: winger, wingback or central midfield, cause he is energetic and tries, managers seem to think he can help defensively. He will try but he's not a good tackler.
What he can do is what he's done the last few games. When James was here, he was never gonna get that job. Now James has gone, he can... although he isn't as good, obviously, so will have ups and downs – but that's his best role.
Winston Williamson
154
Posted 09/04/2022 at 21:27:12
One thing about during the Moyes years. He hardly ever wasted squad space and wasted wages. Whether forced upon us or not, we need to get back to the same mentality of minimising waste on squad space and wages. We would then have the luxury of adding in real quality, when available.
We really need to stop the way we conduct transfer business and revert back to a more measured considered approach. The right personalities etc.
Anyway, a good result today. Two more and a draw should be enough.
Jay Evans
155
Posted 09/04/2022 at 21:27:55
Sorry, Dominic, but after today I can't defend you anymore. The performance was bad enough but did anyone else get onto his reaction to being substituted?
If I'm being honest, I'm not really a fan of his red bra either.
Brent Stephens
156
Posted 09/04/2022 at 21:32:38
And for the next match, same players in the same formation. Let's not overthink the formation, or which players should go where in each formation. Consistency of formation means players become used to a set way of playing, not having to rethink for each game "what's my position and where do I play in relation to others" - instead you achieve (positive) "overlearning", it becomes second nature, as that other lot have achieved in their formation and personnel.
And if the opposition can predict your formation, so what? Let them wory about us not the other way round. We can predict how they might respond to our formation and be prepared for that. Again, cf the other lot.
Rob Halligan
157
Posted 09/04/2022 at 21:34:23
As much as we've been pretty shite all season, how on earth are Man Utd fighting for a top four finish, because they are truly awful. There is literally no difference between sixth position down as far as twentieth.
Jamie Evans
158
Posted 09/04/2022 at 21:36:51
Iwobis problem is he is an instinctive player. In the midfield fine, out on the wing with time his feet are too fast for his head.
Anyone seen the photos of mina in the tunnel after the match, proper player, all the players loving him. Mina is our captain, he's comes back we are sound
Andrew Keatley
159
Posted 09/04/2022 at 21:39:45
Jamie Crowley - You wrote a completely over-the-top takedown of Fabian Delph before the Burnley game. I think you said "over my dead body" and other nonsense. Can I just ask; How is the afterlife?
Stan Schofield
160
Posted 09/04/2022 at 21:47:36
I think that the criticisms of DCL are a tad childish. No, they're VERY childish.
DCL has been a veritable workhorse up until his bad injury this season. He has been a continual nightmare for opposition defences, and has never done anything to warrant criticism in terms of attitude.
The incessant focus on his non-football activity of modelling, the criticism of him for it, is both puerile and extremely tacky. Anyone who focuses on it in this way needs to get a grip, shut the fuck up, and behave like an adult.
Trouble with some supporters is that, no matter how much effort a player has become renowned for, as soon as they hit a spell of bad form (which happens to every player), they become a target for utterly inappropriate criticism. Even Alan Ball and Howard Kendall were subject to it, and it needs to fucking stop.
Jamie Crowley
161
Posted 09/04/2022 at 21:55:08
Andrew -
Your'e 100% accurate.
And it's quite warm down here...
Gary Jones
162
Posted 09/04/2022 at 21:55:20
Stan, until the game today, I'd have seen your point. That wasn't physical ineptitude, it was something on a personal level. Very poor attitude, and defending it just makes you look naive or ignorant.
Ted Donnelly
163
Posted 09/04/2022 at 22:02:34
Just been speaking to my cousin who WAS absolutely Everton mad. He told me he walked out at half time during the wolves game. He told me he's had the remaining games on his season ticket refunded, also he's not renewing. He's done with Everton, and who can blame him, with the absolute dross that's been served up these past few seasons, especially this one.
This just makes me sad,how many more have done the same?
Makes me thankful that I was around to see something.
Most fellas now have seen fuck all after investigating money and emotions for years with no return at all.
Hang your heads in shame Everton, you are driving out fine supporters of this club.
Fuckin clueless and heart breaking!
Brendan McLaughlin
164
Posted 09/04/2022 at 22:12:08
Gary#162
So why do you think Lampard is sticking with DCL? Surely if his poor form is down to attitude...Frank would drop him? He has admittedly not great but other options?
Tony Hill
165
Posted 09/04/2022 at 22:13:35
Kieran @153, Iwobi's talent in that role has been evident for some time. I remember him doing very well against Leicester at Goodison last season until he was moved out wide.
He's a very strange player and I can't think of an equivalent. He has the best eye for a pass of our current players, he nearly put in DCL today.
He's still quite young and he's an asset.
Bernie Quinn
166
Posted 09/04/2022 at 22:13:38
D'you know, it's good being a pessimist, 'cos its so enjoyable being wrong ! Well done Lads - COYB
Neil Copeland
167
Posted 09/04/2022 at 22:14:40
Stan #160, fair comment but DCL does himself no favours when he comes across as concentrating more on his modelling career than football. I agree 100% that he suffered a serious and potentially career threatening injury. Perhaps he isn't fully fit yet but today his attitude did not come across as good at all. Currently he is a liability when starting the game to a team fighting for its premier league life.
Just my opinion though and no, I won't shut the fuck up.
Neil Copeland
168
Posted 09/04/2022 at 22:16:13
Ted 163, I take it you didn't go to the game today then?
Paul Hewitt
169
Posted 09/04/2022 at 22:16:58
We beat a very poor United team, and I expect Burnley to win tomorrow. So before we start patting ourselves on the back, there is still lots of work to be done.
Neil Copeland
170
Posted 09/04/2022 at 22:20:17
I see Ronaldo has apologised for his actions relating to a supporters phone
Tony Hill
171
Posted 09/04/2022 at 22:21:44
Correct, Paul @169, but that was a changed performance today (though I accept the same was said after Newcastle).
You can sense a good team waiting to emerge from the dross. We just have to survive and that was a big result today.
Tony Hill
172
Posted 09/04/2022 at 22:23:23
Neil @170, what a revolting individual he is.
Brendan McLaughlin
173
Posted 09/04/2022 at 22:24:15
Ted #163
There's "glass half empty" but you're more in the "knockin over a full pint" realm.
First on MOTD...woo woo!
Neil Copeland
174
Posted 09/04/2022 at 22:33:36
Tony, he's horrible mate
Rob Dolby
175
Posted 09/04/2022 at 22:41:48
Why no VAR on the trip on Gordon in the 2nd half? Another 'clear and obvious' display of ineptitude from the officials.
Robert Tressell
176
Posted 09/04/2022 at 22:44:22
I'm with Stan on the business with DCL.
He isn't the most talented. But throughout his career with us he's demonstrated an excellent attitude and hard work.
Personally I find the fashion sense a bit silly. Not quite as bad as Dele Alli getting introduced to the Goodison crowd looking like a startled crackhead, mind you. That didn't bode well.
But DCL was working hard, playing well and wearing fancy dress before the serious injury - so I suspect his form has more to do with the recovery from that injury than his penchant for denim jump suits.
You could fairly criticise the timing of it all. Comes across like he isn't focussed on the present crap situation - but on the radio today, Trevor Sinclair said that when you do photoshoots etc for magazines it can be months before they get published.
He's not Harry Kane, but he's very good when fit. So hopefully each game gets him closer to match fit.
Jamie Crowley
177
Posted 09/04/2022 at 22:53:29
@161 -
You're. I know my contractions.
Paul Hewitt at 169 -
I agree. One swallow does not a summer make.
Tony Hill
178
Posted 09/04/2022 at 22:56:55
Yes, Stan @160 and Robert @176, I too think that DCL needs our support, I still believe that he could be crucial for our survival hopes. He is not a waster or a fraud, not at all, though he's difficult to watch at the moment.
Graham Hammond
179
Posted 09/04/2022 at 23:09:19
Massive result. Thank you Everton for lifting that relegation black cloud from around my miserable head, at least temporarily! Pickford today was excellent, Godfrey was excellent, Mykolenko was excellent and Delph and Allan were both solid despite both looking a bit rusty due to lack of recent game time. Alex Iwobi was immense today, particularly in the first half, brilliant attitude, my MotM, I have defended him from day one on this website, largely against the tide of opinion, I think he is a really good player, not necessarily a good Everton player or a good fit for Everton but he plays football the right way and as it should be played, relatively little of the predictable high balls into the box crap from wide positions that have characterised our dinosaur football for so long, centrally he is a real asset. DCL, by contrast, stunk the place out again today, just not interested sadly, what a waste.
Jeff Armstrong
180
Posted 09/04/2022 at 23:10:19
DCL has suddenly become the latest " victim " of supporters criticism, both at the game today and tonight on here, fucking pathetic, get a grip, he's been injured most of the season and when he's playing how many chances has he missed? Very few is the answer, he's hardly had a sniff because A were shite going forward, and B he's playing with non crossing selfish wingers, Richie, Gray, Gordon etc, DCL tried today but got no service, he deserves more respect for his efforts over the last 5 years, not the last 5 games.
Kieran Kinsella
181
Posted 09/04/2022 at 23:15:10
Neil
What a prick he is. Some fan there all excited about the win, getting a photo to share with his mates on Facebook and the prima Donna acts like that.A new phone or indeed a match ticket might be pocket change to Cristiano but that's not the case for the average Joe The only upside to Phonegate is that one fan has a good story to tell and hopefully a few lads bought him a beer for his trouble.
Kieran Kinsella
182
Posted 09/04/2022 at 23:22:02
Rob Halligan
Very good point. The gap between the best and the rest is now a chasm but the best as a group has shrunk. Essentially it's just two teams, then you've quite a gap before Chelsea and Spurs. Then everybody else. WHU under Moyes are greater than the Sum of their parts, UTD the opposite, and Arsenal collectively have a Michael Keane like fragile mentality But you look at Palace just trashed Arsenal, thrashed us twice but overall they've only won the same number of games we have
Tony Hill and Jamie Evans
Good posts on Iwobi I agree he is a funny one but he has his qualities
Dave Lynch
183
Posted 09/04/2022 at 23:22:48
Ronaldo is not a horrible individual, he's used his wealth for many good causes especially where children are concerned.
He's just a very poor loser, wish half of our team had his winning mentality.
Jay Harris
184
Posted 09/04/2022 at 23:22:53
Just going left wing for a minute. Do any of our refereeeing fraternity know where John Moss got his additional 5 minutes from. That could have been crucial to our season.
Tony Hill
185
Posted 09/04/2022 at 23:25:09
Dave @183, his view of women may need some work.
Kieran Kinsella
186
Posted 09/04/2022 at 23:25:41
Neil
Sorry just read the whole story it was a 14 year old at his first game. Fuck Ronaldo, Cantona went to jail for a lame Bruce Lee attack on a fat fascist. Ronaldo should get banged up for bullying and vandalism against a child. Absolute prick
Brendan McLaughlin
187
Posted 09/04/2022 at 23:26:40
Exactly Dave #183
How often have Everton players been criticised for not reacting badly to a defeat?
Stan Schofield
188
Posted 09/04/2022 at 23:30:49
On Iwobi, at Arsenal he was known as the 'enabler of overlapping fullbacks', reflecting an unusual skill in a central position where he controlled play in a way that gave space and time for their two fullbacks to push forward and create scoring opportunities. But this effectiveness changed when the team's tactics changed.
For us, like for Arsenal, Iwobi is very effective when used in certain ways, and less so when used in other ways. He seems to enjoy his role within the ways Lampard has been setting us up.
Paul Hewitt
189
Posted 09/04/2022 at 23:33:26
I've seen Everton players smiling and laughing after a defeat. So seeing Ronaldo's reaction after a defeat is how I want my players to react
Si Cooper
190
Posted 09/04/2022 at 23:33:40
Jeff (180), I'd agree DCL is getting too much stick but by the same token I think you've gone a bit too far defending him.
The service thing is 6 of one, a half dozen of the other for me. I've seen times when DCL hasn't made the move away from the defender he should, or just hasn't gambled enough (or at all) on where the ball might be played into. Excellent example was when Iwobi played him in today but he just did not anticipate it. On his toes and gambling on the through ball I think he gets to that ball easily.
I do see a player gradually getting back to where he needs to be. He has had at least one significant injury since his first game back from the long lay-off and we don't know what other niggly set backs he may have had to deal with. He may just have an increasingly effective part to play in the rest of the season.
Brent Stephens
191
Posted 09/04/2022 at 23:42:35
Jay #184 - I assume 5 substitutions gave us two and a half minutes. Not sure where the rest came from! No goals second half. No injuries?
Sean Kelly
192
Posted 09/04/2022 at 23:46:24
Spot on Kieran. The prick offered to get to a game at manure. A prima Donna picking on a 14 year old is outrageous. Give the prick a shovel and tell to pick up the dog shit for a month.
Si Cooper
193
Posted 09/04/2022 at 23:47:01
Kieran, where have you read the 'whole' story? I'd be very interested to read it, or even see the apparent video of the incident.
Maybe I'm just an old cynic, but I'm half expecting that this is not just a fan innocently taking photos; that it probably involves a lot of sneering / jeering and possibly even shoving the device far too close into someone's personal space.
Of course players have to expect some stick and ridicule and should just ignore it, but equally 14 year olds may be better off learning that there are risks and potential consequences if you deliberately bait someone who is already pissed off.
Just because the Germans have a word for it doesn't mean that schadenfreude is a thing to be particularly proud of.
Si Cooper
194
Posted 09/04/2022 at 23:55:12
Jay, Brent - Pickford got booked for time wasting but I too was amazed at the 5 minutes. Moss must have been diligently adding on every microsecond he could.
Unfortunately it is another area of the game where the referees total and unaccounted control leaves us with major inconsistencies.
Simon Dalzell
195
Posted 09/04/2022 at 23:58:19
Si cooper. I've just seen the video. The young lad was in no way' baiting 'the childish arrogant Ronaldo. He never moved towards him in any way. Ronaldo quite viciously struck the phone out of his hand causing quite severe swelling and bruising. please don't defend this sulky shithouse. Unbelievable comments if you haven't seen the video. Incidently the young lad is autistic and was just stood there very passively. wow...I'm looking forward to a revision of your view. As it stands your an old cynic.
Brent Stephens
196
Posted 09/04/2022 at 23:58:59
Si, the big anomaly for me is that you can have, say just 5 minutes added on after 90 minutes (a small fraction of the 90 minutes); and then, bizarrely, another minute or so added onto extra time (a whopping 20% of the 5 minutes!).
Kieran Kinsella
197
Posted 10/04/2022 at 00:08:24
Si Cooper
I assumed the same as you when I read the headline, and imagined some scally mom saying "my boy ain't a bad 'un." But as the other Si said the kid in question was simply an excited youngster who personally did nothing to bait Ronaldo The fans around him? Different story but this poor kid didn't deserve that
Derek Knox
198
Posted 09/04/2022 at 00:08:44
Danny @ 125, hopefully see you at the Leicester game, still got my ticket. However, like today, I am getting a lift so an aperitif in The Royal Oak for an hour before is all I will be able to manage. It's too complicated otherwise with Car Parking in Chester, TFW Trains being altered or cancelled at short notice but there is always Merseyrail, but then it's Socerbuses etc. Far easier to get the lift.
I did go today and met Bill Griffiths and Jim Lloyd before. It was dry so we stayed outside, too noisy inside for me, not to mention wall to bar crowds of thirsty Evertonians. Slight bonus today, I was there today by courtesy of Stephen Vincent, who had his long-awaited knee-op yesterday, and I was two rows behind three mates I hadn't seen since my (living in) Liverpool days, and then I saw George McKane on my way back to get my lift.
I was over the moon today, not only with the result but the commitment shown by players, like many have said. Calvert-Lewin was the weak link and shouldn't have started in my opinion. One thing I would level against Frank, who I otherwise want to remain as manager, is his reluctance to have hitherto played the likes of Dobbin in Calvert-Lewin's position. Is he injured or what? He wasn't even on the bench!
If we can play all the remaining games like that today, talk of relegation will hopefully have evaporated, but basically we have played with more or less the same group of players. The big difference today for me was the pairing of the experienced Delph and Allan, who absolutely controlled midfield. I just hope they can stay fit and available for the rest of the campaign.
Like many have mentioned too, Mykolenko deserves a special mention after what he has been through personally, and too many had already written him off as 'another expensive' mistake. I think he answered the naysayers today with an imperious performance at left-back.
Overall, the knock-on effect of today will surely galvanise every one, but above all will breed the much awaited confidence that we should fear nobody!
Kieran Kinsella
199
Posted 10/04/2022 at 00:11:07
Brent,
To your point, did you see in Portugal at Under-23 level, they're trialing a stopwatch system with 30 minute halves kind of like basketball. Seemingly only about 30 of the 45 minutes the ball is actually "in play" so it does raise questions as you say about "Fergie time".
Si Cooper
200
Posted 10/04/2022 at 00:15:55
Simon Dalzell, I don't think I defended Ronaldo, more a case of "If you play with fire then you may get burned."
This is what was posted earlier:
"As the United team traipsed off down the Red Zone between the Bullens and the Park End, an Everton fan was recording their miserable gobs on his phone."
Personally, I honestly don't understand the 'happiness' some seem to get from these 'mementos'. I'd much rather have something that is actually positive.
I also really don't get feeling smug when they are pissed-off at possibly falling short of a Champions League berth whilst we have a hell of a scrap on hands to prevent being relegated.
If it was my kid videoing rightly disappointed players, I'd tell him to knock it off.
LIke I said, I'm not condoning Ronaldo, but personally I can relate to his annoyance more than I can to hankering after the dubious trophy of some miserable gobs.
Brent Stephens
201
Posted 10/04/2022 at 00:20:59
Kieran #199, so the clock stops when the ball is out of play??
Andy Crooks
202
Posted 09/04/2022 at 00:26:10
Not often that our team provide a good, chill out, pre Monday, life is good, no knot in stomach moment. Sense of indefineable relief. Smile, a bit of warmth, less of that can't put your finger, but knowing that that is Everton related, gut-wrenching emptiness.
Oh, would like to pass on some of this temporary joy to the Blue who predicted, with utterly appalling smugness, a 3+ defeat for our team. You must be gutted to be wrong.
Andy Crooks
203
Posted 10/04/2022 at 00:32:05
Fine post, by the way, Pete Mills, really good, mate. We both know how to love these days of Heaven.
Si Cooper
204
Posted 10/04/2022 at 00:33:42
Kieran, Ronaldo is in the wrong, end-off, and so the kid didn't 'deserve' what happened.
I'm not too sure of the set-up but I'm surprised the fans can easily get within touching distance of the players. If Ronaldo has actually had to move towards the lad and extend himself to reach the phone, then he is potentially in serious trouble if the individual chooses to pursue things.
If the phone has been thrust towards the players, then it is still very wrong – but I'd still say it's something the lad maybe should have been taught to be wary of doing as soon as someone thought he was old enough to have a phone.
Kieran Kinsella
205
Posted 10/04/2022 at 00:40:38
Brent,
Yeah. Basically every throw-in, free-kick, corner – the clock stops.
Kieran Kinsella
206
Posted 10/04/2022 at 00:44:03
Si Cooper,
I get your point. I was being melodramatic about locking him up. Not serious. But I think it was a bit crass to do what he did.
It appears he realizes that as he has now apologized and offered the Everton fan — free tickets to Old Trafford. Probably a sincere gesture but with club loyalties and how they're playing — rubbing salt into the wounds.
Paul Birmingham
207
Posted 10/04/2022 at 00:52:29
Bravehearts, all Evertonians today, we have all day and will all this weekend, celebrate tonight and keep this going the next 2 months, there will be celebrations from Everton Brow and beyond – hopefully across the football world.
But the next game is what counts, and there's no reason why Leicester can't be beaten by Everton.
Kim Vivian
208
Posted 10/04/2022 at 00:56:26
I think, a week ago, many would have actually settled for 2 points from these last two games so the 3 points earned today, especially after Wednesday, is a real tonic.
But not wishing to put a downer on it, I can't help wishing that the 3 points had come on Wednesday rather than today. Ironically if we had got two draws, we would now be 5 points off the drop zone, rather than 4 as it stands this evening with Burnley still to play.
I pray that the 3 points we gifted Burnley don't come back to bite us.
Made up today though. Knackered at 3:00 having played every one of those 97 minutes today, but still nervous as shit about the remaining games.
Don Alexander
209
Posted 10/04/2022 at 01:02:40
First off, well done to the team for, at last, a professional performance. 12 more points are the minimum required to end another dire season.
Moving on in more light-hearted vein to Ronaldo and his tantrum, I recall my good self aged 15 attending Preston North End where, due to my dad's work, we lived for a few years back then. He and I used to attend PNE to get our football fix.
One evening match, PNE doing terribly, I bawled out my defamatory opinion of Alan Spavin, a stalwart and talented midfielder for years with the Lilywhites, when a player was receiving lengthy injury treatment. To my juvenile horror he heard me and walked up to me in the paddock and whilst stood next to me simply said, "Son, if you think you can do better just turn up tomorrow at the training ground!"
Class!
PNE won the match and I decided to try to concentrate on what I was good at.
Phil Lewis
210
Posted 10/04/2022 at 01:12:17
Delph showed at long last why we bought him with an assured calm performance. Exactly what we've been missing. If he can produce that form and stay injury-free until the end of this campaign, his contribution will prove invaluable.
I'm Pickford's biggest critic, but give credit where it's due, he was outstanding today.
If Calvert-Lewin can somehow produce the form we know he's capable of, he's worth persevering with. But, if there is some underlying problem, then Lampard seriously needs to consider starting matches with Rondon. We still desperately need goals.
Mike Gaynes
211
Posted 10/04/2022 at 01:59:41
Robert #176, spot on re Calvert-Lewin. He has been a hardworking, committed player throughout his career. If he appears not to be so now, I find it far more believable that he is physically handicapped than that he has become lazy, given up on the club, or become a mental fashion model. I think that speculation is just plain silly.
Whether he should be starting at #9 is another question. Depending on the opponent and the situation, Frank may want to consider either Rondon or Gray.
Mike Gaynes
212
Posted 10/04/2022 at 02:09:55
To everybody questioning the 5 minutes added on, there were three subs, four yellow cards (one for time-wasting) and two injury delays in the second half. Figure 20-30 seconds for each.
And I'd direct your attention to something I took note of when it happened -- around the 73rd minute, one of our guys got fouled (maybe Richarlison) in our defensive end. What with one thing and another, it was 61 seconds between the time the foul was called and the time Pickford launched the free kick. Supreme professionalism on Everton's part, but veteran referees keep track of that stuff.
So 5 minutes was just about right. And he whistled at 5:07, I believe.
Kieran Kinsella
213
Posted 10/04/2022 at 02:25:52
Mike Gaynes,
What you say is correct. But what I and I think Brent wonder about — not just in this game and in general — is the fact that we have hard and fast rules in IT, eg, 30 seconds per sub. But elsewhere in the game there's no actual clock watching or set rules.
The ball can be out of play for 20 minutes for various reasons but, unless there's a sub or someone stretchered off, then it's not given as additional time. Ergo, it seems kind of artificial and arbitrary to have set parameters for say subs when other interruptions are ignored.
But again, from my perspective, this isn't an issue specific to this game – rather an oddity about football in general. The only reason it came up today was, being biased, we all wanted the whistle blown asap.
Kieran Kinsella
214
Posted 10/04/2022 at 02:38:57
Mike Gaynes
ps: Being the shameless biased hypocrite I am, I obviously didn't raise this point after the Newcastle game when we benefited from added time from the hangman – even though that incident probably wasted less time than the various corners and throw-ins.
Mike Gaynes
215
Posted 10/04/2022 at 03:07:36
Kieran, of course you're a shameless biased hypocrite when it comes to the referees. Aren't we all? And proud of it!
But yes, it is mostly arbitrary... the ref alone decides how much to add on for injuries and goal celebrations and six-fake throw-ins and the like. And I believe football is the only sport in the world that does it this way. One of its endless charms.
Ernie Baywood
216
Posted 10/04/2022 at 03:25:56
Neil #136,
It might have been me who said that about Calvert-Lewin's injury. I immediately saw it as a quad and a wasted year ahead.
You're never quite right until you've got back, then had another end-of-season rest and a pre-season where you know it won't just go again. It's a horrible niggling injury – you lose your speed, strength, and your confidence that you're fit again.
Jamie Crowley
217
Posted 10/04/2022 at 03:44:53
Mike Gaynes,
As a person who lambasted Mykolenko after two games – and he was unequivocally abject – you set me straight and preached patience.
This:
Robert #176, spot on re Calvert-Lewin. He has been a hardworking, committed player throughout his career. If he appears not to be so now, I find it far more believable that he is physically handicapped than that he has become lazy, given up on the club, or become a mental fashion model. I think that speculation is just plain silly.
I think you'll be proven correct. But in the middle of a relegation battle, watching him not press and be entirely ineffective, is it any wonder those of us who care become downright angry?
Brent and Kieran,
A "hard" clock is something I adore in footy. We do it here it Florida with our high school soccer. 40-minute halves, and the clock does NOT stop for throw-ins, but the ref calls for the clock to be stopped at injuries and substitutions. It's simply fantastic.
And the last 2 minutes on the clock then are frozen, and go to the ref to call time. He's in charge of the game, calls time, but everyone knows it's within 15 or so seconds of the final 2 minutes. He has the levity to not call time if there's a late corner, injuries in the final 2 minutes, etc.
It's absolutely fantastic and, yes, very American, but man I wish the world of soccer would warm up to it!
Jamie Crowley
218
Posted 10/04/2022 at 03:48:45
Derek Knox,
I did go today and met Bill Griffiths and Jim Lloyd before. It was dry so we stayed outside, too noisy inside for me, not to mention wall to bar crowds of thirsty Evertonians. Slight bonus today, I was there today by courtesy of Stephen Vincent, who had his long-awaited knee-op yesterday, and I was two rows behind three mates I hadn't seen since my (living in) Liverpool days, and then I saw George McKane on my way back to get my lift.
You hit a ToffeeWeb grand slam today mate. Made me smile reading that! What a great day for you. Cheers.
Phillip Warrington
219
Posted 10/04/2022 at 04:13:44
Now we have to back that up with at least 4 points in the next two games; otherwise, it will be "We got lucky".
But well done, lads… maybe there's some fight left in them.
Steve Brown
220
Posted 10/04/2022 at 04:13:48
Mike G @ 128,
Mykolenko is better than Digne already? He isn't. Delighted that he is finding his feet and looking like a player, but let's not over-egg it. If Digne had remained, he would be picked every week by Lampard.
The sale of Digne and the signing of Patterson and Mykolenko were deals to conduct in the summer, not while sinking fast in the league.
In January, we needed a commanding centre-half, energetic box-to-box midfielder and established right-back. Instead, we spent £30 million on these two young men. Patterson has played 45 minutes in the first team and Mykolenko is finding his feet in mid-April.
I agree though it is not the fault of the players and they deserve our support. They may prove great long-term signings.
As a result of our ridiculous January transfer business, we are 4th bottom while Newcastle – who signed Burn, Trippier and Guimaraes in the positions we needed to strengthen – are now 6 points ahead of us and 10 points clear of relegation.
Barry Jones
221
Posted 10/04/2022 at 04:25:28
Calvert-Lewin was shocking today and has been poor since his return.
For those of you defending him, a lack of effort is indefensible. If he isn't fit, he shouldn't be in the team. His lack of effort is disrespectful to all those running their guts out around him.
He should not be selected, end of.
Kieran Kinsella
222
Posted 10/04/2022 at 04:29:50
Steve Brown,
I was working today so couldn't watch or comment on Mykolenko. But I agree, the Mykolenko and Patterson signings were not well-judged for January when we needed urgent improvement, not ones for the future.
Pete Clarke
223
Posted 10/04/2022 at 04:31:24
Just a few points on the last couple of games.
In my opinion, Delph and Coleman were only on the bench for an absolute emergency against Burnley because they simply were not fit. Burnley we're crap and, if it was not for childish defending, then we win that game.
Delph and Coleman made a huge difference yesterday against a much more dangerous opponent, so I don't see how Lampard is blamed for the Burnley game. He can't be out on the pitch with those players and if it's true those players are not happy with Lampard then they have probably realized they are not good enough for the game he (or any other manager) wants to play.
So yesterday we started to see some proper semblance of a balanced team with a steadying influence in midfield and also a very high-energy Iwobi putting pressure on the opposition. The defense dug in well and fought for every bit of space so that's where the big battles were won.
If anything, it was up front that let us down yesterday and I don't think Calvert-Lewin is mentally at the game. He is a target man for the pressure release so I assume Lampard is relying on the odds that Calvert-Lewin will click into gear.
So I hope, like myself, you all finally had a good Saturday night after watching us come back to life in our battle for survival. Hard to pick a man of the match but I'll go for Frank Lampard for somehow picking these players off the floor after the Burnley collapse.



Mike Gaynes
224
Posted 10/04/2022 at 06:58:50
Steve #220,
In comparison to Digne's form over his final 10 games with us, Mykolenko is better defensively. Much better. He's faster, quicker to the ball, closes down crosses way better, tracks runners better, man-marks more strongly on corners, and is just as good in the air.
He doesn't have Digne's attacking sophistication, but let's face it, Digne wasn't giving us anything in attack when he left. I stand by my assessment. We came out ahead already.
Our January transfer business was excellent IMO. Our net spend was about zero. We sold Digne for about what we spent on Mykolenko and Patterson. We got the "energetic box-to-box midfielder" you wanted on loan, and we'd have won at Burnley if he hadn't got hurt in the warm-up. Plus we got Dele Alli and El Ghazi without spending a dime, although they haven't worked out yet.
And I'm not gonna debate other teams' transfer business (especially those with newly unlimited Saudi budgets), but if you really believe £50 million for Bruno Benchwarmer (4 starts, one goal, looked like absolute shit against us) was good business, you're welcome to your assessment.
Sam Hoare
225
Posted 10/04/2022 at 06:59:41
Kieran @153,
Iwobi will never be as good as James creatively but he certainly outstrips him athletically. For a long time, I've thought he could make a decent attacking Zo 8 and I'm really pleased he is being played there with some success.
His work rate, as highlighted on MotD, was exceptional and it really helps us to have a player in the middle who can see a pass or beat a man whilst also covering a lot of ground at decent pace. If he keeps up these levels (a big if), he may start to make his transfer fee (not his fault) look less ridiculous.
So pleased with the 3 points. Couldn't watch as I was flying but a huge and needed result. Still work to be done but that belief will be crucial and the return of Mina will further boost our cause. If we could beat Leicester, that might give us a hint of breathing space before the tricky Liverpool and Chelsea double.
As good as yesterday was, I'd have preferred to beat Burnley and lose to Man Utd as we'd then have a 6-point buffer this morning. They look like our main rivals now, hoping Norwich get at least a point today.
Danny O'Neill
226
Posted 10/04/2022 at 07:15:08
What a difference a game makes. There were people on here putting us down for a 3+ goal drubbing before this one. Never try and predict football. Here's to the Canaries singing today, but who knows?
Ted @163, how can he walk out? How can he not go if he has the opportunity? Sorry, I can't comprehend. Give me that ticket any day.
Let's hope it's form with Dominic Calvert-Lewin. That or he's still not fully fit as opposed to his head being turned and thinking about where he will be playing next season.
Aperitifs at the Royal Oak now, Derek? The place is upping the stakes.
Burnley lose today, we break the 30-point mark against Leicester and get a result at Mordor. Let's get this wretched season over the line.
Everton win, Schalke win to go top of Bundesliga 2. The sun is shining over a Royal Blue weekend.
Kieran Byrne
227
Posted 10/04/2022 at 07:19:54
Pete;
Got to agree with you about Lampard as I thought that, after the Burnley outcome, he had to win this game.
I feel that Lampard is the right manager for our future and I am looking forward to the great footy that we will play but, for fuck's sake, we need to win the next 3 games in front of us.
We are Everton and we finally looked like a together team yesterday. While we got some breaks and we had good play, Man Utd didn't outclass us, they are shit imho, no balls, no steel, no class
Calvert-Lewin should have played 4-5 games with the Under-23s to get his fitness and timing back. This isn't working out and he can't continue to be picked when he's at 80-85% because he's not worthy of the shirt right now.

Christopher Timmins
228
Posted 10/04/2022 at 07:52:04
Still work to be done but, with Mina and Van de Beek to come back, we can be competitive in all our remaining games.
Well done to Keane and Godfrey for showing real bollocks after recent errors.
Iwobi is a definite starter at present. I can't believe I am saying that but Frank has found a role for him.
Burnley have an easier run-in but we have more talent to call on than them.
Danny, I trust the dogs are full of it this morning.
Mick O'Malley
229
Posted 10/04/2022 at 08:21:44
Mykolenko is absolutely my favourite player in this current squad. I love his aggression and will to win. You can see he wants to do well and what it means to him.
Also, I'm delighted that Iwobi is changing a few minds. The ability has always been there, getting chopped and changed has done him no favours. The energetic performance he put in yesterday was great to see. You don't play as many times for Arsenal and Nigeria if you haven't got something about you.
Delph was calm and assured, all of them put a shift in except for the off-the-pace Calvert-Lewin. Made up for Frank and I hope to see no more Big Sam shouts! UTFT!!!
Danny O'Neill
230
Posted 10/04/2022 at 08:22:36
Smiling and not a care in the world, Christopher! Well for this morning anyway!
Rob Halligan
231
Posted 10/04/2022 at 08:23:29
I've just seen MotD, and did anyone else pick up on an error by the match commentator on our match? Apparently, our last home victory was 6 weeks ago against Leeds! We played Leeds on 12 February, a whooping 57 days ago, which is over 8 weeks ago.
Oh yeah, and I seem to remember us beating Newcastle on 17 March, a mere 24 days, or just over 3 weeks ago.
Maybe all this is irrelevant, but does it show how much the BBC think of us when ever their MotD commentators cannot even do a bit of research prior to commentating on our matches?
Stan Schofield
232
Posted 10/04/2022 at 08:56:20
Neil@167: Yes, I see your point, players can 'come across' in certain ways. But that's not evidence of an attitude problem. If DCL looks pissed off at being subbed, for example, it's more likely (given the overall great attitude he's shown at Everton) that he's frustrated at not playing better, and playing better is surely what he wants, just like we want it too.
The issue here is the readiness of some supporters to get quite nasty and personal in their comments, in this case in relation to DCL's modelling activities. Making personal pejorative comments is entirely inappropriate, and such people do need to simply shut the fuck up. They might not wish to, but they do need to.
Paul Smith
233
Posted 10/04/2022 at 09:00:33
Hey Stan I bet the boys in the changies rip the arse out of him for his off field cat walks. Having a laugh it used to be called.
Stan Schofield
234
Posted 10/04/2022 at 09:13:37
Yes Paul, totally agree, and it's called banter. But what I'm talking about is not banter, but supporters making personal criticism out of frustration at his not playing well. It's not banter, and it's not funny, and it needs to fucking stop.
Annika Herbert
235
Posted 10/04/2022 at 09:42:01
Delighted with the win, it's a vital 3 points. So pleased to see Pickford in goal too, despite many on TW wanting Begovic.
I just don't understand the constant criticism of Pickford. But for him yesterday we would have been 2 down early doors. There is a reason Begovic was available and that's due to his inconsistency.
Just nice to be able to read the posts again after avoiding all things Everton for a few days. But my nerves are still shot
James Marshall
236
Posted 10/04/2022 at 09:48:31
Early 90's when I was DCL's age, I wore some absolute rascals of outfits. So what? He's a young kid with good looks, money and fame, what d'you want him to do, ignore it all and wear a fucking tracksuit all the time?
Jesus, give the kid a break - he just spent 4 months doing bugger all with a football so of course he's going to spend sometime concentrating on the modelling & fashion aspects of his life.
Did you all think he would just sit around at home in his dressing gown, instead of wearing it to the shops?
In a modern society where there's no real youth revolution, the things DCL does amount to exactly that. Fashion anarchy if you like - there's no youth movement now we have the Internet, it's saturated with bullshit so at least he tries to stand apart. I for one applaud that.
Jay Evans
237
Posted 10/04/2022 at 09:51:35
Stan sorry mate but no one would be arsed what our number 9 wore off the pitch if he was arsed and yesterday showed he clearly isn't.
He may not be 100% fit but he is definitely not 100% arsed either. That is indefensible considering our current plight.
Again, have a look at him being substituted yesterday. Arrogant doesn't even come close to it.
Colin Malone
238
Posted 10/04/2022 at 10:05:22
Bringing DVB in place of Iwobi. That's a big no no.
Calvin Lewis is a strange one. His trying two careers that don't marry up. Looks like this modeling is full time. Going into games scared of getting a facial injury could be reason why his form has dropped.
Gary Jones
239
Posted 10/04/2022 at 10:12:59
Brandan@164 - I can ONLY assume DCL is training well. I think Frank has said several times now that this is how he selects players. I have no idea why it's not being translated from training to match, but it was clear as day yesterday that he simply looked disinterested and off the boil.
Gary Jones
240
Posted 10/04/2022 at 10:22:31
Anyone worked out where the 5 minutes added time came from? But for Pickford preventing Ronaldo, it could have cost us hugely. Alongside some shocking refereeing and VAR decisions, it becomes very hard to not feel conspired against.
Stan Schofield
241
Posted 10/04/2022 at 10:27:34
Jay@237: There's absolutely no evidence that DCL isn't arsed. You might think he looks non-arsed, but that's not the same thing as him actually being non-arsed. On the contrary, all the evidence points to him being non-non-arsed, i.e. arsed, given the exemplary attitude that he's clearly and consistently shown up to his bad injury.
Even Alan Ball in season 70-71 was accused of caring more about his fancy white boots than about performing well for Everton, even though no other player could compare with Ball's absolute commitment to the cause. Some people seemed to not notice the fact that he was knackered after the heat and altitude of Mexico 1970.
Some football supporters are very fickle, and some Evertonians fall into the trap. They need to get a grip on reality.
Clive Rogers
242
Posted 10/04/2022 at 10:40:34
I always thought that DCL's main asset was his athleticism, his pace and jumping ability in particular. Since his comeback that seems to have deserted him for some reason. He is hardly winning any headers and not getting on the end of balls that he should be. He is having to rely on his football ability and technique which is sadly lacking.
Danny O'Neill
243
Posted 10/04/2022 at 10:41:47
Rob, when have the BBC or Sky ever demonstrated researching Everton? For years after Moyes had left, they kept on talking about "knowing what you get from Everton". They were still talking about the Moyes team rather than the one of the time.
On Calvert-Lewin, I've said myself that something is not quite right. What that is, I don't know, but hopefully it's a temporary dip in form or fitness.
In his defence, being the Everton striker is an isolated job most of the time. Especially in this team where the defenders naturally sit deep, subsequently requiring the midfield to do likewise. And since Digne went, he doesn't have the supply that worked well for him as our wide players tend to want to cut in from the flanks rather than drive wide and get crosses in.
Derek Knox
244
Posted 10/04/2022 at 10:46:52
James @ 236 " He's a young kid with good looks, money and fame, what d'you want him to do, ignore it all and wear a fucking tracksuit all the time? "
No, but he got all that money for doing a specific job, so now he has made it, and on guaranteed money by virtue of his contract, doesn't mean he should not be interested any longer. Mind you all this Catwalk malarkey can't be helping, but he is not exactly doing it covertly either !
I felt personally, having been at the game, he shouldn't have even started, as he has glaringly underperformed since returning from injury, and more so yesterday in comparison to the other ten.
Martin Mason
245
Posted 10/04/2022 at 10:47:54
Danny
DCL has been suffering from post viral fatigue syndrome and then a very nasty injury. Given our desperation he has then been rushed back far too quickly. Look at his record which is typically an incredible goal every 2 games. He is absolute class and his bad form is temporary. Please, enough of this ignorant criticism of players like Pickford and DCL, such criticism reflects badly on the critic not the player. Look yesterday at players who have been crucified by this ignorant criticism. Iwobi, Delph, Pickford and even the magnificent Coleman. They are like new players.
Dave Williams
246
Posted 10/04/2022 at 10:54:17
Some people never learn do they?
DCL is struggling for form after a very serious injury. He deserves our patience as he has been a good player for us. Frank will drop him if he is not trying.
There is an awfully long list of players down our history who have been similarly criticised when in poor form. Someone mentioned Kendall( took terrible stick when he first arrived) and Ball. Harvey was brutally treated for a couple of years. Reid, Andy Gray,Ratters,big Joe - the list is endless. Yesterday we saw at least four very recent whipping boys show that they do care and that they can play- Delph,Iwobi and Mykolenko were superb whilst Godfrey played like a man possessed.
I accept that we all have the right to criticise but to write off a player as not interested after a bad injury just because he models some way out clothes is in my opinion unnecessary. Anyone who has experienced a bad injury will know that it takes time to feel 100% again and to have confidence that the injury will not return. He will get it back but the sooner the better.
Gary Jones
247
Posted 10/04/2022 at 10:54:18
Martin, assuming "Post Viral Fatigue Syndrome" is interchangeable with Cantbearseditis?
Paul Smith
248
Posted 10/04/2022 at 11:06:45
Giving players space to adapt (play shit) as they recover from injury, illness, relationship problems is a luxury we can't afford when facing relegation, hence why fans are less compassionate towards DCL than they might be. Possibly.
Jay Evans
249
Posted 10/04/2022 at 11:12:48
Stan 241, maybe you could explain to me his reaction at being substituted yesterday then ?
Obviously not fit enough to clap us match going fans.
A small gesture from players I know but personally speaking it is always something I appreciate.

George Carroll
250
Posted 10/04/2022 at 11:13:51
I think that Michael was wrong to start his piece with unfound ed rumour and giving some credibility to the rumour by saying senior Evertonians are saying that the players had no faith in Lampard. Who are the so-called senior Evertonians? Do I qualify having supported Everton for over 70 years and a season ticket holder for most of that time until ill-health? I thought after the display against United you, Michael, should have removed the rumour
Clive Rogers
251
Posted 10/04/2022 at 11:18:13
Martin, 245, DCL has played 160 PL games for us and scored 43 goals. Roughly 1 goal every 4 games. Half of what you quoted.
Derek Knox
252
Posted 10/04/2022 at 11:22:19
Jay @ 249, excellent point there mate and something that I have noticed the absence of, at certain games with certain players.
Like you say it means a lot to fans who may have travelled all day, (there and back) it's just a gesture of acknowledgement and appreciation. Even if it's unfortunately a losing game !
Scott Robinson
253
Posted 10/04/2022 at 11:26:32
Fair play to DCL and his 'fashion' career.
Yet, something doesn't quite add up energetically.
He obviously has a strong feminine side.
Yet, we all know that to play football requires a lot masculine energy.
That's not to say footballers don't have a feminine side (we all do), but I don't think we have seen the necessary aggression (and maybe even desire) from Calvert-Lewin.
In some ways, it is consistent with his style of football:
Efficient in the 6-yard box, good in the air.
But do we see in him the brute footballing force of say someone like Lukaku (or even Rondon)?
Maybe at the moment, returning from injury and the negativity around the club is affecting his form. I honestly believe he cares – he knows how much the club means to the supporters. He said enough on his Sky Sports cameo.
Let's just hope he returns to goal-scoring form, whatever shape that may be.
Derek Knox
254
Posted 10/04/2022 at 11:36:04
Scott, We all have a feminine side ? What ?
Pfft ! Not me, but just off to an Ann Summers Party ! 😜😂💙
Danny O'Neill
255
Posted 10/04/2022 at 11:37:15
Martin Mason, I was actually sticking up for Dominic, not criticising!! I was using examples of why his form or fitness might be suffering.
Those who judged Mykolenko after one match still astounds me. They must be better and more instinctive judges of football than me.
Not sure why there is a big fuss about the fashion thing. It's part and parcel of the game and has been for a long time. Way before David Beckham and the Premier League.
I remember the Peter Reid thing. I was at the home game against QPR in the Paddock and remember him boiling over and arguing with fans to the front of me because of the slating they were giving him. A sad way for an Everton great to be treated.
We reserve the right to criticise, but sometimes, just think, Blues, before your frustration gets the better of you.
John Raftery
256
Posted 10/04/2022 at 11:39:37
Rob (231) Yes, I picked that up as well. I said to my wife 'what a galoot of a commentator!' Few of the modern breed are in the same class as predecessors like Davies, Motson and Tyldesley. They are sloppy with their preparation and trot out too many well worn clichés. It was the first time I had bothered watching MoTD for several weeks, for obvious reasons.
I liked the running and sprinting stats screen with Iwobi top of both tables in this match with 11.5km ran and 26 sprints. We had four of the top five distance runners and four of the top five sprinters. While the quality is lacking there is no shortage of effort. United fell short in both of those aspects yesterday.
Michael Lynch
257
Posted 10/04/2022 at 11:43:31
I think the fashion thing with Calvert-Lewin is a complete red herring. It makes sod all difference to how he plays and, for the record, I think so much more of him for dressing how he wants to dress, and breaking the stereotype of the footballer.
He's a big strapping lad who can put himself about on the pitch, and he's confident enough in his own skin to say that he likes to collect Chanel handbags - that's brilliant in my book. He's not trying to gloss over it by saying he's gender fluid or some other identity pigeonhole, he's just saying he dresses how he wants and feels good about himself. The strength to do that is impressive, especially in the toxic world of macho footballers.
Modelling a Chanel handbag is worth a thousand taking of the knee or rainbow lace virtue signalling gestures.
Meanwhile, he looks dreadful on the pitch and, like others on here, I think he's struggling to recover from whatever illness/injury he's had. The only question is whether Lampard should keep playing him so he can regain his match sharpness, or if we are better off leaving him on the bench until we're safe (if we are ever safe).
Eddie Dunn
258
Posted 10/04/2022 at 11:47:34
On the subject of Calvert-Lewin – he has always divided opinion on here, but didn't Lukaku also?
Dominic has had a serious injury, he came back too early and suffered a reaction. He will not get up to speed for another 4 or 5 games.
We haven't been creating many chances and he needs 3 or 4 per goal. Perhaps he is being careful during the game, hoping to last the full match. Some suggest he has a bit of long Covid or post-viral illness. Frank had nothing but praise for him.
As for his modelling career, I think it is a mistake, just like his willingness to take up punditry during a lay-off.
In my opinion, players should concentrate on playing football, training and learning. He can have hobbies, of course but one only has to look at Rashford to see that even getting involved in worthy causes (unlike the fashion world) results in a drop-off in football success.
If Dominic wants to be the England striker and continue in the Premier League, then I suggest he concentrates all his efforts on making himself better. He has plenty to work on.
There will be plenty of time to pursue modelling and punditry in a few years.
Back to the game, Rob Halligan mentions these commentators and I'm sure the twit mentioned that Calvert-Lewin hadn't scored since (some distant date), not mentioning that 4 months of that he was injured. It sounded much more damning if that fact was conveniently forgotten.
Something I did recall though, was that against Newcastle, it was Dominic who played the perfectly weighted return pass which made Iwobi's task much easier for the winning goal, and at Burnley, as soon as Rondon came on to give some support up top, it was Domenic who laid off the little knock down for Rondon to almost equalise.
I think we would get more out of Calvert-Lewin if we got Alli or Rondon on to play off him. It might mean dropping Iwobi, Gordon or Richarlison, but it might be worth trying at least with half-an-hour to go instead of 3 flippin minutes.

Tony Abrahams
259
Posted 10/04/2022 at 11:53:44
I've just watched the highlights again, but I'm definitely not going to give my head a wobble, even if I was one of the people who wanted Begovic, to play.
Pickford was our most important player yesterday, because he did his job properly. Nothing more, nothing less. we got a bit of luck, but the defensive concentration levels were definitely higher yesterday - right across the board, but until that one swallow becomes consistent - the calls to drop nearly every single player will continue.
Calvert-Lewin, his head might have been turned, but unless he's signed a contract for another club, then who would currently want him? I've seen him give Maguire a hard time many times before, but he never laid a glove on him. Watching closely yesterday, I don't think Calvert-Lewin is bending his right leg as much as his left when he tries to open up, so it's clear the kid isn't fit, even if it's subconsciously.
Keane is playing much better (after a shaky start) and Godfrey showed much better defensive concentration. Coleman defended, Mykolenko is still a worry defensively, but is improving all the time.
The midfield trio all complemented each other yesterday, keeping it simple, and more importantly all contributing, whilst Gordon (although naive at times – just my opinion) worked very hard for the team, even when dead (a great attribute) and Richarlison did the same on the other flank, but with a bit more experience (sometimes!) that kept engaging the crowd.
A massive win, so valuable, and although Goodison was very tense yesterday, it's value to Everton Football Club can never be underestimated, as I shiver thinking that the place of a thousand emotions hasn't got long left.
Stan Schofield
260
Posted 10/04/2022 at 11:57:54
Jay, @249:
Perhaps he was pissed off with being subbed? Pissed off with himself perhaps? When your form is shit, it's a struggle. Simple as that.
That's what bad form is, a set of circumstances largely beyond your control, which you nevertheless try to control because you're a professional, but can't control or struggle to control, and thereby become frustrated.
But some people tend to non-sequitar conclusions or gossip about players and their attitudes. Maybe that's why the media peddle so much shite, because too many people like to be immersed in it. Don't let common sense or real evidence spoil a bit of random opinion eh?
Tony Abrahams
261
Posted 10/04/2022 at 12:13:37
A great first paragraph, Stan, something that anyone who has played football, wants to win, and also wants to play well and contribute to his team, will I'm sure be able to relate to.
Ronaldo has also had some stick, and will take a lot more for his actions. I'm definitely not condoning him, but playing badly and losing hurts, especially when you've got high standards.
Andy Crooks
262
Posted 10/04/2022 at 12:20:28
If we are to survive in the Premier League, the club must appoint a decent tailor. Our away record would be much better had our players travelled in properly cut blazers. Also, this bunch of bums seem to be strangers to tie pins and cufflinks.
If only Calvert-Lewin would get a decent tweed suit and a pair of sensible brogues. Farewell blisters, hello Golden Boot.
Tony Hill
264
Posted 10/04/2022 at 12:45:56
Calvert-Lewin has produced an excellent statement which is on Instagram (apparently). My son read it out to me and it's just the sort of careful comment I would expect from this player.
He says that the club has made him, that he will always try his best and that his goals will start to flow again.
Patience and support needed.
Neil Copeland
265
Posted 10/04/2022 at 13:07:43
Stan #232, the statement made by Calvert-Lewin about his form helps I think. And although I still have concerns, I will shut the fuck up for now at least... 😁
Changing the subject, I see Merseyside police are investigating the Ronaldo phone incident.
Ray Roche
266
Posted 10/04/2022 at 13:12:13
In a nation where people – slobs – go to Tesco's in pyjamas and furry slippers, it's a bit rich giving Calvert-Lewin stick for his fashion choices. Leave the lad alone.
I remember drape jackets and drainpipe trousers, then mini-skirts (although I didn't have the legs for them), parallels, como's, tye and dye, loons, all sorts of crap. But that's fashion for you. It happens. Get off his back.
Brian Murray
267
Posted 10/04/2022 at 13:15:45
Regarding Ronaldo it just shows you how out of touch these prima Donna footballers are that he thinks making an offer to go as a guest to his club will be a peace offering. I'm sure the lad would rather have a new phone and a free ticket to watch his own club at the least. As for our rivals it's no good relying on the Norwich's of this world. Coyb
Danny O'Neill
268
Posted 10/04/2022 at 13:21:27
I'm still giving Calvert-Lewin a pass. He isn't fit, isn't right, is off form, whatever. I'm not judging him because he didn't clap as he went off. Maybe he was disappointed.
Richarlison stormed off the pitch at West Ham, kicking a bottle into the advertising hoardings on the way. Others came over to the away following. I didn't mind. Richarlison was clearly frustrated (on the back of Cresswell seemingly escaping a red). I don't mind a bit of passion and being pissed-off.
Dominic was a lone figure for long periods yesterday as he and anyone asked to play as Everton striker has been this season. Is it any surprise that he potentially isn't enjoying his football when you add in the other factors too?
Paul Swan
269
Posted 10/04/2022 at 13:23:30
One thing which stuck with me yesterday was when Pickford launched the ball from a goal-kick in the second half and Calvert-Lewin didn't even bother to challenge for the ball. Pickford was then waving his arms around and shouting towards Lampard about that. Calvert-Lewin was subbed not long after.
There is clearly an issue with Calvert-Lewin; if his teammates are calling him out for it, it's not only the fans on his back. Hope he gets it sorted out soon because, in these situations we find ourselves in, we need unity and everyone pulling in the same direction.
Dale Self
270
Posted 10/04/2022 at 13:23:44
Since Kieran let me off easy on my 'Mike Waller' schtik, I will take this into account and pull back on criticism of his play and private right to express himself. We need them all in full confidence now. ,
Stan Schofield
271
Posted 10/04/2022 at 13:26:02
Neil@265: 👍😀
Paul Smith
272
Posted 10/04/2022 at 13:36:39
Ray I go the Co-op on my Pajama bottoms - it's comfortable. I also run ultra marathons. I get your point though.
Tony Abrahams
273
Posted 10/04/2022 at 13:38:46
Interesting that, Paul, and it's only when we get players questioning each other, will we start to genuinely improve, imo, so it's good to hear things like this are beginning to happen.
I listened to Lampard's interview after the game and it was obvious that, to at least half of the questions he had to answer, it was more like he was saying to the interviewer, it's not me that needs convincing.
I've definitely seen some green-shoots over the last 8 days, I just hope it's not my Everton-inflicted schizophrenia coming back!
Neil Copeland
274
Posted 10/04/2022 at 13:48:02
Tony #274, there has definitely been an improvement. I thought we were a bit unlucky (mistakes aside) against West Ham and Burnley and played reasonably well in both games. Interesting that Frank seems be getting much more intensity from the players and, slowly but surely, there is a style of play emerging.
Most us had given up hope on Iwobi; now he looks a different player and seems to be enjoying his football more. Ben Godfrey is improving back to where he was, Mykolenko us getting better with every game; so yes, lots of green shoots appearing.
Just need to hold it together and keep the fantastic support going and we will be okay.
Jamie Crowley
275
Posted 10/04/2022 at 13:48:51
Michael Lynch @ 257 -
Great post in my opinion. Spot on, I agree 100%.
Ajay Gopal
276
Posted 10/04/2022 at 13:51:23
I wasn't following the match yesterday due to other commitments, so it was with trembling hands when I opened the BBC website for the score (don't ask - just my superstition). What relief when I looked at the score line, felt like a big burden had been lifted.
I saw the entire replay today at leisure, pausing and rewinding as I wished. Most of the points have been discussed; my observations:
What a fine hound player we have in our hands in Gordon! Unbelievable that this young lad is virtually undroppable.
What impressed me most – among other things – was his corner-taking ability. He took all of our 6-7 corners and he put every one of them in the 6-yard box, right in between the sticks. It did not result in a goal, but caused a panic among the Man Utd defenders.
Contrast that with the terrible corners that Digne had been taking for almost a 6 months, and then you appreciate that Gordon is a very rare player – a great combination of effort, skill and heart.
Comparing him with another home grown Everton player who was hyped by the media – Ross Barkley – Gordon possesses lesser skills and physical attributes but more than makes up for it by his sheer determination. Don't want to jinx the young lad, but long may his career flourish at Everton.
Danny O'Neill
277
Posted 10/04/2022 at 13:55:29
Lampard's "have you got the bollocks" statement was a gamble, but he obviously felt confident saying it. Maybe he knows who is on board and who isn't, so isn't afraid to piss those off who aren't?
I keep saying it, let's get this one over the line and re-group with those who deserve to be here and want to be here. Everton comes first. Always.
Leicester next then, subject to getting a ticket, a trip to the shoe box with a really big stand.
Paul, you've just reminded me of Saturday mornings at Hunts Cross Asda with women queueing for taxis in pajamas, slippers and curlers. Too far; a red line!!! Please tell me you don't sport curlers. Not that it isn't your right to do so as a free individual!!
Dave Abrahams
278
Posted 10/04/2022 at 14:18:01
Paul (269),
A good point about Pickford complaining about Dominic not challenging for the ball. Players should be pointing out each other's faults.
Jordan could have no complaints himself if his teammates had pointed out to Koeman, Silva, Allardyce, Unsworth, Ferguson, Benitez and Lampard about him being rooted to his line when corners, free kicks and centres have been flying through his 6-yard box for the last 4 years.
I hope he carries on like yesterday and continues to get off his line and start punching the ball away. That has been the one constant and justified complaint about him from many Everton fans since he got here, not the only one but the main one.
Danny O'Neill
279
Posted 10/04/2022 at 14:20:22
I noticed that at West Ham, Dave. Jordan actually taking responsibility and coming off his line; even out of his box at times.
David Hallwood
280
Posted 10/04/2022 at 14:24:14
Maybe we should change our nickname to The Agoraphobics.
Lot's of silly comments about Calvert-Lewin, always remember the old adage about class and form, but having said that, he's way off the pace and, when you're battling for survival, it must be all hands to the pumps, so he should be used as an impact sub until he gets up to speed.
But it's interesting that none of the top 3 clubs play with a Number 9, even more interesting that Chelsea have Lukaku and he's a bench warmer.
Maybe take a leaf out of their book; okay we haven't got Salah or Sterling or Werner, but start with Gordon, Gray and Richarlison, which gives us lot's of pace and mobility.
Add to that a RS looking midfield (albeit nowhere near as good) with a Number 6 in Delph and 2 workaholics in Iwobi and Allan, and we just may have the basis of a reasonable team.
George Cumiskey
281
Posted 10/04/2022 at 14:29:15
Silly comments about Calvert-Lewin? Class?
Let's not forget he's only had one decent season.
Matthew Williams
282
Posted 10/04/2022 at 14:56:14
A magnificent team effort yesterday but we must capitalise on this by beating Leicester at home. Back-to-back wins will be a massive boost for us heading to Mordor soon after, I believe we could grind out a draw there.
We must also start with a settled team with our most experienced players for us to start playing with a bit of calmness and to help our younger players along too... So Coleman starts for me. Allan will be a massive influence too.
As for Delph, we must wrap him up in cotton wool and give him only light training duties. Godfrey, Iwobi are both improving as the games go on, and Mykolenko is now finding his feet too.
Only Calvert-Lewin looks off it for me and needs to sit it out from now on in, Rondon needs to start to make life hard for the opposition centre-halves, he's strong and is good at hold-up play and can bring our more creative lads into play and create our chances from there.
As someone mentioned yesterday on the Live Forum, we do have the making of a decent side but we need to be braver and start believing in ourselves from now on... we can do this, Blues.
Oh, the home fans were simply a real credit to our club too yesterday, they got the lads over the line... again!
COYB
Robert Workman
284
Posted 10/04/2022 at 16:03:47
Back to 4 point gap over Burnley. Identical goal difference.
Mike Gaynes
285
Posted 10/04/2022 at 16:04:39
You've posted that "one decent season" comment twice, George #282, and it's been silly both times.
Dom's had one decent season (15 goals) and one really good one (21 goals).
Or did you forget?
Bill Watson
286
Posted 10/04/2022 at 16:56:07
Robert #285
If we'd have won last Wednesday, we'd now be 10 points clear of them with a better goal difference. Three more wins, for us, would mean Burnley would need to win at least four and draw one assuming they had a better goal difference.
Two wins may even be enough. The margins are that tight. We must also ensure we don't lose to Watford!
Given an adequate service, Calvert-Lewin will score goals but he's not a natural striker. He very rarely scores one-on-ones against a goalkeeper. The difference in the last few games is he isn't chasing players down. In our current predicament, that is unforgivable and I'd have subbed him at half-time.
George Cumiskey
287
Posted 10/04/2022 at 17:22:03
Stop scrutinising my posts, Mike Gaynes! 😜☺️
I don't care what anyone says — he's not a natural goalscorer, in my opinion.
Mike Gaynes
288
Posted 10/04/2022 at 17:39:01
I hang on your every word, George. You know that.
Of course he's not a natural goalscorer. But he compensates with his physical gifts and work rate, and he has learned to anticipate well.
Jason Li
289
Posted 10/04/2022 at 17:55:13
5 home wins in 7 for Lampard. As a Carlo fan, that's pretty much as good as Carlo's best run last season when he was winning away games, so Lampard is doing something right. Like Carlo, he just needs to keep improving on the alternative fixtures.
Great to see Iwobi this motivated again. Let's hope Gray keeps pushing as he is a match-winner for us and the best player for us in the first 10 games of the season.
The team is much more fluid when Iwobi, Gray, Gordon, Allan and Richarlison are combining well in different combinations.
Beating Arsenal and Man Utd this season needs to be reminded before every game, matching and being cheated out of a penalty against Man City this season as the only difference, drawing and beating Chelsea in the last couple of seasons, and winning away at Liverpool last season shows that these players can do it if they go for it.
The same players that can be perceived as the problem have given the solution at the same time. I think Frank is getting us there.
George Cumiskey
290
Posted 10/04/2022 at 18:07:39
Mike, but when he's not putting in the work rate and effort, he's not much use.
Michael Connelly
291
Posted 10/04/2022 at 18:36:45
Mykolenko's performance level picking could prove to be Vital-iy in the run-in. Great to see a left-back blocking crosses, even if his own are not in the Digne class.
Must not forget to thank Benitez for bringing what look like 2 decent full-backs for the future in exchange for one who doesn't rate defending.
Ray Smith
292
Posted 10/04/2022 at 18:42:58
Calvert-Lewin is struggling for form. Yesterday, he was way off the pace, so maybe it's time for him to start from the bench, coming on later, depending on how we are doing.
I'm not bothered about his modelling, provided it doesn't interfere with his training schedule.
Currently he won't force his way back into the England setup either. Head down, and prove the doubters wrong (me included).
Will Mabon
293
Posted 10/04/2022 at 18:49:06
Michael,
Benitez later apparently denied having anything to do with those signings, or wanting the players. No way of knowing the reality obviously, so much rumour.
Brian Wilkinson
294
Posted 10/04/2022 at 19:20:26
Okay, slight exaggeration but has anyone else noticed Calvert-Lewin jumping for the ball half-a-minute before it gets to him? And his feet are back on the floor again, before the ball gets to him. He used to time his jumps to perfection but a little bit out of sync at the moment.
Also, good shout from Dave about Pickford, commanded his area well. That's been one of my little niggles – him being rooted to his goal line and not commanding his area better. Yesterday, he did everything right.
Bill Watson
295
Posted 10/04/2022 at 19:44:18
Ray #266
Stop taking yourself down; I'm sure you looked quite fetching in your mini skirt!
Brian Murray
296
Posted 10/04/2022 at 19:48:02
If it's true Pickford's screaming at our bench got Calvert-Lewin the hook, well fair play to him. I wish that attitude went through the whole team.
Mike Morgan
297
Posted 10/04/2022 at 19:52:34
Dogs of War – not Rocket Science!!!
Delph, Allan plus either Doucouré or Iwobi. Playing 2 holding midfielders is the way forward. Espcially for the away games.
The team sv Man Utd was the best balanced I've seen all season. Interestingly, Ancelloti played both Allan and Doucouré as 2 defensive midfielders and we were better away from home than at Goodison.
So away, play 2 holding midfielders – not Rocket Science!!
Anthony Dove
298
Posted 10/04/2022 at 19:55:47
Assuming everyone is fit, please keep the same team for Leicester, and don't bring back Mina – even if he is available.
Ray Roche
299
Posted 10/04/2022 at 20:01:48
Bill @295
What I get up to on a Friday night when I'm on my own is my business, okay?
Brendan Fox
300
Posted 10/04/2022 at 21:28:41
A crucial win with a much more solid team performance compared to the capitulation against Burnley.
The same team please next match against Leicester, Norwich beating Burnley today has given us the 4 point buffer back but we really need to pick up some points from the remaining away matches to ensure survival.
Tony Hill
301
Posted 10/04/2022 at 21:37:19
That great picture of Seamus and Ashley Cole after the game. Tells us all we need to know. Cole is going to be crucial for us: look at Mykolenko and the job he did with Kenny.
But more than that, he's a serial winner and I think he's now a proper Blue.
Neil Copeland
302
Posted 10/04/2022 at 21:44:39
Brian #294, yes I noticed that, the poor timing was almost over emphasised which looked a bit odd and I thought perhaps he was trying to put the defender off.
Billy Fisher
303
Posted 10/04/2022 at 22:29:54
Dom will never be better than the level of Bobby Zamora
Lee Robinson
304
Posted 10/04/2022 at 22:35:00
That win was huge! The last 10 minutes seemed to last a life time, everything became too much for me after that final whistle I had tears streaming down my face, very proud of them all.
Although not the best team performance, individually they gave everything, We seem to play much better as a defensive unit when sitting back with a low block, the defensive screening of Delph helped too. Iwobi and Mykolenko were my two picks for MOTM, I was so happy for both of them and I thought Pickford was outstanding, how he held onto the shot from Pogba towards the end for a tap in and the Ronaldo shot could have went anywhere.
Sean Dyche has hopefully done us a favour with his comments, that might have a bigger influence that any Frank teamtalk, it should do, when another manager has a dig at your mentality you need to start asking yourself questions.
However I didn't realise how favourable Burnley's fixtures are. Whether I'm being pessimistic but they could get 15 points from that. I watched their game against Norwich today, they were unlucky.
I can see us getting a maximum of 10 points. I think we need to pull a result out of Arsenal, Liverpool or Chelsea and beat Palace, Brentford and Leicester at home to have a chance. I'm still not confident I just want this season over.
Chris Leyland
305
Posted 10/04/2022 at 23:08:22
Lee - Burnley have won 4 games out of 30 all season. They are an awful side. I look at their fixtures and think that on paper it's an easier run in but to win 5 out of 8 of them would be some very drastic improvement on where they are. It's what makes losing to them midweek so hard to swallow but it was our midfield options that cost us that game, despite the unforced defensive errors. If Allan and Delph had been able to start, we'd have won it and been sitting 10 points clear.
Laurie Hartley
306
Posted 10/04/2022 at 23:30:00
I thought Allan and Delph made the difference. Lots of endeavour and fight from all the players but those two look a perfect combination to me. Couple of old heads who know what it's all about.
If we can keep them fit and suspension free and because of the transformation of Iwobi I can't see Doucoure, Holgate, Gomes, or Van de Beek getting a start any time soon.
I still want to see Rondon getting a start but it looks like Frank doesn't rate him.
Ian Riley
307
Posted 10/04/2022 at 23:46:35
Yesterday the players worked harder with more desire to win. Individual errors to a minimum gets you three points. Norwich did that today and three points.
All season I have felt our work ethic as a team has led us to this. This squad has quality but like life you only get out what you put in. We are still in the hole but we can see daylight with a step on the ladder.
Need to continue with the mindset of working harder not who we are playing against. Perhaps the players have been guilty of this. I watched burnley today and they didn't match norwich' s work rate. Perhaps this surprised united yesterday?
Much work to do but yesterday was a start. Have a good week all!!
Lester Yip
308
Posted 11/04/2022 at 00:16:48
Brian #294.
Yes, I noticed the strange timing of Calvert-Lewin's jump too and have been focusing on that for a few times. Strangely, it seems he's trained to do that timing. When you think he'll drop, he's still hanging in there for a tad bit which the ball glances his head just before he drops. Maybe it's his way why he's been able to flick those balls time after time.
After last season coaching under Ancelloti, I think he focuses more on getting around the dangerous areas than just closing down and pressing. He probably saves some energy for the time when it counts most. But sadly, our crosses are so poor that never comes close to him. If we had Bruno Fernandes who can pass and cross accurately, he'd be scoring a lot of goals.
Ernie Baywood
309
Posted 11/04/2022 at 00:39:34
Calvert-Lewin is out of form. Probably out of fitness. Personally, I don't think he's being utilised well either.
But just stop it with the demands to drop him. His replacement, Rondon, is currently going through the phenomenon whereby he improves in reputation with every minute he doesn't play.
Calvert-Lewin plays if fit enough. Likewise Pickford and Richarlison... both of whom have had similar suggested alternatives over the last few weeks.
Don Alexander
310
Posted 11/04/2022 at 00:57:29
Lester (#308) if Ferguson, the best centre-forward header of a ball I've ever seen (and I saw Ron and Wyn Davies, and Andy Lochhead mind) can't, after years coaching Calvert-Lewin, get him to time his incredible leap to consistently score goals, I just don't understand why our professional pigeon-feeder is still employed.
Frank Wolfe
311
Posted 11/04/2022 at 02:41:05
My take from the recent games:-
We are always better with a back 4. No more back 3 (or 5) for the rest of the season.
We are better without the ball (maybe Benitez had a point) and I think Frankie has finally realised that. So, maybe our tough run-in might actually be a good thing.
Team structure is often as or more important than individual players.
3 in midfield works well. We've desperately missed a No 10 all season and Iwobi is doing a good job trying to fill that role.
Great performances all around as noted by many above. I was particularly impressed with Mykolenko who seems to have really settled in. We actually looked more vulnerable down our right side.
Danny O'Neill
312
Posted 11/04/2022 at 05:49:41
I too am not sure why he is still employed Don. Did you see the tunnel shoot after the match? Yeri Mina obviously is a character in this squad. I just wish he could be fit more often.
But telling was Duncan's passiveness. Whilst everyone was buzzing, he seemed resigned. Maybe I'm over-analysing?
Best header of the ball? I challenge you Sir. Bob Latchford, Graham Sharp and dare I say, Derek Mountfield?
Lee Robinson
313
Posted 11/04/2022 at 09:34:06
Danny #312 - Agree about Duncan, I assumed he wasn't there as I didn't notice him all game, only slight shot of him was at full time as you say, appearing resigned and heading down the tunnel. It appears to me from the outside like not the most together dressing room, like lots is or has been going on behind the scenes, player - player, player - coach fallouts, hence the chopping and changing but I may be wrong.
Chris #304 - Agree with you, but most teams at some point put a run together, look at Newcastle, Leeds and Brentford recently. They have the fixtures there to be able do it.
Finally, on Calvert-Lewin, when on form he can be a real handful and a huge benefit to the side if it is built around him. Like last season Carlo had him playing like Inzaghi, he made a big thing about finishing with one touch as James and Digne put them on a plate for him.
I think Carlo was good at this, getting players to play to their strengths, doing things they can do well. Calvert-Lewin rarely scores when he controls, sets himself up and places one in the corner, he doesn't score from outside the box, he doesn't often strike the ball cleanly and if not being fed service I can't think of many goals created on his own.
My point is he's not the all-round striker people think he is (mainly outside the club). This side isn't built around crosses in the box at the moment, he gets little service, let's be honest, and he isn't benefitting from the set-up. Saying that he at least needs to put in the effort and close people down. He looked angry on Saturday but didn't channel it into his game.
Brian Harrison
315
Posted 11/04/2022 at 09:51:24
Ernie @309
You rightly say Calvert-Lewin is out of form, but you ask fans to stop with the demands to drop him. What a strange analogy... so, if you don't want people who are out of form dropped, under what circumstances do you judge whether a player should be dropped to the bench?
Danny in post 312 mentioned Ferguson's poor body language. Maybe, with him being side-lined by Frank, maybe not having his mentor working with him has upset Calvert-Lewin?
But with a club fighting for their lives to stay in the Premier League, you need everybody giving their all and so far that doesn't look the case with Calvert-Lewin – and probably why Lampard decided he was the first to be subbed on Saturday.
Brian Harrison
316
Posted 11/04/2022 at 09:59:22
Lee @313,
Ferguson does come out for the players' warm-up but doesn't do anything – just stands around having no input at all; it's mainly Clement and Cole working with the different groups.
Obviously Lampard sees no position in the coaching set-up for Ferguson and it's embarrassing watching him during the warm-up, might be an idea if he didn't come out for the warm-up to spare the embarrassment.
This is what happens when managers are forced to still employ people who they have no intention of having any coaching input on the team.
Christopher Timmins
317
Posted 11/04/2022 at 10:03:17
The weekend worked out well for us but we may need every one of the 4-point advantage between now and the end of the season.
It's Leicester next and they are in a good run of form at the moment. If Mina and Van de Beek are ready to rock and roll, then they should start instead of Keane and Delph. This gives us the option of starting Delph in the derby match on the Sunday.
Whatever about Seamus playing two games in a short period of time, I can't see Delph doing so. In any case, a Delph and Allan combination lacks mobility.
Brian Murray
318
Posted 11/04/2022 at 10:11:40
Brian post 316. If someone basically offered you security and a job for life, you would cling on for dear life. Same with Sharpy in the boardroom. As for 'best men for the job'… forget it.
Mick O'Malley
319
Posted 11/04/2022 at 10:13:51
George @281,
I agree about Calvert-Lewin, Class? To me, he's just a bang-average footballer who uses his pace and physical attributes to make up for what he lacks skill-wise. He was fucking hopeless on Saturday and has been since all the creativity he thrived on has gone.
This fella is not going to create anything for himself or suddenly start knocking 25-yarders in as he doesn't have it in his skill set. Personally, I couldn't care less if I never see him in a blue shirt again.
Geoff Lambert
320
Posted 11/04/2022 at 10:46:30
Calvert-Lewin has had one average season and one lucky season where everything he moved at hit him and bobbled into the net. Never a natural goalscorer and never creates much for anyone else.
I can't wait for the transfer window and all the top clubs fighting to sign him for £50M plus. In my dreams...
Ernie Baywood
321
Posted 11/04/2022 at 13:23:32
Brian, if we had a viable alternative they'd be in for Calvert-Lewin.
But we really don't. There's Rondon who is proven, but not in a good way. There's Richarlison who is wasted in that position. Then there are youngsters who are completely unproven at this level.
If he's deemed fit enough, he'll play.
The way we're playing at the moment a striker is important, but they're not going to be asked to see much of the ball. We need someone who can occupy defenders and maintain our shape. Calvert-Lewin gives us that.
I'm struggling to comprehend why people are surprised that Calvert-Lewin wasn't involved more. We had 30% possession. Most of that in our own half. We don't cross the ball. We don't create much at all and that's been the case for most of the season.
I don't doubt he's out of form and struggling for fitness. But who on earth would shine leading the line for us right now? He's being asked to do a pretty selfless job.
Roger Helm
322
Posted 11/04/2022 at 14:19:15
Danny 312, the best header of a ball ever was John Charles. As a centre-forward, he would regularly score a header from outside the penalty area and as a centre-half, his headed clearances could reach the half-way line.
To the Everton list of great headers (in my time), we could add Tim Cahill and Joe Royle, who also had the knack of hanging in the air before the ball arrived.
Frank Crewe
323
Posted 11/04/2022 at 14:23:49
After watching Man City v Liverpool yesterday I would hope, if, and it's a big "if", we are still in the Premier League next season, to see a much more mobile striker than Calvert-Lewin. Not one big forward on show. Just quick, skillful mobile attackers constantly on the move.
The days of the big forward "bullying" defenders are over because they are big lads and will bully right-back. These days, if you want to get anywhere, then pace, passing and movement is the way to go. Plus we are going to need a lot more goals from our midfield.
Lampard was a goal scoring midfielder himself so I'm sure he sees our almost total lack of goals from midfield as a big problem that needs solving if we don't want to find ourselves in this position again next season.
Danny O'Neill
324
Posted 11/04/2022 at 14:32:33
Tim Cahill is a good shout, Roger. I forgot about him.
Someone mentioned about Dominic jumping early. It is a forward's trick that is coached. To get the flick or to make it look like a foul (being climbed over).
Conversely, defenders can be instructed to jump late. I was taught that because you take a ball to the head or face but provide a block.
It's a generational thing, but I'm still going for Derek Mountfield and that semi-final winner at Villa Park!!
George Cumiskey
325
Posted 11/04/2022 at 14:49:42
Didn't Derek Mountfield score about 15 goals one season and not one of them a penalty?
Brian Wilkinson
326
Posted 11/04/2022 at 15:42:16
I think we missed a trick last season not going for Mitrovic, when Fulham went down. He did not have the best of Premier League goals, but it will be interesting to see if he carries on his goal-scoring, when Fulham come back up.
Tami Abraham was another we could have looked at.
Brian Wilkinson
327
Posted 11/04/2022 at 15:45:25
Surprised no one has not mentioned Andy Gray for heading a ball, unless I missed it in the comments.
Joe McMahon
328
Posted 11/04/2022 at 15:49:43
Gentlemen and ladies, when it comes to scoring goals our manager knows about this. As Frank @323 rightly says.
I can't be 100% sure, and at work so can't check, but Frank Lampard has probably scored more top-flight goals than any Everton player (since the war). The nearest I can think of are Alan Ball and Joe Royle. Frank also got a good few for England.
I hope he stays (no matter what happens this season).

Dave Abrahams
329
Posted 11/04/2022 at 16:16:19
Joe (328), I think Graeme Sharp is our top-scoring player since the war, in fact he might be the second-highest scorer after Dixie Dean, but I think you are correct that Lampard has scored more than any of Everton's players in that time.
Steve Brown
330
Posted 11/04/2022 at 16:35:57
On the basis of a major injury to Calvert-Lewin and a struggle to return to fitness, we are now categorising his previous success as 'one average season and one lucky season where everything he moved at hit him and bobbled into the net.'
During that jammy two seasons where the ball hit him and bobbled into the net 36 times, he must have been the luckiest person ever to wear a football shirt.
Brian Wilkinson
331
Posted 11/04/2022 at 17:33:10
I know one or two like a little flutter, not get you rich but Ukraine to win the Eurovision Song Contest at odds around 5/4 to 6/4 looks nailed on for me, not sure how long those odds will last.
Well that was a little of track, now back to our next match, if we can get a win and get at least a point across the park, that can put us in a much better position, oh to take points across the park, to help us and deal them a big blow in the title race, it could not happen, could it.
Anyway I will be down for the Leicester game, so if anyone wants to meet up Lime street before the game, or the oak, give me a shout closer to the game, be good to catch up with a few again.
Derek Knox
332
Posted 11/04/2022 at 17:38:40
Brian, Getting a lift for the Leicester game, but will be in the Oak before !
Brian Wilkinson
333
Posted 11/04/2022 at 17:45:55
Nice one Derek, will make my way to the oak, before the game.
Danny O'Neill
334
Posted 11/04/2022 at 18:00:11
Andy Gray when he chose to head the ball when it was 2 inches off the ground at Notts County.
See you there Brian.
Brian Wilkinson
335
Posted 11/04/2022 at 18:47:04
Nice one Danny, anyone heard from Bill or Jim.
Joe McMahon
336
Posted 11/04/2022 at 19:06:10
Dave @329. A sobering fact that only Joe Royle, Latch and Lukaku have manged over 20 league goals in a season (since the war). It's pity grim really and shows that we haven't had that many goal scoring strikers at all. What's even worse, is our highest scorer since "ye olde days of Dixie" Greame Sharp has scored a lot less top flight league goals than Jamie Vardy.
Oh to have had Lampard in Midfield a few years back!
Colin Davidson
337
Posted 11/04/2022 at 19:14:08
Gary Lineker says hi with his 30 league goals in 85-86
Dave Abrahams
338
Posted 11/04/2022 at 19:17:33
Joe (336), Joe not just a sobering fact it's amazing that we have had really so few top goalscorers in our history for such a top line club.
Joe you did miss out Dave Hickson and John Willie Parker who both scored over twenty five each but in our promotion season from the second division in 1954 and Big Ears Linacre in his one season with us, was it forty two goals cup and league.
Brian Wilkinson
339
Posted 11/04/2022 at 19:41:44
Don't forget Tommy Lawton, Dave, only the war stopped him scoring a lot more goals for us.
Joe McMahon
340
Posted 11/04/2022 at 19:42:44
Dave & Colin, yes how could I forget Lineker's haul - Duh (senior moment). But even including that, it's still not great.
Brian Wilkinson
341
Posted 11/04/2022 at 19:46:57
Tony Cottee scored a few but no prolific enough.
Danny O'Neill
342
Posted 11/04/2022 at 19:58:33
Graham Sharp definitely scored 20+ on at least one occasion. And I don't care if Kevin Sheedy didn't. He was Kevin Sheedy. If he placed his cloak on a puddle, your feet would stay dry. A wizard with a wand of a left foot.
Joe McMahon
343
Posted 11/04/2022 at 19:59:14
He did Brian, and I think came near to 20 in one season, he certainly managed over 20 at WHU (I was sad to see him leave and not make 100 with Everton). Yakubu also came close one season, but wasn't here that long.
Christy Ring
344
Posted 11/04/2022 at 21:01:00
Danny #342 Remember Sheedy against Ipswich scored with a free kick referee made him retake it and scored again in the opposite corner, a heavy wet ball, imagine Sheedy playing with the light ball Beckham had??
Joe McMahon
345
Posted 11/04/2022 at 21:27:27
Danny and Christy, Kevin Sheedy was a sublime player wasn't he, but didn't get the hype of marketing machine Beckham. Leighton Baines in his day scored some great free kicks of course, the one at Newcastle was a rocket.
Danny additionaly Greame Sharp did not manage 20 league goals in a season. I used to have the stats way back in my 20s. What he did do though was score some crackers including my first Everton match v Spurs. Adrian Heath got us a few also of course. The team mid 80s had goals allover the pitch.
Dave Abrahams
346
Posted 11/04/2022 at 21:33:09
Joe (345), if that goal, by Sharp, was the one v Spurs in the Stanley Park end then it was a really special goal, not as important as one against Liverpool at Anfield but every bit as good and in my opinion better, brilliant!!
Liam Mogan
347
Posted 11/04/2022 at 21:33:24
I saw Kevin Sheedy last night at a Dubliners do at The Empire. Introduced him to my 14-year-old telling him 'best left foot of all time'. Kevin was hobbling though, just had an ankle replacement he said. Struggled for years apparently.
Had a nice chat with him, though my lad was laughing at me saying he'd never seen me so starstruck! What a player he was. Through 84-88 not many could touch him. True legend.
Christy Ring
348
Posted 11/04/2022 at 21:40:58
Joe #345 Heath was a class act, was it Marwood who destroyed him with a shocking tackle, Reid targeted him after in every game he played against him
Stan Schofield
349
Posted 11/04/2022 at 22:21:33
Christy@344: I don't think the ball was different in weight from the current balls. Up to the 60s there were leather case balls with a rubber internal bladder that was inflated and the bladder opening then tied closed. Dubbin was applied to those balls, but in the wet they would get heavier. From the 60s onwards, case balls had a water-proof coating, so didn't get heavier in the wet, and inflation without a need for laces, and that design of ball has carried on to the present day. They are regulation size and weight as they have been for a long time.
Laurie Hartley
350
Posted 11/04/2022 at 23:48:19
Ernie # 321 - Rondon was played when he wasn't fit also because Calvert-Lewin was injured so if we can cut DCL slack for being unfit then surely in fairness we should cut Rondon the same slack for his early appearances under Benitez.
Rondon did get himself fit and Frank played him in the cup. I know they were a non league side but you can only ask a striker to score goals and he did - 2 of them.
Then he played for his country and score a cracking hatrick.
Rondon Hatrick
In my opinion he is a viable alternative and would do well with supply from the likes of Iwobi, Van de Beek, Gordon, Richarlison, and Gray.
Richy proved yet again against Utd that his best position is on the left so we need a centre forward scoring goals - goals win games and we need 11 points from a possible 24.
If I was Frank ;) I would give Rondon 60 minutes against Leicester and then bring DCL on (unless Rondon is on another hatrick or knackered). Bit of man management.
I will be surprised if he does though - he is hoping DCL will play himself into form.
Alan J Thompson
351
Posted 12/04/2022 at 06:18:53
Stan(#349); Don't ask me how as I wouldn't know but present day footballs are supposedly more round (circular/concentric?) which apparently makes it do some strange things through the air that didn't happen in days gone by. If you remember, you could always "bend" those plastic "Wembley" balls far more than a casey.
Eric Myles
352
Posted 12/04/2022 at 10:46:23
Stan #349, if I remember rightly the last time the regulation weight of the ball was changed was 1935 (could have been 1938 though).
Alan #351, I believe it's to do with the number and size of the panels on the ball?
Stan Schofield
353
Posted 12/04/2022 at 14:27:08
Alan, the Wembley Trophy ball was fantastic. That was orange coloured, and there was a white coloured equivalent who's name I can't recall.
Eric, I recall the panels in caseys becoming hexagonal around the 66 World Cup, panels previously being rectangular. Maybe the change in shape influenced the bendability when shooting, making 'banana shots' easier? Maybe all to do with spin, like with a golf ball dimples.
Frank Thomas
354
Posted 12/04/2022 at 22:43:26
The immediate reintroduction of DCL straight from injury was a sign of desperation. He was not match sharp nor match fit.
It would have benefitted him and Everton if he had a few U23 games before reintroduction – it's what we would have done a few years ago. It would also have increased the 'competition' for places.
Thank you Mr Lampard for the removal of Holgate – it stopped the non-stop careless pass out that resulted in seemingly endless attacks on our defence which we have seen in every other game Holgate has played in.
DCL should remember no man can serve two masters: football or fashion. Beckham started in fashion at the end of his playing career. Many other footballers have lost their way by spending excess time and attention either playing computer games, drinking or gambling. You are ideal for fashion at the moment because you had a great last season. Watch the fashion calls dry up when you are scoring 5 goals a season. No sign of Tom on the fashion scene at the moment after his absence due to his knee injury… take note.
Alan McGuffog
355
Posted 15/04/2022 at 14:58:20
Okay... it's Good Friday so you've time to think this through. A genuine quest for enlightenment.
I think it was over Christmas period, at Elland Road. A ball was knocked in from deep, on the right towards the near post. Big Joe dived and glanced a beautiful header in at the near post.
I'm sure we lost 2-1. But was it 69 -70 (in which case, it was bearable) or the following season. 🤔

---
Add Your Comments
In order to post a comment, you need to be logged in as a registered user of the site.
Or Sign up as a ToffeeWeb Member — it's free, takes just a few minutes and will allow you to post your comments on articles and Talking Points submissions across the site.
---
© ToffeeWeb