Manchester City vs Everton
Friday, 19 November, 2021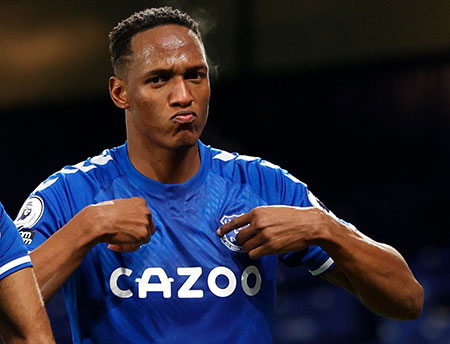 In addition to Dominic Calvert-Lewin and Abdoulaye Doucouré, Everton will again be without Yerry Mina and André Gomes this weekend
Everton resume Premier League action this weekend following the final international break of the year when they travel to the Etihad Stadium to face Manchester City.
The fortnight interval was not enough time to allow any of Rafael Benitez's walking wounded to fully recover, however. In addition to Dominic Calvert-Lewin and Abdoulaye Doucouré, the Spaniard will again be without Yerry Mina and André Gomes.
Doucouré is continuing his recovery from a fractured metatarsal and is still some weeks away from being available to return and Benitez indicated today that Calvert-Lewin still needs "two or three weeks" before he can be considered for action.
The England international has been sidelined since late August with a combination of toe injury and a thigh problem and recently suffered a relapse in his rehabilitation.
Article continues below video content
Gomes, meanwhile, returned to first-team training a fortnight ago but is still not an option for selection because of an ongoing calf issue while Mina won't be risked for the trip to Manchester because of a hamstring strain.
It means that the onus will very much be on Fabian Delph to maintain the high levels of performance he showed in the last two games, first as a substitute against Wolves and then last time out in the goalless draw with Tottenham before he was substituted in the second half.
The veteran returns to his old stomping ground as a potentially key member of a midfield that has struggled in Doucouré's absence and there is similar concern in defence without Mina's towering presence.
Michael Keane and Ben Godfrey haven't been able to maintain any consistency so far this season while Mason Holgate appeared to have dropped to fourth in the pecking order before being sent off late in the game against Spurs. He will be suspended for the next three matches, leaving the other two as the only senior centre-halves, with Jarrad Branthwaite next in line.
Everton are expected to field an unchanged line-up but City, who recovered from a shock home defeat to Crystal Palace by handily winning the Manchester derby before the break, will be forced into at least one change and possibly more.
Kevin de Bruyne is definitely ruled out after testing positive for coronavirus and Ferran Torres isn't expected back for another couple of weeks. Meanwhile Jack Grealish also looks set to be sidelined by injury and Phil Foden is a major doubt.
For the Toffees, it reduces the number of talented players that can hurt them but City's depth means that it's not much consolation. This a fixture that has become one of the most pointless on Everton's calendar and if that is to change, it's going to take a hugely disciplined display, one long on concentration, defensive cohesion and a compact posture, with a particular emphasis on making the most of whatever chances fall their way in attack.
Palace showed what can be achieved at the Etihad (albeit aided by the hosts going down to 10 men in the second half) by demonstrating all of those qualities against a team that can be utterly lethal but who are also fallible. There was sufficient spirit shown by the Blues against Spurs to suggest that a repeat of that attitude will avoid the shellacking that they took under Carlo Ancelotti in this fixture last season but ending the decade-long wait for victory on this ground feels like a very tall order.
Kick-off: 2pm, Sunday 21 November 2021
Referee: Stuart Atwell
VAR: Chris Kavanagh
Last Time: Manchester City 5 - 0 Everton
Predicted Line-up: Pickford, Coleman, Keane, Godfrey, Digne, Allan, Delph, Townsend, Gordon, Gray, Richarlison
---
Reader Comments (94)
Note: the following content is not moderated or vetted by the site owners at the time of submission. Comments are the responsibility of the poster. Disclaimer
Mike Keating
1
Posted 19/11/2021 at 20:26:04
Bad news as ever but good news is De Bruyne is out (with COVID).
Under normal circumstances, I'd say I feel sorry for the lad but, given the skewed nature of the Premier League, I hope we can take advantage of the situation.
On a completely different tack, I wonder if Gerrard will now take Patterson to Villa.
Danny O'Neill
2
Posted 19/11/2021 at 21:09:30
De Bruyne and Foden out I heard. We've got them. There for the taking.
Tony Everan
3
Posted 19/11/2021 at 21:27:57
The next two or three weeks are a fantastic opportunity for the fringe lads to get stuck into it. It's high time that anyone getting a chance needs to perform. Only Anthony Gordon has grasped the nettle and possibly Delph (want to see more of it).
The other boys need to get serious and step it up, no messing about. Fringe players used recently – Holgate, Iwobi, Rondon, Gbamin – should be doing a lot better, those players must know it themselves. If they've got the balls or the talent to do it, now is the time.
Billy Roberts
4
Posted 19/11/2021 at 21:30:21
Danny @2
I know you're an optimist,
I also know you are a scouse piss taker!!
Kieran Kinsella
5
Posted 19/11/2021 at 21:32:48
Danny
Grealish is out too. Maybe we can give them a damn good thrashing?
Dennis Stevens
6
Posted 19/11/2021 at 21:33:08
Isn't Davies also out, or is he fit again now?
Kieran Kinsella
7
Posted 19/11/2021 at 21:34:58
Dennis,
He is out too with no update from Rafa.
Paul Birmingham
8
Posted 19/11/2021 at 22:13:51
The injury stack has been steady so without Tom Davies as well, it's back to the wall. But I'm hoping that Everton get stuck in and show the spirit and guts as they did at United.
City are very good but shut down the space and they loose their rag, and can be picked off, as has been proven this season at the Etihad.
Let's see how Rafa sets up, but it's a very tough run of fixtures into the New Year, but hopefully Everton, can return from international duty in good shape and upset the odds.
I've not checked Bet365 but it may be worth a go on Sunday.
Let's hope for a good performance from Everton.
Brian Wilkinson
9
Posted 19/11/2021 at 22:24:34
16/1 Sunday an Everton win, big odds them, you just never know.
Can even get 5/4 with a 2 goal start, or for the more ambitious 50/1 giving City a goal start.
Have to say without Foden and De Bruyne, that 16/1 looks tempting, along with 7/2 Richarlison to score anytime during the 90 mins.
For those with hope, Rondon 12/1 to score first goal.
Ben King
10
Posted 19/11/2021 at 22:36:03
Paul #8 and Brian #9,
You guys are jokers!!! Well done!
Truth is that as have we don't have any mental strength, bottle or belief. No chance this set of players will win at the Etihad.
They're too weak-willed. There may be some opposition for 25 mins and then we'll collapse cos we're crap.
Eddie Dunn
11
Posted 19/11/2021 at 22:44:29
Rafa knows this is nil points all day long... no point risking anyone.
We won't get anything on Sunday, even with a full squad, it would be a big ask. It will be damage limitation.
Tom Bowers
12
Posted 19/11/2021 at 22:48:28
I don't think we are under any illusions about the next game or the next few for that matter. We are a second rate team compared to the moneybags teams at the top.
We will accept scraps like the point at Old Trafford and the one against Spurs although the mixed bag we had out on the field showed a little more spirit.
The early bubble of form – especially Townsend and Gray – seems to gave waned... especially as the injuries to key players drags on.
Normally I would feel good about De Bruyne not playing for Man City but they still can blow us away if we can't get the defensive side of things shipshape. However, trying to park the bus against City is tough even for better sides than Everton.
Miracles sometimes happen but probably Palace already have that in the bag as far as City are concerned so the likelihood of Everton getting one so soon after is extremely remote.
Mark Andersson
13
Posted 19/11/2021 at 23:02:40
I remember not so long ago that we always beat Man City when they were shite... oh how the tide has turned.
If I was a betting man, I still would not gamble on this Everton side. Rafa is now learning why Carlo jumped ship.
Expect a spanking and move on... good luck to anyone who goes to the game. My advice is do what the City supporters used to do and turn your back on the pitch!
Jay Harris
14
Posted 19/11/2021 at 23:03:45
I'll join the blind optimism on this one. They are said to be without De Bruyne, Bernardo Silva, Foden, Sterling and Grealish.
KITAP1, they are very open to breakaways. It is just a question if we can keep them out.
Head says 3-1, Heart says 0-1. Get those prayer mats out.
David Currie
15
Posted 19/11/2021 at 23:46:33
If Palace can beat them, why not us?
Bill Gienapp
16
Posted 19/11/2021 at 00:05:12
One of the weird things about Koeman is that he did seem to have his old pal Pep's number – a win and two draws the three times they faced each other. I'm pretty sure we haven't taken a single point from City since.
Mike Keating
17
Posted 20/11/2021 at 01:13:29
Kieran Kinsella
18
Posted 20/11/2021 at 01:55:38
Bill
That's true. Moyes also had their number but I think Moyes had ingrained ideas of who was good and shit.
Since Man City were initially the latter, he never developed an inferiority complex around them and didn't seem to notice when they became good. If only some shrink had convinced him Arsenal, Man Utd and Liverpool were historically shit, then maybe we'd have smashed that glass ceiling instead of showing up with a butter knife and a face like he swallowed a wasp.
In the same vein, despite overall mediocrity, old Walter Smith always had Liverpool's number. Maybe we need two coaches, one for the average Joes and another for the "big games".
Darryl Ritchie
19
Posted 20/11/2021 at 06:19:11
Ah, the power of positive thinking. If only it was that easy. (It's not, you know.)
The major problem with us vs them, is that the players on their bench are better than our starters. They lose three superstar starters; they bring in subs nearly as good. We lose three starters and we bring on Rondon, Holgate and Davies.
I'm not expecting much from this one. Just try and keep it respectable.
Ajay Gopal
20
Posted 20/11/2021 at 06:24:50
I am getting more and more irritated by Mina's continued absense. The guy never seems available for more than 50% of the Premier League fixtures in any given season.
And some TWers sing his praises as though he is indispensable to the team. He is not. I would rather have a Keane type of defender who gives a consistent 6 or 7 out of 10 performance rather than someone who gives an 8 once in 10 games and is unavailable most of the time.
I would get rid of him at the end of the season and rebuild the defence around the likes of Keane, Godfrey, Holgate (yes, I am convinced that he will get better) and Branthwaite and some solid purchase from the Championship, like Moyes did with Distin all those years ago.
Ajay Gopal
21
Posted 20/11/2021 at 06:36:10
For the game, I guess with the options available, Benitez will go 4-3-3:
Pickford
Coleman Keane Godfrey Digne
Townsend Allan Delph
Gordon Richarlison Gray
The subs do not fill you with a great deal of confidence with Rondon, Iwobi, Gbamin, Branthwaite, Kenny, Simms, Dobbin, Onyango among the options.
Bob Parrington
22
Posted 20/11/2021 at 06:48:28
Ajay Go Pal! Your surname certainly hits the brief as you certainly said it from the heart on this #20. Good on ya! But time's out for Holgate IMO. Yerry is good when he's fit and especially as he adds some essential height to the defence of corners and free kick crosses in particular.
I go with 1 - 2 Everton surprise win on this one, perhaps with at least one City player sent off in the first 10 minutes!!!
Mike Gaynes
23
Posted 20/11/2021 at 07:14:10
Ajay #20, your exaggerations are just silly.
"...never seems available for more than 50% of the Premier League fixtures in any given season."
"...unavailable most of the time."
Mina has played 83 games for us. He has missed 32 games through injury -- and that number includes the 8 he missed when he arrived at Everton because we signed him with a fractured foot.
Last season, he didn't miss a single game to injury between September and late February.
Sure, it's frustrating when he's out -- we'd all rather see him play more games, especially since our record is significantly better with him than without him -- but to say he's out half the time is just ridiculous.
And to suggest that we dump a passionate, capable aerial dominator and build a defense around a wandering clown because you're "convinced that he will get better" is, in my opinion, so far beyond ridiculous that you'd need a telescope to see it. Watch Raul's goal again, and the red card against Spurs, and the brain fart against Villa last spring, and the gift to Kane in April... and you want to build around THAT idiot? Not me... if he hasn't improved in 100+ games over 5 years, he never will. Ever.
John Keating
24
Posted 20/11/2021 at 07:32:44
Mike,
You do know that last paragraph is bound to get a reaction??!!
Sam Hoare
25
Posted 20/11/2021 at 08:04:31
City with our full-strength team would be very hard; City with us missing 3 of our most important players will be nigh on impossible.
But Everton often seem to do their best without expectations so perhaps they'll manage something. Delph the hero?
Stu Darlington
27
Posted 20/11/2021 at 10:32:29
Lots of negativity on TW today, but I am convinced, whatever team we can put out, if we can play with the right game plan and mentality, we can give them a game.
No sitting back and watching them play get into them!
Dogs of war mentality!
It's one game of football; technically, anything is possible and, as David Currie @15 says, "Palace beat them, why can't we?"
COYB!!!
Mick O'Malley
28
Posted 20/11/2021 at 13:18:29
Ajay @20 I wouldn't hold much hope up over Branthwaite, he had a few decent games 18 months ago and he hasn't been seen since, like Lewis Gibson I'd be suprised if either ever make it at Everton
Jim Bennings
29
Posted 20/11/2021 at 16:01:11
Same old names on the injury list as usual.
Such a shame Mina is a fragile unit because, if that fella stays fit, he's hands down our best defender.
Andre Gomes, another one who's so fragile now and the physicality of the game here is going to leave him for dead.
Jim Bennings
30
Posted 20/11/2021 at 16:10:55
In the meantime, Josh King scores again whilst we continue to wait for Rondon to "get fit"… lol!
Ajay Gopal
31
Posted 20/11/2021 at 17:50:30
Jim, that is sooo Everton. The number of missteps by this club is just staggering. Seeing the way results have gone today, am I the only one starting to get a bit uneasy?
Pat Kelly
32
Posted 20/11/2021 at 18:02:33
Looks like Ole will beat Rafa to the sack. By a few weeks.
Ashley Roberts
33
Posted 20/11/2021 at 18:31:10
Pat #32,
Who do you propose to take Rafa's place? How ridiculous!!
Let's give the guy a chance. He has hardly been dealt with any aces in his hand and will need time to bring in his own players and to get rid of the dead wood of which we have plenty.
Regarding Mina, I believe he brings something additional to just defending. Mina is able to wind up the best of the attackers, thereby putting them off their game. I am not sure what he does to get under a lot of players' skin but it obviously works.
I agree, he is not the most talented with the ball at his feet but, for us, it is all about stopping the opposition scoring and I think him and Godfrey are the best we have at the moment. As Branthwaite is a lefty, I hope he comes good in the future as he will add balance to the back four.
Tomorrow, I am afraid to say, with the spine of the team missing, we will struggle.
Bill Gall
34
Posted 20/11/2021 at 18:43:40
Pat,
I suppose you will be pushing for Fat Sam to be back.
I am beginning to wonder with the time it takes to get injured players back if Benitez has a higher standard of fitness before he plays them. No more giving them a pain-free injection and sending them out.
Christy Ring
35
Posted 20/11/2021 at 19:53:17
Pat #32,
In case you haven't noticed, the spine of our team have being missing for weeks, with Mina, Doucouré and Calvert-Lewin long-term injuries and Richarlison isn't long back.
Maybe you didn't notice that Rafa's hands were tied in the transfer window when he became manager, because of our previous ridiculous signings, he spent £1.7M?
A ridiculous comment.

Alan Brown
36
Posted 20/11/2021 at 19:56:17
For me, the tragedy isn't that we have swapped Josh King for Ron-donkey. It's that we don't have Moise Kean. Club's fault? Player's fault? Who knows... but he'd have made a difference in Calvert-Lewin's absence.
Colin Malone
37
Posted 20/11/2021 at 20:06:09
Pat #32.
You could put Pep in charge of Everton and he wouldn't do any better. Due to the circumstances that former managers have put us in at this moment in time.
Joe McMahon
38
Posted 20/11/2021 at 20:07:08
Pat - What the Fuck? Two things to consider:
1. Ole has a wealth of endless talent in the Man Utd squad to pick from.
2. The woeful state of Everton's thin and pitiful squad Rafa has to work with is a different world to not only Manchester United's, but many of the teams above us (if not all).
The blue failure machine has been around for many decades. Klopp, Pep and Tuchel would struggle at this club. Nil Satis...
Paul Hewitt
39
Posted 20/11/2021 at 20:08:47
I don't trust this team to get a result tomorrow. I've not trusted this squad for about 2 seasons now. They have the courage of a mouse, and the heart the size of a pea. Bottle jobs the lot of them.
Tony Abrahams
40
Posted 20/11/2021 at 20:09:45
So it's put a white shirt on Atwell, with the fella who that Evertonian was really slagging, Chris Kavanagh, in the VAR room.
Haven't got any real confidence, but hopefully it won't be anywhere near as bad as the last time we played at this ground, and I hope Everton might even surprise me.
Steavey Buckley
41
Posted 20/11/2021 at 20:19:44
Everton's injury crisis has a lot to do with Everton's alarming slide down the Premier League. But Everton's expected loss tomorrow will put more pressure on the Everton manager.
During that slide, Norwich have now won 2 games out of the last 2, and are only 6 points away from Everton. To be honest, until Everton get their better players back, Everton will be in the bottom 3 by New Year.
Tom Harvey
42
Posted 20/11/2021 at 20:27:35
Hello Lyndon,
"It's going to take a hugely disciplined display, one long on concentration, defensive cohesion and a compact posture, with a particular emphasis on making the most of whatever chances fall their way in attack."
Lyndon, you forgot to mention luck?
Rondon will need to to be standing a yard out with an open goal to find the net, that needs luck. The way results went today, Citeh's "B team" will be chomping at the bit to close that points gap, no motivational speeches needed by Pep.
I can't see Keane and Godfrey holding it together for 90 mins this game, Seamus or Digne don't inspire much confidence either. We're going to need Lady Luck this time.
John Kavanagh
43
Posted 20/11/2021 at 20:47:16
I'm just hoping we don't have a repeat of last season's massacre and can keep a sufficiently good goal difference to stay in 11th.
We might pull off a shock result but every one of our starting eleven and subs will need to be at their very best, whereas they can be slightly below par and still secure a comfortable win. We will need to put away all of our chances and they only need to score with 10% of theirs.
The appearance if either Iwobi or Rondon at any point in the proceedings will virtually guarantee them a win. I just want to see one or two of the youngsters given a chance to prove themselves in the second half as this fixture is effectively a free hit. But we are well overdue a pleasant shock aren't we? COYB.
Mike Gaynes
44
Posted 20/11/2021 at 20:52:15
John #24, thought it would... but it didn't.
Bill Gall
45
Posted 20/11/2021 at 20:58:44
No, we are not favorites to win tomorrow, but we can still go on the belief of what a strange league the Premier is, where favorites sometimes fail when the team they are playing show discipline and fight. Regardless of the score, let's make a game of it and come away with a good result.

Laurie Hartley
46
Posted 20/11/2021 at 21:03:13
It seems crazy but, as Lyndon has stated, a lot will depend on how Delph performs in this one. If he plays like he did against Spurs, we have a chance of getting a result because we actually have players that can hurt City* if they are given service.
I think we should have a go at them – better to die on your feet than live on your knees.
Pickford
Coleman, Keane, Godfrey, Digne
Townsend, Allan, Delph
Gordon*, Richarlison*, Gray*.
Up the Blues!!!
Danny O'Neill
47
Posted 20/11/2021 at 21:11:47
With a 3 of Gray, Richarlison, and to a degree, Gordon, the trick is going to be get the ball forward quickly to turn the game around.
I'm not normally one for being wasteful and going forward for the sake of it. Retaining possession is important. Yes, we should always be looking to play forward but, if it's not on, sometimes you have to be patient. Even the best teams play sideways and backwards. It's just that when they do go, it's with intent.
We don't have the luxury, go early and try to catch them.
Eternal optimist here is hopeful.
Tom Bowers
48
Posted 20/11/2021 at 21:18:12
Even with these injured four to call on plus Davies and Holgate, our squad would be hard pushed to beat Man City or a few other teams. The early season promise, much like last season, has waned and not even Rafa can rekindle it unless he can get some signings in the door in January.
We need big games tomorrow from everyone who starts to have any hope of reward but it's not looking as if that will happen.
Jim Bennings
49
Posted 20/11/2021 at 21:19:06
Limit the damage tomorrow and then move on to the biggest game of the season to date at Brentford in what surely is a must-win game.
Dave Williams
50
Posted 20/11/2021 at 21:19:59
How have things come to this? The crap recruitment, allowing the academy to fail in its primary aim of developing players for the first team and allowing the finances to run so badly out of control that we cannot buy players – it really is a shocking mess.
The team picks itself because there are no realistic options. I'd like to see Onyango given some game time and we will need our subs as they will run us ragged. We need fight, determination and discipline with every player prepared to run himself into the ground.
No point trying to play pure football – hard graft and hit them on the break. I fear a relegation battle looming but maybe our players will turn up and surprise me??
John Keating
51
Posted 20/11/2021 at 21:29:07
Delph has only been good with the ball. Tomorrow, he and the rest of the team won't have too much possession. Delph will be knackered come half-time...
Regardless of 2 or 3 City players missing, their squad is so strong. Fingers crossed for a draw.
Alex Gray
52
Posted 20/11/2021 at 21:36:48
We need to make sure we find a way to break quickly tomorrow. City will dominate us and, when we eventually get the ball, we need to attack quickly in numbers.
Fear the worst but football is a funny game. They've dropped points to worse teams than us this season.
Sean Kelly
53
Posted 20/11/2021 at 22:30:58
I will be in the bunker til New Year...
Derek Knox
54
Posted 20/11/2021 at 23:05:36
Sean,
I didn't know you played golf, mate, try opening the face of the club, and hit the sand about an inch behind the ball... save being stuck in there till New Year. :-)
Jerome Shields
55
Posted 20/11/2021 at 23:24:48
I am really finding it hard to know what to expect from this game. Will it be similar to the last game with Everton reasonable going forward, but with a blunt attack? Or will it be a defensive counter-attacking Everton with clear-cut chances? Everton in past seasons have looked as if they could be equal to a Top 6 side, only to struggle against lower table sides.
Again, it depends on which Everton turns up, but it will have to be a motivated Everton – not the Everton of the two games prior to the Spurs game – if they are to get a much-needed result.
Dale Self
56
Posted 20/11/2021 at 23:31:20
Bernardo out is the one factor that could give us some chances to turn the game should we survive City's first few determined possessions. Gordon getting some goals may give him just enough confidence to do something special. And then it's like Danny said, they're there for the taking. It's fucking possible, cmon! UTFT!
See you in the morning. It should a chatty pregame.
Stu Darlington
57
Posted 20/11/2021 at 23:39:57
If players don't believe they can win a game, they shouldn't bother putting their boots on, because they've lost before they get on the pitch.
We are not going to get much possession tomorrow so we need to fight for every ball, play as a unit and with discipline, and no silly free-kicks in vulnerable areas.
Top teams like Man City have an expectation that they are going to win; frustrate that and chances may come our way – chances we must take!
One thing the team must come away with tomorrow is self-respect – something we can take forward into the next game. It's no good moaning about Iwobi, Rondon, Tuson etc – this is the squad we have. What are we? A 4-man team?
Paul Birmingham
58
Posted 21/11/2021 at 00:23:49
Stu @57,
Well said, and that's the bare basic minimum standard of play Everton should provide every game, rather the Tombolla type form of a decent performance every other 3 games.
Tomorrow and beating City can be done with the right pre-match dynamic and mindset of the squad being set.
Everton have done well here in the past consistently.
Get into them, and sustain the press and see Peps and players wilt.
That is the idea, it has been done this season.
Paul Birmingham
59
Posted 21/11/2021 at 00:31:39
Danny, it's on the day. I'm hoping today Everton will fight with 100% effort from the start to the end of this game.
Everton will have to keep the focus and work smart and hard, but be smart. City can be beaten.
I'm hoping tomorrow Everton will try some different approaches in set-pieces to maximise and win this game, along with showing purpose and drive.
Assuming the referee will be pre-enabled, pro-City, let's see Everton challenge every ball, and show them no special dues.
Barry Hesketh
61
Posted 21/11/2021 at 00:58:51
I've seen "we'll be better in the second half of the season" comments from our manager in recent days; whilst there may be some truth in that statement, if the first half of the season continues in its current pattern, results-wise, there may be no second half of the season for the manager to worry about and a hard slog for the remainder of the season for the team.
I'm not advocating that the axe should fall on the manager, or anything that dramatic, but I'm always wary of managers who promise to deliver at some future point in time, rather than cajole and motivate their teams into trying to deliver in the here and now.
Look at Ranieri at Watford, he doesn't look like a manager who says his team will be better in the second half of the season as his team has already swept Everton and Manchester United aside with a bucketful of goals and chances.
Admittedly they don't have the injury concerns to the same extent that Everton has suffered in the first part of this season, but those injuries cannot be used to excuse Everton for a free-fall into the lower reaches of the Premier League either.
Today's game is a difficult task at the best of times, and in our current state, possibly an impossible one. Somehow we need to keep the points ticking over, and if it means eleven behind the ball for most of the game and try to hit City on the break, and if it results in the team bringing something back from Manchester, all the better.
Santosh Benjamin
62
Posted 21/11/2021 at 05:10:36
I have to admit that the last month has really drained my confidence. Don't get me wrong – I didn't expect us to go undefeated all season and win the league by March!
Our solid start to the season and cohesion in the squad had me believing that we were headed in the right direction at a quicker rate than expected. The manner of the losses has been especially hard to digest as we seem to lose shape and concentration.
I agree that the injuries are key part of our recent struggles but I also believe that the players on the pitch have not always been worthy of pulling on an Everton jersey.
1. Holgate is the top of my list in terms of wasted opportunities. After one good spell a few years ago, he has been an utter waste. Should never step back onto the pitch.
2. Iwobi has shown a faint glimmer of hope but then reverted back to his useless headless-chicken routine. He too, needs to stay off the pitch permanently.
3. Rondon has a good attitude, unlike the other two that I mentioned, but his final product is still woeful. He is disciplined and does work hard, to his credit. Unless he scores in many games from here on, I remain unconvinced about his ability to contribute significantly to our squad.
There is then the players who have flattered to deceive this season despite being wonderful in previous seasons:
1. Ben Godfrey – Covid-19 seems to have really affected poor Ben. He has lost his stamina and the swagger that made him my favourite player last season. Hoping that he gets back to his best ASAP.
2. Lucas Digne – Not sure whether this is injury or the new role he has been given under Benitez but he has looked pedestrian at times this season – both defensively and going forward. It has not helped that he has not had a consistent person ahead of him. He too can turn things around.
3. Michael Keane – Needs someone next to him to deal with his lack of speed. Has made some really poor decisions this season (and in earlier ones). I was impressed by him last season and somehow feel that he can get back to being better.
4. Richarlison – I agree that he had an astonishing amount of football over the last year and that can affect anyone. However, since returning from injury, especially with Calvert-Lewin missing, he should forget all the histrionics and get back to what he is capable of doing best – using his speed and skill to score a bucketload of goals.
I am very clear that we must not sack Benitez at this time or anytime this season. I still feel that he has been better for us than many of the other recent nutters. He needs to focus on a striker, winger, right-back and centre-back in that order in January.
I am hoping and praying that we can use the lack of belief from the media and others about our run of fixtures over the next month and actually claw our way back up the table. I hate the international break but I hope that this one will be what we look back to and identify as the beginning of a mini-revival.
[Think I might just have lost touch with reality...] COYB

Alan J Thompson
63
Posted 21/11/2021 at 05:33:34
Lyndon, "utterly lethal but also fallible".
Have you not read on these very pages that at the heart of their defence is the multi-medal winning John Stones?
Jonathan Tasker
64
Posted 21/11/2021 at 08:03:40
We are 25/1 to be relegated.
Expect that to tumble soon.
Hard to see three teams worse than us.
Paul Hewitt
65
Posted 21/11/2021 at 08:11:48
Jonathan @64.

Norwich
Southampton
Newcastle
Burnley
Brentford.

That's 5.
Tony Everan
67
Posted 21/11/2021 at 08:45:43
Stand up to Man City, stand up to Pep Guardiola. It's 0-0 and we must have a positive attitude and belief.
300 Spartans v the mighty army of Persia. We have to go there with an attitude of bravery, commitment and unity as a team.
Benitez and the coaches have injected some bullfighter's blood into our players over the international break. They are going to resume a different proposition. They are going to stand up to Man City and fight them toe to toe and will not yield.
Prediction: Hard-fought and fully deserved Everton win.
Geoff Williams
68
Posted 21/11/2021 at 09:01:04
Anything less than a 3-0 defeat will be a major surprise.
By Christmas, we will really be in trouble.
Gary Smith
69
Posted 21/11/2021 at 09:11:31
Recon Lyndon's team is the most likely and most sensible given who's available. Townsend given a bit of license to get forward into a 10 and have a crack at one of those rockets.
The bench will be interesting today….Will Rafa again favour the aged journeymen of Rondon and Tosun, or the youthful promise of Dobbin and Simms? I suspect I know, but where would we be without hope?
Christy Ring
70
Posted 21/11/2021 at 09:16:01
I see all the doom and gloom pessimistic comments from the usual suspects. We have to play in their faces with the same tactics Palace adopted, and please no Iwobi.
Eddie Dunn
71
Posted 21/11/2021 at 09:24:32
Thankfully I have to attend a Sunday dinner appointment and I won't even be able to follow events on my phone.
I have zero hope for anything from this fixture. I just hope we avoid a morale-clobbering clobbering.
Nick Page
72
Posted 21/11/2021 at 09:26:15
Keep Iwobi away from this game!
Jim Lloyd
73
Posted 21/11/2021 at 09:27:19
Has Ellis had any games yet since having that injury? If he hasn't, then we haven't a lot of choice on the bench. If he's match fit, I'd love to see him in the squad today.
Allan Board
74
Posted 21/11/2021 at 09:29:32
If Benitez stays, we have a chance of competing for 4th to 6th within a couple of years. He knows what to do, but once more I must reiterate – unless we as the fans force the removal of the current hierarchy which Kenwright has instated, Benitez will never get the full backing he merits and will have to accommodate losers amongst the staff and players.
I am sick and tired of all the excuses from the tossers, very disolussioned with it all.
40 points look a long way at the minute.
Alan McGuffog
75
Posted 21/11/2021 at 09:42:44
Eddie... don't fret about the morale. Four-, five-, six-nil? Nothing gets our lads down.
Brian Murray
76
Posted 21/11/2021 at 09:45:32
Allan @74.
I said at The Bramley Moore ToffeeWeb get together, that our fans are mostly passive compared to them other shower who demanded the removal of them two loveable yanks (big shame!). I speak the truth from the heart and it didn't go down too well with some.
Any suggestions to remove you know who and his inept crew? It would really be a big stepping stone and the making of us a club and make Benitez's job a lot easier.
Proper protests and not just the odd voice in the dark (kopite style if you want) – without the bricking of coaches, obviously,
Christine Foster
77
Posted 21/11/2021 at 09:46:23
My God it's depressing just reading so many dour predictions... come on, guys, we have to believe we can do this.
Yes, they have a better squad with some great players but they can be beat. The key to winning against teams of class is tactics and hard graft, in their faces, and high full-on pressure.
So, if we have the right attitude and are up for a fight, then we can be assured we will get something out of this one.
Clive Rogers
78
Posted 21/11/2021 at 09:58:41
Watching Match of the Day this morning has made me downcast. Almost every team looked better than us apart from Southampton and Man Utd. Even Brentford and Newcastle played some good football. They all seem to have good young players coming through. Worrying times imo.
Tony Abrahams
79
Posted 21/11/2021 at 10:00:37
I agree with everything you write there, Allan B, but because a part of me thinks Benitez might play Rondon today, then it could be the manager who is taking the most stick tonight?
I also think Everton will get better, the longer this season goes on, Barry H. But the most worrying thing is, if our better players don't recover from their injuries, we will continue to really struggle. That's why every single game is important, whoever the opponents are right now.
Bobby Mallon
80
Posted 21/11/2021 at 10:11:16
Christine 77,

I am liking your optimism. We are going to win today 1-0 with an immense defensive display. To top it all off, I'm going to have a drink today as I'm 7 days into having Covid and feeling okay now.
Clive Rogers
81
Posted 21/11/2021 at 10:18:13
We need two decent signings in January to save our season.
Brian Murray
82
Posted 21/11/2021 at 10:18:29
Tony Abrahams.
Alright, Tony. If he even thinks about playing his three-time signing, then he deserves all the vitriol that will come his way, ending in the sack by Xmas. It's either stubbornness or saving face. Whatever it is, he's putting Everton second and we are a 10-man team with him in the side. He offers nothing.
None of this "his hands are tied" bullshit. Start trusting at least two of the younger ones. The usual suspects just cack themselves first sign of trouble. Starting with Branthwaite installed now instead of Keane (if he's fit).
Tony Abrahams
83
Posted 21/11/2021 at 10:22:18
You know my feelings on Michael Keane, Brian, but I'd play Rondon today, and look to use the pace of Gray and Richarlison running past him – to get in behind.
Brian Harrison
84
Posted 21/11/2021 at 10:29:16
I think this is a free hit for us today; most will have this down as a banker home win, so let's go and have a real go. They could be missing their 3 most influential players in De Bruyne, Grealish and Foden, so keep Bernardo Silva under lock and key and we have a real chance.
Depends how Benitez sets us up; I just hope it's not 10 men behind the ball and hoping we can hit them on the break as they are used to playing against this system and defeating it. What they are not used to is teams willing to commit players forward and to ask questions of them defensively.
David Pearl
85
Posted 21/11/2021 at 10:31:09
I think the game hinges on how well Allan and Delph perform. Ideally we'd have another body in midfield. If Townsend keeps drifting over to the right-hand side, then it will once again stiffle Gordon, who l prefer to play on the left anyway.
It's a pity Iwobi is so blah. If he plays, our manager will have him on a wing instead of through the middle. Once again, the guy in charge needs to get the shape of the team right, not leave open spaces, move as a team and don't be scared.
As per usual, l expect us to sit back and our possession will be around the 28% mark. I got 100/1 on Digne 1st scorer... surely he is due a free-kick?
I also would not be surprised to see Rondon. Not that he can hold the ball up, which would be the sole point in playing him.
Coyb
Dave Abrahams
86
Posted 21/11/2021 at 10:40:04
Christine (@77),
I'd rather go the match with you, girl, than some on here. City have a few missing and, although they have a stronger subs bench than Everton, they will still miss the influence of those unfit to play.
I hope Benitez picks Rondon to start and tells him to have a good go before he comes off sometime after the hour mark, experience before the untried to start the game, then use Dobbin's pace later but not upfront on his own.
Richarlison can play a big part in the game hustling and upsetting City like he did versus Burnley at Goodison; he didn't score but had a very good game before he was subbed after running his heart out for the team.
We need a few more players like Richarlison; team before self every time. It can be done, Christine, as you say. I hope you enjoy a nice glass of Jack Daniels after the game, make that two large glasses and sing yourself to sleep.
What an Evertonian, a real genuine one!!
Mike Corcoran
87
Posted 21/11/2021 at 10:53:15
Employ Burnley's tactic of crippling any threat and we'll win this.
Phil Bickerstaff
88
Posted 21/11/2021 at 11:10:43
With the injuries, who will need 5 to 6 games to get to full speed when they return, we will be in the bottom 4 by New Year.
Totally rubbish football and no squad.
Awful. 😣
Brian Murray
89
Posted 21/11/2021 at 11:47:00
They say it's exiting to meet new people. It must be a scream on our Match day because we usually start like we don't know each other.
Dave Williams
90
Posted 21/11/2021 at 12:03:58
It's all very well criticising posters for being gloomy but we all know how we gave up last season at City and the capitulation against Watford and Wolves is all too fresh in the memory.
I am eternally optimistic and can see quite clearly that we can win if we fight like hell and don't give them time and space. Palace did them, so can we but do we trust our lot to put in the fight and grit and he'll bent determination not to lose? Considering that question is what makes me gloomy about our prospects but I so hope to be proven wrong!
Kim Vivian
91
Posted 21/11/2021 at 12:10:57
There's not much to discuss re today's match. Were gonna get stuffed - but there again we might not.
Rondon might start. But he might not. Forums will light up if he does.
Tomorrows matchday thread will probably reach 300.
Rafa's not going anyhere unless the board royally piss him off.
Might as well speculate about other talking points for now. But never forgetting Everton.
1-1 today with my heart ruling my head. Got to hope for the best, eh?
Matthew Williams
92
Posted 21/11/2021 at 12:15:23
I reckon this will one of those games were we give it a good go but end up plucky losers...2-1 Citeh.
Mina injured again but ALWAYS plays his for his country?... fucking fraud, I'm done with him!.
Mick Conalty
93
Posted 21/11/2021 at 12:19:06
Don #94.
Maybe we should just stick to talking about EitC. At least that is not a lost cause, unlike the football...
Alan McGuffog
94
Posted 21/11/2021 at 12:31:23
I didn't go to the Watford game so I'm happy to be corrected. I read that after that debacle some of our players were smiling and congratulating Josh King?
Doesn't sound like a side ready to snap into the tackle and leave everything on the pitch at full-time.
Alan J Thompson
95
Posted 21/11/2021 at 12:36:12
Allan (#74);
You didn't say in which division we would be competing for 4th-6th in a few years time.
Don Wright
96
Posted 21/11/2021 at 12:45:51
Mick @97, That will be the topic for Monday – that or something about the new stadium at Bramley-Moore Dock.
Colin Glassar
97
Posted 21/11/2021 at 12:54:47
Don, Mick, there will be 50 more pics of heavy equipment and mounds of sand in the Echo tomorrow. They might even wheel out Chairman Bill in a hard hat with his customary Cheshire Cat grin on his fat, useless gob.
---
Add Your Comments
In order to post a comment, you need to be logged in as a registered user of the site.
Or Sign up as a ToffeeWeb Member — it's free, takes just a few minutes and will allow you to post your comments on articles and Talking Points submissions across the site.