Everton vs Leeds United
Friday, 11 February, 2022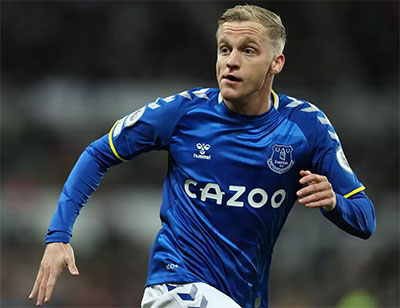 Donny van de Beek surely must start in midfield following his impressive display off the bench against Newcastle on Tuesday
Updated Everton return to Goodison Park to face Leeds United for what will be Frank Lampard's third match in charge hoping to quickly atone for Tuesday's disappointing performance against Newcastle.
The Blues' 3-1 defeat to Eddie Howe's side left them just two points above the relegation zone following Norwich City's home draw with Crystal Palace and needing to quickly improve a run of just one Premier League win in 15 games.
Having seen his charges make such comfortable work of Brentford in the FA Cup Fourth Round last Saturday, the defeat at St James's Park will have came as a stark reality check of the size of the job that he has taken on but Lampard insisted afterwards that it was important that his players don't get too down.
Lifting morale will have been one of the new manager's priorities this week while he will also, no doubt, have taken the opportunity to further bed in his methods and how he wants the team to play in the coming weeks.
Article continues below video content
Everton's opponents this weekend may sit only one place and four points above them having played a game more but Leeds are an unpredictable outfit — you never know whether you're going to get the one that has scored three times in each of its last two away games (at West Ham and Aston Villa) or the one that recently struggled at home against Newcastle and failed to score at all.
The fixture pits Lampard against his "Spygate" counterpart Marcelo Bielsa, the inspiration behind the Lilywhites' indefatigable, fast-paced style and it's that energetic game, featuring the likes of raiding fullbacks Luke Ayling and Stewart Dallas and the rapid Daniel James who has been operating in a "false nine" role in the absence of Patrick Bamford, that will occupy Everton's thoughts as they prepare for the game.
Bielsa will have studied how much grief Allan Saint-Maximin caused the Toffees on Tuesday evening and while James doesn't possess the Frenchman's raw power, he is nimble and fleet of foot which could make him just as dangerous. And in Raphinha, the Argentine will have a player who has scored in all three of Leeds' games against Everton since they came back up from the Championship in 2020.
While Bielsa will be limited in the number of alterations he can make by injuries to important players like Liam Cooper and Kalvin Phillips, Lampard is expected to make some important changes for this one, some of them enforced and others welcome.
Dominic Calvert-Lewin may have sat out full 90 minutes against the Magpies because injuries to Yerry Mina and Demarai Gray having to come off before half-time but, provided he has experienced no reactions in training, should go straight into the starting XI at centre-forward, with Richarlison likely to replace Gray on left side of the attacking trio.
Whether Dele Alli comes in for the industrious Anthony Gordon to make his full debut remains to be seen but there is every chance that Donny van de Beek starts after his hugely encouraging display off the bench at St. James's Park, either in place of or alongside André Gomes.
The Portuguese's hopes of selection could hinge on whether the manager retains his 3-4-3 formation (and runs the risk of having his only three fit centre-halves on the field at the same time) or switches to a 4-3-3 and a flatter back four. In that case, it's likely that Mason Holgate and Michael Keane would be the centre-halves but is out because of Covid so either Andros Townsend might be asked to fill in at the left-back spot again.
That leaves the not insignificant issue of right-back where naming Seamus Coleman in the side would be asking him to play his third game in the space of a week. If Lampard elects not to risk him, it's hard to see Nathan Patterson being pitched into his first start without having seen any action since his move from Rangers but his pace and youthful exuberance might be just what Everton need against a side like Leeds. Jonjoe Kenny, however, might be seen as a safer option.
Given the Blues' increasingly parlous position, Goodison's 12th man could be just as important as any player Lampard could field this weekend. The home crowd hauled this team over the line the last time they won in the League back in early December against Arsenal and they'll be needed again against a side that usually doesn't know when to quit.
Everton will likely need to match Leeds stride for stride, goal for goal and just make sure they score one more to earn what would be a massive victory and ease the tensions around the club and set the team up for a difficult assignment at Southampton next weekend.
Kick-off: 3pm, Saturday, 12 February, 2022
Referee: Graham Scott
VAR: Andy Madley
Last Time: Everton 0 -1 Leeds United
Predicted Line-up:* Pickford, Kenny, Holgate, Keane, Mykolenko Townsend, Allan, Gomes, Van de Beek, Gordon, Richarlison, Calvert-Lewin
---
Reader Comments (226)
Note: the following content is not moderated or vetted by the site owners at the time of submission. Comments are the responsibility of the poster. Disclaimer
John Keating
1
Posted 11/02/2022 at 07:02:20
Well if Leeds play only half as good as they did against Villa and we improve half as much again as we did against Newcastle we are in trouble
Leeds, regardless of their results are relentless. They're like a team of duracell bunnies, they just keep going. Their pace could kill us
This really is a six pointer. Theoretically we could be in the bottom 3 after the weekend
Unfortunately Lampard doesn't have many options and I don't envy him regarding putting out a team.
He has to go with Lyndon's front 3 of Richie, DCL and Gordon. Behind them it's a shambles though Donny boy had to start
Personally I'd start Patterson in place of Coleman a bit of youthful exuberance and someone not tainted by continued failure might be a plus
The rot in this team is well and truly set in and it's going to take something like an Oxford moment to change our season. If it doesn't happen against Leeds I doubt it will happen.
A bloody nightmare
Sam Hoare
2
Posted 11/02/2022 at 07:35:04
For the first time in a long while relegation feels like a genuine possibility to me. I was worried about Lampards ability to organise our defense and I remain worried. To be fair the raw materials he's working with are of low quality.
There are decent players in this squad but their confidence has been utterly drained by season upon season of underperformance, inconsistency and turbulence both on and off the field. The atmosphere has become increasingly toxic and naturally the fans are on edge.
A raucous support will help tomorrow and Lampard and his team must try to find a way to make us less vulnerable to counter attacks and set pieces. Mina will be a loss as will Gray; I was somewhat impressed with DVB on Tuesday but less so Alli; DCL has looked no better than Rondon since his return. I've no idea what team or formation we should play and suspect it will be more about the players giving everything and playing with the sort of confidence and belief we saw at moments against Brentford and which deserted us entirely after Newcastle equalised. A loss would not necessarily be terminal but it would certainly move us a big step closer towards Monday nights away to Luton.
How we have spent so much money only to plunge to these depths is almost as baffling as it is upsetting. Negligence and naivety of the highest degree.
Mal van Schaick
3
Posted 11/02/2022 at 07:44:04
I watched the Villa V Leeds game and Leeds played fast counter attacking football. James and Raphina were their stand out players, and they were dangerous from set pieces.
I can't see Lampard playing an open game against them, so, expect a defensive set up and a passing game. We had sixty one per cent possession against Newcastle and got beat. I'm worried for us against Leeds, but we have to live in hope.
Colin Glassar
4
Posted 11/02/2022 at 07:51:58
As we have no MF to speak of (Gomes and Allan, probable starters, are awful) then we are in big trouble.
Leeds will press us continuously so we need to flood the MF with bodies to try and contain them. I have no idea what team Lampard will pick and what tactics he will use but I'd go with:
Pickford
Coleman
Holgate
Branthwaite
Mykolenko
Gomes
VDB
Allan
Gordon
Richarlison
DCL
I wouldn't even have Keane on the bench! His organisational and leadership skills are zero and he's usually the first to panic.
Eddie Dunn
5
Posted 11/02/2022 at 07:52:34
It is clear that Gomes and Allan are far too slow. Although Allan never gave up at newcastle, his passing disintegrated as he tired.
We are so short of alternatives but surely Onyango could do no worse. We must close the gaps and will need to work very hard. Perhaps being at home in front of our fans the team might dig deep.
Unfortunately 4 days at Finch Farm won't be enough to restore confidence in this fragile group.
We can hope that the new guys instill some positivity.
Nick Bower
6
Posted 11/02/2022 at 07:57:00
We now have three games in hand on Brentford who are four points ahead of us. Brentford are the team we need to catch & overtake as our number one priority. If we cannot achieve even that modest target, then logically relegation awaits us.
Laurie Hartley
7
Posted 11/02/2022 at 07:59:47
A daunting task for our new manager this. As I see it he has find a way to cobble together an organised defence that is why I have grave reservations about Holgate and Keane starting as our two central defenders. I think I would be more inclined to put Branthwaite on the left of Keane.
Jerome Shields
8
Posted 11/02/2022 at 08:04:49
Van de Beek in midfield should help alot.Delle Ali performance makes him a risk to play. So Richarlison should be on the wing.Calvert Lewin hasn't impressed on his return.I agree it would be best to play Kenny.

Hopefully no stupid errors from Keane and Holdgate.
The crowd will be up for it if the players are.But could turn nasty if they are not.The players have ran out of excuses at this stage.
Phil Lewis
9
Posted 11/02/2022 at 08:05:31
Colin#4
I think you're team selection for the Leeds game is spot on.
Bill Fairfield
10
Posted 11/02/2022 at 08:07:34
If the team can't get up for this game tomorrow, with a passionate support behind them, then it will tell us all we need to know about the relegation fight we're in. Here's hoping for a much needed win. COYB.
Gary Jones
11
Posted 11/02/2022 at 08:16:24
Think we really need Alli and VDB to operate as box-to-box until we can get the Duke back. If they've got the heart, they've certainly got the skills…….and right now it's heart we need.
Tbh, I'd even try Iwobi on the left of a middle 3, or Townsend on the right of a middle 3 if it's not working with both of the new boys in cm. Would give El Ghazi and Dobbin a go from bench maybe too.
Assuming no Gray:
Pickford
Patterson
Keane
Branthwaite
Mykolenko
Alli
VDB
Allan
Gordon
Richarlison
DCL
Jim Bennings
12
Posted 11/02/2022 at 08:38:18
I want to know why most of our players are so mentally weak?
Should we have brought in a sports psychologist?
The players seem to wilt under the slightest bit of pressure.
The lack of leadership and stern character in defence and also in key midfield area's has been a massive problem for years.
What exactly is the problem?
Why are they all so piss weak?
It's no use us pretending there is no problem because a mere THREE clean sheets all season suggests there's a monumental issue with being able to keep opponents out.
Brian Murray
13
Posted 11/02/2022 at 09:03:36
Colin post 4. So a nine man team it is eh. On what planet does Gomes and Holgate deserve yet another chance to drag us down. Granted injuries dictate your line up but I just want these top notch coaches with frank to not do a Carlo and Benitez etc and come up with something different. Not that I have the answer.jim Bennings. Being mentally weak is our hallmark these last few years and most worrying is I don't see that at the likes of Burnley. Having said all that Frank has had another week so I expect snarking Peter Reid type winners from now on. It's the hope.
Jay Evans
14
Posted 11/02/2022 at 09:05:44
I am absolutely dreading this tomorrow. Our only hope is for the ground to be rocking and to play a formation as close to 4-5-1 as possible.
Let's play our part as fans boys & girls and get right behind the team no matter what. I am praying for 3 points and I don't care how we get them.
Onward Evertonians.
Full support 💙
James Newcombe
15
Posted 11/02/2022 at 09:07:45
I'd like to see what El Ghazi can offer. He must be keen to make an impression.
It's the midfield that's been our main issue, when Doucoure has been out, it's been awful. Allan is a good footballer and never gives up, but we signed him a few seasons too late. We've really missed having options like Davies and Delph. Donny has to start.
Alan McGuffog
16
Posted 11/02/2022 at 09:09:10
I think it's a bigger issue than individual psych's, Jim. There has been an acceptance of the mediocre at this club for decades. A satisfaction with making up the numbers in the EPL. The recruitment of players looking for a final pay cheque. The taking for granted of a loyal fan base. A cosy sick room.
Now that it's time for the club and players to fight for survival... there is a lack of will and fighting spirit.
.
Dave Williams
17
Posted 11/02/2022 at 09:11:30
Gary #11 that's a decent pick. If Onyango is anywhere near ready I'd be looking very closely at him because our central midfield is way too slow and we need someone who will run around all game and make a nuisance of themselves.
The most important thing is for Pickford and his defence to play calmly. I could feel the excitement in Pickford from my TV screen on Tuesday and sure enough we were treated to a nervy, flappy display which must have made his defence very shaky. They had one player causing trouble and we gave him all the freedom and space he could have wished for. It was such a shame that our fastest player wasn't fit to try to close him down.
Leeds are strong, fit and fast but they don't have a player like ASM. Their best players appear to be injured. We have to play with energy, aggression and fight and we all know that we don't have a team of eleven players who can do that. Donny will play after looking decent on Tuesday and if Alli is doing it in training I could see him starting too. No one mentions El Ghazi after the ridiculous loan move apparently by our owner. Is he worthy of consideration being fresh and unaffected to date by our plight?
The crowd is so important- we need a deafening response all game and mustnt go quiet if we start poorly. Lampard, Cole and Duncan to come on for the last 20 minutes if we need a goal.
Colin Glassar
18
Posted 11/02/2022 at 09:11:54
Jim, starting with Jags and continuing with Seamus our captains have been too meek and mild. They have to be the ones to gee up their teammates, get in the officials faces, wind up the opposition, lead by example etc….
I couldn't stand Phil Neville but he was a gobby little fucker who was very vocal even if he himself was shite. Look at that lot across the park (I hate making comparisons but I have to). They contest EVERY decision that goes against them. They whip up the crowd into a frenzy which intimidates the refs. They shout and argue with each other to keep the adrenaline going etc… our players on the other hand are like a bunch of Trappist monks. You can't get a peep out of them!
I hope Frank and his Chelsea boys bring that in-your-face attitude that Mourinho installed in Chelsea. That's why they were the most hated team in the prem with Lampard, Terry, Cole, Droghba etc… leading the way. And that contributed to their success.
We need not only to weed out the shitty players (Iwobi, Tosun, Keane) but the mute, mentally weak ones as well ie most of the first team squad!!
Brian 13, in a perfect world I wouldn't have Gomes or Allan anywhere near our starting XI but that's all we have left.
Brian Murray
19
Posted 11/02/2022 at 09:20:27
Colin. Not singling out our Seamus but he's supposed to be the captain and he should've been tearing around screaming at the ref, our players and their players when young Gordon's career could easily have been finished by that baldy kopite prick.
Same with Jagielka and the Mirallas penalty embarrassment – no leadership. Remember Spit the Dog saying they knew that had us beaten in the tunnel with our players – Baines, Jagielka etc – wanting to shake hands saying "All right, Carra". He said they just wanted to go to war against us.
Brian Harrison
20
Posted 11/02/2022 at 09:22:19
Someone on another thread the other day was talking about a "being in the trenches" mentality; well, judging by many of the comments here, I think a lot are waving their white flags before they even enter the trenches.
I certainly hope my fellow match-goers will be in a much more positive mood come kick-off tomorrow, and I am sure they will be.
Many on here saying the players lack fight – maybe they mirror the defeatist attitude of some of our posters? Just to be clear: we are not in a great place and we need to turn things round quickly, but Lampard has been in the job less than a fortnight, he has beaten one Premier League team and lost away to another.
I know the fans in the ground will get behind the team as that's what supporters do – they support their own team, not throw in the towel when it gets tough.
Kevin Prytherch
21
Posted 11/02/2022 at 09:26:18
I'd go with Colin's (4) team, but with Alli instead of Gomes.
Have to feel for Patterson, there was an article somewhere yesterday saying he was the player that was the most over-paid-for player during the transfer window, saying that we paid 3 times more for him than what he was worth considering his inexperience.
Eddie Dunn
22
Posted 11/02/2022 at 09:26:29
Holgate is one player who I would definitely pick for this game. He is a cocky so-and-so and he has given the ball away with sloppy passing. However, it is precisely because the kid has attitude that we need him.
He has also scored in his last game at Goodison and his shot was turned into his own net by Lascelles. Holgate couldn't get out of the way for his own-goal.
One thing is clear, though: him and Keane do not combine well. I would drop Keane to the bench and play Holgate and Branthwaithe and hope that Mykolenko is clear of Covid and I would keep Coleman at right-back (if he is fit enough).
Pack the midfield, close down the space and hunt them (Leeds) down from the whistle. Get ready to empty the bench if the tempo drops. And if Richarlison is not cutting the mustard, haul him off and put El Gazi on.
Frank has to try something different as the same old faces have let everyone down time and again. A 2-0 win with Dominic getting the first and Dele the second.

Brian Murray
23
Posted 11/02/2022 at 09:30:34
Brian Harrison. Pointing out our weaknesses on a fan site is one thing (half a century being a blue does that) but, like yourself on Saturday, I will lose my voice – especially if I see 11 men possessed and at least wanting to go the extra mile for themselves as pros if they don't care about the club.
Colin Glassar
24
Posted 11/02/2022 at 09:46:03
Brian M and Kevin P,
I put Seamus at right-back only for his experience as the other three are still quite green behind the ears.
I chose Gomes over Alli as this is his natural position whereas Alli is an attacking midfielder who likes to get forward more and not scrap in midfield.
Van de Beek seems, to me, to be a more obvious choice to play alongside Gomes and Allan in the centre of the park as he has good vision and great passing skills.
Mark Ryan
25
Posted 11/02/2022 at 09:47:40
Ha ha, funny we are all talking about the same 2 players in the main, Gomes and Holgate. The truth is we are hamstrung because of injuries to the other players. Neither are good enough, both inept and should be nowhere near the starting eleven.
Truth is they'll play because we have nowt else. I would love to see Patterson given a go but we'll stick with the captain who never leads, whose legs have gone, and so there we have it. We start the game with 8 or 9 players, week-in & week-out.
I can't wait for it to start but dreading the result. Things can only get better after this game in terms of the injury situation, surely.
Michael Lynch
26
Posted 11/02/2022 at 09:50:01
We all know the ground needs to be rocking tomorrow, but we also all know that it will be a morgue if we start slowly or Leeds score early.
The players need energy to feed off but the atmosphere at Goodison goes incredibly quickly from positive chanting to passive moaning. I think we've just all become so battered down over the last few years that it's impossible to sustain any kind of positivity as a fan.
The only thing that will keep the spirits up is if the players work their balls off for 90 minutes, running, fighting, tackling. And pass to their team-mates rather than the opposition.
Danny O'Neill
27
Posted 11/02/2022 at 09:55:29
I won't predict the line up and I'm past caring who plays.
Just go toe-to-toe. Don't sit back and defend as we don't have the players or defenders to do that.
And I don't like that anyway.
Get at them and play them at their own game.
4 - 3 Everton with some nerve relaxing grape juice required to see me through.
Then win our game(s) in hand and we're fine and can focus on Wembley and Europe next season.
Pat Kelly
28
Posted 11/02/2022 at 10:01:06
Leeds will take it to us from the off to capitalise on our nervousness. An early goal by Leeds and we may well collapse. We don't have the pace to live with them and it'll be a torrid 90 minutes. Don't expect anything other than a lesson in high-energy football. And a step nearer the drop.
Andy Crooks
29
Posted 11/02/2022 at 10:02:07
Brian @ 13,
I agree. If Gomes plays, there is a deadly inevitability about what will happen. At some stage, he will be done for pace and have his inability to make a proper tackle exposed. Leeds will get a free-kick and score.
If he starts, the best outcome will be that he gets sent off in the first minute for a foul committed at the Leeds corner flag. The 10 men will have a fighting chance.
Denis Hignett
30
Posted 11/02/2022 at 10:07:37
A clean sheet would be nice.

Rick Tarleton
31
Posted 11/02/2022 at 10:10:48
Possibly one of the worst teams for Everton to face at the moment with their relentless pressing and high-octane play, Leeds will be difficult.
I'm hoping that Leeds have a few issues with injuries, is Raphinha fit after the Villa game? James has speed and dribbling skill, but lacks physicality. Nevertheless Everton will have to be at least as good as they were last Saturday.
Picking the team must be a nightmare. Injuries, tiredness and poor form can't make it any easier. Mykolenko's early displays have been worrying, Patterson wasn't a regular in the Scottish Premier League and the three at the back weakens what is a very weak midfield. I'd like to see Van de Beek start alongside Gordon and Allan with Alli used as an impact sub if needed.
Gray or Townsend, Richarlison and Calvert-Lewin, if fit, would make up the attack. We need at least a point and we need no more injuries.
Gomes needs to be rested for this game; Leeds aren't his kind of opposition… you could ask who is, but we'll leave that for a while.
COYB.
Brian Harrison
32
Posted 11/02/2022 at 10:11:28
Brian @23,
I agree it's okay to criticize on websites, just that all I have read since our defeat is doom and gloom merchants on all forums predicting we will go down.
Seeing as you mentioned a time scale I have been going to Goodison for 65 years and been a season ticket holder for about 50 years, not that it matters if it's your first season, we are all blues and this club needs our full backing at games which I am sure they will get.
Sorry just getting a bit down with all the negativity which I know is understandable, just that this negativity seems to be enveloping the whole fan base.
Ajay Gopal
33
Posted 11/02/2022 at 10:15:46
Agree, Eddie (22). I don't understand the abuse that Holgate gets here. He may not be a top Premier League defender, but at least he is available. People still long for players who are never available when you need them. Get behind the centre-back who has scored or assisted 2 goals in the last 2 games.
My back 4 would be Patterson, Keane, Holgate, Mykolenko. A midfield 3 of Allan, Van de Beek and Townsend. A front 3 of Richarlison, Calvert-Lewin and Gordon.
On paper, we have some very good attacking players. Our forwards – Calvert-Lewin, Richarlison, Gray, Alli, Gordon, El Ghazi –- need to start scoring to get us out of the doo-dah.
Let's face it, with the midfield and defence we have, I don't expect us to keep another clean sheet until the end of the season. So, it is the goals that we score that will keep us in the League.
Pickford
Patterson Keane Holgate Mykolenko (if not, Branthwaite)
Townsend Allan Van de Beek
Gordon Calvert-Lewin Richarlison
Marc Hints
34
Posted 11/02/2022 at 10:19:15
Looks like Leeds have a few injuries to key players tomorrow.
John Keating
35
Posted 11/02/2022 at 10:44:32
Marc,
It seems Bamford and Phillips are still unavailable but the team from the Villa game appear to be all fit – that is bad enough!!!
John Kavanagh
36
Posted 11/02/2022 at 10:46:56
In a match where commitment, energy and pace will determine the outcome, then we surely cannot risk Coleman and Gomes. I'd risk Ali ahead of Gomes and Kenny or even Patterson rather than Seamus. I'd also bring in Branthwaite. I'd even make young Gordon captain for the day as he has the right attitude and never gives up.
Let's see some real fight. Take on Leeds by competing for every ball from the off and never give up. Then the crowd can really do its job and have Bielsa crapping in his bucket. COYB.
Laurie Hartley
37
Posted 11/02/2022 at 10:49:53
Rick Tarleton # 31 - I was thinking we should play Gordon in midfield also. It looks like Gray is out of contention if so I would give Allan the armband to captain this side: 4,3,2,1 (is that a new formation?)
Pickford
Patterson, Keane, Branthwaite, Mykolenko
Gordon, Allan, Van de Beek
Delle, Richarlison
DCL
Unfortunately Seamus has the heart but it is too easy to get round the back of him these days.
Four young guns in that team and two newcomers who will want to impress - and I think Allan could keep them organised. He has a huge part to play in this game.
Oh Oh, I just felt a glimmer of hope.
Tony Everan
38
Posted 11/02/2022 at 10:57:42
Positivity is needed.
On a positive note Richarlison is by far better as a left-sided forward. He makes the team stronger on attack and defence when he is played on the left. He can collect and run at the defence, cut inside, shoot. Also he is diligent and committed in tracking back and defending with just enough pace and aggression.
The whole team is stronger when Richarlison is played on the left.
Calvert-Lewin will be an asset in the centre if he's fit enough.
Gordon has been consistent, which is a massive thing for a young lad in the Premier League. He leaves it all out there on the pitch and is a great young player for us to have.
More positives
Donny Van de Beek is a midfielder we need right now. He needs to play in a midfield three and be given licence to play his natural game. Looking to advance quickly forward and distribute the front three.
Allan and (Mr X) will play the midfielder essential engine room battling roles and sit deeper quickly feeding long when it's on and consistently feeding Van de Beek.
Even more positives.
Patterson looked the real deal, young tough and full of energy we need that tomorrow. He will help change the dynamic. Branthwaite ditto. Mykolenko will have settled down and be much more ready tomorrow. Keane is fit.
Team : 4-3-3 / 4-5-1
Pickford
Patterson Keane Branthwaite Mykolenko
Allan Van de Beek Mr X
Gordon Calvert-Lewin Richarlison
Mr. X = Gomes, Gbamin or Holgate
No easy answer by any means but Holgate has the tenacity to tackle and break up play. Gomes far too slow for Leeds's incessant, high octane pressing. Gbamin, does anybody know? So Holgate it is. Any better ideas?
Marc Hints
39
Posted 11/02/2022 at 11:00:56
John #35,
I think a couple more have also dropped out – but yes, I know what you mean: the way they played the other night at 100 mph is worrying for our slow ponderous midfield!
Let's hope they burnt themselves out a bit (I can only hope)...

Kevin Prytherch
40
Posted 11/02/2022 at 11:14:48
Another thing…..
We need to assign someone other than Pickford to make sure the wall is in the right place if they get a free kick….
Eddie Dunn
41
Posted 11/02/2022 at 11:15:21
Well Marc, at least we have had a day more than Leeds to recover.
I would favour Coleman at rightback normally but he may well be knackered. Frank and Co will surely be looking at JJk and Patterson and weighing-up the pros and cons.
I would be disgusted if Gomes is picked. The guy must look good in tights at Finch Farm but this is just not the game for him. He is so slow and always gets booked, making him vunerable for the rest of the game and he gives awy far too many fouls because of his lack of speed.
If he plays we will lose, simple as that.
El Gazi has goals in him and even Iwobi looks a viable option off the bench.
At present we look bereft of ideas and miss Richie on the left.
One of our problems up top has been the singular play from Gray and Richie and although Gray has shone on occasion he tries to do it all himself.
Gordon, on the other hand is a team player.
It's a big, big game that we must not lose.
Laurie Hartley
42
Posted 11/02/2022 at 11:17:50
Tony # 38 - couldn't agree more about that being Richy's best position.
Dave Long
43
Posted 11/02/2022 at 11:21:36
To all you match- going fans...please be RAUCOUS. My last game at GP before coming here to Japan was the Wimbledon game. The atmosphere that day was ridiculous. Barry Horne scored a blinder. YOU fans can keep us up.
Derek Cowell
44
Posted 11/02/2022 at 11:25:54
I am desperate to be optimistic but we are playing against a side which is totally opposite to us in style and fitness. Leeds are all action and full of running and pressing.
Of all the teams around us I see Leeds as the team we would least like to be playing due to our utter lethargy and lack of fight.
Others on here are saying our players will fight hard and match Leeds for 90 odd minutes. Will we? Where is the evidence that we even have any if that in our locker? Our players always look slow and unfit and to be honest, not even arsed.
I hope for something different but for the life of me I just can't see it happening.
Paul Cherrington
45
Posted 11/02/2022 at 11:34:06
However we set up against Leeds, we cannot keep picking the same players who fail to perform or cannot perform on a consistent basis.
Gomes should never play for us again, for example – he is not strong enough or quick enough to be a top class Premier League midfielder.
Coleman is clearly finished too – what the heck has Patterson got to do to get a game?!
There are others we could all name too. I think playing with 4 at the back helps, as would having 5 in midfield (however you arrange them) but much of it comes down to not continuing to pick players who aren't good enough.
I know the squad is thin but we need to give others a chance – keep picking the same failures and you get the same results
Mike Gwyer
46
Posted 11/02/2022 at 11:35:23
Derek #44
We won at their place last season so lets just look at the positives.
They are very beatable as their league position shows and they leave bigger holes at the back than we do, so please, if you are going tomorrow, lets get behind the team and support them. No negativity. Just full on support.
Michael Kenrick
47
Posted 11/02/2022 at 11:42:19
Just a technical point re Nathan Patterson "having [not] seen any action since his move from Rangers".
The new lad played an hour of a U23s game against Spurs late last month, and set up Lewis Dobbin with a pinpoint cross that the young striker headed home for the only goal of the game.
The move starts at 0:52.
And watch the rest for a fine volley by Lewis Warrington that smacked the post. I hope we don't regret sending him out on loan to Tranmere.
Jim Wilson
48
Posted 11/02/2022 at 11:44:09
Win the midfield battle by paying Van de Beek, Allan and Gomes with Richarlison and Gordon working hard down the flanks to help the full-backs. We have enough going forward to cause Leeds problems.
This game will be won by protecting the defence instead of filling it with central defenders, and by staying on the ascendancy.

Danny O'Neill
49
Posted 11/02/2022 at 11:48:29
I don't mind the loan system as it's what we have Michael. You and many are probably bored of my views on all things grass roots, academy, B Teams and feeder clubs.
I do however wish we'd have got Warrington involved in our first team squad rather than loan him out.
Marc Hints
50
Posted 11/02/2022 at 11:50:04
Eddie #41
I would hope Coleman is not playing but I fear Frank may worry about youth as we are in a relegation scrap and just play Coleman and stick to experienced players until we are safe from relegation.
The problem with Gomes is he needs quick quality players around him to do the dirty work, if we win those midfield battles he seems to flourish, but if we don't then he falls apart and can't keep up and ends up just fouling.
I would like to see a five man midfield this week of Richarlison, Allen, Donny, Gomes, Gray and DCL up top.
Four at the back with Patterson, Brainthwaite, Mina (if available) and Mykolenko

Brian Hennessy
51
Posted 11/02/2022 at 12:32:15
Win tomorrow and I think we will stay up. Lose tomorrow and I think we will go down.
Confidence is the difference between us and all the teams around us and one win could change everything. We need one hell of an atmosphere at Goodison to get us over the line.
Brian Hennessy
52
Posted 11/02/2022 at 12:38:35
Michael #47. Patterson did three things in that move which Seamus could not. The flick around the corner, the burst of pace to get past his man in support of the man in possession, and a well-placed cross with pace.
The lad has to start tomorrow.
Colin Malone
53
Posted 11/02/2022 at 13:07:49
All I know is, I've got a sickly feeling in my stomach and a quick temper.
If I go to the doctors, He or she will only say, you're a blue nose. It's a horrible feeling.
Tom Harvey
54
Posted 11/02/2022 at 13:11:27
Brian Murray @ 20
"I know the fans in the ground will get behind the team as that's what supporters do – they support their own team, not throw in the towel when it gets tough."
Brian, the fans will get behind them while they see them competing with Leeds, If Leeds take the lead (no pun) they'll wilt like the team does.
Howard Sykes
55
Posted 11/02/2022 at 13:18:51
Since most of the team seems to be so mentally weak I can't help thinking that maybe installing a top notch sports psychologist in Finch Farm would help.
Michael Williams
56
Posted 11/02/2022 at 13:23:45
This is a game for the fans - that's it. The players and manager are either new to the club or have been worn down over the years for reasons discussed above. The players must be lifted by the supporters at Goodison. If we go up 1 or down 1 the supporters need to back this team to the hilt.
This is a test for the fans as much as the players. Let's see if the fans in the stands are as good trying to lift this team when it desperately needs it as you demand the players be on the field. The team and players need it. Silence, booing, and ripping is the easy way out for the fans. Get it done.
Raymond Fox
57
Posted 11/02/2022 at 13:23:49
The midfield is the engine room if your losing that battle your done for, unless you get lucky.
van de Beek has got to play, I'm not sure about Dele Alli from the start but maybe its worth the risk, training will probably tell Lampard if its on.
The bottom line is that we are a moderate squad, hoping that the above two can make a difference, all these injuries are killing us though.
Our defence is poor, theres no confidence that we can keep a clean sheet, and I cant see us nilling Leeds.
I think we are going need plenty of luck on our side for this one, but even then I'm struggling to see us winning.
Barry Hesketh
58
Posted 11/02/2022 at 13:38:30
Ben Foster has stated that as part of his teams tactics, they looked to gain control of the game early doors in order to create a bad atmosphere for Everton at Goodison. This blaming the fans nonesense is really getting me angry, did he forget about Everton going in front via Richarlison and the 'happy' atmosphere that created for the home team in the latter stages of that game with Watford?
It appears to me that if something is said often enough, it becomes the truth and given Michael Keane's comments this week it obviously gets into our players heads, but why? They are professional footballers, who should be able to do the basics regardless of whether the stadium is full of negativity or in front of a hostile home crowd when they play away.
Imagine actors blaming the audience whenever they fluff their lines? Imagine a band blaming the audience for not being able to play their instruments properly or forgetting the words to their own songs?
I just don't see how the media and fans can have it both ways, Goodison Park is one of the most hostile places to play in for opposition players, but the Goodison crowd is one of the most difficult places to play in front of for the home team, which is it?
Get a grip Everton players, you are responsible for any bad vibes that happen at Goodison, perform to a reasonable standard and the crowd will get behind you, act like a bunch of frightened children and fail at the very basics and the crowd will respond accordingly.
If the players don't react accordingly to the situation that the club finds itself in, they won't have to worry about any crowd reaction - good or bad - next season, because quite a few fans will save their time and money and stop attending Goodison.

Marc Hints
59
Posted 11/02/2022 at 13:46:54
Yerry Mina out for 8-10 weeks, Gray will be missing tomorrow but back next game
Jon Harding
60
Posted 11/02/2022 at 13:54:18
So sad given all our problems that in the main article and 50+ posts I could only see one single reference to Gbamin. He looks a unit warming up on the sidelines but that is where he always is - never on the pitch!
And Laurie @ 37 that 4321 formation is "the Christmas tree" famously used by England at Euro96.
Dennis Stevens
61
Posted 11/02/2022 at 13:54:44
I think they might be better off with a hypnotist, Howard #55
Michael Williams
62
Posted 11/02/2022 at 13:55:05
Barry 58 - You wrote - "Ben Foster has stated that as part of his teams tactics, they looked to gain control of the game early doors in order to create a bad atmosphere for Everton at Goodison."
I'm not sure anyone is specifically blaming the Goodison fans but it is telling that opposition players and managers believe they can put Everton at a disadvantage at home via their own fans for whatever reason.
Goodison has not been one of the most hostile places to play in a long time. The match announcers on NBC, when they mention the atmosphere, talk about how it used to be one of the toughest places to play. I will let others surmise why this is.
Mike Doyle
63
Posted 11/02/2022 at 13:58:06
Sounds like Mina is effectively out for rest of the season. No Mykolenko either. But some good news - Fabian Delph is getting closer to being available (apparently)!
Rob Dolby
64
Posted 11/02/2022 at 13:59:09
I wouldn't start Holdgate or Gomes again. The pair of them are liabilities in their own special way.
Pickford
Coleman,Keane, branthwait, Mykolenko
Gordon dvdb, Allan, Ali, Richy
DCL
Sit deep and hit them in the break.
I keep looking at the table in more blind faith thinking that we can get out of this and that there are 3 worse teams but I don't think there are.
Win tomorrow with a scrambled og may just start a bit of momentum.
Utft

John Kavanagh
65
Posted 11/02/2022 at 13:59:48
Marc @59. That's Mina's season over then and hopefully his Everton career. We can't afford to keep these injury prone players in the squad regardless of how good they are when putting in the occasional appearance.
Derek Taylor
66
Posted 11/02/2022 at 14:00:10
Given how piss-poor the Everton side is these days, if Alli can't get a start he might as well get off to China. Even if we are only having to fund half his wages, it's yet another expensive flop. Viva tica tacci !!!
Brian Hennessy
67
Posted 11/02/2022 at 14:04:41
Listening to Lampard's press conference just now, I think there is no chance he is going to start Patterson tomorrow unfortunately.
Michael Lynch
68
Posted 11/02/2022 at 14:05:01
Frank seems fairly sure that Patterson won't be playing tomorrow and Coleman will. So that's that cleared up then
Benn Chambers
69
Posted 11/02/2022 at 14:05:16
Mina is out 8-10 weeks. He's been back 2 weeks and played for Colombia in between. This summer is the stage where we renew or sell. We would need our heads testing to give that fella a new contract. He's robbing a wage in the same way Delph has all his career. It's a shame coz he's actually a good defender when fit, which is hardly ever. Get rid. The fella is made of play-doh. He's a fuckin embarrassment to his profession. How can you call yourself a footballer if your body doesn't allow you to play the game? He's a joke. He may be physically fucked but Micheal Keane is mentally fucked. I just wish we could transfer Mina in to Keanes body. Less said about Keane the better. Giant shithouse. He's another one that needs legging as soon as the last whistle of the season is blown. Take Holgate with him. Oh, and Seamus who's like a lame duck now. This defence is the reason we are where we are. They're all culpable as a Collective but this defence is pathetic. We can score goals, we just can't keep them out and when you've got farts like Mina who can't play and gutless pussies like Keane who let midgets mark Centre backs off corners, instead of leading by example and marking the Sanger men, what chance have we got. Team is a shambles
Brian Wilkinson
70
Posted 11/02/2022 at 14:06:09
Midfield is the key tomorrow, we have to get three in there to try and add less pressure on the defence.
I would drop Gomes to the bench and replace him with Van De Beek, would even think about putting either Onyango there or El Ghazi, see what he has to offer, along with Allan.
We are in a battle that is for sure, Alli for now I would keep on the bench, either El Ghazi or Onyango might at least be able to put a tackle in, or feed off Allan and Van De Beek.
Michael Lynch
71
Posted 11/02/2022 at 14:10:07
No Mykolenko tomorrow either. Fucks sake.
Barry Hesketh
72
Posted 11/02/2022 at 14:11:34
Michael @62
Perhaps the lack of atmosphere which you describe, might be explained by the team only winning 38 out of the 86 league matches played at Goodison since August 2017, perhaps it's down to the expectation that the money spent would have us challenging for the European places and instead finding ourselves way off the pace to such an extent that we are more than a little concerned about actually dropping down a division.
Perhaps, it's due to having so many highly paid players in the squad who are not worth a carrot, perhaps it's because most of the squad are way below the expected levels and many of them who are good enough pick up injuries on a regular basis.
The raucaus atmosphere created during the Moyes reign and to a certain extent under Martinez didn't help the team to win anything and mostly ended in great dissapointment for the fans and the club on too many occasions. The domination of the elite for the last half-decade could also explain the failure of our crowd to react in a positive manner as deep down they realise that the chances of winning silver or even qualifying for Europe is a distant and possibly unnatainable dream. What none of us bargained for was how quickly we would fall or how far that fall would be.
If anybody is to blame for Everton's failures it is the leaders at the club not the fans who pay to watch their team.
Michael Lynch
73
Posted 11/02/2022 at 14:12:04
Frank seemed very subdued today. Kept referring to the players he'd been looking forward to working with like Doucoure, Godfrey, Mina, Gray, all being injured. Didn't sound sure that DCL was fully fit, we'll see tomorrow I guess.
Down to the bare bones in defence particuarly, and playing a team like Leeds is scary.
Michael Connelly
74
Posted 11/02/2022 at 14:14:36
Before everyone gets too down in the dumps, we actually have a squad with a bit of depth in it at the moment. Godfrey, Gray, and Mina are big losses, but we still have enough to put a good team out tomorrow. 2 options, as I see it, a 3-4-3, or a 4-2-3-1:
1.
Pickford
Holgate Keane Branthwaite


Kenny Allan VDB Myk
Gordon Richarlison Townsend
Good chance Frank will go for the 3-4-3, as it's a compact formation, which could be good against Leeds, given the kamikaze football they play.
2.
4-2-3-1 option could be good also. A few permutations for the 3 behind the striker. And the No. 10 position is probably Deli's best.
Pickford
Kenny Holgate Keane Mykelenko


Allan VDB
Towns/Gord Richie/ Deli Town/Richie/El Gha
DCL
Kieran Kinsella
75
Posted 11/02/2022 at 14:22:26
Frank said individual mistakes were eye opening. Obviously he hasn't watched us much the last five years
Brian Murray
76
Posted 11/02/2022 at 14:22:52
Benn post 69. Spot on kidda. No more contracts to anyone who can't stay fit a whole game never mind a month. Somehow got to get to the summer to get rid of these losers but it's a long shot if it goes wrong again tomorrow. By the time doncoure and Godfrey are ready maybe too late.
Christy Ring
77
Posted 11/02/2022 at 14:35:47
Frank didn't seem in great form, injuries haven't helped. Mina out long term, another Delph.
Listening to his comments about Patterson, he's definitely not up to scratch, and Myklenko not available; getting rid of Digne by Benitez has backfired.
And we can't play Townsend tomorrow – Raphina will destroy him. Kenny is the only option.
Michael Lynch
78
Posted 11/02/2022 at 14:35:58
Assuming we go three at the back again, and I don't see how we can't as we have no Mykolenko or Godfrey to play left-back, then I'm guessing:
Pickford
Holgate Keane Branthwaite
Coleman Allan Van de Beek Townsend
Gordon Calvert-Lewin Richarlison
Unless Calvert-Lewin isn't ready to be risked, which is entirely possible. In which case... we might have to call for Rondon.
Brian Wilkinson
79
Posted 11/02/2022 at 14:41:00
Barry@72, I agree in regards to atmosphere and the players raising the crowd, but how about tomorrow, the fans do not wait for the players to raise us, we instead get a bear pit atmosphere going? If we do our part, we can at least say we gave everything.
If you look at our 2 results over the past months, the first one was against Arsenal, the fans got behind the team, never gave up and the players responded with a win.
The other game was Brentford in the cup, managers name chanted, got right behind the team and again we won the game.
This is a must-win game, we have to get right behind the team, even if we go a goal down, we simply have to try and rally the team. We never gave up against Wimbledon, the crowd were electric and eventually Wimbledon came undone and we nicked it.
The worst thing we can do tomorrow is give Leeds an easy ride with a silent Goodison, their fans will be making a noise, we need to stifle it and sing our bloody hearts out.
No matter what show we put on, let's get behind them for 90 minutes. If we can do our job, then it's then down to the players to get us over the line.
Paul Cherrington
80
Posted 11/02/2022 at 14:41:29
If Lampard does pick a clearly finished Coleman again instead of giving Patterson his chance, I really do despair. Why can managers never see what is blindingly obvious to anyone else?
I don't care about Coleman's experience – he is playing rubbish and part of the reason we are where we are. Time to give someone else a chance!
I give up if he also plays 3 at the back again – even with all our defenders fit, it just does not work for us. It just leaves us short in midfield and with no protection for a shaky defence. Surely Lampard can see that already?! We need a back 4, with 5 in the midfield!
As for Mina, I give up with him. Funny how he always seems fit enough to fly around the world and play for his country, that's all I'll say about it.
Jay Wood
[BRZ]
81
Posted 11/02/2022 at 14:43:08
I wouldn't describe Frank's presser as him being 'subdued'. Disappointed that injuries have hit hard again, yes. But he clearly stated several times he is happy with the attitude and application of the squad since he arrived.
With Mina out for 8-10 weeks, that is his season virtually over, so once more we have to make do with what we have. With Godfrey also missing that means Keane, Holgate and Branthwaite at centre back.
Incidentally, Frank described Mina as a big positive personality in the squad, as well as being a good player.
Mykolenko also still out. Judged on what Frank said about Patterson, he is not getting a start any time soon. So our only other senior full-backs are Coleman and Kenny.
People say they want players with more fight. More bottle. More passion for the club. Jonjo Kenny is such a player. And to my eye when he has played this season, he has played as competently as any other selected full-back.
I fully expect Donny in for Gomes. With Gray missing, but hopefully DCL returning, the easy solution is a front three of Richy, DCL and Anthony.
To repeat what I said post-Newcastle, I believe in the style in which Frank is trying to get us to play, more than anything I saw under Benitez or Duncan's single game.
We need wins, that is self-evident. Trust the process and wins will follow.
Jamie Crowley
82
Posted 11/02/2022 at 14:47:40
I'm really hoping we set up in a 4-2-3-1 this game:
Pickford
Coleman - Keane - Branthwaite - Mykolenko
Van de Beek - Allan
Gordon - Alli - Richarlison
Calvert-Lewin
Jamie Crowley
83
Posted 11/02/2022 at 14:49:48
Mykolenko is still out? Ugh.
Stephen Williams
84
Posted 11/02/2022 at 14:50:58
I didn't realise we were playing 1970 Brazil or 1982 Italy tomorrow. I thought it was Leeds United who, last time I looked, were Bottom 6 – not Top 6 or world-beaters, and who also, if we beat tomorrow and win our game in hand, we'll be above.
I know this site is a moanathon inhabited by right miserable bastards at the best of times but fuck me, at least post something sensible and don't make Leeds sound unbeatable!
There's a reason why they're down there – like us, they've played shite. We're at home and whilst we don't have Top 6 players, we're certainly better than any of the shite around us.
It's time for everyone – players, coaches, fans... and even some of those on this site that appear to know the square root of fuck-all about football – to realise that and step up.
We have a manager and coaches who have been winners, so I'm sure they'll do alright. If the players listen, then they'll be alright... but I'm really not sure about some fans.
Far too many appear to have run up the white flag already. I'll never be one of them and I hope most of the match-going lads and lasses won't be too.
Just embarrassing.
COYB
Bill Gall
85
Posted 11/02/2022 at 15:02:39
I don't think Patterson is ready yet. I watched him with the Under-23s and yes, he was effective in the goal that Dobbin scored. His defense is still a little suspect and relies too much on his speed to get out of trouble instead of positional play.
Both him and Mykolenko I think were bought for the future and, because of mismanagement by Benitez in selling Digne, Mykelenco will be used more than Patterson.
We may not like it but the position we are in, I think Lampard will use the more experienced players in a 4-4-2 set-up and will have to include Holgate and Branthwaite in the back 4.
I don't know why I try and guess what Everton's formation will be as I have never got it right before. But what I do know is you have to match Leeds in intensity for the full 90+ mins to get a win or draw; anything less is unacceptable.
Christopher Timmins
86
Posted 11/02/2022 at 15:09:28
The left-back slot is an issue, assuming that Townsend is selected to play in that position I expect Frank to go with the team that started at Newcastle with Branthwaite for Mina, Van de Beek for Gomes and Calvert-Lewin for Gray.
Let's play the Lampard way and take 3 much-needed points.
Derek Cowell
87
Posted 11/02/2022 at 15:13:02
Mike at 46.
It is not negativity, it is just realism, unfortunately.
Roger Helm
88
Posted 11/02/2022 at 15:14:55
We keep losing to the lower placed clubs so relegation is definitely on unless things change. Leeds is yet another game we have to win.
Isn't a "pressing game" just another way of saying working harder than the opposition? So why don't we do it?
Raymond Fox
89
Posted 11/02/2022 at 15:22:40
Its not embarrassing Stephen 84, its reality and trepidation, in the League we havnt been able to beat anyone at Goodison.
Sure we can win or draw the game its football but we have been poor even without the injuries.
Maybe our last two signings can make a positive difference, but its a brave man that will back us at a skinny 11/8 tomorrow.
Derek Cowell
90
Posted 11/02/2022 at 15:25:33
We have lots of key injuries and one Covid case so can't we get this game postponed like the top teams managed to do insimilar circumstances?
Richard Nelson
91
Posted 11/02/2022 at 15:27:48
This game has the Wimbledon 94 atmosphere stamped all over it..making it a crucial, crucial must win game..lose this and its hard to see a way back..as we know, there are still plenty of games left, but the injuries to key personnel, allied to a dreadfully slow midfield, make it ominous, even for the die hards..a monumental effort is needed against a Leeds team that have energy to burn..it will be fascinating to see what line-up the Manager puts out..where's Barry Horne when you need him..?
Marc Hints
92
Posted 11/02/2022 at 15:37:36
John #65
Yes totally agree mate, on his day he is a really good centre half but as you say way to injury prone, we can't afford to keep carrying these players, Delph is another one
Andrea Jacobs
93
Posted 11/02/2022 at 15:38:24
How can you end up without a competent left back available for selection?
Thierry Small, Digne, Nkounkou.
We can't keep being run this poorly and get away with staying in the league.
It's heartbreakingly dumb, the sale of Lucas Digne, a more attacking manager would surely have rejuvenated his abilities.
All the team selections that people are guessing, none of them look convincing to me.
A win tomorrow is vital.
Then we probably need another four or five wins after that. It's completely achievable from these players.
The earlier we get these points the better, obviously, because these players don't seem up for the fight if we get really dragged into the mire.

Stephen Williams
94
Posted 11/02/2022 at 15:39:24
Raymond (64), you mightn't be embarrassed by the constant negatively and put downs - but I am. Says more about you (and others) than me.
Whilst recognising we've been poor to day we haven't beaten anyone at Goodison is just wrong - Soton, Burnley, Norwich, Arsenal and Brentford! And there's no reason we can't add Leeds to that and start progressing.
Also to say we were poor before injuries is also nonsense. Our drop off in form coincided with a spate of injuries to our better players (DCL, Doucoure, Mina, Gray, Richarlison etc).
I'll be brave - I always am with Everton. I back up to win. Shame others would rather run up the white flag than back the team.
Kieran Kinsella
95
Posted 11/02/2022 at 15:48:55
Stephen 94
No one is putting out the white flag as we are in no position to do that even if we desired to do so. It's the players on the pitch who control such things not the crowd or posters on ToffeeWeb. Everyone hopes we will win every game but looking at the situation presently, one win in 15, plus the way we match up to Leeds in terms of strengths and weaknesses, it's reasonable to deduce that we might lose and most neutrals would likely agree. But no one is wanting that outcome, hoping for that outcome or completely resigned to that outcome. Everyone is hoping for the best but feeling trepidation based on the obvious
Dazz Murphy
96
Posted 11/02/2022 at 16:02:20
Pickford
Patterson Branthwaite Godfrey Mykolenko
Allan Dourcouré
Gordon Van de Beek Richarlison
Calvert-Lewin Dobbin
Subs: Townsend (if Mykolenko is unfit) Begovic, Keane, Alli, Coleman, Gomes, Onyango, El Ghazi
Or something like that jazz...

Stan Schofield
97
Posted 11/02/2022 at 16:02:53
I think Stephen @84 has got it nailed. Sometimes this site looks like a football version of bipolar disease. If we have a good result like Brentford, the future is suddenly rosier, whereas if we have a bad result like Newcastle (in which the officiating was a disgrace, and if better might have prevented injuries) the world is suddenly about to end.
Reality exists between these extremes. Let's be realistic, Leeds are shite, worse than us, and are readily beatable especially at Goodison.
Christy Ring
98
Posted 11/02/2022 at 16:09:04
Paul#80 ' Why can managers never see what is blindingly obvious to anyoneone else'. So Paul can you tell me how many times you've seen Patterson play? Lampard has been watching him in training and more or less said he's not ready yet, so you know better?
Lynn Maher
99
Posted 11/02/2022 at 16:14:10
My throat is still sore from the shouting, singing and general euphoria of being at Goodison last Saturday. For the first time in ages the players actually looked as if they knew what they were doing, and cared.
As a fan I can support the team even when we lose if they have played well.
What I can't do is accept the abject apathy, that certain players display, on a seemingly weekly basis.
I will be there tomorrow. Let's hope the team are.
Tony Twist
100
Posted 11/02/2022 at 16:16:25
I wouldn't initially play Dele in this type of match. Lampard, as a midfielder, could fashion a decent DM from a player who doesn't get injured too much and could possibly blossom in a defensive midfield role.
It would be a risky move but due to injuries a necessity though something radical. Using his influence and persuasion skill, now this will sting, but due to lack of a certain type of midfielder I would play Holgate in midfield with Allen and VDB and er, make him captain! He is one of a very few of our players that has a nasty streak and may be, as captain, it might give him a push to improve. It might bring out his fighting spirit and of course he will be further away from our goal!
Kieran Kinsella
101
Posted 11/02/2022 at 16:17:05
Stan 97
"Leeds are shite, worse than us," on what basis? They are above us in the league and still would be even if we won our game in hand. They also finished above us last year. Yes we won last year at their place but they won more convincingly at ours. So they are almost as crap as us not worse.
Tony Twist
102
Posted 11/02/2022 at 16:48:05
Christ, watching the training video on YouTube fills me with dread. The routines of interchanging of passes then crossing to the strikers are done at a snails pace. It should be twice that speed and majority ending up as goals. Quality severely lacking. My team for tomorrow would be (4-3-3):
Pickford
Patterson, Keane, Branthwaite, Kenny,
Holgate (DM), VDB, Allan,
Gordon, DCL, Richie.

Holgate sitting in front of the back four with VDB and Allan more mobile, covering every blade of grass!
Stan Schofield
103
Posted 11/02/2022 at 16:50:00
Kieran, because their position in the table is no surprise to anyone, whereas our position in the table is. They got promoted not long ago, and being in the PL is a bonus for them. However, for us, being in the PL is essential and part of who we are. Our current run is the worst in some time, and it must end. The Brentford game demonstrated what we can do, and we need the right attitude to repeat that kind of performance.
Joe McMahon
104
Posted 11/02/2022 at 16:55:46
If Gomes plays, I think I will cry (and I haven't done that in an Everton match since I was 10 (im now 52). Frank may regret taking this job, I hope he spoke to Carlo first. It's impossible with the majority of this feeble pathetic limited squad.
Leeds were lightning the other night, so I cannot see even a draw. I so want to be wrong but Everton 1 Leeds 3. We are having to choose players who are not PL standard, probrably the whole defence, and Pickford ain't great either (England keeper argument can you know what off)
Dale Self
105
Posted 11/02/2022 at 16:56:07
I would save Alli and Gomes for the late show and see if we can't somehow chase Leeds down and frustrate them. That would probably require feigning pressure in the middle of the field and just cutting out the deep counterattack passes. First half will see a lot of retreating the question is whether we can get it out of our half cleanly on the ground. DVdB is probably coming deep for this and I really don't know what works from there.
If we can find a way to get compact in our third without their passes pulling us out of shape we may have a chance but there will be stretches of time where they will dominate possession. Not sure how the crowd reacts in those instances but if they can stop Leeds with a few tackles before they get a shot at Pickford it could be the spark that gets us going. Staying in our third too long and we are in for a working over.
As for how it gets received, hopefully everyone has adjusted their expectations for what is before us and the players pick up on it. They are probably a bit surprised as well and are clueless on how to get it going again but they still understand the home field advantage with a supportive crowd. A couple of decent tackles and I think they could switch mode given how frustrated they must be. Clement may be the key as to how that gets tapped.
Alan McGuffog
106
Posted 11/02/2022 at 16:59:47
Stephen 84, the only reason so many people on here have run up the white flag is that so many in blue shirts have already done so.
Kieran Kinsella
107
Posted 11/02/2022 at 17:02:36
Tony Twist
On that training video I saw Tosun sniggering like a Cheshire cat with Holgate and Gomes. I wonder what he was saying? "Keep it up lads and you'll be like me getting paid a fortune and not even having to play."
Michael McFarlane
108
Posted 11/02/2022 at 17:03:05
Tough game ahead.
We could guess most of line up. Frank hasn't got that many viable options and not much time to tune tactics.
To get a result we must get, and stay, on the front foot, playing with tenacity. Our survival depends on this. Mentality is everything tomorrow and for the run in.

Having Goodison behind the team from start to finish will give us the 12th man to win this. COYB!
Raymond Fox
109
Posted 11/02/2022 at 17:03:14
Stephen 94, your correct I was wrong to say we hadnt beaten anyone at Goodison, but it sure feels like it. Perhaps I was thinking more of last season when we lost to all the bottom clubs with most of the players that are in our first team now.
At the moment all our supporters want us to win desperately but that doesnt mean we all think they will win, we are just trying to assess our chances.

Tony Hill
110
Posted 11/02/2022 at 17:11:23
Leeds are an erratic side with a poor defence. Let's not make them sound like masters.
Danny Baily
111
Posted 11/02/2022 at 17:15:24
Huge match. Looking to see some resilience more than anything tomorrow. We've fallen to pieces in matches this season, starting with Villa away. You could almost see it happening against Brentford at 2-1, luckily got the third goal to calm the nerves.
Alex Gray
112
Posted 11/02/2022 at 17:18:52
If we have any sense we won't pair Coleman up against Raphinia or we'll have Newcastle all over again. Vdb for Gomes, put Richi on the wing for Gray and Dcl up top. Patterson at right back.
Alex Gray
113
Posted 11/02/2022 at 17:23:03
Also Leeds might be poorer than us (although I think we're pretty even quality wise) but they have a balanced team who know their style of play inside out. This will be a tough game even with goodison roaring. They have pace to burn and are incredibly fit.
Andy Crooks
114
Posted 11/02/2022 at 17:31:54
Stephen Williams, I love your posts. I am a natural glass half empty bloke and you have cheered me up. They are the equivalent of a good talking to. Jay Wood has done it in recent times.
We need a break, a bit of luck and someone to be a hero. I have mates who support Newcastle and West Ham and they have talked of the past excitement of relegation battles. Frankly, give me mid table mediocrity any time.
We will win tomorrow and we will be fair odds to do so.
Ian Bennett
115
Posted 11/02/2022 at 17:34:39
I am hugely worried. Let's not sugar coat this, we are in massive trouble.
Mina, Godfrey and Doucoure could miss the remainder of the season. Add in Delph and Davies, and you're looking at regular starts to Holgate, Keane, and Gomes
Mentally and physically that isn't going to quell any opposition. It's not just bad form, it is players in the spine of the team that aren't going to stand up and be counted upon.
John Raftery
116
Posted 11/02/2022 at 17:38:14
There is a case to be made for playing Kenny as a defensive left back tomorrow. Raphinha likes to cut in from the right on his left foot. Having a right footed full back to nullify that threat might make sense.
Gary Jones
117
Posted 11/02/2022 at 18:09:12
Gutted Mykolenko is out……because he was 100% needed for 4-3-3 - which I still think is best bet going forward, particularly if VDB and Alli can help with middle 3.
Without him, I think we have no choice but to go a back 3, and bring through a Welsh/Anderson for the bench. Townsend never worked, so [sorry, I know it's controversial] try Iwobi at LWB in the hope of chemistry with Richie….or Kenny for the reason John suggests above.
Pickford
Holgate Keane Branthwaite
Patterson Allan VDB Iwobi
Gordon DCL Richie
Jay Harris
118
Posted 11/02/2022 at 18:10:50
I have read most posts and am alarmed at the animosity bordering on hatred towards some of our players.
Anyone who thinks the crowds reaction does not or should not affect the players had obviously never performed before a live audience in any capacity.
It doesnt matter whether you are getting a million a game or a tenner a game players still go out to do their best but the crowd can either lift or destroy a player.
I know we are in a tough spot but we have probably had the worst injury and suspension experience this season in history. Combine that with unrest and uncertainty behind the scenes and you will realize the importance of a united front and supporting the team in any event. We know some of the players arent good enough but encouragement rather than moaning will help them rather than destroy their confidence.
Players don't play badly deliberately and to counter a few cynics they do not feign injury. I hope all those posters who said Mina didnt want to play the other night reflect on that now it has been confirmed he has one of the worst injuries going.
Robert Tressell
119
Posted 11/02/2022 at 18:11:06
I agree with Stephen #84. We should be confident of beating Leeds - indeed winning most home games.
343 picks itself with Mykolenko out.
Kieran Kinsella
120
Posted 11/02/2022 at 18:23:50
Jay
The crowd is an excuse. The RS come to Goodison every year and get dogs abuse and respond by playing better. Someone or some people making sounds of any kind in reaction to you doing your job has no tangible effect on your performance unless you are weak minded. Beckham for example was targeted by boo boys for England after 1998. It had no effect on his performance and made them look silly. Ross Barkley was not targeted by boo boys in the cup game but created a fantasy he shared with Jags that the fans were booing him so he had an excuse not to perform. Jags said "they're not booing you" but Barkley was still crap as he is weak minded. We need some intervention like in that Monthy Python episode with that cuckolded bloke and God asking "are you a man or a mouse Arthur Pewtey?" Then God dropped a 10 ton weight on him as he refused to man up. We need John Cleese on the tannoy Saturday to ask the same question of Keane and Gomes. Then the "time to go Bill and co" pilot can drop the weight if they don't man up
Mark Ryan
121
Posted 11/02/2022 at 18:25:16
How much for Gomes to get the first yellow for pulling someone back as he sails past him. Lol...here's hoping for a DCL goal followed by a Gordon second. 2-0 to the mighty blues. C'mon boys we can beat the Damned United !!
Phil Bickerstaff
122
Posted 11/02/2022 at 18:29:09
Ian 115 bang on, we have not got the quality to come in
We need to chance the younglings in the under 23s
Give Patterson, onyango, Dobin,Campbell a run out. se what El ghazi can do.
WE NEED ENERGY to beat Leeds
Kim Vivian
123
Posted 11/02/2022 at 18:53:58
Have only read about the first half of comments on this thread but why is no one saying that Alli might be a decent shout.
It is precisely the reasons that I couldn't stick seeing him playing against us that makes me want to see him playing for us. He's a narky bastard, got some good skill even though that's not been much in evidence recently - but it's there, and he does score goals. His cameo on Tuesday was no benchmark to judge him by - dropped into a team ravaged by injury inside half an hour which completely screwed any planned strategy of a manager 8 days into the job, and probably still jet lagged after his journey to Merseyside from London/Borehamwood or wherever he lives.
I'm not a strategist but looking at who we've got could we not try a midfield diamond of Allan, VDB, Gordon and Alli behind DCL and Richie with whoever Lamps/Cole reckon can do the best job at the back keeping James and Raphina quiet.
Looking forward and dreading it in equal measures, but I do think 3 points are there for us tomorrow. Leeds ran themselves ragged with a good display on Weds and hopefully will not be fully recovered, and as we know at this end of the league, consecutive good performances are a rarity.
They may be looking forward to playing us but lets give them a shock boys.
Clean sheet and 2/3 goals to the good.
Same again barman...cheers
Barry Rathbone
124
Posted 11/02/2022 at 18:58:29
Kieran 120
I think you're missing the point good players aren't arsed about the crowd but poor players are fragile about everything including the crowd. We have had predominantly poor performers for decades exacerbating the situation to a point that "toxic GP" for the home team rather than "fearsome GP" for the opposition is the common outsiders view.
There's a vid doing the rounds of Ben Foster talking about teams knowing how it works here and trying to take advantage of our fans getting into the team.
I'm afraid it's all true
Ray Robinson
125
Posted 11/02/2022 at 18:58:50
Kieran #120, a nonsense argument. If you don't believe a crowd can lift the team, you must be naive. If you don't believe a crowd can destroy a player's confidence, you must be as thick skinned as a rhino. Ross Barkley lost confidence in that cup match because he BELIEVED he was being targeted for abuse, not because he actually was. Do you seriously believe that ALL players are oblivious to abuse?
At the end of the day players are all individuals with unique personalities.
The Everton crowd makes a huge difference when supportive.
Colin Malone
126
Posted 11/02/2022 at 19:00:40
Phil # 122.
Don't leave out goalkeeper Harry Tyrer. I'm surprised Jordan Pickford has escaped criticism.
Kieran Kinsella
127
Posted 11/02/2022 at 19:05:18
Ray
"Ross Barkley lost confidence in that cup match because he BELIEVED he was being targeted for abuse," that is precisely the point. It had nothing to do with the actuality of the fans noise it was a mental issue of his that occurred regardless of the actual crowd.
Barry
I agree with what you say except you overlook the element of choice. The good players make a deliberate decision to ignore the crowd, the bad players make a deliberate decision to allow the crowd noises to impact them. Nothing requires them to react a certain way it is entirely up to them to decide. It's like Marcus Aurelius said, if you have a problem you decide whether it's a mound or a mountain. Keane, Gomes and co. have decided before they even put a foot on the field that they will pass off responsibility for their work onto 40,000 strangers just as they pass off responsibility with sideways passes. It's 100 percent their choice.

Philip Abbott
128
Posted 11/02/2022 at 19:17:24
4tickets available for tmrw v Leeds, family enclosure, call Roy on 07894032243
Ray Robinson
129
Posted 11/02/2022 at 19:19:41
Kieran, "the bad players make a deliberate decision to allow the crowd noises to impact them". What??? You don't choose to be underconfident do you?
Phillip Warrington
130
Posted 11/02/2022 at 19:29:59
If you are fully focussed on what you have to do and believe in the system you are playing, you can neatralize the crowd. It's only when you stop believing in what you are doing that the crowd becomes an issue.

That's why when Everton concede, they fall to pieces and panic sets in. Do we have a sports psychologist at the club? Most of the big clubs do.
Barry Hesketh
131
Posted 11/02/2022 at 19:58:41
One or two Everton players this season would have had more impact on the game sitting in the Gwladys Street than they have had out on the pitch.
Barry Rathbone
132
Posted 11/02/2022 at 20:06:29
Kieran 127
I don't think poor players have a choice at all their lack of ability throws up more mistakes hence more grief from the crowd and a vicious circle ensues. I might add I don't see this as an "Everton thing" all supporters are the same the difference between fanbases is standards.
Rightly or wrongly our standards involve winning titles - there ya go I've said it.
Presently the best "supporters" appear to be Crystal Palace fans primarilly because being in the Prem equates to them winning the league before them it was Portsmouth and the Pompey chimes and WBA going "boing boing".
Contrary to what some say the idea we will put up with consolidation for a season or two is delusional. If we survive Frank will be expected to improve things every month till we win silverware then repeat the trick every year. EFC will only be truly happy when the success graph is a straight line upward trajectory anything less and we will continue to gripe
Bobby Mallon
133
Posted 11/02/2022 at 20:53:29
Tony 38
Mr X should be Onjango
Tony Everan
134
Posted 11/02/2022 at 20:54:41
Bobby, We need a Mr Y now too, to replace Mykolenko.
Gary Jones
135
Posted 11/02/2022 at 20:58:36
Assuming we don't have an option to recall young Niels?
Mike Oates
136
Posted 11/02/2022 at 21:04:38
Lets forget Patterson for this as outlined by Lampard today. He's not ready and Lampard makes clear Coleman is his first choice at the moment. Patterson is for the future he stated and its clear that he wouldn't have been Lampard's choice.
With no left backs available at all at the club, its got be 3 at the back and that means
Holgate, Keane, Branthwaite. The 4 in midfield will Coleman, Allan, Van De Beek and Townsend. Upfront Gordon, DCL and Richarlison.
Whether that midfield is good enough, and which I don't think it will be will dictate the outcome of the match. If we don't win that battle we wont have the service to the forwards. Lampard might well have to utilise Gomes and Delle Alli if we find ourselves struggling.
As I said on a thread on Wednesday after watching Villa vs Leeds, That if Leeds play at that level, their pace, their fitness, will totally dominate us.
Sorry but bad vibes !
Robert Tressell
137
Posted 11/02/2022 at 21:15:30
Unfortunately Patterson probably isn't the answer for now (which raises the question why on earth did we buy him) but Kenny is a decent RWB, as is (don't hate me) Iwobi.
But we really shouldn't be shitting our pants about players like Luke Ayling etc.
Christopher Nicholls
138
Posted 11/02/2022 at 21:15:35
Looking forward to classic Premier League match tomorrow. Excited to see Van de Beek and Dele in the team, as well as DCL back. Not going to dwell on the negatives, we need to be able to take the game on the front foot and we have attacking players with talent.
Get Goodison rocking and press. All about the early tempo and how we start.

Laurie Hartley
139
Posted 11/02/2022 at 21:16:07
Thirty five thousand plus Evertonians turn up at Goodison for every home game and four or five thousand away so it's obvious the fans want to get behind the team.
I don't think it's a question of the fans or the players in isolation. I think we are all shell shocked.
We have been through heaven knows how many managers, Carlo deserted us, they gave us Benitez, Brands got the bullet or walked, the medical staff got the bullet, we sold Digne, his replacement has covid, and we have injuries to key players. No wonder we are reeling.
The teams that avoid relegation are the ones that are able to dig deep when the odds are against them. It goes without saying that the fans will have to help whatever team is put out to do that. This won't be a game for faint hearts.
No Patterson and no Mykolenko! As I see the options it will have to be three at the back. That means we have no choice.
Pickford
Holgate, Keane, Branthwaite
Gordon, Allan, Gomes, VDB, Richarlison
Delli, DCL.
Bobby Mallon
140
Posted 11/02/2022 at 21:18:36
By the way why has no one mentioned Dobbin. Has that lad been
ostracised Or is he injured. If DCL is not 100% fit then Dobbin has to play ( imo).
Tony Abrahams
141
Posted 11/02/2022 at 21:24:24
It's that bad I think I'd even be considered Iwobi to play in a three man midfield.
Steven Kendrew
142
Posted 11/02/2022 at 21:27:05
Let's fecking hope our overly negative fanbase can see the light at Goodison for the next few games, or it will be curtains for everyone by the end of the season.
Ben Foster, Watford goalkeeper:
"One thing I will say is, if you can get on top of Everton early doors, the Everton fans are horrible to Everton players. They get right on top of them. For sure they get into the players' heads,"

Bobby Mallon
143
Posted 11/02/2022 at 21:28:26
And what's up with mykolenko
Brent Stephens
144
Posted 11/02/2022 at 21:28:52
Bobby, Dobbin played U23 tonight.
Raymond Fox
145
Posted 11/02/2022 at 21:43:04
I agree Laurie, I think the players don't know if their coming or going with all the changes.
Add to that they don't seem to enjoy home games when their expected to win, one bad results leads to another.
We are also losing too many of our better players to injuries which will effects any teams performances.
With our squad at the start of the season I expected no better than 10 to 12th position. We still have a game or two in hand of some teams around us, if we can squeeze a few wins out we could finish 14th. Ok I'm getting carried away there, but you never know.

Phil Smith
146
Posted 11/02/2022 at 21:49:18
He can't play Coleman. He just can't. He's been the weakness in the side all season. Kenny all day for me. Gomes shouldn't be in there either. I'd rather start with Dele and give him more minutes. Actually, I'd rather Tosun start over Andre.
Tony Everan
147
Posted 11/02/2022 at 22:18:13
Bobby, He had and inconclusive Covid test on Tuesday, but he will have been tested again and must be now confirmed positive.
Jerome Shields
148
Posted 11/02/2022 at 22:37:57
Looked at the Press conference and agree that Frank seemed subdued.
Things I latched on to was Colman selected over Kenny and Patterson. This is a aged player on a one year extention.
Secondly rest and recovery after the Brentford game with alot of respect for Medical Services. IMO Medical Services has singularly failed in achieve resilence in the squad, down to a policy of rest and recovery.
Thirdly respect for so called big players, who have underperformed and have often not been available, especially Mina who made ejits out of the Medical Services.
Fourly is lowering of expectations. Has Frank realised how poor Everton are and hoping for a future upturn.
Frank is coming across as having bought into the Everton way, rather than challenging Players poor performances.
If Gomes starts tomorrow instead of Van de Beek it's going to a while before a turn around.
Hope I am wrong.
Gbamin must be a dead loss.
Don Alexander
149
Posted 11/02/2022 at 22:54:08
For years we've all rightly identified the massively expensive "deadwood", accumulated under Monaco Mosh's in-credible leadership, as the main problem inhibiting whoever this month's manager might be, albeit the stupid expense involved in signing them up has now severely hampered any similar expenditure for the next season or two, or three.
UNLESS of course, we, Monaco Mosh, and his puppet-master/s get ultra lucky with Frank and HIS coaches knocking our current largely spineless squad into a shape unrecognisable for years, whereby nearly every team we face has to chiefly worry about what we'll do to them.
Personally, with no apparent leadership on the pitch or general command of basic football skills, or governance-know-how in the boardroom/Monaco, and devoid, due to recent mass sackings, as we now apparently are of a proper scouting system, coordinated medical unit and whatever else has been fucked up at Finch Farm, I'm not hopeful.
Jonathan Tasker
150
Posted 11/02/2022 at 22:55:11
Dele Alli is a busted flush. Hard too see him making any impact at all.
Failure to win tomorrow will really set the alarm bells off
Paul Hewitt
151
Posted 11/02/2022 at 22:57:11
So Everton fans upset these precious players if things aren't going well?. Well tough get your heads from up your arse, start showing some heart and fight. And the fans will be right behind you. Unbelievable.
Steavey Buckley
152
Posted 11/02/2022 at 23:12:21
Everton are in a bad place, who don't have a defense worth mentioning.
Kieran Kinsella
153
Posted 11/02/2022 at 23:19:34
Paul
If anything the fans are too nice.
Tom Harvey
154
Posted 11/02/2022 at 23:29:33
One thing I noticed about fans during Covid is that they don't make any difference whatsoever to the overall status quo!
The Sky teams are still at the top with or without fans and so when all is said and done it's down to the players where we finish in the league, not the fans!
Sean Kelly
155
Posted 11/02/2022 at 23:31:47
No dogs of war mentality in this squad. We are fooked with these scared shithouses.
Pete Gunby
156
Posted 11/02/2022 at 23:33:13
Well said Stephen Williams. Attitude adjustment could go a long way. COYB
Geoff Lambert
157
Posted 11/02/2022 at 23:38:11
Jonathan #150, He will fit right in here then no better no worse.
Ian Riley
158
Posted 11/02/2022 at 23:39:27
Fans are paying theatre prices now. As the squeeze on living costs get tighter aren't fans right to expect more from players earning more in a week than most earn in a year! Pull ya finger out and work harder.
This is a desperate situation now! No leaders, no defence or midfield to control matches. Our biggest problem tomorrow will be controlling the energy leeds have. Newcastle ran us! First 20 minutes is crucial as leeds will come at us from the start. As slow starters we could be out of this by half time.
I am fearing the worse tomorrow as this could be the match that reality hits home. Oh please please let me be wrong! To get no points this week will be a disaster!
Steve Griffiths
159
Posted 11/02/2022 at 23:41:39
Jonathan (150) why don't you try supporting our players for a little while before completely writing them off. Good god man the lad has played 60 min in an Everton shirt & 6/7 games for Spurs this season. He like most players needs a run of games in order to achieve full match fitness. At least give him that instead of snap judgements, primarily based on what you have read in the press or heard from numpty pundits on the telly most of whom were nobodies. Goodison needs to get behind the team tomorrow in the same way it did against Brentford. 3 points and all will be well again in the world. My team for tomorrow would be Pickford, Coleman, Holgate, Keane, Branthwaite, Allan, Van de Beek, Dele, Gordon, DCL & Richarlison in a 4 2 1 3 formation. However, Frank may stick to his favoured 3 4 3 with Townsend in for Alli.
Andy Crooks
160
Posted 11/02/2022 at 23:58:28
Kieran @120, the rs get dogs abuse every year because the crowd believe they are good. Our players get dogs abuse because some of the crowd believe they are crap. Both sets of players know it. It might sound the same but it is fundamentally different.
Music to the ears of one team, draining to the other.

Anthony Murphy
161
Posted 11/02/2022 at 00:00:35
We need to stop the rot tomorrow. If we can't win, we absolutely must not get beat. I'd love to see us keep a clean sheet for once - and scoring first will be vital as our confidence is fragile.
Sam Hoare
162
Posted 11/02/2022 at 00:05:04
Recruitment, recruitment, recruitment.
I quite like Paterson and Mykolenko as prospects, but with Digne sold and Coleman fading we really needed full backs who could hit the ground running. Despite Benitez being in last chance saloon the club sanctioned the spending of almost £30m on two young full backs who are arguably not yet at PL standard. In normal times this could prove good business and they may yet both prove excellent players but in this season with our backs against the wall it once again seems like poor decision making.
Dale Self
163
Posted 12/02/2022 at 00:42:24
I'm not sure he would want me to do this but I am invoking O'Neill's conjecture. We don't know where it will come from but we will get the effort to get a chance at three points and will take it. UTFT!!!!!
Nicholas Howard
164
Posted 12/02/2022 at 00:53:48
Jonathan T (150)
Dele A. 'IS' a bust your very 'brave' assessment towards a player basically only plays about 60 minutes football for Everton FC as a sub.
Dele A for the past few years 'WAS' a shadow of himself for Spurs after his exculsion in International football. There are many examples for footballers resurrect their careers after changing clubs so let's give him fair chance to prove himself. same goes to Mykolenko, Patterson and El Ghazi... we Evertonians are better than that.

Tony Hill
165
Posted 12/02/2022 at 00:55:17
Who sanctioned those purchases, Sam, I wonder and in accordance with what process of reasoning? As usual with our dark and mysterious club, no-one knows on this side of the void.
Mind you, we Evertonians do relish our darkness and mystery, I often think. Andy Crooks @160 has pointed it out: Eros and Thanatos. The death drive can be exhilarating too. Until you're dead.
Steve Brown
166
Posted 12/02/2022 at 01:05:27
Sam @ 162, I couldn't agree with you more.
I read various rationalisations of the sale of Digne to Aston Villa at the time. He was 29 years old, 25 million was a good return, he wasn't the player he was, we were investing in young talent etc. Those thought processes might have made sense during the summer.
To sell our French international full-back to our closest rivals during a relegation dog fight, replace them with youngsters who might not play 15 games between them this season all to satisfy the ego to a manage who we then rightly sack?
Incredible incompetence and stupidity. Lampard could have made a balanced retain/sell decision in the summer and played Digne for the rest of this season when we really need him.
I thought that those who claimed that it was right to sack the DoF and put all our trust in Benitez to shake the club up had lost their senses. And so it proved.
Si Cooper
167
Posted 12/02/2022 at 02:00:33
Kalvin Phillips makes a big difference to how Leeds function so his continued absence is a plus for us.
I'm not sure that Leeds are relentless pressers more than they just like to counter. As such, they may sit off us enough for the players to follow Lampard's apparent short-passing, possession-based plans.
We have to hope he and his coaches have an X-Factor which enables our players to improve their pass accuracy. Otherwise, he is heading down the Martinez / Silva route of trying to play the style he wants without players who can do it.
Donny van de Beek has the ability but you could see his frustration mounting on Tuesday as others didn't make the required runs / feints to open up the opposition. Hopefully the few days since then has seen the penny drop for more of the players and we can get ahead and stay there tomorrow afternoon.
Si Cooper
168
Posted 12/02/2022 at 02:13:10
Paul (151), by the same token, would it hurt the supporters to say to themselves, "No matter what I see on the pitch, I'm going to remain positive and vocal for the full 90 minutes. We can let them know if they haven't held up their end of the bargain when the final whistle blows."?
Does anyone think the jeers and abuse works? Or that players aren't already embarrassed when they make a stupid mistake or play poorly?
Christine Foster
169
Posted 12/02/2022 at 03:46:39
Si, @168, l couldn't agree more.
Right now, the only thing that matters is supporting the team, no matter what. No-one wants to make mistakes or play badly, we all want a win. So, if a player stuffs up, if mistakes are made, bite the lip and bury it.
There will be a time to make feelings plain on the club, it's management or players, but park it, it's not now, no matter how galling. We have to win games and do everything we can to make that happen.
Mike Gwyer
170
Posted 12/02/2022 at 06:43:51
So #168
Absolutely spot on. Some of our players looked mentally fucked, they look doomed. Newcastle were as shite as us till they equalised, after that goal it was one way traffic. Their fans created the bear pit and their players responded.
We have players who cannot even see the finish line, they look terrified playing on their own pitch. We have to drag them over that finish line, we have to support our players for the full 90 minutes.
Henrik Lyngsie
171
Posted 12/02/2022 at 07:20:10
One thing is who will start the game? Another is how does Lampard want to play?
He is a modern manager who wants to play it out from the back. We probably have the worst ball-playing defenders in the Premier League. Playing out from the back was an absolute disaster against Newcastle and today we are up against a top pressing team.
So will Lampard insist on Keane and Holgate playing out from the back and give us all heart attacks? Or will he play Calvert-Lewin and play long and over the Leeds press?
Some would call it good old-fashioned football and others would call it Allardyce football if we play long. I think Lampard finds himself in a big dilemma here. The rude remark could be that, if we were to play Allardyce football, why didn't we hire the master himself?
It is going to be interesting to see what Lampard has got in his toolbox as a manager.

Jack Convery
172
Posted 12/02/2022 at 07:41:04
It has to be square pegs in square holes and sausage rolls up the owners and boards ass holes. So:
Pickford, Coleman, Keane, Holgate, Kenny, Allan, Gordon, Richarlison, Beeky, Mitch and Titch.
For fuck's sake, why do we torture ourselves?
Colin Glassar
173
Posted 12/02/2022 at 07:55:03
You missed out Dave Dee, Jack.
Robert Tressell
174
Posted 12/02/2022 at 07:56:29
Si # 167, completely agree, the movement needs to be better for Van de Beek to play to his potential.
Jack # 172, sodomising the board with sausage rolls would be a terrible waste of sausage rolls – but I agree with the sentiment.
Tony Mace
175
Posted 12/02/2022 at 08:02:13
I would be more confident putting Pam Ayers in the team than Keane.
Danny Baily
176
Posted 12/02/2022 at 08:05:34
I think the fans have been very understanding. We've had an ex RS legend lead us to one win in 4 months. To top it off, he was allowed to weaken the squad significantly in January. Now we're having to come to terms with the fact that a major loss of status is on the horizon for next season, which could take years to put right.
Fingers crossed for today.
Steve Shave
177
Posted 12/02/2022 at 08:24:28
Si (168) and Christine (169) I couldn't agree more. There will be many there without enough brains cells between them to understand that nothing but 100% vocal support (regardless of what they see on the pitch) is the only way we stand a chance of getting out of this. There will come a time when we can vocalise discontent, now is NOT that time. Huge game today.
Tony Abrahams
178
Posted 12/02/2022 at 08:32:42
I think the fans have been torn, disheartened and desperate, but if you give them a team, who work hard and fight for the shirt, then this will just change automatically.
The other night was a perfect example of this imo, because Newcastle were not better than Everton, they just worked harder and wanted it more, and were also driven on, by their very passionate and vocal crowd.
This is something that Goodison can also produce, but the players have got to lead the charge, by showing the fans they really care, and also being prepared to do something about it.
Football is about many different things, but bravery in possession has got to be one of the main ingredients, and this is where Everton fell down the other night, and is something that will not have gone un-noticed by Lampard, so I definitely expect a different and better Everton today.

Danny O'Neill
179
Posted 12/02/2022 at 08:37:29
The key is in the title Tony. Be comfortable with the football. Own it. Too many of our players don't. Like you say, Newcastle were nowhere near better than us. Until we scored, we were in control.
And yes, many factors determine a performance. Ability, desire, commitment, fitness, mentality.
Win today Everton. Just win. Have winning mentality.
Derek Knox
180
Posted 12/02/2022 at 08:45:43
Jack and Colin @ 172/3 you are both guilty, you both missed Dozey ! You'll never get into Xanadu now ? :-)
Martin Mason
181
Posted 12/02/2022 at 08:47:06
Si/Chris 168/69
Absolutely spot on. Fan and anti-fan. What kind of football supporter boos and jeers the team that he "supports" at the time they need support the most.
Alan McGuffog
182
Posted 12/02/2022 at 08:54:09
Dave Dee was the police officer on the scene when Eddie Cochrane was killed in car crash. Or is that an urban myth a bit like Bob Holdness playing sax on Baker St ?
Alan J Thompson
183
Posted 12/02/2022 at 09:17:58
We can go on all we like about who should play where but if we haven't got any full backs then the option is Kenny or Coleman at right back which leaves only Holgate at left back. Given Frank seems to prefer three at the back then it almost has to be Holgate, Keane and Branthwaite, is there anybody else?
That means at least four across the middle, five if we revert to a defensive (KITAP1) game but who would they be? Allan, Van de Beek, Townsend, Gordon, Gbamin hoping for Van de Beek and Gordon to supply the creativity with Richarlison and Calvert-Lewin to run themselves daft up front.
Which leads me to ask what we do if Leeds play somebody wide on both sides and a deep lying centre forward, hope we out number them in the middle or our defence doesn't get stretched?
Who would I play? Well, after Pickford in goal then whoever Frank thinks will fit the pattern needed to win, but win we must.
Barry Rathbone
184
Posted 12/02/2022 at 09:18:29
Today we should play "High Noon" pre kick off
"If I'm a man I must be brave Or lie a coward, a craven coward or lie a coward in my grave Although you're grievin', I can't be leavin' until I shoot Frank Miller dead"
Sorry Leeds but today you are Frank Miller
Andrew Clare
185
Posted 12/02/2022 at 09:23:09
We have a new manager who has been with us for less than a fortnight, injuries to key players and two new signings who have hardly played all season.
It's not ideal is it?
Add to that we are playing a highly motivated, high energy, high pressing team who are relentless for 90+ minutes.
Very worrying.
Alan J Thompson
186
Posted 12/02/2022 at 09:24:06
Barry(#184); Or after the sirens they play the theme from "The Dambusters" hoping we all remember the words.
Danny O'Neill
187
Posted 12/02/2022 at 09:25:22
Martin @181,
I agree with you to a point. During the match get behind the team. Absolutely. That's what most do.
But supporters reserve the right to voice their opinion. Having been at Brentford and Norwich away this season amongst others, but they stick out, the loyal and dedicated Evertonians rightfully gave the team and the club both barrels. We are entitled to do that. But yes, hold it to the end. And in fairness, we mostly do. Yes there's always that shouty bloke who kicks off after 5 minutes because we aren't 2 - 0 up, but mostly the supporters are behind the team throughout. Our younger generation impresses me as they are consistent and passionate in their support despite having only having experienced mediocracy and failure.
We're a family. In families you are honest with each other and tell your brethren when they are not doing what they should be. It can cause fallouts, but it's family. But that doesn't mean you aren't supporting them. You are being honest. Evertonians have been honest with their team. Not good enough.
3 points today. The poor boy dog had a rough walk today. I overstepped the mark on talking Everton. Come on blues.
Barry Rathbone
188
Posted 12/02/2022 at 09:29:56
Alan 186
Very appropriate. I forgot that was the tune to "we all fuckin' hate leeds"
Robert Tressell
189
Posted 12/02/2022 at 09:32:39
Alan # 183, with the 343, I think it's easier to visualise who is where by calling it 5221.
You have two deeper midfielders and two more advanced midfielders (in the half space between wing and number 10).
You avoid being outnumbered by having the two advanced midfielders (or one of them) tuck back in.
The trouble is that DVB isn't ideal for this because he's not a sitting midfielder. Gomes is suited to the position - but unfortunately he's usually awful. DVB is probably the best we can do.
We didn't need Dele Alli, we needed a proper sitting midfielder.
Gary Jones
190
Posted 12/02/2022 at 09:36:00
My 11 year old Boy told me yesterday that he doesn't want to go today (he's been season ticket since 4 years old). I sat him down and talked to him, and he told me his reasons are:
1) I'm getting skitted at school by all the reds about getting relegated.
2) the atmosphere will be rubbish at the match, everyone will be angry.
I explained to him that this is our club, and no matter how bad it gets we'll always support it. I told him this is the same as how I'll always be there for him no matter what. What the red kids think is absolutely irrelevant, just smile and call them the McDonald's franchise, and then remind them they have one covid inspired league title in 32 years.
Anyway, fortunately he's back in for now. Not entirely his enthusiastic self, but he gets it.
Hopefully the players get it too…….the pain we go through when we make them such a big part of our lives, and the fact that NO MATTER WHAT we'll support them ever more (remember singing that from the Gladys back in Keown days!)
Most of all I hope us fans get it too. I've been fuming at Rafa and the whole club for months. I'm still saying there should be protests (away from match days or in the summer). However, for the 100 or so minutes from tunnel cam to the very end, let's come together as one.
Bollocks to the threat of relegation, no amount of grumping is going to change that…..but supporting the team just might.
Come on you fucking blue boys!!!! #WeWillSupportYouEverMore
George Cumiskey
191
Posted 12/02/2022 at 09:38:00
The problem we've got is if Leeds are at their best and we're at our best they will win because they've got better players than us with more fight.
Tony Everan
192
Posted 12/02/2022 at 09:38:55
Sam 162
Very much so, keep Digne and hire Trippier as a short term RB was a way of finding better defensive stability . Patterson signing could have waited until June and would have been the backup for a year or two. Also a tenacious midfielder was needed to keep our core strong with Doucoure out and Allan will not play all the remaining games.
But still we have to be positive and fight with what we have got. We have so much more quality than Brentford, Watford, Burnley and Norwich that if we match (or exceed) the desire and commitment we will be ok.
That little word 'if' is a big word. I think Frank and his excellent coaching set up will find a way.
It's going to be a very hard fought game today , late tackles , bookings , commitment and blood on the pitch. If we can snuff out Leeds's pressing game for 60 minutes I think we will get big opportunities to win the match in the last 30.
Everton 2 Leeds United 1
Jamie Evans
193
Posted 12/02/2022 at 09:41:35
Rafinhas going have a field day I fear
Matt Butlin
194
Posted 12/02/2022 at 09:43:04
Essential that VDB starts today. The way to stop the press and high velocity football is ball retention, accuracy of passing and off the ball movement. Let Leeds run their arse off, they'll do it anyway. We need to counter it. 😬
Derek Knox
195
Posted 12/02/2022 at 09:44:10
Gary @ 190, a very touching story, but how long has he been attending School in Norway ?
I was also salivating at the prospect of nabbing his seat, (only joking) hope he goes away after that pep talk from his Dad, saying what a great game and win Dad, I'm glad you talked me round. :-)
Paul Birmingham
196
Posted 12/02/2022 at 09:45:52
I hope DCL is fully fit and available to play.
It's a shame Gray is out, but we go with the best we have.
Going forward Everton can pose problems for Leeds as arguably they are the fittest team in the EPL, but some times play flat out and don't keep shape.
A foul weather day is likely, so there could be unforced errors, but I hope that our defence stands up to a man, and fights to the last ball and communicates with the team.
No lamenting round the pitch looking at the sky. Today failure isn't an option for Everton, as they must win.
In the old days there was literally a War of The Roses type mentality ( not historically, as both sides then were crooked) but there was a seething hatred in the day and in the 60s, 70s, 80s and 90s going to their place.
Let's beat Leeds today and focus on what matters..
Hopefully no cowardly officials on the pitch and at Stockley Park.
Gary Jones
197
Posted 12/02/2022 at 09:52:17
Degsy@195 - LOL, love it! Just unlucky enough to live in the one Scouse suburb were they seem to outnumber us. ;)
Paul Smith
198
Posted 12/02/2022 at 09:53:45
A win is a must today. The team is shite, let's be honest but so are Leeds, so all even.
I've no idea who should start. Gray is a terrible miss but at least Gordon should start. The rest are all sub par so the formation is important and style of play, so over to Lampard.
As for the crowd I always voice my frustration and throw a few expletives towards the players when they're patently shite. I find it incongruent to cheer and empower rubbish. On the other hand if what I see is good I will scream Everton to the rafters with the next man.
We pay our money and make our choice.
Alan J Thompson
199
Posted 12/02/2022 at 10:01:23
Robert(#189); I was thinking more 5 across the middle mostly as we might not have enough full backs or wing halves and let them worry about us and pushing up from the back compacts everything.
The hard part is working out how to score from open play which probably means Gordon and Townsend splitting wide (has it ever been different?) and working on set pieces which seems to have been done for corners albeit we've now lost the main man in Mina but might limit Leeds to playing from/out wide.
Gary(#190); Try asking your lad if he really wants to go shopping with his Mam, or even let him try it once and to remind those at school whose old ground they play on, usually shuts them up as they don't know it is.
Alec Gaston
200
Posted 12/02/2022 at 10:05:31
Gary (190) I have had the same problem - my lad loves Everton but is totally disillusioned - had the same discussion last night - he is now fully behind the team like me - hopefully they will show up - I think Lampard is the right man just hope the players respond to what he wants from them - the crowd will make the difference today and hopefully we can resolve the poor squad over the summer and beyond
Rob Dolby
201
Posted 12/02/2022 at 10:06:23
Leeds are nothing to be intimidated by. They man mark all over the pitch and pass and move well. They are without their 2 best players. If we play well as a team we win today. It really is in our own hands. It's not like we are playing city is it.
If we play open like we have done all season we will have a tough game on our hands. We haven't got the legs to match them.
Tactically Leeds play one way only. Any savvy coach can beat them playing pragmatically.
Stay tight between defence and midfield. Pack the midfield and hit them on the break. Fundamental to this is by not picking Gomes or Holdgate. The pair of them are doing more harm than good.
James Marshall
202
Posted 12/02/2022 at 10:09:09
Alan@182
The Dave Dee story is indeed true - he was a copper at the time and attended the scene of the Eddie Cochran car crash. He also took Cochran's guitar and admitted he played it briefly before it was given to his family.
Earlier on the same tour, Eddie Cochran gave the same guitar to a teenage kid at the stage door to carry to his car - the kid was Marc Feld who went on to become Marc Bolan - and die in another car crash.
James Hughes
203
Posted 12/02/2022 at 10:37:23
if we can stop the stupid mistakes we can get the three point. Against the barccodes we were the architcets of our own downfall.
It seemed most of team wanted to play for them and the barcodes were repeatedly gifted the ball. They weren't the better team just the beneifted from our lemming like mentality.
3-2 to us as we can't keep a clean sheet UTFT
George McKane
204
Posted 12/02/2022 at 10:41:27
A Cosmic Blue Morning to all Fellow Evertonians throughout The Universe:
Around 1962 when I was about 12 /13 years old and living on the corner of Smith Street and Great Mersey Street I remember feeling quite cool and sort of adult and told my Mum - - who looked and sounded like Ma Joad - - that I wasn't going to Mass on Sunday as I didn't believe in it all anymore - - like Ma Joad - - Anne - - my Mum, and like all of those marvellous pinny clad arms folded hair pinned up philosopher/politician/poetess/ Ma's who knew everything - - sent me to see Father Winder - - The John Wayne Parish Priest of St. Alphonsus Church Great Mersey Street - - like a personal meeting with the Pope - - I went into his private sacred room at the back of the church and he asked me about my comments to my Mum - - by now I was sort of impressed with myself thinking I'd taken on the whole Roman Catholic Church - - so I told him (not even with my sort of new courage would I dare say that I didn't believe in God) that I didn't like some bits of the Church - - sort of some of the rules - - he was a wily character and ruled our Parish with a mixture of compassion, justice and toughness - - so he cleverly asked me how Everton were doing and I sort of looked at him - - how did Priests know about Everton or that I supported them - - clever man - - he then went through the whole team - - what do you think of Alex Young - - great - - Labone - - Jimmy Gabriel - - Alex Parker - - yes all great - - love them - - what about Jimmy Fell or Albert Dunlop or Billy Bingham - - he asked - - well not my favourites - - not mad on them - - Ohhh - - think Gordon West is better goalie than Dunlop - - said Father Winder - - so you don't like all of them - - No - - so I can tell your Mum that you wont need pocket money to go to the match next Saturday - - Arrrhey Father I never said that - - I love Everton - - so are you going to the match - - yes - - even if Dunlop plays - - yes of course I am - - I'm an Evertonian - - OK George said The Wise Man - - see you at Mass next Sunday - - and hope The Blues win.
Now this morning when my wife and I will pick up Dave Owen and drive through what we still call The New Tunnel - - along Scotty - - and all of you Match goers coming that way from Town - - when you get to the Lights at Kirkdale Road along from Boundary Street - - where the Big Buoy is on the pavement - - look left - - Thomas Winder Court on the corner on the site of my old home - - The Britannia Pub - - my wife will then drop me and Dave at The Dark House - - today is about being together - - a team - - players and fans together - - let's sort the problems out when we are safe - -for now nothing but "posso waves" all day long:
And just to finish this in memory of all of Our Ma Joads/Father Winders/friends and fellow Blues - - Rave On Father Winder:
"Take me back, take me way, way, way back
On Hyndford Street
Where you could feel the silence at half past eleven
On long summer nights
As the wireless played Radio Luxembourg
And the voices whispered across Beechie River
In the quietness as we sank into restful slumber in the silence
And carried on dreaming, in God
And walks up Cherry Valley from North Road Bridge, railway line
On sunny summer afternoons
Picking apples from the side of the tracks
That spilled over from the gardens of the houses on Cyprus Avenue
Watching the moth catcher working the floodlights in the evenings
And meeting down by the pylons
Playing round Mrs. Kelly's lamp
Going out to Holywood on the bus
And walking from the end of the lines to the seaside
Stopping at Fusco's for ice cream
In the days before rock 'n' roll
Hyndford Street, Abetta Parade
Orangefield, St. Donard's Church
Sunday six-bells, and in between the silence there was conversation
And laughter, and music and singing, and shivers up the back of the neck
And tuning in to Luxembourg late at night
And jazz and blues records during the day
Also Debussy on the third program
Early mornings when contemplation was best
Going up the Castlereagh hills
And the cregagh glens in summer and coming back
To Hyndford Street, feeling wondrous and lit up inside
With a sense of everlasting life
And reading Mr. Jelly Roll and Big Bill Broonzy
And "Really The Blues" by "Mezz" Mezzrow
And "Dharma Bums" by Jack Kerouac
Over and over again
And voices echoing late at night over Beechie River
And it's always being now, and it's always being now
It's always now
Can you feel the silence?
On Hyndford Street where you could feel the silence
At half past eleven on long summer nights
As the wireless played Radio Luxembourg
And the voices whispered across Beechie River
And in the quietness we sank into restful slumber in silence
And carried on dreaming in God."
Let your blue Soul And Spirit Float Into The Mystic - - sent with full cosmic Blue grooves all the way from New Brighton up into The Astral and onto All Blues and to Float over Goodison and keep us safe - with a firm handshake - - George.

Martin Mason
205
Posted 12/02/2022 at 10:44:34
Danny@187 No offence meant to Evertonians in general; we have absolutely amazing fans who deserve better. You're correct too in that the fans have the right to voice their complaints and that can generally be heard in the ebb and flow of the noise generated by the crowd. It's just that we are in dreadful trouble now as a club and if we go down it could be an existential struggle for the club to stay in business. I believe that our duty to give support needs to take the ascendency now at the expense of criticism? I started to watch Everton around 1958 and the boo boy mentality didn't exist then, I don't believe that it did in the 70's and is a modern thing inspired by SM?
Raymond Fox
206
Posted 12/02/2022 at 10:57:20
Our defence is my biggest worry, I don't see us nilling them and with Calvert-Lewins fitness doubts I think we will have to score.
I'm a bag of nerves and I can imagine the players will be the same. We need VdB and Alli if and when he gets on to have blinders I feel, because if we lose the midfield we are done.
I wish I could feel confident, my heads saying I fear the worst, my heart is hoping for a change of form and luck.
Matt Byrne
207
Posted 12/02/2022 at 11:09:31
Absolutely right Martin (205) Every Evertonian has a duty to fully support the club you love today. Any dislike for inadequate players like Holgate, Keane, Gomes must be kept to ourselves. No moaning and no booing whatever happens. We have 6 winnable home games to get the required points. Any away point is a bonus. Please get behind our team!
Tony Twist
208
Posted 12/02/2022 at 11:10:40
After Newcastle there are big changes needed. We have a team of headless chickens and blame dodgers. It is the most important game of the season today, a good win and with the Brentford result the players may get their belief back. Even a win won't change anything unless an appetite for more is instilled in the players by the coaching staff. This team is just poor, Arsenal result, Brentford and still we snap like a twig. We need a settled team as soon as possible which includes the new RB and LB, its sink or swim now, learn and adapt as you go along, it's better in the long term. Now everyone get on those prayer mats for a couple of early blues goals and hopefully the confidence flooding back. UTFT!
Jamie Crowley
209
Posted 12/02/2022 at 11:16:51
Every single person at Goodison Park today - lift this team.
I truly believe you can carry them to victory.
Represent those of us who aren't / can't be there - literally millions of Blues around the world.
This is the biggest game in my Blue life. Bigger than the FA Cup final in 2009. We lose, we stare into the abyss. That's just not acceptable.
Shake the foundations of Goodison today, please.
Danny O'Neill
210
Posted 12/02/2022 at 11:21:15
No offence taken whatsoever Martin. You make a very good point. It is vital we get behind the team during and throughout the match. Vent at the end and afterwards on Social Media if necessary but urge them on in the 90 minutes.
George - your poetry is as inspiring as always. I'm sprinkling it over Goodison today!
Gary Jones. I was there in the late 70s although never got to the stage of not wanting to go. He'll be fine when you take him to Wembley in a couple of months!
3 points Everton. Nothing else.
Brian Harrison
211
Posted 12/02/2022 at 11:22:26
I think the fans will be even more up for it than they were against Brentford in the cup and that atmosphere was pretty good. The vibes on all the social media outlets are of Blues bringing banners and backing the team no matter what. The great thing about Evertonians is when the club really really needs us we always step up to the challenge. The Wimbledon game was the perfect example last game of the season need to win to stay up, and found ourselves 2 down within 30 minutes. But the fans were amazing it would have been easy at 2 down to throw in the towel and start getting on the players backs, but quite the opposite happened the crowd got even louder as if to say we are not going down and we are going to inspire our players to play to a level they hadnt shown all season. I mean you could have given Barry Horne 100 attempts to score from where he did without a keeper and on most occasions he would have struggled to score, yet inspired by the fans he hits a screamer from 25 yards.
I am sure that spirit they got from the noise of Goodison inspired that victory will again be apparent today, so even if we go a goal down don't stop cheering and don't stop believing. Frank Lampard has been here 2 weeks and had already lost Doucoure through injury, and has since lost Godfrey,Mykolenko, Mina and Gray. So probably half of his starting 11 injured.
Danny Baily
212
Posted 12/02/2022 at 11:30:30
Jamie 209, you're probably right about this being our biggest match in years. Lets hope we can stop the rot.
Brian Wilkinson
213
Posted 12/02/2022 at 11:53:25
I will probs get the ground around 1.30-145 if any of the regs fancy a pre match drink in the Royal Oak, if not the regs getting the train home, if you fancy a couple in the crown afterwards by Lime Street will see you in there.
Hope to see Bill, Jim, Derek, Steve, Danny and Dave and anyone else, will wait by the trinity statue after game for ten mins, then head back into town.
Bobby Thomas
214
Posted 12/02/2022 at 12:00:10
Taking Delle Ali instead of a centre back - or at the very least a defensive holder - in the window could really come back to haunt us. We have such a soft centre mentally, physically and organisationally and its a problem that's been staring us in the face.
We signed 5 players in January. If we enter the last couple of games in the mix to go down, then we'll quite honestly deserve it. It will be the culmination of a scattergun transfer policy which continued in the January window.
After signing van der Beek - which was fine and addressed a problem - if I was given the option of Delle Ali or a centre back/holding mid, I'd have taken the centre back or holding mid all day. No contest. It was an absolute priority. I'm really concerned that not addressing this problem could see us go.
Dave Abrahams
215
Posted 12/02/2022 at 12:02:05
Nothing to add to those supporters who want everyone to be on the same page today cheering the team on from start to finish, good, bad or indifferent we are here to see them win.
Leeds? Who are they, Fxck them, we are Everton and we are going to win by any means possible even with the help of a bent referee we've had plenty of them against us this season.
Go out and enjoy it Blue Boys it's only a game, a game we are going out to win.
Jerome Shields
216
Posted 12/02/2022 at 12:11:35
It will be the home crowd that will winthis game.
Robert Tressell
217
Posted 12/02/2022 at 12:12:53
The good thing about Alli is that he can score / create goals. So although he was a peculiar signing any goal at the moment will keep the pressure off. And I suppose none of us really know whether any viable CB or CDM midfielders were available.
We've got plenty enough to beat Leeds at home anyway.
Jamie Crowley
218
Posted 12/02/2022 at 12:26:27
Rob @ 201 -
If we play open like we have done all season we will have a tough game on our hands. We haven't got the legs to match them.
I'm not so sure about that?
Our strength is with our attacking players. Our weakness is our defending players. I'd turn the game into a track meet and play to our strengths.
But I know the sum of fuck all and watch on TV.
I don't care who plays or how we play in an honest moment, I just want three points.
Clive Rogers
219
Posted 12/02/2022 at 12:28:15
Typically Everton of recent years, we have signed five players who are not what we wanted to fight off relegation. Following Lampard's press conference, Patterson is not ready and won't be this season. Mykolenko is "unavailable" which probably means not good enough. Nobody wants to play El Ghazi even as a sub for the last few minutes. Alli hasn't played well for three years and looks like he has lost it. De Beek needs similar players around him, ours are not on his wavelength. The January window was a missed opportunity.
John Cook
220
Posted 12/02/2022 at 12:29:27
Defensive midfielder,attacking midfielder,number 6,number 10I still can't get my head around it.A professional footballer on £150000 a week should be able to play anywhere the manager tells them. I still can't get over "it's on the wrong foot !"
Bobby Thomas
221
Posted 12/02/2022 at 12:34:21
Don't get me wrong Robert, I quite like the player. But its a curious and completely unnecessary signing at this point.
He's coming in under cooked and can be tricky to fit it. He's a very good in a good side type of player. But away from home in a shit, demoralised team that's won 1 in 15? I just don't think its a good signing when there are very apparent problems in the defensive spine. It was the signing of a club that doesn't comprehend the danger its in.
Lampard wants to play a slightly more open or progressive style. This will expose our centre backs to even more risk which they just won't be able to handle. I can see a few hammerings coming away from home.
Its a must win today, for sure.
Tom Bowers
222
Posted 12/02/2022 at 12:45:53
We are all shaking at the moment not knowing what's going to happen, with players unavailable and most of the others not doing much.
Leeds must feel confident not just because Everton are in a bad slump but they got a really creditable draw against Villa and three goals to boot.
Having said that almost every side fancies their chance against the beleagured Blues at present.
Could this be a turning point results wise ?
If the front two can stay fit and get the service then we can be a little more optimistic added to the fact that some new faces may also make a worthwhile contribution.
We have Soton away coming up and Man.City so we need three points right now.
Stephen Vincent
223
Posted 12/02/2022 at 12:53:00
Gary #190, I've had the same talk with my son and he's 36.
Dale Self
224
Posted 12/02/2022 at 13:28:23
"Which probably means not good enough" which probably means irresponsible speculation. State the other likely explanation or do one.
Jamie Crowley
225
Posted 12/02/2022 at 13:43:36
Dale - wow man! Grumpy?
Jim Hillier
226
Posted 12/02/2022 at 13:58:19
A long way from Goodison, in the middle of rural France, but I'd like a big dose of George's cosmic Evertonia, and let's hope we turn up, because when we do, we are a right handful!
---
Add Your Comments
In order to post a comment, you need to be logged in as a registered user of the site.
Or Sign up as a ToffeeWeb Member — it's free, takes just a few minutes and will allow you to post your comments on articles and Talking Points submissions across the site.