9 Games to Save One of the Proudest Records in Football
Friday, 8 April, 2022
Man Utd (H) Preview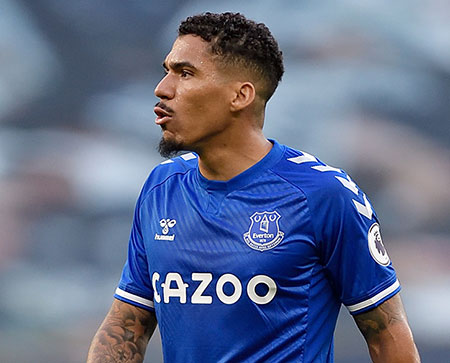 Allan returns from his harsh three-match ban and could be joined in the starting XI by Fabian Delph
When the topic of longevity in England's top flight comes up in the media, it's usually Arsenal who are lauded for having the longest unbroken sequence without getting relegated; another slight on Everton's proud record of having played more seasons in the top division of the world's oldest football league than any other club.
Founder members of that League in 1888 and the Premier League 104 years later, the Toffees have spent just four seasons outside the top flight in their 144-year history. Given how competitive English football is, that is a remarkable achievement but it is in very real danger of being sullied in the most heartbreaking fashion this season.
For the first time in 24 years, Everton are staring relegation from the Premier League square in the face. Incredibly, they have yet to fall into the bottom three this season but a mind-boggling inability lately to win matches, pick up so much as a point away from home or, all too often, simply do the basics as a team mean that the ignominy of occupying the relegation places can't be too far away, this for a side that sat in second place in the table just 16 months ago.
Wednesday's defeat snatched from the jaws of victory at Burnley was a gut-punch for supporters for whom the threat of the drop has now become all too real. How the players react having thrown away a gilt-edged chance to give themselves some breathing room at the bottom is now absolutely key.
Article continues below video content
The Blues have nine matches left — almost a quarter of a season — to find a way to pick up enough points to avoid the drop. Crucially, while trips to Anfield and the Emirates Stadium seem almost like exercises in futility, they have five games at home, all of them winnable given the personnel at Frank Lampard's disposal. Whether they have the belief and, as the manager put it, "the bollocks" to win them remains to be seen.
Lampard has tinkered, chopped and changed his personnel since coming on board at the end of January, with no success on the road but he can at least point to some good performances at Goodison Park under his stewardship, against Brentford in the FA Cup and Leeds and Manchester City in the League. The stirring win over Newcastle may not have come from the best of displays but it was the result of sheer heart on the part of the players. They are going to need spades more of that in the matches to come.
Lampard eschewed his desired passing game completely at Burnley and more of such pragmatism — married with a bit more guile in midfield now that Fabian Delph looks capable of starting after four months out injured — should be the order of the day against Manchester United on Saturday.
The error-strewn and worryingly open defence that has shipped so many goals away from Goodison, surely calls for a return to Carlo Ancelotti's preferred back line stuffed with central defenders — the one featuring Mason Holgate and Ben Godfrey as full-backs that was so successful at times in his only full campaign in charge.
It might be a touch conservative for a home game against an uninspired United but Lampard would be well served by at least returning Godfrey to the left full-back role he fulfilled against Newcastle while Seamus Coleman returns at right-back.
In midfield, Allan will make a hugely welcome return from his harsh three-match suspension and could form a decent partnership in central midfield where Donny van de Beek will be missing as he can't play against his parent club.
That just leaves the question of Abdoulaye Doucouré. The newly-minted Mali international has looked tired and ineffective recently and could probably use a break, most likely replaced by Alex Iwobi, but, if he does play, he will benefit from having that additional body alongside him in central midfield.
As ever, there are conundrums for Lampard in the attacking areas where he has a number of options but increasing doubts over the effectiveness of Dominic Calvert-Lewin who was very nearly upstaged by the much-maligned Salomon Rondon's only chance at Turf Moor after he came on as an 87th-minute substitute. Calvert-Lewin has struggled for form since returning from a nasty injury and whether it's confidence or an inability to get back to true sharpness, it seems that for now, if the manager is to deploy a second striker alongside Richarlison, the Venezuelan is arguably the better bet.
Then it's a question of whether Anthony Gordon, who has run himself ragged for the cause for weeks now and could be asked to play again on a short turnaround, or the off-form Demarai Gray fills the other wide role, assuming Iwobi plays deeper and more central as he has in the last two games.
Whomever is selected, the team will need to dig deep for the self-belief, composure and desire that will be required to pull off what would be another hugely morale-boosting win this weekend and set themselves up for another home game against Leicester 11 days later, by which point Yerry Mina may be ready to step back into central defence.
This is the kind of fixture that Everton are usually up for and their performances against supposed "big six" opposition have been encouraging. They have demonstrated that they have the ability but do they have the mental fortitude in the face of mounting pressure and danger? Close to 40,000 baying Evertonians will be praying they do.
For the sake of those long-suffering fans and this once-great club's longstanding membership of England's top flight, just win, Everton. Just win.
Kick-off: 12:30 pm BST, Saturday 9 April 2022 on BT Sport 1
Referee: Jonathon Moss
VAR: Andy Madley
Last Time: Everton 1 - 3 Manchester United
Predicted Line-up: Pickford, Coleman, Keane, Branthwaite, Godfrey, Allan, Delph, Iwobi, Gordon, Richarlison, Calvert-Lewin
---
Reader Comments (106)
Note: the following content is not moderated or vetted by the site owners at the time of submission. Comments are the responsibility of the poster. Disclaimer
Jay Harris
1
Posted 08/04/2022 at 18:40:40
Very appropriately summed up Lyndon.
We are now getting down to "Last chance saloon" opportunities to get points in the bank.
Questions abound around certain players but IMO there can be no doubt that Allan's return is very welcome and Seamus having a rest after his customary international exertion should leave him in better shape.
United have rapid pace on the break so I think Godfrey (despite his mistakes) and Brandthwaite should retain their places. Questions have to be raised regarding Mykolenko although he did show green shoots on Wednesday.
The big question for me and I'm sure many of us including the manager is what midfield lineup will we go for?
Is it Allan, Doucouré and Delph with Gordon, Richarlison and Calvert-Lewin or Gray up front or do we give the enigmatic Iwobi another chance to show he is not a headless chicken? An alternative would be to play Kenny in front of Coleman to shore up that flank and beef up our defensive capabilities.
Decisions, decisions but lets hope the 12th man is in full force and can lift these players.
COYB

KENWRIGHT OUT
I think this will be a highly charged game which may be too quick for Rodon but he may be brought on near the end as players tire.
Christy Ring
2
Posted 08/04/2022 at 18:48:20
If he plays Allan and Delph, why not start Dele Alli?
Personally, I have no faith in Iwobi.
Brian Harrison
3
Posted 08/04/2022 at 19:00:08
Christy 2
I think Lyndon is right to leave out Doucouré and play Delph alongside Allan. I would also play Rondon up front. He was only on for a few minutes against Burnley but at least won a header and had a shot on goal – something Calvert-Lewin never achieved in 90 minutes.
I think for someone to play up front and have only 1 assist to his name in nearly 2 seasons says everything you need to know about Calvert-Lewin. Maybe bring Calvert-Lewin on in the 2nd half if Rondon tires and, with Van de Beek being illegible, if Dele Alli doesn't start this game, then maybe he won't start any at all.
My biggest worry is Rooney apparently said on Sky on Monday that Man Utd shouldn't have gone for Ronaldo, and Ronaldo has tweeted back... I wonder if we will suffer the backlash from Rooney's comments?
Mick Roberts
4
Posted 08/04/2022 at 19:01:44
Dele Alli must be shocking in training when Holgate gets picked in midfield before him. Why the fuck Lampard went all out to bring him to Goodison is disgraceful.
We all knew our defence is shite and were desperate for a decent centre-back. Just about sums Lampard up...
Peter Carpenter
5
Posted 08/04/2022 at 19:02:01
If we are going to survive, someone will be the saviour, maybe someone unexpected.
Dele Alli, if fit. Maybe. Only one way to find out.
Kunal Desai
6
Posted 08/04/2022 at 19:02:27
Lose and I think we will be in the Bottom 3 by the end of the weekend.
Psychologically, I believe it will be damaging and these players have displayed little fight or passion all season. Can't see that changing to get out of the Bottom 3. With up-and-coming games against Leicester, Liverpool and Chelsea we could be adrift of 17th.
No slip-up here. 3 points is a must.
Mike Hayes
7
Posted 08/04/2022 at 19:04:27
I have only got faith in Gordon and Richarlison at the minute... They all need to turn up tomorrow and show and do what they are well paid for.
Fans do their part by turning up to shit shows so the players need to buck up and grow a pair or feck off and stay at home.
Rondon over Calvert-Lewin on his form so far, yes, but will Frank go for him?
9 games... 27 points – I can't see us getting any – prove me wrong, you shit bags. 😡😡😡
Will Mabon
8
Posted 08/04/2022 at 19:04:44
Lyndon, thank you for highlighting this.
Everyone on here knows this of course but it understandably doesn't get mentioned or appreciated so often. These unique records have the worth of a traditional honour or two IMO.
Tradition and history is widely marginalized in life now. The wrong elements of it can be very damaging as I think we are well aware here, but the right parts of it are still tacitly, enviously admired in sport. Many of today's successful clubs will never be able to achieve it in the same way Everton and a select few others have.
Something unrepeatable will be lost to us forever, should the worst happen. One would like to think there was a way of translating the magnitude of this into some influence on the remaining match performances of this season. We can but hope.
Joe McMahon
9
Posted 08/04/2022 at 19:26:01
Against all odds, I hope we stay up, then hopefully Keane, Pickford, Holgate and Calvert-Lewin can just bugger off in the summer (I didn't use the F-word) must be a Friday!
Ken Kneale
10
Posted 08/04/2022 at 19:26:58
Will -very good wording, I agree.
Our record is unique and will be tarnished for decades even if we bounced back (unlikely with this squad and this management committee).
Paul Davies
11
Posted 08/04/2022 at 19:32:24
Dear Frank, no Calvert-Lewin, Doucouré, Gray, no two in midfield and no wingbacks.
Thanks, a friend.
Terry Farrell
12
Posted 08/04/2022 at 19:35:01
Calvert-Lewin played quite well at West Ham and was still way better than anything Rondon can muster against Burnley. We need pace so keep Dom in. We need to win so keep Dom in. Rondon would not get in any other Premier League team... period.
In terms of Dele, Frank has taken a chance on previous history and the chance of a fresh start but he hasn't grasped the nettle. Against West Ham, he was warming up beside Noble and basically had a chin wag for easily 20 minutes before he was given a bollocking off Gordon as he warmed up and had obviously been told to have a word as he ran past.
He's now not getting in the team for 4 different managers and, with the injuries and suspensions we've had, should be a regular starter! Must be a waster!
John Keating
14
Posted 08/04/2022 at 19:41:09
It was the Wolves game that I think done us. Had we got a result against them, then the win against Newcastle we probably would have got sorted.
We, on paper, will be in the Bottom 3 after this weekend and, if we do slip in there, I think this bunch of duffers will stay there.
It's bad enough getting all this stick in our present situation – what the hell it'll be like if the worse happens?

The sooner we get Mina back, the better.
Tony Hill
15
Posted 08/04/2022 at 20:08:10
Iwobi, though very erratic, has shown himself as the best creative player we have. He has put stuff on a plate for Richarlison and Calvert-Lewin in the last couple of games and they've made a mess of the chances.
I'd written him off, having previously supported him against the numbskulls who don't actually watch what's in front of their eyes and who routinely gave him dog's abuse, because he'd been poor. But he's come good again and we're fools if we don't recognise it. We have no-one who can pick a pass like him.
Jason Li
16
Posted 08/04/2022 at 20:22:12
If fit, play Gray left foward, like the beginning of the season when he terrorised every team. Got a rocket shot coming in from the left, and we have scored off his corners.
Like Sigurdsson and Rodriguez, he may lose the ball a few times, but he has moments in the game and has end product. It might mean Richarlsion goes to the right.
This means Gordon on the bench or into midfield either side of the number 6, in a 3. Gordon is the best tackler of the wide players, but just not ready in terms of end product like Gray. So Gray plays further forward for me.
Get Gray in the mood to have a go from the left, Richarlison terrorising their defense, Calvert-Lewin a bit more ugly like Diego Costa, we have a chance.
Kieran Kinsella
17
Posted 08/04/2022 at 20:24:48
Tony Hill,
I also thought Iwobi did well creatively against Burnley. The issue is that most of our players are deeply flawed as players and as people. So Frank has to figure out a way to utilize each player's strengths -- those that have them.
If Iwobi is making chances, Calvert-Lewin and Richarlison need to finish them. If Iwobi is useless at tackling, someone like Allan needs to tackle more since he has free time on his hands a normal midfielder would use to attack -- something Allan is incapable of.
Kevin Molloy
18
Posted 08/04/2022 at 20:25:14
The one result I don't want tomorrow is a draw. If we win, then it's Lampard or bust til the end, as he will have evidenced that at home at least he is capable of getting points.
If he loses, he needs to go straight after the game cos he will be a totally busted flush. Whilst that is not ideal, we then get the chance to get a hard-nosed experienced manager to come in and get us 3 wins.
John Kavanagh
19
Posted 08/04/2022 at 20:32:24
It's just a question of who is designated to completely fuck-up tomorrow. Our changes merely ensure that someone different is responsible every match for an own goal, setting up the opposition for a tap-in, or getting sent off (or a combination of all three!).
I've never seen anything in Delph to warrant his being on the bench, let alone selection. If he's on the teamsheet, will he even make it as far as the pitch?
I think tomorrow will effectively be the end. The crowd will do its best, but every opponent knows that if they last 15 minutes they can then capitalise on the inevitable mistakes. Even if we have a lead, we are incapable of holding onto it unless it's a very late goal.
No doubt Blue Bill will want everyone there tomorrow to forget about the present and remember the 'good times'. He could do a hell of a job in Putin's propaganda ministry.
Looking for a result tomorrow is a triumph of optimism over experience. After Wednesday, I can barely even summon up a shout of COYB. I can no longer bear to look as I feel like a rubbernecker slowing down to gawp at a terrible accident.
Pete Jeffries
20
Posted 08/04/2022 at 20:35:30
We can't afford to play the main error culprits: Doucouré, Pickford, Holgate, Kenny, or those not up to speed: Gray, Mykolenkoand Calvert-Lewin.
Leave them on the bench, which means Coleman, Begovic, Allan, Branthwaite, Rondon, maybe Dele Alli and Delph to start. Radical but necessary.
Dennis Stevens
21
Posted 08/04/2022 at 20:51:59
My only hope of survival now rests on the fact that the two previous relegations happened when we had King Georges V & VI, respectively, on the throne - surely, we are destined to at least hang on until George VII inherits the crown?!
Regarding Arsenal, they were, of course, relegated before The Great War & controversially returned to the top flight after the conflict was over, despite finishing 5th in Division 2 in the last completed season before football stopped for the war, & have remained there ever since.
Will Mabon
22
Posted 08/04/2022 at 20:52:40
Ken - the perspective is, should the unthinkable happen, and if we were to immediately set about recovery, assuming the football structure remains to make it possible or relevant... then only the youngest alive today would be around to see the record (sort of) recovered. Sad thought eh?
Tony - I've always been aware of and frustrated by Iwobi's shortcomings. Behind it all though has always been something useable waiting to come forth, if only he could back himself mentally (and be played in the right way).
Maybe Arsenal fans joked at the sale to our club, but I saw a lot of potential in him when playing there. Ironic it's starting to show now amidst the current chaos. We need everything we can get.
Tony Hill
23
Posted 08/04/2022 at 20:57:22
I have, yet again, changed my mind. I think we'll survive and I have re-confirmed my view that Lampard will have us playing well next season.
We're so utterly appalling that, by the laws of our even more appalling universe, the opposite of the apparently inevitable outcome must come true.
There's an equation for it somewhere. Follow the science.
Mike Gwyer
24
Posted 08/04/2022 at 21:04:07
Fear. Our players have it in abundance, it's almost in our soul and we are making errors because of it. Frank and his team need to get rid of it and be quick about it.
Fear has gripped this team but we will sing to them tomorrow, we will tell these players who we are and remind them who they are.
Will Mabon
25
Posted 08/04/2022 at 21:11:40
Tony - never too late to vacillate.
See how you feel at full time tomorrow...
Danny O'Neill
26
Posted 08/04/2022 at 21:16:09
It's not gone yet. Plenty on the board to play for. Play for it blues. I half worry tomorrow but then what's the point in football if you don't have optimism and desire?
We can do this Everton.
Jack Convery
27
Posted 08/04/2022 at 21:20:51
I believe the short turnaround for this game will dictate who Lampard picks. Richarlison and Gordon looked absolutely goosed half-way through the 2nd half versus Burnley. We may only get 50 - 60 minutes out of them.
Kenny cannot start as Man Utd will target him and, as Coleman has been ill, how well he feels will decide if he starts.
Godfrey being an athlete may well pop up at right-back. Keane will come in after his rest and should partner Branthwaite. Myolenko at left-back.
Allan obviously starts. However, I would not pick Doucouré. Delph plays with Iwobi. If Iwobi is not ready, then Dele Alli has to come in and give it a go. If he can't get up for a game against Man Utd, he may as well pack his bags and go on his hols now.
Calvert-Lewin should be benched and Rondon (omg, I've said it out loud) should come in. His height will be useful at corners, both attacking and defending. Stick him on the edge of the 6-yard box near post when they have a corner.
Richarlison on the left. I would give El Ghazi a go for this one. He scored 10 goals for Villa last season and we need goals. Gordon to replace Richarlison on the hour mark if he's running empty.
Pickford, Godfrey, Keane, Branthwaite, Mykolenko, Allan, Delph, Iwobi or Alli, Richarlison, Rondon and El Ghazi.
So no Holgate, Kenny, Gomes, Calvert-Lewin, Gray or Doucoure who are all struggling right now. Keane is in because there is no-one else and he has had a rest. Am I confident in this line-up? Not really… but I can't think of a better one right now.
COYBs do yourselves a favour and get those 3 points. Prove to Dyche you can win a game!!
Ian Bennett
28
Posted 08/04/2022 at 21:25:20
Pickford
Godfrey
Branthwaite
Keane
Mykolenko
Allan
Doucouré
Iwobi
Gordon
Calvert-Lewin (but I have no idea why)
Richarlison
Ian Riley
29
Posted 08/04/2022 at 21:29:39
Please just win!
That is all!!
Barry Rathbone
30
Posted 08/04/2022 at 21:30:16
I can't see us winning against anyone, let alone Man Utd now the full extent of squad shiteness has been so brutally confirmed. This mixture of second-raters and cowards even failed to provide the usual new manager bounce.
Relegation is virtually nailed on – not only are all concerned a stain on the club's history but an embarrassment to top flight football. The club is a study in ineptitude from top to toe and has been for decades; if it was a racehorse, it would have been shot years ago.
Hopefully Man Utd and others turn up wearing end-of-season flip-flops because, if they and others decide to give us a game, we'll be down with games to spare, and deservedly so.
Will Mabon
31
Posted 08/04/2022 at 21:30:32
You know what, Jack, wherever blame may reasonably be apportioned right now, just reading your post makes me almost feel sympathy for Lampard in having to frame the team for tomorrow.
Also, Dele Alli. You're right. Top level footballer (as he really was) at his age, you'd think he'd be straining at the leash to get out there to play United. We don't know the realities but if he isn't, then there's a real problem.
Jack Convery
32
Posted 08/04/2022 at 21:37:37
Will @31,
It's akin to asking Michael Angelo to paint the Sistine Chapel with Johnsons paint. However you do it, it's still not convincing. At least he goes home to Christine so don't feel too sorry for him!
Matt Byrne
33
Posted 08/04/2022 at 21:45:37
Well done, Lyndon, for sticking your chest out and writing a positive article. Wednesday was horrific and so many of us said we are already down as a consequence. In time, that may prove true but we must all stand up on and off the pitch and fight like our lives depend on it.
That game vs Burnley has gone and needs to be forgotten. Against Wimbledon in 1994, we were 2-down with 50-odd minutes left to save our skins. By contrast, we have 9 games (5 at home) to make a difference.
The crowd was magnificent against Leeds and Newcastle and the points were consequently gained. We must continue to do our duty and make Goodison a seething cauldron. Only blue flags... no white ones please.
If somehow we get 4 points v Man Utd and Leicester City, we may then need say 7 more points with Brentford and Palace at home to come. We have to believe we can do this. It ain't over till it's over!
Jeff Armstrong
34
Posted 08/04/2022 at 21:49:31
If we are now turning to Iwobi as a first-choice pick, and to be fair, he was one of the better players against Burnley, then we are truly fucked.
How bad are we when Alex Iwobi is one of our better players?
Jamie Crowley
35
Posted 08/04/2022 at 21:49:57
Begovic
Coleman Branthwaite Keane Godfrey
Doucouré Allan
Gordon Iwobi Gray
Richarlison
Delph on the bench if Doucouré starts loafing. Calvert-Lewin on the bench for firepower if needed, but he's playing like he doesn't actually care 100% in my opinion, so start on the bench. Dele Alli on the bench – Jesus, what's the point of this fella?
Holgate on the bench, only in for injury – he's been awful. Dobbin – because I'd light a fire with a young, energetic kid at some point. Mykolenko on the bench and he doesn't deserve it but I'd prefer Godfrey at left-back, I just trust him at that position despite his unforgivable gaff at centre-back against Burnley.
The rest... just pick 'em.
Brian Wilkinson
37
Posted 08/04/2022 at 22:09:55
Begovic
Coleman Branthwaite Godfrey Mykolenko
Doucoure Allan Gordon
Gray Rondon Richarlison
See if bringing Calvert-Lewin gives him the rocket up his backside he needs.
Paul Kernot
38
Posted 08/04/2022 at 22:13:09
The headline sounds a lot like an obituary, Lyndon.
On Wednesday, I went to the funeral of a guy I used to play with. Maybe that's what put it in my mind. I hope it wasn't an omen.
Soren Moyer
39
Posted 08/04/2022 at 22:15:36
If only Mina was fit! We could leave Godfrey out as well for at least 2-3 games. He's been awful lately as central defender.
Gary Jones
40
Posted 08/04/2022 at 22:31:53
Keep changing my mind, but what I'd like:
Pickford
Coleman Keane Branthwaite Mykolenko
Gordon Allan Doucouré Gray
Calvert-Lewin Richarlison
Thought about Richarlison doing a Joelinton and playing on the left of a midfield 3, but we need him as a goal threat. Go old-fashioned and play the flanks with crosses. Dobbin or Dele, Rondon and El Ghazi from the bench if we end up chasing. Delph, Godfrey and Kenny if we somehow get 2 ahead.
Peter Mills
41
Posted 08/04/2022 at 22:32:03
We are in trouble, but there is no way I accept we are relegation bound with 9 games to play and we are not in the Bottom 3.
We have to keep our nerve. Every one of us. After what befell him last weekend, I send particular posso waves to George McKane, and look forward to his words in the morning.
Matt Byrne
42
Posted 08/04/2022 at 22:32:56
Well said, Peter (42), by the way, which player is allocated to do the Phil Neville tackle on Ronaldo?
Tony Hill
43
Posted 08/04/2022 at 22:37:47
Echoed, Peter, @42, that was a distressing account from George. I am sure we will have the very best response tomorrow. Living well is the best revenge.
Jonathan Tasker
44
Posted 08/04/2022 at 22:38:45
Nothing in football is certain. Manchester United are not great themselves. However, if Everton lose, I'd expect Lampard and crew to be gone on Saturday night.
Moshiri will place more faith in Ferguson getting results than anything Lampard has done.
Dale Self
45
Posted 08/04/2022 at 22:41:40
I'm in Peter. Well said. Not going down. UTFT!!!!!!
George is always inspiring, even in response to shocking events.
Svein-Roger Jensen
46
Posted 08/04/2022 at 22:53:58
A cluster of colour-blind hedgehogs in a bag have a better chance of a winning streak.

John Raftery
47
Posted 08/04/2022 at 22:57:22
I haven't a clue what the starting eleven should be tomorrow but, if we try to take on Man Utd with four attacking players, I fear we will leave ourselves open to counterattacks. We need defensive-minded cover for both full-backs and two central midfielders focussed first and foremost on covering the back line.
A lone striker to operate as a workhorse and somebody behind him ready to drop back to form a midfield line of five would make us more solid than we have been.
As none of the above seems to fit with Frank's philosophy, I am not expecting anything like it in his team selection. We can only hope United are as lethargic as they apparently have been in recent games. If they turn up aiming to prove their critics wrong, it could be a long, difficult afternoon.
Robert Tressell
48
Posted 08/04/2022 at 22:59:49
Svein-Roger – perhaps you'll be familiar with Bag Interior, by the colourblind hedgehog workshop of Sienna. Whatever the case, I am sure Frank has a cunning plan.
Svein-Roger Jensen
49
Posted 08/04/2022 at 23:00:53
Ah, tally-ho, yippety-dip, and zing zang spillip. Looking forward to bullying off for the final chukka?
Jerome Shields
50
Posted 08/04/2022 at 23:02:47
Determined by which Everton turns over and whether the players are prepared to play for the manager.
Paul Birmingham
51
Posted 08/04/2022 at 23:11:05
I'd like to think that, tomorrow, the spirit of Duncan Ferguson's duels as a player against Man Utd and manager can be harnessed by Lampard and will rub off some belief and provide steel in the Everton squad.
Man Utd can be beaten and, if Everton do their best for 97 minutes, then they can beat them.
Pressure De Gea, and target their centre-backs, they can be rattled.
UTFT!
Svein-Roger Jensen
52
Posted 08/04/2022 at 23:22:29
Frank will have a cunning plan – "the greatest work of fiction since vows
of fidelity were included in the French marriage service."
Laurie Hartley
53
Posted 08/04/2022 at 23:49:56
We should be proud of our top-flight record, Lyndon, and I haven't given up hope of us retaining it and won't unless it becomes mathematically impossible to maintain it.
I think we will need a shot-stopper in goal for this one so, for me, Pickford it is for this one. I am not sure about Delph though so I would start Godfrey alongside Allan where his athleticism will be valuable. He can help Mykolenko and Gordon can help Coleman.
Iwobi has shown that he can pick a pass so he deserves to start.
I am sticking with my shout to start Rondon – he will give McGuire a tough game and will bring Richarlison into the play.
A come-from-behind win for us 2-1. Goodison goes ballistic.
Pickford
Coleman, Keane, Branthwaite, Mykolenko
Gordon, Allan, Godfrey, Iwobi
Richarlison
Rondon.
Up the Blues.
Michael McCabe
54
Posted 09/04/2022 at 00:18:06
Excellent article and I think every player and everyone involved with this great club should be made to read the article – not once but twice – and get it through their heads what it means to be a part of this great club.
Phil Smith
55
Posted 09/04/2022 at 00:23:03
Godfrey has been a bit rubbish of late, but no way near as gash as Doucouré. He needs slinging, pronto!
As much as I hate to say it, maybe we need Allan and Delph in the middle tomorrow for some defensive cover, as we can't defend for the life of us at the moment.
Keane back in an-all. Calvert-Lewin and Rondon up top. Gray on the bench. Richarlison and Gordon on the wings. Old skool 4-4-2.
John Maxwell
56
Posted 09/04/2022 at 00:54:05
Every game is a cup final now.
As someone who watched Everton throughout the '90s, then I'm kind of excited for the next month or so.
I'm sure relegation battles are more exciting than a season petering out in 10th.
4 points from the next two games please.
Don Alexander
57
Posted 09/04/2022 at 01:11:04
The fact that our estimable Lyndon contends that we should be proud of having only ever been relegated for four seasons causes me to ponder.
Of the clubs we were with in founding the Football League in 1888; Accrington, Aston Villa, Blackburn Rovers, Bolton Wanderers, Burnley, Derby County, Notts County, Preston North End, Stoke (as they were known at the time), West Bromwich Albion and Wolverhampton Wanderers, we have ever since been acknowledged as the only "top club" among them - for way more than a century.
Therefore just why should we now be proud of our relegation history? Compared to the endless mediocre rest of the founding clubs it's the least to be expected surely? Right now Everton have at last been caught out having had a wank in public according the football industry.
Kenwright and those he controls will just love the all but tacit acceptance of relegation after so many decades of his, ahem, "good times" seasons under his control.
No club I'm aware of in Premier League history has had the historic right to point a 100% finger as we have at Kenwright and those he's brought into the club decade after decade to our huge demise.
Relegation was never inevitable. No, it's been earned and deserved by the total football inanity that's been our owner/chairman posing as our guardian angel ever since he was regrettably born.
Moshiri is all but his Pinocchio.
We're fucked.
Kieran Byrne
58
Posted 09/04/2022 at 02:07:02
C'mon, Everton!!!
Let's put a shock into the footballing world and play Man Utd off the park! Their backline is almost as bad as ours and I think Maguire has about as many own-goals and cock-ups as our own Keane.
We can't play with fear or be scared about them or the occasion. Friggin' Man-Up, Blues… let's win this!!
Bernie Quinn
59
Posted 09/04/2022 at 03:47:52
I just wish I knew where I can obtain these rose-coloured specs a lot of you are wearing! But talking of records, did you know Everton hold the record for being Champions of the Top Division in England for the longest period of time? (Mind you, I think World Wars had summat to do with that!!)
Stephen Vincent
60
Posted 09/04/2022 at 04:09:02
So it's come to this, we seem to be pinning our hopes on Fabian (injured during the warm-up tying my laces) Delph and Salomon (my arse is so big Hummel added a new size) Rondon.
If that's the case... we are gone.
Kenwright Out!
Brian Murray
61
Posted 09/04/2022 at 04:11:07
Bernie,
Yes 3 figures or events that we never recovered from: Hitler Heysel and Kenwright. We can rectify from one of those no matter what league we end up in. Just need a bit of momentum (and banners) to force this idiot naive owner to see the damage he entrusted his mate with. Kenwright Out and good riddance.
Sam Hoare
63
Posted 09/04/2022 at 06:26:26
Till Burnley, I had remained optimistic that we would do just enough to survive. My faith is wavering noticeably now as even a rare bit of penalty luck was not enough to hand us a point against a pretty wretched Burnley who create almost nothing.
Our defenders are pretty awful and I'm afraid Lampard (or the pressure of our predicament) has made them even worse.
Yerry Mina has been an enormous loss, I think (our win ratios with and without him are staggering), so I really hope he can hit the ground running soon.
As for today, Man Utd are decidedly beatable but our players just look spent physically and emotionally. Allan's return may help but surely a midfield containing him and Delph would be too immobile.
If I'd seen any evidence of this defence being tight, I may have more faith but it's hard to imagine them not giving up at least a handful of excellent chances to United so I fear our only chance depends on them being rubbish rather than us being good. Hope springs eternal.
Pickford
Coleman Keane Branthwaite Mykolenko
Doucouré Allan Iwobi
Gordon Calvert-Lewin Richarlison
Tricky to know who to play alongside Branthwaite out of Keane, Holgate and Godfrey. All have been calamitous this season; it may depend on how high a line Lampard wants to play but United are pretty decent on set-pieces and Keane is comfortably the best in the air.
Darryl Ritchie
64
Posted 09/04/2022 at 06:54:30
Game is on at 4:30 AM here. I have to work in the morning, so I'm not going get up to witness, I mean watch, it. If we get a point or three, I'll watch it when I get home. If we blow it (again), I'll find who was to blame this time, by reading ToffeeWeb.
Jerome Shields
65
Posted 09/04/2022 at 07:35:17
There is something above 9 games left. It is too much like a countdown to relegation. There is no now about it. No facing of the reality of the situation. Hopeing for a lucky break. If words are a reflection of the soul, it is an acceptance of defeat.
The manager is looking for a change in attitude in those around him. All is not well in the Everton dressing room. But even the Everton players must realise that they need to get a result today.
They need to put the effort in, getting into position, tracking back, marking up, concentrating. The problems are really deep at Everton if they are that thick that they don't realise or aren't prepared to realise that.
Jerome Shields
66
Posted 09/04/2022 at 07:48:03
Sam #68,
I would interchange Keane and Branthwaite's positions. I don't think that Calvert-Lewin is putting in the work and effort, seems displaced from the tactics. I would play Rondon instead.
Sam Hoare
67
Posted 09/04/2022 at 08:08:05
Jerome, fair comments. I'm obviously banking on DCL getting closer to the form he showed last season; which seems far away.
We really need him to score a few goals, both for our survival hopes and for his dwindling market valuation. Only Frank will know how hard he is training but his comments seem to indicate that he's still up for it (though he's unlikely to state otherwise).
Rondon could do a job but a sharp and committed DCL is the superior player; just a question of whether the latter will re-emerge.
David James
68
Posted 09/04/2022 at 08:09:48
"When a clown moves into a palace, he doesn't become a king. The palace becomes a circus."
A Turkish proverb that seems wholly fitting for our owner. We've been nothing like the best for far too long. Time to sell, sell Moshiri, and bye bye Bill.
As for today, as Lyndon says, just win, Everton, please.
Colin Malone
69
Posted 09/04/2022 at 08:11:46
I also think Iwobi did well in the last two games, when he played in the centre of midfield. Nooooo way can you move him back to the flanks.
Great to have our leader and organiser back, we've missed Allan big time, also Coleman because Kenny has been dire.Do we go with the erratic Pickford, who went down at his last club, or Begovic, who calms the players in front of him by not being erratic and only opens his mouth when he needs to.
Danny Baily
70
Posted 09/04/2022 at 08:35:55
Hoping for the best, but I don't think these lads have it in them to get a result today.
I think, deep down, we all knew the decider was Wednesday's match.
For what it's worth, I'd love to see Begovic start from here on out. He could be a big player for us next year.
Alan McGuffog
71
Posted 09/04/2022 at 09:01:27
Not. A. Hope. In.Hell.
Jerome Shields
72
Posted 09/04/2022 at 09:07:30
Sam#67
The reason I would play Rondon is to do more with shape. Calvert Lewin does not lead the line, hold up play for support or move into position on time. In the Burnley game the defender was first to the ball, always in front of Calvert Lewin. Calvert Lewin does not contribute to Everton keeping shape. Dyche did not say in his half time team talk' they do not know how to score' for nothing. He identified the above and was telling his defence push the defensive line up in support of midfield there is nothing to worry about. Lampards tactics where sunk on that firstly, then errors.

Such poor play has a knock on effect on the team, especially a team with other flaws.
Denis Richardson
73
Posted 09/04/2022 at 09:13:07
Feels like D Day for me today. Yes there are 9 game left but this is a home game, after which we have a long break.
We simply must chuck everything including the kitchen sink to get a win today. I've got a feeling we'll get there if the players each give it 150%. They've just got to want it more than Man U, and given our league position i'd hope that's a given.
Win today and I feel that'll give us the boost we need to take into the Leicester game.
Praying for a win and when Manu have one of their off games.
Jerome Shields
74
Posted 09/04/2022 at 09:19:12
Tony Everan
75
Posted 09/04/2022 at 09:23:31
Burnley was a nail in the coffin, but the lid is still loose. It just needs a big kick to bust it back open again. The still warm, half dead corpse can spurt back into life. A win today can eject the nail that Burnley hammered in, and make survival a distinct possibility.
Man Utd have looked no better than West Ham lately and we did ok against the hammers away from home. So using that logic we can compete and go for it at Goodison.
The big questions are can we avoid making schoolboy mistakes? If not we are relegated. Can we take our chances? We have to be far more ruthless in front of goal and create more.
Team? Allan is back, Doucoure is on Ramadan, but the 12-30ko may be better for him?, Iwobi has been better lately, needs to add a bit more aggression.
With Allan and Delph back, Branthwaite, Iwobi and Mykolenko doing quite well it should be an interesting team selection, very tough to call it today.
Pickford
Coleman Kean Branthwaite Godfrey
Iwobi Allan Doucoure Delph Richarlison
Calvert-Lewin
I feel we are especially vulnerable on our right hand side, Coleman will be targeted, we need a special performance from him today and whoever is supporting him in the right Midfield slot.
Gary Jones
76
Posted 09/04/2022 at 09:24:48
Changed my mind again….
Pickford
Holgate Keane Branthwaite Godfrey
Allan Delph
Gordon Dele Richie
DCL
….the fact none of us (including me) seem to know what our best system and first choice personnel is, is perhaps indicative of exactly why we are in this shit.

Danny O'Neill
77
Posted 09/04/2022 at 09:28:38
It's sad that I am starting to conse myself that only 2 clubs apart from Everton have not been relegated in my lifetime.
Please don't do this to us Everton.
Christopher Timmins
78
Posted 09/04/2022 at 09:33:32
We simply must get something from today's game. If we fall into the bottom 3 at 4.00 tomorrow and with a two week break until the next game there will be a temptation to change the manager.
Denis Richardson
79
Posted 09/04/2022 at 09:38:02
Chris 78,
My feeling is if we fall into the bottom 3 that's it, the physiological blow isn't something this group of players will recover from.
We've simply got to win today, which will also deflate Burnley after Wednesday. Lose today and Burnley will be given a massive boost for tomorrow.
John Pickles
80
Posted 09/04/2022 at 09:42:08
We also hold the record for the longest run of consecutive seasons in the Premier League outside the top three.
Johan Elmgren
81
Posted 09/04/2022 at 09:47:44
No Kenny or Coleman on RB please. Both have been poor and don't give any protection to the CB's. We've been conceding too many easy goals from that position. I think Godfrey would be the best choice there with his pace and athletisism.
--------------------Begovic--------------------
Godfrey--Keane--Branthwaite--Myko
----------------------Allan-----------------------
----------Doucoure---Gordon--------------
Gray--------------------------------------Richy
------------------Calvert-Lewin--------------
Come on lads, much still left to play for, we have it in our own hands... The players will need our full support! COYB!!
Danny O'Neill
82
Posted 09/04/2022 at 09:49:19
You're splitting hairs and adjusting Mr Pickles!!!! The top 3 is interchangeable as is the league.
Arsenal has the longest consecutive run. We have played the most seasons.
Svein-Roger Jensen
83
Posted 09/04/2022 at 10:03:33
There are amoeba on Saturn who can run a club better
Phillip Warrington
84
Posted 09/04/2022 at 10:09:02
Supporting Everton for 50 years, but living in Australia my parents were split. Both from Liverpool, but mum a Liverpool supporter and dad a true blue. So not100% informed as you guys to the daily dealings of the club. My memories of the team is that we have always had a strong keeper, central defender and most of all a really good striker 20 - 30 goals a year. But surely there must be some players in the U/23 that couldn't do any worse than the players in the first team now, because if we don't that would show how bad a state we are really in.

The other thing, how come we seem to be so far behind in the recruiting of young talent considering the money we make from TV rights. Surely paying youth team coaches to spend a year on a foreign country to find talented young players would be that hard. Right now the club needs to 100% be plodding the resurrection of the Everton Football team, stuff the stadium and anything else until the footballing side of the club is dealt with.
Bobby Mallon
85
Posted 09/04/2022 at 10:10:29
For those of you still picking Holgate in your teams, stop it now. He's not good enough and makes serious dubious tackles and decisions at least twice a game. This game can be won today but only if Lampard plays 3 in midfield and we don't play such a high line. Oh and I would drop Pickford
Sean Kelly
86
Posted 09/04/2022 at 10:11:07
We couldn't beat Burnley so no chance today with these tossers.
Ian Jones
87
Posted 09/04/2022 at 10:15:58
In the Liverpool Echo, Alex Iwobi says.
"We have to keep on going. We have nine games to go and there's a maximum of 27 points that we can get. We're going to try and win every game, it's not easy, but we have to take it game by game.
"From what I see in training and spells in matches we know we have the quality, it's just remaining consistent. As players, we're not Championship players. We feel like we have enough quality to stay up. We just have to prove it to ourselves and prove it to the fans and we'll be alright, but it starts this Saturday."
Appreciate it's 2 paras edited from a larger article and open to a bit of media interpretation, and it wouldn't look too good if he came out and said we're doomed.
We've managed so far...
13 points from the first 6 games, up to end of Sept
12 points from the last 23 games
So, Alex, appreciate that there are
27 points that we can get
They say our home form will save us
We've won 6 home games out of 14 played
only 3 since end of Sep
Won 1 away all season
Alex says 'we're not Championship players' and proving it starts 'this Saturday'
Ok better late than never.
However, 9 games left against tough opposition.
I will be surprised if we get enough points to stay up...
As has been mentioned a few times
...it's not a case of being too good to go down, we are too bad to stay up.
However, we'll probably beat Man Utd, Chelsea, Leicester and Brentford and all will be well. What was anyone worried about.
Robert Workman
88
Posted 09/04/2022 at 10:16:09
One aspect of this weekend's fixtures bothers me. The 4 teams around us are playing one another. That means that 2, maybe more, will pick up points.
Brian Murray
89
Posted 09/04/2022 at 10:20:18
Svein post 83 more amoebi on Saturn ca. run a club better than Everton you say. Well we have a chairman talks out Uranus
Svein-Roger Jensen
90
Posted 09/04/2022 at 10:24:44
Our players look like
dog-turds in glue
Danny O'Neill
91
Posted 09/04/2022 at 10:24:46
I'd bet Brentford didn't think they could beat Chelsea Sean.
Let's save that for after the match. Right now, I'm focussing on getting a result today.
Mike Keating
92
Posted 09/04/2022 at 10:28:32
Dennis @21 - Thanks for the reminder regarding the shameful promotion of Arsenal after the First World War. For those who need reminding here's a brief synopsis of the farcical circumstances and the role of Henry Norris in the whole thing;
"In 1919 Arsenal became the first-ever football club to be promoted to the First Division on a basis that was unrelated to footballing performance.

In the 1914-1915 season Arsenal finished fifth in the Second Division. Then WWI broke out, which put footballing activities on hold.

Once they resumed in 1919 Henry Norris, the chairman of Arsenal at the time, proceeded to pull off one of the most controversial stunts in English Football history.

The First Division had decided that it would expend from 20 teams to 22 teams before the start of the 1919 season. Having already promoted the top two Second Division teams, the First Division now had two open spots.

The previous season had seen Chelsea and Tottenham sit in 19th and 20th, respectively, and both clubs were due to be relegated.

Provisions were made so that Chelsea were allowed to remain in the First Division, which left one spot to be fulfilled. It is at this point that Sir Henry Norris maneuvers his club into one of the most unlikely positions of all time.

While at the Football League's Annual General Meeting, Norris argued that Arsenal deserved to be promoted because of their contribution to footballing history.

Arsenal was the first league club located in the South. His speech was enough to influence the audience. Arsenal won promotion to the First Division by 10 votes.

Despite being promoted in suspicious circumstances, Arsenal is the only club to have remained in the top division of English Football since the sport resumed after the end of the first world war."
I've read more cynical accounts, less impressed by the man's oratory, that suggest brown envelopes were involved..
I'm sure, if the old fraud was still alive, he'd have been 100% behind the European Super League.

If memory serves, Bradford were the other team to lose out as the Arses leap frogged into Division One.
Brian Harrison
93
Posted 09/04/2022 at 10:29:50
I think the Burnley result will have removed the last shred of confidence this team had left. To have not got anything out of that game was I think mortally wounding, had we got a draw there would have been something to build on.
Today I don't know what side Lampard will put out as apart from Gordon and Richarlison all the rest are easily replaceable. My preference is to bring in Delph for Doucoure and Rondon for DCL, and probably bring back Keane for Godfrey who isn't a CB and I am not convinced about him at full back any longer. I know Keane isn't great but he is better than Holgate or Godfrey at the back, and he plays better with Mina alongside him who will be back for the Leicester game.
I go to the game today with my 2 Sons and my Grandson all hoping that somehow we get something from the game, if somehow we could get a win that would definitely instil some much needed confidence. How we can be in this position having spent best part of £500 million is unbelievable.
Svein-Roger Jensen
94
Posted 09/04/2022 at 10:32:54
Are we the worst managed team in the entire world?
Brian Murray
95
Posted 09/04/2022 at 10:33:46
In the brick now before the game and loads still go quiet when the running of the club is mentioned. Happy clappers galore. Fckin turkey's voting for Xmas.
Eddie Dunn
96
Posted 09/04/2022 at 10:34:00
Ian -isn't it strange how these players (and manager) can think that training and patches of games are going well, so they are not championship players! Haha, a few of them will be spared Championship football. Unfortunately Iwobi will be getting kicked from pillar to post at Rotherham on a cold Wednesday night in October.
27 points, 9 games, then next presser, 24 points and 8 games, then 21 points and 7 games, then 18 points in 6 games, etc etc, etc.
Let's see them come out and win this game before any more chat about games and points. It's driving me mad.
Alan McGuffog
97
Posted 09/04/2022 at 10:38:04
A few people have posted that Frank could be given the bums rush after our defeat today.
He'll get a nice pay off but presumably with a gagging clause. That's such a pity as I'd love to hear his true thoughts about this train wreck of a club.
Brian Murray
98
Posted 09/04/2022 at 10:40:48
Danny O'Neil post 91. Love to be proved wrong but have we ever done let's say a Crystal Palace and win at Man City ( twice ) when they are was going for titles. Even with kenrights hero Moyes it took 20 years and still waiting to win at Chelsea or an anfield derby. Same at arsenal. Don't count the covid non entity no fans win there.
Svein-Roger Jensen
99
Posted 09/04/2022 at 10:46:55
I am looking forward to this match like it was a plum-duff that tastes like it's a molehill decorated with
rabbit-droppings.
Billy Bradshaw
100
Posted 09/04/2022 at 10:49:40
Think Wimbledon getting beat 45 minutes of season left, think now 9 games left.
Danny O'Neill
101
Posted 09/04/2022 at 10:54:17
Go and get those points Brian!
Worst managed club Svein, not team.
It's a badly assembled team but I've become increasingly of the opinion so many managers and coaches can't be wrong. The root cause is elsewhere and most of us know where.
Anyway, let's get this one done.
Svein-Roger Jensen
102
Posted 09/04/2022 at 10:57:46
Lets Hope "Field Marshal Lampard" has formulated a
brilliant new tactical plan to ensure final victory on the
field against the tossers Manure
Will Mabon
103
Posted 09/04/2022 at 11:14:27
Mike @ 92;
...and that's why it's Everton that are really number one. By more measures than one.
Danny @ 82;
I'm not sure but I think John may mean, the longest run in the league without finishing in the top three.
Derek Powell
104
Posted 09/04/2022 at 11:17:01
Dont think we will get any favours off the FA or their employed officials we haven't had the rub of the green all season and with the last 9 games being all about the European placements hold little to no hope of that changing
Svein-Roger Jensen
105
Posted 09/04/2022 at 11:27:27
Now, would Lampard brilliant plan involve us playing out of
our backline and running slowly towards the opposition sideways and backwards?
Brian Wilkinson
106
Posted 09/04/2022 at 11:33:00
If we cannot beat a poor Burnley, after being given 2 penalties, what chance have we got today, playing one of the officials' favourites?
No matter how well we play, you just know we are going to drop a bollock and gift them a goal.
I can see us putting a performance in, but that niggling doubt in the back of my mind of making mistakes under no pressure is going to bite us on our backside yet again.
Really hope I am wrong but let's see the team news first.
.
Ian Jones
107
Posted 09/04/2022 at 11:33:25
The issue with getting rid of Lampard and presumably paying him off would I assume meaning to pay the rest of his entourage off.
Not sustainable
Paul Smith
108
Posted 09/04/2022 at 11:36:11
Don't worry, Brian.
Z-Cars
to look forward to and righteous indignation towards those who would dare to question or protest at the culture, ownership and operating procedures of the club.
We get what we deserve.
Keith Smith
109
Posted 10/04/2022 at 00:16:52
I'm looking for 2 tickets for Watford (away). Contact me on 07771 815392
---
Add Your Comments
In order to post a comment, you need to be logged in as a registered user of the site.
Or Sign up as a ToffeeWeb Member — it's free, takes just a few minutes and will allow you to post your comments on articles and Talking Points submissions across the site.