Everton vs Leicester City
Tuesday, 19 April, 2022
Match Preview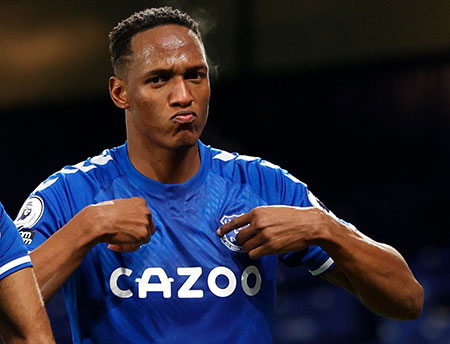 Yerry Mina returns to Everton's squad for the first time since he was forced to withdraw from the defeat at Newcastle back in February
Everton are back at Goodison Park under the lights to host Leicester City with the Blues hoping to register successive victories for the first time since August.
The 1-0 win over Manchester United 11 days ago, coupled with Burnley's defeat at Norwich, was a huge result for Frank Lampard's men in the context of their bid to avoid relegation.
Since Everton last played, the Clarets have made the surprising decision to sack manager Sean Dyche and picked up a point at West Ham, meaning that Everton come into the midweek clash with a 3-point cushion and having played at least a game less than all the teams around them.
Yerry Mina returns to Lampard's squad for the first time since he was forced to withdraw from the defeat at Newcastle back in February. Mina has worked his way back to fitness after it was determined that the soft-tissue damage he sustained at St James' Park wouldn't need surgery and it is hoped that the Colombian can now stay fit through the rest of the season to bolster Everton's bid to stave off relegation.
Article continues below video content
It is not clear if Mina will be fit to start the game after so long out and given his history of breaking down when being rushed back to action too soon but he will be joined in the squad by Donny van de Beek who hasn't featured since the home game against Wolves five fixtures ago.
"Yerry will feature," Lampard said in his pre-match press conference. "He's in the squad so It's just making sure he's fit enough and also analysing the games we've got left. We've got a game also in four days' time after this, a huge game for us so it's managing that and Yerry because he's been out for a while.
"But it's great to have Yerry back. He's a big personality in the dressing room, he's a big player for us.
"Other than that, it's where we were with injuries," Lampard concluded, referring to long-term absentees like Tom Davies, Andros Townsend and Nathan Patterson.
"Donny's back in contention. He was not well for a period, he had an injury pre-West Ham and he's had a baby girl last week so it's nice to have him back in the squad."
Fresh from booking their place in the last four of the Europa Conference League, Leicester travel to Merseyside sitting in ninth place in the table with an outside chance of securing a place in Europe next season via the League given that they, too, have games in hand on their rivals above them.
The East Midlands side registered three wins from four in the Premier League in March to re-establish their top-10 credentials and beat Crystal Palace at home on 10th April but they haven't won their travels since coming away from Turf Moor with all 3 points on 1 March and they were vanquished by a last-gasp winner against Newcastle last time out.
Brendan Rodgers is without some important players, with Jamie Vardy, Boubakary Soumare and Wilfried Ndidi all ruled out alongside Ryan Bertrand and Danny Ward but, as Lampard acknowledged in his presser, Leicester's squad remains strong, particularly with the likes of James Maddison, Youri Tielemans and the emerging Kiernan Dewsbury-Hall in midfield and ex-Everton player Ademola Lookman out wide.
For Everton, who have been steadily improving in recent weeks, it's simply a case of repeating what they did right against Man Utd, which included keeping a clean sheet, and creating enough chances in attack to fire themselves to another three precious points.
Kick-off: 7:45 pm, Wednesday, 20 April 2022 (Not on TV in the UK)
Referee: David Coote
VAR Michael Oliver
Last Time: Everton 1 - 1 Leicester City
Predicted Line-up: Pickford, Coleman, Keane, Godfrey, Mykolenko, Delph, Allan, Iwobi, Gordon, Richarlison, Calvert-Lewin
---
Reader Comments (98)
Note: the following content is not moderated or vetted by the site owners at the time of submission. Comments are the responsibility of the poster. Disclaimer
Colin Battison
1
Posted 19/04/2022 at 16:54:48
Great to have Yerry back for the run-in, let's hope he can stay fit as he brings much needed stability into the heart of the defence. Great to have virtually a fully fit squad to choose from and good options from the bench.
My eleven for this one: is
Pickford
Coleman
Mina
Godfrey
Mykolenko
Allan
Iwobi
Van de Beek or Delph
Richarlison
Gordon
Calvert-Lewin
Dale Self
2
Posted 19/04/2022 at 17:12:43
Alright then. Mina and Allan back makes a big damn difference. Who lines up next to Mina is the big question. I liked Godfrey and Mykolenko, they seemed to understand each other but it could have been Man Utd's ineptitude for some of that.
Either way, I'm feeling cautiously willing to see some Leicester ass getting kicked around the park. UTFT!!!!!
Ajay Gopal
3
Posted 19/04/2022 at 17:23:30
I don't think Mina should walk into a defence that kept a rare clean sheet against Man Utd. Keane and Godfrey did a decent enough job. Mina can maybe play a few minutes towards the end, and see how he feels. If okay, then maybe he can be played against Liverpool. I would keep the same XI as the last game:
4-2-3-1
Pickford
Coleman Godfrey Keane Mykolenko
Delph Allan
Gordon Iwobi Richarlison
Calvert-Lewin
Subs: Begovic, Kenny, Holgate, Mina, Doucoure, Van de Beek, Gray, Rondon, Alli
Some decent options on the bench.
Danny O'Neill
4
Posted 19/04/2022 at 17:31:44
Good news for me.
Mina alongside either Branthwaite or Godfrey. Either of those two will benefit from playing alongside the closest thing we have to a leader at the back and a character. Watch how he reacted and the players reacted to him in the tunnel after the Man Utd match.
Yerry to get the winner tomorrow night and the equaliser at Anfield.
Kieran Kinsella
5
Posted 19/04/2022 at 17:39:37
Ajay
I understand your rationale and for most sides would agree. But this is Everton and this bunch have let us down time and again. How often (I mean it's not that often but invariably is the case when it does happen) have we said Gomes had a great game, give him another game. Ditto Keane, Holgate etc.
Yes the team did well against Man Utd which means the usual suspects are due for a downturn and Vardy and Co will be licking their lips looking at a defence featuring either Keane or Holgate.
Will Mabon
6
Posted 19/04/2022 at 17:47:56
Tough one. Mina has been a huge miss for me, the only genuine solid defender we have. The performance of our defence so often aligns with his presence or absence.
However after a long period of time with no semblance of structure or continuity, there is something to what Ajay says re. the United clean sheet. Not a straightforward decision.
At least he's back and available.
Phil Smith
7
Posted 19/04/2022 at 17:48:04
Bring him on the last 10 minutes or so if we need him to hold on to a lead. He'll be a definite starter at Mordor on Sunday. Frank might go for a a back 5, perhaps, and keep it tight there.
10 pts (minimum) is required, I feel, to stay up from our last 8 games. Starting with 3 pts tomorrow.
Jeff Armstrong
8
Posted 19/04/2022 at 18:14:50
Agree with Kieran # 5 these players cannot put 2 decent games together on the bounce, changes are necessary because Keane, Iwobi, Godfrey etc have no consistency.
Anthony Dove
9
Posted 19/04/2022 at 18:27:29
I like Mina but he's as mistake prone as all our other central defenders. Also, he only plays a few games and then gets injured again.
To drop Keane after the Man Utd win would be a real kick in the teeth and not justified.
Tony Everan
10
Posted 19/04/2022 at 18:38:59
Firstly I hope he plays a back 4 and doesn't try to shoehorn players in to a back 5.
I'd put Mina in for Keane and keep Godfrey as the other centre-back for his pace. Our win stats when Mina plays are given a massive boost. Also a threat from set-pieces, if he's fit enough - play him. Tomorrow, the right-back position concerns me most, Harvey Barnes is a very decent and direct player and Seamus will have to bring all his powers to keep him out.
Consistency has already been mentioned, the big question tomorrow can our midfield consolidate that performance against Manchester. Allan, Delph and Iwobi seemed to click as a midfield three, each complimenting the other. Tenacity, Composure and Energy. Can the three of them build on it ?????
Gordon and Richarlison right and left are first choices and are playing well. Calvert-Lewin has had ten days to get much sharper, we should expect a big, hopefully match winning, showing from him tomorrow.
Pickford
Coleman Godfrey Mina Mykolenko
Allan Delph
Gordon Iwobi Richarlison
Calvert-Lewin
Gary Jones
11
Posted 19/04/2022 at 18:52:10
For Leicester:
Pickford
Coleman Mina Godfrey Mykolenko
Delph Allan
Gordon Iwobi Richarlison
Calvert-Lewin
For Liverpool:
Pickford
Holgate Mina Keane Godfrey
Gordon Allan Doucouré Delph Gray
Richarlison
Brian Wilkinson
12
Posted 19/04/2022 at 19:59:59
I don't have a chance to have a drink after the game, but if Bill, Steve, Jim, Derek, Danny, Dave, or any of the others are popping in The Oak before the game, will see you all there, probably be around 7 when I get there.
David Hallwood
13
Posted 19/04/2022 at 20:30:59
Just watching Liverpool, when they're getting closed down, they ping a 70-yard ball for Salah to run on to. So it isn't all silky football. But they're mauling Man Utd.
Jon Harding
14
Posted 19/04/2022 at 21:14:58
Don't change that winning team, Frank!
Makes sense that, Gary J @11
No Vardy for them, KK @5. Been out for a while.
Nicolas Piñon
15
Posted 19/04/2022 at 21:18:36
Not sure Mina will start after 2 months out.
What's happened to El Ghazi that no-one speaks about him? Is he still alive and with us??
Jim Bennings
16
Posted 19/04/2022 at 21:19:03
As much as I like Yerry Mina, it's hard to get excited or even imagine he'll stay fit for the run in or even more than two or three games most likely tops.
Lyndon Lloyd
17
Posted 19/04/2022 at 22:03:54
Nicholas:
What's happened to El Ghazi that no-one speaks about him? Is he still alive and with us??
He's alive and with is but serves very little purpose seeing as we have so many options in that part of the pitch. Andros Townsend's injury moves up one step up the pecking order but Demarai Gray, Alex Iwobi, Anthony Gordon and, you would imagine, Dele Alli are all ahead of him.
Waste of a loan simply to grease the wheels for Lucas Digne's move to Aston Villa.
Kunal Desai
18
Posted 19/04/2022 at 22:05:25
Just grind out a win tomorrow. Sunday we can play 7 or 8 at the back and keep the score down as much as possible.
Tomorrow is key.
Will Mabon
19
Posted 19/04/2022 at 22:10:46
Lyndon, I think that was a good old fashioned Redknadyce type of deal. It's alive and well. Still seems strange that he hasn't featured at all though. He must be performing very badly in training.
John Keating
20
Posted 19/04/2022 at 22:29:59
Lyndon mentions their midfield and quite right. We have to control Tielemans, Maddison et al. With Liverpool and Chelsea coming up, tomorrow is a must-win.

Tom Bowers
21
Posted 19/04/2022 at 23:03:24
Another one that needs to be won with Burnley playing the Saints at home.
Every game is a tough one when you are down the bottom end and playing so inconsistently.
Obviously on paper there remains some tougher games but they cannot slip up here.
They hung in tough against Manure but Manure proved yet again today that they are a shadow of the great United teams gone by so Everton's overall defence needs to have a big game again.
Laurie Hartley
22
Posted 19/04/2022 at 23:29:18
Delph came back and played well after a long lay off and is fit for this match so I don't see why Mina cannot do the same.
However Frank has got choices for this one so it will be interesting to see if he changes a winning side. I don't think he will because we are going to need Godfrey's pace at the back for this one.
Whatever the starting line up we will have a strong bench (by our standards).
Dewbury-Hall is a dangerous looking player to me and he must be closed down if he gets anywhere near our box.
Ed Prytherch
23
Posted 20/04/2022 at 00:36:22
I have given up hope with Calvert-Lewin for this season. It probably will not happen but I would play Iwobi as a false 9 with Donny taking his place in midfield.
Gaute Lie
24
Posted 20/04/2022 at 03:29:38
This one is up for grabs. Winning this would do us good. Are the team up for it?
Delph will score. And then, his contract is renewed. Mina will also score a late one, and then Calvert-Lewin finishes with a clean header.
And Leicester nil.
Let it be so, and be a victory.
Alan J Thompson
25
Posted 20/04/2022 at 04:23:27
Don't usually try to second guess what team a manager might put out as right-back seems to be my first problem but I'd like to see Branthwaite and Godfrey as central defenders for their pace, so:
Pickford, Coleman or Kenny (who's the quickest?), Godfrey, Branthwaite, Mykolenko; Allan, Delph, Iwobi, Doucouré; Gordon, Richarlison.
Although it sounds like Frank wants Van de Beek to start and probably somebody more experienced in central defence than my preferences for this game.
Jay Harris
26
Posted 20/04/2022 at 04:37:37
Leicester's away record is almost as bad as ours but we know Everton.
I'm hoping for a good win tomorrow because an in-form Liverpool and Chelsea await us afterwards as well as a return at Leicester.
Delph and Van de Beek will be late decisions and Mina will get some time but will he be a starter or a sub.
Leicester have some speed on the break and Vardy loves playing us and Leicester have won all 3 games against Frank the manager so we need to be on our game and setup properly.
COYB
Jeff Armstrong
27
Posted 20/04/2022 at 07:11:05
I believe this is a must win game, given our future fixtures and our dire away form, our home games are key, this, Brentford and maybe 2 points against Palace and Chelsea are the points we need, we may get lucky with an odd away point, but it would be just that…odd.
Christopher Timmins
28
Posted 20/04/2022 at 07:16:49
Start Mina and DVB and keep Delph for Sunday. We need to pickup 3 points and take the pressure off the weekend as it's likely that Burnley will pickup points between now and Sunday.
Mal van Schaick
29
Posted 20/04/2022 at 08:27:35
This is a winnable game. Stop Maddison and Telimans controlling midfield, and do what we did against manure. Take the game to them at a high tempo.
These three points are essential for us to stay in the Premier League, and we have tougher fixtures than this ahead.
Keep Holgate out of the starting eleven, Mina on the bench, and same team that beat United.
Danny O'Neill
30
Posted 20/04/2022 at 08:41:06
My son is landing back in the UK today and will finally be home safely.
Don't let him down, Everton. By Sunday, we have 4 points on the board.
Jerome Shields
31
Posted 20/04/2022 at 08:50:10
For Everton I think this is a tricky fixture after a break in fixtures. Leciester have been doing enough to get through this season with European Football. Maddison has been playing well and other senior players may be available for selection.
I would select Van de Beek with Delph as a sub. No Vardy is a help, but it leaves Everton with a more mobile attack supported by midfield to contend with. Leciester are also pissed off with the injury time goal on their last outing in the Premier League.
Jim Harrison
32
Posted 20/04/2022 at 09:12:15
On form DCL doesn't deserve a starting place. I am not slating him, just saying he is out of form.
I would put Richarlison up front, with gray and Gordon wide, Iwobi central. That front line has pace and versatility.
Mina straight in. Play him when he is fit, as can't rely that he will be fit again even if not playing!!
Dave Abrahams
33
Posted 20/04/2022 at 09:22:14
Jerome (33), sorry, I don't see what Van de Beek has done to warrant him coming straight back into the team, especially in place of Delph who had a very good game versus Man Utd.
I'd keep most of the side that played in the last game except maybe Rondon for Calvert-Lewin, who is struggling at the moment, and leave other changes during the game off the bench.
With another positive crowd behind them, the ream have no excuses not to perform in a positive manner and gain another 3 points to get us closer to the safety net.
Rennie Smith
34
Posted 20/04/2022 at 09:39:46
I'm looking forward to clapping off a limping Big Yerry after his standard 20 minutes tonight, not sure if Ladbrokes will give you a price on it but I'd put the house on it.
Got a feeling Calvert-Lewin will score tonight, he's obviously due one but I think he's building up to a performance. However it goes, just make the most of the next few hours realising you're not a Man Utd fan.
Derek Knox
35
Posted 20/04/2022 at 09:41:11
Dave @ 33, totally agree Dave, I assume you were at the game too, the difference Allan and Delph made in the middle, in comparison to what has been served up before, was so noticeable. I know United are, or were not at their best, and they are in a bit of disarray, but they are a long way above us in the Table.
I would be tempted not to change the team too much if I were Frank, but maybe in Central Defence, Yeri Mina is such an influence when he plays, if fit, and could make a massive difference at either end of the pitch ! Not sure about DCL either he was virtually a passenger against United in comparison to the other ten.
COYB 💙💙
Jonathan Tasker
36
Posted 20/04/2022 at 09:43:55
What could be significant here is that Leicester are still in the Europa Conference League. This match therefore may be of little significance to them.
This match represents a decent opportunity for Everton to get the maybe one or two wins required to stay up
Brian Harrison
37
Posted 20/04/2022 at 09:44:04
Well, the one thing we can guarantee is that there will still be many twists before the season ends. A couple of weeks back, after the Burnley defeat, we were in a really poor position, but a win tonight and we would be 6 points clear of Burnley and just as important 2 points behind Leeds with a game in hand and 5 points behind Villa.
Funny how the press and the TV are trying to portray this relegation being between us and Burnley, but a win will change that dramatically. But likewise a loss tonight and with a tough game at the weekend could put a completely different look on the relegation battle.
But we have had an 11-day break since beating Man Utd and we have players coming back from injury which should really help. I am not sure what side Lampard will pick but I don't expect too many changes from the side that beat Man Utd.
I maybe would have put Rondon in for Calvert-Lewin but that looks unlikely. I certainly wouldn't bring Van de Beek back into the starting line-up as, like Dave said in his post, for me, I don't think he has done enough to warrant that.
As the games roll by and still no start for Dele Alli, you do wonder what was the point of that transfer? I think we were all excited when he signed thinking "Here is a top player who has lost his way, and will be out to prove Mourhino, Santo and Conte wrong." But, for whatever reason, that hasn't happened and the worry is we have a player with 2 years left on his contract earning in excess of £100,000 per week.
I know we don't have to pay Spurs a fee till he has played 20 games but, if the unthinkable happens, how do we offload him at the end of the season???
Dave Abrahams
38
Posted 20/04/2022 at 10:04:42
Derek (35),
No, I wasn't able to get to the game but watched it on my iPad and it was very noticeable how much Delph's appearance made to Everton's game.
Aided of course by Allan and the rejuvenated Iwobi whose energy in recent games has been another bonus. I hope it all helps in our escape from relegation.
Danny O'Neill
39
Posted 20/04/2022 at 10:05:10
Very good point on Alli, Brian. It is looking more like Mourinho was right about his attitude and desire.
Good luck tonight, Blues. I had a ticket but can't travel due to family reasons. A family friend has benefited free of charge.
If anyone is going on Sunday and has negative vibes, I'll take the ticket. Otherwise, see you at Chelsea home or Watford away.
Defining week. My brother offered me use of his season ticket for next season and I got moved onto Tier One on the waiting list. The last time I had a season ticket, we were Champions of England and should have been Champions of Europe. The future is blue.
Robert Tressell
40
Posted 20/04/2022 at 10:06:37
Seems logical to stick with a winning side. This means some of the less popular players will feature but we need some consistency.
Calvert-Lewin is probably the biggest question mark. I still favour him over Rondon even despite the lack of form. Hopefully the break will have allowed him time to get his mojo back.
Leicester's team that lost to Newcastle only had about 3 players who you might consider to be nailed-on first-choice – but only Ndidi and Vardy are injured so it looks like they're managing the European schedule.
Still a talented squad though and Daka is exceptionally quick up front.

James Marshall
41
Posted 20/04/2022 at 10:08:19
Stating the obvious here I know, but tonight is such a big game in the context of our season/relegation fight. Sunday we might as well forget it, because I can't see us getting anything at Mordor so tonight takes on even greater significance in my view.
Win this and we're 6 points clear of Burnley. I had a look at our fixtures versus theirs for the last 8 games or whatever it is, and whereas a lot of people have said our run-in is worse, I don't agree. Burnley play games against teams they'll struggle to beat, while we still have winnable home games to come.
Win tonight and it puts a huge amount of pressure back on them to win games, while we can afford to go to Mordor and lose (which I sadly think we will) but still stay up. Only thing I hope for is that we don't get twatted by them - lose by a couple of goals at worst.
Win tonight though, we have to win our home games.
Larry O'Hara
42
Posted 20/04/2022 at 10:16:00
I remember with distaste Benitez slumped in his seat like a discarded supply teacher during the Goodison mauling. What I want to see is some fight, just like Lampard showed here. Love it! https://youtu.be/JHj_4AkvAAU
Kevin Prytherch
43
Posted 20/04/2022 at 10:18:21
I don't see the logic of resting anyone for the weekends game, this one is winnable and we need the points today. I get the notion of not changing a winning team, but we've come unstuck following this notion a few times this season.
That being said, the only change I would be looking to make is to replace Keane. I think Gary (11) has it pretty much spot on (although I'd start Iwobi at the weekend over Doucoure), we need to play to the opposition. Tonight is not a game to sit back and hit them on the counter, so Keane is not suited. The weekend will be that type of game, so Keane will be vital.
Brian Harrison
44
Posted 20/04/2022 at 10:21:27
Danny @39,
As you say, Mourhino was spot-on about Dele's lack of attitude and desire, I can't think of a player whose form has fallen so far in just 3 years.
When we signed him, I thought "At last a goal scoring midfield player" – something we haven't had for quite a while. 2 players tonight playing against their old clubs: Lookman for Leicester and Gray for us, let's hope its Demarai smiling at the end.
I read yesterday that he is over his injuries now and is feeling back to his best, if he does recapture his early-season form, what a boost that will be.
Tony Abrahams
45
Posted 20/04/2022 at 10:22:18
It's a huge game tonight, absolutely massive, but so is having your son home in one piece, Danny, so hopefully you can give him a few extra hugs every time Everton score tonight, mate!
Denis Hignett
46
Posted 20/04/2022 at 10:28:41
Lookman against his old club.
Gray against his old club.
Calvert-Lewin on the bench.

Trevor Powell
47
Posted 20/04/2022 at 10:41:05
Finch Farm Triangle: Players disappear with no real evidence of their fate. Recent disappearances include the obvious unnameable one, El Ghazi, Patterson, Tosun and now Dele Ali there might be more! Without doubt, the most mysterious is Ali, are we still paying him wages and when can we ever hope to see the so-called "Form is temporary, but class is permanent" scenario kick-in?
Eddie Dunn
48
Posted 20/04/2022 at 10:48:49
I would keep the same team as for United and I think Frank will not risk Mina from the start. The only issue is whether he thinks Van de Beek can do a job.
Watching the lads in the training video, I thought DCL was looking very sharp.
Let's hope for another three points.
Frank Thomas
49
Posted 20/04/2022 at 11:47:16
Playing Mina from the start is risking losing him for the rest of the season. He will be playing with 10 very fit opposition players and he will have to stretch and strain his muscles in a far tougher way than his 'light' training has been doing. Bring him on with 20 mins left.
I think Ajay (3) is correct dropping players from a winning team will tell all the players I have 'my team' vision and players like Branthwaite (who Man Utd are interested in buying) are not in that team.
I am not sure if I would play Grey against his old team. The defenders will know almost all of his moves.
Please play Dobbin to at least see how he teams up with Richy and maybe he could become a derby legend in his next game.

Robert Tressell
50
Posted 20/04/2022 at 11:59:47
Frank, I would like Dobbin to play a part too. Would be great to see him channel his inner Cadarmarteri against the RS too.
Let's see how DCL does tonight though.
Mark Ryan
51
Posted 20/04/2022 at 12:10:30
Such a huge game this. Win it and we can bring back even more confidence to the usual nervous shell-shocked players we have seen recently. Lose it and the site will be full of "we're going down" and the players will be well and truly rattled. They have their sights on bigger things Leicester. They are there to be taken. We need to be on the money tonight. A massive, massive game for Everton FC
Christy Ring
52
Posted 20/04/2022 at 12:24:08
Another massive 3 points are needed tonight, so play our strongest 11. Mina has been training for the last 10 days, he's fit, play him. I know Iwobi played his heart out against Utd, but Delph, Allan and VDB further forward is a better balance in midfield, and he can link up with Gordon, Richi and DCL. Worry about Sunday after we hopefully win tonight. No back 5.
Sam Hoare
53
Posted 20/04/2022 at 12:47:05
Think you have to reward the team that played well against United.
The big question marks over whether DCL deserves to retain his place and whether Mina should be rested. Both a 'yes' for me. DCL has been terrible since he came back but it was a long time out and we need to give him opportunity to play himself back into form, tell him to run his arse off and sub Rondon on the moment it looks like he's stopped doing that. And much as i'd like to start Mina, his injury record suggests it would be wiser to phase him in. He can be a huge player for us in this crucial batch of games so maybe sub him on for 20-30 mins if we have a lead to hang onto (or need a set piece goal?).
We will not be safe if we win tonight and we will not be relegated if we lose. All the matches are big from here on in. I'm sure the players will be up for it but I hope FL gets the organisation and tactics right. Leicetsre have some very good players so we'll have to find the balance between letting them find their groove and pressing them so high that it affords them space between the lines or in behind. Keane vs Daka/Vardy could go badly.
John Raftery
54
Posted 20/04/2022 at 12:52:57
First and foremost we need to make ourselves hard to beat by staying as strong in defence and keeping a clean sheet as we have done in the last two home matches. The notion we can dominate possession against a team adept at playing on the counterattack is flawed. We beat Man United with only 32% possession. We can do the same tonight.
David Thomas
55
Posted 20/04/2022 at 13:05:45
DCL out injured and is a doubt for the derby now as well.
John Hall
56
Posted 20/04/2022 at 13:12:55
Play the best team tonight (including Delph, Mina and Coleman) and get the win.
For Sunday, just play the kids and keep the others fit for other games. After all... Frodo was successful in Mordor, wasn't he?
Laurie Hartley
57
Posted 20/04/2022 at 13:18:43
David # 55 where did you get that from?

Kieran Kinsella
58
Posted 20/04/2022 at 13:29:50
Laurie
It's all over Twitter. TBH is no loss with his form
Tom Bowers
59
Posted 20/04/2022 at 13:42:41
Given the horrible season we have had there are lot's of unanswered questions surrounding the non-selection of players who for some reason cannot get a start despite many others failing to have any impact.
Yes, we know injuries play a big part but only Lampard know's why he leaves the likes of Alli and El Ghazi off the field.
Sure they had become bench players at their clubs but there time at Everton has become a big waste of time.
We have a reputation for years of signing many players who fit this bill who become quickly forgotten after one or two games.
If DCL is injured again I think we have to assume that he will be let go along with Richie if only to get some money in the bank for new signings next year.
The question has to be, why ?
Derek Thomas
60
Posted 20/04/2022 at 14:01:04
DCL?
1) Diplomatically injured, aka, dropped.
2) head is all wrong over his move to Arsenal...or wherever.
3) Actually is Injured - Everton That.
4) Rested for The Derby
Bill Griffiths
61
Posted 20/04/2022 at 14:09:46
See you at the Oak Brian.
Kevin Molloy
62
Posted 20/04/2022 at 14:37:45
I wouldn't be too confident of a move to Arsenal if I was DCL. He's been horrifically bad now for months, Now that could be down to the injury, but that's cold comfort to Arsenal, who may also be changing managers in the summer.
I suspect his poor form is down to him hearing the words 'quadriceps' mentioned in connection with his current injury and looking across the dressing room to our German central midfielder (what's his name?), and thinking 'that aint gonna be me'.
Steve Shave
63
Posted 20/04/2022 at 14:42:07
This is a winnable game, COYB.
Jay Harris
64
Posted 20/04/2022 at 15:07:50
Bad news about Dominic as I felt he was due a good game and a goal but recently Gray Richy and Gordon have looked a better combination.
I think Delph settles the defence more than any othe MF player we have so unless an injury risk (?) I would play him alongside Allan and Doucoure with VDB on as sub.
Yerry is the big question mark but he has had a long rest and Michael Keane does not have the concentration or pace at this level.
Graeme Beresford
65
Posted 20/04/2022 at 15:10:31
Wouldn't surprise me if Arsenal or Newcastle have agreed a deal with DCL already and he's been told by his agent or the other club, you can't play 'x' amount of games for Everton the rest of this season.
I get injuries happen but how can we keep having week/2 week long breaks, then it emerges that Dom has hurt himself in training. It seems to of happened since December. He went in for an operation during the International break on his toe. Next thing he's been out for 4 months with other injuries. He's either become made of glass in the last 6 months or Everton aren't managing him correctly in training. Either way, something smells fishy to me and usually if you go with your gut feeling, you're correct…. My gut feeling is telling me he's defo off in the summer, probably already signed and agreed.
Derek Moore
66
Posted 20/04/2022 at 15:28:47
Graeme Beresford (#65) makes a very cogent argument. I can't fault his line of thought or find any flaws in his deductive logic worth mentioning.
I'd really like to think that this is a Claytons injury and DCL is largely out due to his form and effectiveness.
But it does seem rather more likely that heading into a summer where the club knows it must sell players - even if we stay up - the club is effectively wrapping one of the few pieces that might fetch a return in cotton wool.
If DCL has indeed been shut down, and shoves off to Arsenal or similar in the offseason how would TW feel about that? The abuse Lukaku used to get for "downing tools" here was scathing, numerous and highly vitriolic.
If this indeed comes to pass, would DCL be treated in the same manner?
Mike Gaynes
67
Posted 20/04/2022 at 15:28:54
Stunning news about vdB buried in Lampard's comment:
"...he's had a baby girl last week so it's nice to have him back in the squad."
Obviously how much he plays tonight will depend on how difficult his labor was.
Sorry about the clanker humor, I'm just giddy about Mina's return.
Another 1-0 would be wonderful.
Derek Moore
68
Posted 20/04/2022 at 15:36:35
A bit of clunky humor never went amiss Mike G!
Chag pesach kasher vesame'ach as well by the way.
I-0 would be a perfect passover present. Here's hoping.
Michael Lynch
69
Posted 20/04/2022 at 15:37:25
Word is that DCL has been dropped by Lampard after turning up late for training.
It just gets worse doesn't it?
Robert Tressell
70
Posted 20/04/2022 at 15:37:57
I'm not sure why it's so implausible that DCL is just injured. He had a bad injury, hasn't been the same since, and is now injured again.
DCL might be of interest to Arsenal or Newcastle but I expect both might have a handful of targets, some much more glamorous.
Depending on the financial situation at Chelsea I would have thought Lukaku is the player Newcastle will be after.
Mike Gaynes
71
Posted 20/04/2022 at 15:38:08
Tom #59, that has mystified me too ever since Dele and El Ghazi arrived. These are both players who are capable of having an impact in the last 20 minutes of a game. Gotta wonder what Frank is seeing in training that makes him doubt it.
It's a year ago next week that El Ghazi beat us at Goodison with a spectacular strike. Time for him to square that account, but he can't do it from the bench.
Michael Lynch
72
Posted 20/04/2022 at 15:43:41
My source for the late for training rumour turns out to be very dodgy. Nothing to see here etc
Bill Whity
73
Posted 20/04/2022 at 15:59:29
Anybody know who is streaming tonight's game

Derek Moore
74
Posted 20/04/2022 at 16:02:18
Bill (#73), the game has
not
been selected for broadcast in the UK.
If you are in the UK you may have to avail yourself of an internet stream or listen on the wireless.
Denis Richardson
75
Posted 20/04/2022 at 16:05:27
Just as important a game as Manu with our following games being Liverpool and Chelsea. Could easily lose both, will most likely get battered in the first. Anything but a win will be a big boost to Burnley before their game against Southampton tomorrow.
Leicester are safe with only an outside chance of 7th so hopefully some of the players will be on the beach already.
Huge effort needed and I expect the crowd to be the 12th man again. A win and Burnley will be crestfallen and would also give us a massive physiological boost as we'll be over 30 points.
Fingers crossed. Finishing line not far off.
Mike Gaynes
76
Posted 20/04/2022 at 16:08:39
Same here. USA Network has chosen Chelsea/Arsenal. Our game is online on Peacock.
Nicolas Piñon
77
Posted 20/04/2022 at 16:18:52
Thanks Lyndon
Just weird not even seeing the guy on a picture or video as now with iwobi more centralized he could be somehow useful. Who knows anyway...? Heh

James Hughes
78
Posted 20/04/2022 at 16:45:27
It's the win tonight for us. The Old Lady under lights (ish) midweek game, the 12th man on song.
I really can't see a problem, well maybe a few I am ignoring.The boys will not let us down and we will be a little happier at full time.
Long term we the question needs to be addressed is WHY we are in this position again.We think we know why and guess the rest, however the board needs to get it's act together for next season.
UTFT
Paul Cherrington
79
Posted 20/04/2022 at 16:47:30
Another massive game (as they are all are right now) and one I really hope we win. I just think another victory will not only give us so much confidence moving forward after the Man Utd game but also maybe see us okay hopefully.
Would mean we went 6 ahead of Burnley if my maths is okay – just cannot see them making that up before season end. Wouldn't fiddle with the set-up or personnel too much from the Man Utd game – especially in midfield which looked much better in that game. I know it's injuries/fitness permitting but wouldn't change too much if I was Lampard.
Dale Self
80
Posted 20/04/2022 at 17:10:13
Good stuff James, keep it going.
Bill Gall
81
Posted 20/04/2022 at 17:11:08
I will be watching on DAZN in Canada, still very nervous over the next 2 games. Been let down so many times my confidence is shredded so no forecasting the future. have to take it game by game.
Ralph Basnett
82
Posted 20/04/2022 at 17:12:23
Heard DCL dropped due to issues with training, late and lack of enthusiasm.
Acting up to get out!!!
Brian Murray
83
Posted 20/04/2022 at 17:20:13
James post 78 survive or not the board needs replacing, certainly two of them. Pronto
Mike Gaynes
84
Posted 20/04/2022 at 17:24:10
James #78, everybody knows the management issues at the club, and there is much to be addressed there, but there are five very specific reasons why we're in this position.
1. The owner hired the wrong manager last summer.
2. Both of our attacking midfielders were suddenly gone.
3. Our leading scorer has missed most of the season through injury.
4. Our best central defender has missed much of the season through injury.
5. We have Mason Holgate.
Jim Bennings
85
Posted 20/04/2022 at 17:34:05
We need to move DCL on this summer, if we do get a serious offer for him.
I don't know if it's true or just a cover story (believe it or not they do happen in football) that he's injured again but if he is then I think at 25 he's arguably not getting back what he had.
It may seem insane but many players best years were done by their mid 20's.
Robbie Fowler and Michael Owen two very good examples of injuries curtailing their career by 25/26 years old.
I can't seriously see Dom going 4ft off the ground again now for headers like he once did, and if you take part of that away from his game there's not much left.
If a good offer comes in then we need to consider it, don't leave it until August though.
Jonathan Tasker
86
Posted 20/04/2022 at 17:36:23
Dcl is league one. Can't comprehend why Arsenal want him.
Yet again. Dele Alli is totally finished. He won't play 20 games. Everton won't be paying any money to anyone
Jim Bennings
87
Posted 20/04/2022 at 17:43:10
Jonathan
I think I agree to be honest.
I can't see Dele Alli being here next season, can see him going to Palace or something like that.
We've said it many summers but really this has to be the one where we find new clubs for the likes of Tosun, Gomes, at least one of Holgate, Kenny or Keane.
Add to the fact that Sigurdsson and Townsend will maybe never play for Everton again also.
We can't sit about being sentimental and we need to somehow bring in three quality players in the spine of the side, top defender, creative goal scoring midfielder and a technically accomplished striker.
Dale Self
88
Posted 20/04/2022 at 17:50:55
Mike, an addendum:
1a - Owner didn't start looking for a new manager when Zizou was in trouble at Real. Everyone knew what was coming and this git waited to select a divisive figure when others would clearly have been interested. Signed the contract and didn't evaluate the situation with any football or business acumen that his CV ostensibly claims he possesses. It was almost as if he had more important things to deal with in the near future like maybe a reorganization of his other matters.
Jack Convery
89
Posted 20/04/2022 at 17:53:46
If DCL is out then play Richy as CF and bring in Gray.
Go with
Pickford
Coleman
Mina
Godfrey
Mylolenko
Allan
Delph
Iwobi
Gray
Richy
Gordon.
and Have El Ghazi on the bench - you never know.
Gary Jones
90
Posted 20/04/2022 at 17:56:43
If it's true DCL is injured or punished for being late, then either way it's time to write him off until the summer. We simply cannot afford him to take another 2-3 games to 'find his form' in the position we are in.
Get Gordon and Gray in the 3 and put Richie up top, and if that ain't working bring Dobbin or Rondon on and give them their chance. I prefer the former personally, but given DCL contribution this season neither will be a step down.
Dave Abrahams
91
Posted 20/04/2022 at 17:57:14
Jonathon (86), regarding Dele Alli, Everton will be paying him round about £5M in wages per year for the next two seasons unless they get rid of him in the summer and I can't see any club paying him that much in wages even if they got him on a free transfer so I think we are stuck with him.
Mike Gaynes
92
Posted 20/04/2022 at 17:57:43
Jim #87...
"...we need to somehow bring in three quality players in the spine of the side, top defender, creative goal scoring midfielder and a technically accomplished striker."
Gee, is that all? Sure you don't want to order a couple of speedy wingers and maybe a good-crossing fullback while you're at it?
Bill Gall
93
Posted 20/04/2022 at 18:12:58
Problems for next season if we survive. To sell players we don't want and there are quite a few.
The majority are under contract and unless they ask to be moved they will stay. Any player who the club get an offer for, not only does the club have to except the fee they are quoted, the player has to agree on the terms his agent negotiates for him, and that is the problem Everton are having in trying to sell some of the known deadwood, they are getting more by staying than going. the only other way is if their contracts run out.
Another problem will be the FFP.
Matt Henderson
94
Posted 20/04/2022 at 18:17:40
If DCL is out he has to start Rondon. Moving Richie to centre forward weakens us on the left and does not improve us in the striker department (Richie has been no better than DCL as a striker) so will weaken us overall. Rondon may not be everyone's cup of tea but playing him allows us to retain our strongest formation elsewhere and I do not think he will be much worse than DCL has been of late.
Pete Hughes
95
Posted 20/04/2022 at 18:18:46
Mike Gaynes@92
Why the childish sarcastic reply to Jim bennings post at 87?
He was just saying SOMEHOW we have to find these players!
Doesn't mean he believes we will get them does it? Jeez!
Brian Murray
96
Posted 20/04/2022 at 18:23:25
Yanks maybe just got out of bed wrong side ( time difference!
Christy Ring
97
Posted 20/04/2022 at 18:38:21
If DCL is injured again, fair enough, but if it's his attitude, totally despicable, let's wait and see.
Alan Curbishley made a great point today, ' In the last decade Liverpool have better footballing people, and they know when to be ruthless, and everyone there is on merit, unlike at Goodison Park where certain people seem to have jobs because they are popular with board members, a culture change is needed at the club. Spot on.
Eddie Dunn
99
Posted 20/04/2022 at 18:46:12
I wouldn't slag DCL off until real knowledge is available. I watched the training video and he looked fantastic, scoring with both feet and sharp.

He could quite simply have an injury. Let's see. If he is out, then rather than play Richie as a striker, I would give Rondon or Dobbin a game.
---
Add Your Comments
In order to post a comment, you need to be logged in as a registered user of the site.
Or Sign up as a ToffeeWeb Member — it's free, takes just a few minutes and will allow you to post your comments on articles and Talking Points submissions across the site.