Everton FC Board of Directors
The Chairman
Bill Kenwright CBE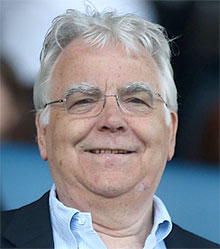 One-time small-part actor on Coronation Street, now a nationally renowned theatre impresario, Kenwright is a life-long Evertonian who led a successful takeover over the club in 1999, five years after his first consortium was edged out by the superior financial muscle of his predecessor at the Goodison helm, Peter Johnson.

He was first elected to the Everton Board of Directors on 23 October, 1989 but succeeded in buying Everton when Johnson was persuaded to sell his controlling stake in the face of mounting opposition to his regime from supporters and the local press.

Kenwright initially struggled to orchestrate the buyout of his disillusioned nemesis, the affair dragging on for many months, but in concert with personal friend, Paul Gregg, a controlling interest in Everton was purchased through a holding company, True Blue Holdings (TBH). Bill initially decided to take the title Vice-President and installed former supremo, Sir Philip Carter, as Chairman but eventually took the helm himself in 2004 when Carter became Life President until his death in 2015.

From 1 June 2004, the power of TBH control on the Board was consolidated when Sir Philip Carter and Keith Tamlin stood down, leaving a compact entity of just four directors — three of them prime investors in TBH — with Bill to steer the ship as the new Chairman. TBH actually owned the vast majority of ordinary stock in Everton FC Co Ltd until it was dissolved in 2005. Shares held in TBH by the key parties were then converted to Everton FC shares, with Kenwright holding 25%.

The changes came on the back of a highly public spat between Kenwright and Gregg, ostensibly due to differences over how to move the Kings Dock project forward. The project was ultimately scuppered by an unmanageable rise in Everton's required financial commitment to the development, with Bill rejecting Gregg's last-ditch attempt to save the project via a reverse mortgage scheme that the latter argued was the only way the club's winning proposal could move forward. The scheme collapsed and an alternate plan to build the Echo Arena was developed instead by others.

The schism was complete when Gregg as forced off the Board, persuaded to sell his stake in the club to another Kenwright friend in the form of entertainment mogul, Robert Earl, of Planet Hollywood fame. Earl bought the Gregg family shares for around £9M in October 2006. This was the breakthrough for Kenwright, who could finally run the Club as he wanted to, unhindered by the opposition of his former friend.

Though Kenwright's tenure as Chairman would see much-needed stability on the pitch under his personal appointment of manager David Moyes, the club's financial footing was gradually eroded as the Board battled to keep the team competitive on the increasingly un-level playing field of the Premier League. While the club had net assets of £20M when True Blue Holdings acquired Johnson's shares, years of outsourcing and the sale of assets saw net liabilities mushroom to upwards of £90M by 2014.

The club's old Bellefield training ground was sold for £9M but the proceeds were sunk into reducing Everton's overdraft while land acquired in Halewood on which a new training academy and facility were built was sold as well, with the club taking on a 99-year lease of the property. Meanwhile, Earl initially agreed to underwrite loans required for player purchases like Ayegbeni Yakubu in 2007 before a less transparent rolling loan facility was opened with a Vibrac Corporation registered in the British Virgin Islands.

2007 also saw the announcement of Everton's part in a proposed £400M retail and leisure development in neighbouring Knowsley Borough. Led by supermarket giant Tesco, the Destination Kirkby regeneration project promised to transform the town while also providing a brand new, purpose-built stadium for Everton FC. The proposal eventually collapsed, however, when it was called in by the sitting Labour Government.

Everton's part in Destination Kirkby and the dubious enabling component promised by Tesco was met with robust opposition from fan groups like Keep Everton In Our City (KEIOC), members of which, in concert with like-minded fan activists, would continue to use their voice at the club's Annual and Extraordinary General Meetings to challenge the Kenwright Board over its financial performance at Everton's helm.

Kenwright had always maintained that he was the ordinary fan from the Boys' Pen who had "done good" and realised the dream of owning his beloved Blues but maintained he was merely the custodian waiting for someone with deeper pockets and much bigger resources to eventually step in and buy him out. His self-styled "24/7 search" for a billionaire to match the likes of Sheikh Mansour at Manchester City and Roman Abramovich in an increasingly unbalanced English Premier League never materliased, however, and he was challenged on that score during a private meeting with activist group the Blue Union in 2011.

When a full transcript of the discussion was released to the Everton populous by the Blue Union, it revealed that the club was perilously close to the financial precipice but, while the information gleaned gave Evertonians a stark – and arguably valuable – picture of the club's position, Kenwright was incensed and deeply hurt at being betrayed. His response was to end the traditional practice of shareholder AGMs for seven years to cut himself off from further questioning of his regime.

He was aided in the meantime by a historic and unprecedented explosion in the value of the Premier League's domestic and global broadcast rights which were sold for a combined £5B for the period 2013-2016. Having operated for years under Kenwright's tenure at a small annual loss, Everton's turnover suddenly mushroomed by over £30M per year, staving off pressure to sell players from the bank and affording the club the leeway to begin paying off some of its long- and short-term debts.

The long wait for a billionaire to invest in the club and bring both vision and the financial resources to achieve it finally ended in late February 2016 when it was announced that British-Iranian businessman, Farhad Moshiri, was to acquire a 49.9% stake in Everton, a precursor to what was hoped would effectively be a full takeover at a later date. In the process, Kenwright sold half his shareholding to Moshiri for around £23M.

Moshiri increased his holdings in Everton to 68.6% of the outstanding shares in September 2018, acquiring the stakes of Jon Woods and Arthur Abercrombie while Kenwright's position was reduced to 5% on an additional sale of around £12½M.

Kenwright would continue to hold the position of Chairmen of the Board of Directors through a period of unprecedented turbulence with more than six new managers appointed since Moyes left, none of whom seemed able to harness the vast fortune provided by Moshiri, which was frittered away on some truly dreadful player transfers. Kenwright's holding would be further reduced to 1.72% in March 2021 when Moshiri took up the full allocation of anddition 100,00 Everton shares.

Things reached a new low in the 2021-22 season, with Moshiri's appointment of Rafa Benitez that Bill opposed, and which descended into utter farce after starting well before Dominic Calvert-Lewin was injured and Everton slid irrevocably down the Premier League table toward the relegation zone before Benitez was finally replaced by Frank Lampard.
---
The Majority Shareholder
Farhad Moshiri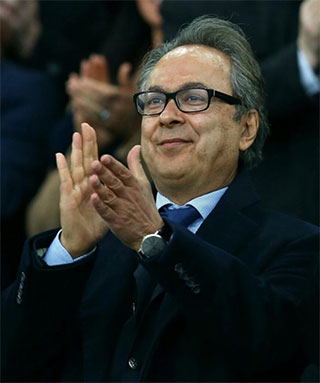 Iranian by birth but a British passport holder who now resides in Monaco, Moshiri purchased a 49.9% stake in Everton on 27th February 2016, an investment believed to be valued at around £85m. In so doing, he became the club's largest shareholder with effective control of the boardroom, although he has thus far elected not to take a seat on the Board as a director.
A chartered accountant by profession, he made the bulk of his fortune through strategic investments in steel and energy companies in the United Kingdom and Russia.
He bought into Arsenal FC alongside Russian billionaire Alisher Usmanov under the banner of Red & White Holdings in 2007 but sold his 15% interest in the London club immediately prior to buying his stake in Everton.
Moshiri moved swiftly in implementing a vision for capitalising on what he saw as a narrow window for Everton to close the gap on what had become an established group of six elite and moneyed clubs in the Premier League. He paid off all of the club's outstanding long-term debt by consolidating it under an interest-free £80m loan and set the wheels in motion for a new purpose-built stadium, eventually securing a land purchase agreement with Peel Holdings for a brownfield site at Bramley-Moore Dock on which to build.
He also set about injecting further capital into the Toffees by way of an unprecedented naming rights deal for the club's training complex in Halewood which, as of January 2017, came to be known as USM Finch Farm under an initial five-year agreement. A new shirts sponsorship deal with betting firm SportPesa to succeed the decade-long association with Thai brewers Chang was also announced at the January 2017 AGM. This was superseded in June 2020 with sponsorship by Cazoo, the online car sales company.
Moshiri increased his holdings in Everton to 68.6% of the outstanding 35,000 shares in September 2018, buying out long-time shareholders Jon Woods and Arthur Abercrombie, while Bill Kenwright sold all but 5% of his holdings. Moshiri then purchased the bulk of Lord Grantchester's stake in June 2019 taking his stake to 77.2%.
At the 2020 AGM, Everton Shareholders approved the issue of up to 100,000 new shares for Farhad Moshiri, with 66,667 being issued to him as a debt-for-equity deal in February 2021. And in January 2022, Moshiri further increased his ownership stake by converting an additional £100M in loans to equity in the remaining 33,333 Everton shares, taking his holding to 94.1%, while removing the club's commitment to hold Annual general Meetings.
---
The Directors
Professor Denise Barrett-Baxendale, MBE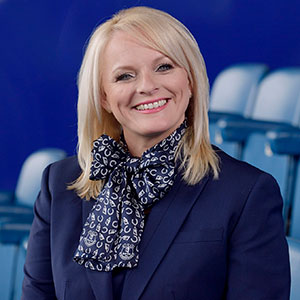 In July 2016, Everton announced that Deputy CEO, Professor Denise Barrett-Baxendale, had been appointed to the Board of Directors. Long considered a potential successor to Robert Elstone as the club's Chief Executive, Barrett-Baxendale has been recognised nationally for her work heading up the award-winning Everton In The Community.
She was announced as the club's new Chief Executive in May, 2018, with her promotion effective 1 June.
Denise was appointed Chief Operating Officer of Everton Football Club in October 2011 and promoted to Deputy Chief Executive in June 2013. Born and raised in Liverpool, Denise lives in South Liverpool with her husband and two children.
Since graduating from university in Manchester, she has held various positions in education, including those at University of Manchester Institute of Science and Technology, Manchester Business School, the University of Chester and a role as Chief Executive of The Fiveways Trust, the first collaborative educational trust in Liverpool.
Grant Ingles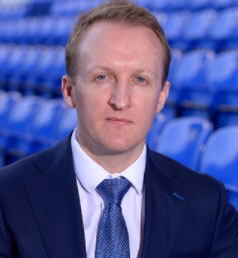 Grant Ingles joined Everton in 2006 on secondment from the Deloitte Sports Business Group where he was a consultant and then joined permanently when he became the Finance Director in 2013. He has also held positions away from the club, including spells as Finance Director at Australian A-League club Sydney FC.
A member of the Everton Leadership Team since June 2018, he joined the club's Stadium Board in 2019 to help steer the construction of Bramley-Moore Dock.
As Finance Director, Ingles was responsible for all financial aspects of the club. 
Graeme Sharp
Legendary Everton striker Graeme Sharp was appointed to the club's Board as a non-executive director in January 2022. In recent years, the Scot had fulfilled an ambassadorial role for Everton before being elevated to the boardroom.
In his role as a director, Sharp utilises the wealth of knowledge of the game amassed over more than four decades to provide valuable input into the club's football strategy.
Club Chairman, Bill Kenwright, said of the news: "We were determined to have someone join us with not only great knowledge of Everton but also extensive football insight and experience."
---
Past Directors
Marcel Brands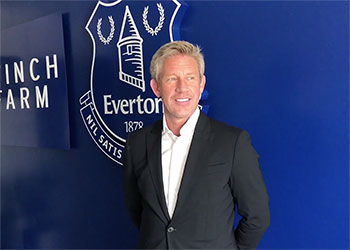 Tempted away from PSV Eindhoven in 2018, Brands's appointment as Everton's new Director of Football was seen as something of a coup and he immediately set about the task of upgrading the Blues' playing squad.
An impressive few months of recruitment that saw six key acquisitions arrive along with new manager Marco Silva. In addition, a raft of fringe players were either sold or farmed out on loan as part of a strategy to pare down a bloated squad.
The Dutchman was appointed to Everton's Board of Directors and handed broader powers covering all aspects of the playing side at the club in January 2019 but the exact nature of his role became much more opaque following the sacking of Silva and the appointment first of Carlo Ancelotti and then Rafael Benitez.
Both managers insisted on having more control over player recruitment which appeared to have the effect of marginalising the Director of Football while the club's losses from player trading continued to escalate. Brands left Everton by mutual consent in December 2021 amid mounting pressure on the Board from supporters unhappy with the running of the club.
Alexander Ryazantsev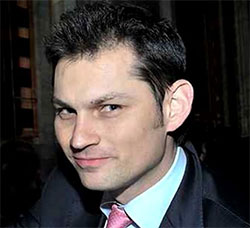 A long-time business associate of Farhad Moshiri, Ryazantsez has a background in corporate finance and has held management positions at the Royal Bank of Scotland and ABN AMRO Bank. Also known by the common nickname for Alexander, Sasha, Ryazantsev's gained a BSc in Commercial Management from Russian Plekhanov University of Economics and an MSc in Finance from the London Business School.
Effective 1st June, 2018, Ryazantsev stepped into a new Director of Finance and Commercial Officer role at Everton but left the Board on 27 August, 2021.
Sarvar Ismailov
The nephew of Russian billionaire Alisher Usmanov, Ismailov initially joined the club as the Commercial Director for Everton Women before being promoted to the Board in the summer of 2021. He left the role shortly afterwards, however, and was later arrested on charges of grievous bodily harm following an incident in London that occurred in June of that year.
Dr Keith Harris
A somewhat surprising appointment to the Everton Board in October 2016, was football's financial "Mr Fix-It" who has a mixture of success and failure on a checqured resume stretching back many years in English Football. Harris was famously commissioned to either find new investors or new owners for Everton in the years after the collapse of Destination Kirkby, only to claim that geography and he presence of Everton's red neighbours made the task difficult.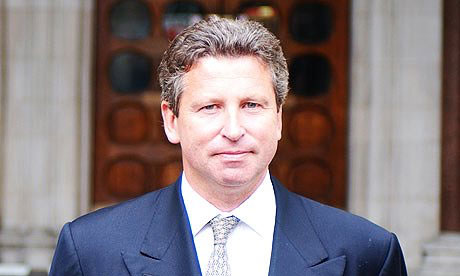 Harris was previously chairman of the Football League and spent six years as Director of Wembley National Stadium until 2007 but became noted as a broker in the sale and purchase of a number of football clubs, among them Chelsea, Crystal Palace, Swansea City, West Ham United, Aston Villa, Fulham, Manchester City, and is credited with bringing Farhad Moshiri to the table at Goodison Park leading to his purchase of a 49.9% stake in the Toffees in February 2016.
Effective 1st June, 2018, Dr Harris became Everton's Deputy Chairman and had been charged with leading Everton's plans to relocate to a new stadium Bramley-Moore Dock. Dr Harris left the Board of Directors in July 2019.
Jon Woods
After selling his Ocean Software company, Jon Woods joined the Everton Board by virtue of his role as a major investor in Bill Kenwright's True Blue Holdings. He was a loyal supporter of Kenwright's and for a long while, his low profile successfully averted the venomous opprobrium many fans reserved for the likes of Paul Gregg around the time of the failed Kings Dock proposal in 2004.
Woods eventually sold his stake in the club when Farhad Moshiri became the majority shareholder and de jure power broker in September 2018. Woods left the Board of Directors in July 2019.
Robert Elstone
A former director at BSkyB and Deloitte and Touche and ex-Executive Assistant at the Rugby Football League, Elstone served as Deputy CEO at Everton until the departure of Keith Wyness in 2007.
He was then appointed as Chief Executive Officer in his own right but was not officially named as a member of the club's Board of Directors until 10 March 2016.
Elstone stepped down as the club's CEO and as an Everton director effective 1 June, 2018 to become chief executive of Rugby Super League.
Robert Earl
A leisure and entertainment mogul most famous for founding Planet Hollywood in 1991, Robert Earl was officially named as the man who purchased former Director Paul Gregg's stake in Everton for around £9M following an increasingly bitter schism with Chairman Bill Kenwright in 2006.
A personal friend of Kenwright's, billed as an energetic presence who could enhance the club's prospects and visibility, particularly vis-a-vis the proposed leisure components of the Destination Kirkby scheme, Earl did not initially take a seat on the Board of Directors but he was eventually voted on at a meeting of 18 June 2007, with ratification coming in late July.
Though reputed to have been heavily involved with the Kirkby project behind the scenes, Earl remained elusive as a publicly active member of the Everton hierarchy. He attended his first Everton game, versus Reading in 2007 accompanied by a flag-brandishing Sylvester Stallone but subsequently vanished behind the curtain again, particularly when the Kirkby scheme was called in by the Government in 2009.
In his 9 years as an Everton Director, he probably holds the record for having the least conceivable involvement with the club, finally selling all his shares to Farhad Moshiri via a new holding company, Blue Heaven Holdings Ltd in February 2016 for an estimated sum of £40M, for an impressive average APR of 17.4% return on his Everton investment.
Sir Philip Carter, CBE
Sir Philip joined the Everton Board in 1975 when he was drafted into the club by Sir John Moores following success as a one-time senior executive at Littlewoods. Previously Everton Chairman from 1978 to 1991, encompassing Everton's most successful period, Sir Philip was reputed to be a straight and honest man, one of whose most endearing qualities was his loyalty.
During his time as chairman and under the guidance of Howard Kendall, with whom he famously kept faith in the face of calls for his dismissal, Everton won the League title in 1985 and 1987 and lifted the FA Cup and European Cup Winners' Cup.
He was president of the Football League from 1986 to 1988 and played a leading role in the formation of the Premier League. Reappointed Chairman of Everton when Peter Johnson stepped down on 1 December 1998, with architect of the move Bill Kenwright initially taking up the post of Vice (later Deputy) Chairman. He spent another six years on the Board before retiring in 2004, age 78 and was named Life President of Everton FC.
He passed away 11 years later in April 2015 at the age of 87 following a short illness.
Unfortunately, many of the fans are not so impressed with his prime credential as far as the current and recent history of Everton is concerned: the demise of the club as a real footballing force during the last 10+ years, over which he has presided.
The staunch Conservative is viewed by many fans to epitomize the problems with the Everton Board: conservative, behind the times, lacking in ambition, condescending, and grudgingly unappreciative of the fans themselves.
Former CEO Keith Wyness was elevated to the Board in 2005 and was an instrumental figure in the controversial and ultimately doomed Destination Kirkby venture that proposed a new 50,000-seat stadium for Everton in neighbouring Knowsley Borough.
An ex-Scottish businessman, who was chief executive officer of the Scottish Premier League club Aberdeen following a role in marketing the 2000 Olympic games in Sydney, Australia, Wyness's tenure as Chief Executive at the club was notable also for his outsourcing efforts aimed at reducing costs – he initiated the catering contract with Sodexo and a merchandise retail deal with JJB Sports – and the sale of the club's old Bellefield training ground.
He also oversaw the acquisition of David France's collection of memorabilia that formed The Everton Collection, described by Sothebys as the "most important football memorabilia collection in the world".
Given how it was criticised for its requirement that the club move six miles from its roots in north Liverpool and ultimately discredited as being financially viable for the club, it was natural that Wyness' legacy at Everton was interwoven with the doomed Kirkby proposal and it was no surprise that he left his position not long after the scheme was called in by the Government.
Paul Gregg
One-time millionaire British boss of US entertainment giants SFX, subsequently selling out to Clear Channel, he was a major investment partner with Bill Kenwright in the ultimately successful bid to oust Peter Johnson from Everton at the end of the 1990s. A personal friend of Kenwright's for over 30 years, he was brought in to the club apparently as a personal favour to provide business support.
In response to direct questions at the 2000 AGM, Paul Gregg acknowledged that he has no real background in football, but he was impressed with the passion and desire of the club and the fans. He took a key role in pushing forward the Kings Dock project as a major business enterprise, only to see it fail because (as many claimed) he was unprepared to underwrite the project to the tune of £30m, coming up instead with a "reverse mortgage" deal that had many convinced he was somehow set to double-cross the Club out of millions in a cunning financial scam that was ultimately rejected by the Everton Board.
Evertonians, annoyed by the thought of Paul Gregg's mega-millions not being put to good use in the interests of their club, turned on him en masse, believing he was only in it for the money, and had no intrinsic love for Everton (duh!). These feelings were confirmed by what was seen as an ultimate betrayal when Paul Gregg went on to promote an alternative project for Kings Dock that did not include a new Everton stadium. Er... what else was he supposed to do?
Rumours that Gregg wanted £18m for his True Blue investment (worth at best perhaps £10m) only reinforced his low image that had been pushed for all its worth by certain portions of the fan base, taht of him being a greedy leech determined to make a profit on the back his friend's perilous venture.
Gregg's disillusionment manifested itself in self-imposed exile, as he failed to attend a game at Everton all throughout the disastrous 2003-04 season. And then, to everyone's surprise he popped up in Thailand to secure the shirt sponsorship of Chang Beer. That was quickly followed by a growing public persona as he set the scene for a showdown with Kenwright over the question of power and control, as embodied in True Blue Holdings. That led to the dissolution of TBH in 2005.
After continuing on occasions to question publicly some of the decisions and direction in which Kenwright was leading the club, Paul Gregg finally agreed to sell his shares and leave the Board in October 2006.
Anita Gregg
Part of the original gang of investors behind TBH, Paul Gregg's former wife joined the Everton Board in 2004. She maintained a low public profile but the perception was that she supported her ex-husband in his efforts to push the Club forward after the fall out with Kenwright. She left the Board in October 2006, when her shares and those of her husband were sold to Robert Earl's front-company, BCR Sports.
Arthur Abercromby
A Liverpool builder who came into the club after Peter Johnson's 1994 takeover. Originally, he had belonged to the Tony Tighe / Tom Cannon consortium but changed sides when Bill Kenwright did, thereby being able to join the board without having to make a major investment. A committed Evertonian, Abercrombie was particularly responsible for overseeing the potential development of Goodison Park or a move away during his tenure.
He resigning from the Board at the height of summer 2004 meltdown over the failed Kings Dock project but would retain a significant shareholding in Everton until 2018 when he sold his stake to Farhad Moshiri.
Keith Tamlin
Re-elected to the Board in September 1998. Apparently not very popular but he is possibly the only director who puts any appreciable work into the club, having the role of overseeing youth development and possibly deserving some credit for Everton's successes in this area. In the summer of 2003, he was seen in his shirt sleeves, getting down and dirty in support of the young Everton teams competing in the Milk Cup in Northern Ireland. He left the Board along with Sir Philip Carter at the end of May 2004.
Lord Grantchester
aka John C Suenson-Taylor, educated at the London School of Economics, now a wealthy gentleman farmer in Cheshire. He was the last of the Moores family on the board although he does not have the wealth of his grandfather, Sir John Moores. A quiet, mild-mannered man, he gives the impression of lacking drive. In private, he was critical of the Johnson regime but by his public silence, seemed to give it legitimacy.
He was inhibited in Bill Kenwright's take-over manoeuvres by the reluctance of his mother, Betty Moores (daughter of Sir John Moores) to see Peter Johnson profit further having been sold the club at a knock-down price because he had convinced the Moores that they were letting their beloved Everton go to a reliable owner.
Lord Grantchester declined to put himself forward for reelection at the 2000 AGM, citing business reasons. However, there are rumours that he left because Bill Kenwright rejected his numerous offers of financial help during or after the takeover by True Blue Holdings. And the rumours have continued since, fueled by the belief of many Everton fans that Lord Grantchester would happily underwrite a massive venture into the transfer market in support of David Moyes, if only Bill Kenwright would swallow his pride and allow the Moores Millions to once again revive a flagging Everton...
The former owner of Tranmere Rovers, a Wirral millionaire hamper magnate of Park Foods Ltd and boyhood Liverpool fan, Johnson led a successful takeover of Everton in 1994 when his deeper pockets proved more attractive than a consortium led by Bill Kenwright.
Johnson promised significant investment in the club to first back new manager Mike Walker in the transfer market – he ended up having to sack him instead just three months into his first full season as boss – and then to capitalise on the Toffees' FA Cup triumph at Wembley under Joe Royle in May 1995. Big-money arrivals like Daniel Amokachi, Duncan Ferguson and Andrei Kanchelskis and concerted but failed effort to land Stan Collymore from Nottingham Forest for £8m signalled that Everton might finally be able to get back to where they belonged among the domestic elite but things had soured within three years.
With further success elusive, Johnson's relationship with supporters began to sour when his plans to relocate the club first to Aintree and then Cronton Colliery fell through and it became apparent that he was funding player transfers by accumulating debt which he moved to eliminate with the hugely unpopular sale of Ferguson in November 1998.
Eventually, Johnson voluntarily stepped down as Everton Chairman to become a non-executive director following a clash with manager Walter Smith over that controversial transfer of Ferguson to Newcastle United for £8m. Johnson accepted Bill Kenwright's share purchase offer from True Blue Holdings in March 2000 and he left Everton, later ending up back as supremo at Tranmere.
Clifford Finch
The Commercial Director under Peter Johnson's, the ex-Park Foods Chief Executive had a reputation for being the hard man of the Everton regime at the time which allowed Johnson to appear as the mild-mannered gentleman.
Though he became a focal point for the ire of fans dismayed by creeping commercialism (epitomised by such trifles as Everton lemonade, the foam "Dixie" mascot and sponsorship tie-ins with Park Foods products like DJ Spuddles crisps) and the controversial sale of Duncan Ferguson in 1998, his biggest contribution to the club would long outlast his tenure on the Board of Directors. Finch was the impetus behind the first Everton Megastore across the street from Goodison Park on the corner of Walton Lane and Langham Street that was late renamed Everton One when a second megastore was opened in the Liverpool One shopping complex in the city centre.
Finch left Everton's Board of Directors in May 1999 and was followed by the end of the year by Johnson after he sold his stake in the club for the same price'd paid five years earlier. Cliff later sold the bulk of his shares in the club but remains a committed Evertonian and shareholder.
Sir Desmond Pitcher
Financial Director, controversially re-elected at the 1997 AGM, but subsequently dropped at the 1998 AGM, when Peter Johnson again reduced the size of the board. Sir Desmond would go on to play a major role in one of the teams looking to develop the ill-fated Kings Waterfront Project.
Before the AGM in December 1997, Peter Johnson used his power to reduce the size of the board from 10 to 8 members. The two board members selected to go in this strategic move were:

Dr David M Marsh
Previous chairman, resigned from the Board in November 1997.
Richard Hughes
Financial Director (also with Park Foods) – resigned in November 1997.
Other past members of the board include:
David Newton
Left the Board in October 1995.