Ronald Koeman
2016 – 2017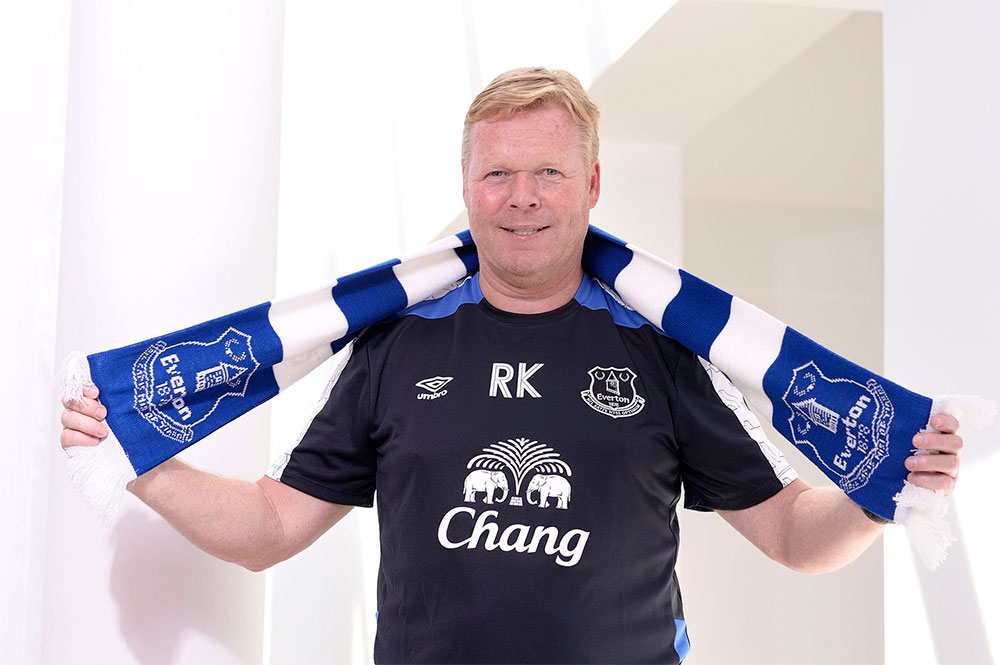 In the immediate aftermath of Roberto Martinez's sacking, Ronald Koeman was immediately installed as the favourite to replace the Catalan following simultaneous reports in almost all of the national newspapers that he was the man that new investor Farhad Moshiri had pin-pointed as the man to lead Everton forward.
The British-Iranian billionaire had taken the lead in dismissing Martinez after a run of awful results had capped two disappointing seasons and Moshiri was similarly decisive in first earmarking the Dutchman as his preferred successor and then making sure he secured him despite an initial reluctance to leave Southampton.
It took some tough negotiating with the south coast club who were hugely reluctant to lose him but a reported deal worth £5m to bring Koeman, his brother Erwin and fitness coach Jan Kluitenberg to Goodison Park was eventually hammered out in early June 2016. He was finally announced as Everton's seventh managerial appointment of the Premier League era during the first week of Euro2016 in France.
A versatile defender as a player who came to embody a powerful combination of sweeper, deep-lying playmaker and goalscorer, the Zaandam-born coach is the son and brother of fellow Netherlands internationals Martin and Erwin Koeman respectively. he made his name in his native Holland, particularly after moving from Groningen to Ajax in the mid-1980s where he won the Eredivisie title in 1985 before moving on, somewhat controversially, to rivals PSV Eindhoven the following year. That brought him three successive championships between 1987 and 1989 and a European Cup.
It was the recognition he earned there and on the international stage for the Netherlands — he was an important member of the Dutch side that won the European Championships in 1988 — that earned him a career-defining transfer to Barcelona and a reunion with Johan Cruyff. Barça's "Dream Team" of the early 1990s would win the Spanish title four years in succession between 1991 and 1994 and the European Cup in 1992 when Koeman famously scored the only goal in extra time.
A shining example on the field, it was no surprise that Koeman moved into management not long after hanging up his playing boots and undertaking assistant manager roles under Guus Hiddink for the Dutch national team and at Barcelona under Louis van Gaal. He took his first post at Vitesse Arnhem in 1999 and led them to Uefa Cup qualification under difficult conditions before moving on to his old club Ajax in 2001.
There, he steered de Godenzonen to the Dutch title twice in three seasons and helped bring through some of that club's — and indeed Holland's — most recognisable players from the past decade, including Rafael van der Vaart, Wesley Sneijder, Nigel de Jong, and ex-Blue Johnny Heitinga but he resigned in 2005 with Ajax well behind PSV in the race for the title and out of the Uefa Cup.
He spent just one season at Portuguese giants Benfica, leaving after managing them to a third-place finish to take up an offer to manage his former club, PSV. He won the Eredivisie title in his only season in Eindhoven but it was a championship his team almost spurned after a collapse in form in the second half of the season and, facing criticism from the club's owner, he moved on to succeed Quique Sanchez Flores at Valencia in the summer of 2007.
His experience in Spain was a chastening one with the team falling from near the top of the league to 15th and Ronald was sacked just days after winning the Copa del Rey following an awful run of league form. A win percentage of just 18% in La Liga and a poor showing in the Champions League were enough to have him dismissed with the locals declaring him a disaster.
Koeman wouldn't work for another year until he took the reins from Van Gaal at AZ Alkmaar in 2008 when the elder manager was appointed as Bayern Munich's head coach. He was gone from AZ Stadion by December that year, however, and would spend another 18 months out of the game before completing the same hat-trick of the three big Dutch clubs as he had as a player when he was hired by Feyenoord as replacement for Mario Been.
Initially hired on a one-year contract, he ended up staying for three seasons, turning Feyenoord's fortunes around in impressive fashion by shoring up their defence, getting them back to playing attractive football and leading them back to the Champions League in his first season. He wasn't able to bring the title back to the club, losing out each time to Frank de Boer's Ajax, but he announced his intention to leave in 2014 to pursue his next challenge.
That was when he answered Southampton's call following the departure of Mauricio Pochettino who had been lured away by Tottenham Hotspur and the bright lights of the Capital that summer. However, he would find himself in charge of a squad gutted of some of it's best players — most of their stars left for big fees for Liverpool, Manchester United and Arsenal — and widely tipped for a relegation battle in 2014-15.
Defying those pessimistic predictions for the Saints that season, Koeman's impact was as impressive as it was rapid. Quickly helping to bring in talented or hard-working players like Graziano Pellè, Dušan Tadić, Shane Long and Ryan Bertrand to plug the gaps and implementing a fresh 4-3-3 line-up involving two wide players and Pellè as the target man, he had Southampton up among the early pace-setters in the Premier League within weeks of his appointment.
It was a pace they were ultimately unable to sustain but Koeman still steered them to seventh place and Europa League qualification in his first season and, despite seeing midfield linchpin Morgan Schneiderlin and fullback Nathaniel Cyne sold last summer, we one better by finishing sixth, just three points off the top four.
Seen, therefore, as an ideal man on paper to lead Everton, Koeman's first season at Goodison Park was one characterised by progress, even if there was a feeling that he and his players had under-achieved by the time they coasted to the end of 2016-17 comfortably in 7th place.
The Blues got off to a flying start under the Dutchman, winning four of their first five Premier League games and prompting premature thoughts that perhaps all the squad he inherited from Martinez was a different hand at the tiller.
Koeman hit a rough patch immediately afterwards, a 2-0 home defeat to Championship side Norwich City precipitated an 11-match sequence with just one victory and murmurings of discontent among supporters began as the Dutchman struggled to find a formation and playing style that could produce results.
He appeared to have reached a turning point in mid-December 2016 when a late header from one of his summer recruits, Ashley Williams, sealed a come-from-behind victory over Arsenal at Goodison Park. Everton would stumble in their next home game against Liverpool and lost to Leicester City on home turf in the FA Cup Third Round but went on to win six Premier League home games that had them on the coat-tails of the top five heading into the final month of the campaign.
A collective lack of conviction seemed to set in after that, however, and the team would win just one of their remaining five matches, eventually finishing eight points behind Manchester United in sixth place but a full 15 ahead of Koeman's former club, Southampton.
If there was a feeling that 2017-18 was the season when things would really take off under Koeman, the manner in which Everton began the summer transfer window seemed to confirm it. Huge investments were made in young players designed to build a platform for future success but good deemed enough to slot straight into the team.
Highly-rated goalkeeper, Jordan Pickford, arrived from Sunderland and defender Michael Keane was signed from Burnley for a combined £60m. Davy Klaassen, captain of Ajax and a full Dutch international was acquired for £24m, Sandro Ramirez was drafted in from Malaga, while Henry Onyekuru, a hot Nigerian striking prospect was picked up from KAS Eupen for £8m and loaned to Anderlecht for the season.
Veteran forward Wayne Rooney made his long anticipated return to Manchester United while Romelu Lukaku was finally allowed to leave and went the other way to Old Trafford for a club-record £95m.
A problem as it would become for Everton and Koeman was that while the club embarked on a protracted chase for Gylfi Sigurdsson and ended up paying Swansea City £45m for his services after weeks of wrangling, no replacement for Lukaku was ever found before the transfer window closed. The Belgian scored 25 goals in his final season for the Blues, 20 more than any other Everton player and those shoes proved too big for Ramirez, Rooney or improving 20-year-old Dominic Calvert-Lewin to fill.
It was no surprise, then, that Everton began the next season in sluggish fashion, making harder work than was predicted of their Europa League qualifiers against MFK Ruzomberok and Hajduk Split before embarking on a miserable run of just three wins in 14 games in all competitions.
The lack of a reliable goalscorer was the obvious factor when looking at the situation from the outside but the team's problems ran much deeper than that and they would cost Koeman his job before the end of October 2017. Just two clean sheets in his last 13 matches in charge told the story of a porous defence while inconsistent team selections, players regularly played out of position, an over-abundance of central midfielders and a chronic lack of balance all contributed to a bad run of form that had the Blues sitting in the relegation zone for the first time in 12 years.
The final straw for Moshiri, Bill Kenwright and the Everton board was a 5-2 home defeat to Arsenal on 22nd October and Koeman was informed of his sacking the following day at the club's Finch Farm training ground by the Chairman and Chief Executive Robert Elstone.
FactFile
| | |
| --- | --- |
| Born | Zaandam, Netherlands |
| Date of birth | 21 March 1963 |
| Nationality | Dutch |
| | |
| --- | --- |
| Played for | Groningen, Ajax, PSV, Barcelona, Feyenoord |
| Previously managed | Vitesse, Ajax, PSV, Benfica, Valencia, AZ, Feyenoord, Southampton |
| Appointed | June 2016 |
| Left Everton | October 2017 |
| Everton Achievements | |
Everton League Management Record
| Season | P | W | D | L | GF | GA | Pts | Pos | Win % |
| --- | --- | --- | --- | --- | --- | --- | --- | --- | --- |
| 2016-17 | 38 | 17 | 10 | 11 | 62 | 44 | 61 | 7th | 45% |
| 2017-18 | 9 | 2 | 2 | 5 | 7 | 18 | 8 | 18th | 22% |
| Totals | 47 | 19 | 12 | 16 | 69 | 62 | 69 | 13th | 40% |
Everton Cup Management Record
| Season | P | W | D | L | GF | GA | Win % |
| --- | --- | --- | --- | --- | --- | --- | --- |
| 2016-17 | 2 | 0 | 0 | 2 | 1 | 4 | 0% |
| 2017-18 | 8 | 4 | 2 | 2 | 11 | 8 | 50% |
| Totals | 10 | 4 | 2 | 4 | 12 | 12 | 40% |
Previous League Management Record
| Club | Season | P | W | D | L | GF | GA | Pts | Pos | Win % |
| --- | --- | --- | --- | --- | --- | --- | --- | --- | --- | --- |
| Vitesse Arnhem | 1999-00 | 16 | 9 | 4 | 3 | 32 | 16 | 31 | 4th | 56% |
| | 2000-01 | 34 | 16 | 11 | 7 | 56 | 43 | 59 | 6th | 47% |
| Ajax | 2001-02 | 20 | 13 | 5 | 2 | 42 | 16 | 44 | 1st | 65% |
| | 2002-03 | 34 | 26 | 5 | 3 | 96 | 32 | 83 | 2nd | 76% |
| | 2003-04 | 34 | 25 | 5 | 4 | 79 | 31 | 80 | 1st | 74% |
| | 2004-05 | 22 | 14 | 5 | 3 | 48 | 20 | 47 | 3rd | 64% |
| Benfica | 2005-06 | 34 | 20 | 7 | 7 | 51 | 29 | 67 | 3rd | 59% |
| PSV Eindhoven | 2006-07 | 34 | 23 | 6 | 5 | 75 | 25 | 75 | 1st | 68% |
| | 2007-08 | 9 | 7 | 2 | 0 | 23 | 3 | 23 | 1st | 78% |
| Valencia | 2007-08 | 22 | 4 | 6 | 12 | 19 | 35 | 18 | 16th | 18% |
| AZ Alkmaar | 2009-10 | 16 | 8 | 1 | 7 | 29 | 20 | 25 | 6th | 50% |
| Feyenoord | 2011-12 | 34 | 21 | 7 | 6 | 70 | 37 | 70 | 2nd | 62% |
| | 2012-13 | 34 | 21 | 6 | 7 | 64 | 38 | 69 | 3rd | 62% |
| | 2013-14 | 34 | 20 | 7 | 7 | 76 | 40 | 67 | 2nd | 59% |
| Southampton | 2014-15 | 38 | 18 | 6 | 14 | 54 | 33 | 60 | 7th | 47% |
| | 2015-16 | 38 | 18 | 9 | 11 | 67 | 40 | 63 | 6th | 47% |