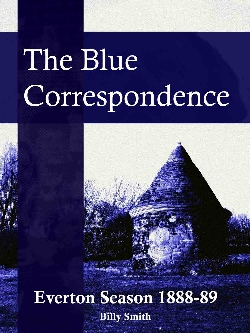 Neil Smith is publishing a new book based upon the Everton's inaugural seasons in the newly formed Football League in 1888 — the world's first ever football league. This book comprises unedited articles from contemporary newspapers, The Liverpool Courier, The Liverpool Mercury and The Liverpool Daily Post, and will cover all league, friendly and reserve-team fixtures of this historic campaign. Depending on the success of this first book, the intent is to produce a series of books that will build a comprehensive account of Everton's transition from a developing local football team to an established industry leader and pioneer of a rapidly developing sport.
This book provides an in depth account of Everton Football Club's inaugural season in the of 1888. From Accrington Stanley, Everton's first ever match in the Football League, to Manchester United's (here named Newton Heath) first ever visit to Anfield Road, to a bizarre charity match between Everton and a band of local Pantomime artists. Not only is The Blue Correspondence a wonderful account of Victorian journalism; it also crafts a delicate portrait of a sport and a football club in a state of ascendancy. It brings to life a vibrant by-gone age, celebrates the pioneering achievements that built the modern game and details the development of one the greatest clubs in English Football.
Introduction
Football, the game as we now know it, has become the world's largest participant and spectator sport. The World Cup Finals is the world's biggest singular sporting event. The game is now defined as 'an industry', one, which is closely aligned to significant developments in modern culture, consumption, and specifically, the development of the television and telecommunications industries. Football has come an extremely long way, since it's humble beginnings as a Victorian pastime, to the global phenomenon it is today.
The Victorian age was characterised by rapid change and advances in nearly every sphere, there were developments in medical, scientific and technological knowledge. Work and play expanded dramatically, communication and transport links encouraged travel and leisure opportunities for all, as Britain experienced changes in population growth and location. Visits to seaside resorts, race meetings and football matches could be enjoyed by a growing urban society. Improvements in literacy stimulated interest in popular journalism and literature. Victorian attitudes towards 'Cleanliness and Godliness' inspired a higher level of organised sporting activities (as was the case with St Domingo Methodist Church, from which Everton Football Club was formed), to siphon off the 'sinful' energies of the urban youth. It was within this crucible of change that modern football was born.
In 1885 professionalism was legalised under certain limitations and in March 1888 William McGregor, a Scottish Merchant and Director of Aston Villa Football Club, suggested a new system that would bring order to the chaotic structure that prevailed in the footballing world. As the urbanisation and industrialisation of football began to take full control, he proposed to bring an end to the difficultly facing 'football clubs of any standing to meet their friendly engagements and even arrange friendly matches', by introducing a structured league system that has remained largely intact today. Everton Football Club, then as they are now, where able to boast regular attendances and good amenities; basic requirements of the 'new' league.
This book, which is the first of a series of season-by-season accounts of Everton Football Club's Victorian era, focuses on Everton's inaugural season in William McGregor's newly formed Football League. It utilises unedited articles from contemporary newspapers, The Liverpool Courier, The Liverpool Mercury and The Liverpool Daily Post, to paint a portrait of a vibrant society and a national pastime in a state of ascendancy and transition. It underpins the unique and continually evolving relationship that has existed between football and the media since its inception. But more importantly it emphasises that even though the modern game itself is almost unrecognisable from its Victorian counterpart, the one thing that has remained constant in over a century's worth of football is the passion of the fans.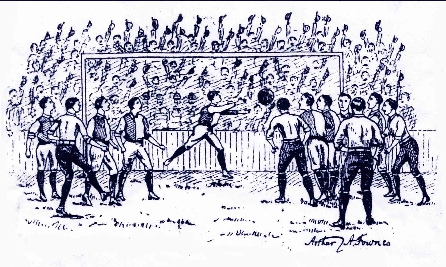 Price: £9.99 Published: 1 September 2007
Available: From the author, outside the Winslow, Goodison Road, on matchdays