Eddie is an Evertonian in the richest of Merseyside traditions, whose life simply revolves around Everton. Eddie was once on the Everton books, his playing career scaling the peaks of the Central League, before his dreams were shattered and he was reduced to the role of totally dedicated Everton fanatic – The First Hooligan.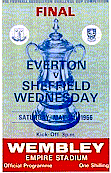 How did Eddie Cavanagh, a likely lad from Huyton, earn this dubious accolade? The year was 1966. The scene was Wembley Stadium. The day was May 14, a Saturday. The occasion was the FA Cup Final – the first time since the war that Everton, the greatest FA Cup fighting team of them all, were there – and they had not conceded a single goal on the way.
But on that fateful day Everton had gone behind, despite playing some nice football, and then disaster struck at the start of the second half, when Sheffield Wednesday scored again. At that point, Derek Temple's heart sank: "God, we're 2-0 down. We'll just have to come back next year." But in quick succession, two half-chances fell to Mike Trebilcock, an unknown lad from the West Country whom manager Harry Catterick had chosen to lead the front line in place of the legendary Fred Pickering.

'When it came back to 2-2. that was something else, wasn't it? As soon as that ball hit the net, I was on me bike. That's how quick it was.

'I think the crowd got to you more than anything. They were all screaming. You'd have to see it to believe it. I couldn't explain that. '
Cavanagh was known to most of the players, since he had been on the books at Goodison Park. But now he was a fan overcome by the incredible emotion of a vital moment in Everton's recent history.

'I'd seen Trebilcock and I went for him first. Well, he didn't know me but I grabbed him, pulled him on the ground. He shit himself because he didn't know me. We all played in blue and white, didn't we. Sheffield were in blue and white, and we're in blue and white, so he didn't know who I was.

'When I got him down, I was coming across then to Westy. I was going to say 'Gordon, for God's sake don't let no more in, we'll get that now.'

'But I'd seen this busy [policeman] came after me and he caught up with me and got me by the coat. But I just took it off...'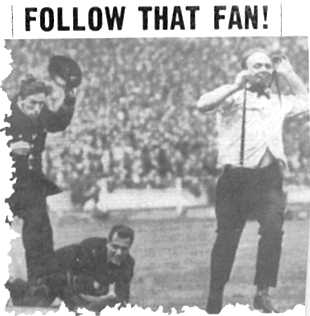 At this point, Eddie was legging it full-pelt across Wembley, arms outstretched, chased by an increasing posse of London's best bobbies. The move with the coat was a moment of brilliance, as the copper who grabbed it tripped and fell in a heap, while Eddie ran on in his shirt and braces.

'I didn't see the other fellow come around me. I'll tell you his name to this day – Edward Anthony New*. He wasn't even a busy, he was only a special, but I didn't see him coming because he wouldn't have caught me.'
Constable New had closed in directly behind our Eddie, accelerating on the now-tiring hooligan as he haired toward the Everton goal. The special constable's helmet was off in a flash and a wonderful diving lunge bought Eddie down to the ground in a move better suited to Twickenham than Wembley.

'He got me down. I just put my hands back, and I think about six of them had me pinned down like I was one of the train-robbers.'
For anyone who grew up through the sixties, the Great Train Robbery in 1963 was a unique moment that grabbed the headlines when an audacious gang led by the infamous Ronald Biggs stopped a Royal Mail train and relieved it of millions of pounds.

'There was a big Sergeant with a big stick in his hand – I'll never forget that bastard.

' "What shall we do, Sarge?" He said: "Put him out."

' "We could put 'im back in the crowd" He said: "Put him out."

'I said: "You please your fucking self, its 2-2 now."

'They'd done a good job putting me out, they thought, and they're walking underneath, and I come over the fence again.'
There was no stopping Eddie Cavanagh from seeing that third and winning goal by Derek Temple. For his famous exploits, he would be known forever as The First Hooligan. But this time, Eddie stayed put amongst the crowd to celebrate a great comeback by the Blues.

The words of Eddie Cavanagh were taken from "Three Sides of the Mersey"
Eddie sadly passed away on 9 December 1999 at his home in Cantril Farm Liverpool.
---
"Hello, I'm Eddie Cavanagh's daughter and I have recently found this site and read some of the remarkable things that people have been saying about my dad. I have also very recently come across some autographed pictures that have been dedicated to him from players such as Colin Harvey and Jeff Hurst; I am very proud of him. Thanks everyone!" — Andrea Cavanagh, 18 May 2008
Eddie Cavanagh – A true Evertonian.
Postscript: It was with great sorrow that we, like many loyal blues, learnt of the recent death of the great British character actor, Charles Gray.
A fact not known to many, Charles was a great Evertonian, and indeed it was he, clearly on a high after being given the part of Mr Henderson in the James Bond movie You Only Live Twice, who bet Eddie Cavanagh 6 shillings that he wouldn't run the length of the pitch in the '66 cup final. The rest as they say is history...
And indeed it was Charles who, typical of the man, paid the copper a few bob to make sure Eddie got back in the ground to watch the last twenty minutes. What the cameras didn't pick up on during that match was that while Eddie was on his famous run, Charles had escaped the police cordon and was in the centre circle, with a white cat, baring his arse at the Wednesday fans.
I am sure it was this utterly British act of nobleness which inspired that young hooligan at the recent Villa game to do the same. Charles' love of the Blues didn't end at 4.45pm on a Saturday. Indeed, during filming of Diamonds Are Forever, it was Charles' idea that instead of selling diamonds to stock up on a nuclear arsenal, Blofeld should use the money on getting Johann Cruyff to transfer to Everton, improve the facilities at Bellefield and to buy a box at Goodison. This idea was backed up by Sean Connery but was vetoed at the last minute by Cubby Broccoli, who felt that such a storyline might confuse the filmgoer as to who was the good guy in the film.
Charles fell ill after witnessing a sickening Blues display against Sheffield Wednesday. An ironic choice, as it was against this team at which Charles had his finest hour as a Blues fan. "That was a piss-poor display, old boy", said Charles on his death bed. His final sentence, "For Christ's sake, I hope they don't buy Hughhhh..." unfortunately could not be completed by the great man. We can only speculate on what he had intended to say. May he Rest In Peace.
---
Addendum
Jill Ingledow (formerly New) wrote to us in April 2009 to contest Eddie's memory of his tackler's name:
"Eddie Cavanagh's memory of the Special Constable's name is 'interesting' — 'Edward Anthony' was not the name; it is/was 'David Andrew'. My memory is reliable... I was David's fiancee at the time and we were married for many years until his untimely death in a military training accident in 1985.

I am pleased to see Eddie's daughter is so proud of her father — our daughters are also very proud of their father's rugby style! Both families will have treasured memories of that event."