1995 FA Cup Final
The Underdogs of War Steal the Cup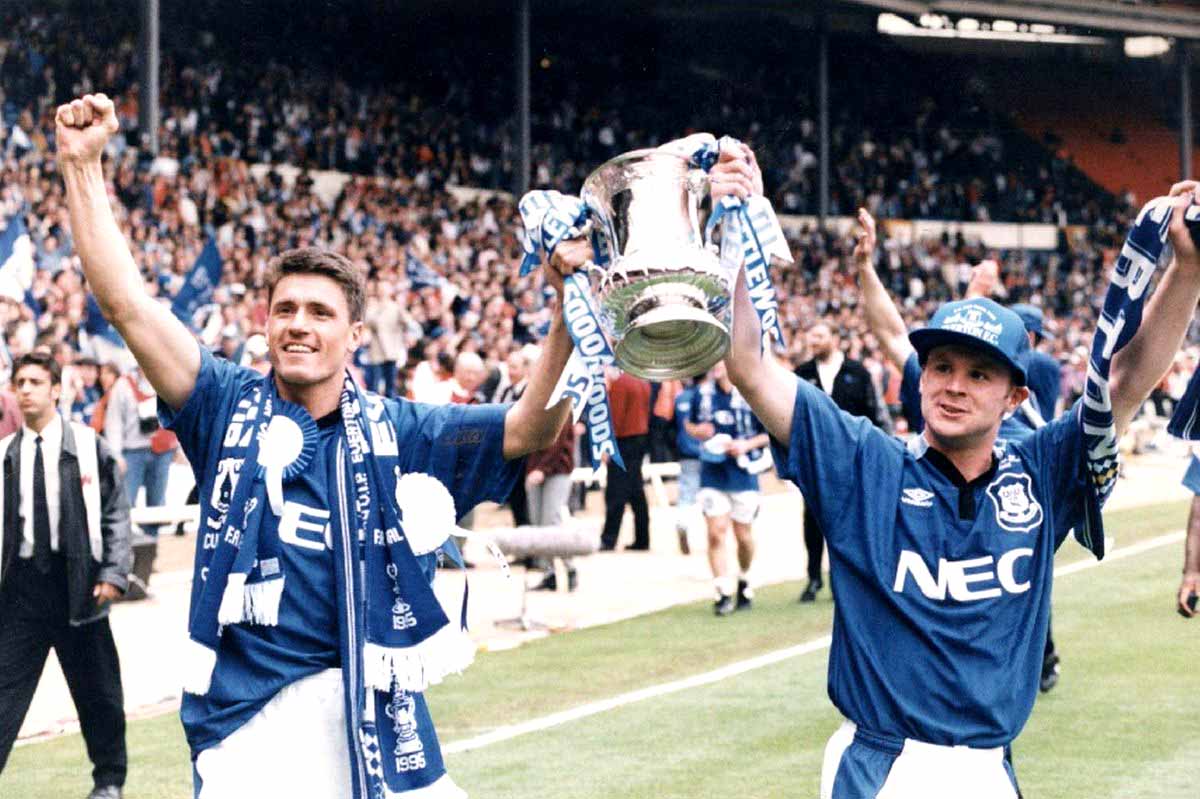 Everton 1 - 0 Manchester United 0
It's a familiar cliche: "When your name's on the cup..."
If you believed the press, Tottenham Hotspur were going to win the FA Cup in 1995 and, having disposed of Liverpool in the Quarter Finals, they were going to beat Manchester United in a dream final. By the semi-final stage, the big guns of Newcastle, Blackburn, Arsenal and Liverpool were all out of the competition and the media became wrapped up in the vision of Jurgen Klinsmann holding the FA Cup aloft at Wembley. It was a dream that was torn apart at Elland Road by Joe Royle's unfashionable Everton.
Everton had been labelled the "Dogs of War" by their manager after a gutsy struggle away from the relegation mire into which they had been plunged by Mike Walker's well-intentioned, but ultimately catastrophic, tenure at Goodison Park. It was an image that became hard to shake off as the no-nonsense approach epitomised by the likes of Joe Parkinson, Barry Horne, John Ebbrell and Duncan Ferguson grafted out some crucial results to haul Everton clear. This was in stark contrast to the cavalier style on display at White Hart Lane with Klinsmann, Dumitrescu, Popescu and Barmby forming a talented attack.
Everton produced the performance of a lifetime at Elland Road to dump Spurs out of the Cup 4-1. As an awestruck nation watched on from their armchairs and John Motson was forced to commentate on as his side were being destroyed, heroes were being made for Everton folklore. Matt Jackson galnced in a near-post header for the first goal of the afternoon from Andy Hinchcliffe's inswinging corner. Early in the second half, Paul Rideout collected Ian Walker's poor clearance and Graham Stuart was on hand to slot home his rebounded shot to send the Blue army into rapture.
Then, controversy struck as Spurs were awarded a dubious penalty which Klinsmann coolly despatched to give his side some hope. Cue Daniel Amokachi. The story goes that he was not even supposed to be on the pitch. Joe Royle said that he had more or less brought himself on while everybody was distracted by Rideout's leg injury. It was a most brilliant "mistake". Amokachi scored two goals in the last half hour as Everton ran riot to storm into the Final against Manchester United. All eyes then turned to Alex Ferguson's beleaguered side to see if they could clinch the FA Cup having lost the Premiership title to Blackburn the week before.
Manchester United were 4-7 favourites to walk off with the famous old trophy - Everton weren't really given a chance but the country had sat up and taken notice of a side that seen of Newcastle in front of the BBC cameras in the Quarter Finals as well as the Semi-Final spectacular against Spurs. Only the panel of experts was brave enough to predict an Everton win despite the fact that they were missing Duncan Ferguson. United were missing players of their own, however. Most notably, Eric Cantona (suspended for his famous "Kung-fu kick" at Selhurst Park), Andrei Kanchelskis (injured) and Andy Cole (cup-tied).
---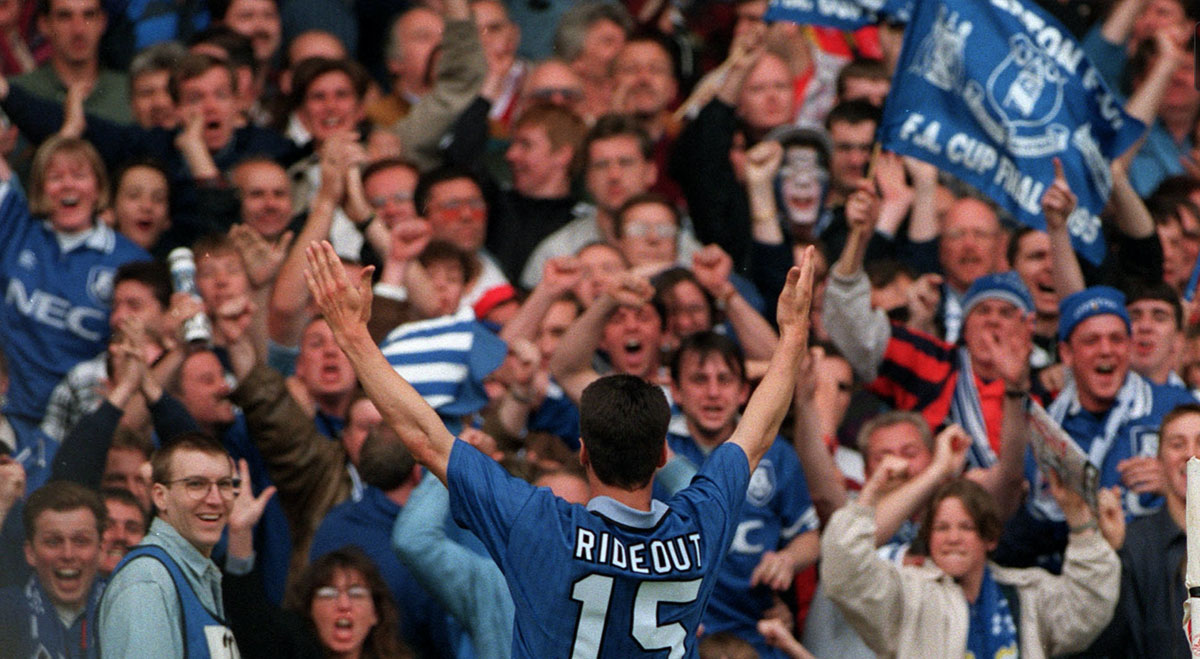 Getty Images
---
Saturday 20th May 1995 was an uncharacteristically cloudy day at Wembley but Everton had begun the day with a moral victory in the pre-Final "Legends" match thanks to Andy King's decisive strike. The 79,592 crowd, including HRH The Prince of Wales and Princes William and Harry (who were attending their first FA Cup Final), began to fill the ground in eager anticipation of a match being beamed to millions of viewers the world over.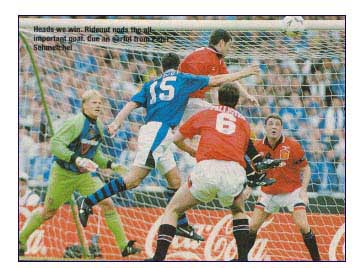 The match kicked off to a predictably frenetic pace but soon became a disappointingly scrappy affair. However, it was clear that United were again being troubled by the tireless harrassment by Parkinson and Horne in the midfield, in the same way as they had been at Goodison earlier in the season when a Duncan Ferguson header was enough to give Everton a deserved victory. Certainly Joe Royle's men were creating the better chances with Anders Limpar causing wreaking havoc on the flanks. After 21 minutes, the first sign of trouble for United reared its head when Steve Bruce pulled a hamstring but he soldiered on in the vain hope that he could run it off.

Nine minutes later, Everton came raiding forward again. Matt Jackson surged into the United area before squaring the ball to the unmarked Graham Stuart who watched in disbelief as his shot crashed off the underside of the bar. Bruce, hampered by his injured leg, could do little as Paul Rideout rose to head the ball home from 6 yards to send half of Wembley wild.

Bruce was removed at the half-time interval to be replaced by Giggs who sparked 45 minutes of intense pressure on Neville Southall's goal. The veteran 'keeper was in fine form, most notably when he made a stunning doubkle save to deny Paul Scholes. Man-of-the -Match Dave Watson rallied his troops in inspiring fashion as the Everton defence held firm against waves of attacks. In the dying stages even the United goal keeper, Peter Schmeichel, was coming forward for free-kicks and corners but it was not to be Alex Ferguson's day. It was to be Everton's time of celebration as they displayed the measure of the transformation achieved under Joe Royle since late November 1994.

Dave Watson climbed the 39 steps to lift the FA Cup after Wembley's 50th Final since the War to an ecstatic roar from the gathered Evertonians. United were left disconsolate; Everton turned their thoughts to Europe - an arena denied so cruelly them by the ban on English clubs after Heysel in 1985.

Everton: Southall, Jackson, Watson, Unsworth, Ablett, Horne, Parkinson, Hinchcliffe, Stuart, Limpar (Amokachi 69), Rideout (Ferguson 51)

Manchester United: Schmeichel, G. Neville, Bruce (Giggs 45), Pallister, Irwin, Butt, Keane, Ince, Sharpe (Scholes 72), McClair, Hughes
---
And yet, who would have thought it on those cold January days when Everton squeezed past Derby County and Bristol City by a goal to nil. From then on they never looked back, hammering Norwich City 5-0 and then overcoming Newcastle, Spurs and United in the latter stages. The Blues came within a hair's breadth of going out at Ashton Gate but Matt Jackson's spectacular effort against Bristol sent them through. Like they say, "When your name's on the cup..."
Routes to the final:
Everton: Derby County (h) 1-0; Bristol City (a) 1-0; Norwich City (h) 5-0; Newcastle Utd (h) 1-0; Tottenham (n) 4-1
Manchester United: Sheff United (a) 2-0; Wrexham (h) 5-2; Leeds Utd (h) 3-1; Q.P.R. (h) 2-0; C. Palace (n) 2-2, 2-0