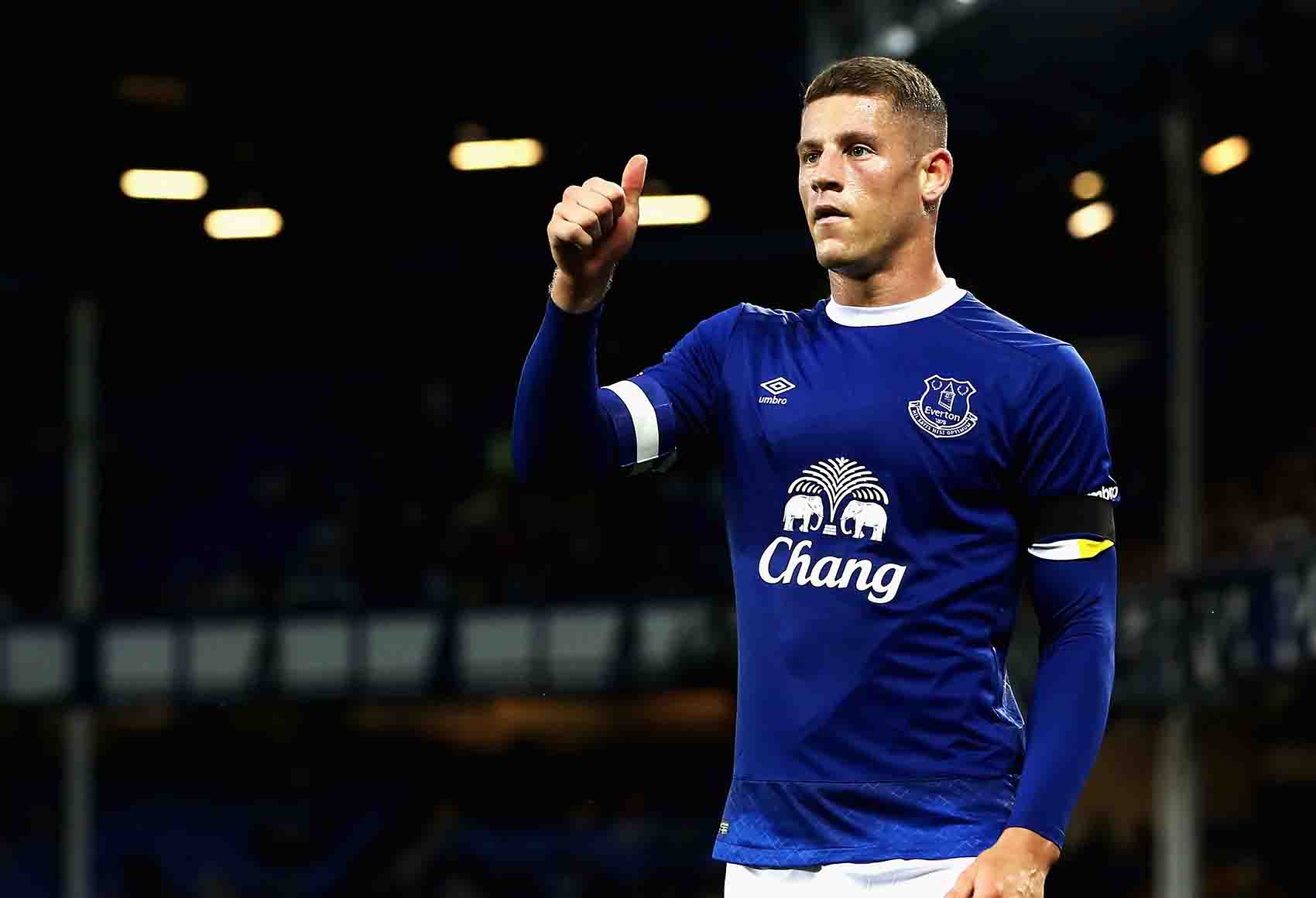 When he emerged from the Everton Academy, Ross Barkley was considered one of the hottest home-grown prospects in the Premier League but his development has been seriously setback by a major injury. He spent a large part of the 2010-11 season recovering from a double leg break suffered on duty for England's U-17 side.
Barkley was eligible to represent both England and Nigeria as he has an English mother and a Nigerian grandfather but estranged from his father, Peter Effanga, and using his mother's maiden name, he opted to represent his country of birth.
Ross returned to training before the end of the 2010-11 season, around six months after his injury occurred in October 2010, but the versatile box-to-box midfielder would not be fit enough to make his debut for the senior team until the following season.
On returning to fitness, he was promoted to the senior squad and went on Everton's 2011 pre-season tour of the USA, but had an ankle strain that prevented him playing against Philadelphia Union. However, he started the next friendly, against DC United, and looked very impressive, confident and assured for a relative youngster. This was followed by good partial pre-season displays against Birmingham City and Werder Bremen.
Barkley was viewed by many as the successor to Jack Rodwell and by some as the next Wayne Rooney and it seemed he was destined to fulfil those expectations when he was handed his senior debut by David Moyes in a season opener against QPR. Everton lost the game but Barkley put in a man-of-the-match performance.
A start against Sheffield United in the Carling Cup followed but his youth was exposed in a subsequent league game at Blackburn where his error led to a decisive penalty.
Moyes reflexively decided he had promoted the youngster prematurely and was largely relegated to the Reserves despite the aching need for his spirit and drive in the first team. Preference seemed to be given to the likes of James McFadden that season, although it was later revealed that Barkley had been suffering a niggling injury and, given his history, the very over-protective approach to his development seemed to be justified.
But Barkley continued to be overlooked going into the new 2012-13 season, and on the rare occasions when he did get to play, it looked as if somehow that classy confidence had been shot, and his only appearance for the Blues didn't really help with that — a shocking loss to lowly Leeds United in the League Cup in September.
With a surprise number of new players being brought in by David Moyes in the summer 2012 transfer window, it became obvious the promising youngster from Everton's Academy would not be getting much of a look-in, so a month's loan to Sheffield Wednesday in the Championship looked like his best bet.
More loans that season, initially extended at Hillsborough, then a month at Leeds United, followed and Barkley would have to wait for regime change at Goodison Park before he got his chance.
Moyes's successor, Roberto Martinez, with his more attacking and less conservative bent was more enamoured by what his young protégé could provide as an increasingly important midfielder playing behind the front line and driving them forward.
His 60-yard run and solo goal against Newcastle in the Catalan's first season will live long in the memory as an example of what Barkley was capable of at his unbridled best, and his instinctive curling strike against Manchester City in the last home game of the 2013-14 season was a beckoning call to England manager Roy Hodgson, who put him on the plane for the 2014 World Cup.
Barkley was underused in Brazil that summer as England crashed out at the group stage but there was a sense of relief at Everton when he signed a new four-year contract in August, although the news was tainted somewhat when he injured a knee in training just a day before the start of the new season and was sidelined for a significant chunk of the campaign.
He didn't ever scale the heights of his first full season under Martinez; indeed, he regressed to a degree, suffering crises of confidence which sapped his desire to run forward with the ball and take on defenders.
There were signs that he was simply too slow in his thinking, too poor in his passing and lacking that prized possession of a "football brain" when he should have been maturing into a classic No 10 creative playmaker commanding the midfield. Martinez's insistence on playing him wide at times directly contributed to his problems.
Barkley played all but one of the games in 2015-16, scored and made more goals than ever before but the increasingly failing management of him and the team by Martinez saw him lost in an increasingly uncertain role, more apt to pass backward or sideways than drive forward.
Barkley's form slipped so badly that, by the time Martinez was finally sacked in May 2017, his position in the England team for Euro2016 was in doubt. He would go to the Euros, but, along with team-mate John Stones, was entirely unused by Hodgson as the Three Lions bombed out of another major tournament.
Incoming boss Ronald Koeman, challenged Ross to show Hodgson the error of his ways and he showed inside five minutes of the new season that he could rise to it when he scored from a free-kick against Tottenham in the 2016-17 season-opener.
But the season would not develop well for Barkley, who found Everton's poor style and lack of movement ahead of him under Koeman frustrating, and that in turn led to him being benched with increasing frequency.
The England international came in for public criticism from Koeman as the manager sought ways to get the player performing better and the tough love seemed to work as Barkley played an increasingly important role while Everton recovered from a dreadful pre-Christmas period to go on an extended unbeaten run in the New Year that eventually secured a seventh-place finish and a place in the Europa League qualifiers.
The subject of a new contract, first mooted in the summer of 2016, then strangely shelved until the New Year eventually rose to the surface at the end of the season but what the club claimed was a very generous deal remained unsigned as that season had wore on.
Koeman had made it clear Barkley would be put up for sale if he did not sign by the final game, implying that he couldn't wait around for him to make a decision while he needed to rebuild his squad over the close season. The ultimatum, which also suggested that things were far from happy between him and Barkley at Finch Farm, didn't have the desired effect and it wasn't until transfer deadline day at the end of August 2017 that matters appeared to come to a head.
Despite sustaining a grade three hamstring injury that seemed to end any chance of a move away from his boyhood club, Chelsea came forward with first a £25m bid and then an offer of £35million, with Barkley reportedly accepting personal terms and heading to London for a medical. He stunned Everton at the eleventh hour, though, when he pulled out of the move, saying in a later Tweet:
"Contrary to a number of reports in the press, I did not undertake a medical with any club at any point. I simply decided that due to my injury, it would be best to make a decision on my future and assess all my options in January when fully fit."
By the time the winter transfer window rolled around, those options still seemed to centre around Stamford Bridge and, a little more than four months later and having lost £20m in value, Barkley signed for Chelsea, ending his association with his boyhood club.
Some puzzling statements were made at the Everton AGM by way of explanation, including the club being unable to contact his agent for 6 months, and the agent demanding that Barkley's friend John Stones should be allowed to leave.
His first half-season at Stamford Bridge continued to be plagued by injury but, since recovering and returning to Chelsea's first team squad, he spent seven of Chelsea's last eight matches as an unused substitute. His only match-time came in the last 14 minutes of the last match of the season, with Chelsea already 3-0 down at Newcastle.
Chelsea, however, went on to win the FA Cup, with Barkley unused on the bench but still 'earning' a winners' medal.