Marouane Fellaini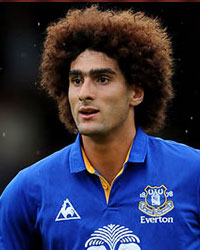 Squad number
25
Position
Central Midfield
Joined on
1 September 2008
Joined from
Standard Liège
Transfer fee
£12.9M/€15M
Signed by
David Moyes
Full debut
v Stoke City (A)
14 September 2008
Contract duration
5 years + 3 years
Contract expires
June 2016
Finalé
v Cardiff City (A)
31 August 2013
Left Everton
2 September 2013
Destination
Manchester United
Transfer Fee
£27½M
Born
Etterbeek, Belgium
Date of birth
22 November 1987
Height
6' 4" (1.94 m)
Nickname(s)
Guido; Screech; Felli
Honours
Belgian International
STRENGTHS
Tall
Intelligent
Mature
Composed
WEAKNESSES
Clumsy
Too many yellows
Soccerbase Datafile
Wikipedia Entry
As the abysmal 2008 summer transfer window drew to a close, Evertonians were seething at the lack of any significant transfer activity, convinced they would face an already troublesome season with no new signings of any quality or significance, and they were ripe for a massive revolt.
But, in true "rabbit out of the hat" style, Bill Kenwright and the Board conspired to pull off a tremendous coup, securing the signature of towering defensive midfielder Marouane Fellaini literally at the eleventh hour on 1 September 2008.
As the midnight deadline passed, few places beyond ToffeeWeb were reporting the coup but, in the morning, the realisation that Everton had finally made a big signing, and broken their transfer record for the fourth successive season, finally began to sink in. It would assuage some but not all of the anger felt by many over a lost opportunity to strengthen the side significantly on the back of last season's "Best of the Rest" 5th-place finish.
Fellaini joined Standard Liege at 17 and moved up through the ranks to reach the first team at the age of 19, coming on for his debut as a substitute against Charleroi. He did enough to impress and in 2007, less than a year after his debut, Fellaini threatened to leave Liege by invoking a contractual loophole unless he got a significant increase in salary. He won this argument and signed a new contract running through 2012.
Just six months after his league debut, he was in the Belgian national team. He had played for the Moroccan Under-21s but as he had lived all of his life in Belgium, he chose to play for his adopted home country, representing them in the 2008 Olympic Games. Liege insisted, however, that Marouane return from China after Belgium's opening match with Brazil so he could face Liverpool in a Champions League qualifier. Fellaini played and though he was shown a red card in one of the legs — the young Fellaini could indeed be very impulsive — but Moyes had apparently seen enough to convince him to make him a top target.
Everton had reportedly put in a bid for Fellaini in March 2008, but that was firmly rejected. However, when the Blues upped the ante to a reported €15 million, (£12.9M) there was only going to be one answer from Standard, as that sum was equal to 80% of the club's annual budget. It was a move that almost didn't come off, though— Everton representatives traveled to Belgium late on deadline day and the transfer was registered with the Football Association with minutes to spare.
Fellaini's transfer fee was both the highest amount ever paid for a Belgian player and the highest fee paid by Everton, this for a 20-year-old who had just two seasons of first-team football under his belt.
And there was perhaps another element of luck in the transfer, as claimed by Belgian journalist, Fillip Joos, who ran into Fellaini in Zaventem airport just after he had signed his contract with Everton.
"I said that luck would be necessary as Everton were 16th in the Premier League at the time. Fellaini looked at me with wide eyes and asked if I was serious.
"He had just signed a contract with a new club but hadn't looked at the standings. The numbers may have spoken for themselves."
At 6ft-4in, Fellaini proved to be a commanding presence in both penalty areas and while he didn't necessarily have the typical physique of a box-to-box midfielder, that's what he aspired to be. Strong in the tackle, two-footed foot and with excellent heading ability he was made for the Premier League — he wins the midfield battles, he isn't afraid and he loves to be fully involved in the game.
That large and sometimes ungainly frame made him a magnet for disciplinary action from referees, though. Fellaini felt that referees in Belgium frequently booked him without reason and he found things equally frustrating in his first season in England. Though the signs were there regarding his ability to pick out an intelligent forward pass and to put himself about a bit, he was slow to adapt to the sheer pace and high tempo of the Premier League or just clumsy in the tackle and he racked up an alarming number of yellow cards in an equally alarming space of time — 10 in his first 17 games.
A couple of key goals against Newcastle Utd and Manchester Utd started to change perceptions among the ever-critical Evertonians, however and, galvanised by perceived unfair treatment at the hands of referees and amused by his expanding "afro" hair-style (which was soon to spawn many look-alike wigs in the crowd) he became a cult figure among the Goodison faithful.
Fellaini visibly matured over the course of his first season, gradually reducing his run-ins with the referee's note-book and adapting to life in the Premier League.
Though his second campaign with the Blues was initially hampered by a virus that had curtailed his pre-season preparations, when Moyes was finally forced through injuries to play him in his correct position of defensive midfield, that was when he started to take more command and deliver better performances and look like an international class player. No sooner was he being hailed by his manager as "as good as anyone in the league", however, he was laid out by a horrible tackle by Kyrgiakos in an ugly Anfield derby in February 2010 that put him out for the rest of the season with a serious ankle injury.
Surprisingly, Fellaini was fit by the start of the next season but it took time for him to regain the style and swagger that he had promised and delivered the previous season — although a stunning pirouette drag-back against Manchester City that left Goodison agape suggested he was getting back in the groove.
By the following February, he was once again providing the rock on which Everton's midfield was founded, prompting Assistant Manager Steve Round to say, "He is really starting to establish himself now. He has had a couple of years to get used to the Premier League and he is still young, still growing and maturing as a player. His stature and performance levels are rising all the time. We see it in training and we see it in matches, he is such a formidable force for us and such a big presence in the midfield."
Unfortunately, another ankle injury would rule him out of the last three months of the campaign, robbing the Blues of Fellaini's services for the run-in. With him sidelined, negotiations continued over a new contract, with the club's financial constraints casting doubts over whether Everton would be able to offer him the compensation he and his agent/father desired. Indeed, when Fellaini Senior began boasting of how Chelsea had been tracking his boy "intensively", it looked as though Marouane's Goodison days were numbered.
With Mikel Arteta's £75,000-a-week salary off the books by the end of August 2011, however, Everton appeared to have the means to agree terms with Fellaini and the midfielder warmed Evertonian hearts by putting pen to paper on a new 5-year contract in November 2011.
And the Club was rewarded by more towering displays from a player maturing into a world-class midfielder. By the end of a season that started in typically slow and frustrating fashion but which finished with a flourish, Fellaini was the beating heart of a team scoring goals for fun and securing another 7th-place finish.
Unfortunately, the reality of the Blues' financial position under a Board of Directors still searching for elusive investment, Fellaini's performances had made him Everton's most saleable asset and speculation that he would be sold for huge money was never too far away. But another crucial transfer window was traversed in the Summer of 2012 without incident, despite a towering display in the first game of the new season, where he dominated and scored the game-winning goal against runners-up Manchester United to set Everton on their way to one of their best starts in many seasons of Premier League football.
That didn't stop the transfer talk, though, with the big Belgian stating his case for wanting Champions League football and challenging Everton to put up or else... And he put in a number of impressive performances to back up his position. But the mood softened entering the January 2013 transfer window, on the back of another low point in his career, when he finished serving out a retrospective three-match ban after cameras caught his ill-advised headbutt on Sunderland's Shawcross. This following a series of uncalled fouls where Fellaini was being wrestled and grappled by his opponent way beyond any reasonable interpretation of the laws of the game — the massive irony being a call on Fellaini for that very offence, and a scored penalty that unfairly gave Manchester City an undeserved point against Everton the week before.
As the season drew to a close, the attentions of Manchester United and others were touted with increasing frequency in the press, and it became a virtual certainty that the reigning Champions would lodge a formal bid that summer when Moyes was selected as Sir Alex Ferguson's successor at Old Trafford.
The ensuing saga initially centred around the Belgian's buy-out clause – set at £23.5M, but expiring on 31 July – and a double bid from Moyes of £28M for Fellaini and teammate Leighton Baines which valued Fellaini at a paltry £16M and was rejected by Everton as "insulting and derisory".
The stage had been set for a classic game of Deadline Day brinksmanship, with Man Utd supposedly upping their offer along the way, and Baines eventually becoming the subject of a separate offer, also rejected. Many expected Fellaini to finally leave for his coveted Champions League football, though, and after finally submitting a transfer request just four hours before the deadline, United had been driven up to a whopping £27½M.
Manchester United would attempt to deflect criticism for the fact that they had paid over the odds for the player by insinuating that he had passed up £4M in "loyalty payments", bringing the effective fee down to the buyout amount of £23½M. Everton were insistent, though, that they had secured their full asking price, and journalists confirmed that loyalty payments may have amounted to £¾M at best.
Everton Career
Season
Squad
Number
League
Apps (sub)
League
Goals
Cup
Apps (sub)
Cup
Goals
Total
Apps (sub)
Total
Goals
2008-09

25

28 (2)

8

5 (0)

1

33 (2)

9

2009-10

25

20 (3)

2

10 (1)

1

30 (4)

3

2010-11

25

19 (1)

1

5 (0)

2

24 (1)

3

2011-12

25

31 (3)

3

9 (0)

2

40 (3)

5

2012-13

25

31 (0)

11

5 (0)

1

36 (0)

12

2013-14

25

3 (0)

0

0 (1)

1

4 (1)

1

Totals
132 (9)
25
34 (2)
8
166 (11 )
33
�
Previous Career
Seasons
Team
Appearances (sub)
Goals
2006-08
Standard Liege
60
9