Everton started this "massive six-pointer" in the bottom three of the Premier League, at 19th — just one place behind hosts Stoke City. However, there's always someone worse off than we are... big spenders Spurs sit in bottom place and don't play until Monday.
But the massive news in very aggressive, adventurous teamsheet selected by David Moyes, featuring BOTH new signings Marouane Fellaini and Segundo Castillo, was the biggest boost possible — the inclusion of our true Talsiman Tim Cahill, back from injury to a fantastic atmosphere generated in the part by the mass of travelling Blues who gave the lads a phenomenal welcome onto the field.
Anichebe and Yakubu were selected up front. with Big Vic apparently playing on the left wing, while Baines is dropped to the bench, allowing Lescott to resume his best position at left-back while the effective partnership of Jagielka and Yobo in central defence.
Right at the start, though, the difficulty n communication was clear, with Jagielka and Fellaini going for the same ball and giving away a very dangerous free-kick that fortunately went into the wall. Stoke continued to be feisty but Everton and their newcomers raised the heat with both good play and firm but fair tackles. But it was Stoke who had a decent shot on goal with Fuller forcing a good save from Howard down to his right.
Everton struggled to impose themselves when in possession, denied space and with limited passing options, the unfamiliarity and lack of match fitness showing up all too often with dreadful passing. Although Fellaini was putting in some great touches, the team was lacking guile, artistry and movement needed to break down a bug, stubborn, well organized and belligerent Stoke City defence. Anichebe was particularly poor, his bad ball control letting him down.
A ball pumped back in by Jagielka was headed across by Fellaini to Yakubu, who had come back from an offside position, but was not offside when the header was played to him. He got the ball to Cahill who danced into the are and played in Arteta, his one-touch response setting up Yakubu for an excellent pull back with his right foot to make space for a great left-foot strike into the corner to put the Blues in front just ahead of half-time.
Everton looked better and more organized in the second half and it didn't take long to reap the rewards. A beautiful cross whipped in by Arteta was touched in at the near post with a glancing header, with Tim Cahill making sure. 2-0!!!
But Stoke came back and stole one with a powerful strike from Olofinjana after Howard and Cahill botched the clearance of another long throw-in from Delap. Stoke scored again but it was called back for a foul on Yobo, although he went down far too easily and there was very little contact; the Stoke crowd could not believe it. Great atmosphere and a real test of nerve for the Blues... Everton then looked to have scored off an Arteta free-kick that led to a bout of goalmouth head-tennis at close quarters but it was called as a foul on Sorensen by Yakubu.
Another long throw caused even greater confusion, a flick off Jagielka's head as he was fouled popped up over Howard's head and into the net. Defence, once again becomes Everton's Achilles heel, after being so storing last season. Only one thing for it... SCORE MORE GOALS!
Everton looked to get have a penalty, a clear handball 1½ yards inside area, and the linesman signaling as such but, after a long discussion with his linesman, it was given as a free-kick outside the area! Un-fucking-believable! Alan Wiley screws us again. Moyes was sent into the stands for his protests.
A corner from Arteta powered in and a fabulous bullet header at the near post from who else but Tim Cahill!!! (OMG have we missed those or what?). Fantastic stuff with 12 mins left. Cahill then came off for Jack Rodwell, with two changes for Stoke. Arteta was booked for blocking another of those throw-ins, and then he got involved with Griffin.
Lescott dawdled and ended up giving away another dangerous free-kick hat was fortunately headed wide as the minutes ticked away. Stoke piled on the pressure as the board went up showing 5 mins of added time.
Everton could do nothing to relieve the intense pressure from the Potters, the energy sapping game having drained the energy form their legs, while Vaughan came on for Anichebe... wasting 30 seconds or just adding 30 seconds?
The final whistle came as a massive relief, and a tremendous result against the feistiest and most difficult of opponents. Well done, lads. Hope restored!
Cahill marks return with crucial goal
By their very nature, throw-ins are supposed to be fairly benign, at least in terms of the immediate threat they pose to a defending team; indeed the welly-it-into-row-z mantra is a tried and tested escape option for a defence under threat in the domestic game, even in these more cosmopolitan times.
The humble throw-in is not supposed to make quivering wrecks of supporters and defenders alike and leave both more content to see the ball go behind for a corner than into touch anywhere closer to the area than the centre circle. Nor is a journeyman player as limited as Rory Delap supposed to be so dangerous to what was last season one of the best defences in the Premier League.
That's how it was, though, in a bruising and nerve-shredding encounter in the narrow confines of the Brtiannia Stadium as a mostly incohesive but nonetheless spirited Everton beat away the challenge of newly-promoted Stoke to earn a second consecutive away win and three priceless points that lift them into the top half of the table.
2-0 up and coasting, two of those rocket-propelled Delap throw-ins had reduced the Blues' lead to rubble just past the hour mark before Tim Cahill underscored his importance to David Moyes's side with a 77th-minute winner, a strike that was defended by turns decisively and chaotically defended in a nervy finale from the traveling fans' point of view.
With Leon Osman, Joseph Yobo and Jack Rodwell all rated as doubtful with injury, Segundo Castillo stranded in South America after missing his flight to England and the pre-match rhetoric suggesting that Cahill wouldn't be risked, it looked as though Moyes's selection would be another case of finding enough senior bodies to put together a starting XI.
Imagine the susprise then when the Australian was named in the starting line-up — thereby confirming an email we'd received from a reader who bumped into Cahill at the recent Amir Khan fight and Tiny Tim confirmed he'd be playing this weekend — alongside debutants Marouane Fellaini and Castillo. Yobo took up his place in central defence alongside Phil Jagielka, Phil Neville continued at right back and Joleon Lescott moved to the left, thereby restoring that dependable back four from last season.
Yakubu was deployed as the lone striker and it was Victor Anichebe's superior fitness to that of James Vaughan that gave him the nod to make his first start of the campaign, albeit in an unfamiliar role wide right.
So, Mikel Arteta aside the midfield had a wholly different look from the first three games and that unfamiliarity bred a general lack of cohesion that might have been exploited on another day by a better side. Castillo looked bewildered for much of the first half, Fellaini was equally hesitant to do much beyond trying to keep it simple but was frustrated by constantly being pulled up for leading with his elbows in aerial challenges.
Cahill looked as rusty in the early going as you'd expect from somone who hasn't played competitively since March, his touch heavy and wayward. Meanwhile, much of the first 45 minutes passed Anichebe by and it looked then like a mystifying decision by the manager but the makeshift winger warmed to his new task as the match wore on, mostly vindicating Moyes's decision.
It took the Blues a good 15-20 minutes to show any signs of getting their act together. By then, Delap had arrowed one of those ridiculously dangerous throw-ins straight over Tim Howard's crossbar from the right touchline and Ricardo Fuller had forced a one-handed save from the American 'keeper as the home side, backed by a raucous home crowd, threatened an early breakthrough.
Everton didn't get a shot off until Fellaini tried his luck from 25 yards but his shot was blocked before Yakubu bounced a left-foot volley wide three minutes after that.
Then, with five minutes of the first half remaining, the Blues gave the top flight new-boys a lesson in the realities of the Premier League by taking the lead against the run of play. It was a well-worked goal too; Arteta fed Cahill who touched it to Yakubu and he placed a low, side-footed shot past Thomas Sorensen.
And Moyes's side might have doubled their lead in first-half injury time when Arteta crossedf to the back post and the ball dropped to Cahill but his snap-shot was charged down at point-blank range and when the ball came in, Sorensen tipped Anichebe's lopping header behind for a corner that came to nothing.
The advantage was doubled just five minutes after the interval, however, and it was a simple yet well-executed free-kick manouevre that delivered the goods. Arteta won a free kick a few yards outside the right side of the area and the Spaniard picked Anichebe out perfectly with the resulting delivery, the young striker glancing the ball on and inside the far corner to send the visitiing Evertonians into rapture.
With Stoke were surprisingly subdued following half-time, that looked to be game over but, as against Blackburn on the opening day, the Blues' lead was short-lived. Fellaini was adjudged to have fouled on the edge of the box but when the ball was rolled to the left for Stoke debutant Danny Higginbotham to strike one from distance, Arteta threw himself in front of it and deflected the ball out for a throw-in.
Delap, of course, lumped it into the box, Howard could only punch it through a crowd of bodies to Cahill who in turn could only knock it forward with his thigh as far as Olofinjana who steadied himself before volleying crisply between Jagielka and the 'keeper on the line.
Seven minutes later, it looked as though Everton's lead had evaporated when Jagielka was easily out-jumped by Dave Kitson and Fuller latched onto the knock-down, left Yobo sprawling and tucked the ball past the advancing Howard. Referee Alan Wiley, however, had already correctly called play back for a foul on the Nigerian defender and the "goal" was chalked off.
Three minutes later, however, Stoke got the equaliser they had been threatening and it came, once again, from the arms of Delap who delivered a throw-in that was so flat and fast it was more like a free kick. Jagielka, with Cort's arm on his back, rose and connected with the ball but could only help it on its way into the goal. 2-2 and it was anyone's game.
Up until the midway point in the second half, Fellaini had been a peripheral figure and Castillo, while more assured and visible in defensive midfield, was also unable to stamp any authority on the game. That left the improving Cahill and the confident Arteta to run the midfield , ably assisted by Anichebe and Yakubu who dropped back to help out when needed.
And with 17 minutes left it looked as though Yakubu had prompted Cort into a catastrophic error when the defender clearly handled a yard inside his area following minimal contact from the Nigerian striker. The linesman flagged vigoriously for a free kick and referee Wiley, having pointed to the spot, was now unsure what to give. After a lengthy conference with his assistant, he went back on his initial decision and spotted the ball just outside the box. Yakubu was incredulous but the decision had been made; once again, Everton were robbed of a blatant penalty by the staggering incompetence of the officials.
Four minutes later, though, justice was done when Arteta swung in a superb corner, Cahill easily lost his marker and headed emphatically past Sorensen to make it 3-2. Once, again the vast ranks of visiting Blues were dancing up and down on the terraces but most were wondering if that was indeed going to be the winner.
With his job done, Cahill was withdrawn after 80 minutes in favour of Jack Rodwell as Everton settled in for the expected onslaught from Tony Pulis' men. On this evidence to be a fairly limited side and, predictably, Delap's weapon was their most potent in the closing stages that dragged on into five and a half minutes of stoppage time.
Fuller half-volleyed over the bar when he might have done better and Sonko had half of the Britannia Stadium celebrating when he rippled the side-netting two minutes past the regulation 90. But with nervy Everton contriving to find touch when it seemed easier to just belt the ball downfield, there were plenty of nervy moments as it ended up in Delap's hands in dangerous areas.
Indeed, City's final throw of the dice came from a throw-in on the right but, thankfully, Higginbotham's shot was palmed behind by Howard.
The Blues played out the final couple of minutes in relative comfort to see out a game that was anything but comfortable to watch; it had that derby-like feeling where you just wanted the game to end as quickly as possible once Everton had the advantage and it was a white-knuckle ride at times in the second half.
The three points were well won, though, despite the Blues operating with a cagey central midfield pair who were given a baptism of fire in a physical and often one-dimensional encounter. Fellaini was the quicker to settle but drifted out of the game for periods in the second half, while Castillo took a while to find his passing range in particular. There was plenty to suggest, however, that both will be handy additions to the squad once they adapt to the league, the language, the country and, most importantly, Moyes's plans.
Despite those teething troubles, there is no doubt the better side won on the day. That said, Everton will play much better than that this season but they can be thankful for the return of Cahill and that uncanny knack of scoring crucial goals.
Match Preview
The madness of the transfer window out the way, Everton return to action this weekend against Premier League newcomers Stoke City but despite his hectic last-minute shopping, David Moyes's selection problems remain as acute as ever.
The international break was supposed to provide an opportunity to take stock of the squad situation and refocus the players' minds on the the task ahead following consecutive home defeats that have left the Blues in 17th place after the first three games of the new season.
Instead, the manager lost another player to a long-term injury... before he'd even kicked a ball for Everton after arriving before the closure of the transfer window! Lars Jacobsen, the free transfer acquisition from FC Nurnberg, suffered a dislocated shoulder in an awkward fall while playing for Denmark against Portugal in midweek and is expected to be out for four months.
Steven Pienaar has just begun the physical rehabilitation of his recovery from a broken toe sustained in pre-season, Andy van der Meyde remains off the radar with a hamstring injury, and Tim Cahill while close to full fitness is not expected to be risked this weekend.
To rub salt into the wounds, Leon Osman picked up a knee injury against Portsmouth and while he is included in the squad for Stoke, it's not clear how fit he actually is. The same goes for Joseph Yobo, who sat out Nigeria's game against South Africa because of an ankle complaint, and Jack Rodwell who picked up a knock on England U-19 duty this week as well.
And then there is the question over another new signing, Segundo Castillo, who had problems returning from international duty in Uruguay with Ecuador and could therefore be unavailable as well. He still had not returned by Friday but the extra day afforded by the Sunday kick-off means he could get back in time to take his place in the squad.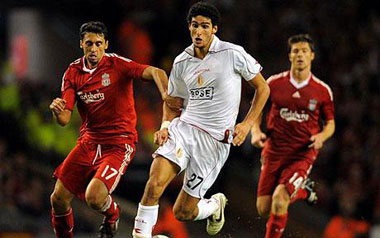 "Mo" Fellaini:
set to make his much-anticipated debut
If the worst case scenario prevails, Moyes could again have problems fielding a senior XI this weekend but one thing that is certain — barring the injury curse taking him out in the pre-match warm-up! — is that £15m newboy Marouane Fellaini will make his hotly-anticipated debut for the Blues in midfield.
The 20-year-old came through Belgium's World Cup qualifier in Turkey this past week putting in a solid display in the centre of the park and met up with his new Everton teammates for the first time. He will line up alongside Mikel Arteta and, depending on the afore-mentioned issues, two more from Castillo, Osman, Phil Jagielka Rodwell or even Leighton Baines, with Nuno Valente at left back in that last eventuality.
Up front, James Vaughan and Yakubu are likely to continue at the top of a 4-4-2 formation; Phil Jagielka could partner Joleon Lescott (who, as you'll see from Steve Flanagan's stats below, will make his 100th consecutive appearance for Everton if he plays) in defence if the former isn't needed to deputise again in midfield, allowing Yobo more time to rest the ankle which has required pain-killing injections in recent games. Phil Neville and Tim Howard will take up their usual slots at right back and in goal respectively.
Everton's task this weekend hasn't been helped by their continuing selection woes, nor will they be relishing the prospect of meeting another physical side in the form of Tony Pulis's Potters, who beat Aston Villa in a 3-2 thriller in their first home game since returning to the top flight. Having won their only other away game thus far, though, the Blues may take confidence from being on the road and away from the controversies that continue off the pitch back in Liverpool L4.
Former Everton 'keeper Steve Simonsen could line up against his old club if Thomas Sorensen fails a late fitness test on a back injury but Stoke will definitely be without Andy Faye who is suspended. New acquisitions Danny Higginbotham and Ibrahima Sonko are in line to make their debut for the Potters.
For the Everton of last season, this would be an expected away win against a newly-promoted side but the reality is that the Blues are a very different team at the moment, suffering from a lack of confidence and a debilitating injury crisis. Having to bed in perhaps two new central midfielders in the same game won't help but they will be aided by the fact that in Fellaini they will have a technically gifted and, crucially, fit influence who will probably take to life in the Premier League quickly.
As long as there is service to the front two, Yakubu in particular, then goals are never too far away. It's at the back where the concentration and effectiveness have been missing in the early going and if they can keep it tight and nick a winner at the other, no-one will really be complaining if the standard of football doesn't immediately improve.
Matchday Stats
Everton go into their 114th match against Stoke City looking to get their season back on track following 2 defeats and a victory in the first three matches of the season.
This will be Everton's first ever match against Stoke City in the Premier League, with Stoke being the 40th team Everton have faced in the Premier League.
Stoke City will also become the 20th team Everton have played in the Premier League, the old Division One and the old Division Two.
Everton's record against Stoke City:
| | | | | | | |
| --- | --- | --- | --- | --- | --- | --- |
| | P | W | D | L | F | A |
| Division One | 100 | 48 | 26 | 26 | 173 | 107 |
| Division Two | 4 | 2 | 1 | 1 | 10 | 5 |
| FA Cup | 9 | 5 | 1 | 3 | 18 | 9 |
| TOTALS: | 113 | 55 | 28 | 30 | 201 | 121 |
Our record at Stoke City:
| | | | | | | |
| --- | --- | --- | --- | --- | --- | --- |
| | P | W | D | L | F | A |
| Division One | 50 | 15 | 16 | 19 | 59 | 67 |
| Division Two | 2 | 1 | 0 | 1 | 4 | 4 |
| FA Cup | 6 | 3 | 1 | 2 | 9 | 5 |
| TOTALS: | 58 | 19 | 17 | 22 | 72 | 76 |
Everton's last match against Stoke City, and the only other time we've played at the Britannia Stadium, was back on 5 January 2002 when a 53rd minute Alan Stubbs goal secured a 1:0 victory in this 3rd round tie of the FA Cup.
The last League fixture at Stoke City was way back on 20 April 1985, when goals from Graeme Sharp and Kevin Sheedy secured a 2:0 victory on the way to the team's 8th League title.
Since Stoke City's last victory in this fixture on 27 December 1982 (a 0:1 defeat on 27 December 1982), Everton have gone on a run of 7 unbeaten matches against their opponents – winning 6 and drawing just 1 in that time.
This will be Everton's 22nd match on 14 September:
| | | | | | | |
| --- | --- | --- | --- | --- | --- | --- |
| | P | W | D | L | F | A |
| Premier League | 2 | 1 | 0 | 1 | 3 | 3 |
| Division One | 17 | 8 | 5 | 4 | 29 | 19 |
| League Cup | 1 | 0 | 1 | 0 | 1 | 1 |
| European CWC | 1 | 1 | 0 | 0 | 3 | 2 |
| TOTALS: | 21 | 10 | 6 | 5 | 36 | 25 |
Everton's last League match on this day was in 2002, when a brace from Kevin Campbell cancelled out Nemeth's 11th minute goal in a 2:1 victory at Goodison Park.
The last away match Everton played on this date was in 1999 when Danny Cadamarteri scored Everton's equalizer in a 1:1 draw at Oxford United in a League Cup 1st leg match.
Milestones that can be reached this game:
If he plays, Joleon Lescott will be making his 100th appearance for Everton in all competitions. It would also be his 100th consecutive appearance for Everton in all competitions – becoming only the 12th player to achieve this feat.
Lescott will also become just the 4th Everton player to make 100 consecutive appearances for the club since his debut. Jack Taylor holds the club record with 135 consecutive appearances since his debut, followed by Gorge Wood (120) and Dennis Stevens (114). In the current climate of yellow cards being handed out like confetti, Lescott's achievement will be even more remarkable.
If he plays, Victor Anichebe will be making his 50th appearance for Everton in all competitions.
* Unfortunately, we cannot control other sites' content policies and therefore cannot guarantee that links to external reports will remain active.