Alex Iwobi
17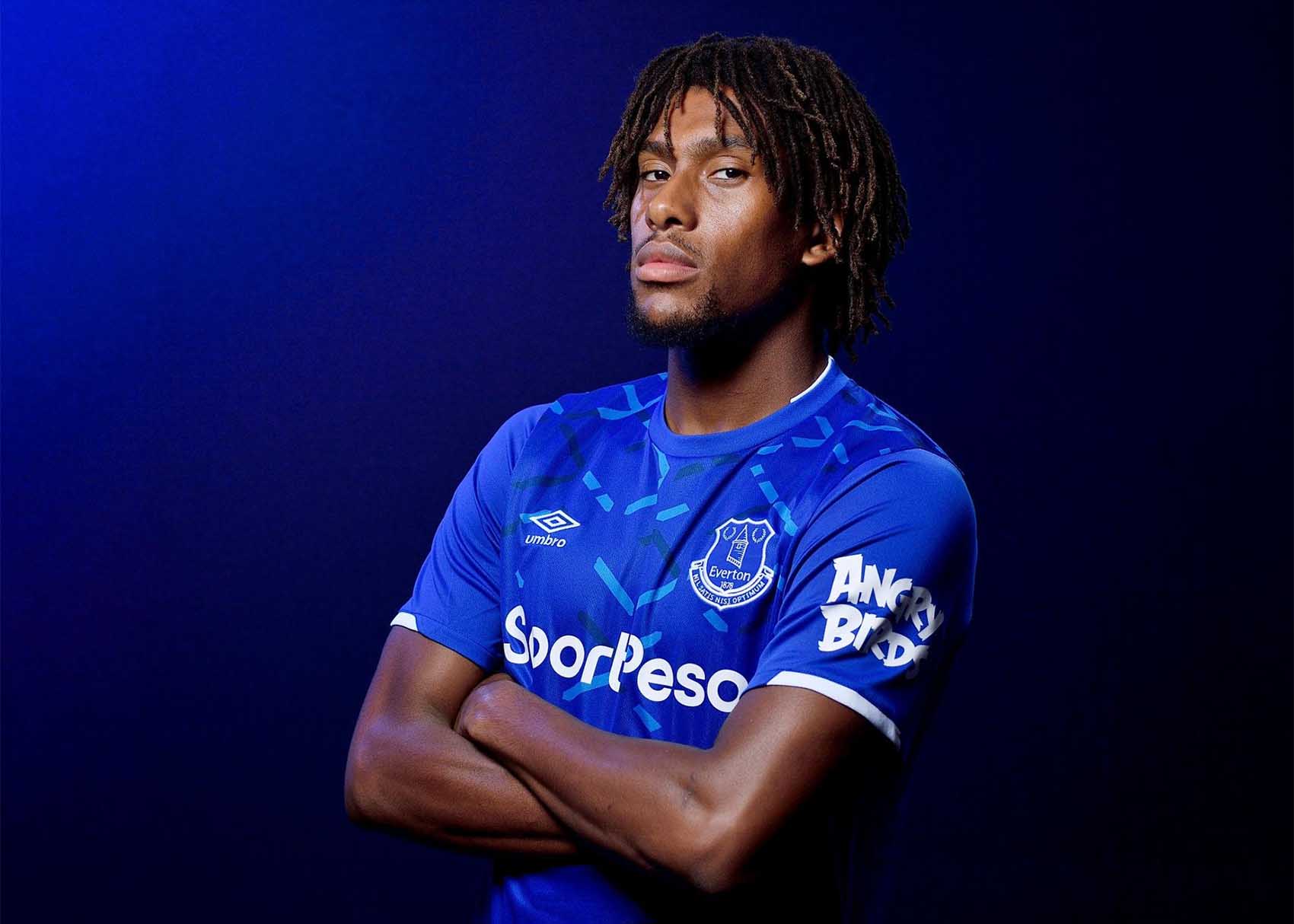 Everton secured the surprising transfer of Alex Iwobi from Arsenal in an eleventh-hour deal just prior to the closure of the transfer window in August 2019.
The 23-year-old, nephew of former Bolton Wanderers star Jay-Jay Okocha, signed a 5-year contract at Goodison Park after Everton had been rebuffed by Crystal Palace in their attempts to sign Wilfried Zaha. Not that Iwobi was necessarily a direct alternative; as Marco Silva said after the move was finalised, "Alex was one of our main targets for this window and I believe he is a fantastic signing for Everton. He is a direct and skilful winger and attacking midfielder who always works very hard for his team."
Indeed, the Blues had had one bid for for the Nigeria international rejected a couple of days previously but returned with an increased offer that was officially undisclosed but reportedly worth £28m (with the potential to rise to £35m) a day after the Gunners had knocked back an opening bid, said to be just £30m, and successfully filed the paperwork in time for the deal to go through.
As Iwobi later told The Times, he had to scramble off a boat in Dubai to get the transfer through with minutes to spare.
"I thought the deal was off," he explained. "Then, my agent was calling me: 'Alex, they are going to put in another bid. What do you think? I need to know asap.'"
"Bear in mind I am still on the boat, so I have to tell the driver to turn around. He couldn't speak English, so it was tough trying to get him to go back to our hotel in order to sign the papers. He was zooming [back to shore]."
"Everything was getting sent to the hotel. I was having to sign stuff and scan it back. Wait. Get something back again. The people in the hotel had no idea what was going on. They recognised me as an Arsenal player and they're saying, 'How's Arsenal? How's everything going there?' And I am signing these papers trying to leave. That day was so crazy."
With plenty of competition for places in Arsenal's forward line, Iwobi wasn't able to hold down a regular first-team spot at the Emirates and the arrival of Nicholas Pepe in a club-record deal would have made it even harder for him to get game time.
In all, Iwobi made 137 senior appearances for Arsenal in all competitions, scoring 15 times. One of his most impressive moments was the goal he scored in the Europa League final in May 2019, a brilliantly-struck effort that ultimately proved to be little more than a consolation but which underlined the quality he possesses.
He had been capped 36 times by Nigeria and has six international goals to his credit at the time he joined Everton.
One of the criticisms that had been aimed his way at Arsenal was his lack of end product but Silva tasked him with getting more goals at his new club and he responded immediately with a goal on his first start, heading home to put the Toffees 3-2 up in a League Cup tie at Lincoln City. He followed that up with another headed goal on his full home debut in a 3-2 victory over Wolves.
That would be it for the 2019-20 season, however, in terms of goals for Iwobi who struggled along with the rest of the team through a rut of poor form that ultimately cost Silva his job and ushered in Carlo Ancelotti as manager in December 2019.
Over the first few months of the campaign, it had become clear that Iwobi's best position was in a central role behind the striker(s) but Ancelotti's strong preference for 4-4-2 meant that the Nigerian didn't get an opportunity to shine because his favoured position no longer existed. He was deployed as a wingback or winger on a number of occasions without ever looking truly convincing, leaving much to prove in his second full season with the Toffees.
But, apart from a brief spell be being switched from left to right wing, there really was no improvement in a very expensive but limited player and it became abundantly clear why Arsenal had been quite happy to take that enormous fee for him.
His enigmatic contribution to games is perhaps best summed up by Darren Bent:
"Iwobi is a puzzling player, he tries his hardest, he can beat people with his skill, he tracks back and never gives up... but what is the result? — Nothing! He gives the ball away, he overhits or underhits crosses into the box, he is inclined to try and pass instead of taking an opportunity to take a shot. He actually gives next to nothing to the team."
But Carlo Ancelotti was his most diplomatic in finding something nice to say about the hugely disappointing and massively expensive purchase from Arsenal:
"I think he had some good performances, and he had some difficult performances: he is part of the squad and after that he had some games where he played really well, and was really helpful for the the team, and in other games I tried to change a little bit the strategy... it didn't work well but not for his fault, [it was] the team's fault and the team's mistakes," Ancelotti said. "He is professional, but of course when there is competition sometimes you play and sometimes you are on the bench."
And few weeks later, Ancelotti was gone, leaving the conundrum that is Alex Iwobi to his successor in the Goodison Park hotseat, Rafa Benitez. And Benitez was also persuaded by good training sessions, with suggestions in his early season games that the new manager might be able to actually get something more out of Iwobi on the pitch. A goal and an assist in the opening four games came with better play that Benitez had clearly inspired.
But that spell of improvement didn't last long as his appearances became more sporadic and his contribution reverted to very little by way of end-product – except for Everton's only goal in the month of November, a consolation in the 2-1 loss at Wolves. During a dreadful spell of only one win and 7 defeats in 10 games for Rafa Benitez, Iwobi became an increasing target of fans' ire as his continued selection and lack of any kind of meaningful product exasperated the long-suffering supporters.
But things changed albeit slowly after Frank Lampard arrived and stared working with the Nigerian star. All aspects of his game started to show progressive improvement over a number of games, the stand-out moment coming late on in a vital game against Newcastle at Goodison Park which was goalless deep into 9 minutes of added time, when Dominic Calvert-Lewin played an outrageous backheeled wallpass that Iwobi rifled home to give 10-man Everton a most unlikely victory.
FactFile
| | |
| --- | --- |
| Squad number | 17 |
| Position | Winger/Attacking Midfield |
| Nationality | Nigerian |
| Born | Lagos |
| Date of birth | 3 May 1996 |
| Height | 5'-11" (1.81 m) |
Joined
8 August 2019
Joined from
Arsenal
Signed under
Marco Silva
Transfer fee
£28M (^£35M)
Contract duration
5 years
Contract expires
June 2024
Debut as sub
v Aston Villa (A)
23 August 2019
Full debut
v Lincoln City (A)
28 August 2019
Everton Career
| Season | Squad Number | League Apps (sub) | League Goals | Cup Apps (sub) | Cup Goals | Total Apps (sub) | Total Goals |
| --- | --- | --- | --- | --- | --- | --- | --- |
| 2021-22 | 17 | 22 (6) | 2 | 2 (2) | 1 | 24 (8) | 3 |
| 2020-21 | 17 | 17 (13) | 1 | 4 (2) | 1 | 21 (15) | 2 |
| 2019-20 | 17 | 19 (6) | 1 | 4 (0) | 1 | 23 (6) | 2 |
| | Totals | 58 (25) | 4 | 10 (4) | 3 | 68 (29) | 7 |
Previous Career
| Season | Team | League Apps | League Goals | Cup Apps | Cup Goals |
| --- | --- | --- | --- | --- | --- |
| 2010-15 | Arsenal | 70 (30) | 11 | 33 (16) | 4 |