EVERTON PAST PLAYER PROFILES
Lars Jacobsen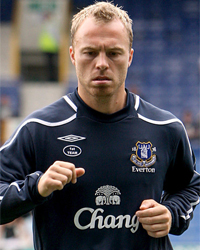 Squad number
15
Position
Defender
Joined on
26 August 2008
Joined from
Nuremberg (Ger)
Transfer fee
Free
Full debut
v Portsmouth (A)
21 March 2009
Contract duration
1 year
Contract expired
June 2009
Finalé (sub)
v Chelsea (N)
30 May 2009
Left Everton
29 June 2009
Destination
Blackburn Rovers
Transfer Fee
Released
Born
Odense, Denmark
Date of birth
20 September 1979
Height
5 ft 11 in (1.81 m)
Nickname(s)
Honours
Danish international
�
Soccerbase Datafile
�
Wikipedia Entry

After an unspeakably disappointing summer transfer window in 2008 that had seen no new faces up to a week before deadline day, the arrival of fullback Lars Jacobsen at least added some depth to an Everton squad still short on numbers.
Acquired on a free transfer from FC Nurnberg, Jacobsen's pedigree offered hope that he could become the latest in a succession of canny steals by David Moyes. A Danish established Danish international, the 28-year-old brought international experience but he'd had his injury troubles in Germany and was deemed surplus to requirements.
As fate would have it, Jacobsen would find himself sidelined with a long-term injury before he got the chance to make his debut for the Blues. Playing in an international match for Denmark, he fell awkwardly, dislocating a shoulder, and was ruled out until the New Year.
Once he had fully recovered, however, his manager was reluctant to pitch him into first-team action, even when Tony Hibbert again succumbed to his own injury problems, Phil Jagielka was played out of position at right back until Jacobsen finally got his chance to start in the Blues' 2-1 defeat at Portsmouth.
His appearances were still few and far between and, despite an impressive display at Stamford Bridge in April and having shown himself in the eyes of many fans to be a more complete player than Hibbert, he still found himself playing second fiddle.
It wasn't surprising, therefore, that he was denied a start in the FA Cup Final by Moyes's preference for Hibbert and, as fate would have it, the long-standing Everton right back wilted in the Wembley heat, allowing Florent Malouda to terrorise him down Chelsea's left flank and set up the equaliser for Didier Drogba.
Hibbert was hauled off at half time and Jacobsen better stemmed the tide when he came on to replace him but Moyes had clearly not seen enough from the Dane in his five appearances for the Club to convince him that he was the longer-term answer at right back.
Now aged 29 and only offered a one-year contract extension at Everton, Jacobsen was seeking guarantees of first-team football for season 2009-10 and apparently found them at Blackburn Rovers, for whom he signed a two-year deal on 29 June 2009.
Everton Career
Season
Squad
Number
League
Apps (sub)
League
Goals
Cup
Apps (sub)
Cup
Goals
Total
Apps (sub)
Total
Goals
2008-09

15

4 (1)

0

0 (1)

0

4 (2)

0

Totals

4 (1)

0

0 (1)

0

4 (2)

0
Previous Career
Season
Team
Appearances (sub)
Goals
2002-04
Hamburg
9 (13)
1
2004-07
Copenhagen
103 (3) & 6 (0)
3 & 0
2007-08
Nuremberg
6 (1)
0