EVERTON PAST PLAYER PROFILE
Jô Alves de Assis Silva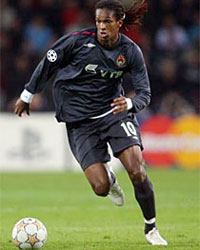 Squad number
11
Position
Striker
Joined on
2 February 2009
Joined from
Manchester City
Transfer fee
On Loan
Full debut
v Bolton W (H)
7 February 2009
Contract duration
6 month loan;
1 year loan
Contract expires
June 2010
Finalé (sub)
Left Everton
21 January 2009
Destination
Manchester City
Transfer Fee
Loan Ended
Born
S�o Paulo, Brazil
Date of birth
18 March 1987
Height
6' 2" (1.88 m)
Nickname(s)
J�; Bambi on Ice
Honours
Brazil International

It was in another Deadline Day (2 February 2009) swoop for David Moyes that he picked up the out-of-favour striker, Jô from mega-rich Manchester City. The Brazilian joined Everton on loan until the end of the 2008-09 season bolstering a squad that had been decimated by long-term injuries to Yakubu Aiyegbeni, James Vaughan and Louis Saha.
He had to wait to make his debut for the Blues, though — having played in City's FA Cup defeat to Nottingham Forest he was ineligible to play for Everton in their critical FA Cup derby replay against Liverpool two days after his arrival.
Jô played for Corinthians (Brazil) from 2003-2005, making 85 appearances and scoring 13 goals. He was transferred to CSKA Moscow in 2005 and scored 14 goals in his first 18 appearances for the Russian club. In all he made 77 appearances for CSKA, including 5 in the Champions League, and racked up 44 goals in the process.
That garnered the attention of a number of Premier League clubs, Everton being prominent among them, but it was Manchester City who signed Jô for a fee that was officially undisclosed but thought to be in the region of £19 million.
He struggled to settle at City, though, suffering from the fact that Sven Goran Eriksson had bought him in just before he was fired, and Mark Hughes seemed somehow reluctant to use him. On top of that, his big-money arrival and focus in the team were overshadowed by the arrival for a British record £32m of his compatriot Robinho in September.
He scored three goals in 13 appearances under Hughes, two of those against Nicosia Omonia in the Uefa Cup, but was deemed surplus to requirements at Eastlands following the £14m acquisition of Craig Bellamy in January 2009.
Wearing the No 11 jersey last worn by James McFadden, Jô made his debut against Bolton Wanderers, despite not having started a Premier League match for 4 months. Not surprisingly, he looked a bit rusty at times, lacking positioning and control but he scored twice and got the credit for winning a penalty to cap a fairytale debut.
The Brazilian went on to make 12 appearances for the Blues, 11 of those from the start, and scored five times, all at Goodison Park. Used primarily as a lone striker, he was supported in attack in turns by Tim Cahill and Marouane Fellaini and helped Everton seal a second successive fifth-place finish.
Although he was cup-tied and played no part in the run to Wembley, all in all, while his five-month loan spell could comfortably be declared a success, he didn't really set Goodison on fire or persuade Moyes that he would be worth splashing north of £10m to sign him permanently from City. He apparently returned to Eastlands in May 2009, but the possibility of a second loan spell remained open...
And indeed, on the day of Everton's first pre-season game at Bury, Jo was re-signed on a one-year loan deal, after training all week with the squad in Scotland. There was reportedly to be a sale agreement that set a transfer fee of £8M if Everton wished to take the option at the end of the season, but ultimately that proved redundant.
Though he suffered from poor service as Everton's 2009-10 Premier League campaign got off to a rocky start, Jô's fragility and surprisingly poor first touch continued to hamper his chances of making the striking role his own at Goodison.
By December, with no League goals to his name, it seemed that perhaps even Moyes had had enough, and an unauthorized Christmas jaunt back to Brazil was the final straw. Everton suspended him 'indefinitely' and demanded that Man City, who it turned out, were still playing his wages, fine him for this unacceptable breach of contract.
As expected, Jô was effectively returned to City in January 2010, just halfway through his second loan spell with the Blues, as the Eastlands club arranged a new loan for the player at Galatasaray. The Brazilian followed Lucas Neill to Turkey, hoping to resurrect a career that faltered badly after leaving the Russian League for England.
Years later, the player himself recalled that Brazilian sojurn differently:
"There was an episode at Everton when I had hurt my ankle and I asked (then manager) David Moyes if I could come back to Brazil to speed up treatment," he told Reuters.
"I came back here and didn't have any treatment, I did other things. I told him I was fit to face Chelsea. I played from the start in London and I didn't play well at all. I was in pain and I hid it from him and he found out. And he was very angry.
"I had opportunities but I wasn't focussed.
"I didn't take care of myself off the field. I didn't rest, I didn't train properly. It was immaturity. I thought it was just another club and just another moment in my career but it was a massive opportunity for me.
"I thought it was just another spell and that I would learn, but you have to take advantage. I thought, 'don't worry, I'll have another chance'. Sometimes you don't get another chance."
He also played in the UAE and China before going back home to Corinthians, where won the Brazilian league title with Corinthians and was the league's top scorer also with 18 goals. Corinthians chose to cash in on him and sold him for £11 million to Japanese side Nagoya Grampus where he would be plying his trade in 2018.
Everton Career
Season
Squad
Number
League
Apps (sub)
League
Goals
Cup
Apps (sub)
Cup
Goals
Total
Apps (sub)
Total
Goals
2008-09

11

11 (1)

5

0 (0)

0

11 (1)

5

2009-10

11

6 (8)

0

6 (3)

2

12 (11)

2

Totals

17 (9)

5

6 (3)

2

23 (12)

7
Career Record
Season
Club
Starting appearances
Goals
2003-2005
Corinthians
81
13
2005-2008
CSKA Moscow
77
44
2008-2009
Manchester City
9
1