Conor McAleny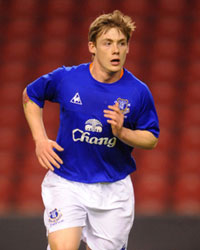 Squad number
35
Position
Striker
Born
Whiston
Date of birth
12 August 1992
Height
5' 9"
Joined on
July 2008
Joined from
Everton Academy
Signed by
David Moyes
Transfer fee
No fee
Debut
(Sub)
v Arsenal (A)
10 December 2011
Debut
(Full)
v Krasnodar (H)
11 December 2014
Contract duration
1 + 2 + 3 years
Contract expired
June 2017
Left Everton
9 June 2017
Left for
Released
Transfer Fee
No Fee
•
Soccerbase Datafile
•
Wikipedia Entry
Attached to the club since the age of 11, Conor McAleny joined Everton's academy in the summer of 2008 aged 17, and became part of the Under-18s squad in 2008-09, netting a number of important goals – a role which increased the following season.
The Whiston-born forward was also given a squad number in 2009-10 and he got to warm the bench during a Europa League game against BATE Borisov in December 2009 but didn't feature for the first team in that campaign, despite signing a professional contract in February 2010.
With the Blues plagued by injuries in April 2011 McAleny was named as an unused substitute in the 2-2 draw with Aston Villa at Goodison Park and again on several further occasions while also helping Everton's Under-18s to national glory.
In June 2011 he signed a new one-year deal along with fellow academy graduate James Wallace and while he missed a few Reserves games through injury in October/November, he earned another place on the first-team bench at Bolton and then at Arsenal, where he finally made his debut for the senior Everton team in the Premier League.
And in the dying minutes of that game he came very close to becoming an instant hero, striking an impressive half-volley that flew inches wide of the post. He was also given a few more minutes in the limelight at Goodison Park against Norwich the following weekend but it would be many months before he came close to the first team again as David Moyes preferred experience over youth in his final two years as Everton manager.
In March 2012, he was handed the opportunity of more first-team action with a loan spell at Scunthorpe United for the rest of the the 2011-12 season but his stay there was cut short by a knee injury that would keep him out for the rest of the season.
Despite rumours suggesting the youngster had rejected a new contract with Everton, he eventually secured a new two-year deal in August 2012 before suffering an ankle injury and damage to his ligaments that kept him sidelined for the first few months of that season.
A goal in a 5-2 win over Bolton when he did start for the Under-21s side signalled his return to fitness but he remained beyond the first-team picture in Moyes's final season and under his successor Roberto Martinez who handed him a season-long loan opportunity with Brentford in a bid to get some prolonged first-team football under his belt.
In just the fourth game of Brentford's 2013-14 campaign in League One, however, McAleny suffered every player's worst nightmare, when he broke his leg in a heavy challenge with a Walsall player. Then Bees manager, Uwe Rossler, described it as a "very, very nasty injury" but although it prematurely cut short his loan, it proved to be a clean fracture that healed quickly and he marked his return to fitness and availability by being named as an unused substitute for Everton's FA Cup tie at Stevenage in late January 2014.
He was on the bench a few more times before the end of the season, and must have done enough to impress Martinez, earning a 3-year contract in July 2014.
Still, his opportunities in the senior side were restricted to a single appearance in the Europa League dead rubber against Krasnodar in December and in February 2015 McAleny joined Championship side Cardiff City on loan until the end of the season where he scored his first senior goals.
Back with his Everton colleagues for the summer of 2015, McAleny made a really positive impression in pre-season, particularly at Swindon where he helped set up three goals and scored the fourth but he would find himself out on loan again in September, this time with Charlton Athletic.
That move back to Capital would provide him further experience, albeit at a club undergoing a period of tumult in the Championship, and Conor was sent back to Finch Farm two days before his loan term was due to expire with under-fire Addicks manager Karl Fraeye citing the forward's attitude as an issue.
He would fare better back in the northwest with Wigan Athletic later that season, however, when he joined the Latics on loan at the start of February 2016. Two goals in his first three appearances suggested that he was ready to push on with his career and he received a vote of confidence that month from Martinez who insisted that he had a long-term future at Everton.
This was his fifth loan spell in the last three years, and he scored 4 goals in 13 appearances, suggesting lower league would be his level after seven seasons as a sparsely used Everton squad player.
With incoming new manager Ronald Koeman, McAleny's regression deepened, losing his squad number (although he would wear № 67 in an EFL trophy game) and figuring very rarely for the U23s. In January 2017, he went out on loan once again, this time to Oxford United.
With 10 goals in 14 starts on loan at the League One side, he seemed to have found his level, and there was talk that he would make the move permanent, unless tempted by other offers, with his contract at Everton expiring. He was released in June 2017.
Everton Career
Season
Squad
Number
League
Apps (sub)
League
Goals
Cup
Apps (sub)
Cup
Goals
Total
Apps (sub)
Total
Goals
2009-10

40

0 (0)

0

0 (0)

0

0 (0)

0

2010-11

40

0 (0)

0

0 (0)

0

0 (0)

0

2011-12

43

0 (2)

0

0 (0)

0

0 (2)

0

2012-13

43

0 (0)

0

0 (0)

0

0 (0)

0

2013-14

35

0 (0)

0

0 (0)

0

0 (0)

0

2014-15

35

0 (0)

0

1 (0)

0

1 (0)

0

2015-16

35

0 (0)

0

0 (0)

0

0 (0)

0

2016-17

67

0 (0)

0

0 (0)

0

0 (0)

0

Totals

0 (2)

0

1 (0)

0

1 (2)

0
Loan Record
Season
Team
Appearances (sub)
Goals
2011-12
Scunthorpe United
2 (1)
0
2013-14
Brentford
4 (0)
0
2014-15
Cardiff City
6 (2)
2
2015-16
Charlton Athletic
3 (5) & 1 (0)
0 & 0
2015-16
Wigan Athletic
9 (4)
4
2016-17
Oxford United
14 (4) & 0 (1)
10 & 0
Everton Academy Career
Season
Team
Appearances (sub)
Goals
2007-08
U-18s
0 (1)
0
2008-09
U-18s, Yth Cup & Res
8 (12), 1 (1) & 0 (0)
5, 0 & 0
2009-10
U-18s, Yth Cup & Res
18 (4), 3 (1) & 4 (6)
11, 1 & 1
2010-11
U-18s & Res
12 (0) & 8 (3)
4 & 5
2011-12
Res
9 (4)
3
2012-13
U-21s
11 (1)
10
2013-14
U-21s
5 (2) & 1 (0)
3 & 0
2014-15
U-21s
2 (0) & 2 (0)
2 & 0
2015-16
U-21s
6 (0) & 5 (0)
1 & 2
2016-17
U-23s
0 (0) & 1 (2)
0 & 1