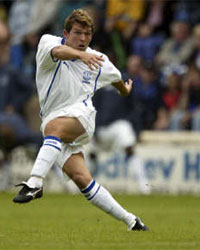 Squad No.
23
Joined
July 2002
Transfer Fee
£1.25M (1 yr)
Signed by
David Moyes
Debut
(Sub)
v Tottenham (h)
17 August 2002
Contract
Expired
June 2003
Finalé
(Sub)
v Southampton (h)
17 August 2002
Born
Santos-SP, Brazil
Date of birth
7 August 1976
Height
172 cm
Nicknames
Julio, Rodrigol
Honours
STRENGTHS
Mysterious Brazilian skills
WEAKNESSES
Flim-flam-flum

Everton's new Brazilian signing Rodrigo says the reason why he has 'RODRIGOL' printed on his shirt is not because he is a prolific scorer.

"It says 'RODRIGOL' because the 'L' is for my middle name, which is Lopes.

"My full name is Juliano Lopes Rodrigo. It's not like Gabriel Batistuta being called Batigol. That was a nickname the fans gave him because he scored so many goals."

Rodrigo is an attacking midfielder and plays in the left side or centre, but he can be used like a forward.

Despite the media hype, Rodrigo was not close to getting a place in the Brazilian squad for the World Cup. He doesn't even have a single Brazilian cap. But don't be worried, 'cos it was only Rivaldo and Denilson who were ahead of him in the picking order
What can we expect from Rodrigo? A fantastic free-kick taker. In the 2001-02 season, he scored from 20 yards to knock out Internacional, and he was in great shape while on loan at Atletico Mineiro. He has loads of creativity and he can do wonders playing behind the strikers or in the left wing.
Rodrigo is a bit similar to Harry Kewell, but his finishing is even better, and he can also score a decent amount of goals from a long distance. Last season he saved Botafogo from relegation on his own. And they are also a club with a big debt, so he's used to fights against relegation!
Don't expect lots of effective tackling, do expect precision, flair and goals
Don't expect total consistency but do expect him to work hard at his game, he may be flash but he isn't lazy
Don't expect him to be tantrum free, but do expect him to have total self-belief
Don't expect someone shy and diffident, do expect the arrogance of aristocracy and a hunger for the limelight
Don't expect him to fade away, do expect him to be a 'Brazilian Beckham'
Don't expect him to fail, the idea won't even cross his mind
Do expect your wives and girlfriends to suddenly take a closer interest in us once they get a proper look at him
Do expect some fans to barrack him for not charging into leg-break tackles, do expect the same fans to dance with joy when he curls a free-kick into the top corner
And what did we get? Just four sub appearances before he damaged knee ligaments at Southampton and that was it. So much for a one-year loan to assess his dazzling Brazilian skills... Despite his recovery by the end of the season, David Moyes had seen enough and decided to release him. Tellingly, no-one has picked him up yet...

Updated by Michael Kenrick, June 2003