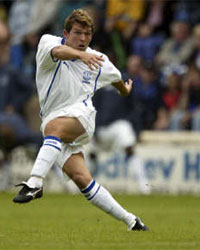 Squad No.
23
Joined
July 2002
Transfer Fee
�1.25M (1 yr)
Signed by
David Moyes
Debut
(Sub)
v Tottenham (h)
17 August 2002
Contract
Expired
June 2003
Final�
(Sub)
v Southampton (h)
17 August 2002
Born
Santos-SP, Brazil
Date of birth
7 August 1976
Height
172 cm
Nicknames
Julio, Rodrigol
Honours
STRENGTHS
Mysterious Brazilian skills
WEAKNESSES
Flim-flam-flum


Everton's first Brazilian signing was secured by David Moyes on a rather generous £1.25 million temporary loan with an option for a permanent move for a further £3 million.

Juliano Rodrigo explained that the reason why he had 'RODRIGOL' printed on his shirt was not because he was a prolific scorer.

"It says 'RODRIGOL' because the 'L' is for my middle name, which is Lopes.

"My full name is Juliano Lopes Rodrigo. It's not like Gabriel Batistuta being called Batigol. That was a nickname the fans gave him because he scored so many goals."

Rodrigo was an attacking midfielder and played on the left side or in the centre, but he could be used like a forward.

He started his career at local club Portuguesa Santista in 1995, and was loaned to Guarani for the 1997 Campeonato Brasileiro Série A. After returning to Portuguesa Santista, he was loaned to Gama and was a key player for the club as they won 1998 Campeonato Brasileiro Série B, scoring 9 goals in 14 matches.

In 1999, Rodrigo joined Botafogo and becoming the club's top goalscorer for the 2000 and 2001 seasons in Série A, also being touted for a call-up to the Brazil national team. In 2002, he was loaned to Atlético Mineiro, where he injured his right knee in a match against Cruzeiro.

Despite the media hype, Rodrigo was not close to getting a place in the Brazilian squad for the 2002 World Cup. He didn't even have a single Brazilian cap when he arrived at Everton with Rivaldo and Denilson ahead of him in the picking order.
What could we expect from Rodrigo? A fantastic free-kick taker. In the 2001-02 season, he scored from 20 yards to knock out Internacional, and he was in great shape while on loan at Atletico Mineiro. He has loads of creativity and he can do wonders playing behind the strikers or in the left wing.
But his start with Everton in their first game of the season, at ome to Spurs would be overshadowed somewhat by the debut of a certain young man aged just 16 – Wayne Rooney. But they would not play together, Rooney having been substituted 10 mins before Rodrigo came on for the final quarter-hour.
Rodrigo was a bit similar to Harry Kewell, but his finishing was even better, and he could also score a decent amount of goals from a long distance. He helped saved Botafogo from relegation.
Don't expect lots of effective tackling, do expect precision, flair and goals
Don't expect total consistency but do expect him to work hard at his game, he may be flash but he isn't lazy
Don't expect him to be tantrum free, but do expect him to have total self-belief
Don't expect someone shy and diffident, do expect the arrogance of aristocracy and a hunger for the limelight
Don't expect him to fade away, do expect him to be a 'Brazilian Beckham'
Don't expect him to fail, the idea won't even cross his mind
Do expect your wives and girlfriends to suddenly take a closer interest in us once they get a proper look at him
Do expect some fans to barrack him for not charging into leg-break tackles, do expect the same fans to dance with joy when he curls a free-kick into the top corner
And what did we get? Just four sub appearances before he suffered a serious knee injury in a training accident.
Rodrigo ruptured a cruciate knee ligament during a practice match at Bellefield in September 2002. He was rushed to hospital and a scan confirmed the extent of the problem.
It was a bad blow for Everton manager David Moyes, who was hoping Rodrigo would push for a first-team place.
"We were having a small-sided game and the keeper threw the ball out to him, which he went to control with his chest. He turned at the same time and his knee went from under him.
"At the moment, the specialists have told us that these type of injuries take two or three weeks to settle down before they know if it requires surgery.
"It's difficult to speculate and I'd rather wait until we have the professional outcome before we put a time limit on it."
Rodrigo had made four substitute appearances since signing on a year-long loan deal. And Moyes added: "I'm disappointed to lose him, but for the boy it's a big, big blow.
"He's come over here to impress and was getting much closer to being involved with the first team in recent weeks.
"We always knew that he was a little bit behind in his fitness when he first came, but he's been introduced in one or two games and had little spells and he was just about ready to make a start."
Rodrigo's knee injury was not properly diagnosed at first, leading to a series of botched operations that compromised any chance of a full recovery. He would not play for Everton again.
At the end of the 2002-03 season, David Moyes decided to return him to Botafogo. Everton's first foray into the Brazilian transfer market had been an unmitigated failure.
Over the following years, 'Rodrigol' would go on to have short and singularly unproductive spells at a slew of clubs in his homeland, including Corinthians, Juventude, Atlético Paranaens, Vasco da Gama, Paraná, Boavista and Fortaleza, before ending his playing career at Red Bull Brasil in 2010.
Adding to the 'Rodrigol' conundrum, he bizarrely became known as 'Rodrigo Beckham' back in Brazil, seemingly because of his dashing good looks and faint resemblance to the English footballer turned male model, which took him from the pitch onto the catwalk.
After never achieving anything of note in his subsequent football career, Rodrigo would briefly manage Boavista and go on to work as a television commentator, spending much of his time travelling the world surfing.