EVERTON PAST PLAYER PROFILES
Bjarni Thor Vidarsson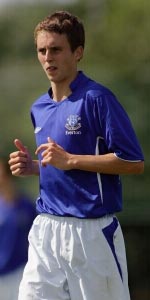 Squad number
31
Position
Midfield
Joined
June 2004
Joined from
Hafnarfjordur
Signed by
David Moyes
Transfer fee
None
Debut as sub
v AZ Alkmaar (A)
20 December 2007
Contract duration
2 years
Contract expired
June 2008
Released
June 2008
Born
Iceland
Date of birth
5 March 1988
Height
6' 1"
Nickname(s)
Honours
STRENGTHS
Tall and strong
Eye for goal
WEAKNESSES
Inexperience
The acquisition of Icelandic teenager, Bjarni Thor Vidarsson, from FH Hafnarfjordur was seen as something of a coup by Everton and, if he fulfills his potential, could be a rare instance of the club finding and nurturing a genuine overseas talent.
16 at the time, Vidarsson had been on the radar of the Everton scouting staff for some years and was also being watched by the likes of Anderlecht, Bayern Munich and Arsenal. He chose Everton because, in his words, " I like the facilities and good coaches here, everything was good here. It would be great if I can get into the first team.
"It's going to be really hard work but if you work hard it will get you something," he told the Official site.
"I've watched a few games on the television and they're a very good team with many good players."
Bjarni's progress as a teenager was monitored by Everton fan and scout, Leifur Gardarsson. He described the Rejkjavik-born player to the Official site at the time of the signing.
"I think he has a lot of ability both on and off the pitch. He's a big lad, a strong midfielder and maybe he's a little bit like Vieira. He uses the ball very well and his understanding of the game is the best I've seen in an Icelandic boy his age."
Vidarsson's father, Vidar, was once captain of the Icelandic national side, his eldest brother plays for Lokeren in Belgium and another older brother plays for Lillestrom in Norway.
While his age has restricted him to the Youth Academy and Reserves, he did get on to the bench a couple of times in 2005-06 (at Newcastle and Middlesbrough). Vidarsson trains with the senior players and stood on the threshold of the first team squad going into the 2006-07 season.
He was given a Premiership squad number, with one more fleeting appearance as a bench-warmer against West Ham; however, things didn't really pan out, and he remained a reserve player, where his goals all but dried up. He played in a mid-season friendly at Bournemouth and then went out on loan to the south coast club for a month but that changed nothing and he seemed to have failed to make the next step up.
But eventually an opportunity came for his debut, away at AZ Alkmaar in the Uefa Cup where he was given 20 mins but struggled to get into the game... and in January 2008 he was shipped off to FC Twente in Holland on loan for the rest of that season. However, it doesn't look like he ever actually played for the Dutch league first team... and the next thing we heard about him was he was being released by Everton: Not Good Enough!
By Lyndon Lloyd & Michael Kenrick
Last updated May 2008
Everton Career
Season
Squad
Number
League
Apps (sub)
League
Goals
Cup
Apps (sub)
Cup
Goals
Total
Apps (sub)
Total
Goals
2005-06
41
0 (0)
0
0 (0)
0
0 (0)
0
2006-07
41
0 (0)
0
0 (0)
0
0 (0)
0
2007-08
31
0 (0)
0
0 (1)
0
0 (1)
0
Totals
0 (0)
0
0 (1)
0
0 (1)
0
Everton Academy and Reserves Record
Season
Team
Appearances (sub)
Goals
2004-2005
Reserves
11(2)
0
2005-2006
Reserves
13(2)
5
2006-2007
Reserves

14(0)

1

2007-2008
Reserves

10(0)

1

Loan Spells
Season
Team
Appearances (sub)
Goals
Feb - Mar 2007
Bournemouth
4(2)
0
Jan - May 2008
FC Twente (Hol)
0(0)
0