ToffeeWeb Viewpoint
Thoughts from the Editor
More to it than the Scoreline
16 August 2004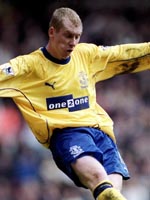 Tony Hibbert: He's learnt how
to pass to his team-mates

Given the resounding prognostications of doom from every pundit and his mother, and already knowing the rather predictable one-sided scoreline from Everton's challenging first game of the season — piled on top of all the other crap we've had to tolerate through the summer — I really thought it would be lambs to the slaughter as I sat down to watch the ritual dismemberment of Moyes's minions on my VCR...
In his match notes, Lyndon Lloyd maintains that nothing as changed from last season, as the depressing run of losses stretched to five, but I would disagree strongly with his conclusion that the all-too-familiar shortcomings were there for everyone to see.
Forget about the scoreline (if you can) and analyze with me some of the football we played when in possession. Count the diagonal hoof balls that drove me to distraction last season: none! They hopefully have left Everton FC along with the corpulent personage of D Unsworth Esq. What about the silly games of head-tennis as the ball bobbled about meaninglessly before possession was lost? They too seemed rare to non-existent.
Instead, I watched in awe as Everton players tried valiantly to play a short passing game on the deck!!! That alone was worth the price of admission, given the utter dross that passed for football from this Everton side last season. And another favourite bug-bear of mine: throw-ins. How many times have we previously watched Everton players dither and then waste their throw-ins because there was no-one showing? Moysie might actually have cured them of that one too!
Ball control and ball retention were the two key basics that were so sadly lacking last season; in this game, Everton players were actually passing the ball to other Everton players! And not just now and again, but for sustained periods of possession!! What a revelation!!! One-time touches were finding their targets, movement off the ball was rewarded with timely deliveries, with Bent and Hibbert playing much of the better stuff after they came on the second half.
Hibbert in particular was a tremendous revelation for me. Last season, he really went astray, unable to make even the simplest of passes, and as for his crosses? They were simply woeful. Yet here he was intelligently building down the right, making short but accurate layoffs to fellow Blues, or sending probing passes forward, straight to feet. Someone has finally taught him how to pass during the close-season training sessions... Could his crossing have possibly improved as well? Judging by a superb delivery from the bye-line at the death that went straight onto Duncan's head in a crowded penalty area, I'd say Yes to that! Well done, Tony; I was proud of ya!
And Marcus Bent looks like a proper footballer. He knows how to control the ball, he can dribble a bit, and has sufficient footballing brain to make the right pass that will keep possession and maintain the pressure. He just needs to play a little further forward so he can take a few pops on goal.
Yes, the defending on the goals was at times painfully of the laugh/cry variety. But on the other hand, this was a superbly drilled Arsenal side scoring elegantly simple goals — something they seem to have carried to higher level. In some ways we were desperately unlucky. I don't usually fret about penalties denied but I cannot see how Cygan blatantly pushing down Campbell to keep him away from the ball is not a clear-cut spot-kick. Ah well... it's things like that you don't get when you are bottom of the table.
The big test, of course, really is next weekend at Selhurst Park. If we play the same way against them, we should come away with a handsome win. Indeed, if we play like this against anyone other than the top three, we should do pretty well. There may just be something to build on after all. On this display, I am prepared to believe that Moysie has won back the players and got them playing football again. If anyone writes any shite about them not trying after that display, I shall not be responsible for my actions....
Michael Kenrick

©2004 ToffeeWeb