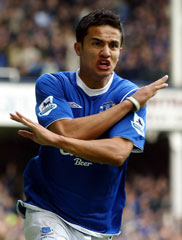 Tim Cahill: finds his goalscoring boots at last
Gary Naysmith was given his first start of the season as Valente was suffering with an injured thigh, but no opportunity for Yobo to break the Weir-Stubbs partnership, with the rest of the side unchanged from last week's vibrant win over Fulham. Sander Westerveld was on the bench for what is expected to be his final match as a temporary Everton player.
Lots of problems for Aston Villa, who were without Baros, and fielded a very young team. But they started the game better than their hosts, with some worrying moments for a surprisingly nervous defence. But nerves were calmed inside 15 minutes, when Beattie headed down from a long diagonal free-kick and James McFadden stroked it with power and perfect direction beyond Sorenson and inside the post form the edge of the area. A well-constructed and superbly finished goal.
Aston Villa responded in fine form, forcing a corner when Naysmith cleared of the line with Wright beaten. Off the corner, first McFadden and then Cahill were the saviours, heading a couple of fierce shots off the line to save Wright's blushes. Seconds later at the other end, a great opportunity opened up for Osman but his fierce shot was just too close to Sorenson, who deflected it away.
But it wasn't long before Everton had a handsome two-goal lead, Beattie back-heading a long Neville throw-in at the near post, and McFadden behind him flicking it cleverly under Sorenson for his second goal... no, as it bounced along the line and out off the far post! But there was Tim Cahill to smash it home despite the attention of two Villains.
Everton were rampant now, really taking the game to Villa, much to the delight of the Goodison crowd. Beattie audaciously tried to repeat his lovely lob from last week but this one drifted wide with Sorensen in close attendance. And a great move down the left a few minutes before half-time really put the icing on the cake. Cahill gave Arteta something to run after and he bamboozled Samuel with a lovely change of pace, then cut a great ball back across the area for the in-running Leon Osman to slot perfectly inside the post despite a strong sliding challenge from a defender. Great stuff from Everton!
But the second half was distinctly not what the doctor ordered. After a sleepy start in the spring sunshine, Arteta went off, presumably with a twinge, and on came Kilbane. But prior to that, Lee Hendrie had come on for visitors, and that was just as significant a change, with the pendulum swinging over to Villa, and Everton looking very flat.
There was one spark of life when Kilbane nut-megged Samuel and crossed well fro Beattie at the far post. He intelligently headed back where Osman had time and space but his snatched volley flew well over off the bouncing ball: he should have done a lot better.
Villa pulled one back when they finally got behind the Everton defence and Brummie youngster Gabriel Agbonlahor grabbed his first-ever goal with a strike that slide in at an acute angle under Richard Wright's body. He should have saved it.
Osman was involved in the game a lot for Everton but was being muscled off the ball too easily, and went down with a knock on the knee. Then there was a moment of high controversy when Chill lofted a ball up for McFadden to chase and Sorenson ran out of his area to challenge, the ball bobbling off McFadden's head and onto Sorenson's hand that was held close to his chest. Handball? Well, it touched his hand, yes... but deliberate handball? No.
Villa kept threatening again and again, with the Everton defence not looking all that confident or solid, but thankfully they held firm. Gavin McCann, on another r4eturn to Goodison, headed an angled ball in that was saved by Wright.
But finally, at almost the last gasp, Tim Cahill was able to take his second goal of the game with a strong strike from a tricky back-heeled layoff by McFadden off a lofted Neville free-kick. And so the game finished on a high, after Villa had threatened for long periods of the second half to put a different complexion things.
A great result, which lifts Everton into ninth place, after a disappointing second half that fell well short of the expectations established by the players after a very good first half. Kind of epitomizes this roller-coaster season!
Michael Kenrick
---
Everton are poised in a very interesting position with nine games left of what has so far been a rollercoaster season. Having survived two disastrous spells that called into serious question David Moyes's suitability for the Goodison hot-seat earlier in the campaign, the Blues are riding the crest of a wave of new-found confidence and a run of form since the turn of the year that was utterly unthinkable when the club sank to the bottom of the Premiership back in October.
Of course, Bill Kenwright — he who only pipes up when things are going well — has castigated those who dared suggest that Moyes wasn't up to the task, but the fact remains that there were times when Everton were getting hammered 4-0 by mediocre teams that the manager looked clueless as to how to stop the rot. The fact that he has, however, speaks volume for both his character and determination and that of his players.
One of those mediocre teams was, of course, this weekend's opponents, Aston Villa, against whom the Blues will be looking for revenge for a travesty of a scoreline at Villa Park back in December. Villa looked like a team going nowhere in particular before that result and not much has changed since — David O'Leary's team were 14th and three points better off than Everton after that match. Going into this fixture they're 14th once more and six points behind the Toffees.
Following the terrific win over Fulham, a victory to savour both for the scoreline and the performance, Everton will probably be unchanged. The goalscoring duo of James Beattie and James McFadden will, barring last-minute injury, start what will be a second-successive home game, and Alan Stubbs and David Weir will likely keep Joseph Yobo on the bench despite the Nigerian's return to fitness following a groin injury.
Richard Wright will continue in goal and Andy van der Meyde, who played eight minutes last weekend and 45 minutes for the Reserves midweek, will be on the bench once more.
Given Villa's poor away form — they lost again at Blackburn last time out — and Everton's sterling home record over the past 6 games, it would be criminal if Moyes's side didn't walk away with three points from this one. But Villa are not without their dangers, particularly the erratic and unpredictable Milan Baros, so this is by no means a home banker. But a win would open the possibility of the Blues leaping as high as ninth if results go our way; quite a change from five months ago!
Lyndon Lloyd
---
Everton exacted a large measure of revenge on Aston Villa for December's 4-0 drubbing in the Midlands and in so doing recorded their sixth-successive home victory. Admittedly, they steam-rollered a Villa team short on age and experience but most teams would have been hard pressed to cope with the Blues during a another powerful first 45 minutes during which they scored three goals and put the game beyond the visitors' reach by half-time.
David Moyes was forced into one change to the starting line-up, with Gary Naysmith coming in to replace Nuno Valente, who failed a late fitness test on a thigh injury. Richard Wright continued in goal after the diagnosis of a hairline fracture in Nigel Martyn's ankle more or less put paid to the Cornishman's season.
Although the result was better than that against Fulham last weekend, the home side didn't start this match in the same confident vein. Indeed, a first-minute panic in the Blues' defence as they struggled to clear their lines didn't augur well for the rest of the contest. However, the first chance of the game did fall to Everton with Tim Cahill unable to make clean contact on Tony Hibbert's fourth minute cross and the ball bounced harmlessly wide.
After a quarter of an hour, though, Moyes's confident charges made the breakthrough. A diagonal ball from left-back found James Beattie and his nod back fell invitingly for James McFadden to set himself and half volley level with his hip past the diving Sorensen.
A minute later, Leon Osman charged down the right and cut inside before unleashing a left-footer that flew straight at the 'keeper as the Blues signalled their intent to increase their advantage. Instead, however, Villa almost equalised in a frenetic 17th-minute spell when Naysmith was forced to clear off the line from Steven Davis, who had done well to engineer space and then fire past the poorly-placed Wright. From the resulting corner, Luke Moore rose highest to glance a header goalwards but McFadden was on hand to head clear from under his cross bar and seconds later Cahill got his head in the way of Davis's powerful drive that had also beaten the wayward Everton 'keeper.
Having survived that brief onslaught, Everton resumed normal service at the other end, with Osman dancing towards the edge of the box once more and forcing a parried save by Sorensen with another drive from 20 yards.
Two minutes later, though, it was 2-0. A long throw by Phil Neville was flicked on by Beattie, McFadden's attempt to flick it into the goal rolled along the line and off the far post where Tim Cahill reacted quicker than Bouma to slam home the loose ball.
Everton were now comfortable and Villa's young side demoralised. Their full-back Gardner was booked after 25 minutes for a late tackle on Naysmith that looked temporarily to have injured the Scottish full-back sufficiently to force an early substitution, but he eventually ran the knock off. A couple of minutes later, Cahill made his almost customary entry into the referee's notebook with a clumsy, late challenge.
The Blues' forward momentum slowed a little in the final quarter of an hour of the first half but Beattie did try to replicate his deft chip of last weekend from a similar position. However, his shot drifted wide of the left-hand post before Bouma was booked for a late tackle on Osman.
In the final minute of the half, Everton scored goal number three and it owed everything to the electric Mikel Arteta who was, once again, the star of the show. A nicely-weighted ball down the channel gave the Spaniard something to chase and, with a burst of acceleration, he left early substitute JLloyd Samuel in the dust as he raced into the box. A flicked cross with the outside of his boot eluded the closest defender and Osman's killer instinct took over at the back post where he dispatched the ball emphatically past the 'keeper before Bouma's lunge could block his shot.
Not surprisingly, Everton were a lot more pedestrian in the second half, especially after Arteta was withdrawn just short of an hour, presumably because of injury. He did have one last intervention before being substituted in favour of Kevin Kilbane when he whipped in a 50th-minute free kick that Cahill guided the wrong side the far post, but the Blues' lack of forward drive after he left was glaring.
Nevertheless, a glorious opportunity for number 4 was created by a little piece of skill from Kilbane whose cross was nodded back by Beattie but Osman blazed over from about eight yards out.
Three minutes after that, Villa gave themselves a glimmer of hope when Gabriel Agbonlahor popped up on the right side of the area and fired under the 'keeper to make it 3-1 with a quarter of the game left to play. He should never have scored with Wright covering so much of the angle but the Blues' No 1 appeared slow to react as a seemingly routine effort sailed past him.
Apart from a late Gavin McCann header from Mellberg's cross, however, the Midlanders never really looked like causing Everton any more problems. It might have been the ideal opportunity to give Andy van der Meyde another run out — indeed, I was surprised he didn't come on at half time — but his manager obviously felt otherwise.
Instead, it was left to McFadden to assist in putting the icing on the cake as he picked up the ball near the six-yard box, back-heeled the it into the path of Cahill and he calmly steered it into the net to make it 4-1 with the last meaningful kick of the game.
Despite the fact that they took their foot off the pedal for much of the second half, this was another fine performance by Everton that extends what really is an unbelievable sequence of results since New Year's Eve. The result lifts the Blues into the top half of the table for the first time this season and sets them up nicely for a run at the European places in the final eight games of the season.
The plaudits must go once again to Arteta who was, once again, the main attraction. Having added to his delightful box of tricks the steel necessary to compete against the midfields of the Premiership, he is fast becoming the complete package for the English league. Despite only playing 57 minutes, he was probably the man of the match for Everton, with Cahill, McFadden, Osman and the hard-working Beattie also deserving of praise.
Next up: a trip to Anfield. On this form, Everton should fear no-one, but we all know what usually happens to the form book in local derbies...
Lyndon Lloyd
---
Dickie Wright 5 I've always had some time for Dickie, believing if he had a run of games he could come good... but this season has proved he's out of his depth. He was very poor against Villa, his team mates saved him with three goal-line clearances and the goal Villa did score was very weak. A new goalkeeper should now be Moyes's top priority transfer in the Summer.
Tony Hibbert 8 As usual Tony was hard working, tough-tackling and very solid. Should be in the England squad, he's every bit as good as Phil brother's Gary and miles above Glenn Johnson.
Gary Naysmith: 7 Never been a fan of this average-at-best defender but acquitted himself decently in his first start of the season. Should make way as soon as the superior Valente is fit.
Alan Stubbs:7 When the teams were announced, I really thought Stubbs and Weir were going to struggle against the pace of the young Villa forwards but I shouldn't have worried. Stubbs was in complete control for most of the match. He loves the club and, since his return (and Krødrup's departure), the spirit of the team seems to have risen.
David Weir: 7 Same as Stubbs really, very solid. He did get caught out for pace on occasions but brings a quiet confidence at the back which seems to make Everton harder to beat. Should not be Captain though, pass that arm band over to:-
Phil Neville: 7 Just lately Everton's midfield seems to have so much goalscoring that its easy to overlook Neville, who has become a rock. Cahill, Osman and Arteta are free to get up into the box to try to score goals knowing Neville's watching the back door. At one point, Arteta got carried away and lost the ball show-boating, a word from Neville soon put him straight. A natural leader and a better passer then he's given credit for.
Tim Cahill: 8 Two goals for Cahill and another battling performance. Was disappointing at the start of the season but is now back in form. He worked his socks off and was always a threat in front of goal. Needs a new celebration though: punching the corner flag — what's that all about?
Mikel Arteta: 8 Bloody fantastic player. Pure class; works hard, passes sublimely — and can beat people. Watching him beat J Lloyd Samuel and cross the ball for Osman's goal was bliss. The sort of player who brings back School Of Science football. The World Cup will miss him if he's not selected. I can live with Yobo joining Arsenal but please don't take our-tater away.
Leon Osman: 8 It's amazing how important Little Leon has become for Everton. His quick feet, quick mind and work ethic make up for his lack of physical stature. Scored a good goal and should have had another. Is he good enough for England? Probably not considering England can boast the likes Lampard, Gerrard, Cole and Beckham — but Osman is certainly good enough for Everton.
James McFadden: 7 Seems to finally be settling into the side and not doing silly things; Moyes seems to have matured McFadden a bit and he's no longer giving the ball away trying to beat six players. His goal was great and his back-flick for Cahill's goal even better. Still has a lot of work to do if he's going to convince Moyes not to pursue a new striker in the Summer.
James Beattie: 8 The senior partner of The James Gang was superb. Man of the Match! His physical ability is top-notch and he was a constant thorn in Villa's side. Beattie attacks every ball and rarely wastes possession. His off-the-ball work is also superb. Should definitely be one of England's five strikers on this form.
David Moyes: 8 Got most things right. He knew Villa were strong starters and got the lads fired up at the start. I was disappointed he substituted Arteta but that was probably a good decision with the Merseyside Derby around the corner. I was also hoping to see Van der Meyde but I guess his time will come. Everton took their foot off the pedal in the second half but I'm sure Moyes would have warned against that and he can't be blamed.
Dutch Schaeffer
* Unfortunately, we cannot control other sites' content policies and therefore cannot guarantee that links to external reports will remain active.