James Beattie: A classic poachers goal but Everton were suffering a masterclass

Doubts about classy European star defender Per Krĝldrup's fitness see him start on the bench for this massive game, alongside Ferguson, Bent and 4 others, while Beattie is given the opportunity to lead the charge from the front on his own. As expected, David Moyes has gone for his favored 4-5-1 formation to kick the game off — Everton's first in the Champions League — and debuts for Phil Neville & Simon Davies.

It was simply a fantastic atmosphere in a packed and rocking Goodison Park as the game kicked off. Everton had a stirring attack in the first minute as they flooded forward with Arteta giving the Yellow Submariners a taste of Merseyside fervour.

Pistone put in a great cross but it bounced harmlessly off Beattie into the goalie's hands. Davies then won Everton's first corner that was headed back by Cahill but Forlán was fouled. Neville caught Forlán late, as the free-kick count started to build for Villarreal, thanks to typical continental theatrics conning the ref.

It was always going to be hard for Everton to maintain the ferocity of the first 15 mins, and Villarreal showed increasing signs of settling the game to their preferred casual pace. Forlán took a pop from 30 yds but it was miles off. Cahill and Barbosa went for a ball together and clashed heavily but the Villarreal goalie collapsed in agony once the ball was safely out of play.

Finally Forlán's name went in the book and Villarreal went up the other end, with Figueroa firing an excellent shot across Martyn and into the Everton net to stun the Goodison crowd. Villarreal proceeded to dictate the pace of the game as Figueroa went over very easily under pressure from Martyn for what could easily have been a penalty but the ref sensibly booked Figueroa for "simulation".

A great move by Everton started by Davies involved Beattie Cahill, Kilbane, Neville and Arteta, whose wonderful floated cross was header just over the bar by Cahill. But Riquelme was doing exactly what was expected as the game pattern swung in Villarreal's favour, with little sign that a panicky Phil Neville was man-marking him. Hibbert went into the book for a very strong challenge as Everton struggled to get much more meaningful possession.

But another good attack did come, and Phil Neville fired in a very useful-looking cross that bounced around in the six-yard box and James Beattie was first to react, prodding the ball home to send Goodison wild. A fantastic end-to-end finish to the first half ensued as Everton tried to show they were by no means down and out... Yet the wild celebrations were over before they had really begun. A fantastic goal by Villarreal gave them back the lead right on half-time in a moment of sheer footballing class as Riquelme and the full-back combined to set up Josico whose diving header was simply unstoppable. Soul-destroying.

Everton came roaring back from the kick-off, after being kept waiting by Villarreal for 5 mins, winning a series of corners as they piled on the pressure, only to give it away on a short corner. It was intense but Everton were matching their guests' skill and panache with effort and desire, seeking to regain parity once more. But Forlán nearly scored their third before Everton forced a desperate sequence of defensive scrambles in front of the Villarreal goal.

Moyes moved to make some changes on the hour: Bent and Ferguson on; Kilbane and Beattie on. 4-4-2...NO! Bent pplayed wide left as Everton persisted with 4-5-1. Cahill was then caught and a yellow card for Rodriguez. Bent had a moment's chance but (as ever) he chose the wrong option and failed to shoot. Everton were giving everything they possibly could but the sheer quality of the opposition was proving to be too good for the Blues, as many had feared.

Cahill suffered another knock but it was Pistone who was exchanged for McFadden in the last 10 minutes as Everton finally went 4-4-2... far too late, surely?

Bent and Cahill pushed in to the Villarreal are but were penalized as Everton started to flag in the final minutes, although that spun out into an extra 5 mins added on by the ref. Riquelme then produced a fantastic 40-yard pass that put Tacchinardi on but he couldn't finish.

A late corner from Everton saw Yobo's header glanced wide. Everton then won another late corner, Arteta trying to get it to Duncan whose header was well wide.

For once, the pattern and balance of the game followed the course charted by most pundits and feared by many fans who knew what Everton faced in this difficult, difficult tie. Passion and drive versus quality and skill. We know already which one should always win out: that's what the School of Science was all about.

Michael Kenrick
---
So here we are, standing on the threshold of Everton's first foray into the Uefa Champions League. After all the unbridled excitement, optimism and hype that followed our qualification for the Third Qualifying round at the end of last season, opinions are divided as to whether the club has done enough to ready itself for this fixture but, at this point, what's done is done and it comes down to eleven against eleven on the night.
In many ways, this is the biggest game at Goodison Park for 20 years... since that marvellous night against Bayern Munich which some regard as the real 1985 European Cup Winners' Cup Final. Some go as far as to suggest that it is the most important game ever for the club, as riches beyond anything we dared dream during the past decade await in the Champions League group stages.
Standing in our way are Villarreal, the team that finished third in Spain's world famous La Liga behind Real Madrid and Barcelona and one that most commentators felt Everton would do well to avoid. As we have heard since the draw was made, however, the Spaniards aren't exactly thrilled to have been paired with us either given the reputation for confounding the critics we earned last season.
Like Everton, Villarreal are making their first appearance in this competition, marking another step in their rapid rise from lower-division obscurity to the glittering stage of the Champions League on the back of an ambitious Chairman's dream of making the club the club of Castellón.
While the "Yellow Submarine" (the club nickname based on the color of their strip) can't quite match Everton's illustrious history, there are other similarities between the two clubs. They are two of the competition's more unfashionable clubs, both in terms of recent history and the working class core of their support — the town of Villarreal, population 45,000, is an industrial centre based around the pottery and ceramics industry.
Coach Manuel Pellegrini has assembled a team of apparent South American journeymen, potential stars who have lost their way like Diego Forlán, who endured a torrid time at Manchester United forward, and, again like Everton, a few homegrown products. Villarreal qualified for the Uefa Cup last season by winning the Intertoto Cup and made it as far as the semi finals.
In Forlán they have the potential key to the tie. He scored 25 goals in La Liga last season which made him joint top-scorer on the Continent and he seems ideally suited to Villarreal's patient build-up and slick passing that would not be out of place in the Copa America.
It is that style of play that could spell big trouble for Everton, particularly as they tend to struggle against teams who can move the ball about that efficiently. Per Krĝldrup, in a defensive partnership with Joseph Yobo, would no doubt have been a key weapon against Villarreal's attacking prowess but the Dane is doubtful for the home leg. That would open the way for David Weir to make his first appearance since being appointed club captain. Gary Naysmith is ruled out until next month as he recovers from ankle surgery which means that Alessandro Pistone will resume left back duty.
With pre-match noises from Goodison suggesting that Phil Neville will make his Everton debut following his £3.5M switch from Old Trafford, the logical conclusion is that the hated 4-5-1 formation will be employed, with Neville replacing the injured Lee Carsley in the holding role. That is a situation made all the more likely given the injury to Marcus Bent that limited his involvement in the pre-season programme.
Moyes could opt for 4-4-2 with an attacking partnership of Beattie and Ferguson (despite starting up front against Udinese, James McFadden is unlikely to get the nod) and push Neville out to left midfield, but given his track record and current propensity to err on the side of caution, that is probably wishful thinking.
If, as most expect, the manager does opt for the five-man midfield, it will mean yet more misery for James Beattie as he battles to justify the £6M Everton paid Southampton for his services back in January. Without the pace or ability to hold the ball up of Bent, Beattie struggles as a lone striker, but with none of the striking reinforcements we so badly needed arriving before the registration deadline, the Blues continue to lack a cutting edge up front.
That means a continued reliance on goals from midfield — Moyes will be hoping that Tim Cahill can repeat his exploits of last season and that new signing Simon Davies can weigh in with his share from the right — and a containment strategy at the back aimed at preventing the visitors from grabbing the valuable away goal.
All in all, it's hard for us as supporters to gear up for this massive tie without the nagging belief that we are under-prepared to meet the challenge. Am I excited? Absolutely, but I'm excited by the possibility that we could cause an upset rather than the probability that we could match our Spanish guests which would have been more likely had this summer gone a little closer to plan. With so few changes to the squad that battled its way over the finish line last season, particularly up front, facing up to the reality that the Blues will be scrapping away with the 4-5-1 formation praying for the breakthrough is not quite how many of us imagined the new season would begin.
School of Science it won't be, but David Moyes's Everton have confounded the critics before and the opportunities that lie in the group stages should we get past Villarreal are enough to fuel anyone's adrenaline at kick off tomorrow night. Come on you Blues!
Lyndon Lloyd
---
Well, let's face it... everyone's putting a brave face on it: We CAN beat Villarreal and they CAN beat us! Officials of both clubs are apprehensive that their own club will be knocked out, but we have to make sure that it is not Everton!!
On their day, the Spaniards are a tough team to crack. I expect them to play a cautious side:
Barbosa
Javi Venta, Rodriguez, Pena, Arruabarrena
Senna, Tacchinardi, Sorin
Riquelme
Figueroa, Forlán
They are a classy side, but not without their own weaknesses. Their main strength lies in their ability to counter-attack. So many times last season, they allowed teams to attack them and we must not fall into that trap.
They play three central midfielders: Tacchinardi, Sorin and Senna who can all win the ball but are comfortable using it also. They will be the problem and the reason why we must play 5 in midfield. The Everton back four must stay disciplined and Phil Neville or the defensive midfielder must hold position.
As long as somebody keeps Riquelme quiet (Phil Neville), then we can afford to drop off their front two as they have no real pace. But if we give Riquelme space, then we must be prepared to back-track and outpace Forlan and Figueroa.
A fascinating game which can be won. Kilbane and Davies must get plenty of crosses in to trouble their new Argie keeper — who is a great shot stopper, but average on crosses. And give their back four difficulties in the air — they are genuinely scared of our aerial threat.
Whatever we do, we must keep it tight at the back.
Rob Esteva
---
This will be the first ever meeting between Everton and Villarreal in all competitions. This will be 46th European match for Everton and the 9th in the European Cup/Champions League. This will also be the 3rd match against Spanish opposition in European competition. The only previous tie against Spanish opposition was in the 1966-67 European Cup Winners' Cup when Real Zaragoza went through 2-1 on aggregate. The first leg was in Spain and saw Everton lose 2-0, and despite their best efforts at Goodison two weeks later, Everton only managed a 1-0 victory.
Everton's full record in European competition is:
| | | | | | | |
| --- | --- | --- | --- | --- | --- | --- |
| | P | W | D | L | F | A |
| European Cup | 8 | 2 | 5 | 1 | 12 | 6 |
| European CWC | 17 | 11 | 4 | 2 | 25 | 9 |
| UEFA Cup | 8 | 3 | 1 | 4 | 12 | 5 |
| Fairs Cup | 12 | 7 | 2 | 3 | 22 | 15 |
| TOTALS: | 45 | 23 | 12 | 10 | 71 | 35 |
Our record at Goodison Park in European competition is:
| | | | | | | |
| --- | --- | --- | --- | --- | --- | --- |
| | P | W | D | L | F | A |
| European Cup | 4 | 1 | 3 | 0 | 8 | 4 |
| European CWC | 8 | 7 | 1 | 0 | 16 | 3 |
| UEFA Cup | 4 | 2 | 1 | 1 | 7 | 2 |
| Fairs Cup | 6 | 5 | 0 | 1 | 13 | 6 |
| TOTALS: | 22 | 15 | 5 | 2 | 44 | 15 |
The last European match was on 2 November 1995 when a Regi Blinker goal saw Everton lose 1-0 to Feyenoord. The last European match at Goodison Park was on 19 October 1995, when the first leg of the same tie against Feyenoord resulted in a 0-0 draw.
The last match Everton played in the European Cup was on 24 March 1971 when Everton drew 0-0 at Panathinkaikos in the quarter finals of the competition. The first leg of this tie, on 9 March 1971, was the last European Cup match at Goodison Park and resulted in a 1-1 draw with David Johnson scoring on his European debut for the club.
There have been just 2 Everton hat-tricks in European competition. Alan Ball scored the first in a 6-2 victory over Icelandic side IB Keflavik in the European Cup on 16 September 1970. The last European hat-trick was scored by Andy Gray against Fortuna Sittard on 6 March 1985 in a 3-0 home win. This was the only hat-trick Andy scored for the club.
The most common victory for Everton in Europe is 1-0 which has happened 5 times in Everton's 23 victories. Everton's most common European defeat is 0-1, which has happened 6 times in our 10 defeats. The most common draw in European competition is 0-0, which has happened 7 times in the 12 European draws.
Everton's record for 9 August is:
| | | | | | | |
| --- | --- | --- | --- | --- | --- | --- |
| | P | W | D | L | F | A |
| Premier League | 1 | 0 | 0 | 1 | 1 | 2 |
| Division One | 1 | 1 | 0 | 0 | 1 | 0 |
| TOTALS: | 2 | 1 | 0 | 1 | 2 | 2 |
This is the first European match on this date. The last match on this date was in 1997 when Crystal Palace won 2-1 at Goodison Park. The only previous match on this date was a 1-0 victory at Arsenal at the start of the championship winning 1969-70 season, with John Hurst getting Everton's goal.
Alex Stevenson was born on this day in 1912 in Dublin, Ireland. Signed from Glasgow Rangers in January 1934 for £37,000 Alex made 271 appearances for Everton and scored 90 goals before moving on to Bootle in May 1949. Alex also won a championship medal with Everton in the 1938-39 season, scoring 10 goals in 36 appearances during that season.
One of Alex's team mates in that Championship winning season, Joe Marcer, was also born on this day in 1914. After being released by Bolton Wanderers following a trial, Everton signed Joe on a professional basis in September 1932. During his time with the club, Joe made 184 appearances and scored just 2 goals, prior to his surprising transfer to Arsenal for just £7,000 in November 1946.
Milestones that can be reached in this game:
· If Duncan Ferguson comes on as a substitute, then he will match Danny Cadamarteri's club record for the most substitute appearances in all competitions with 60.
· If Per Krĝldrup, Simon Davies or Phil Neville play in the match then they will become the first Everton players to make their first team debuts in European competition since Johnny Morrissey Junior in the 1984-85 European Cup Winners Cup against Slovan Bratislava. The only other players to do this previously were Imre Varadi against Feyenoord in the 1979-80 UEFA Cup and more famously, Colin Harvey against Internazionale in the 1963-64 European Cup.
Heart and desire come up short against Villarreal
Everton have the proverbial mountain to climb in the second leg of their Champions League third qualifying round tie with Villarreal after the Spaniards left Goodison Park with two away goals in a hard-fought contest. Despite the game being a frenetic affair played predominantly on the home side's terms — it bore more resemblance to a blood and thunder Premiership fixture than a European tie — it was the visitors' superior finishing that proved crucial in leaving the Blues teetering on the edge of elimination at the first hurdle.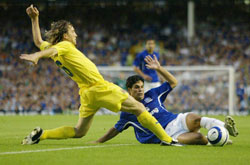 As expected, David Moyes was stripped of his most expensive summer acquistion when Per Kroldrup failed a fitness test and had to watch the match that was probably uppermost in his mind when he joined the club from the sidelines. David Weir assumed the captain's armband and the central defensive slot alongside Joseph Yobo. Alessandro Pistone and Tony Hibbert lined up as the full backs, Phil Neville and Simon Davies made their full debuts in the predicted five-man midfield and James Beattie lead the line up front.
With a raucous Goodison crowd behind them, Everton began their first Champions League game at a blistering pace. Quick to every ball and with committed tackling they clearly had the upper hand over the visitors from Spain for the first 10 minutes or so. The first half-chance for the home side arrived in the fifth minute when great work between Kilbane and Pistone ended in a cross from the left surprising Beattie when it made it all the way to the back post. A minute later, a corner from the left by Arteta found Cahill at the back post but he met the ball at the apex of his jump over his marker and the ball dropped tamely on the six yard line for a Villarrral defender to clear.
The Spaniards began to settle soon afterwards, though, and began to make some quick forays into the Everton half but the limited nature of the threat they posed at this point was summed up by Diego Forlan's first sight of goal, a 30-yard shot that flew high and wide of Nigel Martyn's goal. And the Uruguayan perhaps betrayed some frustration when he was booked for going in late on his former team-mate, Neville.
In the 27th minute, however, Villarreal stunned their hosts when they took lead out of nowhere. An angled ball to the edge of the box eluded Weir who was out-paced by Lucino Figueroa and the striker screwed a firm shot across Martyn and into the far corner of the net. The Blues had conceded an away goal inside the first half an hour and the wind was visibly taken from their sails.
Figueroa tried to replicate his goal five minutes later but when Martyn advanced to meet him, the Argentinian's swan dive was spotted by the referee and he was booked for the failed deception. Two minutes later at the other end, Cahill again met Arteta's deep cross but put his far-post header onto the roof of the net.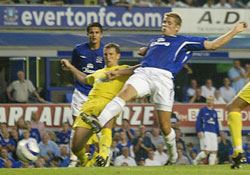 With their backs against the wall, Everton pulled out more of the heavy artillery and began bombarding Barbosa's goal with high balls which paid handsome dividends when a Villarreal defender failed to deal with a high ball from the left and Beattie reacted the quickest by stabbing the ball past the goalkeeper to level the match with three minutes left on the clock.
The advantage and momentum was lost almost immediately, however, when the Spaniards raided down the right, sent a well-placed cross into the heart of the Blues' defence and Josico powered a header past the stranded Martyn to restore Villarreal's lead in first-half injury time.
While there was no doubting the Everton players' commitment, as a unit they were clearly missing that crucial touch of class and creativity to create the required chances up front. With that in mind, Moyes's side resorted to their core strength in the second half in their bid to find a second equaliser: namely, the very British direct, dogs-of-war-style gameplan. Without any pace in attack, the manager had little choice but to employ the high ball into the box and, to be fair, it was a tactic that did unnerve the opposition defence with Beattie playing the Ferguson role and winning his fair share in the air.
Two minutes after the interval another poor clearance fell the way of Davies but the ball wouldn't come down quickly enough as he attempted an overheard kick that was blocked by a defender. 10 minutes later, Villarreal had an appeal for a penalty turned down when Pistone's hand made contact with the ball as he tried to nod the ball clear of the goal but chances were few and far between in the first quarter of an hour of the second period.
On the hour mark, Moyes made a double switch, pulling Beattie (who had covered an enormous amount of turf in his time on the field) off for Bent and putting Ferguson on in place of Kilbane. The quota of balls into the box remained largely the same but so, unfortunately, did the number of chances. Bent had a half chance four minutes after his introduction but the 'keeper smothered the ball as he tried to flick it over his advancing body, while at the other end Forlán narrowly missed with a powerful drive from 20 yards out.
With 10 minutes to go and the window for drawing level closing rapidly, Moyes played his final card by removing Pistone and putting James McFadden wide left in a 4-3-3 formation. But while he showed a few nice touches and won a couple of corners, the Spaniards had become adept at resisting the increasingly desperate aerial bombardment until Joseph Yobo connected with an Arteta corner deep into injury time but could only glance it agonisingly wide.
Neither the fans nor David Moyes could find any fault with the attitude and commitment of the players. They were clearly fired up for the occasion but while the desire was in abundance, they were lacking those two vital ingredients of pace and flair going forward and were undermined by the defensive frailties that were exploited to such effect by Fenerbahçe. That proved to be the difference between the two sides on the night. While Villarreal were able to raise the physical side of their game to mirror that of their hosts, Everton were unable to match the clinical finishing and speed up front that won the first leg for the "yellow submarine".
Besides effort, there were other pleasing things to take away from the first competitive game of the new season: Phil Neville made an impressive start to his Everton career and even assumed the play-maker role on a few occasions with some varied distribution from the holding role; Beattie showed he was clearly up for it and if we can find a decent striker to partner him before the transfer deadline, he could do very well this season; Simon Davies was the quick and busy player we expected him to be; and both Arteta and Cahill seem to have picked up where they left off in May.
Of course, while the Blues go into the second leg needing to score two goals to have any hope of advancing, all is not lost and anything can happen. Knowing that he won't have many more options than were at his disposal tonight for the return fixture, Moyes will probably be mindful of what worked at Goodison but, hopefully, make use of Bent's pace from kick off — he should be fit by then barring any other injuries between now and 24th August.
Player ratings:
Martyn 6 — In truth he had very little to do apart from pick the ball out the net twice.
Hibbert 6 — Like so many others on the team he was full of industry but wasn't able to get forward to the byline like Pistone on the other flank
Pistone 7 — Having looked so careless and disinterested at times over his Everton career, Alessandro seemed re-energised and was at the heart of some of the Blues' best moments
Weir 5 — Unfortunately, there times when he looked like a 34-year old defender, no more so than when he couldn't keep up with Figueroa for the first goal
Yobo 6 — His usual quick-footed self but with perhaps a question mark over the goal when it was left to Beattie to challenge Josico from behind as he launched himself to score goal number 2
Neville 7 — Made an encouraging debut in the holding role with plenty of crunching tackles and a willingness to play the passing game early on until it became clear that longer balls were the order of the day
Davies 7 — Busy and industrious and seemed to get better as the game went on after a fairly anonymous start
Arteta 7 — No doubting his commitment or desire to be at the heart of the Blues' attempts to unlock the opposition defence along the ground and a good number of his set-pieces caused problems
Cahill 8 — Probably the best player in blue on the night
Kilbane 7 — Typical KK until he made way after an hour
Beattie 7 — Put himself about a lot, made plenty of effort and was rewarded with a goal. In truth, he didn't have many more chances than the one he took but a nice way to start the season off even if he is still short of match fitness
Ferguson 6 — Apart from winning a few headers in and around the area he had no real impact
Bent 6 — Tried to feed off the scraps from knockdowns and half clearances but wasn't presented with much beyond the half-chance that was saved
McFadden 6 — Only had 10 minutes in which to try and create something by which time Villarreal had pulled men behind the ball
Lyndon Lloyd
We were absolutely brimming with excitement before this one as we set off towards Goodison at about 6pm. I've never seen Ste so excited, I've only once ever seen Mike at a game. Just goes to show the importance of the match and what it means to us Evertonians just to have an opportunity of being in the Champions League. We HAVE to take this chance.
We arrived and parked up at about 7pm so toyed with the idea of getting a few beers. Unfortunately ALL the pubs were shut so we thought we'd get one in the ground instead. Once we made are way in I was simply astounded with the size of the queue – or lack of. Was even more astounded when I realised why. A big sign stated clearly: NO ALCOHOL ON SALE FOR THIS MATCH. It was at this point when I realised that my flatmate Jim had mentioned this to me the other day – that your not allowed to buy alcohol at football grounds in European games. So feeling slightly sorry for ourselves we went to check out our seats and watch the players train.
Goodison was buzzing before the game as everyone anticipated what we all hoped would be a night to remember. As we were standing there waiting for kick off the lads in front of us turned up and one started chatting to us. I was bemoaning the lack of alcohol available inside the ground when he stated: "I've been on the beers since three. Been in the Black Horse all day" and grinned. Cheers.
When the teams came out they were met with a huge roar from the Everton faithful. Villarreal's following consisted of, as far as I could see, about 50 fans all dressed in yellow. Not many there at all. Us as supporters simply had to make our presence felt.
No surprises in the line up. Everton playing the tried and tested 4-5-1. Beattie was alone up front, Kilbane on the left wing and Davies on the right. Arteta and Cahill in the middle with Cahill a bit further forward. Neville playing in the holding role. The defence was the familiar looking: Pistone, Weir, Yobo, Hibbert and then Martyn. Wright, Krĝldrup, Bent, Ferguson, McFadden, Tie and Osman made up the seven-man bench.
Everton must have won the toss as they attacked the Park End in the first half. Villarreal started brightly with Forlán surging down the right hand side early on and forcing Pistone to make a tackle. It was a cagey start to a game (as you'd expect from two teams trying to qualify for the Champions League for the first time) and this set the tone for the whole game really. Neither side could get a grip of things for a while. Everton had there moments, so too did Villarreal. Villarreal you had to say looked brilliant when they started knocking it about though. The best team I've ever seen play. They really could pass well. The game had a very limited number of chances throughout however and neither keeper had to do an awful lot all game. Everton's game plan was clear and simple – knock it up to Beattie and feed off him or get it down the wings and cross it in to him. One cross from Pistone after he combined well with Kilbane looked for Beattie but couldn't quite find him. His marker got a touch and sent in towards his own goal but the keeper smothered.
Like most Spanish clubs Villarreal decided to "play" the referee with some clever gamesmanship all game. The referee was easily fooled with which you couldn't help but be frustrated. There players would go down very easily and more often than not would win the free kick. They'd also quite happily leave the boot in when the opportunity was there. Shithouses.
Before Villarreal struck first blood they'd already had a couple of long range drives from Forlán and Josico which were wayward. This time a neat ball through found Figueroa. Weir was cruelly exposed for pace but the chance was still very, very difficult. From a very difficult angle he cut his cross low, crisp and first time past Martyn and into the corner. A very well taken goal.
This rocked Everton back big time and Villarreal found their rhythm for a while. Everton to their credit though kept on trying although the heads were clearly down. Villarreal had a great chance shortly afterwards however when Figueroa found himself the wrong side of the defence and tried to round Martyn. This he did and if he'd have stated on his feet he'd have had an open goal. As it was, there was a slight contact from Martyn and the guy went down theatrically. A bit of gamesmanship from Martyn this time as he ran to the player and shouted at him to get up resulted in the referee booking the lad for diving.
Everton continued to huff and puff and won a free kick midway through their half. Neville floated it in nicely and after a bounce and I think a ricochet the ball bobbled to Beattie who stuck a leg at it. Shear relief encapsulated into pandemonium when the ball nestled into the corner. Everton were level.
This was just what we needed before half time as we could now hopefully drive at them a bit more in the second half attacking the Gwladys Street. Just as we were looking forward to this the buggers only go on down the other end and score themselves.
The ball was played down the left channel past Pistone. He got a lot of stick for this but I wouldn't necessarily blame him for it because everybody had pushed up to play offside and he went with them. I think it was Sorin who got free and crossed. At around the edge of the box was Josico who met it with a diving header which ripped into the corner of the goal. Beattie jumped with him and very nearly made it. A great header though and these were the only two shots on target Villareal had all game. The half time whistle blew not long after this.
There were no changes for either side at half time. We started the second half brightly and forced a few corners. Within five minutes of the restart it was clear that we needed more height up there and the crowd were singing for Duncan Ferguson. Everton pressed and pressed but just couldn't make the breakthrough. We had several corners and ample penalty box scrambles but it just wasn't happening.
With about 30 minutes left on the clock. On came Ferguson and Bent to replace Kilbane and Beattie. Immediately from a throw in Dunc flashed a header wide. We carried on pressing but Villarreal were doing there best to spoil things with the same old tricks – wasting time, going down feigning injury and leaving the boot in when they could. It was all the more frustrating because the referee kept on going for it. It was yet more frustrating when the referee forgot the meaning of a "physical" game. Any sort of body contact always seemed to result in a free kick to them. There's not a lot you can do in these predicaments.
As the game went on it seemed that our best opportunities appeared to be with set pieces, most notably corners, and it was with these were we seemed to create most of the chances. There were so many scrambles in the box but Villarreal were defending well and kept getting bodies in the way. They kept the ball well when they had it as well – much to the frustration of the home crowd. Down the other end Forlán turned and drove in the box but his effort flashed wide. That would have been game over.
It was substitute Marcus Bent who twice came close in the second half without actually getting an opportunity to get a shot away. The ball fell to him from a Pistone knock down in the box but he just didn't have time to turn before being tackled and in the end the keeper smothered it. The second one he was agonisingly close to getting a touch to as the ball bounced just wide of the post. Close once again.
McFadden came on for Pistone with about 8 minutes to go. It was getting desperate. Not a lot was happening as the clock ticked away as Villarreal forced a corners. I was surprised when they tried to score from it though instead of taking the opportunity to keep it in the corner. The referee signalled five minutes of stoppage time. Considering there had been six substitutions and a shed load of time wasting by Villarreal I think it should have been more like seven minutes but I'm clutching at straws and I doubt we'd have scored. In injury time we had a few corners and free kicks but couldn't work them. Ferguson flashed a header well wide at the death and that was pretty much it.
The players got a great reception at the end though and thoroughly deserved it. They had given everything and had tried and you can't ask for more than that. I was proud of them and felt they were a bit unlucky but in the end we were beaten by what was quite simply a quality team.
It will now be a huge ask to go over there and get a win, particularly with the two away goals Villarreal possess but I guess strangers things have happened at sea.
Unlucky Everton. You made us proud.
Player Ratings:
Martyn: Nothing to do really. Read things quite well. 6
Pistone: Some shocking moments but I thought he did alright. Was more committed in the second half although it seemed as though he couldn't wait to get off when he knew he was being substituted. 6
Weir: Cruely exposed for pace at the back but otherwise made some towering headed clearances and used the ball quite well. 7
Yobo: At one stage in the first half was playing both centre back positions to compensate for Weir's lack of pace. Had a good solid game in defence. 8
Hibbert: After starting a little shaky his tackling, heading and distribution all improved immeasurably as the game went on. Was very unlucky to be booked. 8
Neville: A good solid debut. Fitted in nicely. I did want him to come off with about 20 minutes to go throw Osman on as he has more technical ability. Was not afraid to communicate and point out what other players should be doing. Used his experience well. 7
Kilbane: Did well and took them on. Usual Kilbane – what you see is what you get. 7
Cahill: Worked and ran tirelessly but to no avail. Was treated to some rough tackling by the Villareal midfield. The referee had no time for his physical aspect of the game however and gave countless free kicks against him. 7
Arteta: Started brightly but faded a bit as the game went on. Was clearly are most creative player. 8
Davies: My man of the match. Toiled tirelessly and as the game went on his confidence grew. Showed some exquisite ball control and some clever passing. 8
Beattie: Battled manfully but his head had dropped by the time he was substituted. It's good that he's off the mark for the season nice and early as he's clearly a confidence player. Another one on Saturday would be nice. 7
Ferguson (for Kilbane): Did what he could with what he had but didn't see an awful lot of the ball. 6
Bent: Tried but couldn't keep possession well enough. A better striker might have been able to do something with that quarter-chance he had. 5
McFadden (for Pistone): Nowhere near enough time to come on and change a game but did do OK. 6
Paul Traill
* Unfortunately, we cannot control other sites' content policies and therefore cannot guarantee that links to external reports will remain active.