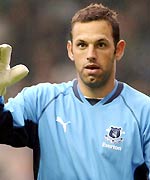 Richard Wright: Consistency will be the key following last weekend's
star turn

Despite the availability of Mikel Arteta, suspension completed (still carrying an injury perhaps?), David Moyes did as he most often does after the team has put in a good performance: no changes.
A scrappy start from both teams; Beattie waved his leg at one that could have gone goalwards with a bit more meaty contact. That was to come minutes later when McFadden advanced confidently down the inside-left channel and released an excellent angled ball right into where the Beatmeister wants 'em: on his shoelaces. Blink and it's in the back of the net with a very stylish finish over the flailing Roy Carroll, and Everton were off to the races.
Or so we thought. For moments, it looked like they would run away with the game, slick passing moves and direct forward driving toward a vulnerable-looking West Ham goal followed... but not for long. As the adventurous stuff kept breaking down, West Ham kept picking up the loose balls and doing their own confident sweeping thing.
Then McFadden got a knock and went to the sideline, rather than staying down and getting the physio on. The ball, meanwhile, came down Everton's left side, and a cross was whipped in that should have been bread and butter for Valente and/or Weir. Blink, and it's nestling in the back of the net, looping off the lazy foot of a bemused David Weir and over a stranded and very angry Richard Wright. What a pantomime!
The rest of the first half was a mixture of Brazil and Keystone Cops, with moments of brilliant flowing football and comical Sunday League shenanigans. Otherwise qualifying as an open, even, and entertaining game in some quarters. But for the home crowd, Everton's inability to make any sort of further dent in the West Ham defence was an increasingly worrisome concern.
After the restart, it seemed as if one side had received a Christmas lightening bolt while the other was stupefied with a refreshing half-time tipple of egg-nog and mulled wine. Somehow, West Ham took an immediate stranglehold on proceedings — and refused to let go! Hibbert was booked for a little ankle tap on Benyaoun.
West Ham were tearing Everton apart at the back, a sweeping move and driven cross seeing Wright scrambling with Zamora just a fraction too far behind the line of the ball. What was that about composure? On the hour, David Moyes finally responded to this unplanned onslaught by bringing on Arteta, bizarrely in place of Tony Hibbert! It made some difference but, with the ball given away once again, seeing West Ham scamper off down the filed yet again. The game was seriously off-script.
Arteta started to make his mark tussling with Etherington, and was lucky not to get booked as Everton finally stated to play some football in the Hammers half. But it didn't last long, as Benayoun drove through that same inside left channel (where Hibbo should have been?) and unleashed a shot that Wright could only parry to Zamora. Blink again... wallop: 1-2. What a farce!
Time for a cameo from Big Dunc? Kilbane sacrificed. Game plan largely unaffected.
A great ball from Beattie saw Ferguson lumbering in to nod the ball meekly down at Carroll. At the other end, a Zamora header flashed inches wide of the far post. At the other end, a better attack saw a good Arteta shot deflected wide for a corner. Arteta's following cross was deep, but Repka got in front of Ferguson at the far post as the game promised a frenetic and, for Everton, increasingly desperate finalé.
Osman got himself booked for a late challenge on Fletcher. Osman did well in a later attack to get the ball on Davies's head wide open in front of goal, but the Welshman produced an awful finish, knocking it well wide with only Carroll to beat.
A dreadfully executed free-kick 3 mins from time exemplified how incoherent Everton had become, the ball going straight to Carroll with no-one attacking it. At the other end, a back-pass to Wright saw a real heart-in-mouth moment as Harewood could really have made this a lot more embarrassing. And at the whistle, it was the turn of some Everton fans to provide a chorus of boos.
What was that guff about scoring the first goal...? What was that fine talk about making the most of home advantage...? What was that twaddle about using our game in hand to climb the table...? If only they could all just shut the fuck up and produce what's needed on the field instead of providing this endless stream of false promises.
Come on, Everton; get a grip. This was a really bad loss. West Ham were given far too much space to play in, while Everton totally abrogated the early advantage with a poor overall display. Time to re-start the spin machine and hunt out those lost 'positives' for the Echo to talk about.
Michael Kenrick
---
After two successive away games that yielded four valuable points, Everton are back at Goodison Park for back-to-back home games in the space of three days. First, it's the visit of West Ham United, the team against whom the Blues loved to play during the Hammers' first stint in the Premiership. Will the Blues' excellent record against them continue now that they're back in the top flight but better equipped than the last time the two sides met?
In 10 seasons, the East Londoners managed just three wins against the Toffees — and one of those was the 1-0 win at Upton Park in Walter Smith's last league game in charge, a time when Everton could not have been any worse — but after two seasons in the division below, they have re-emerged in the Premiership with a decent side that is not afraid to go forward and, in the likes of Bobby Zamora, Marlon Harewood and Nigel Reo-Coker, they pose a serious threat going forward.
Coming into this fixture, West Ham are in 9th place and five points better off than David Moyes's side having made an impressive start to the 2005-06 campaign. They've only won one of their last four matches, however, but were narrowly edged by Blackburn 3-2 in a high-scoring affair at Ewood Park on Saturday. They have defender Danny Gabbidon (knee) and Teddy Sheringham (calf) as doubts for the trip to Merseyside.
The Blues are, of course, on a nice little run of their own despite injury and suspension concerns. One defeat in the last seven marks a superb turnaround in form from the disastrous run that threatened to anchor the club to the bottom the Premiership. The Blues finally appear to be upwardly mobile once more, have put five points between themselves and the relegation zone, and can get within two points of the top 10 with victory in this, their game in hand on much of the division.
Mikel Arteta, one of four key absentees against United on Sunday, is back in first-team contention after serving a one-match ban, but Tim Cahill is suspended for two further fixtures following the FA's controversial disciplinary stand against him and Celestine Babayaro. Nigel Martyn and Andy van der Meyde are still unavailable through injury, so Richard Wright gets another chance to shine and Leon Osman will likely keep his place in the starting line-up at the expense of Kevin Kilbane.
Simon Davies and Phil Neville both turned in impressive displays at Old Trafford and will probably form the central midfield pairing with Arteta wide right. James McFadden, who now boasts two goals in as many games, will surely partner James Beattie up front.
As already noted, West Ham can score goals but, the West Brom nightmare aside, the Blues have shored up the defence remarkably well and should be able to cope with most of what Alan Pardew's men will throw at them. As ever, the challenge will be to make things count at the other end. Moyes will expect his team to come out of this one with three points and probably will by the odd goal.
Lyndon Lloyd
---
Once again, just when they had started to build up some momentum going into the crucial festive period, Everton find themselves back in the doldrums with an unecessary and demoralising home defeat. Having taken control of the game by scoring another early goal, the Blues had laid the foundation for a comfortable victory but ended up ceding the initiative, their lead and then all three points to a West Ham side that refused to lie down and offered plenty for David Moyes to attempt to emulate in the coming weeks.
Mikel Arteta, the beating heart of the Everton midfield for much of the season, was eligible once again after serving a one-match ban but was relegated to the bench, either because he hadn't recovered sufficiently from the injury he reportedly picked up against Blackburn or because Moyes wanted to reward the eleven that earned the creditable draw at Old Trafford on Sunday. If it was the latter, it should go down as another managerial miscalculation; always pick your best team should be the mantra.
Nigel Martyn, Andy van der Meyde and Tim Cahill were once again ruled out, so Richard Wright was handed his first start at Goodison this season and both Kevin Kilbane and Leon Osman retained their places in midfield. James McFadden again partnered James Beattie up front, and after a slow start the pair started to ask questions of the Hammers defence.
After seven minutes, Beattie showed evidence of some sharpness returning when he got across Anton Ferdinand nicely but could only divert the ball across goal and wide. A minute later, though, the striker got it all right.
McFadden picked the ball up deep and advanced on goal, ignored the obvious ball to Kilbane to his left and fed a precise ball to meet Beattie's well-timed run, allowing the number 8 to sweep a fine finish past the advancing keeper and high into the net to hand Everton a priceless opening goal.
With their tails up, the Blues showed signs that they were intent on increasing their advantage, and when Davies beat his man with a rare display of skill, he almost found Beattie near the penalty spot but his shot appeared to be blocked but no corner was given. West Ham, though, gave a hint of what was to come at the other end when David Weir had to get a crucial toe-in to deny Bobby Zamora's clever turn.
On 18 minutes, McFadden again found himself in space outside the West Ham area but, while he danced around and pondered a long-range shot rather than look for the more obvious ball in to either Osman or Beattie, he was closed down and ended up kicking his marker as the ball was taken off his toe. While the Scot hobbled off for treatment, the visitors attacked down the right and as the ball squirmed under Nuno Valente and Marlon Harewood's outstretched legs, Weir instinctively stuck out a boot and it diverted it into his own net. 1-1 and the early advantage evaporated.
Whether it was because of the loss of McFadden or the concession of the goal but Everton lost all control of proceedings for about 10 minutes after that, with West Ham winning all the 50-50 challenges and attacking confidently, probing the home side's uncharacterstically shaky back line with a number of hard and low crosses.
Then, recovering their composure somewhat, the Blues fashioned two chances to re-take the lead: firstly, when Beattie timed a break through the offside trap to perfection but he was incorrectly flagged for offside as he advanced and fired past Carroll and into the net; and, secondly, when Beattie, again, effected a beautiful turn through 180 degrees to beat his man but then shot straight at the 'keeper from 25 yards.
As the half wore on, though, it became increasingly obvious that Marcus Bent, who replaced the injured McFadden, was almost completely ineffective on the right wing and that Leon Osman wasn't being employed far enough forward to effectively partner Beattie. With little shape to their game, Everton posed no real threat but half-time offered hope of a reshuffle and the possibility of introducing Arteta to proceedings.
Unfortunately, Moyes made no changes in personnel at the interval and, not surprisingly, the pattern of the game swung further in the Hammers' favour after Osman's shot seven minutes after the restart was dragged a yard of the upright. Harewood was a constant thorn in Valente's side at the other end and, in the space of five minutes, he fired a cross-cum-shot into the side-netting that may well have beaten Wright had it been on target, then bounced a header the other side of the goal when he might have done better, before he lunged at another low cross that skidded across the face of goal with no Blue shirt within 10 yards of him.
Arteta, meanwhile, was finally brought on after an hour's play with Tony Hibbert making way and Phil Neville moving to right back. It proved to be a costly decision; seven minutes later, the effervescent Etherington skipped past a lazy Neville tackle and fired goalwards and although Wright managed to keep it out he could only palm into the path of Zamora who tapped in unhindered at the far post to hand West Ham the lead.
Moyes responded by pulling Kevin Kilbane off and throwing Duncan Ferguson into the fray but Everton's attempts at salvaging the game were limp at best. A decent Beattie run ended in him crossing to the back post for Ferguson but there was no pace on the ball by the time it reached the back post and Carroll gathered the Scot's tame header. Arteta also saw a 20-yard shot blocked by Fletcher with 13 minutes left but, in terms of real chances, that was it for Everton. Instead, Weir almost put the ball past his own 'keeper a second time defending a corner but, thankfully, it bounced wide of Wright's left-hand post.
So, a performance that started so brightly and yielded another early goal gave way to another capitulation on the home turf of Goodison and raises more questions about the manager's tactics and ability to rouse his players when they're down. Arteta's fitness may have been the major factor behind Moyes's decision to leave him on the bench, mindful perhaps of another Premiership match looming just three days away. Even when he did take to the field, he was all too often playing too deep to have any real impact going forward.
He wasn't the only one playing in the wrong position; Bent showed once again that he is wasted as a winger. He may have pace and can put in the occasional cross, but he doesn't have the burst of speed or skill to consistently beat a man. He's a striker and should play there, but Moyes kept moving him back and forth between the front two and wide right, preventing any kind of consistency.
Similarly, Beattie was playing too deep one minute and then too wide the next. Frequently with Everton it's the strikers picking the ball up by the touchline with no one in the box to convert any chance that might be created.
Conversely, Alan Pardew's men were well-drilled, knew how to pass the ball switfly and to feet and stuck to a gameplan of peppering the opposition back line, not with aimless high balls like their hosts, but with dangerous low balls pinged into the area with pace that always seemed to cause problems. They exploited Valente's lack of Premiership experience and loose marking as equally as they enjoyed Weir's lack of pace and susprising lack of sharpness and came away with three well-deserved points.
All in all, a very frustrating evening and not the kind of result to have to try and rectify against a team like Bolton Wanderers who will be smarting from being mugged by the Toffees at the Reebok back in August and will also be sensing blood from the wounds inflicted by West Ham.
Player Ratings:
Wright 6 — Apart from the two goals, the first of which he could have done nothing about, he didn't have much to do
Hibbert 6 — Had a fairly good game from a defensive point of view and was missed when he was taken off in the second half
Valente 5 — Started well but eventually lost his battle with Harewood who was a constant threat
Weir 5 — A poor performance all round. The own goal may have been down to an instinctive reaction but he looked slow and sloppy for much of the encounter
Yobo 8 — Once again, the best player in the a blue shirt on the day
Neville 6 — Like most of the midfield gave possession away with alarming regularity and was found wanting when it mattered at right back for West Ham's second goal
Davies 6 — Started very well and was largely busy but his distribution was below par
Osman 7 — Another one who started very well and had a good first-half but whether it was the constant shuffling of the pack up front or the team's general lack of ideas going forward, he was less effective in the second
Kilbane 5 — Offered very little
McFadden 7 — Had a good 17 minutes before injuring himself. If you ask me, his loss was key
Beattie 7 — He tried hard and showed a pleasing willingness to make intelligent runs off his marker in the first half. The more strikers that were introduced as the game wore on, though, the less clear his primary role became

Bent 5 — Largely ineffective
Arteta 7 — Added a distinct touch of flair to the midfield as soon as he came on but was often playing too deep to pull many strings
Ferguson 5 — Offered very little
Lyndon Lloyd
---
Leaving work early and having to change trains in Sheffield to make this one, a train delay was simply inevitable. The train, which was supposed to get me into Lime Street at 19:27, crawled up at about 19:40. I met a blue on the train and there was one thing for it – a taxi.
Off the train we sprinted for the cab rank, and jumped in a black cab. "Goodison please mate" I said. "Yer didn't need to tell me where you were goin' lad" he replied. "What time's kick off?". "Eight" I said. "You'll be alright" he confirmed. I love Scouse wit!
Sure enough we were there in good time. Even made the Z-cars – something we don't normally achieve when we leave from the Wirral on a Saturday. As it was Gary had actually misjudged his train from Bromborough and was five minutes late!
The line-up was exactly the same as the one which performed so admirably at Man Utd. Moyes resisting the urge to throw Arteta back into it, although he did replace Li Tie on the bench.
It seemed like everything was going according to plan early on. We started well and created a few half-chances for Beattie before we scored on nine minutes. A good clearance upfield by Davies found McFadden on half way. He skinned two players and then edged forward with the ball. With Kilbane seemingly a good outlet on the left he fooled everybody by sweeping in a lovely ball to Beattie who finished well with a side-footed shot on the volley. He seemed happy with that one!
We continued to force the game with Osman in particular looking lively in midfield and threading the ball forward when he could, with Beattie chasing everything up front – things were going well. Disaster struck though on 20 minutes when McFadden pulled up with what looked like a hamstring strain. Bent replaced him and from there forth everything went tits up. They scored almost straight away. Valente allowed whoever it was simply far too much time to cross and the ball in was somehow diverted into his own net by David Weir. Stunned silence replaced by "blowing bubbles".
This noticeably rocked Everton back a wee bit and it took a while to get into our stride. We did eventually though before half-time and came very close to scoring when Beattie put in a terrific ball which was fractionally missed by both Osman and Bent. As it was, I don't think Carroll made a save of note all half, or more to the point, all game. Just before the break Everton forced a corner which was half cleared, upon clearance was dispatched out to Osman on the right flank who got himself into a good crossing position, but then the whistle went. Cheers ref! I thought the ref had a very poor evening.
For the second half, just when I was thinking West Ham were now gonna sit on the draw and time waste a bit, they did the complete opposite and really had a go at us. Credit to them. They thoroughly deserved the three points, we just couldn't keep up with them. Zamora and Harewood were hard work up front and plenty of ammunition was supplied by Rio Coca and Mathew Etherington (who we nearly signed a few seasons back). They were relentless and we couldn't (or didn't do anything about it). Before the goal Harewood missed a good chance with a header. Arteta replaced Hibbert (pushing Neville back to right back) who'd had a bit of a 'mare and we got a bit more creative, albeit without really creating anything.
They scored when Etherington went on a mazy run, and cut across a few players before having a dip at goal. Wright saved well, Zamora's outstretched boot hooked it in to the gaping net. I think Valente was occupied with fixing his hair which was why he couldn't get there first. Everton wasted no time in sticking Ferguson on.
We pressed a bit after that but in all seriousness West Ham were generally untroubled. A good chance came Ferguson's way with about ten minutes left but his header flashed well, well wide. I left with about five minutes to go to beat the rush. I just knew it wasn't happening – so did a lot of others judging by the mass of people outside.
We blew it. A great chance to get into the pack on 13th place above 'boro but we couldn't do it. It now makes Bolton on Saturday a must win – not what you want against a team like that. Are goal difference rests at –10 now as well. Far, far too poor. It's just so frustrating that we've lost nine points at home to Portsmouth, Wigan Athletic and now West Ham Utd. Not to mention loosing away at Fulham and Man City, and being out of Europe and the Carling Cup in the first round. It's fair to say, we've had better starts. Another quick one – IF we win are next two at home to Bolton and away at Villa, we'll be on 23 points. I think we made 40 by Boxing Day last year. That's poor progress by anyone's standards. On a more positive note, are form in the second half of last season was abysmal. Maybe this season were reversing the trend.
Well let's hope so.
Player Ratings:
Wright: Hard to fault him for either goal and looked pretty assured. 7
Valente: Possibly at fault for both goals. Maybe I'm being harsh and have to see them again but it looked that way for me. Didn't do much going forward either. 5
Yobo: Was given as touch a game as he's had all season but coped well. We'll miss him in January. Is that why there's talk of a Stubbs return? My man of the match. 8
Weir: Don't really know how bad the own goal was but his pissing about led indirectly to their second goal so he has to take a lot of responsibility. Did well otherwise. 6
Hibbert: Poor distribution and defence wasn't quite up to scratch. Was hauled off on the hour. Reckon he'll be dropped for Neville on Saturday as well. 5
Kilbane: Had a good first half but faded in the second. 6
Neville: Did well and got stuck in. Seems happier in midfield, although did well defensively when switched to right back. 7
Davies: Usual hustle and bustle. Getting consistent now. 7
Osman: Probably the pick of the midfield players. Was very positive with the ball. 7
Beattie: Good chasing and a good goal. Looking sharp. Looked to have a bit of a knock at the end and he had to come off for treatment. 7
McFadden: Had a good twenty minutes. We looked clueless and West Ham looked relieved once he went off. Never thought I'd say this – I hope he's not out for long. We need him right now; set up the goal. 7

Bent: Did OK I guess. Peculiar effort on goal which hit the side netting though. 6
Arteta: Maybe should have come on when Bent did instead. This could have put Osman up front and maintained an attacking midfield threat. Did quite well. Looked a little rusty. 7
Ferguson: Devastating to say but I think he might be past it now. His reactions just seem slower, his touch not as good, and his heading even a bit off key. It would be a sad way to end if this is what we've got for the rest of the season. Hope he's got more in the locker. Sad that, there's a big derby coming up. 5
Paul Traill
* Unfortunately, we cannot control other sites' content policies and therefore cannot guarantee that links to external reports will remain active.