Everton travel to The Emirates today knowing that one point guarantees Uefa Cup football next season and the unofficial title of "best of the rest" for David Moyes's men. Mikel Arteta is out but Andy Johnson and Steven Pienaar faced late fitness tests , and were deemed fit enough to play. Yakubu is dropped to the bench to allow Carsley and Neville to play in midfield, with Hibbert back in the team.
Everton started with a hoofball from Hibbert and an early shot from Osman that led to an early corner. After another from Neville, that also led to retained possession, they actually tried to keep it on the ground and do the slow build-up. Wiley kept blowing up for the slightest contact in the middle of the field.
Arsenal's first shot took a while and was poor, Walcot firing it wide after 14 mins. Gallas delivered a hopeless hoofball after 25 min... with little of note in-between ... it was that kind of end-of-season game.
The game finally livened up with a lovely ball from Fernandes gave Johnson something to chase as the Arsenal keeper surprisingly stayed back, Johnson's shot was on target but close enough for Fabianski to stick out a leg.
Jagielka's header off corner was cleared off the Arsenal line. Lescott was booked for kicking the ball out of Fabianski's hands. A blatant backpass from Gallas on the next Everton attack was not given. Ebouye got Adebayor through on Howard but he saved well.
Headers from Gallas and Adebayor could have been converted for Arsenal but were wide and the half finished 0-0.
Arsenal initially attacked with vigour after the break but Everton defended well, and then did their best to build meaningful attacks by playing Arsenal at their own game. But the final penetration was lacking and the game dragged on with little by way of excitement... epitomized by sequences where Everton were forced to pass back to Howard after long spells of possession that went nowhere. Arsenal were poor and really there for the taking but Everton simply could not raise their game.
Lehman came on for Fabianski, in perhaps his Emirates farewell... and collected a nice free-kick delivered in by Fernandes that a blue shirt really should have headed into the Arsenal net. But the other substitution, Traore on for Toure, was the one that made the difference. Traore crossed crisply and Bendtner fired home a classic header with consummate ease. So much for playing for the point!
Reactive as ever — rather than pro-active — Moyes finally acted, swapping Johnson and Carsley for Yakubu and Anichebe with just 10 mins left. But by then it was too little, too late.
Fernandes, the only player to play anything like a creative ball for Everton all day, was swapped for Baines in injury time... as if Moyes was reinforcing the message that he remains unconvinced by the Portuguese player.
The game fizzled out to its all-too predictable conclusion, with Everton yet again failing to get a result against one of the Sky4, and stumbling into that 5th place finish unconvincingly with yet another end-of-season whimper.
Match Preview
Everton go into the penultimate game of a season that threatened at one point to spectacularly derail knowing that a point at one-time Premier League leaders Arsenal is all they need to secure 5th place and a guaranteed spot in the Uefa Cup come August.
With Aston Villa choking at the crucial moment and going down 2-0 at home to Wigan Athletic yesterday, they not only failed to gain ground on David Moyes's men, they also lost the goal difference advantage had. The Blues are three points ahead and a goal better off but will render next weekend's home game with Newcastle moot if they can repeat last season's draw at The Emirates.
Mikel Arteta has joined Tim Cahill and James Vaughan on the list of players whose campaign has come to a premature end. Everton and the Spaniard have decided that he needs extended rest to finally get rid of groin and stomach muscle complaints that have hampered his form.
Otherwise, Moyes just has to worry about late tests on Andy Johnson's calf and Steven Pienaar's groin before he selects his team to face an Arsenal side that put six past Derby County last weekend and who still harbour hopes of catching Chelsea and finishing second.
With results going his way yesterday — Portsmouth's defeat at Middlesbrough put paid to any lingering hopes they had of trumping Everton for 5th — Moyes may elect to be a little less cavalier than he otherwise might have been, but you'd hope not.
Last season's Cahill-inspired draw ended a sorry sequence of results for the Blues on Arsenal's home turf and a first victory in this fixture for 12 years is long overdue. If nothing else, retribution for the shock 4-1 defeat at Goodison in December should be motiviation enough for Moyes's boys.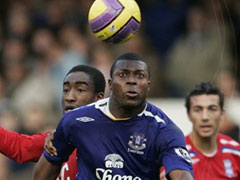 The Yak:
under-fed in recent weeks
Another sub-plot is Yakubu's bid to become the first Everton player since Peter Beardsley to notch 20 goals in a season. The Nigerian has been stuck on 19 since scoring against West Ham 6 weeks ago. Unfortunately for him, he missed a sitter against Derby County and hasn't really been fed in the time-honoured Yak tradition since.
Matchday Stats
Everton go into their 189th match against Arsenal looking to secure European competition for the second successive year.
A win for Everton will secure 5th spot (and A UEFA Cup place), if Aston Villa fail to beat Wigan Athletic at home on Saturday. Similarly, if Everton gain at least a draw, or Portsmouth fail to beat Middlesbrough on Saturday, then Everton are guaranteed at least 6th place – and thus qualify for the Intertoto Cup.
However, the chances of Everton gaining anything at Arsenal looks slim, as the 1:1 draw there last season is the only point Everton have taken from a visit to Arsenal in the last 12 meetings there (including a League Cup match in 2004).
Everton's record against Arsenal:
| | | | | | | |
| --- | --- | --- | --- | --- | --- | --- |
| | P | W | D | L | F | A |
| Premier League | 31 | 5 | 7 | 19 | 25 | 62 |
| Division One | 142 | 49 | 29 | 64 | 189 | 220 |
| FA Cup | 3 | 2 | 0 | 1 | 10 | 4 |
| League Cup | 11 | 2 | 3 | 6 | 7 | 15 |
| Charity Shield | 1 | 0 | 0 | 1 | 0 | 3 |
| TOTALS: | 188 | 58 | 39 | 91 | 231 | 304 |
Our record at Arsenal:
| | | | | | | |
| --- | --- | --- | --- | --- | --- | --- |
| | P | W | D | L | F | A |
| Premier League | 15 | 1 | 2 | 12 | 12 | 40 |
| Division One | 71 | 15 | 11 | 45 | 75 | 134 |
| FA Cup | 1 | 0 | 0 | 1 | 3 | 4 |
| League Cup | 6 | 1 | 1 | 4 | 3 | 10 |
| TOTALS: | 93 | 17 | 14 | 62 | 93 | 188 |
The last visit to Arsenal was on 28 October 2006, when a Tim Cahill goal in a 1:1 draw secured Everton's first point at Arsenal since 20 January 1996, when Everton won 2:1 thanks to goals from Andrei Kanchelskis and Graham Stuart.
This will be Everton's 16th match on 4 May:
| | | | | | | |
| --- | --- | --- | --- | --- | --- | --- |
| | P | W | D | L | F | A |
| Premier League | 1 | 0 | 0 | 1 | 0 | 2 |
| Division One | 14 | 8 | 3 | 3 | 12 | 8 |
| TOTALS: | 15 | 8 | 3 | 4 | 12 | 10 |
Everton's last match on this date was in 1993, when Sheffield United came to Goodison Park when Everton lost 0:2 in front of the Sky cameras. In fact, this is the only time Everton have played a Premier League match on this date so far.
The last away match on this date was in 1987, when a goal from Pat Van Den Hauwe secured a 1:0 victory at Norwich City and, subsequently, Everton's last League Championship.
Milestones that can be reached this game:
If Everton win, then they will beat the club record for the most matches won in a Premier League season. The current team are level at 18 wins, matching the 2004-05 season when Everton finished in 4th place.
If he starts, then Mikel Arteta will be making his 100th League start for Everton.
If Everton conceded 4 or more goals, then the 4th will be the 100th away goal Everton have conceded in a match broadcast on Sky Sports.
If he scores a hat trick, then Yakubu will become the seventh Everton player to score at least 3 first class hat tricks in a single season for the club. The other six are Bill 'Dixie' Dean (who achieved the feat in 5 separate seasons, including the club record of 8 hat tricks in a single season in 1931-32), Bobby Parker, Bert Freeman, Tommy Lawton, John Willie Parker, and the last player to achieve this feat back in the 1985-86 season, Gary Lineker.
Match Report
May appear here later
* Unfortunately, we cannot control other sites' content policies and therefore cannot guarantee that links to external reports will remain active.