No Arteta; David Moyes moved Phil Neville into midfield (eeek!) and brought in Tony Hibbert (eeeeeek!) for a rare start at right back. Johnson and Yakubu started up-front... 4-4-2 rather than 4-5-1, somewhat surprisingly...!!!
It was a good ding-dong first half, perhaps edged by Man Utd, who went ahead through a shot from Ronaldo that was deflected by Carsley past Tim Howard.
Everton came right back though, through Tim Cahill whose header was unstoppable — only the third goal conceded by the Champions at Old Trafford
Everton were clearly under the cosh in the second half, playing deep, defending solidly, looking for the draw... Good discipline, controlled play, taking no chances... waiting patiently for the chances to come in the last quarter of the game...
Hibbert blocked Ronaldo on the edge of the Everton area, giving away a free-kick, and Rooney, clear in on goal, clipped the top of the bar.
A somewhat disappointing but predictable substitution was Gravesen on for Yakubu with 15 mins to go, preservation of a point and the unbeaten run perhaps foremost as a great result under the circumstances...
With just five minutes of this absorbing match left, Cahill limped off to be replaced by Anichebe, while Fletcher came on for Brown.
But disaster with 3 mins left: Pienaar checked Giggs with his hip, and unnecessary challenge, a moment of rare indiscipline from the Blues, the linesman flagged for a penalty; duly awarded, Ronaldo duly converted, sending Howard the wrong way. It really came too close to the end for Everton to do anything about.
A sad if somewhat predictable end to an excellent run of 13 games unbeaten, including 11 victories. The claim was that quality opposition among those games was limited and indeed there is sadly no questioning the quality the Blues were up against today. It would have been great to see an Everton team really take it to the Red Devils for once but that was not to be as Man Utd, seemingly as they always do, succeed in doing the double over the Blues.
Match Report
Everton pushed the self-destruct button with less than four minutes left on the clock, handed Manchester United an unnecessary Christmas present and surrendered their proud 13-match unbeaten run in the process.
The Blues, robbed of the influence of Mikel Arteta who was ruled out through illness, were heading for a hard-earned point when Steven Pienaar dangled a leg behind him and sent Ryan Giggs sprawling in the area to give Cristiano Ronaldo the opportunity to score the winner from the spot with his second goal of the game. The Portuguese midfielder took it with both hands and condemned David Moyes's side to their first defeat in two months.
It was a predictably spicy game. The pre-match build-up had focused on the strength of the current Everton side and their potential to inflict on United their first home defeat of the season so Alex Ferguson's side — and Wayne Rooney in particular — seemed to have a point to prove.
The former Blue found himself in Howard Webb's notebook inside five minutes for needlessly and impetuously scything down Tim Cahill and Patrice Evra got the same treatment from the official for going through Tony Hibbert with both feet.
Unfortunately, having asserted his authority on the home side, Webb seemed to spend much of the rest of the game wanting to make it up to them. Cahill was booked in the 13th minute for what was perhaps an over-zealous challenge but one that didn't warrant a yellow card and Hibbert was also booked — rightly on this occasion — for exacting his revenge on Evra a minute after that.
In terms of actual football, United had the upper hand and predictably so. Everton had been forced into abandoning the 4-1-4-1 formation and fielding a makeshift midfeld with Phil Neville on the right and the disruption to the core unit that lay behind the phenomenal run of form since the Merseyside derby was clearly apparent and could have had something to do with the fact that they didn't go all out against the Champions.
Carlos Tevez had the first sight of goal in the seventh minute but it flew wide before Ronaldo squeezed a low cross past Lescott that Rooney barely touched but did enough to confuse Tim Howard who stuck out a hand and diverted the ball into the path of Tevez but somehow the ball went the wrong side of the post from a couple of yards out.
The Blues may have been below par but they were not without either intent or, with Yakubu and Andy Johnson up front, threat and after Lescott had got around the back of the United defence but crossed too close to stand-in 'keeper Kruzchak, Yakubu's brilliant throughball set Pienaar away. When he eventually found the Yak again, though, the Nigerian couldn't cut the ball back past the 'keeper to lay up a shooting chance for his South African teammate.
Three minutes later, the game took an ominous and hauntingly familiar turn. Ronaldo enginnered just enough space outside the box for a shot and, bang, 1-0. His effort took a slight nick off the toe of Lee Carsley and arrowed into the top corner. Howard barely moved.
Everton being Everton, though, found a way back into the game almost straight away. Lescott and Pienaar exchanged passes by the left touchline level with the edge of the United area before the latter delivered a perfect centre where Cahill rose between two defenders and headed past the 'keeper to level the scores.
Neville, playing in the familiar surroundings of the so-called Theatre of Dreams, then tried an audacious side-footer from distance that went high and wide after great work by a neat interchange between Johnson and Yakubu, while at the other end Lescott had to head Rooney's chip shot off the line with Howard well beaten.
Then, in first-half injury time, a quick break by Giggs and a chip to Ronaldo who volleyed acrobatically over with his right foot represented another let-off for Moyes's boys.
Sir Alex Ferguson used the interval to haul off Simpson, who'd been given the run-around by Lescott and Pienaar, and introduce John O'Shea. The rest of the United side resumed their attempts to break down the Everton defence for a second time and after Tevez's shot in the 50th minute had been deflected behind and the resulting corner cleared only as far as Anderson, the Portuguese's powerful drive caught Howard out and the American could only block it with his chest before Cahill hacked it clear.
Five minutes after that, Rooney's throughball into space gave Tevez time for a shot that was deflected and then gathered by Howard as the home side looked to turn the screw.
As the Blues' top scorer, Yakubu was obviously their biggest threat but he was getting no service in the areas that mattered and with Cahill walking on eggshells following his early booking there was one less tenacious tackler in the middle of the field trying to break up United's flow. The result was that Everton were playing increasingly deep, surrendering the initiative too readily, and the ball was coming back far too often from clearances downfield.
And when Yakubu did get the chance to cause an upset when he drove forward into space, a hesitance to shoot resulted in him being closed down and the chance snuffed out.
The upside, though, was that their hosts weren't capitalising on their superiority thanks in no small part to determined and impressive defending by the likes of Yobo, Jagielka and Lescott. Ronaldo drove narrowly over and Rooney side-footed then volleyed into a similar location.
Both sides were in need of a change and United threw Louis Saha on for Michael Carrick while Yakubu was substituted in favour of Thomas Gravesen with a little under 20 minutes to go — he was visibly ticked off at his manager's decision, though, and you wondered if someone like James McFadden, who'd made such an inadvertent impact at Chelsea, wouldn't have been a better option.
Nevertheless, the Blues were on target for a precious point, particularly after Gravesen had failed to take advantage of a direct free kick opportunity by sending a daisy-cutter into the 'keeper's arms and Rooney's fierce shot had been parried with only four minutes left of the 90.
Then, an inexplicable moment brought Everton's carefully-constructed world crashing down around their ears. Forced by the thick blue line to take the ball wide as he motored into the Blues' box, Giggs was heading away from goal as he breezed past Pienaar but the midfielder blindly stuck out a leg behind him in a lazy attempt to stop the ball and Giggs tumbled to the turf. The linesman was emphatic in raising his flag across his chest, Referee Webb pointed to the spot and Moyes could only bury his face in his hands.
Ronaldo stepped up, even checked his run to throw Howard off, and drove the penalty into the opposite corner to that chose by the 'keeper to win the game.
Truly gut-wrenching stuff and so avoidable but it would be unfair to be too harsh on Pienaar given how big a part he played in the run of form that preceded ths defeat. Overall, United probably deserved the points but Everton would almost certainly have eked out a point were it not for a little moment of madness with just three minutes left.
Match Preview
There can't be many better ways to come into a fixture at Old Trafford against the Champions, Manchester United, than with an unbeaten run stretching back 13 matches in all competitions, yet that is the record that Everton have as they prepare for their toughest assignment so far this season.
The Blues may have won an astonishing 11 out of those 13 games without defeat but they have yet to beat any of the teams currently sitting above them in the table and the mettle of David Moyes's improved side will be tested to the full in the next three weeks with United, Arsenal and Chelsea (in the Carling Cup) lying in wait on the calendar.
Their task will be made a degree more difficult by Leon Osman's broken toe, an injury which, like Alan Stubbs and Leighton Baines, will sideline him until the New Year. That's unfortunate because the midfielder was enjoying his best-ever form in Everton Blue and he was a vital component of the Blues' excellent form since the derby.
Depending on whether Thomas Gravesen came out of Thursday's marvellous win in Alkmaar unscathed, either the Dane or James McFadden could deputise in the middle for Osman. It's unlikely that Moyes will be looking to change his 4-1-4-1 formation for this one seeing as it has been so successful when led by Yakubu who will surely retake his place up front even though Andy Johnson has scored in his last two appearances — the Nigerian's scoring form is second to none right now and Everton will need their big gun this weekend.
Mikel Arteta and Tim Cahill are expected to return after being rested in midweek, as are Phil Neville (right back), Joseph Yobo (centre back) and Tim Howard. Joleon Lescott could either move to left back with Nuno Valente dropping back to the bench or Moyes may plump for experience and pair Lescott with Yobo and retain the Portuguese on the left.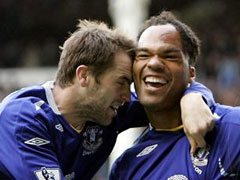 Joleon Lescott: Could be asked to play centrally again or move back to the left side of defence
Not surprisingly, given their budget and their pedigree, United are in fine form at the moment, having come away from Anfield with all three points last Sunday and hammering the Premier League's bottom club Derby 4-1 in their most recent home game. They also boast the division's best defensive record but Everton have scored more goals and, along with United, are one of only three teams to have averaged mored than two points per game over the last eight.
It goes without saying, therefore, that this is going to be an incredibly difficult game — we've not won on United's turf since the 1992-93 season — but not an impossible task. Given their strength at the back, the Blues can feel more confident than usual of being able to take the game to United a little more than in the past and lesser teams than Everton have come to Old Trafford without showing any respect in recent seasons and been rewarded for their guts and lack of fear.
If Moyes's boys can keep it tight at the back and are able to feed the Yak at the other end, then anything is possible but they will have to be wary of the speed and ability of the likes of Ronaldo, Rooney, Tevez and Nani... oh, and the predatory instincts of John O'Shea — if he plays any part — who seems to like scoring against us!
Matchday Stats
May appear here later
* Unfortunately, we cannot control other sites' content policies and therefore cannot guarantee that links to external reports will remain active.