Spurs floored by irrepressible Everton
Everton made it two wins in two and condemned Tottenham to a second successive defeat with a superb performance at White Hart Lane. Having failed to win on this ground for 21 years before last season's magnificent smash-and-grab victory, the Blues put on an equally impressive show on a rain-soaked evening in North London by roaring into a 3-1 half-time lead and then defending it with admirable resilience in the second half.
As expected, David Moyes kept faith with the players that started against Wigan and he was rewarded with a goal inside the first three minutes. Staltieri's answer to Mikel Arteta's trickery was to chop him down on the touchline and when the Spaniard whipped the ball in, Joleon Lescott capitalised on lapse defending by Anthony Gardner to head home.
Having lost their season opener in cruel fashion at Sunderland and with the burden of expectation weighing heavily on a club that spent big in the summer, Spurs were rocked back on their heels but set about their task competently enough. A terrific saving interception by Tony Hibbert on the edge of his area prevented Dimitar Berbatov from getting on the end of Steed Malbranque's cut back in the ninth minute, but the defender then almost undid his good work with a moment of panic in the six yard box a minute later.
Tim Howard could only parry a low Pascal Chimbonda shot across the face of goal and as Joseph Yobo and Hibbert converged on the loose ball neither took charge but, thankfully, Berbatov's strike deflected off the Nigerian and behind for a corner.
Everton, though, were in uncompromising and determined mood. Much as they were here a year ago, they passed and moved the ball with confidence and style, were tigerish in the challenge and didn't really give their hosts an inch in which to work their own passing game. And with Andy Johnson's speed, they always had an outlet up front, as evidenced after a quarter of an hour when a determined chase got him round the back of the defence where he cut it back for Victor Anichebe to fire low but Paul Robinson made the save.
Then, after Kaboul was forced off due to an early knock — Yobo had appeared destined for the same fate after pulling up just after the goal but ended up finishing the game — and Ricardo Rocha had replaced him, good skill by Robbie Keane took him past Lee Carsley but, thankfully, Berbatov skied a first-time shot from around 12 yards out.
The Blues' good work looked to have been undone, though, in the 26th minute when Tottenham equalised with an almost carbon copy goal to Everton's opener. Jermaine Jenas curled a corner in from the Spurs left and, having lost Lescott completely, Gardner atoned for his earlier error by nodding a free header down and past the stranded Howard.
Ten minutes later, though, Moyes's irrepressible charges were back in front. Osman collected Lescott's pass, turned and accelerated forward in one smooth movement before attempting a through-ball that deflected off a Spurs leg and into the path of Arteta. Rather than swing a first time cross around the back line, the Spaniard paused before lofting a chipped cross to the back post where Rocha did brilliantly to get a header in a head of Anichebe but his clearance fell invitingly for Osman. The diminutive midfielder controlled neatly with his chest and stabbed the ball into the roof of the net to score his second goal in as many games.
Everton were flying now and after Arteta had gone agonisingly close with a direct free kick that he whipped inches over the bar, Alan Stubbs tried his luck from a little further out a couple of minutes later on the stroke of half time. The veteran defender raked a low free-kick through the wall and benefited from a fortunate deflection created in part by Carsley's cunning shove that took the ball past Robinson to hand the visitors an almost unbelievable 3-1 half-time lead.
Not surprisingly, Spurs came out of the half-time teamtalk in more purposeful mood and looked to have got right back into the match within three minutes of the restart but much to the relief of the sizeable and vocal traveling support Berbatov's header off a deep cross from the right cannoned off the face of the post and was cleared to safety.
Almost immediately, though, Arteta signaled Everton's intention not to sit back in the second 45 minutes by pulling a shot inches wide of the far post after impressively holding off his marker inside the box.
The second half was almost unavoidably less stellar from the Blues' point of view because the hard work had already been done. And with Spurs never really posing too great a threat despite throwing on Jermaine Defoe for Darren Bent and then Wayne Routledge for a defender later on, Moyes's side could afford to sit back a little and soak up the pressure.
Indeed, Everton actually came closer to adding to the scoreline more often than their expensively assembled opposition in the closing stages. Johnson brought the best out of Robinson with his first scoring opportunity with a quarter of an hour left, the England 'keeper diving to his left to parry the shot to safety, and then forced him to beat out a close-range effort from the angle in injury time.
Tottenham's best chance of the half came with 12 minutes to go when Howard denied Defoe brilliantly at the back post when the striker slid in to meet a dangerous ball across the face of goal. As Anichebe tired in the closing stages, Phil Jagielka was given his debut and did an impressive job alongside Neville and Carsley in breaking up the opposition's rhythm in midfield.
Ultimately, while both teams exhibited some slick passing, Spurs were no match for Everton's desire, organisation and penetration, and they were soundly beaten on their own turf. While the home faithful roundly booed their team off at the end of both halves, the Everton fans were given another treat at The Lane after two decades of frustration at Spurs' hands.
And for Moyes personally, it was perhaps fitting that this calibre of performance — one by almost entirely the same team as last season and which underscores what he has accomplished in five years in charge — came against the team to whom he arguably surrendered three points in that infamous match at Goodison earlier this year when the fans let him know in no uncertain terms that negativity was no longer going to be tolerated from the boys in Blue.
With no other teams playing tonight, Everton will sit pretty at the top of the Premier League table for 24 hours, confident in the fact that they have made a fantastic start to the new season. Of course, while they made a similarly impressive start last season, their form fell away somewhat in the autumn; this season, with perhaps the most important summer signings yet to be made and the likes of Tim Cahill, James Vaughan and Leighton Baines not even figuring yet, they look to be a better equipped and more coherent outfit. Long may that continue.
With an unchanged side, but without Van der Meyde on the bench, who had incurred the wrath of David Moyes by failing to turn up for training on Monday. Everton got off to a brilliant start, with Joleon Lescott heading home a superb free-kick delivered in from Mikel Arteta.
Spurs battled back and got the equalizer on 23 mins through Gardner but Leon Osman put them back in front with a great volley into the roof of the net on a blocked header put on a plate for Anichebe by Mikel Arteta that came back off Rocha. And on the strike of half-time, a driven free-kick by Alan Stubbs was kindly deflected into the Spurs net to give the incredible scoreline of 3-1 to the Blues.
Spurs didn't really come on strong at Everton in the second half, despite a header from Berbatov that hit the post, and in the end it was a solid if occasionally nervy defensive performance that secured a fantastic win for the Blues, putting them on top of the League!!! What a result. Two games, 5 goals, maximum points!!!

Howard:– had no chance for their goal, and did what he needed to when called upon, including a superb stop against Defoe. 7 out of 10.

Hibbert:– not great going forward as usual, but solid defensively. 7 out of 10.

Yobo:– Outstanding as usual, save for one cock-up with Hibbert in the first half. The old Yobo (think back to the first game of the season against Manure a couple of seasons back) seems to be gone forever. 8 out of 10.

Stubbs:– Looked like he was going to torn apart by Bent early on, but settled well and of course weighed in with a goal. 7 out of 10.

Lescott:– - should be in the England starting XI. This man is the most consistent defender we have had for years. Oh, and he's being played out of position too. 9 out of 10

Osman:– - man of the match. He may be lightweight, but there is no-one more committed to the cause in a blue shirt. 9 out of 10.

Neville:– - did the job required, and even managed a few decent passes. Lead the team well. 7 out of 10.

Carsley:– - ran his heart out and blocked Spurs' path again and again. 7 out of 10.

Arteta:– an increasingly good measure of how good a player is in the Premier League is how often opposition players resort to fouls. Mikky must be fouled more often than Ronaldo (the difference being that Mikky isn't a diving, snivelling little shit). Pure class. 9 out of 10.

Anichebe:– held the ball up well and wore their defenders down. Was clearly knackered towards the end, but not through lack of fitness - he simply ran and ran and ran. 8 out of 10.

Johnson - had couple of chances that you would normally expect him to take, but is showing signs of recapturing his form from early last season. I anticipate an AJ brace against a lesser keeper on Saturday. 7 out of 10.

The support - phenomenal. Sang throughout, drowning out the Spurs fans even when the game was 1-1. We have the best away support in the premiership, hands down.
Tonight's victory is, in many ways, sweeter than the 2-0 win last year. Granted, that win was our first for donkey's years at Spurs, but this season they have spent even more money, and were confidently predicting they would break into the top four. Add to that the fact that we beat them comfortably without the likes of Baines, Cahill and Vaughan, and the win is all the more enjoyable. Bring on Reading!!!!! COYB!!!!
Match Preview
Fresh from an opening-day victory over Wigan at Goodison Park, Everton return to the scene of what was arguably their finest result last season, a 2-0 victory over Tottenham that laid to rest a 21-year White Hart Lane hoodoo and was achieved despite playing almost an hour with ten men.
It was also a game notable for the revelation of a free-flowing style of football hitherto only visible in patches under David Moyes, and while that standard wasn't a consistent feature of last season, it nevertheless established a level to which Moyes's side could aspire.
It goes without saying that with Spurs again finishing fifth in the Premier League last season and having strengthened their already strong squad over the summer a repeat result let along a repeat performance this time around would be fantastic for an Everton side robbed of Tim Cahill and James Vaughan through injury and still short of the calibre of additions in midfield and attack that were expected during the close season.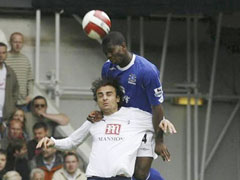 Indeed, with James McFadden also struggling with a lingering foot injury, Moyes still has just two strikers from which to choose: Andy Johnson, who scored in this fixture last season, and Victor Anichebe, scorer of the winner three days ago.
The manager employed a 4-5-1 formation a year ago and may opt for that strategy again if he doesn't decide to keep faith with the XI that started against Wigan — with Leighton Baines again ruled out with the hamstring injury he picked up in pre-season, that is a distinct possibility.
if so, that would mean new signings Phil Jagielka and Steven Pienaar starting on the bench again alongside Andy van der Meyde and Nuno Valente. Alternatively, Pienaar could get the nod over Anichebe if Moyes does go for a five-man midfield.
Tottenham for their part will be looking to make rapid amends for their opening-day defeat at Sunderland. They have injury worries of their own, however, with big-money acquisition Gareth Bale out injured along with star names Aaron Lennon and Ledley King. Michael Dawson picked up a injury in training and is rated as doubtful but Darren Bent, who cost Martin Jol £16M and came on as a substitute at the Stadium of Light, is tipped to start against the Blues.
While Spurs will, of course, be motivated to get their season up and running in front of their home fans, there is also the burden of expectation on the Londoners of which midfielder Steed Malbranque speaks in the media build-up to this fixture. That pressure will only have intensified somewhat with Jol's expensively assembled outfit's defeat at the newly-promoted Black Cats.
Plenty for the Blues to be wary of but also some uncertainty to exploit as they look to win make it two wins in two with another victory at the Lane.
Player Ratings
Fantastic result, bloody good performance.

Tim Howard
The wonderful Everton defence really limited Spurs' chances to test Howard but when they did our keeper was not found wanting. Confidently claimed crosses and made a great save in the second half to perserve our cushion lead.
Rating: 8

Tony Hibbert
Dogedly kept Spurs flair players at bay. As usual Hibbert didn't offer a lot going forward but the Spurs attackers didn't get much out of Hibbo defensively. Made a couple of really important tackles.
Rating: 7

Joleon Lescott
Steve McClaren needs defenders and was in attendance so he has no excuse not to call-up Lescott. Had a great game. Strong, pacy and took his goal with confidence. Only down side was falling asleep to allow Gardner a free header.
Rating: 8

Alan Stubbs
Bent burned him a couple of times early on but Stubbs showed his character by not being too proud to ask Yobo to watch the pacy forward. Great free-kick even if he did get a little lucky with the deflection. As Everton dug deep in the second half, Stubbs became more influential. Showed his class towards the end when under pressure he brilliantly headed the ball out of play avoiding an own goal.
Rating: 7

Joey Yobo
Gave us all a scare appearing to be injured early on in the game. Yobo managed the pacy Bent and Defoe quite easily. Yobo really has become a consistent player of the highest quality.
Rating: 8

Phil Neville
When I saw the Spurs midfield included Jenas and Malbranque, I really felt Neville and his partner Carsley could win the midfield battle. During the first half, Spurs enjoyed a 15-minute spell of complete dominance and some Everton players looked troubled. Everton's Captain could be seen and heard raising the spirits and getting Everton back into the game. Never spectacular but always reliable.
Rating: 7

Lee Carsley
At half-time, everyone seemed to think there was more goals in this game but Carsley and Neville had other ideas. Effectively sat in front of the defence and snubbed out Spurs so-called world-class attackers. Works so hard for the team.
Rating: 7

Mikel Arteta
As usual class on the ball. Loves to get the ball and attempt to make space for himself. Great cross for Lescott's goal. Caused Stalteri problems all night. Everton's most creative player was not so influential in the second half due to shutting up shop tactics. Another great game.
Rating: 8

Leon Osman
Possibly his best game ever. Worked hard, ran all night, got on the ball as much as possible, got into dangerous positions, supported the increasingly isolated strikers and took his goal superbly. Man of the match. Let's hope Osman continues this kind of form all season.
Rating: 9

Andy Johnson
Ran all night long and caused the Spurs defenders many problems. Had a couple of shots saved and should have scored at least once. Needs a goal though to really get him started this season.
Rating: 7

Victor Anichebe
Worked hard alongside AJ but showed that he's far from the finished article. Has a bit of a problem making the ball stick to him. Too often the ball came his way only for him to give away possession far to easily. Needs to watch AJ closer and learn how to make the ball stick and use it. Also like to see him use his pace and power to get a defender on his back foot. A lot to learn but decent display.
Rating: 6

David Moyes
When Spurs got level it was the fantastic team spirit which saw Everton recapture the lead. Moyes has created a hard-working side with character and flashes of creativity. Leading 3-1 at half-time, Moyes no doubt told his troups not to let Spurs back into the game. When Jol attempted to change things by pushing Keane behind his strikers, Moyes responded by switching his own team to counter. The football purists will claim mostly defending the lead in the second half was boring but watching Spurs get more and more pissed running into a brick wall was great. Deserved his victory and, after a summer of mainly criticism, he deserves to be top of the league.
Match Report
May appear here later
* Unfortunately, we cannot control other sites' content policies and therefore cannot guarantee that links to external reports will remain active.