Venue: Upton Park, London
Premier League
Saturday 15 December 2007; 3:00pm
Half Time: 0-1
Yakubu (45'), Johnson (93')
Attendance: 34,430
Referee: Steve Tanner
David Moyes named an unchanged team for what could be something of a tight grudge match as far as the home side were concerned after they lost to the Boys in Blue just four days ago.
4' A superb sequence of possession play from Everton ends with a shot wide form Osman
7' West Ham respond with some possession and an attack of their own that included the first corner, but A clash of heads saw Osman go down
8 Neville lucky not to be punished for an easy giveaway.
11 Everton under a lot of pressure, Ashton getting in a shot
13 Yakubu fouled by the free kick is sent out right where there are no blue shirts
14 fantastic spell fro West Ham sees Ljundberg set to score but a brilliant block from Howard saves a certain goal.
16 Collins takes out Pienaar. Arteta's free kick was headed on but no-one in there in the right channel again
18 Good defensive work as Everton try to build but Neville gives the ball away again
21 Another threat on the Everton goal; but Ashton's lob is wide.
24 Neville's cross in easily gathered by Green
26 Carsley can't stop the ball going for a corner that he drives away under pressure form Upson
28 A lively Everton move involving Pienaar down the left ends as he strays just offside
29 Lescott should have done better off a great pass from Pienaar but his cross was hard and low
30 Everton defenders continued to stifle the probing West Ham attack that cannot get deep enough in to the Everton area to cause real damage/
32 Yakubu far to deep in an otherwise lovely flowing move, and Yak pays the ball in himself, putting in a good shot on Green that he almost fumbled for Cahill, prowling...
34 Superb defending by Everton prevents Ljunberg getting in on goal
35 Good Free kick by Solano defended well by Everton for a corner, but Collins, wide open, could not control it
36 Parker gets called back on a nasty sliding tackle under Osman, even though he got the ball
38 An Everton attack that uses the full width of the field ends with a weak ball that Green claims
40 A fast-paced West Ham move sees Ashton head wide
41 A free kick gets to Osman but he is stretching to get off a snapshot that goes over
43 A couple of Solano corners and a long throw were defended away well
45 GOAL! More good football from Everton finally produces the most wonderful result, Osman wining the ball in the middle, and moving it out wide to Arteta in space on the left, a deep cross to Cahill is fed back in to a perfectly placed Yak who gobbles it up with relish, stooping to head home!
A really tight first half was edged by West Ham in terms of possession and chances... but it's goals that count and another classy sequence of play for Moyes's Boys! An excellent reward for a very disciplined first half. Camara came on for Cole at the start of the second half.
52 After a slow start to the second half. a great sequence of possession play down the left pins West Ham in their own half
55 It was physical and scrappy but Everton were asking most of the questions,
57 A strong Arteta FK came back out to Carsley who's long-range shot on target was headed away.
58 Good defence form Jagielka keeps the Hammers out wide, and Solano goes off, replaced by Noble.
60 West Ham finally structure an attack but after a corner, Parker passes it behind for a goal kick
65 West Ham huffing and puffing but getting nowhere as Everton stall them and wait patiently
68' A gift for Osman, who runs in on goal but fires over when a more composed finish was required.
71' First shot of the half from West Ham is well wide form Neill.
72 A much more threatening attack from the Hammers is blocked away for a corner; Blues hold firm.
76 A great header forward from Carsley releases Pienaar and his Cross was headed strongly goalward forcing a good save form Green
77 A Carsley potshot needs to be turned over by Green as Everton boss the game.
78 Reid replaces Mullins as Curbishley plays his final card
79 Another lovely Everton move started by Pienaar, Arteta and Yakubu interchange passes to set up Osman who fires over again.
82 West Ham threaten from a corner but Camara heads it over
83 Yakubu booked for squabbling over a West Ham throw
85 It all got a bit ragged, with hoofed clearances making a reappearnace
86 AJ on for the Yak. Gobble, Gobble!!!
89 More scintillating football from Pienaar.. too fast for Cahill
90 Great possession football by the Blues to run down the clock and Lujnberg booked for a foul but Everton waste the free kick
92 Lescott huge in defence with some vital headers
93 GOAL A clearance finally finds AJ with a chance to make a run in on goal and he makes no mistake, despite pressure form a defender and an out-coming keeper, his excellent strike over Green from outside the area is the icing on the cake.
An absolutely top-class professional display from Everton to totally contain the immense frustration, laid on double, for the poor hapless Hammers, who simply had no answer to the excellent discipline and controlled play of David Moyes's boys.
No-one would have blamed these lads if they had had an off-day today.,.. but NO CHANCE! The team that played so well on Wednesday delivered a perfect reprise to take them back into the top six in the Premier League table.
Irrepressible Everton complete Hammers double
Goals at the end of each half secured Everton's second win at Upton Park in the space of four days, extended their remarkable unbeaten run to 12 games and elevated them back into the top six of the Premier League.
Ayegbeni Yakubu's 11th goal of the season and fifth in three games, scored on the stroke of half time, put David Moyes's side into the driving seat for the second period where defensive resilience took centre stage. West Ham tried in vain to force an equaliser but were caught out in injury time as Andy Johnson broke away to put the seal on another tremendous away win.
As expected, David Moyes kept faith with the same 11 that played all 90 minutes of Wednesday's Carling Cup Quarter Final tie and named an unchanged line-up. The Hammers recalled Nolberto Solano at right back after he'd missed the midweek game because he was cup-tied, and Carlton Cole shook off a knock to resume striking duties for Alan Curbisley's side.
Curbishley had somewhat churlishly bemoaned what he perceived to be Everton's overly physical approach in midweek and duly sent his players out to try and give as good as they had received in the 2-1 cup defeat. Scott Parker in particular seemed to be operating under orders to really get stuck in but the Blues rose above it and spent much of the first 10 minutes emulating Brazil with some mesmerising passing and neat interchanges.
One such fluid move that evoked memories of Leon Osman's equaliser on Wednesday ended with Steven Pienaar laying the ball off but the Skelmersdale native couldn't match his prior composed finish and fired well wide.
Rather than be overawed by their opponents' footballing prowess, the home side decided to imitate their confidence with the ball and embarked on a little spell of slick and rapid-fire passing themselves. It yielded the first freal chance of the game when Cole crossed for Ashton and Yobo got enough on his shot to deflect it behind for a corner.
Tim Howard, normally so assured in the air, flapped at consecutive high balls but when eventually Ashton found himself in space and a shooting opportunity from the angle, the American 'keeper saved well down low.
Three minutes later, Howard had to be at his very best to deny Freddie Ljungberg what looked odds on to be a certain goal — and probably West Ham's best chance of the game. Another well-constructed move ended with Solano's pass deflecting into the Swedish midfielder's path but with just the 'keeper to beat he fired too low and too close to Howard who blocked the effort superbly to retain parity.
In what was arguably the best spell of the game for Curbishley's men, Solano was threatening to be the key difference between the West Ham here and the one that crashed out of the Carling Cup three days previously. And the Peruvian crafted another chance for Ashton midway through the first half, chipping over the top for the former Crewe and Norwich striker to try an audacious volley as the ball dropped over his shoulder that, thankfully, dropped on the wrong side of the post where West Ham were concerned.
Everton had by this stage lost some of their early momentum and seemed more content to soak up their opponents' pressure than really take the game to them. Howard's propensity to fire the ball long towards Yakubu from goal kicks meant that the ball often came straight back on the Blues' defence but another towering display from the Joseph Yobo-Phil Jagielka partnership, ably assisted by the excellent Joleon Lescott meant that you were pretty confident we could repel most of what was thrown our way.
There was, however, an undeniable element of fortune about the fact that Everton were heading into the break all square, evidenced when the unmarked James Collins, deputising for Danny Gabbidon, made a mess of a glorious chance to ram home a 39th-minute corner by half-volleying in the direction of the corner flag instead of testing Howard.
A minute later, Parker ghosted in to head Solano's cross into the side-netting before Osman, at the other end, could only despatch a left-footed effort over the bar as he slipped in mid-shot.
With the half about to enter injury time, though, Everton again stunned their hosts with their final attack of the first 45 minutes. Pienaar seemingly had his legs taken from under him but Osman was on hand to bring Arteta into play with a smart pass and the Spaniard had time and space on the left side of the area to look up and spot the raised arm of Tim Cahill begging for a cross. He floated an inch-perfect ball towards the back post, Cahll rose above his marker, nodded superbly back to Yakubu and he made no mistake with a close-range header. It was almost training-ground stuff from an Everton side that is just brimming with confidence right now.
With that advantage, the onus was now even more on the Hammers to make a breakthrough of their own in the second half. Curbishley withdrew Cole and introduced Henri Camara, another player who was cup-tied in midweek, but Everton weren't really tested until around the hour mark when, as a result of increased probing and driving forward, a chance opened up for Hayden Mullins but it was closed down and deflected wide.
Before that, Lee Carsley's terrific, seemingly goal-bound shot had been blocked by a lunging header from Matthew Upson before Osman wasted a gilt-edged chance to double the score following another West Ham defensive calamity. Phil Neville tried to find Yakubu with angled ball over the top but the Nigerian was offside and kept tracking back. All the home defenders left the ball, allowing Osman to steam through the middle and advance on Robert Green but he snatched at the chance and not only lifted it over the 'keeper but the bar as well.
West Ham were enjoying more of the possession but apart from the odd scare, like when Camara's deflected cross looked to be heading Ashton's way but a superb intervention by Yobo put if safely behind for a corner, Everton's resolute rearguard continually frustrated them while they remained a threat at the other end.
With 13 minutes left, Carsley's powerful header forward put the typically lively Pienaar away down the left and his early cross found Yakubu who, despite being perhaps 14 yards from goal, forced a great diving save by Green to push his header away for a corner. Arteta's kick eventally fell to Carsley on the edge of the box and his piledriver was tipped over by the 'keeper.
Then, Pienaar got out of a seemingly impossibly tight situation right on the touchline with a clever back heel to Osman. The South African received the return pass, charged down the line, squared the ball to Cahill who nudged it on to Yakubu who in turn fed Osman but again the midfielder fired over the bar.
While the home side continued their fruitless search for an equaliser against their irrepressible — and perhaps fatigued —visitors, Moyes prepared to bring Andy Johnson into the fray and give Curbishley something else to worry about. That change duly came with less than four minutes of regulation time left on the clock and within a further six, the substitute had wrapped up the points with a superbly-taken goal.
With Green pushing further forward to pump balls downfield to the edge of the Everton area, he was vulnerable to the counter-attack and so it proved deep in injury time when a Neville clearance into the West Ham half was headed backwards by the retreating Upson and Johnson raced onto the loose ball. He nodded a high bounce on, looked up and then, from 30-odd yards out, lobbed the ball over Green with his left foot and it bounced pleasingly into the empty net.
His path to the jubilant traveling fans was blocked by a wall of stewards who roughly pushed him back towards ther pitch and he was eventually booked by referee Steve Tanner for his trouble but the damage had been done and Everton were home and dry. A 10th win in 12 games secured, their best run of form under Moyes prolonged and a real sense of hope and expectation instilled in the faithful that this team is really going places.
While not reaching the heights of some of their recent performances, the midweek Cup win included, this was still an impressive performance by a group of players who have seen a lot of action so far this month. There were signs towards the end that they were tiring and they could be forgiven both for not maintaining the tempo with which they started the game and for some of the nonchelance that occasionally crept in in the face of West Ham;s whingeing.
To win 2-0 away from home against such a well organised team and one strengthened by heavy investment in the past 12 months is something to be incredbly proud of and while Moyes's principles are unlikely to allow him to field a team of reserves in Alkmaar on Thursday — and rightly so — many of his charges have earned a well-deserved break ahead of a massive pre-Christmas clash at Old Trafford next Sunday.
Match Preview
Just three days after their dramatic Carling Cup Quarter Final triumph over West Ham United, Everton are back at Upton Park —or the Boleyn Ground, as the bubble-blowing faithful seem to prefer — looking to make it a quick Cup and League double over Alan Curbishley's men and stretch their incredible unbeaten to 12 matches.
Memories of Yakubu's late winner that completed an impressive comeback by the Blues after conceding an early goal are still fresh in the minds of Evertonians who can now look forward to their first cup semi-final for 12½ years... and their first in the League Cup since 1988.
But the business of the Premier League where, despite winning nine of their last 11 in all competitions David Moyes's men still lie outside the top six — albeit just three points off the Champions League qualifying places — means that the elation of Wednesday night must be put to the back of the mind and securing three points the focus.
This weekend's fixture is the second of four consecutive fixtures away from home for Everton but the temptation for Moyes must be to preserve the same line-up as played the whole 90 minutes midweek before resting a few for the Alkmaar game next Thursday.
Certainly, Yakubu's hot-streak — he has scored four in the last two games and 10 overall since joining from Middlesbrough in October — would make him hard to demote to the bench; similarly, the form of Steven Pineaar, Joleon Lescott and Tim Cahill makes it inconceivable that any could be rested even if the manager does have an eye on the looming trip to Old Trafford on the 23rd.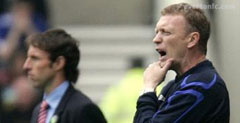 Same again, Mr Moyes?
Alan Curbishley, has no such luxury. He was already moaning before Wednesday's Quarter Final that the number of his players on the treatment table was in double figures, and with Carlton Cole, the scorer of the Hammers' midweek goal, picking up an injury, the West Ham boss has a selection headache as he plots instant revenge.
He may well tell his players to go and be more physical this time after complaining that Everton were putting their weight around too much which could make for a testy affair, but the Blues are nothing if not reslient themselves... and are more than capable of playing their way to victory on the back of soaring confidence.
That confidence, as long as it doesn't descend into complacency, coupled with the mental edge gained from winning the Cup game and added to West Ham's injury list could give Everton the edge in this one and help them put further pressure on the six clubs above them in the table.
But, given the overall strength of Curbishley's side, they should not be underestimated and Moyes would probably be satisfied with a point to take back to Merseyside if that's all we manage.
* Unfortunately, we cannot control other sites' content policies and therefore cannot guarantee that links to external reports will remain active.
WEST HAM (4-4-2)
Green
Neill
McCarthy
Collins
Upson
Solano (Noble 59')
Mullins (Reid 79')
Parker
Ljungberg :83
Ashton
Cole (Camara 46')
Subs not used
Wright
Spector
EVERTON (4-5-1)
Howard
Neville
Yobo
Jagielka
Lescott
Arteta
Osman
Carsley
Pienaar
Cahill
Yakubu :83 (86' Johnson :93)
Subs not used
Wessels
Hibbert
Gravesen
McFadden
Unavailable
Baines (injured)
Valente (injured)
Stubbs (injured)
Anderson (loan)
Premier League Scores
Saturday 15 December 2007
Birmingham
1-1
Reading
Derby
0-1
Middlesbro
Fulham
0-1
Newcastle
Man City
4-2
Bolton
Portsmouth
0-1
Tottenham
Sunderland
1-1
Aston Villa
West Ham
0-2
Everton
Wigan
5-3
Blackburn
Sunday 16 December 2007
Arsenal
1-0
Chelsea
Liverpool
0-1
Man United
Premier League Table
Pos
Team
Pts
1
Arsenal
40
2
Man Utd
39
3
Chelsea
34
4
Man City
33
5
Liverpool
30
6
Everton
30
7
Portsmouth
30
8
Aston Villa
28
9
Blackburn
26
10
Newcastle
25
11
West Ham
22
12
Tottenham
18
13
Reading
18
14
Middlesbro
17
15
Birmingham
15
16
Bolton
14
17
Sunderland
14
18
Fulham
13
19
Wigan
12
20
Derby
6
After 16 Dec 2007