Match Report
Everton have scored their fair share of crucial late goals this season but they have also conceded some equally heart-breaking ones in injury time and Robin van Persie's strike, as impressive as it was, was no less galling, particularly given Arsenal's near total lack of attacking threat all game.
Apart from the first few minutes, the Blues were largely in control of what was a predictably tight affair and once they'd gone ahead just past the hour mark through Tim Cahill's 100th career goal, they just needed to get the job done at the back to earn all three points.
Unfortunately, as the clock ticked past the regulation 90 minutes and into three minutes of stoppage time, the focus of a top-four side that is required against a team like Arsenal was missing and the Gunners needed just one moment of class — arguably the only glimmer of the talent they possess that they revealed on a foggy evening on Merseyside — from Van Persie to ruin Everton's evening.
Things might get worse for David Moyes too when more is known of the injury that forced Cahill off with five minutes remaining. The Australian stayed down following an innocuous-looking aerial challenge on the edge of the Arsenal area and limped off in a manner worryingly reminiscent of the metatarsal injuries that ruined the latter half of both of the last two seasons.
Having seen Everton frustrate Liverpool so effecitvely in back-to-back derbies, Arsenal knew they would face a tough task this evening and that may have prompted an energetic start to the game by Arsene Wenger's men. They had their hosts penned into their own half for almost all of the first eight minutes but, apart from a couple of corners, weren't able to threaten.
Having weathered that early storm, the Blues asserted some control of their own and for the next quarter of an hour it was the home team who were clearly in the ascendancy. Like Arsenal, though, they weren't able to produce much in the final third.
A lovely move in the 11th minute that saw Steven Pienaar threading a beautiful pass down the line to Leighton Baines ended with Djourou sliding the ball behind for a corner to prevent Marouane Fellaini, back in Everton's starting line-up after a two-match ban, from converting at the near post. From a second consecutive corner, Phil Jagielka rose with Cahill but could only glance a header a yard or so wide of the oppositie post.
As the pendulum swung briefly back in Arsenal's direction after half an hour, Samir Nasri's clever run and cross found Van Persie but he sliced a great chance wide with his wrong foot and Denilson fired narrowly wide from 20 yards out.
Overall, though, there was little inspiration and little to choose from both sides in the first half. Mikel Arteta was passed fit to play after being rated as 50-50 by his manager yesterday but he looked below his best for much of the game. Sitting to deep for the most part, he was unable to dictate matters in foward areas.
On the right, Tony Hibbert's inability to beat men to make inroads to the byline and supply crosses hampered forward momentum down the right flank, Leon Osman was again largely anonymous, and Fellaini looked off the pace, almost disinterested at times, and certainly more hesitant in the challenge after his disciplinary problems of late.
The second half promised to be a little more lively. Fellaini was almost in when the loose ball dropped to his feet but by the time he could dig it out he had been closed down and his shot was blocked. At the other end, Denilson swept Van Persie's lay-up over the bar from just outside the area when he might have done better.
A nice, patient build-up in the 54th minute created Everton's first real chance on goal when Arteta poked the ball through to Cahill who latched into it but drove into the side-netting.
Seven minutes later, though, they were ahead. A throw-in down the left by Baines found Fellaini and he knocked it back to Pienaar who in turn slid it forward to Baines down the left touchline. He looked up before swinging in an inch-perfect cross for Cahill who leapt above his marker in typical fashion and headed it back across goal and into the corner of the net.
Part one of a familiar task was done — the Blues had the lead; all they had to do now was keep it. Or, indeed, add to it, as they nearly did when Cahill picked up another pass by Arteta in the box and dispatched a piledriver that Almunia could only parry away with a reflex save.
Either side of that, Arsenal's attempts to regain parity had fallen uncharacteristically flat. Jagielka and Joleon Lescott had once more been majestic in defence and on several occasions, the Gunners had eschewed their usual intricate passing game in favour of a route-one "percentages" approach.
Everton looked to be home and dry as the 90 minutes expired, particularly when Fellaini won a corner that provided the opportunity for a little keep-ball down by the corner flag. Unfortunately, that attempt to run down the clock fell flat as Pienaar and Arteta were closed down and robbed by Clichy. Then, with a minute of injury time left, a counter-attack put Pienaar and substitute Victor Anichebe two-on-two with the Arsenal defence but the South African's attempted pass into the channel was far too heavy and Almunia claimed it easily.
That set up one more Arsenal aerial bomb, the like of which created a nightmare for Jagielka in this fixture last season when Eduardo ripped him to shreds chasing long balls over the top. This time, the lofted pass from the back found Van Persie who controlled it on his chest before lashing a left-footer across Tim Howard and into the far corner.
Whether Howard, who had had just one save to make up to that point, should have been beaten from such a tight angle may be a matter for debate and might detract from what was a world-class finish, but Everton will be kicking themselves for throwing away the points that would have closed the gap between themselves in 6th and Arsenal in 5th to three points.
As it is now, with Cahill perhaps facing an injury lay-off and Moyes dampening hopes of striking reinforcements arriving before the transfer window closes on Monday, it may just be a case of digging in to stay in sixth and hope that Manchester United win the Carling Cup to open up another Uefa Cup spot in the Premier League.
Match Preview
Liverpool, Liverpool, Arsenal, Manchester United, Liverpool is as hard a sequence of matches spread across two competitions as any club could be handed. Throw in the fact that you have just one 19-year-old striker available, had your record signing suspended for two of those games — and then losing your most influential player to injury — and David Moyes could be forgiven for throwing his hands in the air in despair.
Instead, his well-drilled Everton team have, so far, dug their heels in and ground out two 1-1 draws against their local rivals and will be in confident mood going into the home clash with Arsenal despite their obvious problems in attack.
Despite there being just a few days left of the current transfer window, there appears to be nothing on the horizon in terms of the manager's stated desire to bring in striking reinforcements on loan. That will be deeply concerning for many fans who while full of pride and admiration at the Blues' defence in the two games at Anfield, were dismayed at the lack of an attacking outlet, particularly in the FA Cup tie which Liverpool dominated.
Yakubu is out for the season, James Vaughan's prospects are likely to be limited to a few games at the tail end of the campaign, and Louis Saha isn't expected to return to training for another couple of weeks. Even then there isn't any guarantee the Frenchman will stay fit, of course.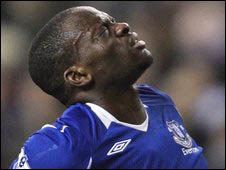 Louis Saha:
still 2 weeks away from resuming full training
Not much is likely to change in terms of personnel for the visit of Arsenal this week. Marouane Fellaini has now served a two-match ban for racking up 10 yellow cards and will return to the midfield at the expense of Segundo Castillo, where he will offer a welcome ability to distribute the ball to feet and a much-needed aerial threat to supplement that of Tim Cahill.
Mikel Arteta, who missed the second derby with a rib injury, is rated at 50-50 for this one by his manager and with this being such an important run of games, it would not be a surprise if the Spaniard sat this one out in anticipation of the trip to Old Trafford on Saturday.
If Arteta does play, Victor Anichebe is likely to be the player to make way, leaving Cahill, joint top scorer now with 5 goals, as the lone frontman.
Arsène Wenger will have Gael Clichy at his disposal again after he served a one-game suspension and William Gallas is fit again. Michael Silvestre is ruled out though with a thigh strain.
Arsenal have been erratic this season and, at one point, looked to be the one member of the Sky Four whom the chasing pack could overhaul. Aston Villa have managed that so far so this fixture will pit sixth against fifth, though the Gunners are five points better off than the Blues in the table.
Everton haven't beaten a big four team since overcoming Arsenal at Goodison 1-0 in March 2007 so there will be plenty of incentive to improve on what is a miserable record, particularly against the Gunners. It's going to take another defiant rearguard action against another team adept at the passing game but if Moyes's boys can create enough chances at the other end, anything is possible.
* Unfortunately, we cannot control other sites' content policies and therefore cannot guarantee that links to external reports will remain active.