Venue: Anfield, Liverpool
FA Cup
Sunday 25 January 2009; 4:00pm
Gerrard (54')
Half Time: 0-1
Lescott (26')
Attendance: 43,524
Referee: Steve Bennett
Evertonians are stunned that Mikel Arteta, key creative genius, is out for this one. A rib injury sustained in training. All sorts of ridiculous rumours abound but the eleven on the field are the ones who must do the business, and they now include Segundo Castillo, getting a rare start in his place, with Gosling left on the bench, where Lars Jacobsen appears for the first time, and Joseph Yobo is back from injury.
An early shot from Alonso was well wide. Hibbert did very well to block Babel on the next Liverpool attack. Pienaar made a good run into the Liverpool area but went down a bit too easily for Steve Bennett, despite a crescendo of Blue claims for an early penalty. Cahill then went in the book after his first clumsy clash with Skrtel, and a stupid handball, followed by kicking the ball away.
Carragher shot into the side netting after Liverpool's first corner as they began to dominate possession, Everton struggling for options when they did get the ball, with Pienaar again going down far too easily. Castillo looked very rusty, his early touches were poor.
Everton won their first corner after 26 mins, Pienaar, delivered superbly, and it was perfectly placed for another brilliant Cahill header, that Joleon Lescott finished off with a lovely glanced header right in front of Reina.. GOAL!!!! Again, a superbly executed set-piece more than makes up for all of Everton's clear deficiencies
Alonso got a yellow card for clipping Pienaar's heel, a hopeful sign that Bennett was not going to be totally biased. News then that Carragher was also booked in the tunnel as he argued with Bennett about supposed time-wasting by Howard.
Everton looked to be keeping Liverpool at bay but a clever ball from Torres released Gerrard and he scored a bit too easily on Howard's near side, perhaps he was expecting a far-post shot. Poor goal to give away.
Skrtel put his head down on Cahill's boot and Bennett sensibly exonerated Cahill as Liverpool piled on the pressure, Howard producing a fantastic save off Gerrard. Everton weathered the storm somewhat, but had no idea what to do with the ball on the rare occasion they got possession, with Pienaar and particularly Osman failing to step up.
Cahill came close to a second yellow thanks to a dramatic dive by Mascherano, as Gosling came on for Anichebe with 20 mins left. Pienaar caught Skrtel and got booked. The game opened up briefly when Pienaar scampered forward with the ball but Everton as ever could not keep hold and were wide open to the counter with Gerrard crossing to Kuyt but he thankfully shot straight at Howard.
As Liverpool surged once again, Torres had an open goal; and shot wide. Everton sorely, missed the calming influence of Arteta, his ability to hold the ball up and make the intelligent pass forward, as the game plan descended to We Have What We Hold, and take them back to Goodison.... but could Everton hold out against the red onslaught?
Gerrard headed wide as the match moved into 3 minutes of added time... A draw not the result Liverpool would be happy with, but a pyrrhic victory for the Blues to stifle the arrogant red bastards at Anfield once again, for the second time in a week. The replay at Goodison will be in 10 days time, causing the rearrangement of Everton's game against Manchester United scheduled for a week tomorrow.
Match Preview
After the first episode ended all square thanks to Tim Cahill's late equaliser last Monday, part two of a derby double-header between the two sides who have met more times in the FA Cup than any other looms this Sunday. Once again, the eyes of the nation will be on Merseyside thanks to lie television coverage by Setanta Sports as these two old foes go head to head hoping to progress to the last 16.
Much of the fevered media anticipation of these two games was spent in the build-up to the league fixture but there is, of course, a certain magic about the cup, not least because of the rich history that both Everton and Liverpool have in the competition.
Rafael Benitez is expected to make changes to his line-up (though Steven Gerrard will play despite attending a hearing on assault charges this week) but with so few options available to him, David Moyes will no doubt be hoping to play the same XI that earned that previous draw last time out. With rumours swirling that Mikel Arteta, the architect of the Blues' goal six days ago, is a major doubt with a rib injury, however, he may be forced into making a hugely unwanted change.
The manager's choices are small. Marouane Fellaini, of course, serves the second game of a two-match ban and is not available; Jack Rodwell is probably too defensively-minded and Phil Neville not up to the task of carrying the attacking midfield threat; Dan Gosling lacks experience but has shown a wonderful precociousness in his two substitute appearances; and Jose Baxter and John Paul Kissock are likely too young to throw into the cauldron of a derby.
That leaves Segundo Castillo whom the source of the Arteta rumours suggests will be his replacement. The Ecuadorian is primarily a defensive midfielder but his eye for a pass and his sublime strike against Standard Liege last September suggest that while he is no Mikel, he could do a job in a more advanced role.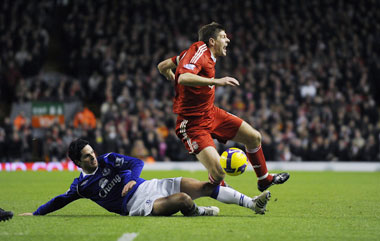 Mikel Arteta:
a genuine doubt or Moyesey mindgames?
Joseph Yobo is apparently fit again — though the same was said on Monday and he wasn't even on the bench — and Lars Jacobsen is close to contention, but with Leighton Baines earning rave reviews at left back and the central pairing of Joleon Lescott and Phil Jagielka proving to be an excellent partnership in recent weeks, it would be very surprising if the manager made any changes to the his back four.
While no one really wants either another match on the calendar or, Heaven forbid, another derby this season, Everton would probably be very happy with a repeat of Monday and a replay date at Goodison in the first week of February.
Not only would they have more players at their disposal — Fellaini would be eligible, Jacobsen closer to match fitness, and there's always the hope that an attacking signing on loan will materialise before the end of January — but they'd also be on home turf with the 12th man of Goodison at their side.
The Blues won't be short of support this weekend, though. The differing allocations for FA Cup ties means that there will officially be 3,000 more Evertonians inside Anfield than there were last week and that will hopefully make for a cracking cup tie... and an Everton victory!
Match Report
As if two Merseyside derbies in close proximity weren't enough, Everton and Liverpool will meet for a third time in the space of a little over fornight when this FA Cup Fourth Round tie moves across Stanley Park for a replay at Goodison Park.
Steven Gerrard — who else? — again came through for the Dark Side when his second half goal canceled out Joleon Lescott's first-half opener and it took another awesome defensive stand by the Blues to earn a second crack at moving into the last 16 as the Reds piled on the pressure in an effort to win the tie at the first attempt.
No doubt stung by criticism of their failure to hold on to all three points six days earlier in the Premier League derby, Liverpool noticeably stepped up their game this time around and it would have come as no surprise to anyone who watched that Rafael Benitez's men clocked in with 70% of the possession overall. Indeed, Everton's dogged defensive stand drew criticism from the frustrated Spaniard, who complained at the manner in which his opposite number set his stall out for a draw and the fact that the Blues scored with their only chance of the game would certainly bear that out.
Much of Everton's approach was down to the loss of Mikel Arteta to a rib injury, however. The influential midfielder apparently sustained — or at least aggravated — the injury in training and it ruled him out of this tie completely. Shorn of the one player capable of putting their foot on the ball and dictating proceedings somewhat in the middle of the park and bereft of any striking options beyond Victor Anichebe and Tim Cahill, Moyes's side had little option but to adopt a policy of containment.
In contrast to last Monday, though, Liverpool started in determined mood, moving the ball around more quickly and more purposefully and Xabi Alonso had the game's first shot when he fired Phil Jagielka's clearance a yard or so wide of Tim Howard's right-hand post.
In the 5th minute, however, Steven Pienaar burst into the penalty area but his progressed was checked when Arbeoloa clipped his heels and the South African went sprawling to the turf. Predictably, given Everton's record of penalty awards at Anfield in the last 71 years — at what point do statistics start to offer proof of bias or intimidation of referees? — but an incident that would probably have warranted a free kick anywhere else on the pitch was passed over by referee Steve Bennett.
Despite the home side's territorial advantage, they were largely kept at arm's length by a typically towering defensive display, in particular once again from Phil Jagielka and Joleon Lescott, and their superior passing game wasn't allowed to come to anything meaningful until the last minute of the half when Javier Mascherano's drive deflected off Lescott and over Tim Howard's crossbar.
By then, however, Everton were in front and it was a lead they would take safely into the dressing room. With 25 minutes on the watch, Anichebe won a corner off Martin Skrtel which Pienaar elected to take in Arteta's absence.
The South African's free kick was met by Cahill who, despite scoring the late equaliser a few days ago, was again allowed to ghost away from any markers, headed goalwards. Pepe Reina looked to be diving across his line to make a save when Lescott flicked the ball past him and into the net prompting both Blue protagonists to wheel away in delight in front of the Kop, to be joined swiftly by their jubilant teammates.
Apart from three Leon Osman shots, two embarrassingly wide, the other seemingly blocked by a hand that went unpunished, and yellow cards for Cahill, Alonso and Carragher, that was it for the first half.
The second half continued in the same vein as the first, though, with Liverpool controlling the play and Everton gifting them possession far too cheaply. Segundo Castillo, filling in for Arteta, looked nervy and off the pace throughout (though he did marginally improve as the game wore on until be was withdrawn after 75 minutes); Osman was having yet another subdued and ineffective derby game; Phil Neville was industrious but unproductive going forward; and Anichebe, playing a kind of wide midfield-cum-striker role ran about a lot but wasn't really in the game at all. Only Pienaar showed much intent to actually go forward when he had the ball at his feet but too often there were no options ahead of him.
Still, with the home side continuing failing to carve out genuine chances and the back four proving to be stubborn and uncharitable, the prospects of the Blues holding out in the second half looked good. That was, however, until one moment of class by Fernando Torres sliced Everton's defence wide open and Liverpool scored, thanks largely to a howler by Howard.
Gerrard easily beat Castillo in the air to flick on a long ball from the Liverpool defence and Torres took once touch to control before spotting his captain's run and flicking it between Tony Hibbert and Jagielka. Gerrard, with all the momentum raced onto the pass and drove a low shot from the angle that Howard looked to have covered. Unfortunately, a momentary lapse of concentration by the American allowed the ball to fizz under his arms and into the goal. Agonising and annoyingly preventable. Viewed in slow motion on the TV replays, it looks so much worse — so poor was his attempt to stop the shot, it looked almost deliberate.
Everton were rocked back on their heels and they had to withstand a period of intense pressure as Liverpool sensed blood. Just three minutes after dropping the clanger for the equaliser, Howard went some way towards atoning for the error when he pushed another Gerrard shot over from close range. Dirk Kuyt had floated the ball over to Torres who chested it back into Gerrard's path but, despite being partially unsighted, Howard made an instinctive block and parried brilliantly to deflect it out of play.
Still Everton's generosity in midfield and from aimless long balls allowed their hosts to keep getting the ball back, still the Reds kept coming trying to force a winning goal, and still they were repelled by marvellous defending. Moyes responded by bolstering his midfield by throwing on Dan Gosling for Anichebe and then Jack Rodwell for Castillo but neither substitute was able to make much impact on proceedings at all.
Instead, the game more or less petered out in the last 10 minutes, Dossena producing the only shot of note when he powered a shot towards goal from distance that Howard safely gathered.
So, what was at times an embarrassingly one-sided encounter nevertheless ended in the same way the Premier League game had last week, with honours even and a 1-1 draw. Everton didn't win so much as a corner in the second half and, if nothing else, it starkly highlights the need for striking reinforcements before the transfer window closes.
Glaringly lacking in pace throughout the team, there was no outlet in attack so the ball kept coming back, and yet it's quite possible that had Howard saved that Gerrard shot, Everton might have eked out a first win at Anfield in 10 years! Now, though, they have an opportunity to make home turf pay dividends and earn a Fifth Round tie against either Doncaster Rovers or Aston Villa. Moyes's boys have actually done better overall in away derbies than they have at Goodison in recent years but it'll be all to play for in 10 days' time. Hopefully then both Marouane Fellaini and Mikel Arteta will be back and the Blues will be able to make a better fist of it.
* Unfortunately, we cannot control other sites' content policies and therefore cannot guarantee that links to external reports will remain active.
LIVERPOOL (4-4-2)
Reina
Carragher
Arbeloa
Skrtel
Dossena
Alonso
Kuyt
Gerrard
Mascherano
Babel (75' Riera)
Torres
Subs not used
Cavalieri
Hyypia
Lucas
Benayoun
Aurelio
Ngog
EVERTON (4-6-0)
Howard
Hibbert
Jagielka
Lescott
Baines
Neville {c}
Castillo (75' Rodwell)
Osman
Pienaar
Anichebe (68' Gosling)
Cahill
Subs not used
Nash
Jacobsen
Yobo
Van der Meyde
Jutkiewicz
Unavailable
Fellaini (Suspended)
Vaughan (injured)
Jacobsen (injured)
Valente (injured)
Yakubu (injured)
Saha (injured)
Arteta (injured)
Baxter (injured)
Cup Scores
Friday 23 January 2009
Derby
1-1
Ntm Forest
Saturday 24 January 2009
Chelsea
3-1
Ipswich
Doncaster
0-0
Aston Villa
Hartlepool
0-2
West Ham
Hull City
2-0
Millwall
Kettering
2-4
Fulham
Portsmouth
0-2
Swansea
Sheff Utd
2-1
Charlton
Sunderland
0-0
Blackburn
Torquay
0-1
Coventry
Watford
4-3
C Palace
West Brom
2-2
Burnley
Wolves
1-2
Middlesbro
Man Utd
2-1
Tottenham
Sunday 25 January 2009
Cardiff
0-0
Arsenal
Liverpool
1-1
Everton
Monday 26 January 2009
-v-