The only change to the victors of the Reebok midweek game was the expected swap of Cahill for Saha. 4-5-1... is anything even realistic to expect from Moyes when he is playing the Aussie? Old boys Simon Davies and Andrew Johnson were welcomed cordially for the visitors.
It was a lacklustre display until Fellaini hit the post after 27 minutes with a weak daisy crusher that Yakubu could not quite reach off the rebound. A flurry of corners finished with a weak head form Lescott. At the other end, Johnson had a great chance to lash a shot in in the 6-yard box but bumbled around and the chance was thankfully gone.
There was briefly a lot more to the game as Fulham attacked with vigour, but Howard caught their first corner comfortably. At the other end, a lovely cross from Pienaar was miscontrolled by Fellaini when he should have lashed it first time.
It was turgid stuff on the whole, some better movement and cohesive play (with, let it be said, a lot less hoofball) let down by the seemingly inevitable poor short pass completion.
After the break, Cahill was given a couple of nice headers laid on a plate for him but he could convert neither of them. A rare Arteta snapshot went well wide. A horrible cross-field pass from Neville evaded Arteta; from the throw-in Fulham won a corner, and off the second ball Gera headed powerfully on to the Everton bar... how easily these games can turn!
The game desperately needed something but was Saha really the answer? Replacing Marouane Fellaini of all people? Well, I guess Moyes reckons he'll be missing next week so they might as well get used to playing without him!!! The only Everton player to find the net in the last two games... it was not a popular decision amongst a frustrated Goodison crowd
The tempo rose from a drone to a hum but it was mainly because Fulham were providing more resolute opposition, forcing Everton to play a bit more. Arteta was floating in a decent number of crosses but all lacked sufficient pace to be dangerous.
A free-kick for Fulham off Yobo 25 yards out, Bullard forced a fantastic save from Howard, Zamora's follow-up mis-hit bobbling across the goal to bounce off the post... Phew! WAKE UP, EVERTON!!!
With 15 mins left, David Moyes decided to act, bringing Anichebe on for Pienaar, who was having a nightmare, his passing having deserted him.
Yakubu challenged Schwarzer to a high ball and managed to get the ball in the Fulham net without touching it but it was never going to stand as a goal. Vaughan came on for Yakubu and Bullard (!) was swapped for Baird.
Finally, the goal that looked like it would never come, was created in text-book fashion, Osman whipping in a beautiful cross for Louis Saha to send a power header through Schwarzer's hands and into the Park End net for the first goal of his Everton career.
Everton held on nervously for the clean sheet and a second 1-0 victory — the first of ths season in-front of the long-suffering home fans, whose lack of faith in Moyes's ability to deliver entertaining football was clearly shown in a poor attendance today. But Moyes's charges are slowly clawing their way back to respectability in the top half of the table, with subsequent results helping the Blues consolidate 7th place.
Match Report
At one point contemplating a relegation scrap after a horrible start to the season, Everton suddenly find themselves in the familiar surroundings of the top seven after recording their second 1-0 victory in four days thanks to Louis Saha's first goal for the club.
As was the case in Wednesday's win at Bolton, the Blues made hard work of inferior opposition, struggled to make inroads in the final third and left it disconcertingly late to grab all three points but the win was no less welcome after a frustating display.
If back-to-back 1-0 wins evoke memories of the 2004/05 campaign when David Moyes's side became the only club thus far this century to break the Sky Four's stranglehold on the Champions League qualifying places with a series of slender victories, then the manager's somewhat disappointing decision to deploy the 4-5-1 formation that was so successful four years ago would only have furthered the sense of deja vu.
Perhaps a means of bringing Tim Cahill back into the fold, Moyes opted for a five-man midfield, dropping Saha to the bench and leaving Yakubu to plough a lone furrow up front. Somewhat predictably, the drought of service that has left the Nigerian without a goal in nine games continued with the Yak feeding on scraps until he was withdrawn with six minutes left.
Nevertheless, Everton controlled the first half and should really have rammed that domination home by taking a lead into half time. Unfortunately, while they tried to pass it around and showed flashes of the kind of form they were enjoying this time last year, there was precious little end product.
Steven Pienaar, lively and inventive in the early going before his performance lapsed into a seemingly endless series of misplaced passes and cheap giveaways, guided an early header from Mikel Arteta's cross into Mark Schwarzer's arms. Then, the South African dinked a decent ball over the top for Yakubu but he was unable to complete a difficult volley attempt with the ball dropping over his shoulder.
The Yak's most telling contribution in the first half hour was to win free kicks in forward areas and from one such incident, Arteta's low, scuffed free kick was flicked a yard wide by a Fulham heel.
Leon Osman, passed fit following a late fitness test, was much improved on his poor showing at Bolton, Fellaini was tidy but without being inspirational, Cahill was mostly a peripheral figure and Arteta was involved but also not pulling the strings as much as you'd expect. In general, the Blues weren't getting sufficient numbers forward and the crowd was very quiet.
In the 28th minute, however, a nice Everton move led to Arteta slipping the ball to Yakubu just inside the area but he was closed down as he tried to wriggle into enough space to get off a shot. When it broke back to Arteta, he squared to Fellaini and the Belgian came within inches of notching his fourth goal in five games, his shot rolling off the base of the post.
Fulham, meanwhile, who had lost each of their previous seven visits to Goodison, hadn't been in the game as an attacking force at all until 32 minutes gone when a chance opened up for Andy Johnson but, thankfully, he hesitated when the ball initially sat up for him, he was closed down and the chance was snuffed out.
That was followed, however, by a five-minute spell where Roy Hodgson's side were picking out white shirts in the Everton area with direct balls with startling ease but the Blues escaped each time to take a clean sheet into the half-time interval.

If the first half was lopsided, the second was far more even and the match was a better contest for it.
Everton opened with back-to-back headers by Cahill, the second significantly closer than the first but both flew over Schwarzer's bar before Arteta dragged a left-footed effort well wide from the edge of the box.
But it was Fulham, sensing an opportunity given their hosts' inability to press home their supremacy, who went even closer with almost an hour gone. A corner from the Cottagers' right ended up on the other side of the area where Bobby Zamora chipped it back across the six-yard line and Zoltan Gera met it perfectly but could only watch as his header cannoned off the face of the crossbar.
12 minutes later, Joseph Yobo tripped Johnson in Jimmy Bullard territory and the midfielder duly stepped up to despatch a curling kick towards the top right of Tim Howard's goal. Unfortunately for him, the American was equal to it, leaping across his line to beat the ball wide of the goal. Zamora was quickest to the rebound and he looked to have broken the deadlock with his shot from the angle but he too was foiled by the woodwork, the ball bouncing off the inside of the post where it was hacked clear.
In between those heart-stopping moments, Fellaini was subsituted by Moyes in favour of Saha after 61 minutes, the decision met by a chorus of boos from the home faithful. In truth, apart from hitting the post in the first half and spraying the odd impressive ball across the middle, the Belgian had done little to justify that reaction but it did mean a reversion to 4-4-2.
It hadn't been Pienaar's day either and he joined Fellaini on the bench with 15 minutes left, Victor Anichebe joining the fray to add a bit more energy down the right flank.
And just when it looked as though it wasn't going to be either side's day, Osman showed tremendous determination to keep hold of the ball under the attentions of two opposition players before finding Neville on the right flank with three minutes on the clock. When he got it back, Osman looked up before swinging in a peach of a cross which was met on the run by Saha and he powered a header past the 'keeper to bring Goodison to it's feet in delight and relief.
Nine appearances since arriving from Manchester United and the Frenchman finally got a chance served up on a plate he made no mistake with a fine goal to grab the points for Everton.
Again, this was not a good performance from Moyes's boys and there were long spells in the second half where there was a definite sense that Fulham could nick it because Everton appeared to have lost their way and the crowd were becoming more and more uneasy.
The Blues rode their luck and escaped thanks to the woodwork and that excellent save by Howard and that provided the platform for another satisfying late show. Once again, the victory, the first on home soil this season, and the lofty position near the heels of the top six shouldn't mask the worrying lack of conviction and punch in the final third of the field, problems that will need to be addressed during this run of comparatively favourable games.
Match Preview
Given Everton's record against Fulham at Goodison Park since the Cottagers returned to the top flight seven years ago, David Moyes couldn't ask for better opposition against whom to claim his side's first home win of the season.
While the Blues have had an awful sequence of results at Craven Cottage, they've beaten Fulham every time they've come to Merseyside since 2001-02 and often by healthy margins. Last season's 3-0 victory in which Yakubu helped himself to a hat-trick was a case in point. How both Everton and the Yak would love a repeat performance this time around.
The Nigerian striker has endured a barren few weeks thanks to a worrying dearth of service from the midfield and hasn't scored in eight matches. That has led to predictable but mis-placed criticism from fans and even his manager so this fixture is coming at the right time for him too.
Of course, nothing is a foregone conclusion, especially when the team is finding it so hard to deliver a telling final ball. Marouane Fellaini has been providing the goals but hasn't been feeding the strikers. Mikel Arteta has also been light on assists but the return of Steven Pienaar, provider of the cross from which Fellaini scored a last-minute winner at Bolton on Wednesday, has definitely been a boon. This Saturday lunchtime game offers another chance for the Blues to further their recent improvement.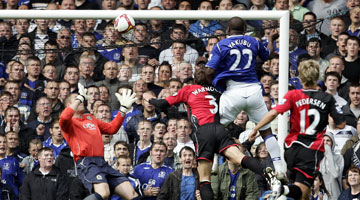 Yakubu:
A hat-trick hero in this fixture last season and definitely due a goal
Tim Cahill and Leon Osman will apparently undergo late fitness tests on minor knocks but Nuno Valente and Lars Jacobsen are are definitely ruled out.
Matchday Stats
May appear here later
* Unfortunately, we cannot control other sites' content policies and therefore cannot guarantee that links to external reports will remain active.