Venue: Boleyn Ground, London
Premier League
Saturday 8 November 2008; 3:00pm
Collison (63')
Half Time: 0-0
Lescott (82'), Saha (84', 87)
Attendance: 33,961
Referee: Mark Halsey
Both Steven Pienaar and Aiyegbeni Yakubu miss out with injury, giving starting opportunities to Jack Rodwell and Victor Anichebe. Marouane Fellaini is suspended. With Saha also starting, that's two up front, so Tim Cahill will played a little further back with Osman and Arteta in midfield.
No cagey start, Saha blasting wide followed by three West Ham corners inside 4 mins. But the match settled after that, although young Sears almost embarrassed Howard on a poorly cleared pass-back. Upson was stretchered off with a twisted ankle after 18 mins.
On the half-hour, Bellamy bamboozled Yobo far too easily and played in Sears whose strong shot needed tipping onto the bar by Howard, for the first real action of the game. Everton had had plenty of possession but often ended up going no-where in midfield, with the players looking disinterested in making any effort in the final third. Another poor first half of painfully pedestrian Premier League football...
Rodwell came close off a corner before Etherington replaced Boa Morte to liven things up considerably. The game looked to have a goal in it after the hour and finally it was West Ham who played a flowing move that drove trough the Everton defence, Collison finishing well with a curving shot that left Howard well beaten. Moyes, of course, was belated in his response, bringing Vaughan on as a reactive rather than proactive move.
Lescott was booked for a professional baulk of Bellamy as West Ham got the bit between their teeth. But just as it looked like all was lost, Saha put in a smart cross, in came Lescott, a superb header from close in to get him off the mark for the season. Suddenly Everton looked up for it and Anichebe set up a poked shoot from Saha that was deflected wide of Green and off the post and in for a go-ahead goal. Then, just two minutes later, a poor clearance from West Ham was pounced on by Cahill and fed forward to Saha whose hard long-range shot bounced alongside Green and skidded into the net for an amazing third goal!
David Moyes called Saha off at 90 mins, so he could milk the applause of the ecstatic travelling fans and massive ESCLA contingent, who were happily blowing bubbles right back at the poor Hammers, deserting Upton Park in droves. A tremendous result for the Blues after another horribly lack-lustre display that only came alive in the last 10 minutes.
Match Report
If you'd told any Evertonians who had chosen to beat the rush by leaving Upton Park 10 minutes early — and there must have been some who could take no more of as turgid a performance as any Everton have delivered not only this season but also in David Moyes's six-and-a-half year tenure — and told them the final score, they would probably have laughed in your face and requested that you stop trying one on.
In fact, they might have called directory inquiries looking for the men in white coats had the Blues not rescued similarly dire displays with late goals against Bolton and Fulham in their previous two outings.
Even then, the precedent established by those surprise victories wasn't on a par with the daylight robbery that Everton carried out at Upton Park. At the Reebok 10 days ago and again at Goodison last weekend, Moyes's team had at least had spells where they looked likely to score and earn three points. Today, they were so awful that they could have had no complaints about the defeat to which they were heading with eight minutes left of regulation time.
By that stage, the Hammers had shrugged off their own early inhibitions, established an attractive and increasingly effective passing game, and deservedly taken a 63rd-minute lead with the best move of the game. The Blues, by contrast, were pedestrian, incohesive and almost completely importent going forward. Indeed, Joleon Lescott's 83rd-minute header that suddenly brought the sides level and sparked an incredible five-minute spell in which the home side fell apart was the team's first effort on target. That they had two more from Louis Saha that also found the net and won the match by a comfortable margin was all the more remarkable in the context of what had gone before.
While there could have been no excuses for the depths which this performance plumbed, there were at least some mitigating circumstances. Yakubu and Steven Pienaar were both ruled out after failing late fitness tests on a heel injury and knee strain respectively, while Marouane Fellaini served a one-match ban after accumulating five yellow cards.
Those three absentees forced a reshuffle of personnel in midfield where Jack Rodwell was deployed in the holding role and Victor Anichebe was asked to play wide right, a position at which he proved quite adept earlier in the campaign. Unfortunately, the Nigerian international struggled to make much headway and his display was further hampered when he switched flanks with Mikel Arteta after half an hour.
Anichebe was alone, though. Leon Osman had lapsed back into anonymity, and both he and Rodwell were allowing the Hammers midfield far too much space in which to weave their passing patterns in front of the Blues' back four. Tim Cahill was a largely peripheral figure and Arteta's most notable contributions came when tracking back and biting at the heels of the likes of Scott Parker, Julian Faubert and Craig Bellamy. Segundo Castillo, widely reported to be under consideration to play some role in this game didn't even figure.
So it was then that apart from a Saha volley in the first minute that flew wide of the goal, Everton didn't once raise Robert Green's pulse in the first half. Osman's half-arsed effort from 20 yards drifted so high and wide that the 'keeper needn't have batted an eyelid.
Truth be told, West Ham, who haven't won on their own ground since mid-September, weren't much better until an injury to central defender Matthew Upson that required him to be stretchered off and Gianfranco Zola to reorganise his team in three positions with the introduction of Jack Collison after 17 minutes changed the pattern of the half.
The Hammers started finding their forwards with incisive passes with increasing regularity and the first warning sign for Everton came when Freddie Sears got away from Phil Jagielka but just overran the ball at the byline. Bellamy then volleyed over from the edge of the box when he might have done better before Tim Howard pulled off the save of the match, finger-tipping Sears' drive into the bar following a lightening break by the home side.
West Ham's lack of height up front — Carlton Cole was suspended and Dean Ashton ruled out with injury — combined with their speed meant that they were playing more like the away side and using the counter-attack as their most potent weapon. One such move almost yielded the opener for Sears but he was again foiled by Howard from the angle.
Instead of pressing the now Upson-less home rearguard, however, Everton continually gave the ball away and failed at almost every turn to create anything meaningful going forward. There was no movement; players like Arteta were simply wandering around even when the Blues had the ball and a number of opportunities to counter themselves came to nothing as the man with the ball stopped and passed backwards due to a lack of options ahead of him. Worse, there was no width at all in the first half. Lescott was operating as an auxiliary central defender and barely moved beyond the halfway line. Likewise Phil Neville who, if memory serves, didn't effect a run on the overlap down the right flank until the 72nd minute.
If Moyes gave the team a collective kick up the arse during the half-time interval, there was little evidence of it for the massed ranks of traveling fans. They did at least see their side win their first corner of the match 11 minutes after the restart which Collins headed behind giving Arteta the opportunity to swing another dangerous ball in the mixer. Rodwell connected at the back post but was unfortunate to only head wide of Green's left-hand post past a crowd of players.
Everton's game was begging for a change. Leighton Baines at left back; Castillo in midfield; James Vaughan up front... anything to change the pattern and inject some urgency into the proceedings. Of course, the manager's substitution only arrived once his side had fallen behind, Vaughan replacing the largely ineffective Rodwell after 64 minutes.
Still the Blues toiled and going into the final 15 minutes it looked as though this was going to be a story of how Zola had managed to get a collection of players, the sum of whose parts is arguably inferior to Everton's, to play effective passing football after just a few weeks where Moyes, after 6 years, cannot. But in the 75th minute came the first hint at what was to come when Vaughan came within inches of connecting with Lescott's flicked header in front of goal; the merest of touches from the substitute would have surely been enough to guide it past the stranded Green.
Then, perhaps for the first time in the game, the Blues managed to get the ball wide on the right and whip in a decent cross. Saha, who up to that point could not have had less to do in this game if he'd been sitting against the advertising hoardings for 81 minutes, whipped in a perfect cross and Lescott, who had stayed in the area following a set-piece buried a striker's header past Green to level the scores.
The equaliser had really come out of nowhere and the sucker punch had the Hammers reeling. Barely three minutes had passed before Anichebe's low cross found Saha 16 yards from goal and his first-time shot deflected off a defender's out-stretched leg and into the goal off the far post. The Frenchman wheeled away in fist-pumping delight to the away section who must have been pinching themselves.
If that wasn't enough, Saha put the result beyond doubt — and spared the supporters an agonising finale — when he picked up Cahill's ball after the Australian had intercepted a poor pass out of the West Ham defence and he took the time to look up before sweeping the ball around Green and into the corner of the goal from 25 yards. It was a terrific strike tha capped an unbelievable match-winning intervention by the French striker. Wham! Bam! Thank you, Man United! Three goals in two games and King Louis has arrived.
Moyes used up his remainin subs by throwing Baines and Hibbert on for Anichebe and Saha in the closing stages to shore up the result but the Hammers were a beaten side by that point. Another victory at Upton Park and three consecutive wins belie what was on balance a dreadful performance, but while you have international-class players like Saha able to turn a game in an instant, you're always in with a chance.
In truth, like Fulham before them, West Ham should have been comfortably ahead by the time Everton scored and its worth bearing that in mind before anyone gets carried away by the fact that the Blues currently sit three points off a Champions League place. Surely teams can't keep being as charitable as Bolton, Fulham and West Ham have been in the last three games? Surely this unorthodox high-efficiency brand of football where the players need only exert themselves for the last 10 minutes isn't sustainable!
For Moyes, the challenge is obvious: get his players playing faster, smarter and more potently. More specifically, he needs to impress on his players the need to get the ball wide and deliver decent service into the box. Five of the Blues' last six goals have come good balls from the right flank and yet it took them three quarters of this game to deliver just one. There's a lesson in there that someone isn't seeing... but while they keep winning, it's hard to whine too much!
Match Preview
The last time these two sides met Everton were in the midsts of a spellbinding run of form that propelled them through the group phase of the Uefa Cup with a 100% record, formed the foundation for an eventual fifth-place finish and helped them towards the semi-finals of the League Cup. Indeed, it was a 2-1 win at the Boleyn Ground — the first of two victories at the Hammers in four days — in that competition that set up a date with Chelsea in the last four, but by that stage the African Nations Cup and a hefty dose of reality had taken their toll on David Moyes's team and the Wembley dream died there.
Yakubu was in a rich vein of form, profiting from the movement, invention and service provided by the likes of Steven Pienaar, Leon Osman and Mikel Arteta, and he scored in both games against then-manager Alan Curbishley's men.
Things are, of course, a little different for the Blues going into their first date with West Ham in season 2008/09. For a start, Curbishley is gone, succeeded by Gianfranco Zola, and Everton's form is nothing like it was 11 months ago. The Yak is on an unwelcome diet and hasn't found the net since mid-September and erraticism in midfield from the three afore-mentioned creative sources has severely blunted the attack. No surprise, therefore, that it took Louis Saha nine appearances before he broke his duck last week against Fulham.
Therein lies one similarity with last season, however: in the League fixture prior to their visit to this part of East London, the Blues had just beaten Fulham, albeit more convincingly by a 3-0 margin. Still, Moyes will take all the parallels with this stage of last season he can as he plots his team's third successive Premier League win, something they achieved once last season back at the beginning of March.
Ordinarily, Moyes might have opted to leave his starting line-up unchanged but an early suspension for record signing, Marouane Fellaini, who has rapidly racked up five bookings, means that he will have to make at least one alteration to the side that beat Fulham last weekend.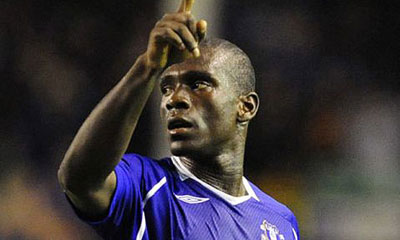 Segundo Castillo:
in the frame to play some part this weekend
There are suggestions that Segundo Castillo, who came through a Reserves game this week after shaking off an apparent groin strain, could make his first start since the Carling Cup defeat at Blackburn. The Ecuadorian made arguably a better start to life at Goodison than Fellaini but has been struggling for fitness for the better part of a month.
Then there is the seemingly constant question over formation. Moyes reverted to 4-5-1 at home against Fulham and may do so again for this away fixture, particularly if Yakubu isn't passed fit because of an ankle strain. Steven Pienaar is also reported to be a doubt with a knee complaint.
Zola will be without Mark Noble (calf), Valon Behrami, and Carlton Cole (suspended) while Diego Tristan and Calum Davenport will undergo late fitness tests.
Although they're not playing particularly well themselves, Everton will fancy their chances against West Ham who haven't won in five games since beating Fulham at Craven Cottage at the end of September and haven't tasted victory on their own ground since the week before that when they comfortably saw off crisis-hit Newcastle 3-1.
Matchday Stats
May appear here later
* Unfortunately, we cannot control other sites' content policies and therefore cannot guarantee that links to external reports will remain active.
WEST HAM (4-4-2)
Green
Upson (18' Collison)
Neill
Collins
Illunga
Flaubert
Parker
Bowyer
Sears
Bellamy
Boa Morte (58' Etherington :81')
Subs not used
Lopez
Lastuvka
Reid
Mullins
Di Michele
EVERTON (4-5-1)
Howard
Neville
Yobo
Jagielka
Lescott :75'
Rodwell (65' Vaughan)
Osman
Arteta
Cahill
Anichebe (86' Baines)
Saha (90' Hibbert)
Subs not used
Nash
Castillo
Gosling
Jutkiewicz
Unavailable
Fellaini (suspended)
Yakubu (injured)
Jacobsen (injured)
Pienaar (injured)
Valente (injured)
Premier League Scores
Saturday 8 November 2008
Arsenal
2-1
Man Utd
Hull City
0-1
Bolton
Liverpool
3-0
West Brom
Sunderland
1-2
Portsmouth
West Ham
1-3
Everton
Wigan
0-0
Stoke City
Sunday 9 November 2008
Aston Villa
1-2
Middlesbro
Blackburn
0-2
Chelsea
Fulham
2-1
Newcastle
Man City
1-2
Tottenham
Premier League Table
Pos
Team
Pts
1
Chelsea
29
2
Liverpool
29
3
Arsenal
23
4
Man Utd
21
5
Aston Villa
20
6
Hull
20
7
Everton
18
8
Middlesbro
17
9
Portsmouth
17
10
Fulham
14
11
Bolton
14
12
Stoke
14
13
Man City
13
14
West Ham
13
15
Blackburn
13
16
Tottenham
12
17
Wigan
12
18
Newcastle
12
19
Sunderland
12
20
West Brom
11
After 9 Nov 2008