Mikel Arteta made a hugely welcome return to the Everton teamsheet, with a place on the bench after nearly a year out, sidelined with a cruciate ligament injury. On the field, an unchanged line-up from the team that put Man City to the sword. James McFadden in the side for Birmingham, unbeaten in 14 games!
An early free-kick after 5 mins poorly delivered by Baines and Birmingham scampered up the other end, a deep cross ball to Larsson, a probing cross to Benitez, headed home with ease. Hmmm... not the best of starts from Everton!
Donovan won another dangerous free-kick that was delivered a little better by Baines, and Everton attacked with some determination, winning another perhaps dubious free-kick on the edge of the area . The routine was not that great, too many touches before Saha smashed it into the breaking wall.
Birmingham were stifling anything Everton tried to do, and the home side looked to be running out of ideas, resorting to useless long balls or poor cross balls over-hit. Cahill, playing in the hole behind Saha, was winning the first touch but could not hold possession or direct the lay-offs to a blue shirt. The groans around Goodison increased with every wasteful hoof...
It was 38 mins before Everton had a half-decent shot at goal, but it was more out of frustration from distance and Pienaar's shot curled over the bar. Meanwhile, Birmingham attacked once again at pace, some good interpassing, the final ball from McFadden and Ferguson powered an unstoppable shot beyond Howard. Oh deary me...
Pienaar produced an excellent ball for Baines to run onto and cross but again, he was totally wasteful with three players on the run-in. Neville, on the other side, was equally as bad with his balls floated into the area, well away from any Blue shirts. Boos at half-time after a really poor Everton display, a stunning contrast to last week's tremendous display against Man City.
An interesting solution proposed by Moyes at the break: Leon Osman, on in place of Bilyaletdinov, who had struggled to get on his game in the first half. Larsson had an early shot wide. Osman's first touch was to spoon a shot half-heartedly from outside the area. A split-second and Birmingham were attacking with astounding speed, Beniitez could only power it at Howard, fortunately, or it would have been 0-3!
But a much better attack put Everton back in the game and it was a beautiful stroked shot from Osman that sealed it after some much, much better work from Pienaar down the left. Osman controlled the ball well and placed it superbly beyond Hart under massive pressure from the tiggerish Birmingham defence.
Saha came mightily close, taking an age for the ball to drop, his shot curled just a few inches wide of the angle. Saha, again, off a knock-down from Cahill, skimmed the outside of the post from a shot driven into the turf. Fellaini then played Saha in well and it could have been a penalty as Dann denied him space.
A final move by Moyes was to bring on Mikel Arteta in place of Bily, and Everton laboured long and hard in the final 15 mins, chances difficult to create. Fellaini went close a couple of times... perhaps should have scored when he shot too close to the keeper, but in the end it wasn't going to happen, and Everton drop disappointingly out of the FA Cup after going all the way to the final last year...
Match Report
With Manchester United and Liverpool already out at the Third Round stage and, it would turn out, Arsenal to follow at the hands of Stoke, three of the Sky Four would be gone from the FA Cup by the Fifth Round stage, eliminating further barriers for an Everton side looking for a second-successive FA Cup Final, another avenue back into Europe for next season, and, more importantly, the first piece of silverware under David Moyes.
Handed a home draw in the Fourth Round, albeit against unbeaten Birmingham, the Blues just had to carry through the recent form that had Andy Gray predicting a possible surge by the Blues into the top four come May.
Unfortunately, for the first 45 minutes at least, the team that had come within a stoppage-time minute of beating Arsenal and then wiped the floor with Manchester City at Goodison last weekend simply didn't turn up. Perhaps some of that cursed complacency that occasionally creeps in reared its head but Moyes's charges simply weren't at the races in the first half and they paid a heavy price — two goals conceded before half time, a mountain that proved just too high to surmount in the second half.
Moyes named an unchanged lineup from the team that comfortably beat City, but the mindset of half of the starting XI at least just wasn't the same. After a scrappy opening where the ball seemed to spend more time in the air than on the deck, the visitors quickly settled into a groove of closing down everything that moved and Everton attacks consistently foundered on the rocks of the Midlanders' resolute defensive pairing of Roger Johnson and Scott Dann.
Louis Saha was an isolated figure when he wasn't on the ball and profligate with possession when he had it, Landon Donovan and Diniyar Bilyaletdinov, both of whom excelled last week, barely got into the game, while Steven Pienaar and Marouane Fellaini were also well below par. And Leighton Baines set the tone for the quality of his delivery for the afternoon in the 6th minute when he despatched a direct free kick in a decent enough area straight into the defensive wall.
By contrast, Birmingham were moving the ball around efficiently and with six minutes on the clock, they took the lead with a quick break that saw Barry Ferguson pick out Sebastian Larsson on the right and when he sent a first-time cross into the box, Christian Benitez was there in acres of space to head past Tim Howard.
Opportunities to equalise came mainly in the form of set-pieces and though Baines did better with an almost identical kick to his first, Stephen Carr headed clear. Saha, though, wasted a glorious chance to test Joe Hart when he elected to take a free kick in the same spot from which Pienaar scored last Saturday and blasted it poorly into the wall.
Fellaini sliced wide and Pienaar had a decent effort that flew narrowly over after he'd cut in nicely from the right but in the main the Blues were being restricted to long-range efforts and just couldn't find a way through an almost ever-present forest of black shirts.
1-0 became a shocking 2-0 five minutes before half time, though, when, again, the visitors exploited weakness down the Everton left and when Larsson crossed, James McFadden took Sylvain Distin out of the game completely with an exquisite flick and Ferguson was on hand to curl a left-footed shot around Howard.
Everton tried to find a way back into the game before half time and their best chance arrived when Pienaar found Baines with a wonderful throughball that put him in behind the back four but with players queuing up in the six-yard box, he skied his attempted cross and the chance went begging.
Moyes responded at half time by hauling Bilyaletdinov off, the Russian having contributed next to nothing down the left, and throwing on Leon Osman. Whatever Baines' defensive deficiences on the day, he at least provided a threat and on the right flank Donovan had least tried to cause Birmingham problems but, for the most part, he was stranded on the touchline and being largely ignored by Phil Neville who consistently opted for the long punt from defence or the early cross. Indeed, at 2-0 down, the home fans started to voice their growing displeasure with the skipper's refusal to use Donovan with frustrated cries at another wasted cross.
The Blues' revival bid had barely got off the ground before Benitez should have wrapped things up five minutes after the restart. Put clean through with just Howard to beat, he shot tamely at the 'keeper allowing for a routine save to keep the deficit at two.
That was the catalyst to spur Everton into action and a fairly sustained offensive against the Birmigham defence and within a minute, Fellaini had a decent chance when he rose to meet Neville's cross but he headed over the crossbar.
Five minutes after that, the Blues were back in the contest thanks to a lovely move down the left wing. Pienaar fed Baines and the defender did brilliantly to evade his marker and leave him stranded by the byline before finding Pienaar again with a return pass on the edge of the area. The South African in turn laid it on to Osman and he picked his spot to perfection, bending a delightful shot inside the post.
2-1 and the with crowd now behind them, surely it was only a matter of time before the equaliser arrived, particularly as the goal had come with plenty of time remaining.
Saha might have provided it in the 61st minute when he waited for the ball to drop from 18 yards out but he sliced his half-volley a little and it flew inches wide of the angle of crossbar and post. It was a glorious chance, particularly for someone of his finishing ability but it went begging.
The Frenchman went even closer three minutes later when he picked up Tim Cahill's knockdown and lashed another half-volley goalwards but it seemed to take a nick off a defender and clipped the outside of Hart's left-hand post, though no corner was given.
An optimistic penalty claim a couple of minutes later was to be Saha's last meaningful involvement, however, because he was, surprisingly, substituted with 21 minutes to go in favour of James Vaughan. And after Pienaar had seen another shot from 18 yards deflected wide, one of the biggest cheers of the afternoon erupted when Mikel Arteta was introduced in place of Donovan for his first appearance in almost a year.
Though it was great to see him back and he exhibited some nice touches, not least the cross that led to Vaughan banging a first-time shot inches over the top with 11 minutes left, the two changes appeared to disrupt the Blues rhythm a little and they became a little more desperate in their search for the leveller. Neville was hammering it forward with abandon and it did seems as though there wasn't going to be another way through Alex McLeish's rock-like defence.
It needed a moment of quality and Fellaini provided it with five minutes to go. Picking the ball up around the penalty spot, he danced through two tackles with delicate skill and the chance opened up but, having done the hard part, he smashed his shot straight at the 'keeper and Hart pushed his effort over the bar.
And the Belgian was pulling his ample barnet out in injury time when he spun and screwed a shot across goal from a tight angle but his effort fizzed past the far post and behind for a goal kick. An Arteta shot that missed by a foot and a poor free kick attempt by the Spaniard in stoppage time aside, that was it for Everton's 2010 FA Cup campaign.
While that first-half performance wasn't, as some are suggesting, one of the worst fans have seen, it was unforgiveably poor and that was half the story behind the Blues' loss which handed Birmingham their first win at Goodison in 53 years. Credit should go to the Midlanders, though — they were better organised, more hungry for the win and they made the best of the few chances that came their way.
Given the Blues' superiority of possession and opportunities in the second half, the other part of the story was, again, the failure to make their dominance tell and take chances when they arrived. Arguments will run over whether Saha's removal was for fitness or tactical reasons and whether Moyes should have gone 4-4-2, whether Seamus Coleman should have been given a chance to repeat the heroics he performed against Spurs in a similar situation, but it all comes down to the fact that this was the same team that beat Manchester City seven days earlier.
With one less competition to worry about, Everton's full focus must now be on the Premier League and the Europa League as a very difficult February looms. Back-to-back wins over Sunderland and Wigan and the season could really start to come alive... but there's plenty of work for Moyes to do in the interim.
Player Ratings:
Howard 7, Neville 6, Baines 6, Heitinga 7, Distin 6, Fellaini 7, Donovan 6, Bilyaletdinov 5, Pienaar 7*, Cahill 6, Saha 6
Subs: Osman 7, Vaughan 7, Arteta 7
Match Preview
Everton get another crack at ending Birmingham's impressive unbeaten run — now standing at 14 games in all competitions — when Alex McLeish brings his side back to Goodison Park just over a month after escaping Merseyside with an almost unfathomable point.
The Blues dominated Birmingham, went ahead early through Diniyar Bilyaletdinov and would, but for an atrocious decision by the linesman, have been 2-0 up not long afterwards when Louis Saha had the ball in the net, but were pegged back by City's first real attack. Sebastian Larsson's equaliser was enough to earn Brum a draw and keep their unbeaten record intact.
Everton will likely be a similar proposition this time around. Having since dominated matches against Sunderland and Arsenal but only managed a point, Moyes's boys finally got their just desserts last weekend with a scintillating display against Manchester City which yielded a deserved 2-0 win.
The manager will be hoping that with key players on the verge of returning from injury and confidence building among the ranks that his team can now power on towards a second successive FA Cup Final appearance and repeat qualification for Europe. (Liverpool and Manchester United are already out and though there are 15 Premier League sides in the Fourth Round, only 12 can progress to the next stage.)
To that end and in the absence of any further injury concerns, Moyes may favour continuity this weekend by naming an unchanged starting XI, with John Heitinga and Sylvain Distin partnering in central defence, flanked by Phil Neville and Leighton Baines.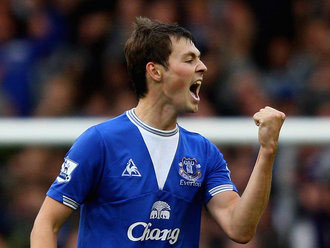 Bily:
hoping his performance last weekend earns him another start
In midfield, Bilyaletdinov will be hoping that his vastly improved display against City will earn him the nod in right midfield even though Leon Osman is fit again, while elsewhere in the middle there are unlikely to be any changes to the Pienaar-Fellaini-Cahill-Donovan combination. Saha will again start up front.
Birmingham, who haven't won at Goodison for 53 years, have no new injury worries themselves and there is pre-match talk that Spanish midfielder Michel could make his debut for the Midlanders.
Obviously, this being a cup tie, it will take on a different character than the League game, though Birmingham would still be very happy with a draw and a replay back at St Andrews in 10 days' time. The onus will therefore be on Everton to win the game on their own turf but if they play with the same incisiveness and unrelenting determination that they did last weekend, that shouldn't be a problem.
* Unfortunately, we cannot control other sites' content policies and therefore cannot guarantee that links to external reports will remain active.