The 350th game in charge for David Moyes, now the longest-serving Everton manager since the late great Harry Catterick. Moyes was again reduced to a line-up that effectively picked itself, with of course just the one player, Saha upfront; Yakubu and Jo on the bench.
A reasonably open start, with both sides pushing forwards, transitioned after five minutes to pretty much one-way traffic, with United settling far better than their guests, who were forced to switch on the solid defending and desperate blocks to protect Howard's goal. Fellaini, Rodwell, and Cahill occasionally crossed the half-way line but totally surrounded by red shirts and without any support.
Baines did well to steal the ball from Valencia while on the ground in his area. The first real chance fell to Rooney in the D but he sliced it weakly well wide, with United looking increasingly threatening with each attack. On the quarter hour, the shots finally started getting through to Howard who was forced to make some decent saves, Valencia getting lots of space and wellying it over.
Saha did get a chance on 20 mins but it lacked power. At times, it looked like Rodwell was out to deflate the interest of Sir Alex, misplacing crucial passes and giving away possession recklessly. Rafel got a deserved card for rugby-tackling Saha and there was some relief when Everton got possession but was poorly structured and most opportunities squandered in order not to lose shape for the next inevitable United attack.
In the end, it was a superb volley by Fletcher that finally broke the deadlock, an unstoppable rocket into the top corner. 1 - 0.
Heitinga got caught above the eye by Vidic's elbow and had to go off for work to stop the bleeding. Fellaini dived in late on Fletcher for one of his classic clumsy tackles, his fifth of the game, earning his fifth yellow card of the season and a one-match ban for the game against Hull..
A rare "attack" by the Blues just before half-time showed the dismal dearth of attacking ideas, a lame a ball from Gosling beating all three players to aim for saying it all really. Holding United to just the one goal in the first half may be considered a good holding performance but in all honesty Everton were barely adequate when defending and utterly shocking in possession. A pretty typical trip to Old Trafford...
Since Everton were behind, Moyes decided action was called for, hauling off Gosling for the second half, Yakubu on in his place. It definitely made a difference, Everton structuring some passable attacks, Yakubu slicing wide, Heitinga firing straight at Van der Saar, Fellaini scoring... but a yard offside.
On the hour Rooney had a chance that he curled off the top of the Everton crossbar, while Everton were trying to play how they should have done in the first half, Yakubu turning smartly but slotting it a yard wide.
At the other end, Owen was through and only the intervention of Distin saved a second goal... at least for 30 seconds until Rooney screwed it to the corner flag were Giggs picked up the ball and picked out Carrick on the edge of a packed Everton are from where he powered the ball through a crowd of blue shirts and into the net. Sickening,.
Carrick was booked for rather oddly clipping the ball away. But a deliberative advance through the middles by Scholes on 75 mins and it was three, Valencia's shot from wide clipping off Baines and over Howard, just inside the post. Yakubu got a chance to poke it goalwards but again just too easy for Van der Saar.
Some nice movement into the United area should have seen Cahill score but almost predictably for him this season, he couldn't pull it off, and United scampered up the other end for their 10th corner; none for Everton. Jo and Hibbert came on for Saha and Cahill for the last 10 mins, Jo winning their first corner on 86 mins. Of course, it came to nothing. A second corner on 89 mins was deflected over by Evra, and the third on 90 a free header for Fellaini, over the bar.
Rodwell smacked in a crisp shot low just inside the post that Van der Sar saved smartly in added time for the fourth Everton corner. All to no avail. Totally uninspiring stuff from the Blues, as we half-expected.
Match Report
It's sad when you have to mentally write off a match before it's even kicked off but that's what you do when Everton play at Old Trafford nowadays. Defeat is almost a foregone conclusion, a creditable draw would be greeted like a win but even when the Blues have performed well there, as they did in the two previous seasons, United have still found a way to win.
So little surprise then that David Moyes's men again came away from Manchester with no points but the manner of the defeat will have sowed further doubts not only about the character of this team to continue its slog through the manager's selection crisis and rediscover the kind of form that will be necessary to climb back into European contention, but also about Moyes's ability to steer his charges out of their current malaise.
United have not been playing well recently and they were some way short of it today as well but they still rode out comfortable 3-0 winners. Once Darren Fletcher had half-volleyed sublimely into the top corner 10 minutes before half time, the game was pretty much up and most in attendance probably knew it.
With the exception of Lucas Neill at right back in place of Tony Hibbert, Everton were unchanged from the team that had won at West Ham a fortnight ago. That meant Louis Saha returning to his old stomping ground for the first time since moving to Goodison last year, but if the Frenchman was hoping for the kind of service he used to receive when fit during his Old Trafford days, he was to be sorely disappointed... but then he's come to expect having to feed off scraps and chase long balls out from the back ever since Steven Pienaar got injured.
Everton's forays into United territory in a highly disappointing first half were rare and short-lived and with Marouane Fellaini and Jack Rodwell profligate with the ball, the home side were predictably in control of possession in the early going.
It wasn't until 15 minutes had gone, though, that they managed to fashion the first chance which Wayne Rooney sliced well wide from just inside the penalty area. That was followed by Ryan Giggs testing Tim Howard for the first time with a tame shot from a similar distance.
Saha's first sight of goal arrived after 20 minutes when a deflected cross arrived at his feet 16 yards but though his aim was good, the shot lacked power and Edwin van der Saar dived to his right to make the stop. A Rodwell effort a couple of minutes later also lacked venom and the 'keeper was again able to gather comfortably.
The pattern of the Blues' play had been established by this point: basically, play the percentages by lumping it in the direction of Fellaini, principally, and Saha and hope for something to break. Everything went down the middle in the first half and Neill didn't get down the right flank once the entire match. Baines on the opposite side may have ventured on the overlap on one occasion but that was probably it. With no width, Everton were depressingly predictable and easy to counteract.
The hosts, for all their technical superiority and ability to move the ball, weren't all that inspiring themselves until Valencia nodded a cross to the back post back to the edge of the area and Fletcher despatched an unstoppable effort in off the post to hand United the lead after 34 minutes.
As is so often the case with Everton, going a goal down briefly sparked some life into them but there was no end product between then and half-time. Their cause was not helped much by referee Steve Bennett who underscored perfectly the dual standard that exists for the likes of Manchester United on the one hand and the likes of Everton on the other when Fellaini was reprimanded for leading with his elbow in a challenge with Fletcher and booked for persistent fouling. Barely three minutes later, Nemanja Vidic committed the same offence on Johnny Heitinga, split his brow open with an elbow and escaped a yellow card altogether.
The half-time interval brought an unusually rapid tactical shift from Moyes when he withdrew Dan Gosling and pushed Yakubu up front with Saha. The difference to the Blues' potency was, predictably, almost instantaneous and there was a lot more about Everton as the second half began. In the absence of any attacking intent by the fullbacks, Sylvain Distn took it upon himself to maraud down the left to pick up a return ball from Yakubu and his cross to Saha was inviting but his compatriot dragged his shot agonisingly wide.
A couple of minutes later, a wonderful spin on the touchline by Yakubu left Rafael for dead and though his attempted cross was clobbered behind by a defender, the resulting corner fell to Heitinga whose fierce shot was too close Van der Saar and his Dutch international teammate saved.
The best move from the Blues all game actually ended with the ball in the net but Fellaini was rightly flagged offside before Yakubu threaded a lovely ball into the box for Cahill but he was foiled by the 'keeper in a sliding challenge from which both players hobbled away gingerly. And the Yak almost leveled the game a few minutes later when he made a superb turn in the box to evade his marker but he skewed a left-footer inches wide of the far post.
United remained dangerous, of course, and when Distin mysteriously bottled out of a 50-50 challenge with Valencia and the ball broke to Michael Owen, he thankfully took the ball too wide and fired behind the goal from a tight angle. Then, Rooney clipped the top of Howard's crossbar with a dipping effort from 20 yards that had Evertonian hearts in mouths.
The second goal, when it came did so in less spectacular fashion and raised yet more questions of the Blues' leaky defence. When a corner from the left fell to Rooney on the far side and he drilled a wayward shot across the face of the area, Giggs was still near the corner flag to pick up the loose ball. He spotted Michael Carrick free on the edge of the box and one simple pass was all it took to allow the midfielder to side-foot crisply into the far corner. 2-0 and no way back.
Nine minutes later it was three when Paul Scholes fed Valencia in space in the wide-right channel and he advanced before driving a low shot that deflected off Baines and looped over Howard's arms to nestle in the net.
There were some late, vain attempts by Everton to reduce the damage but Fellaini put a free header over the bar and Rodwell forced Van der Saar's best save of the afternoon in injury time with a powerful shot that was heading just inside of the post. Overall, very little to take away in terms of positives from the game, except perhaps that Fellaini's booking means that he will serve a one-match ban and force Moyes to try something else.
For £12m+, you'd expect a lot more from Fellaini than a one-paced disciplinary liability who only occasionally rouses himself from his laid-back demeanour to demonstate what he's capable of. Moyes has been trying to fit this square peg into a round hole all season and it clearly isn't working. When he had only one fit striker from which to choose, it was understandable but with Yakubu and Saha available, it begs the question, if you're going to play Fellaini in the forward role instead of Cahill (who, incidentally, is just as ineffective at the moment as the Fouling 'Fro) then can we at least go the whole hog and just try playing two recognised strikers up front? It couldn't be any worse than Fellaini in the hole, and the Yak can at least operate as a makeshift winger, as he able demonstrated with a couple of flourishes today.
Much is made of the current injury crisis but a defence of Neill, Yobo, Distin, and Baines is a decent back line; a midfield boasting the best young English prospect in his position, an established Dutch international earning more than anyone else in the Everton squad, a record-signing Belgian international and the much-trumpeted Cahill ought to be able to string more than a couple of passes together and deliver a better final ball than has been the case over the past few games. Clearly, Moyes's team is very little without its creative lifeblood in the form of Arteta and Pienaar and their return is going to be essential to the Blues' chances of regaining entry to Europe next season.
In the meanwhile, victory at Hull City on Wednesday, Everton's game in hand, has taken on vital importance as we prepare for next weekend's derby match, two games that could kick-start or condemn our season...
Player Ratings: Howard 6, Neill 6, Baines 7, Distin 6, Yobo 7, Rodwell 7, Heitinga 6, Gosling 5, Cahill 5, Fellaini 5, Saha 6, Yakubu 7*, Jo, Hibbert (not on longer enough to warrant a rating)
Match Preview
From playing the team against which they have the best record since the inception of the Premier League, Everton now take on Manchester United, a team they've beaten only three times since 1992 and only once at Old Trafford, that a 3-0 victory in that inaugural 1992-93 season.
Though they've played well in the so-called Theatre of Dreams in the last couple of seasons, both visits ended with single-goal defeats and United winning with a penalty.
Steven Pienaar conceded the one two seasons ago, Mikel Arteta the decisive one last season but, sadly, neither player is likely to feature this weekend in the late-afternoon televised match. Arteta remains weeks away from returning and while Pienaar is close after being stretchered off against Portsmouth almost two months ago, the South African player of the year is not thought to be ready to play any part this weekend.
That would leave the Blues stripped bare once more of any real creativity in midfield against the reigning Champions seeing as Diniyar Bilyaletdinov is out as he serves the second of a three-match suspension. Once more, the midfield will probably pick itself, with Heitinga, Rodwell, Fellaini, Cahill and Gosling across the middle behind Louis Saha up front, though the Frenchman is still iffy due to a calf complaint.
Tim Howard is also rated as doubtful to face his old club but should play. If so, David Moyes could field an unchanged line-up from the team that won at West Ham.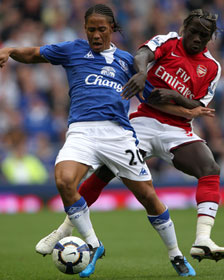 Steven Pienaar:
Unlikely to figure but he'd be a massive boost
United look to welcome back Nemanja Vidic from injury but have Michael Carrick and Dimitar Berbatov as doubts... but when you've got the strength in depth that United have, that's hardly a big deal.
For Everton, given past form against United and the number of key players out, this surely must be all about playing for a point. They may not have enough to do what clubs don't do enough of at Old Trafford and that's really take the game to Sir Alex's side and give them something to really think about.
A creditable draw would be just the ticket, though.
* Unfortunately, we cannot control other sites' content policies and therefore cannot guarantee that links to external reports will remain active.