All change in the central defence as Yobo and Senderos were drafted in for Heitinga (ineligible) and Distin (suspended). Otherwise, pretty much what appears to be Moyes's team of choice at the minute.
A cagey start to the game... apart from one shot by Ismailsof that Howard had to save. But a free-kick given away by Senderos on 16 miins a very dangerous position added to the nerves as Muntinho smacked it into the Everton crossbar, Leidson banging the follow-up wide. Senderos was caught again a few minutes later but this was drilled at Howard by Veloso.
Everton were pinned back for large periods of the first half while Sporting played some neat football but could not get any closer to scoring.
Just before the break, an excellent free kick delivered from out wide by Baines was clipped into the Sporting net by Senderos, running free behind their defence... but the goal was immediately ruled offside as he looked to have timed his run just a fraction too early.
Everton were relived to go in with a clean sheet at half-time, knowing that Sporting needed just one goal to win the tie. However, the advantage remained with the Blues at the break.
Senderos limped off a few minutes after the restart. Baines than gave away a needless free-kick with a shove on Leidson but Pienaar did well to intercept the resulting cut-back.
Senderos couldn't continue and so on 52 mins Phil Jagielka finally returned to action after 10˝ months out of action, to a tumultuous reception from the massed Evertonians who had taken over a quarter of the half-empty stadium.
It needed an incredible almost pointblank reaction save from Howard off the advancing Moutinho to keep the Blues in the tie, but the game turned finally after Bily went off for Rodwell. Velso scoring the crucial goal that rubbed the salt in following that late penalty given up at Goodison Park.
Everton needed to play up if they were to get into the Round of 16 but most of the possession remained with Sporting, as the Blues struggled to break out of their defensive shell and the old dreaded "we have what we hold" mentality that only works as long as you don't give anything up.
On 70 mins and Yakubu came on for the surprisingly ineffective Landon Donovan. Some decent attacking as Everton finally opened up the game but chaotic defending at the other end allowed Mendez to lash a shot that was deflected wide of Howard and into the back of the Everton net for a crucial second goal.
Not much was going Everton's way now and Pienaar ended up as the first booking despite a hideous earlier sliding tackle on Baines that went completely unpunished.
High tempo stuff into 3 mins of added time, and two time-wasting subs from Sporting. Much fretting and angst but it was all to little too late as Everton had failed to implement Moyes's plan — to simply score a goal that would have taken Everton through ease.
And in a farcical end to the game as Everton continued to press, Sporting broke at speed, and Fernandez scored in a comedy of errors by the distraught Everton defence. Everton paid the price of not pressing their hosts until the last 10 minutes, when the game was pretty much up.
Match Report
The form book was tossed out the window at the Estádio José Alvalade as Sporting overcame a 2-1 first-leg deficit and in the end ran out comfortable winners to book their place in the Round of 16 with a date with Atletico Madrid.
Whereas Everton came into their second Europa League fixture in Lisbon this season on a run of just two defeats in 12 games, including, of course, those two handsome wins over England's top two sides this month, Sporting hadn't won a match in any competition in well over a month and the pundits were suggesting that manager Carlos Carvalhal's neck was on the line should his side get dumped out of Europe by David Moyes's team.
If his pre-match comments were anything to go by, Moyes, for his part, appeared to have fired his team to repeat the performance that swept Manchester United aside at Goodison Park last Saturday and grab an early away goal that would have heaped enormous pressure on Sporting.
Unfortunately, his charges never came close with a first half display that must rank alongside the worst Everton fans have witnessed so far this season. Their Portuguese hosts dominated the first 45 minutes, setting about the task of getting the one goal they needed to shift the pressure squarely on the visitors' shoulders with all the purpose and vigour that had been absent on Merseyside nine days ago.
Where Sporting were quick and sharp in their movement and enterprising in the final third, Everton were flat-footed, ponderous and inexplicably profligate with the ball and didn't manage a single shot on goal in the first period. Philippe Senderos, assuming he touched the ball at all, seemed to have scored a minute before the break when he latched onto Leighton Baines' inswinging free-kick but the "goal" was chalked off for offside.
The signs were ominous early on when Joao Moutinho, the former Everton transfer target who had been so anonymous at Goodison that he was hauled off after an hour, was able to easily pick the lock on the Blues' defence and set up Marat Izmailov in the fifth minute, but the Russian was foiled by Tim Howard's one-handed save and Baines hacked the ball clear.
Liedson, he who had given Sporting a lifeline when he robbed Sylvain Distin near the halfway line in the first leg and drawn the foul for the penalty, then fired wide with a shot on the turn before Senderos was very harshly adjudged to have fouled Yannick Djalo outside the box, setting up a direct free kick opportunity for Moutinho. The diminutive midfielder stepped up and crashed a shot off the crossbar, with Abel thankfully hammering the rebound wide.
Without really coming alive at any point, Everton did slowly come more into the game as the half progressed but they consistently failed at even getting the basics right — playing to feet, competing for the second ball, staying onside at free kicks... In general, the players simply wanted too long on the ball and the likes of Diniyar Bilyaletdinov, Steven Pienaar, Leighton Baines and Saturday's unsung hero, Leon Osman, were regularly caught with the ball at their feet before they could get a pass off. Landon Donovan was virtually anonymous, Mikel Arteta subdued, and though Phil Neville was constantly yelling out instructions, he didn't seem to have any effect on his teammates.
The second half was actually fairly encouraging for the first quarter of an hour. Everton still retained their slender one-goal advantage and, even after Senderos succumbed to injury seven minutes after the interval and Phil Jagielka came on, they seemed to be containing Sporting fairly well, restricting them mostly to long-range efforts. Djalo drove well over from 20+ yards and Liedson's flick on Velsoso's cross went the same way, before Veloso himself volleyed over from the edge of the box.
In the 61st minute, though, Moutinho was picked out in the box and he volleyed goalwards, only to be denied by a point-blank spot by Howard, before the American batted Abel's awkward cross-cum-shot behind for a corner. But if Pienaar's attempted curler from 20 yards that drifted the wrong side of the post, the Blues' first effort on goal, suggested that the pendulum might swing Everton's way, Sporting would prove otherwise just a minute later.
Moutinho was again the architect, linking up with substitute Saleiro to put Veloso in behind the defence and he rammed the ball past the stranded Howard to put an entirely different spin on the tie. Everton now needed to come out of their shells and score if they were to stay in the competition and they did start applying a bit more pressure, winning their first corner of the game in the 68th minute. But where aerial pressure had paid dividends in the first leg, the Blues found Daniel Carrico and Tonel in stubborn mood this evening, and there was precious little profit being made of set-piece situations.
After Donovan was removed in favour of Yakubu, though, Saha had Everton's best chance and only shot on target with 15 minutes left. The Frenchman expertly chested a deep cross down and got off a half-volley but his shot was blocked from two yards out and the chance went begging.
And, as before, Sporting responded to a close call at one end by scoring at the other. The ball was eventually worked back to Pedro Mendes, always a superb striker of a ball during his time in the Premier League, and he benefited from a horrible deflection off Jack Rodwell to find the far corner and double his side's lead.
Everton still needed a goal to force the game into extra time but they were painfully unable to fashion much in the final third of the field. With Sporting repelling almost everything they threw at them and the match officials refusing to award even the most blatant of free kicks, it was to be an enormously frustrating conclusion, made all the more agonising by Sporting's breakaway third.
With Everton throwing Blue shirts forward to try and force a goal, Matias Fernandez, an injury-time substitute, raced clear and rounded Howard to roll home into the empty net and set the seal on another miserable evening in Lisbon.
While Moyes promised that his side would go out and hit Sporting with the form they've showed domestically in recent weeks, he was badly let down by his players who looked at times as though they were playing in the maritime conditions they experienced in the Olympic Stadium in Athens in December, so leaden and slow did they look. Just as they did in Liege last year and Fiorentina the season before, his side looked ill-equipped to deal with the higher quality European opposition and disturbingly lacking in any kind of pace.
Having patiently evolved his team in the Premier League and finally shown that his side can live with the best on the domestic front, Moyes now needs to show the same kind of growth — or at least consistency — in Continental competition.
Yes, this tie was probably lost psychologically in the 85th minute of the first leg — and anyone who heard the fury in Moyes's voice in his post-match interview that night would guess that the manager knew it too — but had Everton attacked with the same intensity for the first 70 minutes this evening as they did for the last 20, they might have been able to cause Sporting more problems than they eventually did. Instead, the team that had looked decidedly ordinary and eminently beatable at Goodison came to life in front of their own fans and got the job done on home turf.
For Moyes, perhaps the only positive was Jagielka slotting into defence looking like he'd never been out for 10 months. The focus returns to the League and his attempts to requalify for the Europa League where he can hopefully apply more of the lessons learned this season to advancing Everton's prospects among the best of the Continent's best teams.
Player Ratings:
Howard 7, Neville 5, Yobo 5, Senderos 5 (Jagielka 7), Baines 6, Osman 6, Arteta 6, Bilyaltedinov 4 (Yakubu 6), Donovan 5, Saha 7
Match Preview
And so, back to Lisbon where Everton take what is, thanks to the away-goals rule, a slender 2-1 lead from the first leg of this Europa League Round of 32 tie. Though it looked for periods in the first match at Goodison as though the Blues might put the tie well beyond Sporting, the late drama that saw Sylvain Distin sent off and the Portuguese handed a lifeline with an 85th-minute penalty ensures that Carlos Carvalhal's side can escape into the next round with just a 1-0 win in the second leg.
The flip side, of course, is that Everton come into the second game knowing that should they score an away goal of their own, the balance of power would shift emphatically in their direction and that will hopefully be prominent in David Moyes's mind during his preparations.
Uppermost in the manager's thoughts, though, will be central defensive selection headache posed by Distin's one-match ban. With John Heitinga again ineligible and Philippe Senderos struggling recently with a back strain, Moyes was considering pitching Phil Jagielka straight into first-team action despite the fact that he's had no match practice since recovering from a ruptured cruciate knee ligament.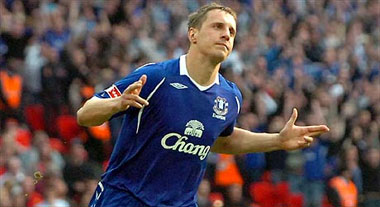 Phil Jagielka:
in the squad for the first time in 10 months
It's obviously a scenario he would like to avoid and it will hinge on the fitness of Senderos, who is also in the squad, or Moyes's confidence in deploying either Phil Neville, Jack Rodwell or even youngster Shane Duffy alongside Joseph Yobo. Nevile and Duffy have, of course, already figured in that position in the Europa League this season — indeed Moyes hasn't been able to play two senior, orthodox centre halves for even a full half away from home in this competition yet.
Tim Cahill is still sidelined with a calf injury so the midfield is likely to be unchanged, with Mikel Arteta, Steven Pienaar, DIniyar Bilyaletdinov, and Saturday's star performers, Landon Donovan and Leon Osman, making up the quintet in the middle of the park behind lone striker, Louis Saha.
Though the reaction from some of the fans and certainly the anger of their manager may have made the first leg feel like a defeat rather than the team effctively leading at half time, it's imperative that the players go into this second leg believing that they can get the job done at both ends of the field.
Certainly, Saturday's superb win over Manchester United, combined with that against Chelsea and the way in which the Blues made Sporting look decidedly ordinary in the first leg, should mean they will be brimming with confidence when they take the field in the Estadio Jose Alvade.
The Lisbon side are still short on confidence of their own — they still haven't won in over a month and could only draw at Olhanense — and if Everton can create chances as easily as they did at Goodison, then that place in the Round of 16 could be theirs.
* Unfortunately, we cannot control other sites' content policies and therefore cannot guarantee that links to external reports will remain active.