Venue: Goodison Park, Liverpool
Premier League
Saturday 20 February 2010; 12:45pm
Bilyaletdinov (19'), Gosling (76'),
Rodwell (90')
Half Time: 1-1
Berbatov (16')
Attendance: 39,448
Referee: Howard Webb
No Cahill or Fellaini both newly injured for this huge game against the perennial foe... one Everton win in 31 attempts!!!
Lots of impressive Everton possession in the first 4 mins with Donovan well involved down the left and even a fantastic solo run in on goal by Leon Osman through massed defence followed by an utterly pathetic shot on goal. But United had had two corners by 6 mins. United committed the first foul when Pienaar had his heels clipped. But Donovan spooned it over everyone straight to Van der Sar.
By 10 mins, United, had their third corner but it was defended well and Everton had a great spell of attack, Bily doing well to clip a lost ball back form the byline but Saha was blocked. However, Saha saw sight of goal and really stung Van der Sar's gloves with a stinger from 20 yards to really get the crowd going. But a simple ball out to Valencia, given too much room, a simple cross that Distin deflected to Berbatov and bang, 1-0 in off the bar.
A real pity after a pretty good start but a pinpoint Route One hoof form Heitinga was defended by two United players and Bily benefited, providing a beautiful Everton response, the Russian controlling the poor clearance and lashing in a superb shot from distance just inside the post past a totally static Van der Sar. Goodison erupted!! Game On!
A free kick won by Pienaar gave Pienaar a chance but he could not beat the United wall. However, Everton kept playing up into the dazzling Goodison sunshine, a great move down the left and a superb low cross from Baines was cleverly left by Saha but Bily skied it under pressure when he really should have made it 2-1. Then a fantastic piece of defending from Neville as Rooney danced past Howard and looked set to score but could not get his kick in with Neville's clever and fully legal shepherding into touch.
Neville gave the ball away to Park criminally for United's sixth corner but yet again, nothing came of them. Everton struggled to regain possession and eventually Donovan ,made another good break down the left, but United defended the resulting Baines corner and broke at speed. However, Everton were defending sufficiently albeit with some visible nervousness.
Some great possession football saw the ball out to Baines who returned it with interest but it bounced back too quickly off Wes Brown's hand (penalty?!) for Donovan, right in front of goal and his panicked swing missed it completely. Should have been 3-1!
Everton continued to press but the very promising moves were breaking down at crucial moments, Baines skying a beautiful chance to deliver a far better cross after some really good build-up work. An excellent first half in which Everton had played really well and deserved to be seriously ahead, but they went in honours even.
After a flurry of hoofballs from Neville at the start of the second half, Osman broke slowly and stumbled over his own legs, incredibly winning a well placed free-kick, Fletcher getting a yellow card for possibly complaining too much but Baines's delivery had no guile and flew well over.
At the other end, a Fletcher snapshot zinged just past Howard's post but it had taken 5 mins for United to even get close to the Everton goal. Everton were having trouble clearing and Rooney clipped in a deep cross for Berbatov who headed it wide. Everton's build-ups after such attacks were too ponderous, Saha even crossing for nobody, and other crosses finding no-one.
Everton were defending well enough and using possession to get up field with reasonable promise, but the moves simply lacked structure, inventiveness and belief. Rooney appeared to come close when he clipped a cut-back from park onto the Everton bar but the ball had already gone dead.
Everton were dropping deeper and deeper, lacking belief and searching for set pieces to allow more formulated attack (and defence!). Arteta was booked for dragging down Arteta as Scholes sand Obertan came on for Berbatov and Park. Ferguson looking to reclaim the midfield? United looked immediately far more confident, A Neville cross causing havoc and then Rooney getting a shot in that went wide.
70 Mins and Moyes made a change, Gosling on for Bily. Gosling looked better down the right, and won Everton's first corner of the second half that Arteta banged in well but United defended away. Pienaar got booked for an ankle-tap on Evra after Webb had wisely played advantage. The Gwladys screamed "Penalty!" as Saha was sandwiched in front of goal.
But seconds later, a nice ball forward form Donovan gave Pienaar a chance to close in on the byline, and his superb cutback reached Gosling who poked it into the goal off his shin through Evra's legs and past a stranded Van der Sar. Fantastic stuff!
Obertan got away from Neville and it needed a tremendous interception from Distin to stop a determined United attack. In response, Everton attacked down the left again with pace and Pienaar fired back a fantastic cross for Arteta to go for glory from the D but he completely fluffed his air-shot. Would have been a fabulous goal...
Owen came on form Valencia as SAF's last attempt to capture the initiative. with 10 mins left a an unbelievable atmosphere inside Goodison. Gosling gave away a free kick that could not beat the Everton wall, but the hoofed clearances just let United come right back at them.
But playing deep was the name of the game, as Gosling broke and overhit his cross to Saha, the ball then going all the way back to Howard. On the next attack, Osman fouled Rooney and got yellow, setting up a very dangerous free-kick that Rooney screwed fractionally past the post off the head of Distin.
Rodwell came on for Pienaar with 5 mins left as Everton defended another corner, and time ticked away. 90th minute and Arteta played the ball to Jack Rodwell, who went for it, skipping past Evra and shooting brilliantly across Van der Sar, into the far side of the net, a real quality finish. Rodwell ripped of his shirt (yellow card, of course) and milked the Gwladys Street adulation, providing the perfect icing on the cake.
There was still plenty of football to be played, and some great end-to-end stuff as United still threatened and Everton continued to reply, a little more calmly now, with whatever they could muster. David Moyes went to bring on James Vaughan but Howard Webb, who had controlled the game well but shown too many soft yellow cards, blew his whistle and Goodison celebrated another even more famous victory than the win over Chelsea 10 days earlier.
Match Report
Everton notched back-to-back victories over the Premier League's top two by taking down Champions Manchester United with another superb come-from-behind win that firmly re-establishes David Moyes's side as contenders for European qualification and, perhaps, dark horses for that much-coveted fourth place.
United came to Goodison Park on the back of a famous triumph of their own in the San Siro in midweek, with the pundits hailing Sir Alex Ferguson's side, and Wayne Rooney in particular, as now being in top gear as the home straights approach in the domestic and European competitions. Everton, meanwhile, might have felt they'd lost to Sporting on Tuesday, such was their manager's anger at the manner in which they handed the Portuguese side a lifeline in their Europa League tie, and with Tim Cahill joining the equally influential Marouane Fellaini on the treatment table, few Evertonians could be blamed for quietly hoping for a draw from what has historically been the least profitable fixture on their calendar.
Everton had beaten United just three times in the Premier League era before today but, having beaten Chelsea here 10 days ago, Goodison Park was again vibrating to the sounds of unbridled joy at full time having witnessed their side magnificently put the title favourites to the sword with two goals in the last 15 minutes.
As had been the case against Chelsea, there were few signs of the thrills to come in the opening quarter of an hour. The visitors looked assured in their passing and dangerous coming forward while Everton struggled to get into any kind of rhythm of their own. Indeed, the void left by Cahill seemed to be keenly felt in the early going, with none of the midfield quintet of Leon Osman, Mikel Arteta, Steven Pienaar, Landon Donovan or Diniyar Bilyaletdinov bridging the gap to Louis Saha on a consistent enough basis and it was hard to imagine at that point how the Blues were going to set about breaking down the United defence.
Osman almost provided a quick answer to that when he danced through the opposition defence in his now-familiarly fleet-footed style but, having done the hard part, he screwed his shot well wide of Edwin van der Sar's far post. Then, after Darren Fletcher had ballooned United's first chance high over the bar and Bilyaletdinov's hook back into the six yard box at the other end had yielded a corner, Johnny Heitinga was shoved down in the box by Rooney but referee Howard Webb waved play on. Another instance of those inconsistent decisions that would have been a nailed on free kick anywhere else on the pitch.
Saha, who seems to get faster and sharper with every game now, was again causing lots of problems against his old club and when he unloaded with his right foot from 30 yards, Van der Sar couldn't hold his shot and a defender hacked it clear before Pienaar could latch onto the rebound.
Two minutes later, though, that all-too familiar feeling that Everton fans get playing United returned. Antonio Valencia was given too much room to attack down the right again and when his low cross was touched on by Sylvain Distin's out-stretched leg and fell straight to Dimitar Berbatov, the Bulgarian had time to control it and hammer the ball high into the goal off the underside of the bar and make it 1-0 to the visitors.
The Blues' response needed to be swift lest this match follow the pattern of so many games against Manchester United before it and it arrived less than three minutes later. Saha challenged a long ball with a Johnny Evans and when it dropped off the defender's head in the path of Bilyaletdinov, the Russian took one touch forward before firing a swerving bullet past the motionless 'keeper from 25 yards.
It was a wonderful strike that encapsulated the talent that Bily possesses when he has the confidence to use it. And after Pienaar had struck a direct free kick disappointingly into the defensive wall, Bilyaletdinov could have put Everton into the lead. Leighton Baines, who was just superb going forward all afternoon, nipped to the byline and crossed low, Saha dummied but Bily could only turn the ball over the bar from six yards out.
In the same minute, Rooney really should have restored United's lead when the home defence was caught cold and he was put clean through in a one-on-one with Tim Howard. Though he rounded the goalkeeper easily enough, his next touch was too heavy and it opened the door for Phil Neville to step in and usher the ball out for a corner.
Everton were in far more confident and cohesive mood now, the old adage of attack being the best form of defence starting to hold true; the better the Blues played going forward and the more they held possession with some neat passing, the less threatening their better endowed near-neighbours from along the M62 looked. But they missed another gilt-edged chance to go into half time ahead when a cross clearly bounced off Wes Brown's hand and dropped in front of Donovan but, surprised, he snatched at the chance and mis-kicked in front of goal. Of course, no penalty award from Mr Webb — Everton haven't been awarded a penalty against United for 20 years, so why start now?
The second half was similarly deceiving of the excitement to come. Indeed, for the first half an hour after the restart, the proceedings had the distinct air of 1-1 about them, with both sides seemingly in recovery mode from a first period that had been played at a fast pace. Osman won a fortunate free kick right outside the United box but Baines fired the free kick over, Fletcher arrowed a shot that flew half a yard wide, and Rooney put his first real shot on goal into the Park End from a tight angle.
As the 70th minute approach, thoughts turned to what Moyes would do to change things up. Saha clearly needed more support up front because Everton just weren't getting enough bodies forward when they attacked but instead of introducing Yakubu, the manager threw on Dan Gosling in place of Bilyaletdinov who had lost his way a little in the second half.
If there had been any doubt about the wisdom of Moyes's decision, it was removed within five minutes of him coming on. Pienaar and Donovan exchanged passes down the left, the return ball by Donovan picking out the South African's run towards the byline and when he cut it back across the six yard line, Saha appeared to leave it and Gosling, having expertly moved off his marker, stabbed the ball past Van der Sar. 2-1 and the goal had arrived at almost the same point as Saha's winner against Chelsea.
Predictably, United came back to life as they searched for an equaliser and Distin atoned for an erratic first-half display with a superbly-timed tackle on substitute Obertan but the visitors never really looked like leveling the game until two minutes from the end of normal time when Osman caught Rooney just outside the Everton area, setting up a free kick in a very dangerous position. In a pivotal moment in the game, though, Rooney's seemingly goalbound shot nicked off the jumping Distin and whizzed inches past Howard's left-hand post.
In between, Pienaar had spotted Arteta running into space towards the edge of the box but though the former's pass was pin-point, the Spaniard, in a moment that summed up how much sharpness he lost with such a long layoff from the game, mis-kicked horribly.
Jack Rodwell was then sent on to shore up the midfield by man-marking Paul Scholes but his impact on the game would be in an altogether more attacking fashion. Osman, who had had a sterling game in central midfield, came out the victor in a tackle with Rooney and Arteta picked up the loose ball. He in turn fed Rodwell near the centre circle in United's half and with space in front of him he surged towards the last line of the defence. Taking the ball wide of Evans, he powered into the area before picking his spot past the 'keeper and then wheeling away to remove his shirt and bury his head in the Gwladys Street End crowd.
3-1 and the four minutes of stoppage time passed without real incident. United were soundly beaten and Everton had registered a victory over the Red Devils for the first time since 2005. Goodison was alive with song, a truly fantastic atmosphere that the players richly deserved for another handsome win.
True, it was not the best they've played this season but by winning so impressively against arguably the best team in the country without two of their best players, they rendered their more tentative moments redundant. They created more chances than their supposedly superior opponents, scored three goals (only Fulham have done better this season by beating Sir Alex's men 3-0) and restricted United to precious few genuine scoring chances.
That should provide the perfect platform of belief on which to start the second leg against Sporting on Thursday. Everton are once again a force to be reckoned with, but the key will now be keeping this head-turning run of form going through the end of the month and into the next where less glamourous fixtures await.
Player Ratings:
Howard 6 — in truth, he didn't have much to do
Neville 7 — better going forward but still not great; dogged defensively when it counted, though
Heitinga 8 — hasn't missed a beat by missing the Sporting game last week
Distin 7 — still has the air of liability about him but had a really good second half
Baines 8 — excellent going forward but might have allowed Valencia a little too much room in the first half
Osman 9 — perhaps his best performance of the season
Arteta 7 — still looking ponderous and lacking sharpness but that's to be expected
Pienaar 7 — hasn't really played at his peak since Arsenal (a) but showed again he's capable of creating a goal
Bilyaletdinov 7 — A terrific goal and some nice touches but flagged in the second half
Donovan 9* — Always busy, always looking to make something happen, regularly tracking back
Saha 8 — Didn't score but put in a very good shift today
Subs:
Gosling 8 — Got straight into the game, scored a goal and helped retain possession afterwards
Rodwell — Really not on long enough to warrant a rating but scored a fabulous goal
Match Preview
Having despatched the Premier League leaders 10 days ago, Everton face the Champions, Manchester United, at a time when Alex Ferguson's men seem to have hit their stride in their challenge for a league and Champions League double.
While the Blues beat Sporting on Tuesday on home soil in the Europa League, United triumphed in their CL first leg match against AC Milan in the San Siro which, combined with their recent win at Arsenal and the thrashings of Hull and Portsmouth, will ensure that they come to Goodison Park in confident mood.
They have, however, been frustrated by more physical teams in the form of Aston Villa and Birmingham on the road in recent weeks and that will inspire Everton as they look to claim another scalp in a month that has improved markedly since the derby debacle at Anfield.
Their task has been made more difficult by the loss to injury of Tim Cahill and Marouane Fellaini, not only vital members of the Blues' midfield but also the last two players to score against United in the last three seasons.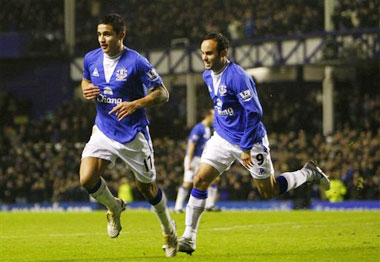 Tim Cahill:
misses the next three games at least
Fellaini's season was ended in the Mersey derby and Cahill pulled up with a calf injury against Sporting, the official diagnosis is a layoff of two to three weeks that will sideline him for final three games in February.
With Mikel Arteta now fit and able to deputise for Fellaini, David Moyes's chief challenge for the visit of United is to replace Cahill's threat up front, with a 4-4-2 formation with Yakubu partnering Louis Saha as one option, or Victor Anichebe playing out wide as another.
In defence, John Heitinga returns after being cup-tied for the Sporting game and he could partner Joseph Yobo if Moyes prefers the Nigerian over Sylvain Distin after Tuesday's drama.
* Unfortunately, we cannot control other sites' content policies and therefore cannot guarantee that links to external reports will remain active.
EVERTON (4-5-1)
Howard
Neville
Heitinga
Distin
Baines
Osman
Arteta
Bilyaletdinov (70' Gosling)
Pienaar
Donovan
Saha
(88' Rodwell )
Subs not used
Nash
Coleman
Yobo
Vaughan
Yakubu
Unavailable
Cahill (injured)
Fellaini (injured)
Hibbert (injured)
Jagielka (injured)
Jutkiewicz (loan)
Ruddy (loan)
MAN UTD (4-4-2)
Van der Sar
Neville
Evra
Brown
Evans
Park (66' Obertan)
Carrick
Fletcher
Valencia (80' Owen)
Berbatov (66' Scholes)
Rooney
Subs not used
Foster
Vidic
Rafael da Silva
Gibson
Premier League Scores
Saturday 20 February 2010
Arsenal
2-0
Sunderland
Everton
3-1
Man Utd
Portsmouth
1-2
Stoke City
West Ham
3-0
Hull City
Wolves
0-2
Chelsea
Sunday 21 February 2010
Aston Villa
5-2
Burnley
Blackburn
3-0
Bolton
Fulham
2-1
Birmingham
Man City
0-0
Liverpool
Wigan
0-3
Tottenham
Premier League Table
Pos
Team
Pts
1
Chelsea
61
2
Man Utd
57
3
Arsenal
55
4
Man City
45
5
Liverpool
44
6
Tottenham
43
7
Aston Villa
42
8
Everton
38
9
Birmingham
37
10
Fulham
34
11
Stoke
34
12
Blackburn
31
13
West Ham
27
14
Sunderland
26
15
Wigan
25
16
Wolves
24
17
Hull
24
18
Bolton
23
19
Burnley
23
20
Portsmouth
16
After 23 Feb 2010