No Mikel Arteta for Everton but the early play from the Blues was so scintillating, it didn't seem to matter. A fabulous move through the middle saw Pienaar complete a beautiful one-two with Cahill and then drive into the aarea where he laid of the perfect ball to Osman on the goal area line with simply nothing to do but score... and he utterly failed. A glorious, glorious chance squandered.
Miniutes latter, a great cross from Baines on the left, Osman runs underneath it, fails to connect at all... then he gets more great ball time but his first touch is too heavy and he can only shoot lamely past the post! The little fella should have had a hat-trick in the first 10 minutes, such was Everton's complete dominance. And of course after 15 minutes of this, it was then time for something of a resurgence from Wolves, who pushed Everton back effectively, and threatened to score themselves.
Everton got a corner on 26 minutes but after lots of jossling in the area it was delivered by Baines strainght into the arms of Hahnemann. Heitinga got wide and sent in a good header across goal but no-one was there to profit from it. The ball came out to Baines in the inside right channel (!) but his powerful first-time shot was straight at Hahnemann.
Some Route One stuff from Distin then allowed Saha to create a tremendous chance, danceing left off his marker and delivering a fantastic rising shot that clipped the top of the bar.
Another free-kick for Everton, driven in by Pienaar, it pinged around until Heitinga laid it off nicely for Cahill to pivot and shoot but instead of burying the ball in the Wolves net, he skied it high into the air. Nervous times at the other end before the break, as Wolves again threatened without creating anything like the claear-cut chances squandered by the Blues. Doyle danced inside Distin and drew a foul in a very dangerous spot, that Jones could only curl toward Howard.
Second half and Everton started by lofting crosses hgh into the area, but looked better when Rodwell drove in, only to dig his foot into the turf as he shot. At the other end, another dangerous free-kick that Jones again curled at Howard, only to be whistled and then booked by Ref Mike Jones for taking it too soon... and allowed to take it again! The second delivery, this time from Foley, was thankfully punched away by Howard.
More pressure from Everton led to a corner from Baines that drew a foul for pushing in the area as the officiating started to break up any structured play, especially with the highly competitive bent of the Wolves players and crowd. Another swinging cross, straight to Saha at the far post and somehow Craddock did enough to put him off, Saha headed over when he should have buried it. At least five glorious chances now squandered...
Cahill won a dangerous free-kick off Craddock that Baines drove at the goal but it flew off the top of the wall for a corner that seemed drawn like a magnet to Cahill's head; however he only glanced the contact, rather than burying it, and Saha could not connect at the far post. Nil for six!!!
Another good move, Osman out to Rodwell, cross to Cahill, laid back for a Heitinga drive... that was waek as rat's piss. How many chances!??? A free-kick was then delivered in a little too deep by Baines that inexplicably Heitinga compltely failed to attack at the far post, where he was wide open! 65 mins gone and no substitutions yet...
Pienaar became the first Everton player to get booked... and the first subs were made by McCarthy on 70 mins. Neville won a free-kick with an easy fall, but Pienaar fluffed a neat cross after picking up Neville's disguised throw. Finally, 76 mins, and Moyes brings on Yakubu for Saha after Zuba ran through seemingly the entire Everon defence and lashed his shot just over.
At the other end, Osman, again in a good position, failed to connect properly and drove another chance wide. Another long throw, this one falling eventually to Pienaar, who's driven shot was heading for goal, deflected for a corner... from which the ball fell to Rodwell but he got underneath it from another great position and his header sailed high over the bar.
10 mins left and the nervous frustration plababale at every turn...But a good steal by Yakubu down the left and another sweeping move, nicely headed back by Osmnan for Pienaar to power home... and he shins it into the ground! Unbelievable!!! Gosling then replaced Osman but little changed, and eventually Bily came on for Rodwell.
89 mins and Gosling wins another corner played short, but Gosling wanted too long. Everton forraged into the Wolves penalty area yet again, a beautiful laydown to Gosling but the ball height was too awkward and Hahnemann flattened him before he could take the required shot. Gosling needed treatment, then a stretceher as time ticked away; he hobbled back on but was merely a crocked passenger as Pienaar, with space and time, could only shoot straight at Hahnemann.
To wrap things up, an incredbile sequence in the 94th minute, a fabulous ball in to Cahill, he clipped it past Hahnemann with a half-bycycle kick, his back to the goal, and it bounced agnizingly toward the line but Craddock was there out of nowhere to scoop it away for a corner. The vital last corner came to nothing and that was it. 6-0 would not have fattered a strong and flowing Everton display... but for a total and inexplicable inability to put the fucking ball in the old onion bag!
Match Report
If the outside possibility of sneaking into the fourth Champions League qualifying spot was a light at the end of the tunnel in February, it was reduced to a glimmer with defeat at Tottenham and all but extinguised by this hugely frustrating draw at Molineux.
Everton have made a remarkable comeback from a dreadful first third of the campaign but their late charge down the rails as dark horses for fouth place looks likely to be undone by a combination of an intemittent lack of killer instinct and inconsistency, perhaps due the continued disruption caused by injuries to key personnel.
Last month it was Marouane Fellaini, this time it's Mikel Arteta who was the architect of Manchester City's downfall in midweek but was conspicuous by his absence today with a groin injury that sidelined him as the Blues looked to kick on with another crucial win.
David Moyes will wonder how his side didn't come back up the M6 with all three points, particularly given the way Everton started this match and created some gilt-edged chances in the early going. They really should have been rewarded for some lovely football in the first few minutes when Steven Pienaar played a one-two with Louis Saha to unlock the home defence superbly before cutting the ball square to Leon Osman. Faced with just Marcus Hahnemann to beat, however, his shot lacked lack convicion and the goalkeeper was able to make an excellent one-handed save.
Three minutes later, a long Phil Neville throw fell at Osman's feet but his first touch was poor and he ended up snatching at his shot and firing tamely wide. Then Saha's weak attempt to bend one around the 'keeper was caught before Osman's third chance was deflected into Hahnemann's arms to end another well-worked Everton move.
Jack Rodwell, Osman and Pienaar were doing a fine job or rotating out to the right flank and with Baines doing his usual bombing raids down the left, it felt as though it was only a matter of time before the Blues' supremacy told and was turned into the opening goal.
When it didn't arrive, though, the home side began to settle and the contest became far more even for the remainder of the first half. Zubar was put in behind Baines and Osman but went for power instead of a loss cross and his effort fizzed off Phil Jagielka's head for a corner. Overall, though, Wolves — unlike Everton — hardly ever looked like scoring.
Baines's speculative effort from 25 yards out was, unfortunately, hit straight at Hahnemann before Cahill wastesd two openings with awful shots, one scuffed horribly wide, the other skied on the half volley from a central position about 10 yards out.
Instead it was Saha who came closest of anyone to breaking the deadlock when he chested down a raking high pass from Sylvain Distin and smashing a left-footer off the top of the crossbar from just over 20 yards.
The visitors started the second half in the same vein as they had the first but, again, there was not enough subtelty on some occasions and too much on others. At times they seemed to really be missing Areta's guile, craft and ability to move the ball around through midfield but clear openings continued to arrive, none more so than when Osman swung in a beautiful 53rd-minute cross but Saha, distracted at the last second by Jody Craddock, despatched a free header over the bar.
A couple of minutes later, Baines' direct free kick was deflected inches over the bar and from the resulting corner, Cahill's glancing header bounced a couple of yards wide, just eluding Johnny Heitinga at the back post. The Dutchman had a chance himself from Cahill's lay back not long afterwards but his deliberate attempt to steer it into one of the corners of the goal just ended up being a pass back to the 'keeper and the chance for him to score his first Everton goal was lost.
Frustration began to creep into Moyes's side as the minutes ticked on. Pienaar was booked for catching Henry late and after Foley's curler had flown over, Zubar squandered Wolves' best opening when, having done the hard part by cutting back inside Heitinga, he blasted a left footer past the far post from the angle.
Moyes's attacking change was perhaps too late and too conservative when it did eventually arrive, Saha pulled off in favour of Yakubu with just 14 minutes left. Osman found himself in space 20 yards out but dragged a poor shot wide, Pienaar's goalbound half-volley off another long Neville throw was deflected wide, Rodwell headed the resulting corner and Pienaar's second chance on the volley a few minutes later bobbled disappointingly through to Hahnemann.
Moyes then threw Dan Gosling on for Osman and Diniyar Bilyaletdinov on for Rodwell as the clock ticked down and it looked for a moment as the first of the two changes would prove to be the difference in the last minute when Cahill headed back across goal for Gosling but he had to take a touch off his thigh that took it too close to the 'keeper and the two players collided, leaving the Everton midfielder prone on the ground with a knee injury.
With Moyes having used all his substititutes, Gosling was forced to hobble on for the final few minutes of stoppage time as Everton depserately tried to force the breakthrough. But Pienaar shot meekly at the 'keeper and then, when he picked out Cahill with a pass to spring the offside trap and the ball bobbled up, the Australian attempted an overhead kick that bounced agonisingly in front of goal before Craddock hacked it away to safety from Wolves' perspective.
So an enormously disappointing result in the final reckoning despite a performance illuminated by some lovely football at times by the Blues. The quality of the fare will be of little consolation to Moyes, though, as another two points slip away.
His charges just seemed to lack the cutting edge when it mattered and game-changing options on the bench, though he may reflect on whether Saha could have played the full 90 minutes and partnered Yakubu for the last quarter of an hour given Wolves' lack of threat at the other end.
Player Ratings: Howard 6, Neville 6, Jagielka 7, Distin 9, Baines 8, Heitinga 7, Osman 6, Rodwell 7, Pienaar 8, Cahill 7, Saha 6 (Yakubu 5)
Match Preview
There were times during the second half against Manchester City on Wednesday that the game felt like a local derby or a do-or-die cup match. It just felt important and you found yourself chewing your nails in worry that they would conjure an equaliser from somewhere and we'd have been forced to go home with the draw that we woudl surely have taken before kick off.
But when that second goal went in, sheer joy, a wave of relief and then an upwelling of enormous pride. Home and away, Everton — a team talked of in terms of a potential relegation battle only a few months ago — had emphatically put Roberto Mancini's expensive outfit in their place.
And now, of course, we're savouring the fact that David Moyes's team really does look capable of challenging the big boys on equal terms — not just grinding their way to a fourth-place finish like they did in 2005 thanks largely to Liverpool's implosion but on their own merits as a proper footballing side packed with talented players.
With that, however, comes the responsibility to get the job done against the so-called lesser teams and the Blues get an immediate opportunity to build on that fourth away victory with a fifth at Wolves this weekend, a match that will not be easy against a team battling, quite successfully at the moment, to beat the drop and one that is unbeaten in three, having beaten Burnley at Turf Moor, held Aston Villa to a 2-2 draw and put three past West Ham on their patch. And no one needs reminding of the two points they denied Everton at Goodison earlier this season.
But this, of course, a different Everton to the one that struggled so frustratingly before players started returning and their form turned around in the winter. With just one defeat in their last seven and sitting fourth in the recent form table, the Blues are in a rich vein of form and will know that if they put in anything like the performance they did at Eastlands this past week, they should be celebrating another three points in their chase for repeat European qualification.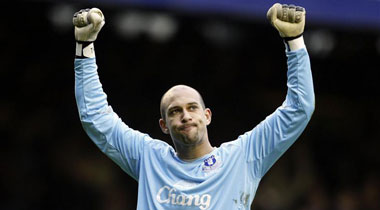 Tim Howard:
Sustained a hip injury against City
Moyes will probably be tempted to name an unchanged team but injury to Tim Howard and a slight hamstring strain for Tim Cahill Could deny him that opportunity. The American soldiered on through the closing stages at the City of Manchester Stadium despite a thigh strain and then a hip injury sustained in a heavy fall in the last 10 minutes, but there has been no word of his condition since, suggesting he will be fine to play at Molineux this weekend.
Louis Saha played 72 minutes without any recurrence of his recent muscle strain and is therefore likely to lead the line again and Leon Osman should continue in midfield. Moyes will check on the fitness of Victor Anichebe too who suffered bruising during the game against Bolton last weekend.
As tricky a game as this could be, top four-calibre teams win at places like Molineux and anything less would be a disappointment. Everton playing their best will have too much for Mick McCarthy's plucky outfit but the key will obviously be them performing at the top of their game.
* Unfortunately, we cannot control other sites' content policies and therefore cannot guarantee that links to external reports will remain active.