Some predictable changes from Moyes, after last week's horror result at home to West Brom. Jagielka was declared fit so Heitinga was the one to step down as Fellaini and Rodwell were paired in midfield, with Coleman back in. But he started with Saha alone upfront, and Cahill in the hole behind him, with Anichebe, Beckford and Yakubu on the bench — along with Osman, returning from injury.
Despite a blocked Distin hoof after the kick-off, Saha got an early chance that he powered tward teh near post but Cech got down well to it, and then Pienaar won a free-kick that Baines curled in to Cech's hands. Another somewhat ragged attack quickly developed .but Baines wellied his shot over when open on the left. Early possession for Neville was poor as he did not know what to do with the ball and Rodwell was no help.
Chelsea's first decent attack came from a stupid Saha giveaway in midfield. Fellaini was just as bad on the next move, as Everton were completely failing to put a nervy Chelsea side under pressure until Pienaar lofted a ball up for Saha. But Chelsea finally got a grip of their passing after about 8 mins, and Everton's chance for an early strike was gone.
Chelsea started to push a very negative Everton side, Rodwell losing possession poorly and surrendering the first corner as the game became solidly encamped in the Everton half. Howard lost the ball and it needed a vital hack from Jagielka. Everton did win a few deep throw-ins that took forever and went nowhere.
A Route One ball to Saha could have been taken better but he lost control of it. Malouda then retaliated with a kick and a shove on Neville after his poor tackle and it was only the excessively generous sportsmanship of Neville that prevented a deserved caution or worse for the Chelsea player. On Chelsea's fourth corner, they hit the bar and failed to score from a series of chances. Neville then got booked cheaply after running in to Drogba — a shocking piece of refereeing.
Chelsea were really not very good but Everton were giving them far too much space and respect. A good run by Coleman showed some better spirit but the ball never got through to Saha. A better move through the middle let Rodwell take a shot from distance but it was always rising. Drogba then did the splits and collapsed in a heap, possibly tearing a groin muscle.
Saha put Ivanovic under pressure and won a throw-in that finally came to Coleman after much laboured crab-passing, his shot was more like a hard cross but Cahill could not turn it in. At the other end, Kalou went close with a looping header, and Everton were lucky when more good movement by Anelka was judged offside.
Then a really typical piece of Everton play saw them finally go behind as Neville dithered pathetically as he had no outlets and then he produced the stupidest of backpasses that Anelka pushed past Howard, who then had no option but to block Anelka's path; penalty but only a yellow because Anelka ran into Howard... so it shouldn't really have been a penalty... and perhaps Distin was back to cover... but it was just desserts for such awful play by Everton when in possession in their own half. Drogba fired home from the spot with ease.
A shockingly poor first half from both sides in truth, and of course an opportunity to go at Chelsea totally squandered by Moyes and his maddening "keep it tight" mentality.
Everton got a little bit of better possession after half-time and from a foul on Saha, a better sequence saw Rodwell pull his shot wide after a great ball in from Pienaar caused havoc. But it was all lacking real conviction. Coleman was having a difficult game down the right, with little going right for him, and Rodwell was yet to stamp any kind of authority on the game.
Come the hour, come the substitutions: Beckford on for Saha... 35 mins in so for him this week! But forced on Moyes by an injury to Saha. Beckford's first attempt was a total joke from the half-way line. At the other end, Chelsea finally started playing a bit, Drogba turning but mishittting a chance at Tim Howard.
Better play set Baines off down the left and a superb cross was met well by Rodwell but his stretching header hit the post and bounced along the line. Better forward play and a brilliant crossfield ball to Baines, from the cross, Coleman headed straight at Cech when the pullback was a better choice. Everton had finally woken up, and won a corner that Baines took from the right, but Jagielka's brilliant near-post flick was just high and wide.
Chelsea were on the back foot, but Ferreira came on for Bosingwa, and possession swung their way after a much better spell from Everton... sadly with still no end product. Everton defended competently enough against a generally poor Chelsea. A good move saw Pienaar feed the ball in for a chance on Cech, and Cahill's studs caught Cech just above the eye, leading to an excessive reaction by Terry and Co, and a yellow cards for Cahill, Terry and Coleman..
Ramires replaced Anelka after a 5-minute spell of treatment on the field for Cech, Pienaar swung in a soft ball that Beckford tried to clip past Cech. At the other end, Chelsea should have scored when Ferreira danced behind Pienaar and squared well for Cole who missed the ball and was then taken out by Coleman, leading to silly screams for a non-penalty. Malouda also had a shot that Howard saved.
Chelsea were applying a lot of pressure as they now felt they could get the second goal, Everton with all 11 back for cornes, unable to break when they did get the ball. But a determined attack down the left saw Baines scamper forward on a brilliant run through three Chelsea defenders and cross deep for Cahill to head it back to the far post where Jermaine Beckford could not miss, powering in a great header past the dispairing Cech to equalize.
Bily came on for Pienaar and Mikel came on for Sturridge. Would Everton go on to press their clear advantage now? Fellaini got into a position and took a sshot that was poor. 7 added minutes gave both sides a chance to go for the win. Coleman won a good free-kick but Baines delivered it too close to Cech and Jagielka had to foul Malouda, getting Everton's fourth yellow card of the game.
Cahill won another free kick for the Vanillas as they sought to pressurize the home side with the minutes ticking away. Fellaini did brilliantly to fire across goal but no-one could make the vital final touch Beckford again did well to turn but his shot was absolutely pathetic.
Everton attacked again, and Fellaini looked to nod the ball to Beckford but incredibly he put it the other way. Billy struggled with the ball under his feet, but he piut in another great cross that was defended away. Chelsea attacked and Howard monetarily dropped the ball just before the whistle finally went, a stirring finish to what had been at times an awful game. But why oh why didn't Everton win this one???
Match Report
Everton snatched yet another point from Stamford Bridge — their fifth draw in succession here in the Premier League — after a stirring second-half fightback that, with a bit more composure in the final third, might also have yielded a shock winner that would have set more cats among the pigeons at Chelsea, a side that looked a shadow of the one that won the title last season.
This was the Chelsea you hardly ever see, frenetic, profligate in possession and being barracked by the home fans, and the Everton you fervently hope to see a lot more of this season, and it was astounding to see Carlo Ancelotti's Champions threatening to implode in injury time as the Blues, playing for the first time in their elegant vanilla third strip, poured forward in search of what have been a deserved winner.
After last weekend's horror show against West Bromwich Albion, David Moyes had publicly challenged his players to step up their performances but he was let down badly by his returning captain, who gifted Chelsea the lead late in the first half with an awful backpass that left Tim Howard stranded.
Hemmed in near the touchline, Neville, as he so often does, turned backwards but his woefully underhit backpass put Nicolas Anelka in on goal with just the goalkeeper to beat. He knocked the ball past Howard but then barreled straight into him, drawing a penalty and howls to referee Lee Probert for a red card from the Chelsea fans. With the official deeming Sylvain Distin to be a covering defender, he sensibly confined the 'keeper's punishment to a yellow card, though it was hard to see what Howard could have done to get out of the way. Once upon a time there was a rule called obstruction and it yielded an indirect free kick...
Didier Drogba rammed the spot kick home and Chelsea were 1-0 up going into the break, a lead they deserved on the balance of play. Everton had started in the manner in which they would end up finishing by controlling the first five minutes of the game almost exclusively and earning the first shot of the game for Louis Saha whose effort was beaten away by Peter Cech.
But the Londoners quickly assumed control after that and it seemed to be business as usual. A suicide pass by Seamus Coleman, who replaced Victor Anichebe on the right flank, left Jack Rodwell in trouble and he was duly robbed by Drogba but Phil Jagielka's block prevented Anelka's shot from troubling the goal.
Two minutes later, Howard got a let off when he spilled the ball at the feet of Salomon Kalou but Jagielka was again on hand to belt it to safety as Everton threatened to buckle under their hosts' pressure and their own inability to keep the ball. Indeed, sloppy passes by Moyes's side were a recurring feature of this game and it allowed Chelsea to enjoy the lion's share of possession for the first hour.
Indeed, they might have had taken the lead earlier than they did had John Terry's looping effort not bounced off the face of the crossbar after his first shot had been blocked by Rodwell and Kalou not glanced a free header wide of the target.
At the other end, Coleman had a half chance from reasonably close range with a cross-cum shot that cannoned the wrong way off Tim Cahill and Rodwell ballooned a speculative effort into the crowd behind Cech's goal as chances for the away side were few and far between.
Far from following Sunderland's lead in taking the game to a Chelsea side who hadn't won in three League games prior to today, Moyes stuck to his conservative approach for the first hour or so and it might have succeeded in keeping things goalless were it not for Neville's moment of madness.
The captain was involved in one other notable first-half incident, one which could and should have seen Florent Malouda sent off. Taking umbrage at being fouled, the Frenchman slapped Neville in the mouth in clear view of the referee. Though he initially reacted by putting his hands to his face, Neville quickly turned and ran back his position before defusing the situation with Probert and keeping Malouda on the pitch.
Probert did not extend him any leeway, though, just four minutes later when he clattered into Drogba and Neville was booked. So much for sportsmanship being rewarded...
Thankfully for the traveling Everton army, the Blues were markedly better after half time but it was the substitution of the injured Louis Saha for Jermaine Beckford that seemed to provide the catalyst for an increasingly attacking approach. Up until the French striker was pulled in the 58th minute with an ankle injury sustained in a tackle with Ivanovic, a Rodwell shot that he dragged wide on his weaker foot was the only effort on goal either side had mustered since the restart.
But that changed in the 61st minute when Everton seemed to moveup a gear, starting with Rodwell connecting with Baines's superb cross but then watching in disbelief as his header hit the inside of the post and bounced across the face of Cech's goal and out to the other side where it was cleared.
Another Baines center a minute later found Coleman at the back post but from a tight angle the Irishman could only plant a header into the 'keeper's arms before Rodwell again tested Cech with a deflected effort in the next attack.
Still the Blues applied the pressure and when Jagielka rose to meet Baines' corner from the left and glance a header across goal, it looked as though he'd leveled matters but, agonisingly, the ball sailed the wrong side of the post.
20 minutes of stalemate ensued, much of which was taken up by a five-minute stoppage to treat a facial wound to Cech that he sustained in a challenge with Cahill, the Australian's trailing boot catching the Czech above the eye. When play resumed, though, it was until the 82nd minute that the next chance arrived and it very nearly resulted in the killer goal for Chelsea.
Paulo Ferreira easily drifted past Steven Pienaar on the right wing and crossed low but Ashley Cole missed the ball on front of goal before being taken down from behind by Coleman but the referee waved play on.
That spurred Everton into a 10-minute spell of almost ceaseless pressure, one that turned the match on its header, giving the impression that it was they who were the home side and not Chelsea. And when Baines finished a superb run by swinging a cross in to the back post and Cahill headed back across goal, Beckford was on hand to head the ball home from close range to grab a deserved equaliser.
Sensing blood, Everton kept coming forward and Ancelotti's side threatened to collapse, routinely giving the ball away and inviting more pressure on their teetering defence. But Marouane Fellaini shot when he should have slipped in one of either Cahill or Beckford for a one-on-one chance with Cech, and again the Belgian went for glory a couple of minutes later, smashing the ball across goal rather than trying to find another vanilla jersey in the six-yard box.
Beckford then wasted the last chance of the game blasting over the edge of the box when there was support better placed to his left.
So overall a point well earned and a much-needed confidence-booster, but you left the game feeling that the Blues could have won this had they either kept their heads a little in the final minutes or started to take the game to Chelsea earlier on. Much in the way they did against Sunderland, Ancelotti's side looked visibly shaken once the Blues started coming at them and they certainly had to content with a lot of frustration from the stands.
Beckford will obviously gain confidence from his goal and Fellaini made a fine return to central midfield with a good performance alongside the equally impressive Rodwell. Neither midfielder showed that they can turn reliable provider in the final third, though, a role usually fuflilled by Mikel Arteta when he's in form or by Pienaar when he is playing in the centre so, with Saha often isolated during the first half, the attacking threat was limited at times. But that changed in the second half when Baines began getting forward and pinging crosses in, something that Chelsea weren't always able to deal with.
Wigan at home next and the Blues have to take this momentum back to Goodison and start putting three points on the board. What price Beckford gets the starting role in that one, particularly if Saha is injured?
Player Ratings:
Howard 5 - Not much he could have done to prevent the penalty but made a couple of potentially dangerous handling errors
Neville 6 - Horrible mistake for the Chelsea goal but otherwise unremarkable
Jagielka 7 - Better this week, particularly with his long-range distribution
Distin 8 - Continues to be a rock in central defence. Almost nothing gets by him one-on-one
Baines 7 - Defensively, continues to stand off his man too much but going forward he is a threat, providing a string of good crosses
Rodwell 7 - Looked composed for the most part. A solid return to the starting line-up
Fellaini 7 - Did well breaking up the play in a defensive midfield role but lacked composure in the final third
Coleman 7 - Lots of energy, lots of running. Managed to have a decent game without anything really coming off for him
Pienaar 7 - I still maintain Everton are half the team without him in it but, ironically, the goal was scored after he'd come off injured
Cahill 7 - Nice assist for the goal but an otherwise workmanlike performance against a physical Chelsea defence
Saha 6 - Didn't get much of a look-in after his early chance
Beckford 7 - In the right place at the right time to score the goal but also provided more great movement
Bilyaletdinov - Not really on long enough

Match Preview
With crisis starting to take root after last weekend's ugly 4-1 home defeat to West Bromwich Albion, David Moyes takes his Everton side to the reigning Champions, Chelsea who are surprisingly struggling for form themselves.
But with Carlo Ancelotti looking to right the ship as he welcomes John Terry back after injury, few fixtures could be more difficult for the Blues to try and find the answers to their current malaise.
Moyes's own captain should be fit, Phil Neville returning after missing the WBA defeat because of fluid on the knee and he is the likely replacement for Tony HIbbert if the manager feels he needs his leadership qualities back in the team.
MIkel Arteta, of course, will be missing as he starts his three-match ban but Marouane Fellaini is eligible having completed his own suspension and provides a natural replacement. Phil Jagielka is listed as doubtful, though, but it's not clear why. That could mean a return for John Heitinga to the central defensive role in which he excelled for Everton last season and for Holland in the World Cup in South Africa.
Having admitted in his pre-match press conference that his players are not getting the job done, the rest of his line-up — permanent fixtures like Leighton Baines, Tim Howard and Sylvain Distin aside — might be up in the air.
Yakubu or Louis Saha could start up front alongside Tim Cahill — it's unlikely Jermaine Beckford will be asked to lead the line against Chelsea — and it's open to question whether Victor Anichebe did enough last weekend to be preferred again over Seamus Coleman. And if Heitinga moves into defence, Jack Rodwell is an obvious option to fill in in central midfield.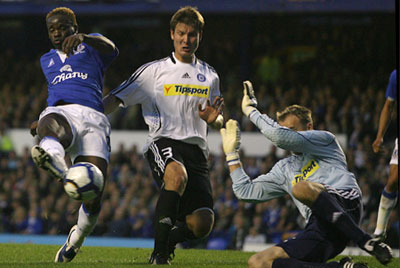 Louis Saha:
Scored home and away against Chelsea last season
Last season, of course, a gutsy, never-say-die performance earned the Blues a 3-3 draw and Moyes would almost certainly take the same again this time as he searches for anything to build confidence among his squad. Paramount will be the players' attitude in a testing game which Everton go into just a couple of points above the drop zone.
* Unfortunately, we cannot control other sites' content policies and therefore cannot guarantee that links to external reports will remain active.