Premier League
Saturday 25 September; 3:00pm
With injuries beginning to bite again, forcing Moyes's hand, and him talking openly of using Seamus Coleman in midfield, there's hope for a better deployment of the players availbale as Everton search for their first league win to turnaround what has become an abysmal start so far. Osman was out with bruised ribs but Cahill was declared fit and will no doubt play in that supporting role to Yakubu, lone striker of course.
Arteta took an early corner short but Baines's lofted coss was very poor, though he then did better with a more conventional one as Everton ran everything down the left. Fulham's first shot was long range from Simon Davies.
After some good early possession that chacracterteristically went nowhere, an excellent ball from Baines in to Cahill saw the Everton player tumble but the free-kick was odly awarded against Cahill. Pienaar then got hold of one on off a throw-in, but straight at Schwarzer. Everton were prodcuing good approach play, Coleman going on a nice run, but the final ball as ever just not coming for the Blues.
Pienaar won a free-kick wide left that Arteta curved in but the Fulham defence were all over it. Coleman won one on the other side and Baines this time put in a decent cross. Coleman on the other side was really getting the feel for playing right midfield, and running well at the Fulham defence. Lots more sustained passing but no end result, a fliked cross ending up with the goalkeeper at the midpoint of the half.
Baines then saw some space and went for a driving run that won one corner, then another but nothing came of them. Pienaar cut in and tried a shot that was horrendous. After more dreadfully inefective possession play, Arteta saw some space and pulled off an excellent shot form distance that Schwarzer just touched around the post. Best attempt of the half.
It continued into the second half... a frustrating lack of penetration from the Blues as ever, while Fulham gained confidence from their ability to restrain the powder-puff efforts of the almost non-existent Everton attack. Cahill tried and failed with a bicycle kick, before giving way to Osman on the hour mark. A free-kick was driven in hard by Arteta but careened off Murphy's head.
A better move saw a great cross from Coleman on the byeline that Yakubu fluffed at the near post and Osman had no belief or committment to finish at the back post. Best chance of the game gone begging. As the clock ticked on, both teams finally started to play with a little more belief and committment but the game as a spectacle was poor.
Yak did well to turn his man, advance and shoot but it just lacked the power and determination to beat Schwarzer, who palmed it away.
Bilyaletdinov came on for the last 3 mins, but odd to bring off Coleman, who is the one player that could perhaps feed Bily. Yakubu came close off a bouncing ball from Osman, but lashed it just wide. Fellaini set up Yakubu brilliantly for the last kick of the game but his shot was quintessential powder puff suff as he passed it back to the keeper, and Howard Webb blew to end another ineffective display from the Blues.
An away draw at a bogey ground will go down as an acceptable result but really this was simply a continuation of Everton's attrocious start, with no decent attacking play or penetration on goal to speak of. The first clean sheet of the season, though... and the way Moyes thinks, that will be hailed as fantastic progress and a great improvement. Only problem is... we're now BOTTOM of the Premier League!
Match Report
A distrastrous start in the Premier League compounded by another ignominious League Cup exit at the hands of lower-league opposition... the lens through which 2010-11 is now being viewed has clearly shifted, with survival and then, hopefully, a drive towards European qualification the new focus for a team of whom so much more was expected. Champions League? You're 'aving a laugh...
In that respect, a goalless draw at Craven Cottage, a ground on which Everton have won just once since the 1950s and have seen dominant first-half performances give way to depressing defeat in more recent seasons, should be viewed as the first step in getting back on an even keel. That shouldn't mask the Blues' continuing problems, though, chiefly a lack of firepower, an inability to turn majority possession into scoring chances, and David Moyes's stubborn adherence to his notorious conservatism and mis-placed loyalty to certain players.
On the last score, at least, the manager finally answered the clamour from many quarters to relegate Leon Osman to the bench and play Seamus Coleman in right midfield (the Irishman didn't disappoint). And with the manager's confidence in Jermaine Beckford shaken — or, at the very least, his reluctance to burden a striker with so little top-flight experience with the task of firing a losing team to its first victory — he had no real option but to play Yakubu despite him still being short on match fitness and Tim Cahill with his left knee heavily strapped.
But when the Australian had to go off after an hour because of that injury, it was Osman and not Beckford who was thrown into the action, even though Everton were still in the ascendency. Score one more for mystifying tactics and team selection...
If the fans who traveled down to London for the second time in a week were looking for a response to the twin calamities against Newcastle and Brentford, they were encouraged by the start the Blues made to this game, completely dominating as they did the first half hour. But yet again, they couldn't translate that overwhelming superiority into goals. Steven Pienaar, so disappointing against the Barcodes, was back to his busy and enterprising self, Leighton Baines was making forays down the left and Coleman was taking most opportunities to send shivers down the spine of the Fulham defence with determined runs straight at them... but there was precious little in the way of end product.
Mikel Arteta started off playing too deep and Maroune Fellaini, in a slightly more advanced role in the early going, seemed unsure what to do when faced with the home defence in front of him, choosing instead to go sideways instead of trying to carve open the defence with an incisive pass. Of course, much credit went to Fulham who, like Everton, chased everything that moved and doggedly closed down spaces and it was that equality in effort that lent the match an air of "goalless draw" even as early as the first half.
Though the Cottagers barely touched the ball for the first five minutes, it was Simon Davies who had the first real effort on goal when he sent a speculative drive over Tim Howard's bar from distance. Everton's first chance arrived in the 12th minute when Pienaar latched onto Yakubu's chest back but his left-footed shot was straight at Mark Schwarzer. Despite all that possession, however, they didn't really test the Australian again until Arteta lashed a 30-yard shot towards his left-hand post and the 'keeper palmed the ball wide.
In between, Dickson Etuhu had planted a header straight into Howard's arms and Zoltan Gera had driven wide from 25 yards from rare attacks by Mark Hughes's side.
The second half was more even and Gera clipped one wide before Howard superbly parried away a powerful shot by his international teammate, Clint Dempsey, on the hour mark. At the other end, Cahill's last contribution was to send an acrobatic overhead kick a couple of feet wide but with the Evertonians hoping for two up top, Moyes sent on the increasingly maligned Osman in a left-sided role and left Beckford watching from the bench.
To his initial credit, Osman did test Scharzer with his first touch, a smart half-volley from just outside the area but, again, it was straight down the 'keeper's throat and was easily caught. Still, though, Yakubu had toiled impressively in the lone striker role without so much as a sniff of a chance. That was until Coleman's excellent 66th minute turn and burst to the byline that ended with a low cross to the near post, but the ball eluded the Yak and scooted across goal to the far side.
11 minutes later, it was Yakubu's turn to exhibit a little flash of brilliance, shrugging off Brede Haangeland and advancing into the box before unleashing a low drive towards the far corner before the tackle came in from a supporting defender. Unfortunately, Schwarzer pushed his effort away for a corner that was eventually wasted by yet more poor crossing by Arteta. Yakubu rolled Haangeland a second time a few minutes later but fired over before he popped up again in injury time with a first-time shot that flew a foot wide of the post.
That looked to be that but there would be one more gilt-edged chance for the Yak with the last chance of the game. A terrific passing move, probably Everton's best of the match, ended with an elusive defence-splitting pass to the feet of Yakubu but with just Schwarzer to beat, he rushed his shot and stroked the ball tamely into the 'keeper's grateful arms.
With Louis Saha injured and James Vaughan on loan, the focus of much of the supporters' frustration has been directed at Beckford's lack of top-flight experience or Yakubu's weight and perceived indifference. Before today you could have counted on one hand — hell, probably two fingers — the number of genuine goalscoring opportunities those two forwards numbered between them, but the Yak could have put all that to rest had he buried that opportunity. Like James Beattie and Andy Johnson before them, Beckford, Saha and the Yak have seen the service all but dry up and their goals return evaporate while the expectation on them to score goals has remained unchanged. But if he keeps spurning chances like that, Yakubu will have nowhere to hide.
That said, it should be acknowledged that he created two chances for himself, took another that sat up for him very well, and was in the right place at the right time for that stoppage time chance and one can only hope that the goals will come with increased match sharpness. Certainly he doesn't have much competition for the striking role right now so it's all in his hands.
A clean sheet and an away point it may have been but Everton were the better side today and they still didn't win. Moyes has always had his critics, most of them silenced during the latter half of last season when it seemed for all the world like his evolution at Goodison had finally culminated in a side capable of breaking into the top four, but his public acknowledgement that he was worried over the summer about his team's ability to score goals this season was followed by a failure to do anything tangible about it.
His mystifying refusal to deploy two strikers in an effort to salvage games from losing positions — or even go for victory from positions of parity— and an insistence on persisting with ineffective players in midfield instead continues. Apart from a few brief minutes against Wolves, Moyes has steadfastly shunned a two-pronged attack this season, quite a change from a couple of seasons ago when he'd routinely seek to press home his side's advantage by throwing on a second striker. To these eyes, both Yakubu and Beckford would benefit from playing alongside each other, but conservatism wins out every time at the moment...
Still, a point at least stops the rot and offers something on which to build ahead of another difficult away assignment at Birmingham. Plenty of work to do on the training ground before then, though.
Player ratings:
Howard 7, Neville 6, Baines 7, Jagielka 6, Distin 8, Fellaini 6, Arteta 7, Coleman 8, Pienaar 8*, Cahill 7 (Osman 6), Yakubu 7
Match Preview
There can''t be anyone connected with Everton Football Club, player, employee or fan, who could have conceived of a worse start to a season that promised so much. A campaign that was supposed to finally yield Champions League football for David Moyes's patiently-assembled side has instead begun in the worst fashion for 25 years and left only question marks over where the Blues go from here.
The first hints at an answer will come at Craven Cottage this weekend as Moyes's Everton look to repair some of the damage inflicted by two humiliating defeats at the hands of Newcastle United and Brentford and a return of just two points from five games.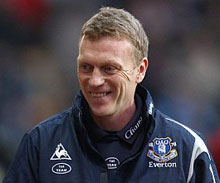 David Moyes:
Facing another mountain to climb
Again, the manager's response in terms of team selection — if there will be any — will be as important as anything, particularly in attack where his options have been limited to just Yakubu, Jermaine Beckford and impotent combinations of Tim Cahill and Marouane Fellaini.
With Louis Saha and Victor Anichebe injured and Cahill himself battling a knee injury, Moyes has few options and with this being an away game on one of Everton's least profitable grounds, it's hard to see him breaking his cagey ways and deploying two strikers to help add some firepower.
In truth, there are problems all over the field, not least the void of creativity on the right flank and the fact that Mikel Arteta and Fellaini in particular are not performing anywhere near the levels we've come to expect. Getting his best players to perform is going to be the key to whether Moyes can salvage something from a season that looks doomed from the start.
A result at Fulham will, of course, be the first step and, as they're so fond of saying, the players and manager must take it one game at a time, put one foot in front of the other and battle their way out of the mire they've created for themselves.
* Unfortunately, we cannot control other sites' content policies and therefore cannot guarantee that links to external reports will remain active.
FULHAM (4-4-2)
Schwarzer
Kelly (28' Baird)
Salcido
Hangeland
Hughes
Gera (55' E Johnson)
Murphy
Duff
Etuhu
Dempsey
Davies (71' Kamara)
Subs not used
Etheridge
Halliche
Riise
Greening
EVERTON (4-4-1-1)
Howard
Neville
Jagielka
Distin
Baines
Fellaini
ColemanBilyaletdinov
Arteta
Pienaar
Cahill (61' Osman)
Yakubu
Subs not used
Mucha
Heitinga
Barkley
Gueye
Beckford
Unavailable
Hibbert (injured)
Anichebe (injured)
Rodwell (injured)
Saha (injured)
Vaughan (loan)
Yobo (loan)
Premier League Scores
Saturday
Arsenal
2-3
West Brom
Birmingham
0-0
Wigan
Blackpool
1-2
Blackburn
Fulham
0-0
Everton
Liverpool
2-2
Sunderland
Man City
1-0
Chelsea
West Ham
1-0
Tottenham
Sunday
Bolton
2-2
Man Utd
Newcastle
1-2
Stoke City
Wolves
-
Aston Villa
| | Team | Pts |
| --- | --- | --- |
| 1 | Chelsea | 15 |
| 2 | Manchester United | 12 |
| 3 | Arsenal | 11 |
| 4 | Manchester City | 11 |
| 5 | Aston Villa | 10 |
| 6 | West Brom | 10 |
| 7 | Fulham | 8 |
| 8 | Tottenham Hotspur | 8 |
| 9 | Blackburn Rovers | 8 |
| 10 | Newcastle United | 7 |
| 11 | Sunderland | 7 |
| 12 | Bolton Wanderers | 7 |
| 13 | Birmingham City | 7 |
| 14 | Stoke City | 7 |
| 15 | Blackpool | 7 |
| 16 | Liverpool | 6 |
| 17 | Wolverhampton Wanderers | 5 |
| 18 | Wigan Athletic | 5 |
| 19 | West Ham United | 4 |
| 20 | Everton | 3 |