The Time is Right to Move On
By
Lyndon Lloyd

:: 24/07/2012

Comments
(76)
jump to end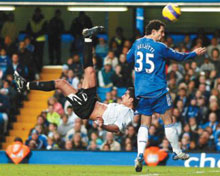 Moment of magic: Cahill's stunning overhead kick at Chelsea in November 2007
It's not uncommon for players, through sheer longevity, to come to represent an era at a football club. It's rare that a player ends up defining that era, but it's fair to say that Tim Cahill, without question the most important Everton player of the past decade, has done just that.
From his transfer fee — in hindsight, a ridiculously low £1.5m — to his spirit, determination, commitment and moments of brilliance, in his eight years at Goodison Park the 32 year-old has epitomised the Blues under David Moyes's tenure. And though his time on the Blue half of Merseyside didn't yield the silverware his talents and endeavour deserved, Cahill can nevertheless look back on a hugely successful career, and not just because of his elevation to iconic status in Australia for feats performed on the world's biggest stage.
Like Duncan Ferguson before him, Cahill became the standard bearer for a club still struggling to make up the ground lost in the 1990s and to reclaim former glories, playing as he did with unmistakeable passion and pride for Everton Football Club. And like Ferguson, he will likely be forever Blue, a willing ambassador for this Club long after his playing days are over, and a player cemented in the folklore of one of England's most storied sporting institutions.
Plucked by Moyes from Millwall in the then First Division in 2004, Cahill offered plenty of raw promise but the way in which he took to life in the Premier League probably surprised even his new manager. Though his uninhibited and occasionally reckless style had made him a magnet for yellow cards — 17 of them — in his final season at the New Den, the Sydney-born player demonstrated his innate self-confidence and blossoming maturity with a stunningly accomplished display on his debut... in the cauldron of Old Trafford no less. It was a composed, orchestral midfield display the like of which would make him so important for his country at the World Cup Finals in 2006 but it would prove out of character from the majority of the career at Everton that would follow.
The Tim Cahill that supporters at Goodison came to know and love was the altogether more rambunctious and attacking player who would score the winner at Manchester City in his first full game for the Blues and go on to finish his first season at Everton 12 with goals, his best haul in the top flight. It helped steer the post-Wayne Rooney Blues to a fourth-place finish and a crack at the Champions League group stages, one that would end in heartbreak at the hands of Villarreal and Pierluigi Collina.
In all, Tim scored 68 goals for Everton in 278 appearances, so many of them crucial strikes for a team that, historically under Moyes, struggles for goals. Time and again during his eight years in a Royal Blue jersey, the combative Aussie would rescue his team, popping up with now-legendary aerial ability to head home a crucial set-piece or pounce with predatory instinct on a loose ball in the box and stab it home.
Along the way, Cahill became the scourge of the likes of Liverpool and Manchester City, becoming the first player since Dixie Dean to score in three consecutive Merseyside derbies, becoming the Blues' top post-War goalscorer against the Reds, and routinely, it seemed, grabbing the winner against the Sky Blues even after their overnight transformation into the world's richest club.
A player in the Dave Hickson mould, Cahill would almost literally smash his way through brick walls for the Everton cause, taking a pummelling from opposition defenders, putting his head in harm's way and playing through the pain barrier for a manager all too often squeezing everything he could out of an uncomfortably small squad.
But his resilience, physicality and courage sometimes belied his athleticism and his ability to pull off the spectaclular; never more so than at Stamford Bridge in November 2007 when, in the final minute of a game Everton were losing by a single goal, he executed a stunning overhead kick that flew into Carlo Cudicini's net and earned the Blues a point. Mr Reliable, Talisman Tim.
If there was to be a point of friction and contention in an otherwise inspiring Everton career, it was Cahill's seemingly insoluble battle between club and country. His unwavering commitment to both arguably hastened the peak of his powers and brought on the diminshment of his effectiveness for the Blues over the past 18 months.
Years of gruelling domestic football, spells of playing through various metatarsal fractures and muscle injuries, compounded by a relentless international schedule involving numerous flights to the other side of the globe, led many to feel as though Cahill had reached burnout. In his ceaseless desire to give his all to everybody, he arguably shortened the lifespan of his career at the top level.
The term "legend" is bandied around a lot these days and though it's literal definition surrounds historical or unverifiable stories, as far as sporting achievement goes, most fans are aware of what the term invokes. Cahill doesn't have the mesmerising ability of an Alex Young or the sheer goalscoring prolificacy of Dean, and — again, like Ferguson before him — he may have become a source of frustration due to the style of football his presence in the team encouraged or necessitated, but even if his pure footballing contributions alone haven't elevated him to legend status — to these eyes they arguably did — when you factor in what he has done for and come to mean to the Club, Tim has surely earned the title of Everton Legend.
Flying the Blue flag abroad, particularly in his native Australia, and a model professional inspiring a new generation of fans at home, Cahill has become a proud ambassador for Everton FC. Unquestionably loyal to club and country, a devoted family man, a warrior on the pitch and, most importantly, a goalscoring saviour in Everton Blue, Tim has earned this chance to leave Goodison if not at the very top then at least before lasting damage was done to his legacy. In his heart of hearts, he must feel what most of us feel — that the timing is right for both parties.
His move to Major League Soccer provides him with a chance to blaze one more trail in an entirely different setting, one that is more condusive to his young family settling quickly than perhaps the more exotic locales of China and the Middle East.
Much has been made already of the small return that Everton have agreed to receive for a player who has two years left on his contract and plenty more to offer in England's top flight but if this is the Club helping smooth the way to a lucrative swansong, then I don't think we can begrudge a player who gave the Blues so much in eight memorable years.
So long, Tiger Tim, and thanks for the memories!
Reader Comments
Note: the following content is not moderated or vetted by the site owners at the time of submission. Comments are the responsibility of the poster. Disclaimer
Dave Wilson
487
Posted 24/07/2012 at 06:24:20
"Tim has earned this chance to leave Goodison if not at the very top then at least before lasting damage was done to his legacy" - spot on
The Tigers time was up, truth be known he has been past his best for some time now, but this is a time to remember his achievments.
His magnificently timed header at Old Trafford, His acrobatics at The Bridge, The way he halted RS celebrations in the dying minutes at Anfield,.
We`ll always remember his unique celebration at the corner flag - boy did City fans hate that.
Thanks for the memories Tim lad.
Jon Doran
488
Posted 24/07/2012 at 06:38:03
Wish Tim all the very best for him and his family. For me, he's a legend and will be missed. Hope we don't regret letting him go!
Adam Baig
490
Posted 24/07/2012 at 06:47:38
Sad to see him go, but the time is definitely right. For me, pound for pound, there hasn't been a better signing in the whole premiership era.
Maybe the style of play will change now he's gone, but we need to start bringing some more in or we will be wishing he was still here!....
Mike Green
492
Posted 24/07/2012 at 06:59:14
Agree with every word Lyndon.
You could also argue that he's leaving us while he has some resale value, however small, as a parting gift to invest back in the club. Nice that he's got a good move out of the country too, means he won't have to play against us and remains 'true blue' at the top level.
Hopefully the club will arrange some sort of send off, a Hall of Famer if ever there was one. I just hope he's reading all the messages on here, he deserves all the accolades he gets.
Ronald Low
494
Posted 24/07/2012 at 07:17:47
Thanks Tim for the memories. You will always be remembered. Will miss the flag punching when you are are gone.
Everton till the day I die!
Sam Morrison
499
Posted 24/07/2012 at 07:25:20
Very nice summing up, Lyndon.
I think most of us would agree that it's good timing. For me Tim would have remained a legend whatever he did, but the longer we played him as his impact continued to lesson, the less enamoured of him many fans understandably became.
It's that curious thing about football - we demand loyalty, but only when it suits us. I'm with Lyndon in that for many reasons I see him as a legend; but I'm also glad that he - and Moyes, in terms of his mindset - is moving on.
And we can remember him as we and he would like us to.
Sam Hoare
501
Posted 24/07/2012 at 07:32:06
Great article Lyndon.
Tim encapsulates everton under David moyes, hard-working, passionate, effective, determined and all for very little money. Surely our most notable talisman since ferguson. He goes at a good time with everyone's blessing.
For everton will this represent the start of a new era? Perhaps consisting mainly oftge type of football witnessed at the end of last season? Will a Cahill replacement be bought in or will fella or Naismith take on the role? Bold new times.
Andy Parsons
503
Posted 24/07/2012 at 07:37:59
Can't believe he's going. The Premiership is full of mercenaries and in Cahill, we had the complete opposite - somebody who kids could look up to as a hero. There'll come a point this season when we'll wish we hadn't let him go.
Bob Willis
507
Posted 24/07/2012 at 07:58:37
Common sense has prevailed - all round.
Another chapter closes.
Tom Brown
509
Posted 24/07/2012 at 08:10:31
He's been one of the pillars holding up the roof at this club. Huge contribution over the last 8 years and a real class act in every sense. Hope we see him back at the club for years to come, even if it is just sitting watching the game. Thanks Tim!
Paul Gladwell
510
Posted 24/07/2012 at 08:14:40
A great article, really gutted he is leaving, feel the same I did when Howard ripped my Everton heart in two by getting shut of Beardsley, but I also agree it is time for him to leave, it`s just a pity he never had a chance to say a proper goodbye.
You don't get players like this much now and it wont be till five or six years time will people really realise what he gave to the club in shitty times, he is every bit a legend to the medal winners I have witnessed over the years, good luck mate I shall make sure I`m at the first legends doo he is invited too.
John Waugh
512
Posted 24/07/2012 at 08:23:54
A true gentleman and a great player who will be welcome to return at any time. I personally won't forget how he met my youngest son outside the Park End carpark before a game and couldn't have been more friendly and welcoming to us. Goodison will be a poorer place without him.
Kase Chow
517
Posted 24/07/2012 at 08:40:35
Top top player
Top top man
Goodison Park is a pooer place for his absence
Anto Byrne
521
Posted 24/07/2012 at 08:25:56
Cahills late arriving header from a pinpoint Piennar cross at Old Trafford was what this bloke was all about. Thanks for the memory and the work you did keeping this club in the prem.
Phil Roberts
523
Posted 24/07/2012 at 08:49:39
January - loan deal for Donovan and Cahill. We can but dream.
I can only echo the comments. Great honest guy who did it for football and his pride and the money was a bonus. Very few like like him and he will be missed.
Matt Traynor
529
Posted 24/07/2012 at 08:51:26
Great player, and a great ambassador for the club.
Back in April 2007 I sent the club an email to see if we could get him to a Fans' night in Singapore in June, when the Socceroos were due to stay for a 10 day training camp prior to their inaugural Asian Cup after switching Federations from Oceania to Asia.
At the time he had the first of his metatarsal injuries, and it was touch and go that he'd recover. The club quite rightly told me it was not their call, and I'd have to contact Football Federation Australia. The club also said they'd casually mentioned it to him and he was up for it.
I emailed FFA and duly gave me a call saying they'd considered it, but would not be able to comply, and thought that was the end of it. They did put me on their circulation list, and when the squad was announced I noticed he was on it.
A few days later I was in my office and received a phonecall from an Angry Aussie who, in amongst the expletives, mentioned he was the Team Manager (not the then Coach, Graham Arnold, but another backroom guy). "You fuckin' got to 'im didn't ya?" I of course didn't have a clue what he was on about, but he then went on to tell me that Tim had told the management that he was going to do it, and they were to contact me to fix a date.
Venue duly booked, free of charge courtesy of the Aussie General Manager, we set about the plans. Singapore Everton Supporters Club set to work and compiled a guest list, I got a presenter from ESPN to ask the questions, and ESPN were going to film it (duly knocked on the head by FFA when they reviewed our "Event Plan").
A couple of days before the planned event, another phone call, and apologies for the short notice, but the coach needed the players that Monday night. They asked could we do Tuesday, knowing full well that it would be a pain to shift it at that short notice. "No problem, I understand you need to prepare for a major tournament, let's do Tuesday" I countered. Mutterings, and "Ok, pick us up from the hotel at 7.30pm".
The supporters club mailed out everyone - some of them were travelling from neighbouring Indonesia and Malaysia. The evening arrives and I'm waiting in the hotel lobby, with the ESPN presenter, our driver for the top end BMW (guess who the MD of BMW in Singapore supported?) A few of the back-room boys came down (and they were HUGE - what do they feed them?), apologised for the delay, and finally Tim appears. Nervously I went forward to introduce myself, but he was straight over, shook my hand and said he was really looking forward to it.
On to the venue, Z-cars booming out as we walked up the stairs, and to my relief it was rammed. My surprise for Tim was to have the woman who was his baby sitter when he was growing up at the top of the stairs to say hello, they hadn't seen each other since he was a kid, and it was Tim's mother who'd told her to get in touch about the event! (I think she maybe inspired him to play football, as her name is Pele!)
The FFA had their own camera crew with them, and seemed to have relaxed about the whole thing. I'd agreed to a 30 minute appearance, but they said as long as he was back for a massage on his foot by midnight, we were good to go.
The banter in the room was legendary. After the ESPN presenter had grilled him about Australia, and the tournament, it was over to the floor of 100+ who were all Everton fans (apart from a couple of friends who were invited to see how a proper club treats their fans, and a few local girls who, erm, wanted to meet a Premier League footballer! One did blatantly ask him for his phone number). He signed a couple of shirts which we raffled for the Childrens' Cancer Society, and raised a pretty penny, and posed for photos and signed autographs for everyone who wanted one.
At the end of the night as I walked him back to the car, he told me how much he'd enjoyed it, and that him and Mikel had agreed new contracts. (He'd mentioned during the Q&A how much he, and some of the other players, loved the club, and you felt it was genuine). Sure enough it was all announced within the next week.
Afterwards back in the bar, I was told by people from ESPN, and fans of other clubs, who all said how much they'd enjoyed it, and couldn't imagine a "Big 4" club doing it.
Chris Rudd
530
Posted 24/07/2012 at 09:14:22
Gutted when I heard the news on the radio this morning but at the same time glad that his iconic status at the club won't be diminished by further punishment and difficult performances.
For me and my family he'll always be a 'modern legend' and Blue through and through. A tiger on the pitch, an ambassador off it. A fire burning in an Everton heart.
My favourite Cahill moment " That man Cahill! The first man since Dixie Dean in the 30's to score in three Anfield Derbys"
Thanks for all the memories Tim, come back soon and get the tumultuous welcome your feats on our behalf deserve. Can't believe I'll never see the corner flag celebration live again.
Anthony Millington
534
Posted 24/07/2012 at 09:36:55
Sad to see him go, we need players like Tim who wear their heart on their sleeves and come good at important moments in big games. However, I think 1 million pounds is an insult of an offer for a player who has scored 70 odd goals for Everton. Add this to the 2 million fee we are reportedly getting for Yobo and we still need another 2 million to sign Pienaar!
Chris Fisher
535
Posted 24/07/2012 at 09:30:59
Of all the players that deserve a proper goodbye it is Tim and yet this is how it ends! I'm sure Tony Hibbert wouldn't've minded sharing his testimonial with Tim's last game and a proper chance to say goodbye. I think it's a pretty shabby way to end his time at Everton. Good luck Tim.
Tommy Gourlay
536
Posted 24/07/2012 at 09:35:22
Got us out of so many jams, helped us punch - not just cornerflags but also - above our weight. You will be missed more than anyone I can think of in your time at the club.
Legend isn't too grand a tag for our Tiny Tim.
I'm sad because I still think he could've transitioned into the Carsley role and been with us for another 4 years at least. (who better to cover the correct opposing attacking midfielder at the right time than one of the best at doing it themselves)
Zaid Omar
537
Posted 24/07/2012 at 09:49:46
Thanks for the memories Tim. Your love and commitment for the club will never ever be questioned . Everton Legend!!
Andy Parsons
539
Posted 24/07/2012 at 10:04:34
At the end of last season we needed just a few additions to really push on. As it stands we've picked up one freebie and that's it. In the meantime we've let a load go saving us a massive amount of money in salaries including a backup keeper who will need to be replaced and the heartbeat of the dressing room in Cahill. I'm still convinced they'll leave Pienaar to the last day of the window and use it to take attention from somebody else leaving.
Howard Don
540
Posted 24/07/2012 at 10:04:26
Excellent precis, Lyndon, of Tim's career and massive contribution to the cause. I saw him as having a couple more years as a squad/impact player, but all things considered this is probably a good deal for both club and Tim.
On the downside, what a shame he won't get the huge standing ovation Goodison would have given him if we'd known it was his last game, I would have thought he'll be back in the UK at some point coinciding with a home game, perhaps something could be arranged, just before kick off, for the fans to show their appreciation. This guy gave us everything.
Kevin Gillen
541
Posted 24/07/2012 at 10:08:38
Gutted! First name on the teamsheet. Banker for opening foul of the game as he let the centre half know he wasn't going to put up with any nonsense. A man who made you feel proud to be an Evertonian. This marks a huge change in the trajectory of our club. Who will be our leader on the pitch now? Fellaini? I wish Tiger Tim all the very best and take my hat off to you, thanks for all the wonderful memories. A very difficult man to replace.
Mike Hughes
543
Posted 24/07/2012 at 10:19:06
Tim Cahill - Evertonian.
I agree, Lyndon, the time is right and we should not begrudge Tim his move.
There are few players in the modern era who have the values of passion and loyalty and he has been a credit to himself, his family and to Everton FC.
Good luck, Tim, and I'm sure you'll never forget - once a Blue, always a Blue.

Laurie Hartley
545
Posted 24/07/2012 at 10:23:15
I bet it's hurting him more than any of us. Would bleed blue blood for Everton - my Favourite Tim moment - when he Gerrard in a half Nelson in one f the derby games.
Kevin Day
546
Posted 24/07/2012 at 10:28:56
Fantastic article, agree with every word, Tim has been such an ambassador for our club, and has put us on the map in his native Australia, I'm sure we'll see him over the MLS close season, maybe even a loan deal (joke). Seriously though, he is leaving at the right time, he has floundered the last 12-18 months but still gave everything to the cause.
Mr Cahill, you have done us all so proud and hand on heart I hope everything works out for you in the USA.
Keith Pratt
549
Posted 24/07/2012 at 10:40:59
A great article which completely echoes my thoughts about the " Blue Kangaroo". How about getting him back for Hibbos testimonial? If the logistics can be worked out, it would boost the gate for another great servant and Evertonian and give Tim a chance to get the Send Off he deserves.
Mike Rourke
550
Posted 24/07/2012 at 10:45:37
The time is right.
He probably could have prolonged the inevitable by hanging around as an impact sub, but he deserves so much better than that.
A swansong in New York, playing alongside Terry Henry and earning millions of dollars is almost certainly the best retirement package in the known world.
100% Everton Legend.
Lee Courtliff
555
Posted 24/07/2012 at 10:45:29
I'm a bit shocked really.
I know its probably the right time for all concerned but even so.
I just can't imagine Everton without Tim.
I said years ago that he is the best value for money signing in Prem history.
A real icon and a genuine,honest and polite man. His interviews were always impeccable.
Good luck mate,thanks for the memories. I,and many others,will miss you. You always gave us everything you had.
Andy Burke
561
Posted 24/07/2012 at 11:21:56
Best of luck Tim and thanks for some great memories.
Great article Lyndon.
I am completely gutted about this but I agree that it is the right time.
I wish the Goodison crowd could say goodbye in the manner that he deserves but I am sure he will get a raucous reception when he returns.
Keith Glazzard
565
Posted 24/07/2012 at 11:26:13
I'm very pleased for Tim. This has to be something he wants to have a crack at, and now has to be the time. He has a few good years left in him, but they would increasingly be spent on our bench and although he is a great asset to have there, its not where he belongs.
It looks like the club have done the right thing by him too. He hasn't been sold-off, or moved-on. This looks like a reward for eight years of fantastic service and that reflects credit on all concerned.
So let's look forward to, say, five years from now when Tim's academies in Oz are sending us the cream of their crop. Or maybe there will be a few from the States. One thing's for sure - this isn't goodbye.
Barry Stevens
568
Posted 24/07/2012 at 11:51:55
Great servant to our club, deserves all the praise being given. Also agree probably best time to move on before the fickle Evertonians that are amongst us turn on him. I saw for myself that happen to Kevin Sheedy back in the day and wouldn't want the same for Tiny Tim.
Ernie Baywood
570
Posted 24/07/2012 at 11:52:22
Glad to see others feel similarly to me about this bloke.
My favourite Cahill memory remains an away game at City, backs to the wall with a 1 goal lead, and watching him revving up and organising the team. A real leader in a battle.
Definitely the right time to go. A season earlier we might have questioned it, a season later I'm sure we would have regretted it. Perfect timing.
And I'll be making an effort to watch his first game over there.
Kiern Moran
571
Posted 24/07/2012 at 12:09:06
Well written article. Good luck Tim, thanks for all the memories.
Alan Humphreys
580
Posted 24/07/2012 at 12:11:18
Last year Arteta and now Cahill, who's left that would seem to have a genuine affection for the club ? The squad is getting smaller and smaller but with Barkley and Junior to name but 2, the old guard would seem to have had their day - a brave new dawn for Everton possibly...
Good luck to Tim and his family, go show them your best Jack Dempsey impression Tim !
Alan Humphreys
582
Posted 24/07/2012 at 12:30:59
Just read this and would add that rather than leave on a sour note he leaves with his head held high and in a rightous and dignified manner. Tim Cahill - Evertonian and defender of ball boys everywhere...
"The 32-year-old would end his career at Goodison Park on a sour note after being sent off on the final day of last season against Newcastle following a clash with Toon midfielder Yohan Cabaye.
Although the Frenchman apologised for his comments on Newcastle's official website, Cahill was still handed a three-match ban after Everton's appeal to the Football Association was rejected.
And while he accepted the suspension, he was left "disgusted" by Cabaye's comments, adding: "I don't wish to elaborate on the exact detail of what was said - but his words have no place either on or off the football pitch.
"Cabaye has apologised via his club's website and as far as I am concerned the matter is now closed."

Norman Merrill
585
Posted 24/07/2012 at 12:36:48
It's always a sad day when players who have wore the Blue shirt with great pride, leave the club that they served with great endeavour. I will miss his honesty, and his great delight when scoring a goal, especially against The RS.

I wish Tim and his family a great time in the USA.
Stephen McCann
587
Posted 24/07/2012 at 12:40:21
I would like to say that not only has Tim been a great servant to the Blues but he has also shown that with the right motivation you can create a feelgood factor that transpires into strong support from the terraces.
I'm sure we all remember the dark times when heads went down and a good hiding was the only result we were going to get. Tim was never one of those players; he has never been the ref's favorite son – his many sending's off tell their own stories.
Thanks for the golden memories and the passion you possessed!!!!!!!
Ryan Rosenberg
588
Posted 24/07/2012 at 13:01:40
I'm 16, Australian Evertonian since 07/08 - Cahill is the reason I support us. Not for a long time will we have a more dedicated, loyal and courageous player than Tiny Tim. I think it is the right time to move on but I feel sad that this is the end. Thanks for making me an Evertonian Timmy, you will be missed.
Andy Parsons
591
Posted 24/07/2012 at 13:04:42
Surely he can make one final appearance at the Hibbert testimonial? It doesn't seem right for him to go without saying goodbye.
Danny Broderick
596
Posted 24/07/2012 at 13:28:07
Not many strikers in the Prem reach 68 goals, never mind an attacking midfielder. Great player for us, and he's got himself a great move to finish his career. It's a shame time seems to have caught up with him a bit. I'm sure we'll see him back at Goodison watching a game if nothing else, I know he went back to watch Millwall a few times after he left us. He was a great man as well as a great player.
James Stewart
597
Posted 24/07/2012 at 13:34:10
Wish him all the best. The timing was right for move parties and now we can have just the fond memories left
Yessar Daou
601
Posted 24/07/2012 at 13:43:54
Epitomised what we stood for as a club. Determined, resilient, and always up for a contest. All the best Timmy!
Steve Cotton
604
Posted 24/07/2012 at 13:55:59
Time for a new hero to step forward....

Come on down, Victor!
Andy Tudge
610
Posted 24/07/2012 at 14:39:17
Good article and I agree, now is a good time for both parties, no-one can question that Tim has earned a payday in the sun, he has put in a solid 8-year shift that represents value for money against what we paid for him.
It's easy to get watery eyed over him going but he has given us everything he had to give on the pitch and a whole lot more off it.
The fee may be low but it's a big wage off the books and another step toward getting funds for Pienaar and that in itself cannot be sniffed at.
Good luck fella – and don't ever forget what Z-Cars sounds like.
Mark Osborne
620
Posted 24/07/2012 at 15:29:38
Good luck to Tim. Fantastic servant to our club.
Santosh Benjamin
626
Posted 24/07/2012 at 14:56:50
From the first game that I saw him play, I could see that he loved the game and the club. Not the usual pretentious footballer of today, but instead a well grounded,friendly,passionate lovable guy. I live in India and have got jerseys via friends and family in the past and the only name that I ever considered having was Cahill. In his prime, he was heading balls into the net by outjumping defenders much taller than him.His goals in the Derby, the bicycle kick against Chelsea, and numerous others will remain in my memory forever. I watched a documentary about him a few years ago which showed he was a great man off the field too - family man and great to all the fans he encountered. I must admit that in the last few years, there have been times when he has frustrated me - not by his lack of passion or committment, but since he was lacking service, he looked lost at times,dropping deep to help out the midfield. I was hoping he wouldnt go to a club in the Middle East - not that I have anything against them, I just wanted him to go somewhere he would show hoards of people what a great player and man he is.So, as we say goodbye, despite all the debates as to what we should call you, in my mind you are an EVERTON LEGEND. I hope the corner flags have your number on them and I also hope that corner flags in the MLS take a severe beating with all the goals you score. Thanks,Tim for all you gave us and good luck to you and your family.
Peter Webster
635
Posted 24/07/2012 at 16:03:24
Timothy Everton Cahill. I salute you, sir. Thank you and the very best of luck for the future.
Peter Webster
639
Posted 24/07/2012 at 16:13:45
...jab, cross, hook.
Nelly Verdonghan
650
Posted 24/07/2012 at 16:37:55
Model Professional both on and off the field
Top Man
Top Evertonian....Modern day legend in my eyes
Thanks for all those goals Tim....it's been a pleasure
Good luck for the future to you & yours
YOU WILL BE MISSED !!
Peter Thistle
657
Posted 24/07/2012 at 16:30:04
I hope it doesn't affect the team morale too much. Losing a character as big as him could leave the place feeling a bit flat. The only thing that will cheer me up is if we sign Peanuts and a coupla others to get the lads buzzing again.
Sky Sports News showed some of Tim's highlights from his days with us, makes ya remember how good he was. Maybe playing against weaker players in USA will be good for him at this time of his carreer and he can look sharper over there than he did last season.
Thanks for the memories laa.
Ray Roche
663
Posted 24/07/2012 at 17:16:02
Matt Traynor
@529
Good story, Matt, but I can't say I'm surprised that Cahill should act that way. Top bloke.

Stuart Critchley
670
Posted 24/07/2012 at 16:10:31
Legend! Thanks for the memories, especially against the Shite. Always welcome back, Timmy lad.
Mike Gaynes
691
Posted 24/07/2012 at 18:49:40
Peter Webster #635, I'm sure he prefers the middle name you just gave him to the one he's carried around all his life.
Filiga.
No wonder he grew up so tough.
Ian Glassey
700
Posted 24/07/2012 at 19:04:10
Top man 100 per cent EVERTON . All the best Tim to you and your family.
The MLS wont know whats hit it, give those corner flags some stick.
Lets hope we get to see you one last time to say thanks for 8 great years....
Peter Warren
701
Posted 24/07/2012 at 19:23:48
Fantastic that he's getting a good move and wish him all the best. Not many players I admire as a man but Cahill definately one
John Keating
706
Posted 24/07/2012 at 19:43:07
Best memory.
On top of the "pile" Carsley on the bottom after he scored the winner against the shite the season we clinched 4th spot.
Got it as my screen saver. Great picture !!
James Martin
708
Posted 24/07/2012 at 19:49:45
For a while it was only him and Arteta that kept us above the rest of the dross in the premier league. I think its easy to retrospectively underestimate his importance to the early Moyes team now that he's surrounded by an improved calibre of players. I can remember coming back from a holiday getting on the OS and not even being bothered that we'd signed Leighton Baines because of my devastation that Cahill had broken his metatarsal. There were times when his presence in the team was literally the difference between winning and losing, we were utterly lethargic without him. The 3-2 against Stoke in his first game back after injury, likewise his header against Larissa, his should of been Hattrick against Charlton. Sad end to a team with so many great characters in it, Cahill, Arteta, Carsley, Lescott, Yakubu, all fanstastic likeable players who could get the crowd behind them easily. Not so sure that the new crop of players quite have that same likeability factor, Gibson, Fellaini, Magaye Gueye, all good players but they don't grab you in the same way Cahill used to. Until recent years his name read out over the tannoy would always get a bigger cheer than anyone elses.
Andrew Ellams
710
Posted 24/07/2012 at 20:14:44
James, I think everything you say is why it's the best time for Tim to move on. Football fans are the most fickle people on earth and it was become more and more obvious that his legs were struggling to carry him through games and that was only going to gwt worse over the next couple of seasons.
Goodbye to a legend and a real shame that we couldn't give him a cup final send off
Daniel A Johnson
747
Posted 24/07/2012 at 22:15:21
Brilliant the fuckers gone!!!!!!!
Now I can watch a match without the Mrs going:
"Phwoaaaarrr what sexy beast",
"Phwoar look at them legs",
"Ohhh he's so cute"
"He's so dreamy"
"I won't kick him out of bed for eating biscuits"
"He can take me down under anyday"
"I hope he likes playing away"
"I'll give him a 4X alright"
The list goes on.........
But seriously Tiger Tim good luck mate... Can my Mrs go with you?
Joe McParland
783
Posted 24/07/2012 at 23:33:30
Great article Lyndon. Agree with every word.
Best of luck to TC across the pond.
Paul McGinty
806
Posted 25/07/2012 at 00:48:52
The $64,000 question: Are the Red Bulls going 4-5-1???
Thierry Henri on the bench....
Steve Carter
845
Posted 25/07/2012 at 08:13:41
Lyndon, thank you for writing that article.
As an Australian who has passionately supported Everton since 1972, Tim actually got to live my dream 30 or so years later. I hope to meet him one day so's I can say I've met both my Everton faves (I met Mick Lyons in Canberra in the mid-90s). I've been to the UK a number of times in the last few years, seen Everton four times at Goodison but, sadly, have only seen Tim play once (last season v Villa). As you say, Lyndon, he defined an era. I'll get shot down for this by some, but that 'era' is the current Premier League era: that is, the era during which Everton has faced the highest quality opposition it has ever faced. And he's the only Everton player in living memory to be nominated for the Ballon d'Or. He has to be considered a 'Legend' alongside Dean, Latchford, Southall, in my book.
Lee Hind
885
Posted 25/07/2012 at 12:50:07
You can see the power of the man by the fact he has inspired a universally positive thread (so far) on here...
For me, I agree with Lyndon - he IS Moyes's Everton. This is a man who understood what it meant to play for Everton, who understood what it meant to beat the Shite, who would give his last breath for the cause.
Definitely an EFC legend and has also got to be the very best value-for-money player in PL history!!
Steve Smith
886
Posted 25/07/2012 at 12:34:01
Steve #845
Good point about the quality of opposition that we face now as opposed to other era, and a good subject for an article on it's own I think.
And yes the man is a legend, a great time for him to leave I think, rather than warm the bench.
Liam Reilly
887
Posted 25/07/2012 at 11:51:05
A true gent and a great ambassador for the club, hopefully he will be back in some capacity one day.
In an era where it has been sometimes difficult to watch Everton, this man always gave his best in that shirt and never gave up. Think back to the 3-3 draw with Man U when we scored 2 in injury time. that was typical of the man driving the team forward and his never say die attitude.
Well deserving of a decent final payday and good form from the club to allow this to happen.

Paul Hersey
891
Posted 25/07/2012 at 14:20:56
I totally understand all the logic – he had been on the decline, it is a good time to move on etc but I still feel really, really sad...... Can't believe that TC is gone.
I bet he is gutted that he didn't belt Cabaye now as well.
Terry McLavey
931
Posted 25/07/2012 at 17:02:53
Tim was a player consistently admired by supporters of other teams at my work , that says it all really,the player had values , which other players could only aspire to (sounds as though he dead dosen't it!!) Thanks Tim you'll be greatly missed, definatley a case of "Once a Blue only a Blue"!!
Chad Schofield
040
Posted 26/07/2012 at 00:48:51
I hope everything works out well for him... He's an absolute legend and how he can return to us once his playing days are over. Great article, great bloke from everything I've seen and from those lucky enough to meet him. The time is right, but it's still sad to see him leave. All the best!
Andy Corrie
059
Posted 26/07/2012 at 05:30:48
A sad sad day indeed, really sorry to see you go Mr Cahill, you'll be sorely missed!
Greg Murphy
123
Posted 26/07/2012 at 15:47:12
Seminal piece.
Adam Fenlon
206
Posted 27/07/2012 at 02:34:20
I've nothing new to add to the above, but would just like to express my thanks also to a great player for the club who leaves us with fantastic memories!
Steven Kendrew
304
Posted 27/07/2012 at 15:04:10
One of the greats and a great guy with it. 1 million is way too low for him, although I guess we are losing the salary spend. Look at Modric. Is he worth 26 million more (min) than Cahill?
All the best to him though. Some fab memories but not enough trophies.
Steve Guy
316
Posted 27/07/2012 at 17:25:56
In an era were mercenaries abound, TC proved there was still a place for honesty, loyalty and Team above the individual. Yes he made fantastic money, but every now and then a player comes along who is proper "jumpers for goalposts" and you just know would be playing much more for the enjoyment than the financial rewards. TC falls into that category and the phrase "once a Blue......" could have been coined for him. I'm glad he's gone abroad as I would hate to have seen him line up against us and it is also a measure of him as a person and a Blue that he never wanted that either. Alan Ball's comment about "once Everton has touched you......" also echoes true with TC I am certain.
Best of luck TC, hope they have stong corner flags !
Nate Allen
907
Posted 31/07/2012 at 00:59:03
I'm sorry, but "goal-scoring savior" is not more important than devoted family man.
Add Your Comments
In order to post a comment, you need to be logged in as a registered user of the site.
Or Sign up as a ToffeeWeb Member — it's free, takes just a few minutes and will allow you to post your comments on articles and Talking Points submissions across the site.
© ToffeeWeb