Drought-Stricken Jelavic Needs a Rainmaker
By
Lyndon Lloyd

:: 28/01/2013

Comments
(28)
jump to end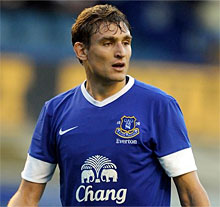 With just two goals from his last 14 games in all competitions, the knives, it seems, are out for Nikica Jelavic. Quite a come-down from his scintillating start to life at Goodison where he wrote his name in lights with 11 goals from 17 appearances as the Blues reached an FA Cup semi-final and finished the 2011-12 season in Champions League-qualifying form.
His return of seven goals this season from 25 appearances pales in comparison and it's hardly the record of a striker destined for the magical 20-a-season mark or one who has implicitly been tasked with firing Everton into the top four this season.
The level of criticism aimed at the Croatian, though, is somewhat excessive given how different the conditions under which he is being forced to operate are compared with last season. And the scrutiny he is under at the moment has been intensified by the Blues' failure so far to capitalise on what is a gilt-edged opportunity to finally realise the European dream that has eluded David Moyes ever since the Pierluigi Collina controversy eight years ago.
Anyone who has watched Everton's performances for the vast majority of this season would admit that were it not for near-scandalous incompetence by match officials, uncharacteristic, late defensive lapses and their own failure to press home obvious superiority in a handful of key games, the Blues could be at least 10 points and three places better off than they currently are.
Jelavic's loss of form and sharpness in front of goal has obviously been a factor but it seems to these eyes that, in the rush to scapegoat a player who was a goalscoring hero just nine months ago and apportion the bulk of the blame on the striker, many Evertonians are taking too simplistic a view of the problem.
Underpinning Jelavic's head-turning introduction to the Premier League was service, and plenty of it. It's true that his tally from the back end of last season was so high because he scored almost everything he hit within 10 yards of the opposition goal but he enough chances were created for him that he could afford to roll a gilt-edged chance shot wide of goal at Swansea and still end up on the scoresheet or hit the post against Fulham at Goodison and still come away with a brace.
Contrast that with the majority of this season and it's not hard to see where Jelavic's problems lie. There have been games where he hasn't had a single opportunity in 90 minutes and others where he has had only a couple of half-chances; hardly the ammunition required for a consistent marksman. In many matches, he has been asked to score from the only chance that fell his way, essentially required to provide a 1:1 chance-to-goals ratio, and that simply isn't realistic on a regular basis. In trying to get to the heart of the Jelavic conundrum, it's worth asking, "just how many sitters is he missing?" Not many... because he isn't getting many.
Of course, there is unquestionably a factor of personal form at work here but it's complicated and influenced by fluctuations in the team's fortunes as a whole, increased focus on him by Premier League defenders, the presence and playing style of Marouane Fellaini, an over-reliance at times on a more direct route to goal than feeding the flanks, and the way in which Jelavic has been forced deeper or wider than he is used to in order to see more of the ball.
When Everton have been at their best this season, it hasn't mattered — Fellaini has chipped in with his best tally of goals in the Premier League and Victor Anichebe is also on track for his goals return in a season — but with the team's scoring streak having been ended with those two goalless draws in the League, Jelavic's drought has come into sharp focus. Unfortunately, that has been accompanied by some extreme calls from some quarters for him to be dropped and to be "given a kick up the backside."
That would, of course, be apt for any striker not pulling their weight but while Jelavic could be faulted for poor approach play and slack passing at times this season, he can't be faulted much for effort. And for all the flack directed at him, the Croatian is still second-top scorer with seven goals and his 18 goals from 42 games is still a strike rate of a goal every 2.5 appearances.
It could be argued — though it hasn't always been the case, especially in the early part of the campaign — that the biggest difference between last season and this has been Everton's overall style and, in particular, speed of play and therefore the type of service that Jelavic has been receiving.
Certainly in recent games, where a feeling has been creeping in that the Blues' push for the Champions League has begun to stall a little as the side struggles to cope with key absences through injury, it's been noticeable how one-paced the team's build-up play has become. Much about their attempts to break down Swansea and Southampton was pedestrian and, with the over-reliance on the Baines-Pienaar partnership, often predictable. Time and again attacks broke down when faced with a wall of defenders who had the time to assemble and organise as Everton played the ball across the midfield or crosses from the left found a defender's head with Jelavic out-numbered.
With his tendency to play on the shoulder of the last defender, Jelavic is regularly being flagged offside these days as he tries to anticipate a through ball that is too late in coming. And as a player who thrives on the space created in the box by the chaos that is created in opposition defences by rapid, smooth-flowing attacks (the like of which tore Sunderland apart in the FA Cup replay last season and helped the Blues to handsome home wins over Fulham and Newcastle, for example), he is finding himself continually crowded out by defenders these days. Again, you'd only have to point to his chances-per-game statistic to see that the bulk of Jelavic's problems come from a basic lack of the kind of service on which he most successfully feeds.
Perhaps most unfortunately now, the weight of expectation that has been building on his shoulders has now started to visibly affect his confidence, manifesting itself in arguably his two most glaring misses: the mis-kick in the dying stages at Chelsea and his awful misjudgement of Anichebe's perfect lay-up at Southampton last week. Time will tell if his withdrawal in favour of Mirallas at the St Mary's and then for John Heitinga at Bolton, the first signs that Moyes is losing confidence in his striker's ability to get the goals his team needs, will spur him on or further dent his morale.
If, because of absence of Darron Gibson's vision and the pace and creativity of Kevin Mirallas, the solution cannot lie in the team playing a more expansive and fast-moving game then finding signing another fast wide man or getting Jelavic the right kind of strike partner must be the manager's top priority this week.
Moyes says that he is keen to give Jelavic every chance to rediscover his scoring touch but it's hard to see how that is going to happen without a rapid change in the level and type of service he is currently receiving. He is not the complete striker, one who creates his own chances or one who can take on defences single-handedly. Like Yakubu before him, he wasn't when we signed him and isn't likely to become one, but with the right ammunition in front of goal he doesn't have to be. His stunning goals return at the end of last season is undeniable testament to this.
As a player who often operates on pure instinct — see his almost sixth-sense movement for the winning goals against Sunderland and Spurs at Goodison this season — he simply needs the ball to his feet in front of the opposition goal enough times in a game and he will more than likely do the rest. That just isn't happening at the moment and hasn't been for a while now. Time will tell if Moyes is able to address it with fresh blood or a different approach.
Reader Comments
Note: the following content is not moderated or vetted by the site owners at the time of submission. Comments are the responsibility of the poster. Disclaimer
Ian Hollingworth
446
Posted 28/01/2013 at 08:20:36
Excellent piece that I agree with. We should not take out our rapidly building up frustrations with the club not progressing, on an easy scapegoat.
Yes, Jelly is not on form but there are bigger issues to solve for me;
1. Central midfield - Darren Gibson is excellent and a bargain but he came cheap for a reason i.e. he is never fit. We will need to spend for a decent partner / replacement
2. We need another top quality striker, goals win games its as simple as that.
3. Get rid of deadwood that will never make it e.g. Gueye
Number 4 may well be a new manager if the board fail to back him this week???
Kieran Fitzgerald
448
Posted 28/01/2013 at 08:31:41
Ian, if I were a new manager coming in, I wouldn't be expecting the Board to hand me any cash. If they aren't going to back Moyes with cash from a position of strength in the table, then I can't see them backing a new manager either.
I would agree with you in bringing a second striker, but unless he can magically create goals from nothing, the same problem of a lack of supply will be there. He will soon be viewed in the same bracket as Jellivic, Velios and Anichebe.
Midfield is where we need to strengthen.
Sam Hoare
450
Posted 28/01/2013 at 08:32:31
Lyndon, as ever you write well and sensibly but I'm not sure I can agree with the premise that he has had significantly less chances than in his run last season. Perhaps the stats will prove me wrong but it seems to me like barring the last few games perhaps we have been fairly creative this season and Jelavic simply has not put away the same ratio of half chance as he did upon his arrival. He had some very decent chances against Chelsea, Swansea and of course that terrible airshot against Southampton of which I reckon he would have put away at least one or two in his purple patch last year.
The more salient question for me is which patch of form represents his true ability? Chances are that he is not quite as good as he was last season but not quite as poor as he is right now. Can't help feeling that he does look a bit tired and jaded, maybe its just sagging confidence.
Peter Warren
452
Posted 28/01/2013 at 08:54:44
Different personnel and tactic needed to make him thrive again. I still believe he is class.
Peter Mills
453
Posted 28/01/2013 at 08:56:06
When he played at Rangers, Jelavic had a strike partner who apparently made space and opportunities as well as chipping in with a few goals of his own. We actually saw him at Goodison pre-season when he scored a hat-trick. I think his name was Naismith, he looked half decent although he'll never make a winger.
Mike Berry
455
Posted 28/01/2013 at 09:25:41
Yep, Peter. Moyes is playing Naismith out of position. When he gets a chance hes in the penalty area.
Brian Harrison
456
Posted 28/01/2013 at 09:14:13
Lyndon
As always a well written article and many relevant points raised. You say that you think we play to many high balls into Fellaini as a reason for Jelavic not scoring as many goals this season, but if anything apart from our last few games I think we have played more football this year.
There have been very few strikers who don't go through a barren spell and unfortunately for us Jelavic is having is right now. I do think that he has more space when Mirallas plays and with Gibson's range of passes that certainly helps Jelavic. But the question is how long should you continue to pick a striker so out of form, the temptation is always to think maybe the next game he will start to score again.
I know we don't have many alternatives and one of them Mirallas is out injured again, so for me I would put Jelavic on the bench against West Brom and see how things go if we are struggling then bring him off the bench. Sometimes coming on from the bench can help especially as he will be fresh against tired defenders.
Steve Sweeney
457
Posted 28/01/2013 at 09:48:22
Well put together and has some good conclusions. Unless Everton speed up getting the ball into the box, Jeli will continue to be smothered by Defenders. He is an instinctive striker similar to Hernandez at Man Utd, who gets about 5/6 chances every game because of the speed that they get played and the ball into the Box.
One of the things we have missed is pace; last season when he was scoring for free, the ball was getting up much quicker, he also was playing within the 18-yard box with Fellaini and others doing the leg work down the Channels.
On Another Note: did you notice that in the last minute when Leeds got a corner, Spurs put 4 men on the half-way line forcing Leeds to only have 3 men in the box for the resulting corner which Spurs defended easily.
Rob Keys
461
Posted 28/01/2013 at 10:15:44
The guy is class. Lyndon is right in that the opportunities are no longer falling just for Jelavic. The option of having a strike partner beside him is compelling, especially when the strike partner is already at the club!
Naismith has shown his eye for goal (the derby game). What he cannot do is to run from deep and wide, and then finish. If Jelavic is the 6 yard box finisher, I would deem Naismith as best operating within the 18 yard box. Notice his movement and the willingness to get into space.
In some ways, that resonates with what Jelavic alluded to, ie, Naismith working in tandem with him, creating space. That allows both strikers to operate in tandem without crowding each other out.
The only problem is the balance to the team is affected. I can't quite see who we can leave out if all are fit. If its a 4-2-3-1, it seems it's Osman-Gibson, Pienaar-Fellaini-Mirallas, Jelavic.
The only possibility is if we drop Osman, get Fellaini to partner Gibson in midfield. But even then, Fellaini seems to have forgotten how to play deeper. The other possibility I can think of is to swap Fellaini with Osman; let Osman be the one to play the through passes to Jelavic, which I believe he is capable of.
Christopher Timmins
465
Posted 28/01/2013 at 10:54:46
Lyndon, is part of the problem not related to his partner upfront. Just like in years gone by when Duncan played up top the easy option is being used by the back four, just lump it up to Fellaini and see if things can happen from there. I can't get the Southampton game out of my mind in this regard.
Steavey Buckley
466
Posted 28/01/2013 at 11:04:17
Jelavic is a player that needs quick ball into feet or just ahead of him to get ahead of defenders and shoot. At the moment, Everton play little triangles between Osman, Pienaar and Baines which give the defenders time to mark Jelavic. And when the ball is, eventually, played to him, defenders have him closely marked.
Nick Entwistle
468
Posted 28/01/2013 at 10:52:43
I don't think he's getting less chances, I don't think he's receiving unfair criticism, I don't think he's being asked to play different to last season nor in any way which diminishes his chances. I just think he's stopped scoring and as such not a major claim by some to have him dropped. His team play is still good, but as with the comical attempt at Swansea, and a new looking Anichebe the bench may be best. Not for him, but definitely for the team in this make or break season. It is football after all and players come and go from the first team. What has remained though is the undiminished support for the guy, he isn't exactly getting the Hibbert or Osman treatment of seasons past.
Kev Johnson
472
Posted 28/01/2013 at 11:36:48
Could it be that Gueye replacing the injured Mirallas against Bolton was an attempt to provide Jelavic with the service he requires?
I ask because it's otherwise incomprehensible! I still have in my mind Gueye's superb first time daisy cutting cross for Jelavic in the Cup against Sunderland. One of my favourite Everton goals! (Cut and paste the YouTube link, if you want to see it again: http://www.youtube.com/watch?v=LsbBmkmeKYA). There is no way Mirallas would have done that. To be fair, it's not something Gueye has subsequently repeated many times, but it is in his locker.
It would be interesting to see a breakdown of his scoring rate with different partners. Cahill was on a downward slope but he played well with Jelavic, as I recall.
Steavey Buckley
476
Posted 28/01/2013 at 11:40:18
Gueye is not up Everton standard of putting a shift in. He wants too much time on the ball and has no appetite to go looking for the ball.
Trevor Lynes
480
Posted 28/01/2013 at 11:45:52
I think that the Baines/Pienaar combination is being negated by opposing defences because we do not have menace from the right flank without Mirallas. Defences strategy is stop Pienaar and Baines in a similar way that teams line up against Bale. Spurs have Lennon who has played well until fairly recently down the right side while we have no one with Mirallas out.
Naismith never takes his man on and is just another midfielder. Coleman when fit is much better in an attacking sense than Naismith. If Mirallas is out we should have Neville or Hibbert at right back with Coleman playing right wing again when fit.
Unfortunately we are now short of Mirallas, Coleman, Hibbert and Gibson who are all good on the right side. Our only option now is Anichebe right side or try Oviedo???
Tony J Williams
483
Posted 28/01/2013 at 11:56:39
Trevor, I am not too sure it is all about the defensive set up that is negating Baines/Pienaar....I reckon a lot of it is down to Pienaar being in gash form for about two months now. His daft flicks are going nowhere and his shooting has gone back to Osman proportions.
We actually miss Hibbert, not only for his defensive qualities either. His crosses may be shite most of the time, but he does get passed the defenders and put them in. Coleman's crossing is no good either, but he does cut in well.......then fall over or shoot wide...
Jelavic would appreciate even lesser quality crosses from teh right as against none at all, especially with Neville being unable to overlap.....and don't get me started on his loop de loop throws and Rhinoesque floated balls...
Steve Higham
485
Posted 28/01/2013 at 12:17:45
Excellent piece, Lyndon. Jelavic just need the correct service to make him start scoring again.Lumping it up the middle will not suffice – he needs balls played through the middle cutting through the oppositions defence. Gueye played one such pass at Bolton on Saturday but unfortunately we don't play them enough. Putting Fellaini up top has also affected his form as it is always the easy option to hit it long to him.
Another alternative to assist Jelavic would be to put Naismith just behind him. Naismith is not a wide player and maybe we would then see the best of both players.
Kev Johnson
486
Posted 28/01/2013 at 12:14:01
Tony - but there's the problem. You strengthen the team in one area but weaken it in another. True, Hibbert's crossing can be good, which benefits Jelavic and Fellaini, but the Coleman/Mirallas combo - which Moyes seems committed to, when both are fit - is generally more dangerous. Like Bainaar, Colallas cut inside and go wide, which is difficult for opposition defenses to handle.
I'm not convinced that accurately crossing the ball is a terribly difficult skill, so I don't know why Coleman hasn't been trained to do it. Mind you, he makes me laugh when he cuts inside: the opposition doesn't know what he's going to do... because neither does Seamus! He just gets his head down and dribbles like a lunatic!
A spot of poetry for you on a Monday morning... There's a poem by Pauline Stainer in which she takes about the crazy energy that's around in springtime. She talks about "hares, outmanoevring madness". The insanely unpredictable zig-zagging way those rabbit-related critters run reminds me of our Irish full back in full flight!
Chris James
487
Posted 28/01/2013 at 10:47:48
I must admit I'm sceptical about any argument that involves lack of chances, it's been cited multiple times this year that Everton were creating as many shots on goal as anyone in the premier league and up until the last few weeks we've been regularly carving out chances.
Looking at the stats for the season so far from Opta via Fantasy Football Scout's members area...
Jelavic has played 1939 minutes had 59 goal attempts in his 22 starts (or one ever c.33 minutes, i.e. 3 per match) of which 52 were in the box but only 18 (c.30%) have been on target, with 6 resulting in goals (just over 10% conversion). He's had 480 touches in the final third and received 253 passes.
Last season he played 999 minutes, had 36 shots (29 in the box) from 10 starts + 3 sub appearances (essentially 1 shot ever 27 minutes), got 17 on target (c.47% shot accuracy) and scored 9 (25% success rate). He had 299 touches in the final third and received 163 passes.
Looking at that we can see the shots per game are down slightly and he is proportionally receiving fewer passes and making less touches in the final third so there's some substance to the argument Lyndon makes. From a quick glance at the average position data it looks like he's straying slightly further back in some games, perhaps a reflection that other players are marauding forward and he's slipping back/wider to get involved?
However the most striking (pardon the pun) differential is clearly the shot accuracy, whilst the percentage of strikes within the box are pretty much the same, the regularity with which the target is hit (and obviously goals scored) has dropped markedly (from almost 1/2 on target and 1/4 hitting the net to 1/3 on target and 1/10 goals) and this obviously lends more support to the poor form rather than lack of opportunities discussion.
Sorry, I'd intended that to be very short, but once you get into the stats it kind of runs away with you!
Martin Mason
489
Posted 28/01/2013 at 12:23:33
Good article, Lyndon, and you are right that we shouldn't be so hard on him. Everton has not been a happy hunting ground for our forwards and the modern game is very hard on forwards in 4-5-1 formation. I haven't seen a lot of games for the last two seasons but could moving a really dominant player like Fellaini forward this year have cramped his style a bit? I remember when we tried the dream ticket of Latchford and Royle in the same team it flopped badly for both. Here's hoping that he gets his mojo back and it maybe that just having a break may help him.
Sam Hoare
492
Posted 28/01/2013 at 12:54:04
Chris James, good stats. These confirm what I suspected that the amount of chances Jelly is getting has not changed radically. More his ability to get those chances on target or in the back of the net.
I say, give him a rest. Let Vic start and have jelly off the bench to give tired defenders more to think about.
Steve Foster
494
Posted 28/01/2013 at 12:51:07
Great Piece, and a eye-opener.
As already mentioned, any new Manager coming in is going to want his own 'Treasure Chest' of money, but is that going to be a great amount – are we that far away?
There is some serious dead wood around the club which can be sold for funding, along with the already (supposedly) £3 million we have now could raise some cash.....
Naismith for example, surely there is a championship side whom would take him off us for £3-4 million. Gueye, he can raise £3-4 million, Heitinga – some more cash there. So without selling the prized players we could easily give DM or the new Manager £15-20 million on future transfers.
Given that type of cash, and base of a team (not squad – team) we have now I am sure there is enough in the wallet to fund this, and kick us on more, whoever is in charge.
I personally think this closed season is going to be make or break for us. We either hit Champions League and we back DM, or he goes. We miss Champions League and back DM, or he goes. DM needs to the 'next step'. He needs the 'kid in a sweet shop' scenario with cash, or he is gone.
James Martin
509
Posted 28/01/2013 at 13:06:44
Excellent article articulating what I've beent hinking for ages. It really is all about the pace of the attacks and that is where we miss Gibson in some ways more than Mirallas. What can seem like a player keeping possession wisely in midfield by passing backwrds or sideways is actually nothing more than taking the intensity out of a move and inviting the opposition on top of you which was always my criticism with the Fellaini Rodwell axis and still is whenever Fellaini playsholding mid - too many backwards balls to full backs who are left with no option but to pump it down the line. Gibson looks forward straight away every time and ushers the full backs into play into positions they can run onto and cross.
I really think Jelavic would benefit from having Gibson in the team but also from having a real number ten behind him. As soon as Fellaini holds the ball up to bring Pienaar or Osman into play the move is already going backwards and Fellaini's subsequent run into the box drags the whole of the opposition midfield into the penalty area with Jelavic, once the ball finally gets in there its just too congested.
Last season Gibson was hitting the flanks earlier looking for Pienaar and Osman so that Cahill and Jelavic were running forward onto an opposition defense that were turned running towards their own goal, Jelavic could therefore check back as he so famously does and get Baines's pull backs. Now the build up goes straight to Fellaini so that by the time the ball does go wide Jelavic has his back to goal motionless surrounded by defenders and has to drift wide for space.
When Baines finally gets it he often has no option but to lump it in hopefully for Fellaini at the backpost as there is no space in the box for cut backs. Jelavic cannot thrive on this service and with Fellaini's goals drying up I struggle to see what else he is offering. Jelavic needs a number 10 who can turn when he receives the ball and slot him in (Mirallas v Southampton) turning the opposition defence around. Otherwise he is just a victim of the football lottery, some will drop to him like Spurs and Sunderland and others won't.
Short of having Messi in there you could have any striker you wanted and they'd do no better with this service. Slow build up play is being mistaken for domination of the ball. A cruder more direct style, whilst often harshly derided on here, brought greater dividends against West Ham, Wigan and Newcastle (and should of against Chelsea) rather than lots of our free flowing stuff that has produced too many draws.
Chris James
531
Posted 28/01/2013 at 13:39:53
"...and with Fellaini's goals drying up I struggle to see what else he is offering" — have you been watching the same matches as me this year James?
In the majority of the games I saw Fellaini was constantly pressing the opposition, making interceptions, hassling them out of possession, driving forwards and generally creating mayhem in the defensive ranks allowing opportunities for him and others.
Danny Broderick
553
Posted 28/01/2013 at 13:52:32
A big factor for me is that Jelavic looks knackered. This isn't too surprising when you think that he plays every game up front on his own for us, and he played in the Euros in the summer. I really think that he should have been rested in both FA Cup games just to re-charge his batteries.
I think the effort has been there, but for whatever reason he is not finishing things like he was when he first arrived. Personally, I think he looks knackered, and playing him every week is like flogging a dead horse.
I don't agree that the service hasn't been great - weren't we creating more chances than any team in Europe not so long ago?
Duncan McDine
592
Posted 28/01/2013 at 14:34:28
Good discussion, nice one Lyndon. My own personal opinion is fairly boring... if that doesn't keep you reading what will?!!!
He's in bad form, along with the majority of the players that create his chances (along with two key injuries to Mirallas and Gibbo).
To be fair to the lads, the weather this time of year makes a huge impact on the style of football that's effective. There aren't many teams playing attractive footy at the moment, and that's mainly down to the state of the pitches. Jela will defo benefit when things brighten up, and the lads get back to playing some decent stuff on the deck.
Lyndon Lloyd
618
Posted 28/01/2013 at 15:06:26
Thanks for the responses so far, folks, and to Chris for the stats.
As I said in the original article, Jelavic's own form has definitely been a factor but I'd argue, on the basis of my premise above, that he hasn't been able to pull out of the doldrums because his service has diminished over the season.
Maybe a comparison of stats over the first 11 or so games versus the next 11 would support that supposition. I can recall Jelavic missing some good chances earlier in the campaign (a couple of half-volleys he bounced over the bar from close range when it seemed easier to hit the target come to mind) but now he really seems to be struggling for regular, decent opportunities.
David Holroyd
714
Posted 28/01/2013 at 16:58:01
It's only a mater of time before he starts scoring he is still getting chances. I believe it's just confidence, but we need to have a player closer to him. We were thirty yards away from him against Southampton he needs support he will score.
Add Your Comments
In order to post a comment, you need to be logged in as a registered user of the site.
Or Sign up as a ToffeeWeb Member — it's free, takes just a few minutes and will allow you to post your comments on articles and Talking Points submissions across the site.
© ToffeeWeb