"We're Everton, Aren't We?" – Say No to the New Badge
By
ToffeeWeb

:: 03/05/2013

Comments
(138)
jump to end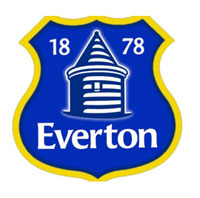 As most Evertonians are aware, the Club recently
trademarked a new badge design
, one that represents a significant change from the existing crest that has adorned Everton jerseys in varying, but similar, guises for the past 22 years.
This new badge surfaced on social media two weeks ago and though the Club's Marketing and Communications department was asked by fans via Twitter – the vast majority them dismayed and highly concerned – whether this was to be Everton's new official crest, to date no official answer has been forthcoming.
It would appear, however, based on word spreading from tonight's Supporters Club event that the Club are contemplating replacing the current crest with his new design starting with the release of the forthcoming 2013-14 home, away and third kits. We don't know for sure and can only hope that it is a trial balloon aimed at gauging fan opinion. But in the absence of any attempt by Everton over the past fortnight to set such speculation straight, we are assuming that that is indeed the plan.
It's worth prefacing what follows by saying this:
Over the past couple of years, Everton's MarComms department has been doing some really creative and positive things in terms of supporter outreach, public relations, social media engagement, etc. The Blue Christmas campaign of lighting up City landmarks in blue, the Jelavic Christmas ad, the "Make Their Day" initiative, the responsiveness of the Club's official Twitter feed, the success of Everton in the Community, evertontv, a list of awards and firsts in the digital and web space… all were examples of some excellent work being done by an enthusiastic department of employees trying to energize the commercial and communications side of the Club.
This proposed new badge — that cartoonish design is not worthy of the term "crest" — is an abomination, however, that runs so contrary to Everton Football Club's proud tradition that it's hard to believe it could be the Club's new emblem. Indeed, we were convinced it had to be a more informal design linked with a new merchandising line.
Lest it be forgotten, this is Everton we're talking about here: Founder Members of the Football League, nine-time League Champions, the one-time Mersey Millionnaires, the Pride of Merseyside with one of the richest histories in world football.
The words "class and dignity" have become adopted by Evertonians as a badge of honour in recent years as they have been upheld by manager David Moyes and exhibited by his players, in stark contrast to the appalling narcissism, self-delusion and lack of shame exhibited across Stanley Park in regard to Luis Suarez' numerous transgressions.
And yet when Liverpool changed their home strip last year after the inking of a Warrior kit deal that puts Everton's to shame, they opted for elegance: the Liver bird and the letters "LFC". Simple and distinguished, much like the famous EFC and wreaths design that Everton wore in the 1980s.
That Everton appear to have elected to drop the famous Nil Satis Nisi Optimum motto from the badge is hard enough to stomach but it would have been made more palatable by a crest design befitting our beloved Club's image and history. Indeed, change, progress and modernity need not be feared if it is handled with style and panache.
Instead, it looks as though the fans will have to choke down a dumbed-down, hand-drawn monstrosity that not only ditches Everton's famous Latin credo but one which also violates the equally beloved Prince Rupert's Tower which is now a bloated, clip-art-esque eye-sore that looks as though it were slapped together by a graphic design apprentice in their spare time.
Put simply, it cheapens the Everton brand and utterly undermines the Club's proud image and all the recent efforts to place EFC at the forefront of innovation.
ToffeeWeb is intentionally an independent website but, as with the Destination Kirkby debacle, sometimes an issue is just too important not to stand up and make your voice heard.
If you feel strongly about this apparent change to Everton FC's identity, we urge you to make your opinion known to the powers-that-be at Goodison immediately, constructively but unambiguously while there is still time to stop it. Contact the club through it's official Twitter account @everton using the hashtag #NoToNewBadge, write to CEO Robert Elstone, email the Marketing Department, tell them on their Facebook page.
There is a phrase that Blues fans have adopted recently that encapsulates their self-image, one fostered over 130-plus years of success, leadership, longevity and proud achievement. One that sustains us through the frustrations of the Premier League era. That mantra is "We're Everton, Aren't We?" If you're "born and not manufactured", you don't need any explanation of what that means but, at its core, it means there is something special about our Club that sets us apart.
Is that new badge befitting our Grand Old Team? Well, no. We're Everton, aren't we?
Reader Comments
Note: the following content is not moderated or vetted by the site owners at the time of submission. Comments are the responsibility of the poster. Disclaimer
Anthony Scotland
732
Posted 03/05/2013 at 01:02:02
Kenwright's legacy will be the man who turned a once great club into plucky little Everton the underdog. That's why Nil Satis Nisi Optimum is being jibbed.
Alex Jones
733
Posted 03/05/2013 at 01:13:15
Fully agree.
Sign here
, takes 15 seconds.....

On 500 and counting.
Nil Satis Nisi Optimum.
Tommy Meehan
734
Posted 03/05/2013 at 01:31:31
Christ Almighty ... how could anyone with an IQ in double digits or above even have to pause to wonder whether this is a good idea? Actually, why not just bring the name of the club into line with the badge and change our name to 'Super Team'? The words 'dog' and 'abortion' spring to mind.
Jamie Sweet
736
Posted 03/05/2013 at 01:44:59
I don't like the new design and I don't like removing our Latin motto. However, the way the club has been run over the last two decades is far more insulting to our club's motto than this badge is.
Maybe reomoving the motto was forced upon us because it is clearly false advertising?
Adam Fenlon
739
Posted 03/05/2013 at 02:05:10
The Everton shop is full of heritage stuff which looks great. Bring back the simple EFC design noted in OP if we need to change.
Patrick Murphy
744
Posted 03/05/2013 at 02:42:51
Who said that keeping things simple is the mark of greatness, this badge might be designed by a simpleton but it's certainly not anywhere close to being great. I'm pretty sure if you asked a junior football club to wear a shirt with a similar design they would treat it with the disdain it deserves.

Peter Thistle
746
Posted 03/05/2013 at 03:22:13
Maybe people should threaten to boycott buying any new merchandise if that hideous badge is on it. Vote with your wallets. It's hard to believe that design was done by a professional. Any one of us with minor photoshop experience could knock something up in a couple of hours that looks 10 times classier.
Luke Berry
748
Posted 03/05/2013 at 03:41:47
Hi guys, I attempted a rallying call article in similar vein, so this to my knowledge is a third incarnation of this article regarding this issue.

Could Michael Kendrick link them, there was a badge design put forward by one of ours which was everything that has been touched upon in this article: Elegant - Traditional - Befitting of Everton.
I can't find the alternative badge but it was beautiful. I think if we could give the club something to consider - something voted for by fans then they would have to listen more.
So I'm asking if we can put this other design forward (as long as we can find it, or whoever designed it can step forward.)
This 'badge' as one of the other posters quite succinctly put it is 'Poundland' and I for one don't want any of it.

Chris Jones [Burton]
750
Posted 03/05/2013 at 04:31:02
Well it's a matter of taste, isn't it? I have to say I can't see what all the fuss is.
I'd grant you I personally prefer some of our past crests (and we've had lots) yet this is far from the worst we've had, and by a long way. Nor would this be the first time that NSNO was omitted; and you can say the same about the laurel wreaths. And while I'm at the keyboard, I don't like our current home shirt, with the silly white armbands, but I refuse to get in a tizz about such transient concerns.
Sometimes I think the default setting of some fans is "No, this is shite, I don't want it, I'm not having it" simply because, and with some justification, they are unhappy with the people who currently have stewardship of our club.
To be quite honest we have far bigger things to worry about than what is, after all, most likely just a 'temporary' badge. As with kits, it will be changed soon enough - and probably before the purple has drained out of the faces of some of those people on here getting incandescent over it.
Kristian Boyce
752
Posted 03/05/2013 at 04:46:54
If I asked my 6 year old to draw the club crest, I'm thinking he would have an identical picture to the new badge.
Robin Cannon
753
Posted 03/05/2013 at 04:51:48
It'd be nice to actually have some confirmation about a change before everyone goes mental about it. "Some people at the Supporter's Club event" talking, and "in the absence of any attempt by Everton over the past fortnight to set such speculation straight, we can only assume that that is indeed the plan" is not exactly definitive.
Luke Berry
757
Posted 03/05/2013 at 06:33:28
Chris jones #750 - I'm sorry but transient is not the word I would use, we've had our current badge for 10 years, I couldn't take this being around that long.
This has nothing to do with the board per their running of the club, it's to do with a terrible design that somehow got past our marketing and chief exec'.
It's disgusting, cheep looking and plain-as-day the worst I have ever seen.
NSNO
Lyndon Lloyd
758
Posted 03/05/2013 at 06:13:14
Robin, I'm inclined to agree to a point, which is why we were tentative about putting too much in store of the supposedly leaked badge when it first emerged a couple of weeks ago.
There has been plenty of time in the interim, though, for the Club to discredit the story or explain the circumstances behind the trademark (however vaguely) in an effort to nip speculation and "people going mental" in the bud but they haven't.
Of course, they don't have to say anything but it would be wise to head this off, IMO, and the communications department is usually pretty active in quashing misguided speculation of this importance, either directly through channels like Twitter or through local journalists like Greg O'Keeffe.
In any case, I'd rather we spoke up and be proved wrong than not do anything and miss the opportunity to add our voice to those hoping to change the Club's mind if it is true.
Peter O'Connor
759
Posted 03/05/2013 at 06:40:33
Just don't buy the merchandise with that crest on it. EFC will soon change it if they realise their income stream will reduce.
Eric Myles
761
Posted 03/05/2013 at 06:48:33
Peter #759, their income stream won't reduce, they don't get income from th sales, Kitbag do.
Tony McArdle
763
Posted 03/05/2013 at 07:02:11
Cruel you lot are ! Look at the positives........there's not a single spelling mistake and even the number 7 is the right way round.
Paul Gladwell
764
Posted 02/05/2013 at 23:12:49
It's shocking and things should be done about it.
Also for this saying we have not had this one long, we have.
Minus the added 1878 and the big stupid Everton wrote on it, the actually badge has been on the kit since 1978 minus those couple of glory years, how many more times are we going to hear people say " well it's only a badge" or " it's only the ground we play in" till there is sod all left?
Our history and culture is becoming more and more unique as every other club sells its soul, one day I believe this old school history will be the envy of clubs if we keep it intact and at the moment it's all we have to shout about.
Look at the responses from outsiders on other none Everton websites on this, they are laughing that we are doing this and consider our present badge as classy and beautiful are just some of the comments.
Barry Earley
766
Posted 03/05/2013 at 07:47:36
Petition linked by Alex 533 signed and shared on my Facebook. Marketing Dept emailed. Comment put on Everton Facebook site. Please please please take time to do the same.
Dermot O'Brien
768
Posted 03/05/2013 at 08:14:04
Watch Out! Beadle's about!
This must be a joke. What is worse than an abomination?
Peter Truth
769
Posted 03/05/2013 at 08:09:53
Chris Jones #750 I suspect the person who designed that monstrosity and the person who rubber stamps it as our club crest probably have the same opinion and standards as yourself,to compare its historic significance with the thick white band around the sleeve of the home strip is ridiculous.
While I'm at my keyboard who uses the word 'tizz' ?and if that's what you think this is all it amounts to then maybe you're at the wrong club,I would suggest you would be better taking your taste and your white socks and sandals to Wigan Athletic,a place where history and tradition have no place.
Steven Telford
770
Posted 03/05/2013 at 08:24:17
Why don't they have the decency to make an official statement.
The people's club my ass.
IF they do this.......... fuck!!! it;s fine how it is already, if they want a change, grab an old vintage one for a season or so, but not this "pound saver" symbol.

Steven Telford
771
Posted 03/05/2013 at 08:36:23
Humm, no it must more accurately mirror the quality of the Board of directors.
just in case a shred of class is perceived to remain, we need to put the icing on the cake, how about, we put the motto banner back in but
"Nil Satis Nil Optimum" could be changed for "whatever"
And we could hire that ""little Britton girl" who chews gum to model it. Yeah, but no but….
There you go Mr. Kenwright, that should now more accurately mirror the quality of the board.

Ken Buckley
777
Posted 03/05/2013 at 09:03:37
It looks like an 'iron on' one that you can stick where you like!
Peter Truth
780
Posted 03/05/2013 at 09:09:58
Just imagine the 60 foot shield on the outside of the main stand........
James Martin
783
Posted 03/05/2013 at 09:07:52
Getting rid of the laurel wreaths and the latin motto would be typical of this board. The two things on the crest linking us to achievement would of course be the things to be erased whilst 'Everton' (just in case we forgot who we are) and '1878' (the two items not even on the original crests) are pride of place. Typical. Another stick for the rest of the legaue to beat us with. That's the crest of a top club right there isn't it?
Paul Norman
784
Posted 03/05/2013 at 09:13:45
I hope that everyone's getting excited about nothing here. It looks to me like it could be an icon for an app or web branding, which I think would be fine. If however, it does turn out to be our new "crest", then let the gnashing of teeth continue!
Phil Bellis
786
Posted 03/05/2013 at 09:18:26
Chris Jones
Re this season' shirt that looks like you're wearing an oversized t-shirt underneath...you may refuse "to get in a tizz"; many others refused to buy it
EFC lose out again
Sam Morrison
787
Posted 03/05/2013 at 09:26:28
It may turn out not to be the new shirt crest - bloody hope so - but I've signed anyway, just in case. To be honest I don't think the existing crest is a work of art exactly, but the one above is embarrassing.
Mike Rourke
788
Posted 03/05/2013 at 09:30:00
The tower on our current badge and the version before that - my fave - always looked to me just that; A Tower! Towering! To me it always seemed an unspecified height but certainly high enough to have Rapunzel in a tizzy, a spire in the sky suggestive of a club with grand dreams and ambition. Flying laurels, latin motto or E.F.C what not to like?
I must confess it was many years before I discovered, to some degree of disappointment, that the Prince Rupert tower was little more than an ugly brick outbuilding for chucking local piss-heads into but credit where credit is due the new logo captures that quite perfectly.
Even so...it's a no from me.
Chris Fisher
789
Posted 03/05/2013 at 09:38:35
I think this will be something just for the kids, kids merchandise etc but if this is the actual new Everton badge then I will simply refuse to buy anything Everton related until it is gone.
Gareth Morgan
790
Posted 03/05/2013 at 09:39:51
That badge looks shite! It's an unfashionable abomination. I feel the club should have followed the direction of spurs and the shite and gone for simplicity. They should stick to the basic components of the current crest but ditch the massive EVERTON at the bottom and also get rid of the big sheriff badge that surrounds everything. That is literally all they needed to do.
Gareth Morgan
791
Posted 03/05/2013 at 09:51:18
The tower needs a gastric band.
Kev Johnson
794
Posted 03/05/2013 at 09:42:47
I've added my name to the online petition (see Alex @ 733) and agree that it is a truly horrible design.
However, sacrilegiously I have to say that the laurel leaves and latin motto have had their day. They are essentially Victorian and we are living in a very different age now. I say that with a degree of sadness - I'm as nostalgic as the next man - but I'm just being realistic about the way things are going. Laurel leaves and Latin have little or no cultural significance in 2013. In 20 years time they will have even less. The tide will not turn back.
Everton Football Club need to come up with something which nods respectfully and proudly to the past (OUR history) but looks to the future. This proposed crest/badge does not do that.
Varun Rajwade
795
Posted 03/05/2013 at 10:01:35
Sorry but I disagree with most people here.. This badge looks very clean and simple - as it is NSNO is Latin (or Greek if you prefer) to most people, so its not neccesary on the crest. Its nice, clean and simple - so gets a thumbs up from me.. Having said that, as a piece of creative work, there is no one right way of doing things, so everyone has a right of opinion..
Ray Roche
796
Posted 03/05/2013 at 10:07:58
Gareth Morgan @ 791
"The tower needs a gastric band. "
I bet it's pipes need lagging as well.
Derek Wadeson
798
Posted 03/05/2013 at 10:01:17
My granddaughter likes it and as she is more likely to wear and spend money in the club shop tham me. It's the 21st century and Facebook, Twitter rules and not the old farts like me.
Bloody hell you would think they had put the Liver bird back on the badge,.... hang on a minute the commercial department might like that as well.
Paul Gladwell
802
Posted 03/05/2013 at 10:23:14
Paul, Gregg O'Keeffe confirmed on twitter the badge is getting changed, this is the only one the club have registered.
When asked why the Echo are not asking questions, he said they will only do that when the badge is confirmed, so what is the point of asking questions when it is too late? this is a big issue that needs to be questioned about before it is too late, not when no one can do sod all about it, the local papers bottling it again.
Eugene Ruane
812
Posted 03/05/2013 at 10:55:11
The (new) badge shown is without a doubt, staggeringly amateurish looking shite.
Horrible, cheap, nasty Forest/Leeds style cack.
However my question is not about the design but WHY a change?
There is all kinds of Everton-related stuff that blues can/have/do argue about, from moving to Kirkby to pink away shirts and if there's something contentious, that's exactly as it should be.
But..what was contentious about our badge/crest?
(clue: fuck all!)
Ask yourself one simple question, have you ever heard JUST ONE person say..
"I'll tell, you what, we need to change that badge - sharpish!"
Ffs, it might be the one Everton thing NONE of us have a problem with.
Apart from seeing our 'board' as morally bankrupt, I also (despite their wealth) believe them to be as thick-as-shite.
And this decision, IF it happens, would be 100% proof of that.
There is a very old, well-known and sensible adage that goes - "If it ain't broke don't fix it".
This appears to make sense to everybody.... apart from our board who it seems may prefer something along the lines of "If it ain't broke, smash it to fucking bits"
Mike Cleave
813
Posted 03/05/2013 at 11:29:01
I emailed the club on everton@evertonfc.com This is the response I received.
Thanks for your email.
As our fans have come to expect, we are consistently looking at ways to develop and progress the Club.
Fans know that our work is diligent and consultative.
They also know that we will update them, on all matters, as soon as we can. We will remain true to both principles.
Regards
Les Tombay
814
Posted 03/05/2013 at 11:32:59
#798 Derek, the Liver bird *should* be on out shirt. We are the first team of the city of Liverpool.
Matthew Tait
816
Posted 03/05/2013 at 11:25:35
Meh it's not great in design terms at all , but I don't think it's so bad as a modernised take on the current version. And frankly, the squatter version of Prince Rupert's Tower on this badge is actually a more accurate representation of the real thing than the idealised thin, tall version on the current crest.
Besides, we don't actually know what this crest is even for, so I don't know what people are getting upset about. Possibly it's just a simplified version for use on casualwear or souvenirs or something. But even if does end up on the shirt I can't say I'd be that bothered. We could do better, but we could do worse. It's not as bad as those stupid arm bands on the current home shirts, for one thing.
Eugene Ruane
817
Posted 03/05/2013 at 11:42:33
Matthew (816) - "Besides, we don't actually know what this crest is even for, so I don't know what people are getting upset about"
You might be right, it might be nothing, but probably best to get 'upset' (or rather let them know how you feel) about these things before rather than after.

James Cadwaladr
818
Posted 03/05/2013 at 11:48:27
Response to my email to Marketing which Elstone was copied in.
Two points raised, both utter rubbish. This coming from Media and Communications.
Dear Mr Cadwaladr
Thank you for your e-mail.
As our fans have come to expect, we are consistently looking at ways to develop and progress the Club.
Fans know that our work is diligent and consultative.
They also know that we will update them, on all matters, as soon as we can. We will remain true to both principles.
Regards
Media & Communications Department

Ray Roche
819
Posted 03/05/2013 at 11:56:54
If they are thinking of changing the badge, what's next? Z Cars consigned to the bin as well? Can you imagine BK's choice of a new tune to trot out to?
Send In The Clowns, or the music to The Benny Hill Show, Yackety Sax.
I await the response from ToffeeWeb readers with interest...

(To be fair to BK he chose the Hollies song for the Hillsborough tribute right)
Paul Kelly
822
Posted 03/05/2013 at 12:32:07
I have the current badge tattooed on me, wreaths, latin, beautiful it is. This proposed new one I wouldn't get tattooed next to my a##ehole in case I got the two confused. Absolutely awful.
Nick Entwistle
823
Posted 03/05/2013 at 12:36:29
It is the Kirkby of football badges.
Kevin Jones
824
Posted 03/05/2013 at 12:15:32
If we need to change, which I believe we don't. Put the 1878 Underneath the tower but within the shield, leave the Laurels in, and the garland with the NSNO. Then remove the EVERTON From Underneath. as most people know whose badge it is anyway
Simple really
Kev Johnson
825
Posted 03/05/2013 at 12:50:34
And some lagged pipes would be good, eh, Kevin?
Sam Morrison
826
Posted 03/05/2013 at 12:49:26
Kev Johnson I enjoy what you have to say 99% of the time but I don't get you today. It's not by default 'unrealistic' to keep up a tradition.
Equally others have said the motto is irrelevant because "it's in latin"... I don't think you have to be stuck in the past to appreciate continuation and respect for what's gone before; the uproar is not about the crest being changed after all. It's about what it's being changed to, which - facebook generation or no - looks like a lowest-common-denominator bit of clip-art.
Ross Edwards
828
Posted 03/05/2013 at 13:00:27
Yep, lets stand up to BK and his cronies. They completely disregard our opinions, and have already ruined our future by cocking up Kirkby and Kings Dock now they're making a cartoon our crest!
Kenwright out Now!!!
Steve Pugh
831
Posted 03/05/2013 at 13:03:06
As a badge it is rubbish, as a diversionary tactic it's brilliant.
Paul Gladwell
833
Posted 03/05/2013 at 13:09:20
James I just received that bollocks reply too.
Kevin Tully
834
Posted 03/05/2013 at 13:09:45
Looks like they have held a competition for primary school kids to design a new crest. Bloody awful.
I wonder what Rolf Harris would say? ( Apart from "show me your knickers")
Richard Reeves
835
Posted 03/05/2013 at 12:11:09
Eugene (#812), I've been thinking along the same lines. Why change the badge at all?
Kenwright couldn't leave the old badge alone, the additional Everton wording and 1878 were unnecessary in my opinion and the colour blue? Well, it's not Everton blue but this new pathetic attempt at rebranding is just too much for most of us to take.
I would like to know why clubs are going for a more simplistic badge, I'm assuming with us it's all about making us more identifiable to people outside of this country as a brand. Maybe if we started winning things people from abroad would recognise the badge without any kind of wording except from Nil Satis..... and anyway, aren't we in the most popular league in the world? Most people that follow the Premier League would surely know who Everton are even if you took away the Everton name on the badge.
Chelsea changed their badge a few seasons back by getting rid of the lion and CFC and replacing it with a more old-fashioned, traditional looking badge that reminds me of the old Villa badge. If anything, the previous Chelsea badge looked more like what someone would come up with these days but someone with a brain over there decided on a little class. I wish we had the same sort of people in our marketing department, if there is one.
Kev Johnson
836
Posted 03/05/2013 at 12:59:34
Alright, Sam. Secondly, I don't see how we disagree about the horrible clip-art crest that has been put forward. We're on the same page there, I think? Firstly, I said that a new crest should proudly and respectfully acknowledge tradition but look forward. It's all to do with the emphasis. The Catholic mass used to be in Latin, and Latin used to be studied at grammar schools, but no longer. Quite rightly, too. Kids are better off learning Spanish or Japanese these days, and people now prefer a more democratic style of religious worship. Latin is irrelevant now. It used to be a sign that you were well educated, but that was about 50 years ago! To me, it's an "old school tie" thing. Same with laurel leaves, which are associated with the Ancient Greeks. They don't matter anymore, Latin and laurel leaves. We need something less 19th century and more 21st century.
Paul Meehan
837
Posted 03/05/2013 at 13:00:31
I can't believe anyone is seriously considering this. I signed Alex' petition with the following comment: "The Latin motto is one of the few things that truly makes us distinctive among our premier league peers. The proposed new design is cheap, crass, and common."
Phil Bellis
838
Posted 03/05/2013 at 13:13:26
Varun
..."as it is NSNO is Latin (or Greek if you prefer) to most people"
Maybe, but not to those that matter
The only people making money from Everton shirts are Kitbag - I can only presume they won't replace the badge with this Scooby Doo version

Richard Reeves
839
Posted 03/05/2013 at 13:19:16
I forgot to say, this new badge has been widened at the bottom to accommodate the Everton wording, I keep getting an image of a fat woman in a swimming costume, cartoon-like..........
Erm.... .just me then.
Eugene Ruane
840
Posted 03/05/2013 at 13:22:36
James (818) - If there were a cup for spin, we'd piss it.
"As our fans have come to expect, we are consistently looking at ways to develop and progress the Club"
Nonsense, in fact this is a bare faced lie.
Evertonians have 'come to expect' NO such thing.
In fact, we now expect nothing but the amateurish, cheap and half-arsed regarding just about everything.
He continues "Fans know that our work is diligent and consultative"
Really?
The Kirkby Inquiry suggests (to me) that diligence is a million miles away when making decisions and though many were consulted on the proposed move, they/we were only consulted on what turned out to be a mountain of horse-shit and lies.
"They also know that we will update them, on all matters, as soon as we can. We will remain true to both principles"
'Update' just means we'll tell them when it's done.
Fact: There was no consultation or choice about a pink away kit, just..here it is.
(nb: whether you didn't mind the pink kit or not isn't important, point is there was no consultation - Oh and had the question beforehand been put "What do you think about Everton playing in a pink away shirt?", my guess is the world record for being told to 'shove it up your arse' would have been broken)
Steve Pugh (831) You might be spot on, if you are I'm nervous about what the diversion might be for.
Phil (838) - That might actually be the point of the whole thing - "Give us a cut of the cash or we'll put this shitty badge on our shirts and nobody will buy them"
Who knows what the bleedin' hell goes on with these clowns.
Kevin Jones
841
Posted 03/05/2013 at 13:13:39
Don't know what your talking about Kev. Put a small lagging response on here the other night, came to work the next day and they'd all disappeared. Don't have a PC at home see.
Can only presume someone took a huff and took their ball in.
Chris Leyland
842
Posted 03/05/2013 at 13:24:44
Ray Roche - I seem to remember Walter Smith getting rid of Z Cars and making us come out to some godforsaken bag piper
Chris Regan
843
Posted 03/05/2013 at 13:25:26
I hate to bore people, but I hold a Masters degree in marketing and have ten-years experience as a marketing professional. Therefore, I relate the issue of the badge to our brand image. In short, to help build an image: Don't Change... unless you have to. I think we can all grasp the importance of worldwide recognition for the club.
A case in point: think of the world's most famous brand of cola and then the second most famous brand. Coca Cola have never altered their logo and guard it jealously, whilst Pepsi have altered their logo about once every 11 years. Pepsi are second to Coca Cola and have been throughout most of their history.
Then again, what do I know? Perhaps it's the 'Nil Satis Nisi Optimum' that sticks in the throat of the board.
Chris Regan
844
Posted 03/05/2013 at 13:32:11
Eugene #840, you have just suggested our only chance of silverware.
Kev Johnson
845
Posted 03/05/2013 at 13:32:34
Kevin – I think you'll find that stuff was moved by Lyndon to a separate 'TW Sideshow' thread.
Chris – I respect your experience as a marketing professional, and hear what you say about the recognisability of a brand image, but I don't see how the Coke analogy sheds any light on this. Isn't it a very different kettle of fish? I'll bow to your superior knowledge on this, but in design terms, isn't it the VISUAL impact which is important, not the actual content?
If so, maybe we should keep the laurel leaves – not because they're laurel leaves but because they look like eyes, with the bridwell as a nose, making a kind of face - but drop the motto, which has no visual impact?
Phil Bellis
846
Posted 03/05/2013 at 13:24:16
Yo! Kev-J dudey person:
I may be persona non grata and offend txt speakers but knowledge of Latin has relevance in the modern world in that it aids learning any language which has its roots in Latin.
The crux of the matter is it helps English spelling if you know the Latin root of the word, eg, "separate".
Now you may feel that spelling is, per se, irrelevant in the modern era, what with spellcheckers et al... Perhaps even writing without a word processor etc or using more than your thumb is also becoming a lost skill. However, when reading CVs and job applications with a view to inviting people for interview, spelling and grammar still give the reader an appreciation of the writer's level of education, and, indeed, an indication of their general approach.
Ste Traverse
847
Posted 03/05/2013 at 13:45:47
Pathetic badge from a pathetic hierarchy we're currently lumbered with at Goodison.
If it is to be the new badge then no doubt we'll be 'treated' to the slimy Robert Elstone coming out giving us his typically patronising positive spin.
Kristian Boyce
848
Posted 03/05/2013 at 13:39:34
Since seeing the new badge, I've been trying to think what it reminds me of, and thinking that I've seen something similar. Its just come to me whilst watching my kid play his video games this morning. The badge looks like ones they use on football video games that don't have the license to use player & team names.
I remember Pro Evolution and other games changed the names but kept it similar to the actual player (Linden Bines, Tom Hammond, Toby Hobbert etc..), or team (Evertown or Merseyside Blues). The badge looks just like the ones they put out for the team.
Kev Johnson
850
Posted 03/05/2013 at 13:51:40
Don't talk nonsense, Phil. I was going to argue with you, point by point, but I really can't be bothered. Yes, spelling and grammar is important. No, Latin is not the "crux" of anything any more. If you're going to try satire, you need to do better than that. You skipped straight from the Latin-loving Victorian era to a vision of modernity which seemed to be based entirely on "Bill and Ted's Excellent Adventure" (1989).
Tony J Williams
851
Posted 03/05/2013 at 13:49:46
I fcken luv it innit, dat is ded boss an tings lol ........fucks sake!!!
Mike Rourke
852
Posted 03/05/2013 at 13:21:21
Matthew 816
"The squatter version of Prince Rupert's Tower on this badge is actually a more accurate representation of the real thing than the idealised thin, tall version on the current crest."
Surely that is the point. Beauty is in the eye of the beholder and all that, but the real Prince Rupert's Tower is nothing but an eyesore, a blot on the landscape and something that is only one step removed from a pile of rubble. It is also about as much a tower as my shed. I don't want an accurate representation of it.
Hats off to whichever designer drew inspiration from it to create (and I'm being as objective as I can be) the second most attractive football badge I've seen (I really like Blackburn's). I strongly suspect an LSD user. If they were still about, I'm in no doubt they could create us a fabulous badge based on that hole in the wall from a few years ago or better yet the pile of bricks.
And in that regard I'm with Kev Johnson – a new badge is not a problem at all even omitting the traditional elements. I just demand that it looks like it was done by someone who gives a fuck (or was on hardcore hallucinogenic drugs) — not by a Kopite saboteur. I can't believe the club look like they are going to fall for it.
Paul Melarange
853
Posted 03/05/2013 at 13:58:10
This badge looks very cheap and nasty, it should be binned along with other stupid ideas like when Hamperman was in charge: no Z-Cars... instead, let's run out to Bad Moon Rising; red season ticket covers for Upper Gwladys Street; the hideous mascot, and the Kirby fiasco under the current owners!
We are founder members of the Football League, have an instantly recognised badge that's known world wide, and one of the best club badges going! Up the toffees!
Brian Waring
854
Posted 03/05/2013 at 14:01:52
Bill will have us coming out to his favourite song from Carousel next!
Brent Stephens
855
Posted 03/05/2013 at 14:05:13
Never did Latin at school but I know what NSNO means and it means more than the literal translation (the medium is the message, perhaps?). To me it's part of the "brand" (yuk) - ie my identity with all that's Everton.
NSNO!
Chris Regan
856
Posted 03/05/2013 at 13:54:10
Kev Johnson, I see your point. The issue here is recognition through repeated association. Seeing something then being able to associate it with an organisation and its implied brand values helps cut through the market place clutter and make a sale - so the theory goes.
I could write an essay on this, but look at it another way. Would Ford or Toyota feel the need to re-brand? No, there is no reason to change the badge, no gain to be made. There will only be a loss of recognition.
Regarding visual impact even a relatvely complex image can become instantly recogniseable and achieve association with a brand.
That is why I used Coca Cola as a case in point to convey the fact that when your brand is number one, why change it? If we want to be commercially succesful we need to put our commerical efforts elsewhere. Hope this clarifies my point.
Paul Andrews
857
Posted 03/05/2013 at 14:13:00
What the song that "makes me cry when I hear it played" ?
I reckon he got dropped on his head when the lovable kopites used to pass him from the front to the back of the kop
Sam Morrison
858
Posted 03/05/2013 at 14:09:45
Kev Johnson (836), points taken but respectfully disagreed with. That is, I'm with you on the relevance of latin as opposed to a living language in schools, but - to paraphrase what you said to Chris Regan - learning a language in a school is a different kettle of fish to the continuation (or not) of a motto and laurel leaves on a football crest.
Also, how do we make the crest '21st century'? Design is not constrained by time and can and does take it's influences from anywhere or any-when, to coin a terrible phrase. I have no objection to the design changing, but I don't agree that the leaves/motto are irrelevant. They represent the club's history - and history, albeit an abstract concept, is an ongoing 'thing'. You can't retire it.
Jackie Barry
859
Posted 03/05/2013 at 14:33:19
I think our board hate trying to live up to our motto, they know they have mediocre ambitions and can't live up to what Everton Fc are about. Sad day....
Kev Johnson
861
Posted 03/05/2013 at 14:29:18
Fair enough, Sam. I don't know how to combine history and a sense of the future in a club crest. I am not a graphic designer! Just out of interest, here are the crests of all the Premiership clubs...
http://www.premierleague.com/en-gb/clubs.html
I do like Swansea's - elegantly modern, IMO, but then again they don't have what you might call a proud history. Fulham's is modern too, but unattractively so. It's horribly KFC, if you ask me. Here's those from the Championship...
http://www.football-league.co.uk/page/ChampionshipIndex
Nothing too eye-catching there. The days of heraldic crests ("unicorn recumbent" and all that) are well and truly numbered, though.
Bill Gall
862
Posted 03/05/2013 at 14:20:12
Allthough the club is responsible to maintain its image in modern times it should not in any way loose its proud history and heritage that the present crest portrays. Anything that looks cheap,and this new crest does look cheap, portrays the club in a bad marketing position and does not represent progress in portraying the club internatoinally.
Sam Morrison
863
Posted 03/05/2013 at 14:48:35
Thanks for the links Kev. I have a weakness for a round crest myself - because of the simplicity. Some of the others just have too much detail... Swansea's is ok, just a little corporate looking for my taste. I guess if we get into what the other clubs do though, the arguments here will go exponential!
Phil Bellis
864
Posted 03/05/2013 at 14:47:07
Kev
How bloody rude!
You worry me; I take it you've had a long week
I merely argued against your definitively stating your opinion that Latin is irrelevant as fact and gave what I feel are valid rebuttals and you seem to have taken offence, for some reason
I see nothing wrong in making use of of modern technology whilst retaining a sense of the past
And it is a fact that knowing the Latin root of an English word helps you to spell it correctly
English is also littered with Latin phrases and abbreviations as you well know
What's the problem?
p.s. Bill & Ted?
Tony McNulty
865
Posted 03/05/2013 at 15:09:36
Latin is extremely important in the modern world.
For example, the following two graffiti were found at Pompeii:
Yakubu pukkapies amat
Yakubu octogenerian est
Can someone help?

Ray Roche
867
Posted 03/05/2013 at 15:16:26
Chris Leyland @ 842
That's right, Chris, a sodding piper, just because we had a couple of Jocks in our team and one for a manager. I also remember one occasion when the piper was walking off with his pipes under his arm and the music carried on! The fucker was miming!
And Bill also attempted to bring in some new team song a few years back, and tried playing it just before, or as, the team appeared. Anyone else remember that? Fortunately, it was a short lived attempt at doing what some on here are suggesting:- modernising.
Eugene Ruane
868
Posted 03/05/2013 at 14:47:18
I go to a butchers and buy a pound of sausages.
I jump on the bus and at each stop, I drop a sausage out of the window.
People on the bus notice and eventually a feller says..
"Why are you doing that mate?"
To which I respond "No reason, I'm just...doing it"
Understandably, for doing seemingly mad stuff for no reason, I would be seen as a total barm-pot.
So I ask again, what REASON is there to change it?
Supporters demanded it?
No.
It's better?
No (or if yes - how, why?)
Surely there would HAVE to be a reason....wouldn't there?
Nb: a REAL reason, not an Elstone-speak load of spin and waffle along the lines of "While we all acknowledge and hold dear our heritage, nothing stays still forever and with that in mind..." etc blah waffle wank.
In my opinion, there is NO good (or bad) reason for this and should it happen, it will amount to nothing more than BK throwing sausages out of a bus window?
The difference will be, they'll be OUR fucking sausages.
As I say, our badge/crest might be the one thing no Evertonian has a problem with.
It would be par for the course then for our genius board to start fucking about with it.
Patrick Murphy
869
Posted 03/05/2013 at 15:25:38
Tony Mc was that when the Yak was at Portsmouth? e.g. Play up Pompei, Pompei Play up apparently he asked for a move to Wigan as he wanted to be nearer to Holland's.
Kev Johnson
870
Posted 03/05/2013 at 15:28:05
So, what are you saying, Eugene - that a new club crest should incorporate a sausage motif? It's not a bad idea, actually...
Patrick Murphy
871
Posted 03/05/2013 at 15:27:53
Eugene Mr Elsttone couldn't have watched much of Phil Neville's last few games for the club he seemed to be standing still for what seemed an eternity.

Tony Marsh
873
Posted 03/05/2013 at 15:25:54
I hate the new badge but then again I hate the original badge.
I believe we should have a complete overhaul of the club crest to something that has a connection to our City.I beleive Liverpool FC have stolen the City of Liverpools real crest,the world Famous Liver bird.I would love us to have a Blue Liverbird as our emblem.If not the Blue Liverbird then some other famous City land mark ie the Two Cathedrals or the Pier Head anything but Ruperts Fucking Tower What ever or were ever Ruperts Tower is gives no clue as to the identity of EFC.Plenty of Divs in this country don't know were Everton is never mind people abroad.I thought the idea in football these days was to promote and expand the awerness of your club ?Well getting some recognition for the City your from would be a start.Letting people everywere know we too herald from the Greatest City on earth.
We have basically surrenderd our birth right to the Redshite who have claimed Liverpool City as thier own.We just sit back in the shade and go un-noticed.
If you think a complete radical overhaul is bad news then think again..It hasnt
done Cardiff any harm has it...Fuck the new badge lets have a complete change..
Jackie Barry
876
Posted 03/05/2013 at 15:51:32
The shape of the badge looks somewhat bloated
Tony McNulty
877
Posted 03/05/2013 at 15:42:33
Nice one Patrick – Pompey. Very good.
Ray Roche
878
Posted 03/05/2013 at 15:54:34
Sorry, Kev, the sausage motif has been trademarked by Bangor City.....geddit? Bangor...banger... I'll get me coat.
Tony McNulty
879
Posted 03/05/2013 at 15:56:15
In those days before I was completely unemployable, I had a boss who, whenever he didn't want to deal with an important or fundamental issue, would light a diversionary fire which would keep the rest of the organisation off his back for weeks. Whilst everyone gazed at the irrelevant orange glow on the other side of the office, he would sit scratching his balls.
The main issue here is the Board's inability to provide appropriate levels of funding for Everton to bridge the gap between where we are, and the CL. What's the next diversion? Painting the stands a different shade of blue?

Andy Whittingham
880
Posted 03/05/2013 at 15:41:29
I've improved the new crest, you can see it here -
Andy Whittingham
881
Posted 03/05/2013 at 16:02:33
..or a slightly more serious effort (that took 10mins to knock up) -
Kev Johnson
883
Posted 03/05/2013 at 16:10:24
Top opening, Tony! "In the days before I was completely unemployable..." Brilliant.
Ray - ouch, that joke actually hurt! They're not the only team - oops, nearly said "foreign team" there - with a sausage related name. Eintrach Frankfurter, for instance. See, two can play at that game!
I quite like the second one, Andy. Yeah, that's not bad at all.
Andy Whittingham
884
Posted 03/05/2013 at 16:13:51
fyi.. I stole the base of that logo from Arsenal's badge
Les Tombay
886
Posted 03/05/2013 at 16:05:19
Why do we need the word Everton on our badge?
WE are the top flight team that wears royal blue jerseys with white shorts. WE know who we are, and so does everyone else. Others come, they go, but WE are THE top flight team that wears royal blue jerseys with white shorts.
We don't need the word Everton on our jerseys or incorporated in our badge. It's the football jersey equivalent of wearing a chunky bracelet with your name engraved on it.
Phil Bellis
887
Posted 03/05/2013 at 16:12:01
The Historical Kit site shows the 1991, uncluttered, smart version, retaining much of Theo Kelly's 1938 original design
What a contrast
http://www.historicalkits.co.uk/Everton/Everton.htm
Lyndon Lloyd
888
Posted 03/05/2013 at 16:08:38
I love this from Mike Rourke and couldn't agree more:
The tower on our current badge and the version before that - my fave - always looked to me just that; A Tower! Towering! To me it always seemed an unspecified height but certainly high enough to have Rapunzel in a tizzy, a spire in the sky suggestive of a club with grand dreams and ambition.

I recall the wonder as a kid at what that tower represented before I found out it was the squat little brick "Stewbum's Jug" it actually is. I've never felt more affection for a pile of bricks but, like Mike says, I don't need an accurate representation of it on the Club's badge.
Regarding the need, or lack thereof, to change the crest at all, there are suggestions that it's being driven by Nike, partly because this new version will be easy to produce as an iron-on to save costs. (Which makes looking at the stitched emblem on Liverpool's jerseys all the more saddening: another illustration of the gulf in commercial muscle between the two clubs.)
Seeing as, according to those who have delved into this a little deeper, Everton get next to nothing from the kit deal, the desire to cut costs will naturally come from Nike and they probably don't give a flying one about our heritage. An ugly kit for a season I can live with but, as others have pointed out, the badge has far greater longevity and impact on our identity.
Brent Stephens
889
Posted 03/05/2013 at 16:19:28
Ray, Kev, I'm not sure which is the worst joke there!
Paul Gladwell
891
Posted 03/05/2013 at 16:32:03
Andy, spot on it shows how simple it is if you have a brain, there's another one doing the rounds too which is spot on by SOS I think, like yours the tower is what it should be, a tower not a fecking bumble bee off Cbeebies.
James Lauwervine
892
Posted 03/05/2013 at 16:36:17
Looks better I reckon, the old badge always kind of looked like a dopey cat's face to me. Cue torrent of abuse...
Kev Johnson
893
Posted 03/05/2013 at 16:39:15
James - a face, certainly. But a dopey cat? Nah. If anything, a wise owl.
Paul Gladwell
894
Posted 03/05/2013 at 16:38:11
James, can you imagine if the redshite knocked up something like this?
Instead they spruced theirs up in a classy way, the horrible fuckers will be loving this effort, they really must love us as we are just a laugh for them at times.
Steve Sweeney
896
Posted 03/05/2013 at 16:43:39
The Tower looks like Berty Basset's Cousin.
Sometimes I cannot believe what shit comes out of our
Club,
I just hope that this being April it was started as an April Fools Joke.
I know it is now may but it started in April. I know what I mean.

Tony J Williams
897
Posted 03/05/2013 at 16:43:25
"In my opinion, there is NO good (or bad) reason for this and should it happen, it will amount to nothing more than BK throwing sausages out of a bus window?" - I have no shame in admitting I will be using that analogy all this drunken weekend.
Phil Bellis
900
Posted 03/05/2013 at 16:46:46
Les (886)
How true and you've reminded me of reading that Harry Catterick gave a similar response in th 60s to an interviewer asklng why we didn't have anything on our shirtt
Along the lines of "..there's no need for a badge on the shirt, we're the team that plays in blue and white..everyone knows who we are, we don't need to tell them..."
Any historians out there?

Tamhas Woods
902
Posted 03/05/2013 at 17:02:47
That's no clink on the badge, it looks like a little gingerbread house with icing! I'm all for football becoming family friendly but come on!... seriously?
Steven Telford
903
Posted 03/05/2013 at 17:06:16
Andy #881
Cheers!
Paul Gladwell
904
Posted 03/05/2013 at 17:10:27
Maybe the clowns who thought of the pink kit got a brainwave, if we changed our badge, everyone would throw all their old gear in the bin and buy the stuff with the Cbeebies badge on.
John Gee
914
Posted 03/05/2013 at 17:44:17
So we're now the CBluebies. I think we could be hitting a bit of a low here. Over a 100 comments on something someone heard in a pub. Shouldn't this be in the Rumours section?
Gerry Quinn
915
Posted 03/05/2013 at 17:47:22
Give me a break...
I understood that the main reason for the design change was that the makers of the shirt want to simplify the badge for making it easier and quicker to fabricate.
Gerry's answer is simple - buy a fucking machine capable of printing that detail with speed!
Paul Gladwell
918
Posted 03/05/2013 at 17:53:46
John, considering the issue is right out in the open now with every blue making comments on it and Okeefe telling people we are defo changing badges, added to the fact this is the only new badge they have registered then something seems more than a pub rumour and the clubs silence is deafening considering they have a ready made template thats getting sent out to anyone complaining about the badge via email, you can also see pictures of Everton memorabilia with this badge on if you google it, although this could be fake.
James Fearns
920
Posted 03/05/2013 at 18:06:36
Eugene, here is a copy of Everton's new home shirt for next season:
http://www.spreadshirt.com/spider-baby-blue-happy-sausage-t-shirts-C3376A4482394#/detail/4482394T491A253PC7090701PA932
Sam Morrison
926
Posted 03/05/2013 at 18:22:33
Great work by Andy Whittingham on the crests. Crystallizes the point very well.
James Carlisle
927
Posted 03/05/2013 at 18:23:44
If we get a new badge it should just be the current badge but without the 'everton' and the badge shape, keep the rest and it would look good. This proposed abomination does sum up the board however, the lack of nil satis summs up their lack of ambition and the removal of the victory wreaths shows how little we've won with boys pen bill and co.
Patrick Murphy
947
Posted 03/05/2013 at 19:30:18
If they want to go for cost cutting surely they can just have EFC on the shirts, can't get much cheaper than that.

Apparently when Hamburg play Eintracht Frankfurt the game is known as the 'Fast Food Derby' well that's what I heard honest.

Lyndon Lloyd
949
Posted 03/05/2013 at 19:27:51
John Gee:
Over a 100 comments on something someone heard in a pub.
John, the crest shown above has been trademarked by the club, it was discussed by Club staff at last night's supporters club evening and, we're led to believe, there will be further discussions between supporter representatives and the Communications department later this month.

Ian Bennett
954
Posted 03/05/2013 at 20:15:26
Who ever is representing us fans, please communicate that it's shit, and we've had our fill of shitness already.
Tony I'Anson
957
Posted 03/05/2013 at 20:21:03
Don't know if anyone has posted this before, which will speak for itself. http://www.ipo.gov.uk/tmcase/Results/1/UK00002656323
Looks like the black and white version was withdrawn for some reason on 30/01/13. http://www.ipo.gov.uk/tmcase/Results/1/UK00002650006.
It shows all the trademarks going back years and no doubt bring back childhood memories of doodling on school books.
Lyndon Lloyd
959
Posted 03/05/2013 at 20:12:01
I should make a page with variations of the crest offered up in the last few days but here is the one by MilkyOne Creative referred to in one of the comments above.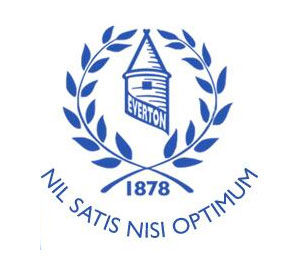 And then my quick mockup of how a simple embroidered crest with the old-style "EFC" under the tower would look on the jersey: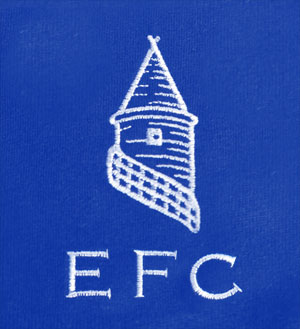 Conor Waters
965
Posted 03/05/2013 at 20:56:36
Very nice Lyndon. But despite all the uproar about this potential crest change, lets just stop for a moment and consider the poor Cardiff City fans who had to endure a bloody change of tradition in the colour the team wore.
Can you imagine if some multi-millionaire owner just suddenly decided that Blue didn't really work for him and his traditional beliefs and made us tog out in some other more 'lucky' shade...
The fact is, if business dictates it, it will happen. So if some guru up above reckons we should change to the comic sans font of football crests (a la Arsenal), well you can bet your bottom dollar that it will probably happen - because we are just the little people and what the fuck does our opinion count anymore...
Andy Crooks
970
Posted 03/05/2013 at 21:10:17
Interesting point, Conor. How much investment would it take for Evertonians to change to red shirts.?For me, it could never be enough.
Lyndon Lloyd
979
Posted 03/05/2013 at 21:15:55
Peter Johnson tried to ditch Z-Cars and also inflicted on us that awful shiny, lighter blue kit that we were almost relegated in. Both were very short-lived and ditched after he and the Club got the message from the fans.
If there is a strong enough reaction that the supporters might stop buying merchandise, then business will dictate a re-think on this one, I should hope. We have a hard enough time competing commercially with our rivals as it is.
Karl Masters
982
Posted 03/05/2013 at 20:51:26
Both better than the current badge and the proposed monstrosity, Lyndon. I would be more than happy with either of them.
The current badge was bastardised by Kenwright around the millennium with the Everton and 1878 with a sunken 7 hardly an improvement, plus that light blue centre. So I would not be averse to some sort of change, but the proposed one is about a bad as I could ever imagine.
Our Club has scored some notable PR kudos with Everton in the Community and the website, but this new badge s a fucking disgrace and whoever is signing it off should be sacked.
Jackie Barry
999
Posted 03/05/2013 at 22:36:18
Love the first one on your page, Lyndon, it looks classy. I hate the stupid shield, especially the bulging new one it's pathetic and will make us a laughing stock.
Patrick Murphy
004
Posted 03/05/2013 at 22:48:55
If the club have any sense then the 'Milkyone' is the winner and the club should adopt it, if indeed they are considering changing it at all.
Dennis Stevens
016
Posted 03/05/2013 at 23:27:26
I'm not averse to a change of design. Whatever the design, I'd keep it simple & focus on the tower, the current model is a bit cluttered for my taste. Lyndon's Tower + EFC looks good to me. I can only hope that this new badge design is intended for use on kits for toddlers only.
Harold Matthews
139
Posted 04/05/2013 at 11:41:27
Both versions are dull and boring. No colour, no dynamism. Kids living beyond the borders of Merseyside will not go for it. ......and why on earth does it have to be the same colour as the shirt? On the gold shirt the contrast gives it impact but on the blue shirt it is hardly noticeable.
The whole design needs a radical up-date if we are seeking worldwide sales and recognition. Black should be added to the blue white and gold for maximum punch. Stuff all this history business. I've lived through three kings and a queen and like to move forward. I'm also an ex-professional artist.
Tony McArdle
214
Posted 04/05/2013 at 16:49:50
Tony Marsh (873)
I understand your feelings about re-claiming the Liver bird in aid of improving our identity. It drives me up the wall that we're not readily recognised as a Liverpool club, especially overseas. I think the adoption of a blue Liver bird would do much to remedy this.
To be honest though, I can't be sure I'd take to it in reality, tainted as it is (imho) by long association with the Dark Side. For this reason, I tend to baulk at the suggestion that we give it a major role in a completely re-designed badge.......a bit gung-ho for me. I think I'd prefer a more cautious approach. A small(ish) blue bird as a single feature on white socks would do me for starters.
Paul Dark
318
Posted 05/05/2013 at 11:41:53
It's a terrible idea and shows no understanding of the values of the club.
Paul Landon
613
Posted 06/05/2013 at 10:22:54
So very, very sad... ToffeeWeb join the Blue Union in feeble attempts to undermine the club.
Progression is a dirty word for a lot of Everton fans... my god, you can't blame any would-be investor running a mile with fans like you lot.
The badge is nothing more than a PR exercise; it won't put any money on the till and it won't win any games – just like the current one hasn't for many years. Very sad.
Jason Lam
796
Posted 07/05/2013 at 04:58:03
It looks like the Tin Man from Wizard of Oz, the window as the nose. Both have no heart and soul.
Frida Ericsson
044
Posted 08/05/2013 at 19:09:36
Someone asked above, Are we not in the most popular league? La Liga is actually not far behind the Premier League in terms of revenue and world branding. In fact the Liga BBVA chief has stated that they projected to go ahead of the Premier League in terms of televised matches and advertising.
The term "most popular" for me is a little misleading. The Premier League at the moment is the most advertised and media sold league in the world.
The biggest growing (advertising / media outlet) league at this time is La Liga, with market penetration as stated above to climb over the Premier League in the next couple of years. It also helps that live free La Liga matches are freely watchable in many South American countries, which cannot be said of the Premier League.
Matt Traynor
800
Posted 13/05/2013 at 14:17:13
So, in my best Jim White. "DONE DEAL!"
Apparently Nike/Kitbag thought the current logo is "too complicated and messy". Last season they wanted the home kit to be blue shorts - which led to the delay in the release of the kits.
So NSNO will officially be gone. Thank fuck they're paying us a fortune.
Oh....
Eric Myles
893
Posted 17/05/2013 at 15:22:04
I've just had a brainstorm (5 pints of Chang usually has that effect on me).
It's really a devious ploy by the Club to get out of the Kitbag deal.
They get a logo on the kit that everyone hates and nobody will buy so Kitbag don't make any money and cancel the deal so we can make a proper deal with someone else!
Brilliant idea........if ony the Club really HAD thought of it.
Shaun Wright
326
Posted 26/05/2013 at 13:38:25
I hate what they have done it looks so cheap. Why have they left the laurels off? They are a big part of the past designs. I just put this together a mix of the two.
Kevin Warren
673
Posted 27/05/2013 at 11:55:27
HI – Arsenal fan here, wishing you well in your campaign!
It appears that the same chimpanzee with motor skills issues has re-designed your crest as well!
Arsenal ruined 100 years of history in 2002 when the corporates decided that they could make fortunes of money by getting rid of the old copyright-free crest and replacing it with a retarded, sorry rebranded version.
That change had everything to do with money and nothing to do with tradition, history or even fans' consideration. I fear your change is for the same reasons.
Don't buy into it!!!
Add Your Comments
In order to post a comment, you need to be logged in as a registered user of the site.
Or Sign up as a ToffeeWeb Member — it's free, takes just a few minutes and will allow you to post your comments on articles and Talking Points submissions across the site.
© ToffeeWeb