The End of an Era and a Leap Into the Unknown
By
Lyndon Lloyd

:: 09/05/2013

Comments
(95)
jump to end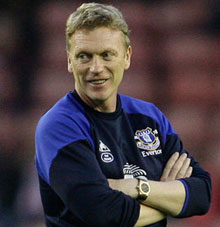 So, if the fevered speculation of the past 24 hours is proved correct, David Moyes's departure from Everton will shortly be confirmed. Not for a hiatus from the game, not for the Bundesliga, but for arguably the biggest job in football – succeeding Sir Alex Ferguson at Manchester United.
It's incredible to think that Sir Alex has been in charge at Old Trafford for almost as long as I have been following football. He was appointed 27 years ago, just a few months after I was chosen, and he has been a constant at United ever since, transforming them from the also-rans they were while Everton were sweeping their way to two League titles in the mid-1980s to the powerhouse they are today.
United's success may have coincided almost divinely with the inception of the Premier League, the formation of which has allowed the club's power and influence to snowball – to the extent that they could absorb a potentially catastrophic takeover by the Glazers and, this season, rack up their 20th Championship – but there is no doubt that it was Ferguson's unparalleled management that underpinned the amassing of all that silverware.
His will be massive shoes to fill but so, too, will those of Moyes at Everton and the Club stands at a foreboding crossroads as fans await the eventual unveiling and appointment of his successor. Though he has had his detractors among Evertonians, Moyes's role in first saving the Club from the very real threat of relegation in 2002, stabilising it over subsequent seasons and, finally, establishing Everton as perennial challengers for European qualification in the top seven of the Premier League is unquestionable.
Indeed, what he has achieved at Goodison, with a net-spend close enough to zero to be regarded as such, is nothing short of remarkable. Everton have become a by-word for consistency in recent years as Moyes has patiently built the best team Blues fans have seen since the golden age of Howard Kendall's first spell in charge. Why he came so tantalisingly close to breaking into the Champions League without achieving it or picking up a domestic trophy along the way has been – and no doubt will continue to be – the subject of endless debate but the Moyes era will go down as one typified by impressive stability.
Since arriving as a relative unknown from Preston 11 years ago, Moyes has effected a patient evolution at Everton, taking control of all facets of the playing side of the club and influencing plenty on the non-footballing side as well. There are many who feel as though he has prolonged Bill Kenwright's tenure as Chairman at Goodison Park by shielding the Board of Directors from supporter unrest over their failure to bring about any improvement in the Club's finances in 13 years in charge. Indeed, as assets have been sold off, two proposed ground moves have collapsed, and debt has mushroomed, Moyes has kept the Blues fighting on the fringes of the Champions League picture despite an ever-decreasing pool of reliable, senior players.
It is testament to so much of what Moyes got right as manager that, going into the final two games of the current season, only the two Manchester clubs, with their vastly superior squads and resources, have lost fewer matches than Everton. Things could have unraveled precipitously after the debacle against Wigan in the FA Cup but Moyes's side have been beaten just once at home in the League in the last year and, were it not for some crucially dropped points at the death in a handful of games (Newcastle at home, Norwich home and away, Fulham away and Tottenham away among them), the Blues could still be in the chase for Champions League qualification.
We will never know whether his desire to see his project through to completion at Everton with Champions League qualification would have trumped the desire to take the reins at United – much depends, I suppose, on how long he has been courted by Old Trafford – but, ultimately, a combination of his own legendary conservatism, lapses in concentration in his defence in those aforementioned games and, simply, the small nature of his squad might have denied him the one achievement that could have kept him at Goodison.
I'll be honest – I expected Moyes to sign a new contract at Goodison, albeit perhaps a shorter one than the five-year deal that is set to expire this summer. That is, of course, to assume there ever was a new deal on the table at all which, some sources claim was not the case. The detente between Moyes and CEO Robert Elstone has been an increasingly badly-kept secret in the halls of Goodison – the word is the pair haven't exchanged words in months – and it was evident in their contrasting demeanours following the collapse of the Leroy Fer deal in January (Moyes resigned to no new faces before the transfer deadline, Elstone keen to stress that targets were still being chased). Nevertheless, with the apparently close relationship between Kenwright and his manager, the situation might have been tenable for a while longer.
Moyes has been criminally under-funded for the majority of his time at Everton, however, particularly over the last three or four years as the gap between our spending power and that of our rivals at the top end of the Premier League has widened. He has not been shy about citing that as one of his biggest frustrations and all roads on that front lead back to the Kenwright Board; perhaps his pride alone would have precluded him extending his Goodison tenure.
Still, there is a sense that the dream of shattering that glass ceiling to get to the Champions League in the short term was still not dead. The forthcoming cash injection from the record domestic and international Premier League TV deals could potentially provide Everton with a transfer kitty worthy of the name. Granted, every other club in the top flight will be in same boat and there is the expectation that the increased revenue will merely be offset by higher transfer fees, player wages and agents' fees, but it's conceivable that there would be enough money available to fund a few player acquisitions in the mold for which Moyes has become famous.
On top of that, the expected departure of Marouane Fellaini for pastures new (or, worse, Leighton Baines) could provide an additional financial boon to the tune of £20m to £25m. The Belgian has made noises about wanting to play in the Champions League and it is generally accepted that after five years at Goodison, he will move on this summer. Not all of those millions would be needed to pay down Everton's debt, leading to the possibility that with judicious use of the funds, Moyes could have bolstered his squad in terms of numbers and ushered some of the older members of his team towards a lesser role in the first team and then retirement.
It looks very much now as though that responsibility will fall to someone else and, with that, Everton FC and we long-suffering fans will take a flying leap into the unknown. Of course, while there is an air of trepidation about what lies ahead, it need not be a bad thing. Helped along no doubt by Moyes's stalling over a new deal and reinforced somewhat by the Wigan defeat and some rather flat away performances of late, there has been a growing feeling that a change is needed at Goodison.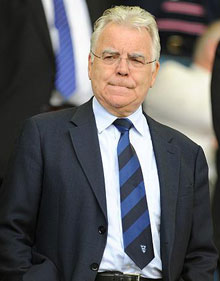 With little prospect of that coming at boardroom level – more's the pity – the only way in which any significant change can be ushered in is at management level. Now, with the current incumbent's apparently imminent departure, that transition will be forced upon the club and Kenwright faces an enormous decision – one that will define Everton's short-term future and, potentially, that of the Chairman himself. What will replace the comfort and stability of the Moyes era? And will the aforementioned changes to the financial picture at Goodison be enough to attract a manager worthy of succeeding Moyes and, we hope, capable of improving on his record?
Though the list of potential candidates contains some appealing options – among them Michael Laudrup, Guus Hiddink, Vitor Pereira, Slaven Bilic, Gus Poyet and Ole Gunnar Solskjaer – it also stuffed full of names that should fill Evertonians with horror. Roberto Martinez is the bookmakers' early favourite but is, to these eyes, a thoroughly uninspiring choice. Though his Houdini acts with Wigan have become legendary and he is an advocate of the right way to play the game, it shouldn't be forgotten that it was he who put them in relegation danger in the first place and his teams betrays a worrying inability to defend that is anathema to the defensive resilience that has become Moyes's hallmark.
Neil Lennon, Mark Hughes, Phil Neville, Malky Mackay, Martin O'Neill, Steve Clarke… for many individual and overlapping reasons, not one of them should be considered worthy of the Everton job.
Whatever happens and whoever takes over, Everton must do all they can to avoid an exodus. Fellaini leaving would be expected, Baines following Moyes to Old Trafford would be heart-breaking but not altogether surprising, but there are plenty of other gems at Goodison – chief among them Phil Jagielka and Kevin Mirallas, together with hopes for the further like Ross Barkley – that the new manager will need to retain lest his predecessor's patient work crumbles amidst a wave of departures. Depending on who is appointed, how long that decision takes, and how much money is available to him to rebuild an aging squad, it could be a particularly unnerving summer.
For Moyes, if this is indeed the end of the road, he should leave Everton with our gratitude and best wishes. He came frustratingly close to winning an FA Cup four years ago and to cracking the top four again but was let down by the Board in January when perhaps a key signing or two could have made all the difference. Nevertheless, he established a platform from which such glories are eminently possible, with even modest investment, with the right man in charge.
Interestingly, while we never got to find out while he was manager at Goodison, we're about to see how Moyes can fare with money to spend, with a squad large enough for pragmatic rotation, with flair players, playing on Europe's biggest stage. It should be fascinating to watch as he takes this massive step in the spotlight.
His managerial career has been dogged by doubts about his mentality when it comes to big games – running through his tenure with the Blues has been his inability to win on the grounds of the Premier League's biggest clubs, to progress in cup competition when it matters – but, in a very real sense, Moyes has been the perfect manager for Everton FC as it struggles through the failures of the Kenwright era. He not only kept this great English club on an even keel but, through his management and canny transfer policy, also allowed it to compete at a higher level than its ever diminishing resources probably should have allowed.
In the end, he was unable to match the expectations that he himself had helped foster and it will probably be to his last regret and those of Evertonians that he couldn't quite complete the job at Goodison. How important was he in keeping the Blues where we are and in propping up the current regime? If the speculation is correct, we're about to find out...
Reader Comments
Note: the following content is not moderated or vetted by the site owners at the time of submission. Comments are the responsibility of the poster. Disclaimer
Andy Crooks
645
Posted 09/05/2013 at 06:14:42
A new life at my age?

The kids have grown up and left and the spark has gone. Life is comfortable but is this it? I want to tell her it's time we parted but we've been through a lot together and, frankly, I'm scared, I don't want a new life stuck in a bedsit and broke and anyway, how can I tell her?

Then, this morning she says she's found someone else. My prayers are answered, Without any guilt I can start again. But... she's been cheating on me; all along I was putting up with it and now I'm dumped. Suddenly, the future is scary.

Had a drink with a mate though. It's time to change, a makeover, a party or two and a new life. Life's too short to brood, Hope she doesn't change her mind because it really is for the best.
John Ford
647
Posted 09/05/2013 at 06:15:59
Great article, sums Moyes time up well. Most importantly I agree with Lyndons brief assessment of the managerial possibles.
Andy, fair do's let's move on, but there's always the niggle that your next girlfriend will fart in bed.
Aidan Wade
652
Posted 09/05/2013 at 06:34:29
A fair assessment, Thanks Lyndon. I look forward to seeing how Moyes manages at Utd. and with exception of two games a year, I wish him the best.
I'm much more afraid than optimistic for the Everton, with the possible exception of Laudrup, there's no manager I want. Calls for Martinez are absolute madness. No matter happens, the next few seasons will be a difficult adjustment.
Robbie Shields
653
Posted 09/05/2013 at 06:45:34
John, I'm convinced, the next girlfriend is going to be a right goer, fun times ahead.
Julian Wait
654
Posted 09/05/2013 at 06:46:30
I heard the FSW might be available?
(he ducks)
Paul Kelly
663
Posted 09/05/2013 at 07:04:15
Well written piece. Hard not to agree but I certainly won't be interested in what happens to any player/manager once they leave us.
Out with the old and in with the new and all that, but just who this 'new' maybe will lead to some interesting times in the coming days or weeks.
Laudrup would be my first choice but would he leave to come to us?Doubt it.
Julian Wait
683
Posted 09/05/2013 at 07:54:16
More seriously, a well considered piece and I pretty much agree with the perspective given word for word. I must admit, it's a scary prospect on many levels, as the odds of greater success or even maintaining the status quo seem to be lower than at least a temporary (several years) dip in fortune, putting us right back where we were in 2002.
Bill Doyle
694
Posted 09/05/2013 at 07:52:15
Really good article Lyndon, captures most of my sentiments but not questioning enough of what BK and the Board have been doing since Jan in preparing for this eventuality?
#652, #663 Aidan, Paul. I agree that once DM has left, will wish him well but will be concentrating on what our new manager will be doing at EFC no what former ones are doing 30 odd miles up the East Lancs Road.
Ken Crowther
699
Posted 09/05/2013 at 07:55:40
One of the best pieces we've seen on here for a long time...thanks Lyndon.
Totally agree with you list of "No, no's".
Don't recall reading read much about Bilic lately; but if he were available he'd be in the frame for me.
Thanks Davey!
Joe Green
717
Posted 09/05/2013 at 08:19:43
Although I agree that Moyes was a good manager for Everton and am disappointed he's leaving, I am puzzled by those that "wish him well". He could have signed a new contract and had allowed us to at least claim compensation. And if he takes Baines and others with him, we will hate him.
Also I wonder what agreement he has made with BK ? That they both keep quiet that this was planned for months ? It will indeed be interesting to see how quickly we appoint a successor. You'd think it really should be very soon, because the short-list was already in-place given that Moyes contract was up, right? If not it's just incompetence.
Ken Crowther
742
Posted 09/05/2013 at 08:36:07
Joe #717.
Two paragraphs which produce totally different reactions from me.
Very much agree with the second one, Kenwright must (should) have a short list.
Very much disagree with the first. Why should the Moysiah place any sort of stumbling block in the way of his presumed appointment at Old Trafford.What you're asking is that he signs a contract just so that Kenwiight/Grantchester et al can require a 'transfer fee' to let him go to a job that every manager in the world (with very few exceptions) would give his eye teeth for.
Get real!
Marcus Choo
744
Posted 09/05/2013 at 08:39:40
Good article Lyndon.
I have to say that up to Fergie's announcement, I would have been happy for a change, but now that it seems imminent there's a slight sense of trepidation over who might be appointed. Agree that the Everton job will also have big shoes to fill.
Have to say the board is now under real pressure if Moyes does go... hoping for someone in the mold of Pochettino or Laudrup.
Brian Waring
745
Posted 09/05/2013 at 08:37:53
That's a good point Joe, if Moyes does get the job and comes back to take Baines and say a couple of others, I wonder what the reaction will be on here.
Robbie Shields
747
Posted 09/05/2013 at 08:47:24
Depends Brian, if we get 100 million for them then I'm sure most Evertonians would personally deliver them to Moyes and give him a big hug to boot.
Very very interesting times
Marcus Choo
750
Posted 09/05/2013 at 08:50:36
Reference Moyes coming for our players I don't suppose we could have one of those "gentleman's agreements" for him not to poach any of our squad unless it was for 5x fair market price?
Kev Johnson
757
Posted 09/05/2013 at 08:45:03
I'm unconvinced by the dismissal of Martinez.: "his teams betrays a worrying inability to defend that is anathema to the defensive resilience that has become Moyes's hallmark." One could just as easily turn it round and say that "Moyes' teams betrays a worrying inability to attack that is anathema to the adventurous spirit that has become Martinez's hallmark"!
As for Martinez being "an advocate of the right way to play the game" - well, yes, that is kind of the point for some of us. I mean, if we're going to be deadly dull then a trophy or two would be appropriate compensation. If not, then I for one want to be entertained. That is the whole point of sport.
Jim Hourigan
760
Posted 09/05/2013 at 08:40:51
Excellent commentary Lyndon and a good analysis of the potential candidates.
Saddly I think BK's ego will be an enormous factor in the next decision. Can he afford to appoint someone who might challenge his 'boys pen' rhetoric? Would he be comfortable with someone who puts football prorities before loyalty to him? somenone who would not be afraid of speaking out? Moyes came from a small club with no genuine record of success and was a massive gamble. I think he recognised the gamble BK took and it has since provided Moyes with the wealth to ensure his family are secure for the rest of their lives. That was repaid through the loyalty he showed and the lack of criticism of BK, although it was showing signs of wearing thin recently. The next appointment will have no need to be so loyal or thankful to BK, it will be more of a job and they will want the right tools to do it i.e. money - will BK, can BK provide it?
So for all our desire and desperate need to take another step forward don't be surprised if BK goes for someone who 'owes him' and wont rock the boat. Someone who is 'thankful' for the chance etc aka Hughes or O'Neill
This next decision will really show whether BK has Evertons interest at heart or, as many of us suspect, an overwhelming desire to keep the train set for himself.
Richard Tarleton
772
Posted 09/05/2013 at 09:02:31
Absolutely excellent article, balanced and objective, I particularly applaud the assessment of the potential successors. Amazed that United have picked the ultra-conservative Moyes, the advocate always of ,"we start with a point and must not lose it".
Laudrup looks the outstanding candidate, but would he come? And would Everton be willing to buy out his contract which I think is three years?
Brian Harrison
777
Posted 09/05/2013 at 08:58:16
Obviously Moyes could not turn down the chance to manage Man Utd, but I would say that those who followed immediately after Busby were all sacked very quickly.
Ferguson will be a hard act to follow and Utd fans will not give Moyes any honeymoon period, if they are not in the top 2 in the first months of next season the fans will be calling for his head.
As for Everton this is going to be a massive challenge to be able to appoint someone who with a limited budjet will be expected to match Moyes record of challenging at the top end of the league. Some of the candidates already mentioned fill me with dread. Martinez despite people saying he plays the game the right way all he produces is relegation football. Lennon has no class whatsoever and winning the prem in Scotland with Celtic is hardly rocket science. Lets hope the press are way off the mark and we do appoint someone who can match or better Moyes results.
Finally BK has said that Moyes will be in charge for the West Ham game, I hope the fans give him a great send off, although part of me thinks the atmosphere could be quite unreal on Sunday.
Nick Entwistle
783
Posted 09/05/2013 at 09:08:01
Anything less than what Moyes achieved each season and we go into the bottom 13 where every team is a potential candidate for the drop.
Right now we're guaranteed to stay up but once that potential of Europe goes, so will the big names and then the new guy will have to work Moyes' brilliance in the transfer market.
The manager's on LL's no-no list will take us back to the pack, but Bilic has the big Mourinho style personality were you can see us pushing on... but he's got a WC in a year (fnar...). I don't see why we have to go down to the championship when we're chasing CL, so the Porto guy is interesting.
Surely we want someone who's won something!
Chris Leyland
784
Posted 09/05/2013 at 09:11:07
Kev the problem with turning the Martinez thing on its head and saying Moyes can't attack like Martine'z teams do is that the facts simply don't bear it out do they?
In the four seasons they have both managed in the top flight at the same time the stats are:
Everton Scored 213 conceded 172 goal difference +41
Wigan scored 163 conceded 269 goal difference -106
So, Moyes team score more goals and concede less than Martinez's therefore his teams are better at attacking and defending
Nick Entwistle
796
Posted 09/05/2013 at 09:38:01
Just realised... read on wiki, Bilic dumped Croatia last year and is in charge of choo-choo Moscow with a 11/7/9 record in 10th place.
Phil Bellis
813
Posted 09/05/2013 at 09:53:30
I don't think I've ever had the "pleasure" of applauding a Man Utd manager at Goodison
As Brian says, above, it could be unreal and weird on Sunday; main priority is to get the 3 points
Always with David Moyes' tenure the key words are trotted out - "consistency, stability"
For the man himself I would add "integrity, honesty". To the partnership of Moyes and Kenwright, I would add "stagnation"
Thank you David Moyes for steadying the ship and improving our lot and ambitions immensely from the dark days of Walter
Unfortunately, while your time in charge moved us away from struggling to keep our heads above water to paddling comfortably in the shallow end, it produced some of the lowest lows in the history of Everton Football Club
Good luck in your new job, I've signed the card and stuck a fiver in the collection
We're Everton - let's move on
Ciaran Duff
817
Posted 09/05/2013 at 09:44:17
Great article Lyndon. Nice to see a balanced analysis of Moyes time with EFC.
One aspect that I think is being overlooked is that Moyes (like SAF) has been involved in all aspects of the club, not just the first team. The new training facilities, youth set up, coaching staff etc etc have been put in place during his era. It seems like some of that may bear fruit in the coming years (eg U21s, U18s etc doing well). So, in thinking of a new manager, we need to think longer term too. Not just some flash in pan type character - That's the reason that Mourinho is probably not going to get the Utd job.
In terms of managers, I would generally agree with your list with one exception. Personally, I still think MON is a very good manager. Not sure what went wrong at Sunderland but at all previous clubs (Leicester, Celtic and Villa) he was successful. The fact that he resigned from Villa over lack of funds and selling of their best players might be a non-no for BK though.
James Stewart
818
Posted 09/05/2013 at 10:04:34
Completely spot on with your list of the good candidates and the bad. I would be happy with any from the good list and live in fear of those mentions in the horror.
Brent Stephens
823
Posted 09/05/2013 at 10:11:30
Whoever it is, I don't want to be entertained in the Championship.
Kev Johnson
832
Posted 09/05/2013 at 10:23:17
I'm sorry but I do NOT think this is a "well balanced" article. It conscientiously outlines what DM got right, what progress he made, what restrictions he was working under. But it does not air the many criticisms that have been made of him, making only passing reference to his "conservatism" and "doubts about his mentality". It reads like an obituary, not wishing to speak ill of the dead and so erring on the side of generosity. Maybe that's a dignified and appropriate response in the circumstances, but let's not pretend it's a lifelike portrait.
Derek Thomas
833
Posted 09/05/2013 at 09:18:29
' IF ' it all comes to pass, I feel that Moyes, like SAF, will have a 'name' to give to the respective powers that be.
Strange days indeed.
Jamie Barlow
900
Posted 09/05/2013 at 11:36:13
Good write up Lyndon. Much better than the picture you put on Twitter last night. Enough to give me nightmares.
Tommy Coleman
911
Posted 09/05/2013 at 11:41:11
Lyndon - 100% agree with the choices of potential manager.
When Moyes goes to Man Utd I won't be wishing him well. I hate that team more than Liverpool. 11 years without a trophy will do very nicely.
Alan Clarke
932
Posted 09/05/2013 at 12:02:25
I couldn't disagree more with your assessment of Moyes, Lyndon.
Following injury or surgery, it's well known that most people don't remember pain. The body's reaction is to forget about it as a coping mechanism. It seems the same is so with Everton fans and David Moyes. For the most part during Moyes' tenure we have been absolute fucking crap to watch. Even when we've won it's been crap as a spectacle. I gave up my season ticket mainly because we were such crap to watch. I've never understood why Moyes chose to play so defensive all the time at home against relegation sides to then draw or win only by the odd goal from a set piece. Even now when we pass it round more, we still end up scoring from route 1 or resorting to just lumping it up to Fellaini.
Moyes holds all of our worst records:
Worst ever goals scored tally in a season.
Worst ever home defeat.
Worst ever away defeat.
Worst ever European defeat.
He has a 40% win ratio. In his 11 years, he's brought through the grand total of 6 youth team players. He has ruined every striker we've had.
This whole net spend argument is complete crap too. It's funny because we used to shout at the RS about Benitez's gross spend and they used to offer his net spend as a counter argument. Now Moyes' net spend is being used to laud him as a complete genius. Moyes' gross spend puts him in the top 8 of premier league spenders. So we've hardly punched above our weight, have we?
I'm glad he's gone. I don't look forward to all the romantic clap trap that will be published from fans with short memories. We should be at Wembley this weekend but for Moyes' shocking capitulation to Wigan yet it now seems everyone will be congratulating him in his last home game against West Ham.
Good riddance to the best PE teacher Everton have ever had!
Nick Entwistle
935
Posted 09/05/2013 at 12:23:01
Is that ever ever Alan, or just Premier League era?
Rob Keys
937
Posted 09/05/2013 at 12:21:56
Laudrup please. A wonderful and technical player in his prime. His early managerial career suggests that he is a student of the game.
NOT Martinez. He has been around for so long, and only seem to specialize at avoiding relegation, which he might not this season.
NOT Hughes. Whatever creditability he has was marred in the way he treated Fulham, and destroyed after QPR.
If we are getting either Martinez or Hughes, I rather we give it to the bootroom team, Stubbs, and why not Sheedy and Big Dunc? At least you know that these guys won't be fleecing the club, as their loyalties are genuine.

Phil Bellis
939
Posted 09/05/2013 at 12:22:35
Alan
I rate Ian Buchan as our best ever PE teacher/manager as he didn't stay as long
You forgot to mention...
lowest ever points total
FA cup defeat to lowest ever opposition
lost 2 derbys while having more players on the pitch
10 men behind the ball, 0 -3 down in a home FA Cup quarter...
Still, he steadied the ship and brought us stability, consistency and built a decent, workmanlike, though uninspring team
Ken Crowther
952
Posted 09/05/2013 at 12:43:31
Hey Phil #939.
Alan's "PE Teacher" reminded me of Ian Buchan too.
I'd never heard of him before he came to Goodison; and (thank God) never heard of him after he departed.
By the way, my memory is that he was never Manager, only ever Chief Coach.
If we get another one like him the MOB will realise what they've been wishing for all this time.
Phil Bellis
975
Posted 09/05/2013 at 13:04:51
Spot on, Ken
That was his official role; I think he was a PE lecturer at Loughborough College
All this malarkey thogh - makes me realise Gordon Lee wasn't so bad; Latch, Dobson, Dave Thomas ... sigh
James O'Connell
982
Posted 09/05/2013 at 13:01:10
Martinez is not good enough for Everton, why he is so highly rated is beyond me.
James Stewart
989
Posted 09/05/2013 at 13:21:57
@982 Exactly my thoughts
Peter Warren
009
Posted 09/05/2013 at 13:39:09
Leap into unknown totally right, Andy sums it all up perfectly. I have a sense of trepidation but am glad he is going and am looking forward to next season. I hope he goes before the West Ham game, I do not want a man in charge of our team who has accepted a job at an opponent elsewhere. If he was taking Scotland job or something, I could live with that, but not going to an opponent.
Jay Harris
020
Posted 09/05/2013 at 13:43:00
Totally agree with every point you make Lyndon.
Martinez may have his teams passing the ball around but his lack of success at Swansea and Wigan are evidence of his inadequacy.
For me his teams are too laid back with not enough grit and determination.
Andrew Clare
028
Posted 09/05/2013 at 13:59:42
James 982,
They are all overrated. Moyes is overrated — I cannot understand how he lasted 11 years and then got the Man Utd job. Martinez is overrated: Wigan are nearly relegated every season. Is that a good job?
We live in a world of overrated people.
Frank Wade
030
Posted 09/05/2013 at 13:43:46
Well written balance article Lyndon. Fair play. It's great to see a record of the Davis Moyes era at Everton presented. I agree with your assessment of the potential successors and hope we can settle on one of them. Sky Sports announcing that Hughes is interested in the job is enough to send shivers down my spine. It's a very hard act to follow. I hope not back to the days where the last game of the season was the first thought, when the fixtures were released in July.
Alan 932, sorry to hear you gave up your season ticket due to the poor football on show, but I feel you must make allowance for the state of the club and the team he inherited from Walter and the financial state of the club. It would be interesting to list the players in Walter's last game v Middlesbrough and compare with our side today. I have shared your frustrations as the team failed to perform against lowly opposition at home but have been delighted by some of the flair football we have played this season. Best since the brief spell in mid 90's with Kanchelskis and Limpar.
No manager is perfect and I don't think anyone will say that he was perfect, but would doubt if any other manager could have done as good a job over the past 11 years with the club in a constant state of recession. Comparisons with past records are not valid as we had different circumstances then and now, when the club could break transfer records and attract the best players in the pre CL era.
I wish him all the best and thanks for all his dedicated work and hope we can attract a worthy successor, up for the challenge of top end PL achievement with a Championship budget.
Andrew Clare
033
Posted 09/05/2013 at 14:03:38
Correction to my post.
Should read.
I cannot understand how Moyes lasted 11 years and then got the Man Utd job.
Also I would like to add. Lyndon my sentiments wholeheartedly.
Rob Sawyer
040
Posted 09/05/2013 at 14:15:49
Lyndon - that is an excellent., well-balanced, assessment of the Moyes era. Though not without faults (who is?) he has done a remarkable job at Everton in turning around from a basket-case in 2002 (and remember the near-meltdown at the club in Summer 2004) into consistent performers - often through sheer force of will. But every era must end and it is with some trepidation that I look out our managerial options. Interesting, if worrying, times...
Dan Brierley
067
Posted 09/05/2013 at 14:39:28
Live on SSN now, Moyes WILL join UTD next season.
Nick Entwistle
074
Posted 09/05/2013 at 14:40:47
Oh fuck. Well that's that then. Any hope of Mourinho surprise has gone. Good luck to the man. Gonna go all girly and eat some chocolate to feel better.
Steve Pugh
119
Posted 09/05/2013 at 12:42:28
Alan our record home defeat is 6-0, when did Moyes do that?
He is also not alone in being beaten 7-0.
If you are going to highlight the biggest European defeat, then you should also mention the biggest European victory. I am also curious as how you judge him bringing youth players through.
James Martin
186
Posted 09/05/2013 at 15:05:27
Seems as though that even on the way out some people are stili desperate to win the propaganda war about whether Moyes is a good manager or not and won't even afford him a respectful farewell. He's off to Man Utd, does this finally answer the question about whether he's worth rating or not? Thought you were all so sure he'd never be offered a top job because he wasn't good enough and didn't have any ambition. Looks like the people saying that couldn't have been more utterly wrong.
Some of the hatred towards him has gone to such unnatural levels that I still expect this will be debated on here when he's manager of United. I suspect it will sicken a few if he starts winning leagues and Champions Leagues. Lets hope Roberto will come in and put Anichebe in midfield then we'll be saved from that dour, tactically inept PE teacher who's now in charge of the biggest team in the world - boss.
Patrick Murphy
196
Posted 09/05/2013 at 15:18:51
James, where is this hatred you and others keep bringing up?
I don't particularly care whether he becomes the most successful manager of all time or falls flat on his face, he belongs to Man Utd now so onto the next guy; that's the way it works — that's the way it has always worked. I didn't get goosebumps when Rooney scored his first goal for Man Utd, I didn't hate him for doing so either, it's just the way things go.
Tony J Williams
211
Posted 09/05/2013 at 15:26:45
He's gone now so who cares?
I will still look at their results at ten to five, the same way I looked for Norwichs results when Vaughan was there, and Fulham when AJ was there etc
Michael Kenrick
225
Posted 09/05/2013 at 15:34:14
James, flip that around and you have the rather worrying prospect that many Everton fans will now be wanting Manchester United to do well, for the very same reason.
Nick Entwistle
245
Posted 09/05/2013 at 15:42:14
I do. The top 4 is fenced off, you can't change that, so I'd love to see Moyes do well there. If we had a board who could have at least freed up an extra £5m per year these last 4 seasons we would have been in there... but no.
That's not to say I'll be sitting down to watch Utd games though...
James Martin
252
Posted 09/05/2013 at 15:39:03
Michael not mcuh will change I don't think in regard to how people will view Man U. If its a toss up between them, Chelsea and the RS over who does well then even when Ferguson was there I'd of preferred them to win it if I had to chose just out of my dislike for the other two.
If we ever got close to challenging them at the top then obviously I'd be wishing nothing but ill on them but as the current events have so painfully illustrated we may as well be legaues apart. If it came down to who would I rather see doing well out of Moyes, Wenger, Benitez/Mourinho, or Mancini then in my mind Moyes is the lesser of those evils.
Tommy Coleman
267
Posted 09/05/2013 at 15:49:21
Alan Clarke - Thank you for reminding everyone about his record. A little balance was needed. Overrated manager and I'm made up he's finally gone, especially to Man Utd.
Let's now get Laudrup.
Tommy Coleman
273
Posted 09/05/2013 at 15:53:14
Michael Kenrick - That's what I've saying. Just wait if Man Utd beat Wigan in the Charity Shield (my money will be on Wigan).
The Moyes In Brigade will be on here saying 'told you so' and 'careful what you wish for'.
And you know full well ToffeeWeb will get all the blame !
Mat Fearon
294
Posted 09/05/2013 at 15:55:48
Alan Clarke. Nonsensical one sided view. He had done a fantastic job delivering top ten finishes on a regular basis whilst spending about 10 quid a year. Which is why he has gone to man united. Those that run that club have spent a long time making the most important decision they have had to make in 25 years. And they have gone for Moyes. Why? because he is a truly outstanding manager.
Peter Bell
304
Posted 09/05/2013 at 16:04:28
Nothing more certain than him coming back for Jags, to allow him to fulfill his children dream of playing for the club he supported as a kid
Kiern Moran
310
Posted 09/05/2013 at 16:06:10
Top manager, top bloke. Sad day. But onwards and upwards.
Tommy Coleman
312
Posted 09/05/2013 at 16:06:13
Mat Fearon - Time will tell how good he is.
Kevin Gillen
392
Posted 09/05/2013 at 16:32:56
People have short memories if they are touting Bilic as a replacement for Moyes. Does anyone remeber him being injured for two seasons at Goodison but how he somehow managed to get fit for a full world cup campaign? The signing of him and Williamson did much to injure this club so please strike him from any list of potential candidates.
Robin Cannon
402
Posted 09/05/2013 at 16:40:27
Excellent and balanced article.
And I think it also highlights the biggest fear that most of us have.
There *is* an opportunity here. To refresh our approach based on the very solid foundation that Moyes built.
And there likes the crux of the matter. When was the last time this Everton board and this owner grabbed an opportunity instead of fucking it up?
Mat Fearon
421
Posted 09/05/2013 at 16:52:19
Tommy, of course time will tell. But I think he will do well there. More importantly, so do those who run Man Utd, one of the world's most successful clubs. Do you think that they have the ability to judge a great manager better than your good self?
Brian Harrison
432
Posted 09/05/2013 at 16:54:43
Lyndon
Yes a leap into the unknown, or if some are correct and we appoint Martinez it could be a leap into the dark. I really hope we don't get him I don't want to see his happy smiley face saying we were a little unlucky today and apart from 3 or 4 mistakes could possibly have got a draw. He never seems angry or upset when his teams lose they reflect his style which is very matter of fact. I want my manager to be passionate about how we have played and I don't see any passion in Martinez, could you imagine Ferguson smiling after Utd have been beaten exactly!!
Rob Teo
438
Posted 09/05/2013 at 17:02:57
Adios, David! We had good times and we had sour times with you.
Thanks for steadying the ship, and good luck a Utd ('cos you'll need it).
Chris James
480
Posted 09/05/2013 at 17:36:34
Bloody hell, been out of the loop in Beijing for 4 days and suddenly it's all change.
At least the majority of people on this site will be happy now (I'm not), wonder how long the next manager will get before he's dubbed as tactically naive and a waste of space.
Barry Rathbone
493
Posted 09/05/2013 at 17:43:22
Jeez Lyndon are you Moyes spin doctor? - glad you mentioned your tender years it explains so much.
John Ford
504
Posted 09/05/2013 at 17:55:02
Good luck Davey boy. Thanks for the effort and making us competitive, despite having a loon for a chairman. Best wishes.
Does this mean everything at ToffeeWeb is going to be cuddly and warm for a while? No more Moyes in/ Moyes out scrappin and a cussin'. I can feel the stress and tension falling off this iPad. Love is all around us brothers.
.........until Mark Hughes takes over.
Tommy Coleman
524
Posted 09/05/2013 at 18:23:47
Mat - You don't have to support Moyes anymore, he's the Man Utd manager now.
And I don't care what the Man Utd board see, I know what I have seen. You've seen an outstanding manager, I've seen an overrated nearly man. We will see.
But as a fellow Evertonian I hope you think I'm right about him. They are Man Utd after all.
Wayne Smyth
552
Posted 09/05/2013 at 17:46:58
I think the criticism of Martinez is harsh.
The guy has won promotion with Swansea, has the potential to win an FA Cup too; what has Moyes won in his entire career?
Criticising Martinez getting wigan into relegation trouble is also a bit weak. After all he's managing Wigan on nearly half the wage budget that we have, which is amongst the lowest of all the clubs in the premier league, and he has managed to keep them in the top league thus far. They certainly didn't look like the paupers at Goodison a few weeks ago.
Whether he'd be any good for us or not I don't know, but I wouldn't be disappointed with either him or Laudrup. I'd be really pissed off(and worried) if it were any of the dross Lyndon mentions in his no-no list.
I find Nicks assertion that PL survival was/is guaranteed under Moyes an idiotic statement to make. I'd tipped us for relegation a few times after Moyes typically slow starts to the season....and the season we finished 15th. No team is guaranteed not to get relegated, certainly not us.
Strangely I'm almost as interested in how Moyes will get on at Utd as to who we'll get next. How Moyes would cope with money, or at a big club has been discussed to death here. We'll finally get a chance to see.
Nick West
567
Posted 09/05/2013 at 18:49:56
So the Moyes haters can finally now dance on the grave of David Moyes. And yet all the potential candidates in discussion here are also not worthy of our great club. Makes you wonder who is?
And whoever it was remembered the tenure of Gordon Lee fondly clearly wasn't there.
Ross Edwards
574
Posted 09/05/2013 at 19:11:13
Well, Moyes will have to do something he has never done before in his career... win at Old Trafford. If it takes him until at least October to win there he will be sacked...
Lyndon Lloyd
614
Posted 09/05/2013 at 19:28:08
Kev J:
But it does not air the many criticisms that have been made of him, making only passing reference to his "conservatism" and "doubts about his mentality".
In response to Kev and Alan Clarke who had a similar view: the thrust of the article was supposed to be illustrating the stability that Moyes has brought to Everton and the danger we now face in regressing now that he is gone.
I could have expounded at length at how infuriating he has been at times and mentioned the number of times I told myself out loud how much I hated watching his teams at times but a) the piece was long enough and b) the fact remains that he has built a team that came very close to making the top four this season.
Yes, the standard of football has been poor for long periods of his tenure but over the last two or three seasons, Everton have been playing the best football we have seen at Goodison since the 1980s. Moyes's problem was that he couldn't get them to do it consistently but he was eventually able to build a team capable of producing it.
And you can bang on about gross spend all you like but the fact remains that between August 2009 and January 2012, he was not able to buy a single senior-level player. Depending on what funds are available this coming summer, we might now find out whether he was supremely adept at working within almost impossible financial constraints for a top-six team. Until then, I'm prepared to give credit where I think enormous credit is due.
Joe McMahon
651
Posted 09/05/2013 at 19:51:56
Thanks Lyndon for this well written summary.
I do wish David Moyes well, even if he come s back for Baines etc. Noww is the time to sell Baines anyway (IMO). I think David going is the best for both clubs, we both need a change. I do think he will do ok with a bigger budget and better squad.
As for us - i'd take Martinez over the likes of Hughes, Big Sam, Lennon, and MM, et al but i'd like to see a Di Mateo, Zola, Laudrop, Puyet and my first choice solskjaer.
Andy Veitch
667
Posted 09/05/2013 at 20:06:39
The Liverpool supporter who found the lamp with the genie in and had three wishes has used them, thank god. With Thatcher dying, Fergie retiring and Moyes leaving.... I'm sure we would have had Mark Hughes.
Al Reddish
679
Posted 09/05/2013 at 20:13:21
Well said. Nice to have a balanced view. Glad it was you and not Michael that wrote it.
Ian Bennett
680
Posted 09/05/2013 at 19:51:57
Spot on Lyndon. We have all pulled our hair out over team selections and tactics made by Moyes, but the cold hard facts are that over the season we ain't had the money to load up the bench with good quality attacking players to make the difference when it counts. It's the key differential between the best and the rest, and why we consistently bang our heads on that glass ceiling.
The mob demand a trophy or a top 4 finish like you can just flick a switch and get it. Yes, all these football experts have all the answers that the rest of the football industry spend millions on and largely fail with. The experts that consistently said he was useless, incapable of landing a big job, Dour Davy and all that.
I totally agree on the long list of rejects, which highlights just how poor the fare is and the risk that Bill will make a complete horlicks of it to follow the long list of shame. I would personally go for Laudrap. He has the name, plays a good style and understands a couple of overseas markets to tap players for. Other than that, I'd hope for inspirational largely unknown foreign choice, a Wegner mark 2.
Gary Poole
689
Posted 09/05/2013 at 20:32:14
Well said Lyndon - very balanced and a genuine acknowledgement of Moyes' achievements.
Personally, I feel like i'm staring into a black hole. I'm not sure if a train is going to come charging out to flatten me or perhaps I will be pleasantly surprised.
Either way, this feeling won't go away until (1) the new manager is announced and (2) we sign some players and kick the season off in some semblance of style.
Paul Gladwell
697
Posted 09/05/2013 at 20:40:09
Fuck me, the end is nigh the way some people are talking, get a grip you'd think he'd won cups every year.
He steadied the ship and did a good job but his history will also show some nasty stats, worst points ever, biggest euro defeat etc and them stats show more than finishing 6th or 7th.
Let's move on, this is Everton FC.
Mark Fitzgerald
700
Posted 09/05/2013 at 20:24:16
Good balanced article which sums up Moyes effect on the club. Personally I thinks DM has done a great job since he joined the club. He altered expectations from 'hoping to avoid another basement battle' (we all remember those days) to 'disappointed we didn't make CL football'. Sure, along the way there have been missed opportunities for cup final success and warranted criticism of his record away to the big clubs. But the club is now rightly sitting just outside the Top 4 and we will probably never break into that company without significant financial investment. I'm genuinely nervous about the next appointment but also excited. Hopefully we build on our solid position and push on. Kinda pointless speculating on 'the next boss' but interestingly the club has never had a manager outside of Britain & Ireland. Is it time for a continental flavour? Could that be the next big step? I wonder?
Derek Thomas
703
Posted 09/05/2013 at 20:47:23
those who can't ( or won't ) remember the past will repeat the mistakes.
SAF as director Moyes as manager
Busby as director, manager...
Wilf McGuiness
Andy Crooks
705
Posted 09/05/2013 at 20:44:51
Nick West, dancing "on the grave of David Moyes"? Are you serious? He fucked off for the job he wanted and I have wished him luck, but that's it. Can we dispel this myth that Moyes has been doing us a favour for eleven years?
He was a hired hand who was incredibly well paid and who kept Kenwright safe but won nothing. There is a lot to admire about his tenure but lets not eulogise about a man whose achievements are above average and no more. He's gone, we are Everton and we are much, much more than David Moyes.
Andrew James
746
Posted 09/05/2013 at 21:25:08
I am massively annoyed about him leaving but more because the manner in which it happened.
Always been a big advocate of DM. But this whole "end of season" sit down was bollocks. Plus he can say what he wants about having no money but that does not excuse Wigan at home. That was purely his selection error. That's the reason we have no final and no Europe this season.
But what has annoyed me more is the way we were but a footnote in the hours and hours of media coverage. You'd think they were awaiting the next Head of State, not the next manager of a corporation followed by lots of shirt buying idiots who have no link to the club. Nobody ever mentioned how disrespectful the speculation yesterday was to the 4th most successful club in English football. Nobody ever gave our fans a care. Plus why did Manure have to do it now? Would it have really hurt to wait for another fortnight when our season was over?
Manure think they're imperious hence why they can cherry pick who they want. Well EFC have more class. I hope everyone round our club doesn't speculate on managers still with other clubs like Swansea and Wigan which is disrespectful to them and their fans. What will be will be but I hope we show more class than the host of pundits and ex Manure players that came out with comments yesterday.
As for Moyes, I hope he fails. I loved him in Blue. Don't give a **** what he does in red. In fact I think Manure might have a nasty surprise coming their way as City and Chelsea are going to be coming for them.
But let's hope the new boy takes us on a step and our experienced defence know enough to keep the goals conceded to a minimum.
He's got red hair, what he does next? Don't care.
Eric Holland
765
Posted 09/05/2013 at 21:51:31
Getting worried now Lennon's odds are shortening all the time.
Now clear favorite with all the bookies.
Anthony Jones
770
Posted 09/05/2013 at 21:24:52
I have wanted Moyes to leave for a number of years now. His attitude towards our strikers and flair players has never sat well with myself and many other fans, and his bullshit about easing Barkley into a midfield completely lacking in both energy and guile is exasperating. Where is Vellios? Why not have Mcaleny on the bench to potentially inject some pace? Now he is actually leaving though, I can't help but think that his weaknesses were paradoxically Everton's strengths. By making forwards and midfielders track back he made us tough to beat. By forming a solid core of workmanlike favourites he engendered a strong team spirit. By analysing opponents in great detail he found ways of beating sides with considerably better players. He was a highly effective manager, and should be remembered as a positive influence on our club. I am still happy for him to leave, and think he deserves a shot at the big time. He is no worse a manager than Roberto Mancini. As has already been said though, the board have now lost their shield. Few football managers have been able to consistently fight with such persistence against the company accounts, as Moyes has at Everton. If we get a decent manager for next season, we will be united in optimism for a while at least, but the cracks created by a buy now pay later board with no intention of investing in our club will continue to grow, and without the polyfiller of Moyes we may have no choice but to accept a level of decline in terms of results on the field. Either players and their agents need to all stop holding clubs to ransom, or we need new directors with the expertise and drive to grow the business. I'm not sure which is more likely to happen at the present time, but we can hope.
Wayne Smyth
786
Posted 09/05/2013 at 22:00:47
Ian bennett, please don't pigeon hole people. I'd consider myself part of the MOB, yet I don't expect trophies or top 4 finishes.
I expect any manager to work within the financial constraints of the football club(without complaint), develop youth players(to ultimately improve the viability of the club) and give the players the belief and confidence to play to the best of their ability in every game. Entertaining football would be good too.
I'd ask for the same with any manager who comes in. If manager X came in and we finished in 10th, but the financial situation was vastly improved because we'd actually started using our academy players instead of highly paid mercs then I'd be a happy man.
Conversely, Moyes can finish 6th every season, but have the club borrowing every last penny it can to sustain the non-performing Naismith and Neville on huge salaries while our youth players are ignored and I'll be getting slightly annoyed, despite the higher placed finish.
My opinion is that only by getting rid of some of the debt that is crippling us can we start to bridge the gap between ourselves and the teams currently above us. I've no doubt such a process will involve some lower placed finishes than we have been used to, but sometimes you have to take a step back to move forward.
Bob Parrington
877
Posted 09/05/2013 at 23:20:41
So, who would you choose of the so-called likely available managers to succeed David Moyes???? Or would you think completely out of the square.
Looking at the list in the TW poll it's mostly a bunch of also ran. Personally, if I had to select one on the list I'd go for Laudrop or Di Matteo.
Everton is a bigger club that we often give it credit for and (obviously 'de munnee' is important) we should be able to attract a guy with a winning mentality and great interpersonal skills. Moyes will be a difficult act to follow but, as we all know, he wasn't perfect.
COYB
Julian Wait
015
Posted 10/05/2013 at 04:33:22
Why is Nigel Adkins not on any lists or polls? I like what he did at Saints ... surely he has a shout?

Mohammed Horoub
022
Posted 10/05/2013 at 05:02:52
Best of Luck to Moyes, I think this is a good move for Everton and him... He has nowhere to hide now and his 'lack of money' shield has been taken away. I would applaud him on Saturday for the stability he brought to the club and the excellent players he brought in. I still feel his tactics and ability to react to the game are below average and he will need SAF to guide him for the first few years but he will eventually get his trophies...
More importantly who do we bring in. Laudrup is a good choice but too expensive... My vote went to Di Matteo, I just feel he's a perfect fit: he's young, hungry and has shown he can lead a team at the highest level. I'm sure the main criteria for Kenwright will be someone that won't rock the boat and I think RDM can strike the balance.
If Hughes is even considered then I will lose respect for the club.
Ernie Baywood
115
Posted 10/05/2013 at 09:10:51
Just watched Bill's interview on the BBC and had to turn it off. I'm not making that up, I turned it off.
What a tit. Yes he's been a good manager and I will always have a lot of respect for him. But really? Tears in your eyes, "Everton FC must continue in the David Moyes tradition".
I can't believe this prick. Pull yourself the fuck together and represent our club. Say your thanks to Moyes privately, acknowledge him publicly, and then look after Everton Football Club.
David Moyes tradition!!! Fuck off.
Kev Johnson
403
Posted 10/05/2013 at 13:57:32
Julian @ 105 - it might just be because (apart from anything else) Adkins was appointed Reading manager a couple of weeks ago. Keep up, mate!
Michael Williams
416
Posted 10/05/2013 at 14:13:36
Surreal. Depressing. "Manchester United manager David Moyes". It's like waking up from a bad dream only to realise it's true.
It was the same when Rooney left. Then Lescott. But then we had Davie Moyes who could rebuild the side again. But now Davie's gone. Davie Moyes, the man who gave us back our respect and allowed us to dream again.
He inherited a club unable to shake off the need for an annual relegation fight. He was given a transfer kitty of £803,000 a year to change our fortunes. With this pitiful sum he achieved two things. Firstly, he got us into the top eight of the Premier League and secondly, most amazingly, he kept us there. How did he do that? On £803,000 a year, how did he keep us, year-in, year-out, in the top eight of the Premier League for the best part of ten years?
Right from the beginning there was spirit, fight and organisation. When you played Everton, you knew you were in for a game. His success in the transfer market has been well documented but Moyes also has the ability to vastly improve the players he buys and works with. Best examples in the current squad are Jagielka and Baines. Compare the players they were when Moyes bought them and the players they are now. Moyes the transformer.
Alex Ferguson has been described as the best manager of all time. Perhaps he has just made his shrewdest decision. We Evertonians hated the expression 'punching above their weight'. Just imagine if Manchester United punch above their weight.
Thanks Davie. Thanks for all your work. In my mind I'll always have this image: Man City, the reigning champions are at Goodison. It's towards the end of the game and we're leading 1-0 but nothing is certain yet. Then, from just outside the City area Jelavic smacks the ball past Hart to make it 2-0. Moyes runs onto the pitch, jumps up and punches the air. The ground explodes into a din of ecstasy. We are as one. We believe.
Unless Everton suddenly find some investment or get extremely lucky in their choice of next manager, there is only one way our football club can go. And it ain't up.
Thanks again Davie. I've admired your management for the last ten years and I've had one recurring thought. "Just imagine what he could do if he had some money". Now we're about to find out. But this wasn't what I had in mind. This was not my dream.
Bill Griffiths
624
Posted 10/05/2013 at 16:51:31
Great article Lyndon that echoes my thoughts and feelings regarding this. Sad to say but I am more afraid than optimistic about the future as can't see us getting an established top rate manager. Will be devasted if it is going to be Lennon or Hughes. I
Bill Griffiths
626
Posted 10/05/2013 at 17:00:35
I guess if we are to take a chance on an up and coming young manager I would take a chance on Gus Poyet. There's aways RAFA who is going to be out of a job but don't think I could stomach the thought of him being here.
Ian Bennett
911
Posted 10/05/2013 at 20:37:13
Wayne 786 - we will never close the gap on the teams above us. Their revenue line is growing far quicker than ours, and we can do fuck all about it whilst we live 30 years behind the opposition. Like Formula 1, Baseball and all other major sports, money matters.
The teams above are pulling in champions league money, corporate match going money, etc. We continue to have restricted views, renting our own training ground and going hand to mouth paying £4m plus interest a season and struggling to renegotiate the overdraft. We are constantly left wide open to any decent bid for our key players, others aren't.
United get more a season from the sponsor of the training kit than we get from Chang and Kit Bag combined. All other clubs are moving forward except us. It's like the UK with growth of 0.5% trying to close the gap on China.
I am not going to have a pop at someone supplementing the squad with Naismith and Neville, when he had fuck all transfer budget for the last 4 years. The holy grail of bringing a clutch of young players is a myth. The premier league spends probably upwards of £100m a season on the academies and transfer fees for the stars of the future, and get a return of nought. The clubs would do better donating it to a local division 1 club and having first dibs on youth players at very low values.

Yes I want better. I want Everton to be the world team of the year like in 85. Moyes leaving will not change that the Bullens Road smells of piss and Kenright is skint. If those were changed then we'd close the gap above. I live in hope.
COYB
Phil Gardner
005
Posted 10/05/2013 at 23:14:53
Alan, Phil and others.
I'm no apologist, in fact at times I've been quite the opposite. Watch this man's press conference today and tell me that he doesn't have a huge love for our club. The guys an honest human being and, emotionally, he found that very very difiicult. We'll do well to get that level of commitment again, let's have some respect eh?
Add Your Comments
In order to post a comment, you need to be logged in as a registered user of the site.
Or Sign up as a ToffeeWeb Member — it's free, takes just a few minutes and will allow you to post your comments on articles and Talking Points submissions across the site.
© ToffeeWeb