Ticking the Boxes
By
Lyndon Lloyd

:: 06/06/2013

Comments
(51)
jump to end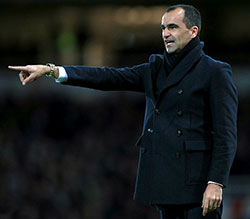 "Not my first choice but he'll get my 100% support."
That was a familiar refrain earlier this week when it became clear that Roberto Martinez was almost certain to be named Everton manager and it no doubt rings true for many Blues now that he has officially been handed the keys to the Grand Old Lady in preparation for the biggest task of his career thus far.
As I admitted last week, the prospect of hiring the man who just took Wigan Athletic down to the Championship left me feeling underwhelmed given our position in the top six of the Premier League. After all, given the progress we've made under David Moyes, you couldn't help feeling that we could get someone who would really fire the imagination a bit more.
It was easy to say, as a fan who doesn't have to be accountable for the decision, but it would have been nice to step out of the "plucky little Everton" inferiority complex that we seem to have developed in recent seasons and land a bigger name.
Truthfully, though, while there was an attraction to the leap of faith of bringing in someone with no prior Premier League credentials but silverware and Champions League experience behind him like Vitor Pereira, a part of me — swayed no doubt by the conviction that Bill Kenwright was always going to choose him — was quite excited to see what Martinez could bring to Everton.
Though it hasn't quite erased my doubts about his ability to craft a team that can defend as well as attack, I've been quietly assured by that positive feeling in my gut as we've waited for Kenwright's decision.
Upon further reflection, given how few genuinely exciting candidates there were out there that were realistically available, Bill's choice appears more and more obvious and, for my mind, it's more a reflection of the status quo under his stewardship than any lack of ambition.
Even with the injection of capital that will come from the new domestic and international broadcast rights deals this year, Everton will continue to operate under a strict budget and with three members of the senior squad — Neville, Mucha and Hitlzperger — leaving this summer and others reaching the twilight of the careers — Distin, Osman and Hibbert — whoever succeeded Moyes was going to have to make every pound stretch in his efforts to add to an already disconcertingly thin squad.
Would a European manager like Pereira, for example, who has evolved under more of a first-team coach model with the benefit of productive youth systems or readily-available cheap, young (or both) imports from South America — more than half of Porto's current first-team squad hail from Latin America — be nearly as adept as Moyes — and, indeed, Martinez — at immersing himself in all aspects of the playing side of the club and wheeling and dealing to unearth gems that would satisfy English work-permit regulations?
Andre Villas-Boas and Jose Mourinho both provide precedents of Portuguese managers who have successfully made the transition to the Premier League but both had the benefit not only of taking charge of sufficiently deep squads with star players already in place but also large transfer budgets to bring their own players and build impressive teams.
And yet Villas-Boas struggled to find his feet at Chelsea and, after a rocky start at White Hart Lane, failed to achieve Champions League qualification for Tottenham. Indeed, it could be argued that without some mesmerising, long-range strikes by Gareth Bale, Spurs might have even finished below Moyes's Everton this past season.
In that sense, a more shrewd, technical operator like Ralf Rangnick might have been better suited to Everton's situation but perhaps his past struggles with the stress of previous roles and a consequent inclination towards a more supervisory role failed to resonate with Kenwright.
In the end, though, Martinez offered the best combination of Continental flair, Premier League experience, comfort with tight funds and a nose for good players. Even with the baggage of recent relegation, Martinez ticked more of the boxes for the Chairman than the other candidates and there is no doubt that he personally impressed Bill with his charm and his knowledge of the game, both of which are acknowledged by almost everyone in the game who has an opinion about him. Kenwright no doubt has an eye on longevity and stability, building another era and maybe Martinez, being settled in the northwest, is the best bet on that score.
By all accounts he's an excellent man manager and all-round decent bloke — that is important to us given the dignity with which Moyes always conducted himself — and in that sense, I think he'll be a great ambassador for the club. Now that he's in the job, I can't wait for him to get started on the process of settling in, assessing the squad, bringing in some new players and asserting his own style on the team.
It's going to be interesting, though, because Martinez is potentially the opposite of Moyes in terms of the way his teams play. Moyes was very conservative and defence-first in his mindset whereas Martinez clearly wants his teams to play with a more attacking style, perhaps at the expense of being tight at the back.
That defensive Achilles heel remains the biggest concern. Obviously there have been mitigating circumstances at Wigan as he's had to work with an ever-decreasing wage bill and he had his challenges with injuries this season but the one thing Moyes did was make us incredibly difficult to beat so the obvious concern is what happens when the likes of Jagielka and Distin are no longer the rocks in central defence. Perhaps that is where David Weir steps up to have greater influence or Martinez simply proves that with a bigger wage bill and better luck with injuries, he can oversee as solid a defence as any of his peers.
Time will tell, as the cliche goes; it's just a pity the new season is still two-and-a-half months away as I'm itching for the new era to get started!
Reader Comments
Note: the following content is not moderated or vetted by the site owners at the time of submission. Comments are the responsibility of the poster. Disclaimer
John Brennan
371
Posted 06/06/2013 at 07:01:46
Like you, Lyndon, I'm more than happy with Martinez. I really don't care that Wigan have been relegated. I do think Martinez has the right approach.
Its been alluded to many times in recent days about the fact that he never did manage to sort out Wigans defence in all his time there.
We cant just dismiss that, but equally, there are better quality players at EFC and, as you say, perhaps the likes of Weir can influence Martinez more so than whoever was Wigans defensive coach (hope Martinez does'nt bring them with him) !!
None of us really knows one way or the other how this is going to go, but I am very positive from the start. He seems an intelligent guy, and I'm pleased for him.
I thank Moyes for bringing steel and stability to this club, and, yes, we were hard to beat, but in the games that really mattered, we never quite did it, and I felt it was because Moyes was too cautious in those games whenever we took the lead. I never felt that we went for the throat as we should have done.
Martinez' philosophy seems more of the attitude "We're going to score one more than you", and I prefer that approach (yes, including the risks), rather than safety first football.
I hope he does well for all our sakes, and I'm looking forward with confidence and expectation.
Welcome, Roberto !!
David Gallant
380
Posted 06/06/2013 at 08:08:08
Superb article Lyndon, I really do enjoy reading your work.
Some balanced, considered sentiments re: Perreira & Rangnick which I agree with wholeheartedly. On the balance of things, I too am getting a positive feeling in my gut and am looking forward to the new season immensely!
On an aside, did anyone hear Kenwright mention 'a player with a buyout clause' in his press conference unveiling the new man? So can we assume that Fellaini DOES in fact have a 24m pound release clause? Why is Bill even mentioning that? Is he touting him to raise funds and get a high earner off the wage bill?
Answers on a postcard :)
Barry Stevens
381
Posted 06/06/2013 at 07:47:56
I honestly believe the players we have at the moment will suit our managers style of play with ease. Replacing the likes of Gary Caldwell with Jags will make a big difference. Last season Wigan gave away 16 goals through unforced errors. Our players won't make those mistakes.
Frank Sheppard
386
Posted 06/06/2013 at 08:11:32
Definitely more strengths than weakness's and more points of fit than concerns. I think he could be a great appointment; we might need to be patient with him, but welcome and good luc !

Kieran Fitzgerald
394
Posted 06/06/2013 at 08:33:22
I think that Martinez is starting from a greater position of strength than he ever had at Wigan. It's a better squad of players, a more settled squad of players and a squad that is used to pushing for a high league finish. The fact that the defensive unit is so strong should negate any defensive frailties. You would presume that Martinez isn't inept enough to dismantle it.
In terms of the other candidates I have to admit that I didn't know enough about them overall to say if they were better or worse than Martinez. I know their basic C.V.s from reading reports over the last couple of weeks and their league titles and CL experience did seem a more attractive option on paper.
People will say that the whole thing was drawn out. It is still only June 6th, there is still a full month before pre-season. You would think that Martinez is experienced enough in the way of how clubs operate to get a lot of what he needs to get done between now and pre-season.
As mercenary as it sounds, it may suit the club in a way that he has just come from a relegated Wigan. He will know their better players and if they want away, he may get first refusal on them.
Matt Traynor
397
Posted 06/06/2013 at 08:34:09
Barry #381, our players made plenty of mistakes leading to goals last season, and the season before - perhaps not as many as Wigan, but they're all capable of being culpable on their day - goes for almost all players. You're right though when you say he's inheriting a better defensive unit - albeit small, couple of players getting on, but with a couple of young prospects in the wing.
I hope he retains the bulk of the backroom staff (that don't get the call to go to OT). Whilst we were hard to beat in the main under Moyes, you felt we drew too many games (certainly last season) and seldom were capable of the "important" wins. I agree that Martinez was probably the stand-out candidate from the list, largely for the reasons you mention. Now keen to see how he shapes the back room team, and the first team prior to the new season.
Kevin Hudson
399
Posted 06/06/2013 at 08:52:20
Tell you what...after getting a good night's sleep, waking up and reading that very readable piece...I'm actually feeling optimistic myself today!
I think the next 24 months may well be a transitional period for Everton, with some of the older players moving on, and Martinez developing his ideas, and bringing his players in.
He inherits a much stronger squad here, so I hope he's an assertive tactician who gets us on the front foot, wins at Anfield, and treats the League Cup as a winnable concept, rather than a distraction.
Oh, and Champions League: Yes please..be as creative as you like, Bob..
Paul Gladwell
401
Posted 06/06/2013 at 09:08:32
Great article, just nice to see a bit of optimism about the club for once and great that they got shut of that clown Tyrell too.
Andrew Ellams
405
Posted 06/06/2013 at 09:10:53
As he won't have the funds to go ahead and make wholesale changes he won't really have the option to rip the heart out of the team straight away and any rebuilding will have to be staged over the next couple of years

James Morgan
408
Posted 06/06/2013 at 08:09:20
Good article, Lyndon, certainly puts across the positives of Martinez.
I have to admit the guy comes across very intelligent and classy - in line with the respectful and honest way we conduct ourselves, unlike some shit house clubs.
Kev Johnson
413
Posted 06/06/2013 at 09:23:01
David @380 - yes, BK mentioned Fellaini's buy-out clause in both the press conference and the interview on Everton TV. He seemed to be touting Fellaini - otherwise why mention it?
The money for a Martinez's new signings is likely to be dependent on selling Fellaini, I would imagine. That wouldn't distress me too much, but the question is: who would buy? Fellaini is a very particular type of player and it's hard to see him fitting in at another Premiership club, and the big fella seems to want to stay in England. We shall see...
Jon Withey
420
Posted 06/06/2013 at 09:29:32
David #380 : I noticed that - sounded like a 'come and get him' to me - might as well start a bidding war if he has a release clause.
Excellent article, chimes exactly with 'gut'.
You make a superb point about Latin American players and in general the different world within which a Pereira or Bielsa work in.
That said, you'd hope with Martinez european connections he can source similar talent and he has also improved players from our islands too.
The best thing I can say is that I'm really looking forward to the changes and praying that we don't become vulnerable to getting slaughtered when form dips, as it inevitably does.
Kieran Fitzgerald
424
Posted 06/06/2013 at 09:42:29
Andrew, good point about a lack of funds. Also, the guy comes across as being very likable. I can't see many players going 'he's a clown, I'm off'.
Ken Buckley
425
Posted 06/06/2013 at 09:19:14
Appointing any manager carries risks. You can have a world cup winner flop - Scolari or an ex-player promoted from within with no experience at all and be a revalation - Guardiola. You hope that the person charged with making the appointment does his homework and listens to other voices that he trusts and also at interview looks for the candidate that seems to fit not only the current position of the the club but most importantly have the ability to have players and majority of fans buy into his vision and excite them. Our chairman has made his choice, the press conference had positive sound bytes so now its time to put words and deeds to the test. The pre-season will be worth watching carefully to see what direction the manager takes and how he is able to set us up to start the new season. The excitement starts here. Who will arive and who will leave in the sense of both players and backroom staff. When this has taken place will we all be optimistic and raring to go. Its all if's and but's - but if Bill has got it right and Roberto rings our bells. Yippee and bring it on. Of course if not then ToffeeWeb will not be for the faint hearted. UP THE BLUES.
George McKane
428
Posted 06/06/2013 at 10:01:44
Well for me I feel upbeat about Everton right now.
Positive and looking forward to the first games. Excited to see, hopefully, a change in our style of play.
A change does people good sometimes. Staleness creeps in and stagnation can follow.
Looking forward to good things at Everton.
Feeling quite confident, of nothing in particular , but as I said excited and looking forward to see how things pan out.

Brian Harrison
433
Posted 06/06/2013 at 10:04:18
Well the decision has at last been made and we now have our new manager, personally he wasn't even my third choice but like all blues I will support him. I think there is a concern and rightly so about his defensive record and set up at Wigan. I know it has been pointed out that he will have much better players here but that was down to the last manager, my other major worry was his insistence to ask poor defenders to play 3 at the back. He was the only manager who played that system in the Premiership week in and week out, and his inability to change when it was proved it didn't work is slightly worrying. I think to play that system you have to have exceptional defenders who are also very comfortable on the ball, now as good as Jagielka and Distin are they are not that comfortable playing it around at the back.
So I hope that either Stubbs or Weir will be part of the first team set up,and hopefully that will help with the defensive duties of the team.
Kev Johnson
436
Posted 06/06/2013 at 10:19:17
Kieran - 424 - someone on another thread (sorry, can't remember who or where) said they heard a recent interview with Mike Pollitt, Wigan's reserve goalkeeper. Pollitt commented that RM can be utterly ruthless if he feels a player is not fully committed to HIS way of doing things. So, while being undoubtably nice, he seems to have a tough side to him too. There may be one or two of the current squad who fall out with him, who knows...
Andrew Ellams
442
Posted 06/06/2013 at 10:37:09
Kev, if you haven't already read Big Nev's book, his description of Howard Kendall is very similar to Mike Pollitt's of Martinez. That is exactly what this team needs. Somebody like Anichebe needs a damn good kick up the arse and the fear of God put into him and hopefully this is our man
Tony Fearns
444
Posted 06/06/2013 at 10:48:03
I'm waiting to find out how much money from the sale of Baines and Felli he will get to spend. Probably £10M.
Mike Hughes
450
Posted 06/06/2013 at 10:53:58
Lyndon - that summed-up my feelings very accurately.
I was swayed towards Perreira initially (gut instinct) and away from an internal promotion.
Personally, despite his loquacious style, I think BK went about things in the right manner. Nobody knows who was interviewed and who wasn't.
All in all, feeling very positive now. I think I'll stop watching the rumour mill of transfer speculation and keep my mood / blood pressure on an even keel for the summer.
A full pre-season for RM with a prestigious tournament coming up. Like you, I can't wait for the big kick-off. As usual, I'll be expecting us to stuff all and sundry, week in and week out. In fact, I'm even starting to feel sorry for the other teams in the Prem this coming season based on the simple fact that they're not EFC.
Matt Dean
451
Posted 06/06/2013 at 11:15:15
Good reading. Well said.
David Harrison
457
Posted 06/06/2013 at 11:40:25
definitely nail on head with regard to how the vast majority of us are feeling right now
David Stuart
462
Posted 06/06/2013 at 11:34:31
I too, like many just couldn't get past the word RELEGATION to begin with and I was dead set against Martinez from the outset. However the more I read about him and actually thought about how he'd gone about keeping Wigan up for three seasons after cutting the wage bill by over a fifth and continually losing his best players (he lost Cattermole and Valencia the moment he arrived at Wigan, then the likes of Moses, Nzogbia, Rodallega and Diame the summers that followed).
Villa started to cut their wage bill last summer and look how close they came to the drop this season, and they started with a better squad than Martinez inherited at Wigan.
Also try to imagine how the other teams who finished in the bottom half this season would fare trying to cut out 1 in 5 of their first team squads net wage over the next year or two. Thats Norwich, Fulham, Stoke, Southampton, Newcastle and Sunderland, I very much doubt they'd manage four more season in the PL and a trophy whilst playing good football.
I have had that excited gut feeling for the last few days now too.
Bring on next season!!!
Dave Paul
464
Posted 06/06/2013 at 10:20:46
I agree with most points made – to quickly summarise my own thoughts:
Pros: Premier League knowledge/know-how, more adventurous footy, development/faith in youth, success in transfers (apart from Boselli/Scotland), scouting system with backroom staff (Spanish, South American links) – we need a couple of cultured football players, good all-round fella, top to bottom manager, positive/ambitious.
Cons: relegation, defensive record, lack of development of Wigan over 4 years, too nice a bloke, losing too many of the EFC back room staff.
I do hope the points RM made about continuing 'solid work', 'magnificent level', 'winning mentality', 'small tweaks here and there'. I hope this means he will combine the Moyes defence-first ethos already installed in the team with his own attacking footy; a mix of the two could be very rewarding for us.
Overall, Happy. :-)
Richard Watts
468
Posted 06/06/2013 at 12:03:42
This is an excellent, and very fair, article.
I agree Martinez is the 'safest' of the choices available. OK this means he isn't as exciting as Pereira or Rangnick but he isn't risky either - being a safe choice isn't necessarily a bad thing.
The big pluses are his commitment to open, attacking football (which we saw more of in the last few seasons under DM, but not consistently enough) and his and his excellent understand of modern management (building on Everton's already cutting edge use of data). The big negative is the question mark is over his defensive record as a coach but he inherits a very strong defensive set-up - both coaches and players - so hopefully will learn from this.
Eugene Ruane
473
Posted 06/06/2013 at 12:18:52
I'm perfectly happy with the choice of Martinez.
Choosing a manager isn't an exact science and with that in mind, I think the arguments for selecting him were as strong as the arguments for selecting anyone else who was available (nb: and who was prepared to come and who we could afford).
Could it all go sideways?
Of course it could, absolutely, but with the managers available to Everton, there would be no guarantees with any of them (or with ANY manager for that matter).
My only regret (re the announcement) was big mouth informing the world Martinez said he would get us into the CL.
This morning I was in the news-agent (for my Boxing News and Viz) and on the back of The Mirror, saw a pic of Kenwright and Martinez with the headline "Champions League, you're havin' a laugh"
I shuddered and thought about the level of stupidity and vanity that would make a chairman blurt out such a thing at a managers appointment press conference.
What a fucking...... balloon!
Is he REALLY unaware of how the British media works?
Did/does he think this will be forgotten?
Not a hope.
For Martinez, as well as for all Evertonians, I hope we have a good season, because if not, I guarantee this quote will be used by one and all as a stick to beat him.
In fact it seems, after one day, it may already have started.
Peter Norris
480
Posted 06/06/2013 at 13:17:33
Really well set out and balanced summary of what we've now got.
Eugene – take the point about the CL, but how many times on here have we heard posters talk about the lack of ambition under the previous regime? With a little more decent defending of leads last season we may not have been far away.
Good on him in my eyes.
Jay Harris
481
Posted 06/06/2013 at 13:01:56
Well balanced post Lyndon reflecting my own views.
I remain concerned about Martinez's record as a manager but excited by the prospect of a new dawn.
There is no doubt in my mind that Moyes had gone stale and worn down by the lack of support from a pathetic board and CE over the past two seasons and we needed an injection of enthusiasm so on that front this is a real positive move.
As regards Fellaini, I fear his move was already lined up in January when we approached Fer so I expect that may be on again.
Much as I love Fellaini and his goals, I do think he has defensive lapses in concentration that cost us so I wouldn't be so averse to a change as long as the replacement is quality – and I don't consider McCarthy or any other Wigan players anywhere near the class we need.
However, our main problem is to find that elusive 20-30 goals a season striker within our budget – and that for me is the biggest threat/opportunity we have.
Patrick Murphy
483
Posted 06/06/2013 at 13:04:00
Pity they don't beat the Dark Side up with their rent-a-quote people, how often do we hear them saying they are going to do this or that but they are rarely castigated in the media. It was Kenwright's foot in mouth gaff and he really should know better, but I do think that RM is aiming to move us up to the next level if he can. I prefer a manager to be positive rather than always being realistic, it might result in the same position in the league but we will know that they have tried their best, sometimes the previous manager gave the impression that he didn't believe it was possible and that carried its way into the teams mentality.
It's a far cry from the days when a new Everton manager would be expected to win the league and many of us too young to know different at the time believed that's what they would do only to be disappointed by their ultimate failure. If RM doesn't manage to get CL or win a trophy I hope that he leaves a legacy of Everton being known for good football played in the correct manner. Also I hope that the skills of the youth players are not ignored and are worked on by his staff. Watching the England U21's perform last night was a sad reflection of how our game is suffering from too many foreign imports and a lack of forward thinking by coaches at all levels of the game.
I still think there is room for improvement from all of our players even the senior ones in the squad, especially with regards to control and passing of the football, being athletic and disciplined will take you so far but you really need to hone the skills of the players available to you to get improved results. I don't want tika-taka football with no end product and like many don't want to see us go all out attack a balance has to be struck and that will be the most difficult task that RM has to find a solution to.
John Gee
484
Posted 06/06/2013 at 12:55:11
Kenwright has screwed RM on his first day. That quote was pathetic and the fans should hold BK responsible if we don't get CL football not RM because it will probably come down to what funds are available.
The press conference was shambolic. Surely BK could have taken a moment to think about what he'd say before opening his mouth. And his constant references to Man Utd's manager was embarrassing.
IKWW. IBWT.
Harold Matthews
485
Posted 06/06/2013 at 13:16:40
Spot on Eugene. Excellent post.
Was BK deliberately damaging? Wouldn't put it past him.
The door will always be open for Moyes.
Mike Hughes
487
Posted 06/06/2013 at 13:35:42
Regarding the Champions League, I understand it's a kopite trait to go shouting your mouth off, and would personally avoid that approach.
Regarding how the media works, it was a press conference and RM was always going to be challenged on what his plans were. It's a standard question.
Based on the fact that we finished 6th last season, what would the reaction have been on here if he'd have stated "top 10 will do". There'd have been uproar / accusations of lack of ambition. Bland comments regarding "building on success of DM" – similar same old, same old reactions.
Most of us weren't that sad to see DM leave because he'd taken us as far as he could. The prospect of 6th wasn't that exciting.
Where do you go from 6th?
I'm glad he's looking up rather than down.
What the media / kopites and TS gobshites etc think – personally couldn't give a flying you-know-what.
Let's control what we do and screw the rest.
Greg Mckerracher
491
Posted 06/06/2013 at 13:50:37
Patrick #483 "Also I hope that the skills of the youth players are not ignored and are worked on by his staff. Watching the England U21's perform last night was a sad reflection of how our game is suffering from too many foreign imports and a lack of forward thinking by coaches at all levels of the game."
As opposed to 10 years ago when the premiership was poor and the national team was even poorer? The problem is a grass roots issue. The rest of the continent has kicked on and evolved their games into what is almost tantamount to a different sport. As soon as a child is capable of walking in Britain we throw them onto full sized mud ridden pitches instead of building up their technical ability on small pitches with an emphasis on comfort in possession and triangles.
Its going to get a lot worse before it gets better.
Chris Leyland
492
Posted 06/06/2013 at 13:57:25
I was a big supporter of Moyes but, for once, I am actually excited about the season ahead. It might actually be fun.
We need a fresh approach and saying that we are aiming for the Champions League is a good start. Let's start looking up the table and not down it and change the perception engendered and perpetuated during the Moyes reign of 'plucky little Everton' to one of 'sleeping giant Everton - waking up'. Ok, the money situation hasn't changed but let's change the mindset and say that our glass is half full and not half empty for once. Martinez exudes positivity to me and has at Everton a good core of experienced players and some younger prospects that he could blend together, who, with some clever additions could aim higher.

Tom Bowers
493
Posted 06/06/2013 at 13:40:34
Martinez is the man for the next 4 years and I for one welcome the change in anticipation of fresh ideas to bring this club back to the greatness of the mid-eighties and other eras before that.
Moyes did well with what he had but in the eyes of the fans it wasn't enough to be also-rans every season and one fourth place finish just didn't cut it.
If Martinez can keep the few world class players he has and add to them then I am sure he has the temperament and wherewithal to command respect and a team spirit that will produce better football and better results.
Lev Vellene
539
Posted 06/06/2013 at 18:05:33
Martinez always looked like an exciting option. And like most Evertonians, my main objection was quite easy: Defense, defense, and then something about defense!
But as other people already have pointed out, the fact that we have defense drilled into the Everton spirit over the past 11 years, I was really wondering about what RM would be able to do with Moyes 'dour' team!''
Crossing my fingers for that, but I really hope he will take this opportunity to get rid of whoever was providing his advice on defense at Wigan... :P
Danny Kewley
670
Posted 06/06/2013 at 21:10:59
Cannot wait for the season to start and my glass of Tyskie is more than half full !!! Our team is fucking brilliant when we are going forward and the wee Spanjsh lad will,i feel, take us even forward-er! COYToffeeeeeeeees!!!!!!!!
Mick MacManus
681
Posted 06/06/2013 at 21:25:47
To counter your initial feelings of being underwhelmed Lydon, BK, although theatrical in his comments at the press conference, has set the bar high for Martinez with his Champions League comments. So in that regard, I feel more positive ambition wise that we are offiically aiming high and not just settling to be also rans post Moyes. Of course, only time will tell if those glib comments come back to haunt him.
Steve Carroll
793
Posted 07/06/2013 at 00:59:58
On the EFC website RM states that the CL is a goal, it's not going to happen at once. It's his vision of where he wants to take the team. Obviously BK has shackled RM with this from day one, but as he's said this out of context we just come across as knobheads.
Jason Lam
810
Posted 07/06/2013 at 03:37:03
This could be our Arsene Wenger moment to some degree. When Wenger first took over they had the back four of Dixon, Adams, Keown/Bould, Winterburn. Inherited an entire British back four. It's when he started meddling with them after he fixed the attacking that they've gone downhill.
Derek Thomas
826
Posted 07/06/2013 at 06:32:19
Eugene; in Bill's case it's not what you say but how you say it...in his case 1) wrong place 2) wrong time, in his case every time he opens his mouth is the wrong time.
If I had to pick between a manager who said our 1st target is 40pts or one who said my aim is CL....
Alf Ramsey's 1st press conference in 1963 ended with... England WILL win the World Cup
Mike Green
828
Posted 07/06/2013 at 07:20:07
When Bill said Roberto said he'd get us into the the Champions League Martinez should have said:
'Sorry Mr Chairman, that's not what I said - I said I would get us into the Champions League as CHAMPIONS....' :)
It might not be a bad thing. IF and it's a very, very big if, he does manage it in the next few seasons he'll be able to say 'I told you so' and have the last laugh. He's done the right thing qualifying it by saying long term aspiration, not a target for next season.
So, so good as far as RM's concerned, just need to keep BK in his padded cell.
Drew Shortis
859
Posted 07/06/2013 at 08:44:33
Good article. As soon as I got wind of Moyes' possible departure to Man Utd I always believed it would be Martinez's job. He does tick almost all of the boxes. I understand why his Wigan record could be interpreted as a negative, but I see mostly achievement there. His defensive record was the major aspect that ultimately failed at Wigan, but I firmly believe that with the defence Moyes built and some investment he can improve on that aspect.
For me, Pereira was a much bigger gamble. Yes he won the Portuguese League, but with only Benfica to really challenge Porto is that such a massive achievement? Why didn't Porto want to offer him a new contract? What was his transfer record like? How good a man manager would he be with British players? He may have done a great job for us, but for me there were a lot of questions that I had heard no answers to. With Martinez I knew the answer to those questions.
Martinez does have the continental flair we crave, but he also has eighteen years experience in Britain, twelve as a player and six as a manager. Working with tight financial constraints is something he is used to. He is settled in this part of the country and knows all about Everton and our expectations. I think he dealt with the Champions League issue very well. That is our current goal, but it could take a little time to reach it. No guts no glory! I could probably blabber on for hours I'm so excited at the moment!
Chris Morris
861
Posted 07/06/2013 at 09:15:50
The next box ticked should be titled "Trophy".
I like Roberto Martinez's appointment but I think from now on (as he's an honourary Scouser) he should be called Bobby Marto.
Steve Carroll
934
Posted 07/06/2013 at 14:00:05
Chris, as someone posted in another thread it's gotta be Bob Martin. The dogs.
Col Noon
107
Posted 07/06/2013 at 22:10:19
More than happy with the appointment. Say what you like about him but at least he's positive and looks hungry. He knows he will never get an opportunity to manage a club as good as Everton, this is his chance to prove himself and I think he will be a revelation.
I' m assuming The people who keep banging on about this "three at the back" rhetoric are fully aware that injuries to key players forced this on him at Wigan? He even had James McCarthy CB at one point.
David Moyes resembled the grim reaper on most occasions when fronting press conferences. It makes a refreshing change to see a man who's positive and clearly eager to get to work with good players at a great club. Moyes is gone so lets not mourn him like a dead relative, he ran his contract down, earned lots of money whilst here and won a big fat zero amount of trophies. Good luck Roberto.
Sid Logan
258
Posted 08/06/2013 at 16:53:09
Lyndon, another well written article which nicely sums up where I think many of us are now in terms of the appointment of Martinez.
I would probably just add that I've no doubt Moyes strongly recommended Martinez to BK which may well have accounted for what now looks like a smokescreen surrounding an internal appointment.
For me his first big test - which won't cost us too much money - will be to re-sign Baines on a new long term contract. Once he's achieved that I will be even more optimistic about our future!
Jim Potter
573
Posted 09/06/2013 at 16:32:12
Not one comment in this thread (so far) from the "I'm pig sick" brigade. Amazingly refreshing.
Are all they all away self flaggerating this weekend? I'll willingly give 'em a hand.
Dirk Clarke
978
Posted 11/06/2013 at 13:31:06
So happy to have Roberto with us. I haven't looked forwarded to the start of a new season this much for the longest of times.
Goodbye to miserable Moyes, and a big hello to the man from Spain who has come to Goodison to end our trophy-less pain!
Ryan Sloan
064
Posted 11/06/2013 at 19:44:55
Fantastic article ,one things for sure next season is going to be entertaining. I have a feeling Martinez won't be as gung-ho here as he was at Wigan. I think he had to go for it there a lot to stand a chance of keeping them up. I don't buy into this Jewell and Bruce malarkey, the fact they never got relegated. I think the Premier League just got stronger, and he had less money to play with. I think a more positive approach was needed, and it could turn out well for us... Well, we can only hope!
Julian Wait
834
Posted 15/06/2013 at 16:50:31
Not much to add that hasn't been said. Berto is an understandable choice and it's up to him how he responds, how the players respond to him, and most critically how and who he replaces the aging players with. I expect most Everton fans will give him a chance for a fair while, unless it really goes tits up.
Personally, I will welcome a more consistently attacking mindset (one that Moyes himself was evolving to in the last 18 months), and hope that he can still KITAP1 when needed, just not too often ... I would just like a bit more free flowing KILASS ;-)
"Keep It Loose And Score Several" (Trademark)
OK, back to the new job. Haven't checked in to TW for two whole weeks which apart from holidays is a first since I found TW .........
Hasta la vista
Add Your Comments
In order to post a comment, you need to be logged in as a registered user of the site.
Or Sign up as a ToffeeWeb Member — it's free, takes just a few minutes and will allow you to post your comments on articles and Talking Points submissions across the site.
© ToffeeWeb