Cliff Marshall - Goodison Pioneer
By Rob Sawyer
14/10/2013

Comments (48)
jump

Cliff Marshall in conversation with Rob Sawyer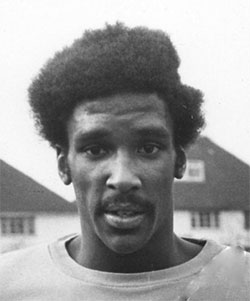 Cliff Marshall, was a Goodison pioneer: our first black player to come up through the ranks. Despite being rated by youth coach Eric Harrison as the most talented of Everton's early 1970s prospects, his top-flight career petered out after only eight appearances. It would be a further 19 years before another black player played in the Everton first team.
After footballing stints in the States and Southport, a career in clubs and snooker halls followed. Now Cliff is back in the Everton fold as keen advocate of Everton in the Community and the Former Players Foundation. I caught up with him to look back on an eventful life:
"I was born in 1955 and grew up in Stanhope Street in Toxteth. I had one sister but three aunties and six uncles so it was a big family in that sense. My mother was born here but going back you can track us back originally to Barbados. I used to go over every couple of years as I have a half-sister there.
I was playing a lot of schools football and ended up going for a trial for Liverpool Boys, a year before I should have done, and ended up playing for them. I was playing right wing at that time and I'd cut in and go it alone. When I was growing up I wanted my left foot as to be good as my right – I could dribble, pass and control with it. I was comfortable on both sides so that made things difficult for defenders coming up against me.
In 1970 we won the English Schools' Football Association Trophy. We played the semi-final down in London – it is vivid in my mind as my mother died and she was getting buried on the Friday. They asked me if I wanted to still play in the game that evening and I said "Yeah I'll play – I'd like to do it for my mother". So Tom Sanders came to the funeral with me and then we got the train together to London. In any other game I'd have scored 6 goals but when I look back the goalkeeper, who was like a cat, was Mervyn Day.
After my mother died my Aunt Alice looked after me and my sister – at that age you learn quickly how to cook meals and do the ironing so I became very independent.
I also got picked to play for Lancashire boys. Then I made it to England boys the following year and you've got all the scouts over the country looking at you. I was very fortunate – I could have gone to Liverpool, Everton or Manchester United. In fact my father lived in Manchester at the time and wanted me to go to United so I did visit there out of courtesy. Wilf McGuinness was at United at the time and George Best, my idol alongside Pele, was playing. Tom Saunders wanted me to go to Liverpool but it wasn't to be – I loved Everton, having grown up watching the football they played as a kid. Their scout Harry Cook came round in 1971 and asked if I'd like to sign as an apprentice for Everton and I did straight from school at 15.
Gordon West was the "Union man" collecting subs off everybody – he was the main man and always taking the mickey out of people. The pros just wanted to make life a bit hard for you but I'm sure they all had the same treatment when they were apprentices.
I remember once being summoned to the first team room with Howard Kendall, John Hurst, Bally, Westy and Brian Labone in it. They made me sing Stevie Wonder's "Ma Cherie Amour" and within a minute they were pelting me with their boots and I had to flee out of there for my life. It was like their version of The X-Factor and Westy was Simon Cowell.
The next time I got "the call" I thought "Uh oh, what is it now?". I was a bit of a "Del Boy" wheeler-dealer so they got me in the room and said "We heard that your auntie runs the Gladray club, can you get our Christmas do there?". So "I said leave it with me lads". The Gladray was Liverpool's first strip-club and it was the best Christmas party that Everton ever had! You could get away with more things in those days – there were no cameras around.
I was lucky enough to turn pro early; I'd come back from a tournament in Italy where as I was "player of the tournament". Everton signed me pretty quickly after that. You signed the papers with Harry Catterick and that was it; you didn't see much of Harry – it was mostly Tommy Casey, Stewart Imlach, Eric Harrison and Jack Connor.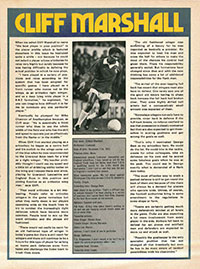 Zoom larger
For my first team debut I was just given the nod to come in by Billy Bingham. I came on as substitute at Goodison against Leicester in January 1975 and then I started away at Birmingham in the next match. I was playing out on the right wing supplying Bob Latchford.
Then I got a bit disillusioned, one of the coaches told me my first priority was to defend and I thought – "I'm not happy with that". They wanted everyone back behind the ball – negative stuff. I was brought up on attacking football. I went to see Billy Bingham and said that I wanted to leave – he wanted me to stay but I'd had enough.
I left at the end of the 1975-76 season, I didn't know if I'd still play football. Then I got a phone call out of the blue asking if I'd like to play football in Miami – they'd sort everything out for me. So I thought "I'll give it a go". The US Consulate was in Liverpool and I went down there but they wouldn't give me a Visa. So I phoned Harry Cook up and he said "leave it with me". When I phoned back in a few hours Harry told me go down there again as the Visa was ready. The next thing I knew I was in the USA where Bestie, Pele and Marsh were playing in the North American Soccer League (NASL).
Chris Lawler, ex-Liverpool, was playing with me. We played on good quality pitches in decent stadiums but the standard of play was garbage. They had to have 5 or 6 Americans in each team and it never really took off in that period. I had an apartment with a Stingray convertible car and good wages. After every game we had barbecues and the shenanigans that go with it – it really was the life that you could get hooked on.
I came back over from the States, having got a bit of change together; it had almost been like taking money under false pretences. I was pondering again what to do when one of my best mates Alan Wilson got in touch and asked if I'd like to have a go at Southport so I did that for a season to bide my time. I was playing but my heart had gone out of it.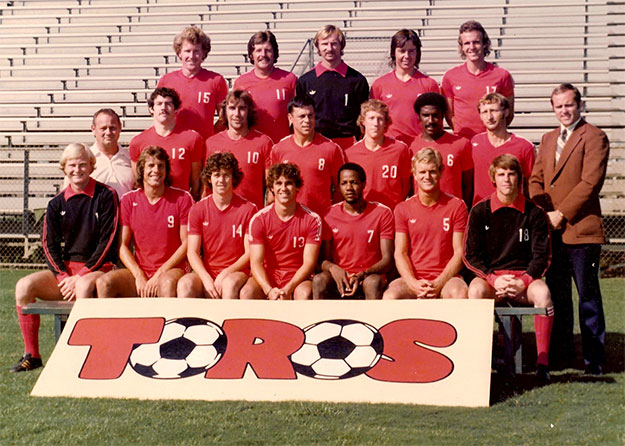 So I retired from football at 22 and went into a completely different industry – the licensed trade. I got a pub and ended up with snooker clubs like the 147 Club in Liverpool. Then I got involved with St Helens Football Club, which even had a dog track, and bought a night club out there. I had good times before jacking it all in around 2003. People still recognise me all over the place – it's a fanatical city for the football but hundreds of thousands of people passed through the clubs.
I now do a bit with the Former Players Foundation, I'd read something about them so I phoned up – they invited me to a game and met up with the old boys. We had a bit of banter and it was great seeing the lads I hadn't seen in 30 years. They all recognised me but I struggling to recognise some of them after so long! I'm up at nearly every game now, The Foundation is good with any of the lads with health problems.
I am proud to have been the first black lad at Everton; people don't recognise how tough it was. You had a bit of all sorts like banana skins and monkey chants but you got more playing for England Schoolboys all over Europe. I'm not being big-headed, I must have been good as Billy Bingham didn't have to pick me. My Auntie used to go to all the games and Billy once said "Cliff is ahead of his time".
My daughter is 17, she's working up at Goodison for Sodexo in hospitality so there's a link there; it's nice for her when people say "I remember your Dad playing". I've got quite a bit of stuff from my football career so I have told my daughter she'll have to take it a Liverpool museum when I die."
---
Reader Comments
Note: the following content is not moderated or vetted by the site owners at the time of submission. Comments are the responsibility of the poster. Disclaimer
Gerry Morrison
449
Posted 14/10/2013 at 16:32:17
Great read. Thanks for posting that.
Paul Andrews
450
Posted 14/10/2013 at 16:43:42
Your auntie at the Gladray.
Was it Rachel?
John Roach
452
Posted 14/10/2013 at 16:52:43
Cliff,

I played against you at schoolboy level, remember you were head and shoulders above everyone else.

That must have been some do at the Gladray !!
Mike Berry
472
Posted 14/10/2013 at 19:28:39
I remember Cliff when I worked in the Babalou night club, he used to pull a quick pint when my back was turned... I let him do it because he was a Blue.
Karl Masters
478
Posted 14/10/2013 at 20:02:02
Interesting to note that 70's youngsters like Mick Buckley and Cliff were more than happy to choose Everton ahead of Man Utd and Liverpool.
Also, good to see that Cliff chose us for the style of football and was prepared to stick his neck out and stand up for that, eventually leaving on a point of principle. I wonder how he would have got on with Smith or Moyes?!
Eugene Ruane
497
Posted 14/10/2013 at 21:26:37
Another great piece and fantastic that Cliff is involved at Everton and back going to games.
For younger blues it is impossible to imagine what it was like for black players back then and how tough it must have been, especially running out at away games.
(to give you some idea, imagine the reaction of supporters now to a player running out with a green face).
Language and words that would land you in court now were commonplace back then and nobody turned a hair.
It was toe-curling at times and I remember a (red) mate telling me that Garth Brooks (when playing for Stoke I think) was subjected to an entire 90 mins of (literally) orchestrated racism from those masters of wit on the Kop.
It was a shame Cliff moved on so soon but if it's any consolation, he was just about the coolest looking Everton player I've seen.
I remember remember seeing him for the first time and thinking 'he looks boss!'
As for The Gladray, almost fell of my seat when I read Cliff's Auntie ran it.
Again hard to describe to the young'uns but back then, when the alehouses used to close in the afternoon, and you were 'out on one', this place was a magnet for all kinds of bevvy merchants (as was the L & D, Royal Tiger and one or two places on the dock road).
Illicit bevvy, strippers, 'I Can't By Without You' coming from the speakers and badly drawn pictures of Shaft on the walls - what more could you want?
I remember being in there on a couple of occasions when a large black lady came in with a plate full of spiced meat on skewers.
Think they were 50p a pop and 10 of us bought the lot.
No idea what the meat was but to this day, I still think about how great it tasted.
Happy days indeed.
Peter Mills
498
Posted 14/10/2013 at 22:10:00
It's very difficult to explain to a generation down just how radical it was to have a black guy playing for Everton. This was at a time roughly in the middle of Albert Johannson receiving racial abuse at Goodison in the 60s, and supporters throwing bananas at John Barnes at Anfield in the 80s. And yes, there were chants of "Everton are white". They were different days, and much the worse for that.
Best wishes to Cliff, I hope he can contribute to our Club. And how good it is that nobody ever thinks of Amokachi, Campbell, or Lukaku in terms of the colour of their skin.
Ben Mackenzie
534
Posted 15/10/2013 at 09:27:21
Not forgetting Earl Barrett, what a player.....
Peter Laing
550
Posted 15/10/2013 at 13:04:30
Cliff represented Everton before my time but I remember growing up supporting the blues in the 18 years that preceded his departure and being on the Gladys Street End as the abuse rained down from the stands subjecting black players to vitriolic hatred. As an impressionable teenager in the late 80s and early 90s, I am ashamed to say that I didn't bat an eyelid, such was it common place at Goodison.
To onlookers it almost must seem like the Everton hierarchy must have had an agenda regarding the non-recruitment of black players, I also know that the likes of Les Ferdinand quite rightly took great pleasure in scoring against us. Thankfully a shameful part of our history consigned to the past, but always potentially on the fringes.
Dermot O'Brien
552
Posted 15/10/2013 at 13:19:32
Good piece, I heard a lot of "racist Everton" comments years ago because we had no black players. I would mention Cliff Marshall with pride to shut mainly reds (Mancs and Shite) up.
Eugene #497 – "It was toe-curling at times and I remember a (red) mate telling me that Garth Brooks (when playing for Stoke I think) was subjected to an entire 90 mins of (literally) orchestrated racism from those masters of wit on the Kop".– Those red cunts don't like country music.
Gary Reeves
554
Posted 15/10/2013 at 13:37:47
Eugene #497... As someone who's received the stinging end of your "Grammar & Punctuation Cane" it gives me no small pleasure to point out that Garth CROOKS played for Stoke!
Garth Brooks is an American Country singer.
Eugene Ruane
555
Posted 15/10/2013 at 13:58:49
Peter - In the early 90s, I did some work for The Commission For Racial Equality and at some function or other, got chatting to (now Sir) Herman Ousley who was the head of it at the time.
When he heard I was from Liverpool, he asked that question we've all been asked, 'red or blue?'
'Blue' I replied.
He looked a bit perturbed and asked me why Everton had never had any black players.
I felt a little uncomfortable but I was able to compose myself enough tell him he was wrong.
That not only had Cliff played for Everton in 1975/76 but also we had the first black player to score in an FA Cup final.
He was astonished and said "Oh...well....I'll have to look them up"
Now of course Trebilcock might be described as the first mixed race player to score in a cup final but no such distinctions were made back then (well..some did make them, but again using terms that would make you wince).
Dermot, they unfortunately have ruined Ring Of Fire for me forever - they should stick to tunes from 'pop' songs (and stealing Celtic songs and Poor Norwegian Tommy or whatever other witless dirges they drone on about over there).
Eugene Ruane
559
Posted 15/10/2013 at 14:33:40
Gary, such is the quality and wit of my posts, there have been those who have accused me of NOT being me, but in fact an entire team of top writers.
Consequently, I am occasionally forced to throw in the odd 'mistake' to prove this is not the case.
Gary Reeves
560
Posted 15/10/2013 at 14:59:32
Haha, now I know you're not the real one! Eugene would kick my arse for being impertinent!
Tony I'Anson
561
Posted 15/10/2013 at 14:52:07
I remember a few of us who were well into snooker in the mid-80's briefly getting a job on a Saturday morning cleaning the snooker tables at the 147 Club, in return for a few hours playing time. Some of the lads mentioned in this link http://www.snookerbacker.com/2012/09/10/lets-all-calmmmm-down-congratulations-to-rod/ were amongst them, including Rod Lawler who ended up turning professional.
Craig Bellew
566
Posted 15/10/2013 at 15:11:22
I was only 2 when Cliffie played for the blues but knew all about his exploits in blue as I grew up with his son and my father worked alongside him during his snooker hall/club days.
A massive shame he was only able to stick around for the odd few games as it seems he had a promising career ahead, but fair play to him for sticking to his guns and moving on when forced into David Moyes style tactics.
Paul Andrews
574
Posted 15/10/2013 at 16:04:21
Eugene,
I see your Gladray,and raise you Dutch Eddies
Eugene Ruane
580
Posted 15/10/2013 at 16:16:37
Paul I went to Dutch Eddies just once (think the real name might have been 'The Tudor Social Club').
Very very scary and a completely different 'vibe' to The Gladray (mind you it was about 3am rather than an afternoon session)
I remember there being just stools with no tables.
One of my mates (a big feller) was standing at the bar and a feller pulled the label out of the back of his jumper and said "Extra large eh?"
This was said in a way that suggested my mate had somehow flaunted his 'extra largeness' and was somehow issuing a challenge.
When a feller took my wrist and said to me 'nice watch', I thought, let's go, and we did.
As we came down the steps, a taxi-driver waiting said "Johnson?"
We said "Er...yeah right Johnson, let's go"
That was my only venture there.
A few weeks after, there was a piece in the Echo about someone being refused entry there and blasting the door with a shotgun.
Steve Guy
581
Posted 15/10/2013 at 16:08:30
I remember watching him, played with great pace and I was excited that we had another great wide player in the making, but he was young and prone to head down runs which too often ended in dead ends. I'm sure it would have been trained into him but now we'll never know and it's a shame he got so quickly disillusioned. Fair play to him anyway as I remember the grief black players got in those days and to say it can't have been easy would be some understatement !
Paul Andrews
586
Posted 15/10/2013 at 16:46:23
Eugene,
Ahhh the good old days.
That's the Dutch Eddies I remember.
I think the owners name was Johnson.
Many a misspent hour in Dutch Eddies.
Peter Mills
612
Posted 15/10/2013 at 18:23:59
Anyone ever frequent The Asp on Rice Lane? Now that was a night out.
Ray Said
623
Posted 15/10/2013 at 19:06:27
I remember Cliffie well-it was bad for him being a black footballer but almost as bad being a mixed race supporter in and around Goodison in those days. Still I was inspired by Mike Trebilcock and nothing was stopping me watch my Blues. In those days EFC had more black fans than the other shower.

Mention of the the Gladray bring back memories , it was a right old place and I remember Cliffies Aunt and Gloria the stripper-what a place and I bet that was some party the Blues had. Eugene is right, Dutch Eddies was called the Tudor and could get rowdy but it was quiet compared to some of the other L8 places-The Fed, The Ibo or the Sierra Leone.
Paul Andrews
628
Posted 15/10/2013 at 17:07:52
Ray,
Silver Sands,Somali,The Nigo.
Great days

Ray Said
629
Posted 15/10/2013 at 19:30:35
Paul
Random memories;
The doorman on the Somali who looked about 7ft tall. The Nige on a Saturday when they introduced a 50p charge to get in and no one would pay it so about 20 of us bumrushed the door.
Falling down the stairs to the Sands and ending up in Hospital.
Pauline Brown's blues -Red Stripe and a plate of curry,rice and beans and heavy heavy sounds.
Bull Garners-played some cards there with some rough boys in my young days.
Great memories
Pete Cross
672
Posted 15/10/2013 at 22:31:02
Ah... the Asp club — the best strippers in Liverpool.
That is after 8 pints in the nearby Qeen Vic... 8 pints for a pound! Good old days...
Eric Myles
701
Posted 16/10/2013 at 06:14:57
Bringing back memories there Paul #628, as well as Gladray and 147 mentioned in the article and Jamaica House for the occassional afternoon waiting until the pubs opened again.
Graham Mockford
721
Posted 16/10/2013 at 09:27:42
As a young kid we lived in Mossley Hill and our house backed on to Grove Mount, where Liverpool schoolboys played.
I often used to go and watch the schoolboys play and even though it is 43 years ago and I was 5 or 6 I remember Cliff scoring a hatrick including a 30 yard screamer.
The real highlight of those games however was running on to the pitch at half time and lashing a few shots into a real goal net before being chased off by the 'cocky'.
Ken Crowther
755
Posted 16/10/2013 at 14:15:53
Graham #721......."Mossley Hill" - there's posh!
I used to have to get the 80 bus from Garston!
Trevor Lynes
798
Posted 16/10/2013 at 16:39:05
Black players in my time were very few and the first I ever saw play was for Middlesboro' a winger called Lindy Delapenha back in the very early 50's.
Later Charlie Williams the comedian played centre half for Doncaster and played at Goodison.
Liverpool had a mixed race fullback named Molyneux and I think he must have been their first.
Actually most racial insults from the terraces at both Anfield and Goodison were pretty tame in those days because I well remember St John being pelted with banana's and he was a Scot ! Gordon West received a red handbag which he tossed into the back of his net at the start of one derby match.
It was not until much later when Barnes and Johanneson played that nasty racism reared its ugly head. Probably because they were both really top class !
Matthew Williams
800
Posted 16/10/2013 at 16:59:28
Great Read, I started watching Everton in the late 80s and even back then I remember hearing a fair bit of abuse at black players. thank god the club has changed so much over the years.
Interesting I just found this short clip about the Gladray on youtube
http://www.youtube.com/watch?v=tmptQujYuiY
Rob Sawyer
801
Posted 16/10/2013 at 16:57:22
Thanks for the comments. In response to questions posed: Cliff's aunt that co-ran the Gladray was Rachael. He didn't turn out for South Liverpool FC.
As Peter and Eugene mention, younger supporters would struggle to imagine how dire the treatment of black players was at grounds, including Goodison, well into the 1980's and even 1990's. I recall as a young teenager being stunned at the "Everton are White" chants and monkey noises so the likes of Cliff, Clyde Best, Garth Crooks, Cyrille Regis et al had real guts. The last time I recall hearing "N word" comments sat amongst Evertonians was at an away game in 1998 so great progress has been made. However we should not be complacent - I was gutted to hear a proportion of Goodison attendees making "hissing gas" noises when Spurs visited in 2004.
Paul Andrews
803
Posted 16/10/2013 at 17:12:18
It is an Evertonian's sworn duty to pull anyone they hear using racist language at the game. Thankfully I haven't heard it for years.
Pound to a penny, if you do hear it and pull them, they back down sharpish.
Denis Richardson
814
Posted 16/10/2013 at 18:12:21
Great read, thanks for posting.
There was I thinking that Earl Barrett was the first black guy to play for us! Although it was pretty strange that we had no black guys playing for us for so long, when other clubs broke the seal many many years before that. I remember as a kid being told that Everton were a racist club and that's why we had no black players in the 80s and early 90s. Hopefully that was bollocks at the time but it was certainly odd that it was only in the mid-90s that we started to sign black players (after one Cliff Marshall 20 odd years before).
Shame that he lost heart for the game at just 22, sounds like he was pretty handy. Many people would give anything to have a chance at playing professionally so seems odd that he jacked it in so early.
Anyway – glad to hear he's still involved with the club after all this time.
Paul Washington
844
Posted 16/10/2013 at 20:26:19
Great Nostalgia!
As a 13-year-old, I remember Cliff's games at Goodison Par. As someone previously stated, there was something cool about him. Pity he never hit the heights, he could have changed a lot of attitudes at GP.
The Gladray.... an experience.... Did anybody ever spend an afternoon or several at the Yankee Clipper in town, 3 o'clock closing days?
Karl Masters
933
Posted 17/10/2013 at 17:57:41
We had Amokachi before Earl Barrett, Denis.
As for whether the lack of black players before came about by accident or not, I guess try asking Gordon Lee, Howard Kendall and Colin Harvey. As the 3 Managers between Cliff Marshall under Billy Bingham and Daniel Amokachi under Mike Walker, they will have identified who they wanted to sign. Either they didn't want any black players (coincidence or not) or they were quietly told not to go there. Nobody knows except them.
I do believe that Howard Kendall Mk 2 wanted to sign Ian Wright, Brian Deane and of course, Dion Dublin, although because of our 'reputation' by then, most black players were probably a bit wary. Certainly Ian Wright was and what a signing he would have turned into. Instead we got Maurice 'Rocking Horse' Johnston. Oh deary me!
Mick Davies
969
Posted 18/10/2013 at 00:52:46
I remember his debut (I'm certain he came on as a sub) and being impressed with his pace. Pity he never managed to make it at the top level, though I assume there were other outside influences that may have held him back. I'm a few years younger than Cliff but I do remember O'Connors Tavern, and the doorman having a shooter - scary - and never going in there again
Andy Meighan
995
Posted 18/10/2013 at 09:18:30
Paul (#844) – I remember the Clipper well. I spent many an afternoon in there waiting for town to open back up. These young 'uns don't know their born [feigns old man's voice]... great days indeed.
I remember Clifford quite vividly. I remember a game at home to Derby and I think Gemmill had done him with a right nasty tackle and Cliff shouting. "Mickey, mickey." To which Bernard came running towards Gemmill and stamped his foot maybe an inch away from Archie's as much to say "One more time and your mine!" We were standing in the paddock right next to it in stitches.
But you've shocked me because I thought Cliff played more than 8 times — I'd have said at least 20 but there you go Did Tony Hibbert play in the same side as him because it feels like he's been around for 50 years. Hasn't changed much, has he...
Tony Dunn
137
Posted 19/10/2013 at 09:07:34
Remember Cliff Marshall playing for what seemed like a couple of seasons,like Andy said.Was the Clipper the one with Alan Rudkin on the door sometimes ? There was another one in the same street called . . . ?
Paul Andrews
178
Posted 19/10/2013 at 13:39:53
The Ranleigh?
Tony Dunn
366
Posted 20/10/2013 at 08:48:59
Cheers Paul
Dorothy Melbourne
394
Posted 20/10/2013 at 12:07:44
Hi Rob,
I have got loads of photos of Cliff from when he played. I will get them out and send them to you.
Andy Hegan
412
Posted 20/10/2013 at 14:47:05
Having read all the posts it seems like a good time to mention that I remember vividly having a pint with a Liverpool fan mate the day after Barnes debut and him telling us about him being bombarded with bananas from his own fans.
It's traditional to blame Evertonians for starting it.
Rob Sawyer
491
Posted 20/10/2013 at 20:04:18
Many thanks Dorothy, pls email to robsawyer1970 "at" gmail.com
Dorothy Melbourne
479
Posted 24/10/2013 at 10:52:40
I will get them out for you, Rob, and send them as soon as possible.
Add Your Comments
In order to post a comment, you need to be logged in as a registered user of the site.
Or Sign up as a ToffeeWeb Member — it's free, takes just a few minutes and will allow you to post your comments on articles and Talking Points submissions across the site.
© ToffeeWeb